The makeup goodies I reach for most often.
My everyday makeup routine is pretty pared down compared to what I wear when I'm shooting for the blog (or in almost-drag makeup, for example) or on TV. I like my daily routine to be super simple + fresh. I'm also a snooze-button addict, so I don't typically have a ton of time to sit at my vanity and glam it up before I head into the office.
Note: I credit my ability to wear very little makeup (especially foundation) to my on-lock skincare game. I shared my faves in this post and swear by these products.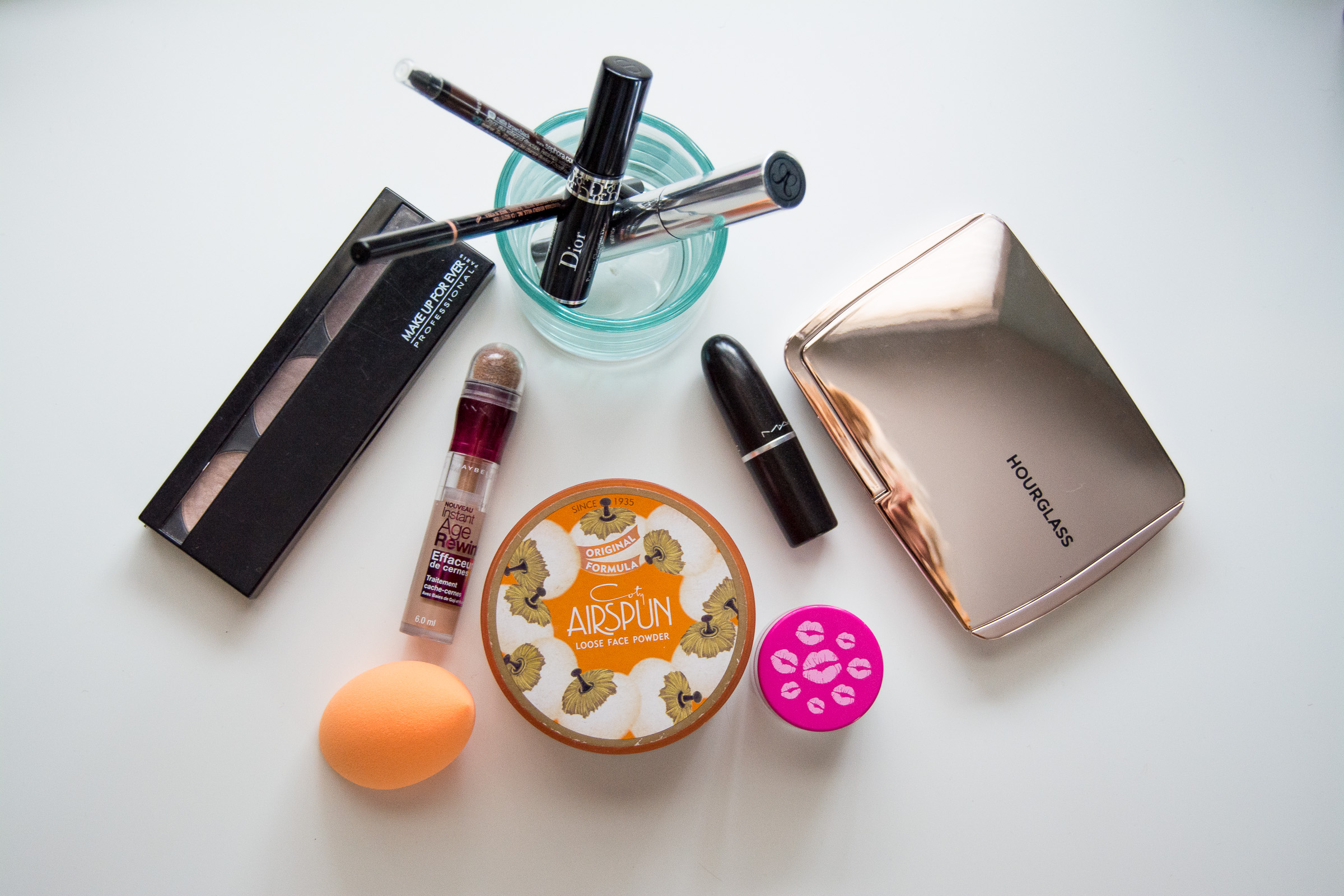 This is step one for me after I've cleansed + moisturized in the morning. (Normally not a primer girl for my everyday routine, but when I do prime, I love this one from Becca.) I swipe a generous amount under my eyes, in the creases of my nose, a little on the forehead, and a little on the chin. (I know it's billed as an undereye concealer, but I like to multi-purpose it.) I have been using this stuff for years. I keep a backstock of it in my vanity, just in case I run out. That is how obsessed I am with it.
I wear shade medium; it looks more like a highlight + concealer combo when I have a spray tan and matches my skin pretty well when I don't.
This is the Real Techniques version of a Beauty Blender, and I love it just as much as the original for a quarter of the price. I dampen this guy, squeeze out the excess water, then use it to pounce (pat + bounce) the concealer in. It provides this really lovely, natural finish. Then I dip it into a loose powder (I love this ol' drugstore gem, but this cult fave is killer, too) and set the areas I just blended. This makes your makeup last all damn day (which is so key for me, because I'm so bad about reapplying my makeup throughout the day).
Note: you absolutely, 100% have to wet the sponge to get the desired effect. Using it dry is no bueno, pals. Trust me!
Also, you'll notice I don't have a foundation or BB cream on this list… And that's because most days, I don't use it. Again, skin care is everything. But if you're looking for recommendations: I like this L'Oreal BB cream (I mix Medium and Light unless I have a mega spray tan, then just use Medium). A decent amount of coverage for a BB cream and the finish is really natural (not quite dewy, but definitely more glow than a matte foundation). I also love this MAC pressed powder (Medium Plus is usually my go-to; sometimes if I'm really pale Medium works and sometimes I'll contour with Medium Deep). Buildable, controllable coverage and the powder feels light on the skin.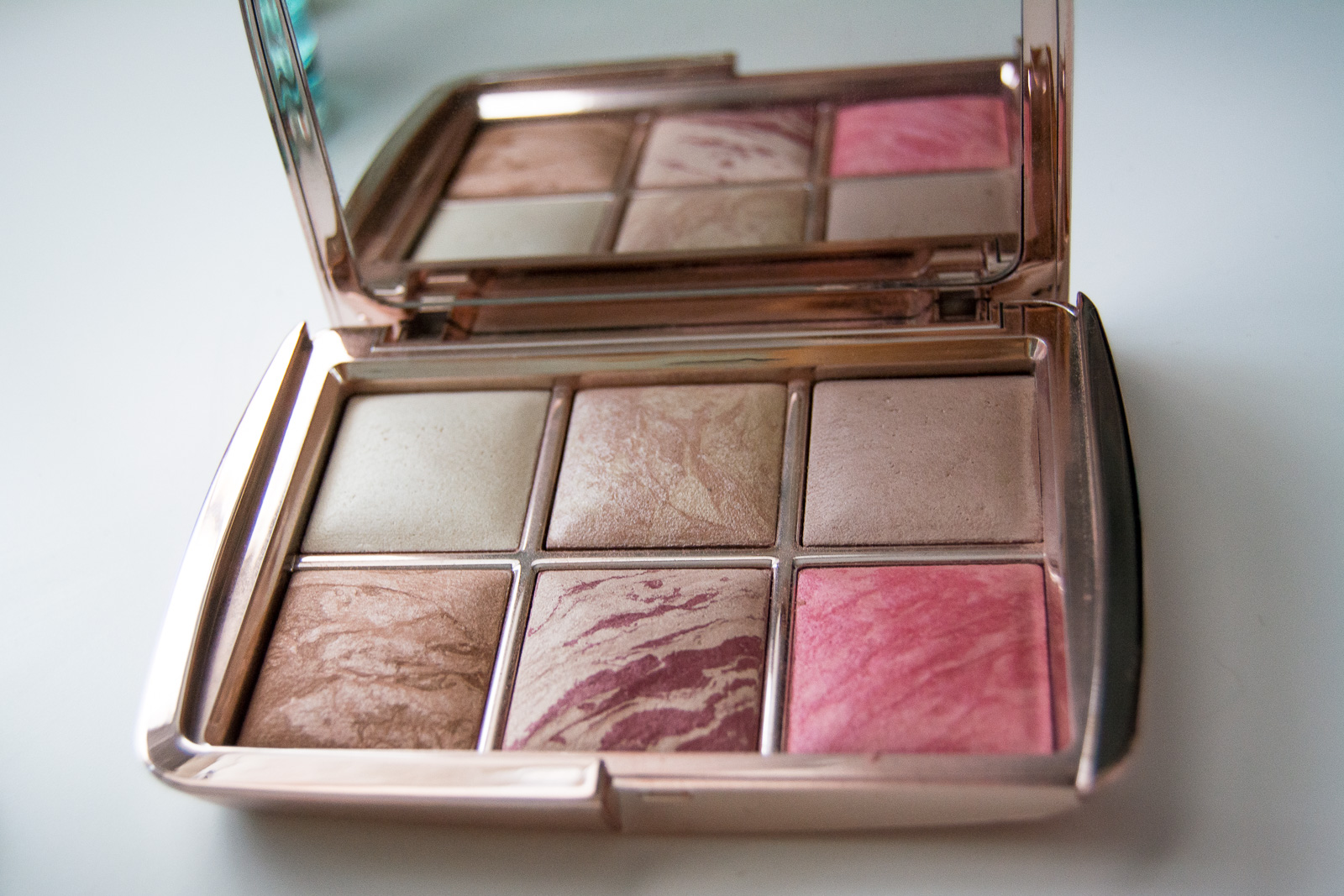 I use this limited edition palette that comes out each holiday season (seriously, buy it next Christmas!), but you can get the same products via this highlighting palette, this bronzer in Luminous Bronze Light, and these blushes in Mood Exposure and Luminous Flush. Yes, Hourglass products are pricey– but so worth it. They give you such a gorgeous glow, whether it's from their blushes or their highlighters.
I swirl the blushes together to liven up my cheeks, use the bronzer on days where I'm feeling a bit pale, and use the highlight on my cheekbones, cupid's bow, and brow bone. One-stop shop!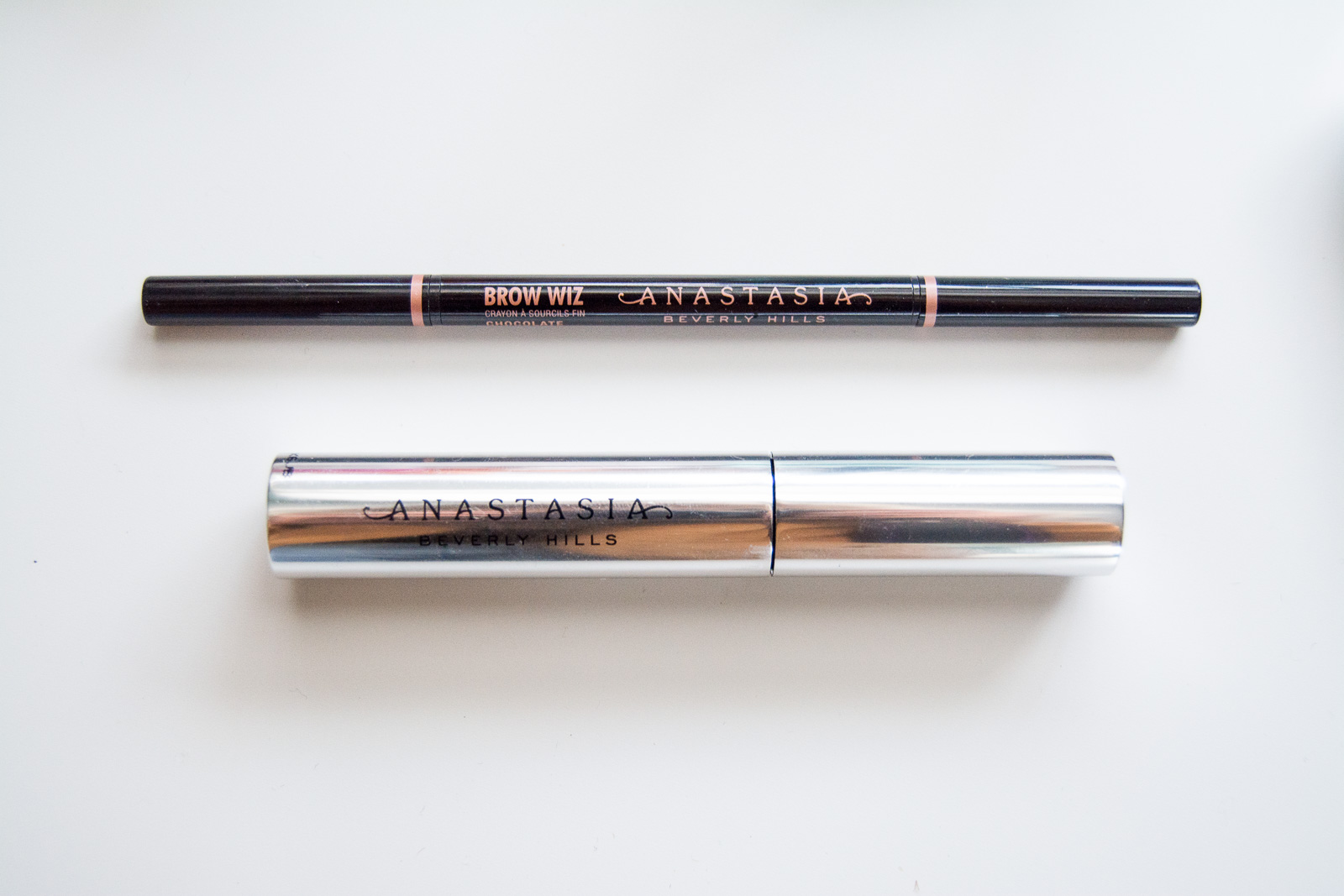 Holy. Grail. Brow. Product. I rarely leave the house without doing my brows; they really pull a face together and make you look more polished. I love Brow Wiz's super fine tip because it gives you a lot of control and allows you to get those brows super sharp. I use the color Chocolate and then set with the Anastasia Clear Brow Gel.
I love this liner because it stays put and doesn't irritate my eyes (which can be super sensitive/watery/annoying). This crayon doesn't pull; it glides on nicely. The little smudge tip at the other end allows you to buff out any harsh lines. I use the Matte Brown Black color because it gives enough definition (ie, helps me look awake) without being too harsh. I wear it on my upper and lower lash lines.
Sometimes I'll use the Make Up For Ever Artist Color Eyeshadow in Espresso with this Sigma brush and lightly define my upper lash line. A softer effect than the eyeliner, and allows me to buff the color out and up onto the lid for a bit of definition.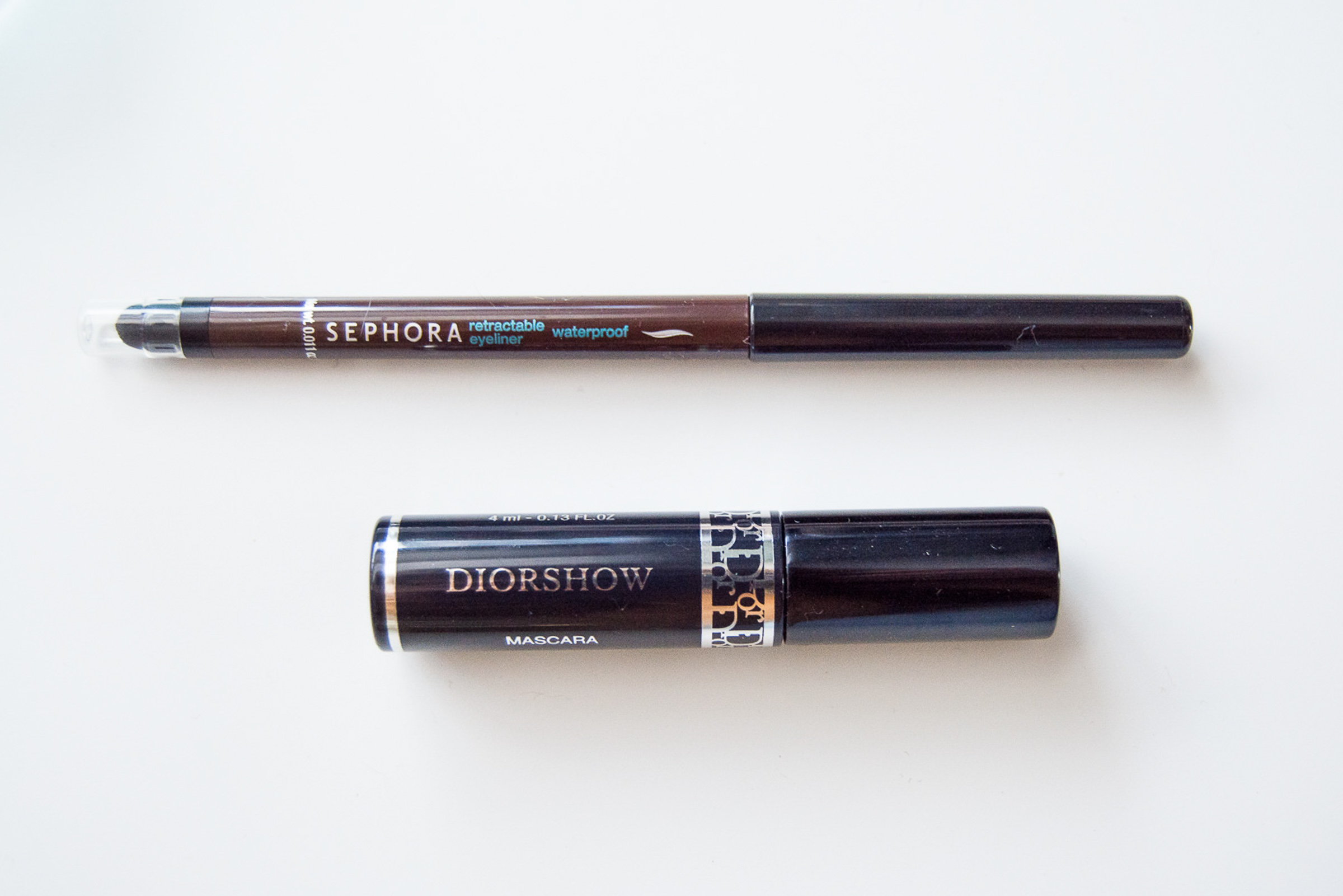 I'm not super loyal when it comes to macaras– I'll give anything a try as long as it delivers length and definition. (As evidenced by this little deluxe sample size; I scored a few of these at a recent blogger beauty event and have been using 'em up.) The Diorshow mascara is a cult fave and I'm a fan. It doesn't flake and the black is very black– which I love. My motto is a deep brown liner, but jet black mascara– enough definition of the eyes without that liner being too harsh, but super dark lashes. If you're looking for a solid drugstore mascara, I always have The Falsies mascara by Maybelline on hand.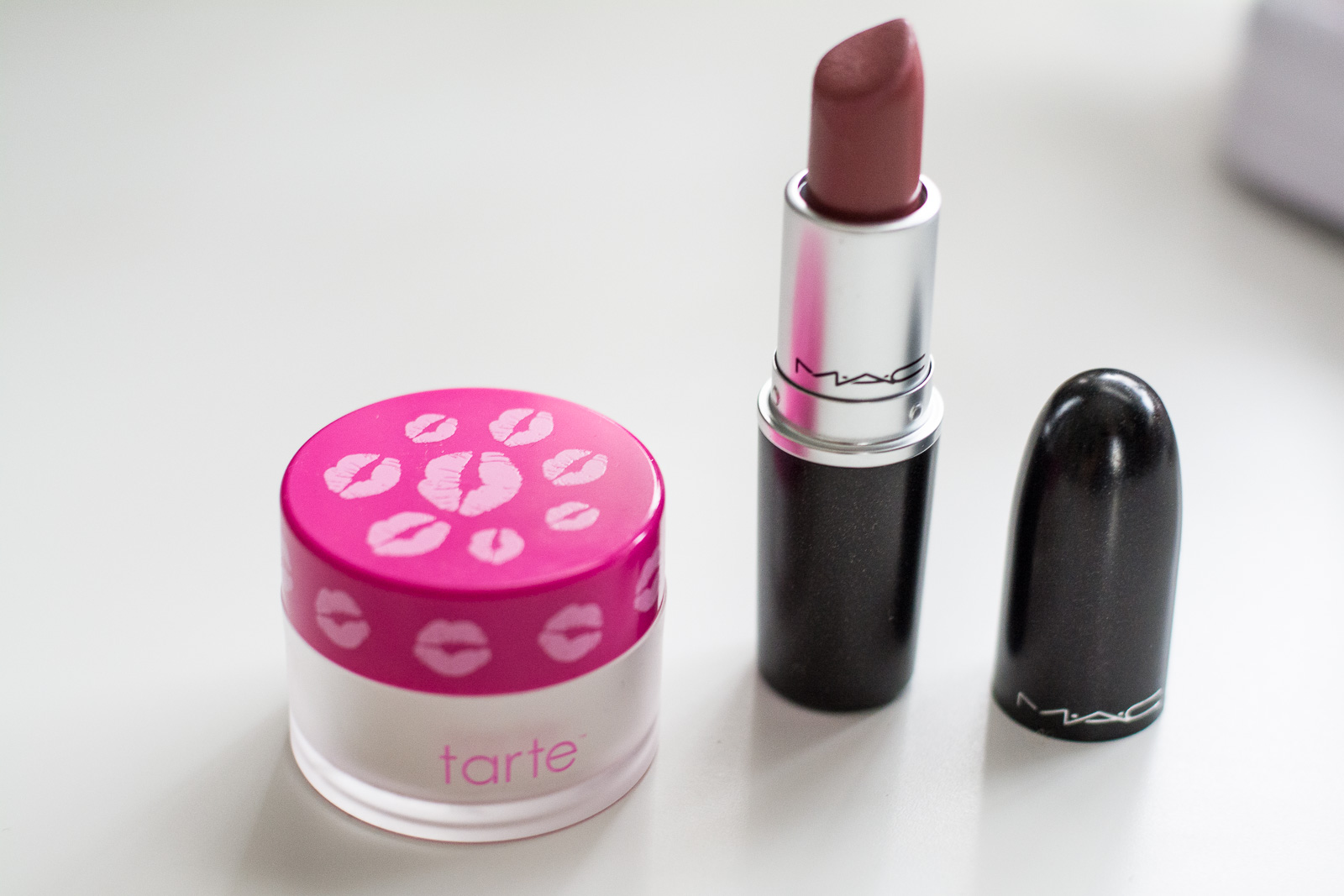 My lips are constantly chapped in the winter; that cold + dry air ruins everything! I bought a pot of this Tarte Pout Prep in the fall and fell in love with it– the sugar granules, maracuja, and shea butter work together to gently buff away dead skin and moisturize that kisser. I use it every morning! And you guys know I love my MAC; Twig is a super wearable lipstick for the office. I'll mix it with a little lip balm– the entire Fresh line is super hydrating. My favorite colors are Sugar (aka clear), Honey (a brownish nude) and Fig (a wine-berry color). I keep these little guys stashed everywhere: my car, my desk, my purse, my vanity.
Shop my everyday makeup faves:

Linking up with Elegantly Dressed and Stylish, Walking in Memphis in High Heels + The Fashion Canvas, I Do DeClaire, Straight A Style + On the Daily Express, Get Your Pretty On, Rosy Outlook + Seeking Sunshine, Pumps and Push Ups, and The Pleated Poppy.