Sharing my favorite skin care products + current routine.
I get a ton of questions skin care and what I use as part of my routine, so I'm finally getting my act together and sharing my go-to products here on LSR. Now, I'm a pretty well-documented beauty product junkie; if something promises to hydrate, tighten, nourish, or protect, you can bet I'll give it a try. (As long as it's evidenced-based + thoroughly-reviewed, of course.) Which means I try a ton of products, mix and match brands, and review new stuff all the time. That being said, these are the products I keep coming back to, again and again.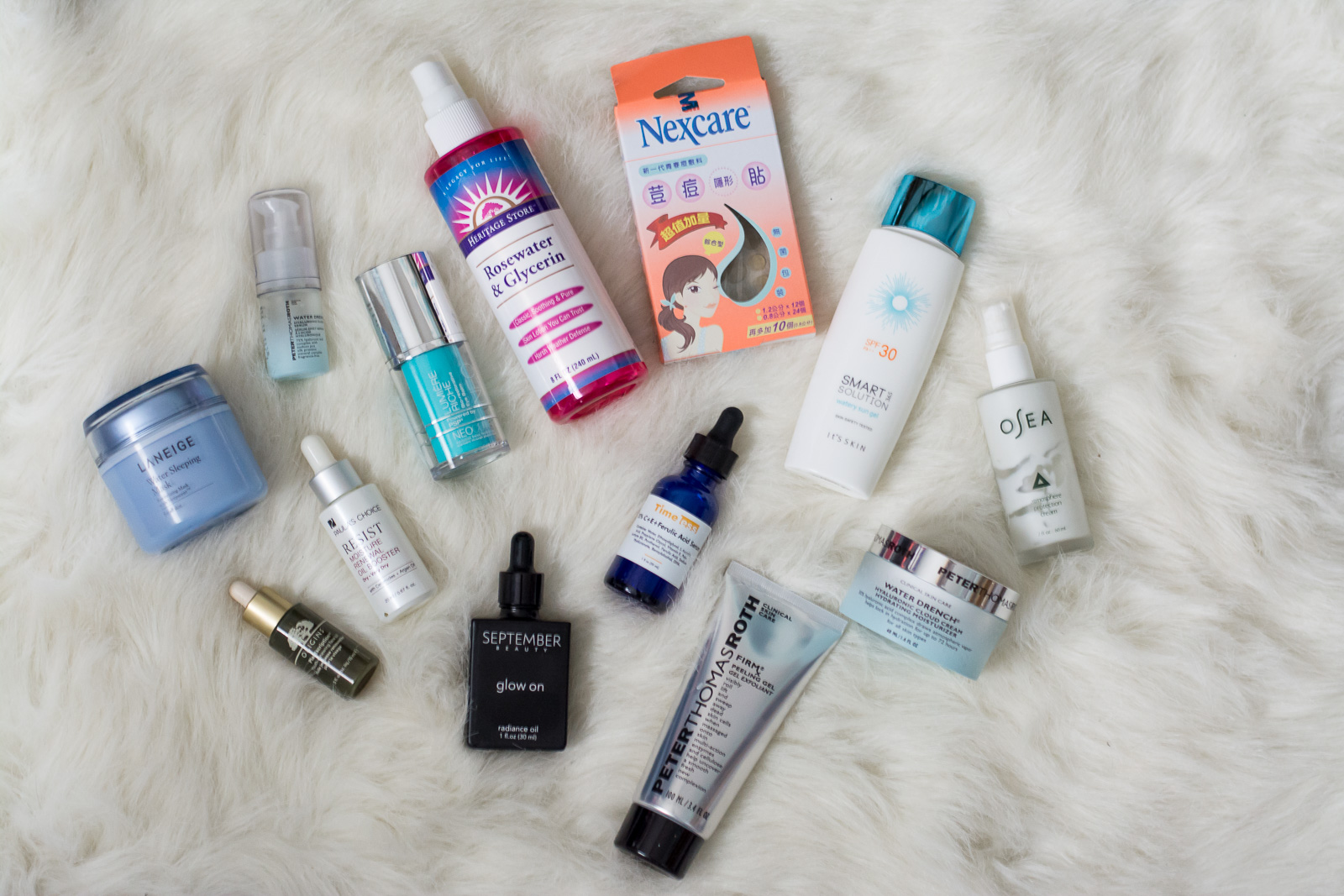 I have been using this stuff for ages. It's super gentle, not too expensive, and is great at removing makeup + the day's grime. Bonus: the Target version of this cleanser is even cheaper and works just as well.
Packed with enzymes and cellulose (chemical exfoliants), this easy peel is one of the best at-home options for revealing brighter + more youthful skin. I wash my face, pat dry, then rub this all over my face and neck. The peel gets to work immediately– right away little balls of dead, sloughed off skin roll up and off and you work in the product. Kinda gross, but really satisfying. While this peel is effective at brightening things up, it doesn't dry me out. (I'm on the dry side, anyway, so I have to be careful.) I try to use this a few times a week.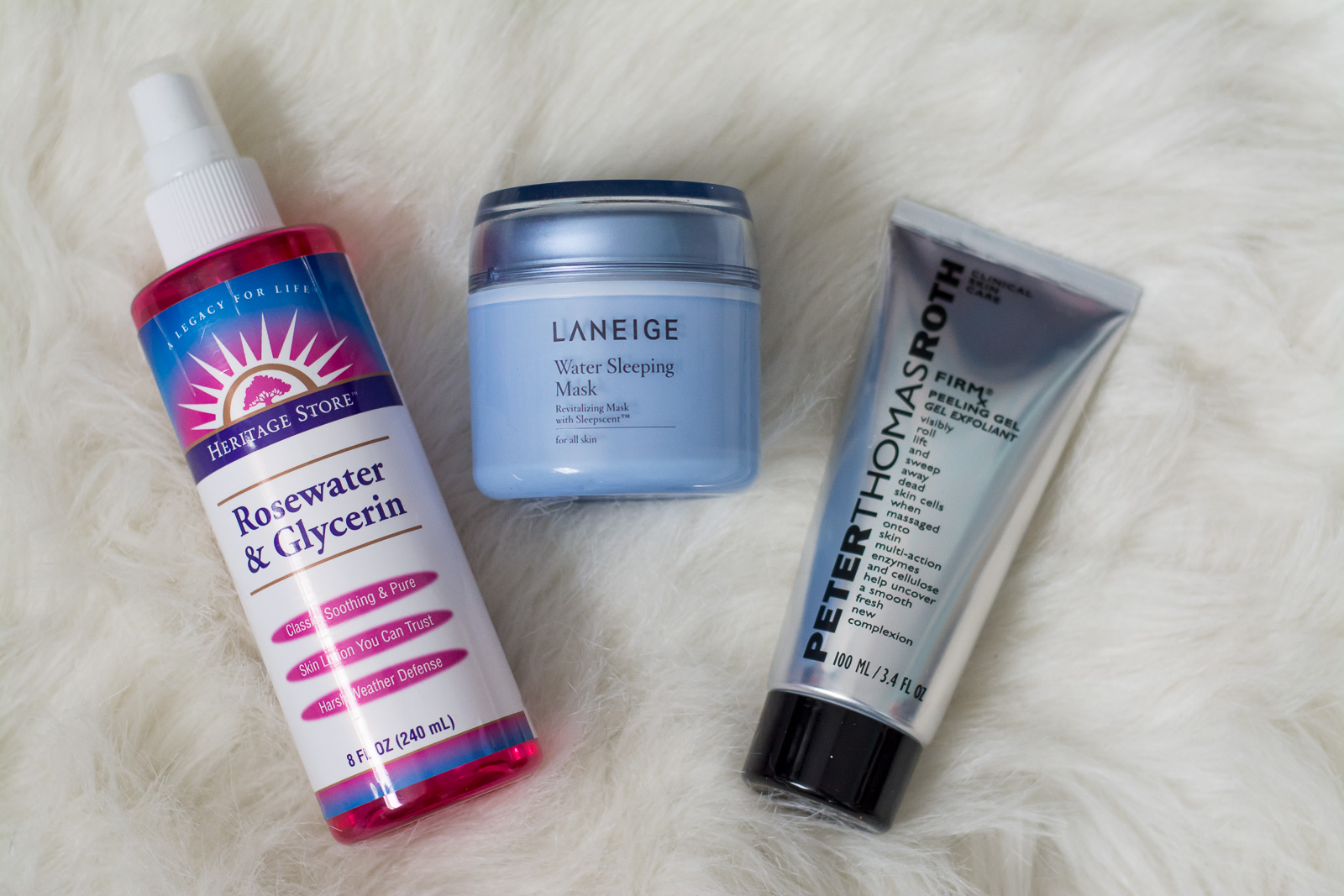 Face Mask.
I have a ton of face masks in my beauty arsenal, but I seem to reach for the Laneige Water Sleeping Mask most often. The cool gel soaks right in, delivers major hydration, and you don't have to wash it out. Seriously– you just go to sleep in this bad boy. (It's clear, don't worry. Your pillowcase is safe.) In the a.m., rinse it off with water or a cleansing wipe.
Ahh yes, one of my skin care secret weapons. I've been using this face spray for years, and I love its really simple ingredient list: rose water (soothes inflammation, antibacterial properties) and glycerin (a humectant, which means it attracts moisture onto your skin). I spritz this all over my face and neck post wash, wait for it to (mostly) dry, and then dive into serums.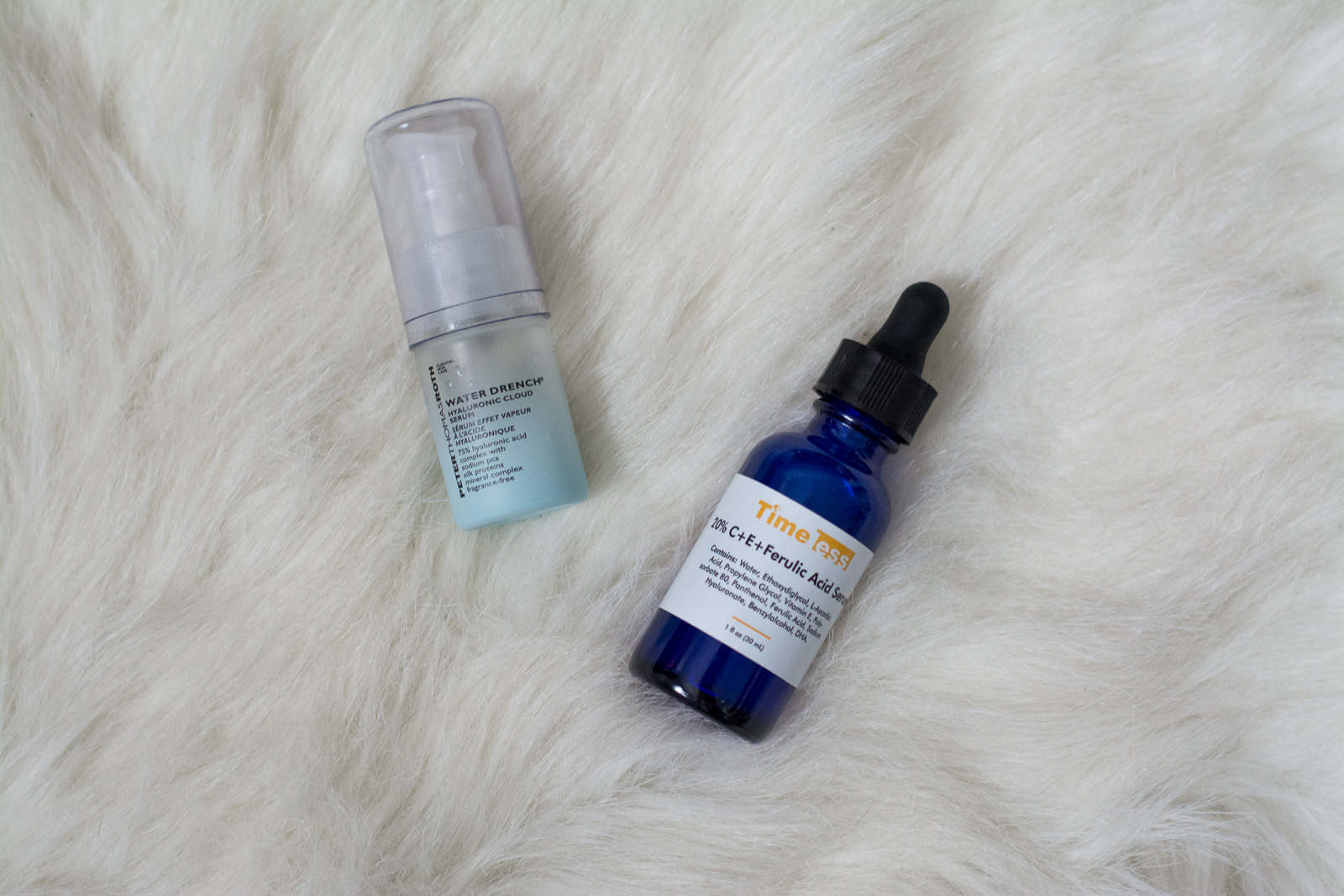 Vitamin C serum.
I am still hunting for my holy grail in this department, but vitamin C is an antioxidant great for brightening dull skin, fading sun spots, and boosting collagen. I'm currently on my second bottle of this; it's a steal and has vitamin C, E (which blocks free radicals and helps prevent further skin damage) and ferulic acid (helps to stabilize vitamins C and E so they work better). I've also tried this serum from Mario Badescu before and the amazing-but-super-pricey serum from Skin Ceuticals. Using a vitamin C serum has made my skin more radiant, and I'm down with the free radical protection. Every skin care regimen needs one!
This serum is packed with hyaluronic acid (75%!), which is another humectant. It attracts moisture into the skin, plumping and hydrating. I use this day and night because it's a dream to put on and it leaves my skin feeling super quenched. It also absorbs quickly, so it doesn't complicate putting on makeup after.
I'm currently about halfway through this bottle, and while pricey– this stuff works. Puffiness, dark eye circles, and fine lines go poof with this eye cream, which is packed with hyaluronic acid, vitamin E (to moisturizer), alpha-hydroxy acids (to resurface), and antioxidants (to protect). Eye cream is such an important step in your skincare routine because the eyes are often the first places we see signs of aging. Lube 'em up! And don't forget those sunglasses– they're not just my personal fashion security blanket, but they protect those peepers from further damage.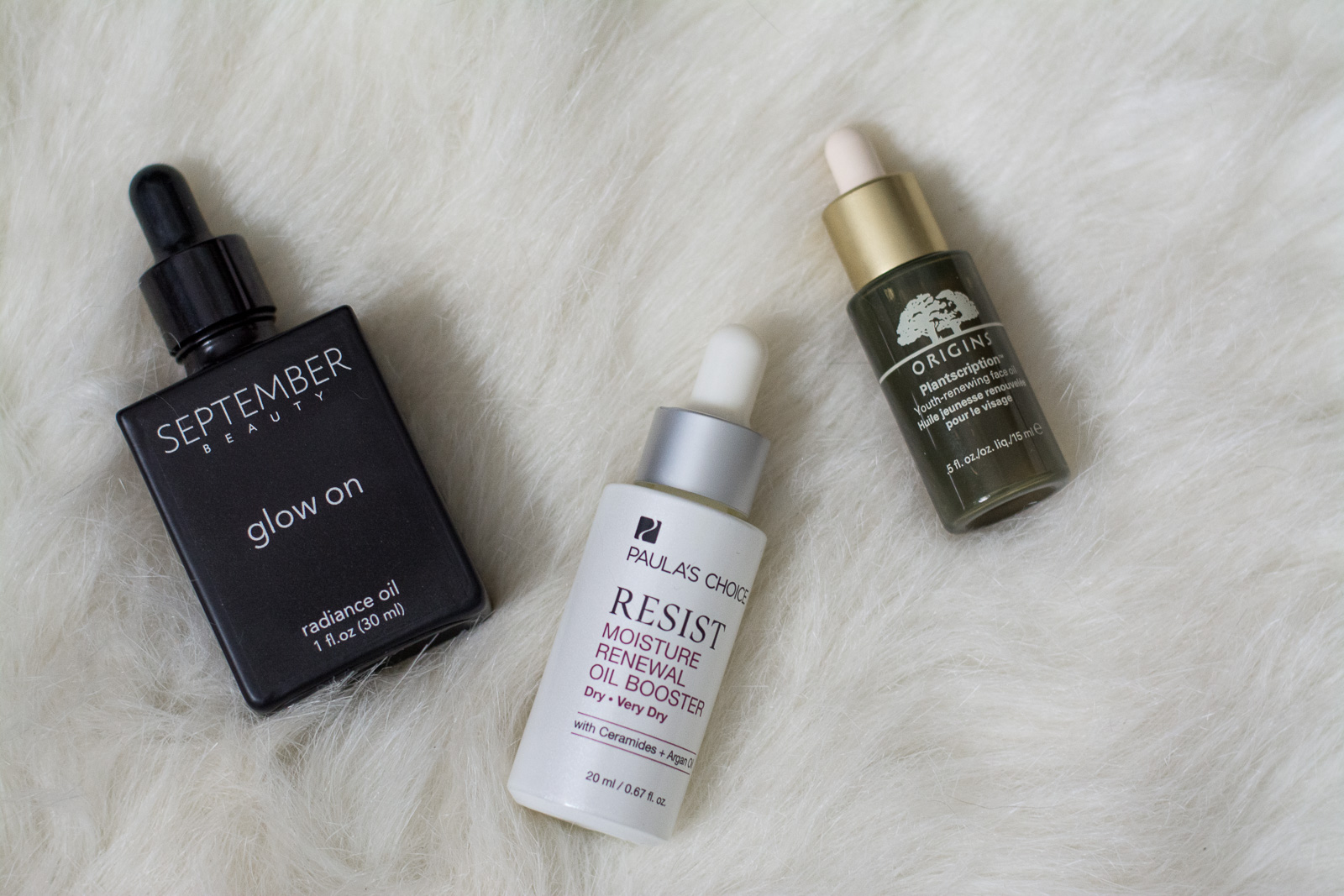 Face Oils.
I'll mix in a few face oils here and there to boost whatever I feel like my skin needs. Right now I'm using this oil from September Beauty Co. for dewiness + radiance, this oil for hydration, and this Origins oil for anti-aging. I rotate 'em in and out; sometimes I'll use one in the morning and a different one at night. I'll add a few drops to my moisturizer, or pat them in on clean skin for days when I'm lounging around and going makeup-free.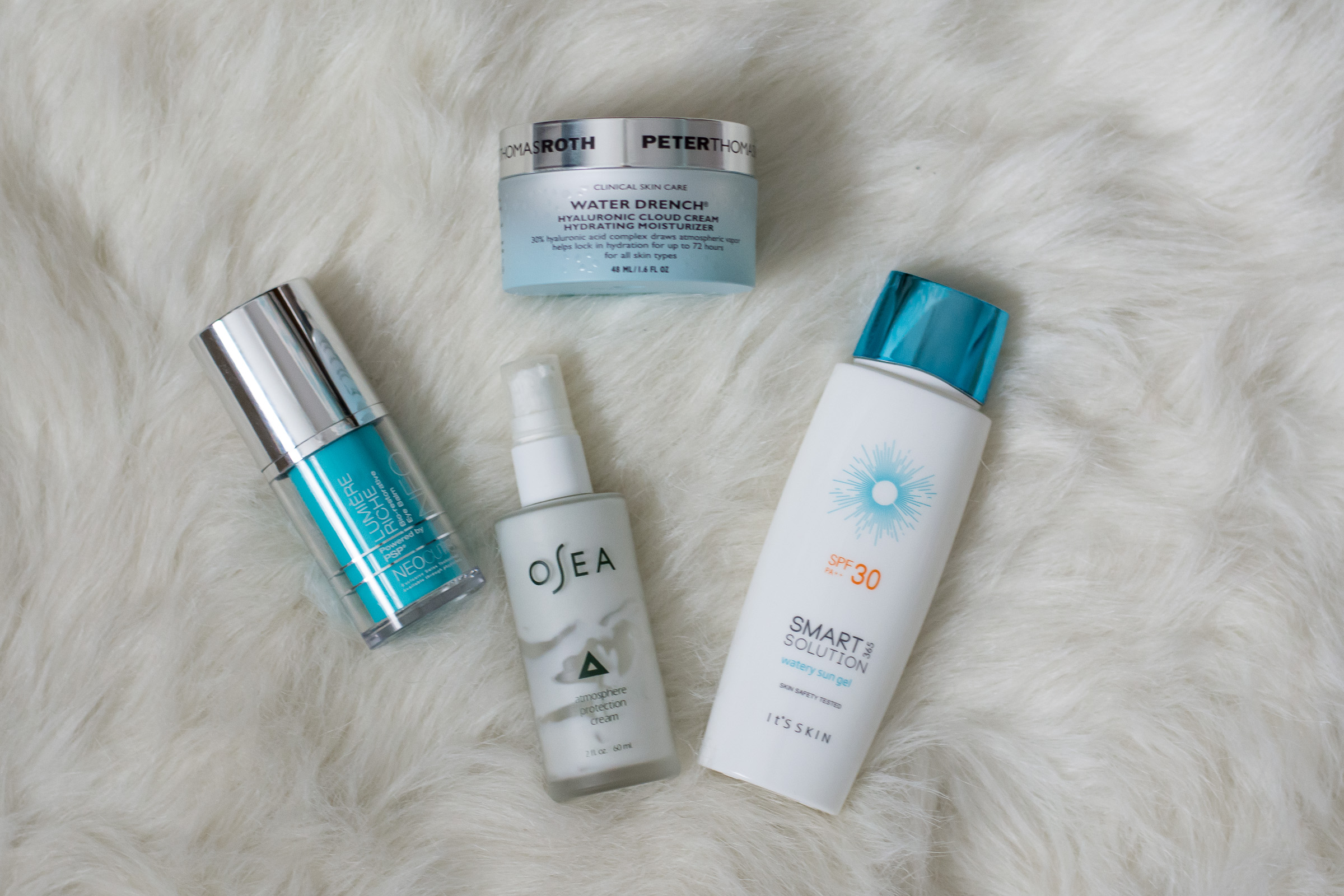 Moisturizer + SPF.
I rotate in several different moisturizers. I just finished this Osea Atmosphere Protection Cream, a lightweight moisturizer that protects the skin from environmental stressors (such as dry air, pollution, etc) with shea butter and avocado oil to hydrate. I really liked it, and will probably repurchase soon. I also really like Peter Thomas Roth's Water Drench Hyaluronic Cloud Cream (a partner product to the serum I shared above). It's heavenly– my skin just drinks this stuff up. With concentrated 30% hyaluronic acid, it keeps your skin hydrated for up to 72 hours, and also has elderberry for an anti-aging antioxidant boost.
During the day, I mix my moisturizer with Smart Solutions Water Sun Gel SPF 30 Pa++. (SPF = sun protection from UVB rays, Pa is sun protection from UVA rays. Hint: you need to protect your skin from both.) This is a K-beauty score; I was looking for a sunscreen that protected against UVA and UVB rays, and didn't leave my skin greasy + smelling like typical sunscreen. This gel formula goes on nicely and doesn't smell a bit like your normal SPF. Sun protection is important year round, even during the winter months or times when you aren't out in the sun.
I've also used the Origins GinZing Energy-boosting Gel moisturizer for day and the High-potency Night-A-Mins Mineral-enriched Renewal cream for night; loved 'em both. The GinZing gel soaked in fast and hydrated with panax ginseng and coffee bean. Resurfacers combined with vitamins C, E, and H in the Night-A-Mins cream meant I woke up with fresh, radiant skin each morning.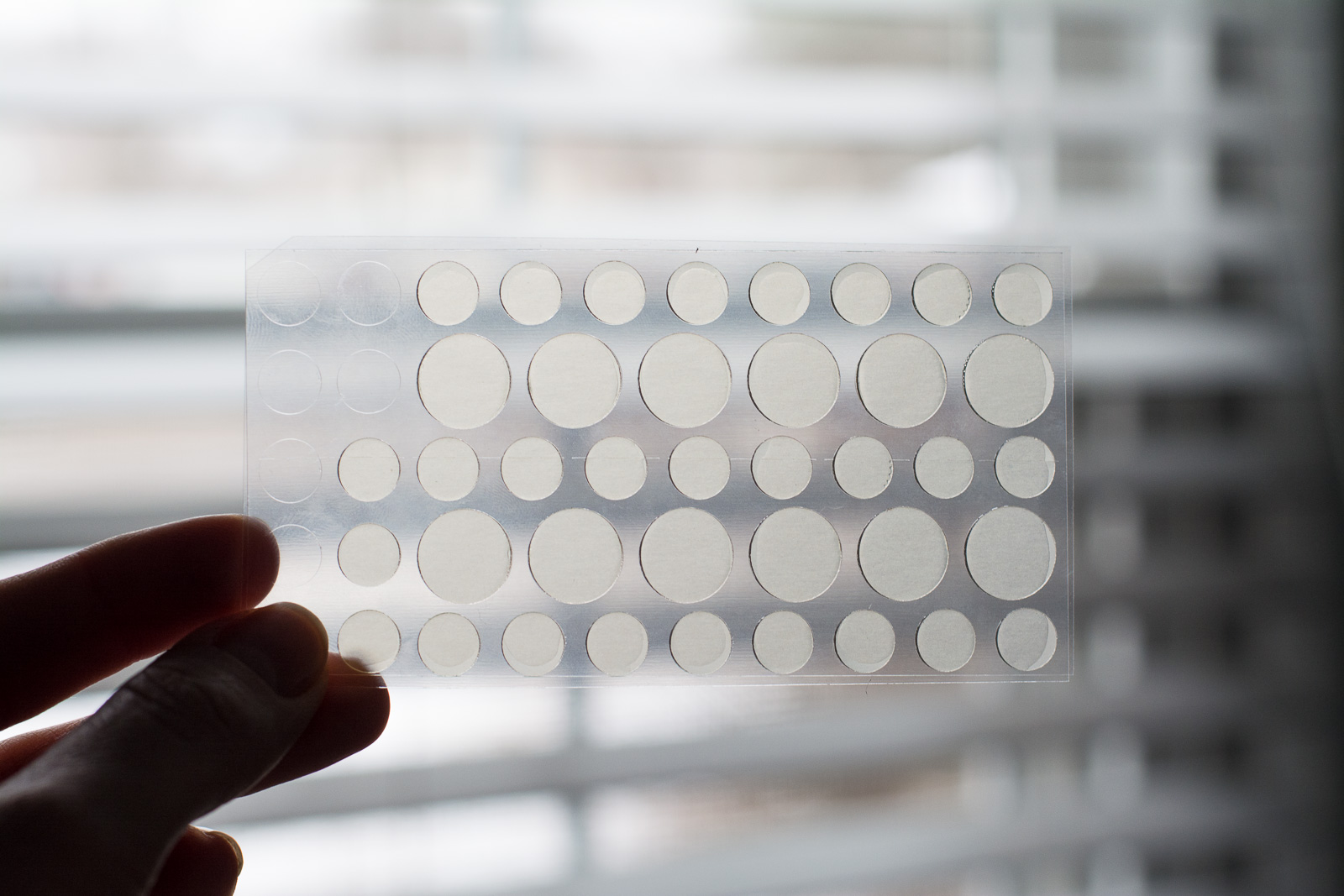 I am obsessed with these little magic stickers, okay? Confession: I'm a picker. I can't leave spots alone– which usually ends up in me making things way worse. But with these acne patches, you cover up your spots (not cystic, the blemish needs to have a head) and the patches go to work gently pulling all that fluid (pus, gross) out of the blemish and into the cellulose sticker. Genius. I wear these to bed when I have a spot that needs a good draining. By morning, the spot is noticeably less inflamed and swollen (which makes covering with makeup so much easier). I have gone through countless boxes of these bad boys– they are my secret weapon to getting a blemish healed up fast.
Shop the products:

Linking up with Stylin in St. Louis, Curly Crafty Mom, Elegance & Mommyhood, Living on Cloud Nine, Adri Lately, Meet at the Barre, Threads for Thomas, Nancy's Fashion Style, A Pocketful of Polka Dots, Shelbee on the Edge, More Pieces of Me + Sincerely Jenna Marie, Michelle's Pa(i)ge + Northwest Blonde, and Pink Sole.