Souvenir bomber jackets are having a major moment (mostly on the men's fashion side of things– but when has that stopped me before?), so I took the opportunity to wear my new silk Topshop number to the Friday night round of shows at Kansas City Fashion Week. I kept the rest of  the outfit casual but interesting, with lots of 90s style elements: raw-hem + cropped boyfriend jeans, fringe sandals, and a majorly dark + moody brown lip. (Yes, that's the Kylie lip in True Brown K– currently sold out, but Beauty Mark by NYX is a killer dupe at a quarter the price.) Overall, this was a really fun + comfy outfit (which I kept referring to as, "90s meets Fast and the Furious Tokyo Drift") to kick off my time at KCFW.
Keep scrolling for snaps from the runway!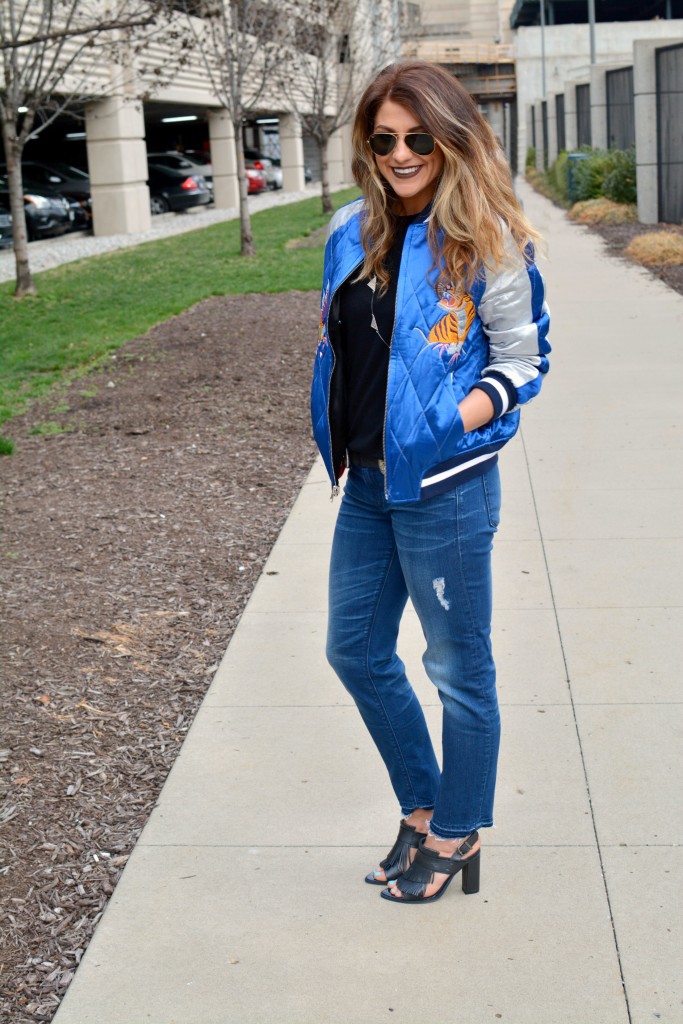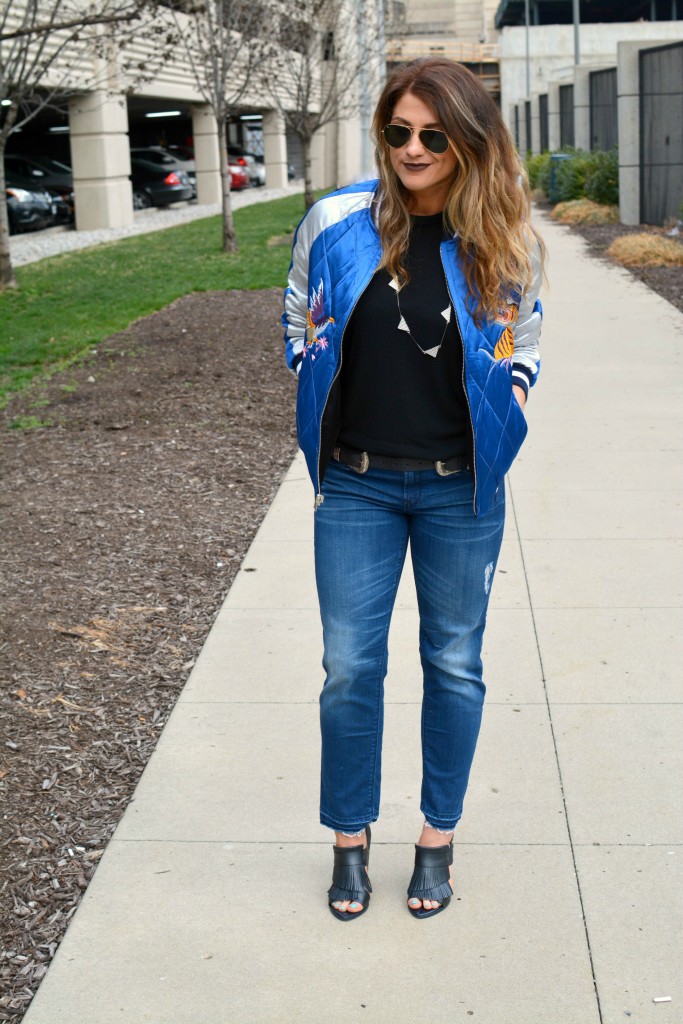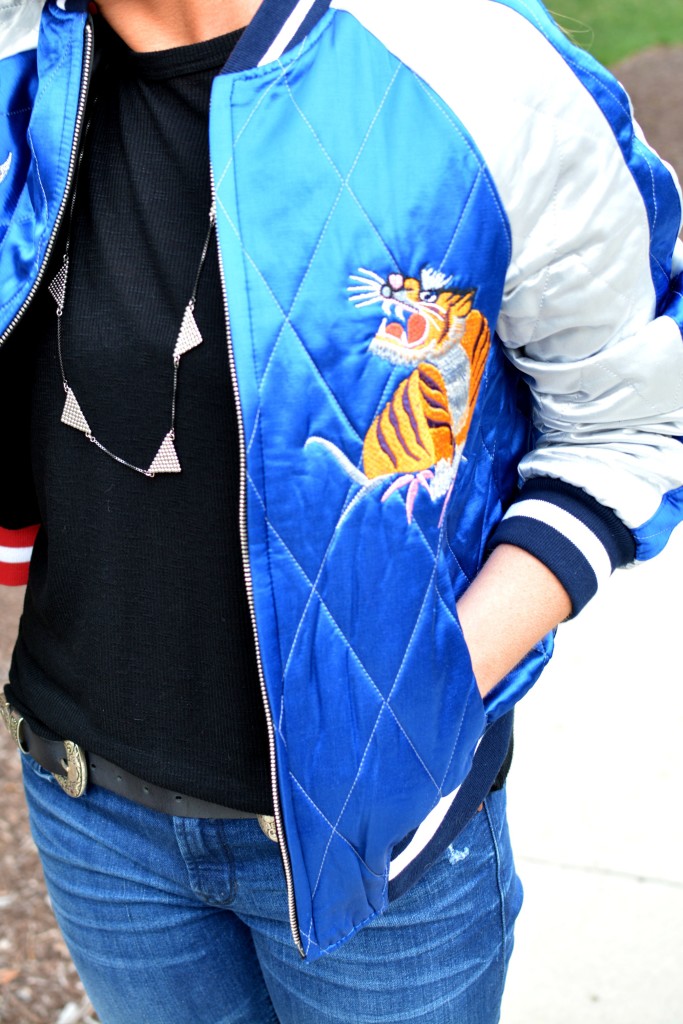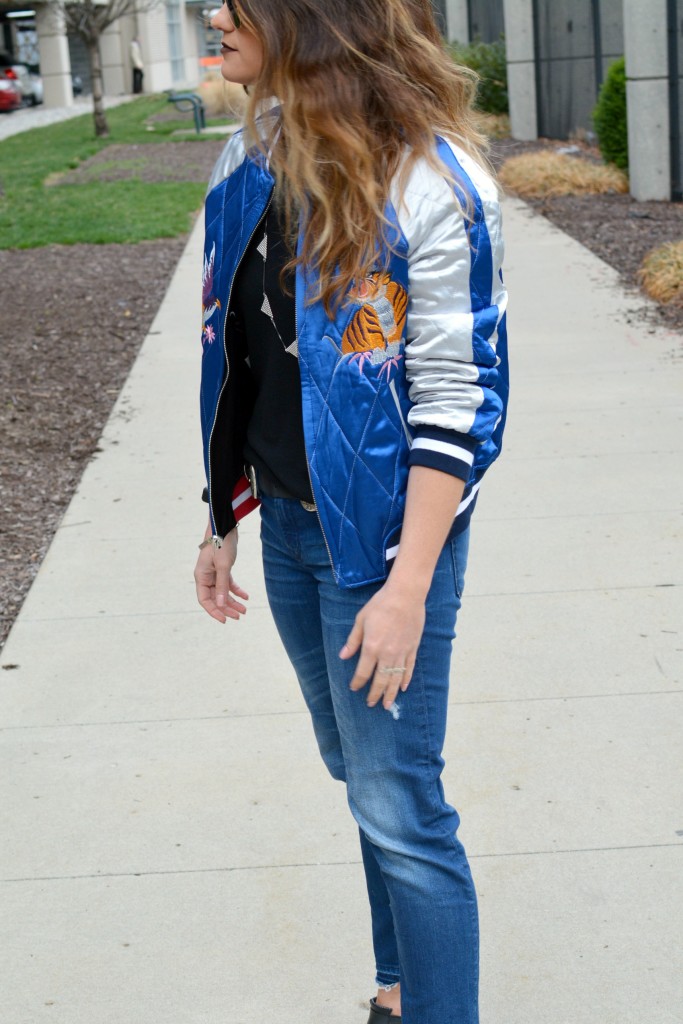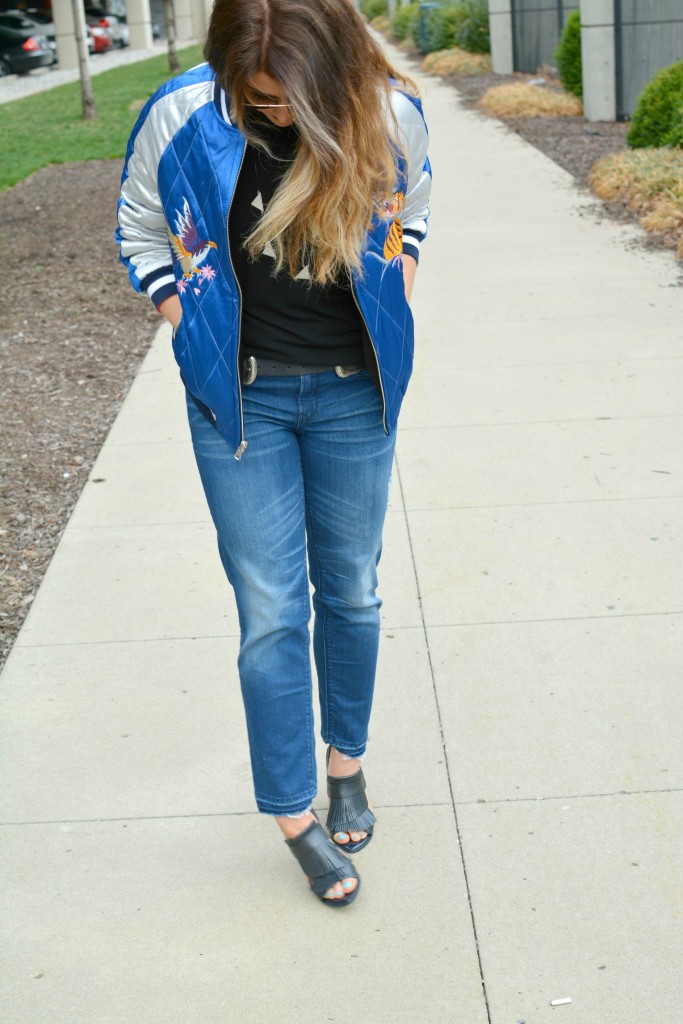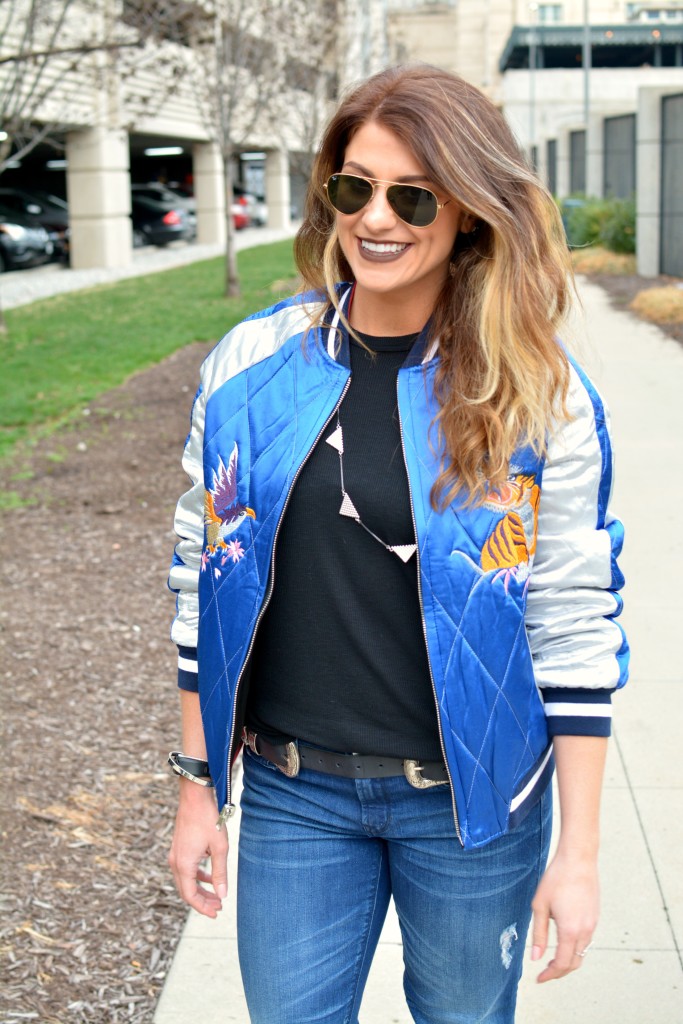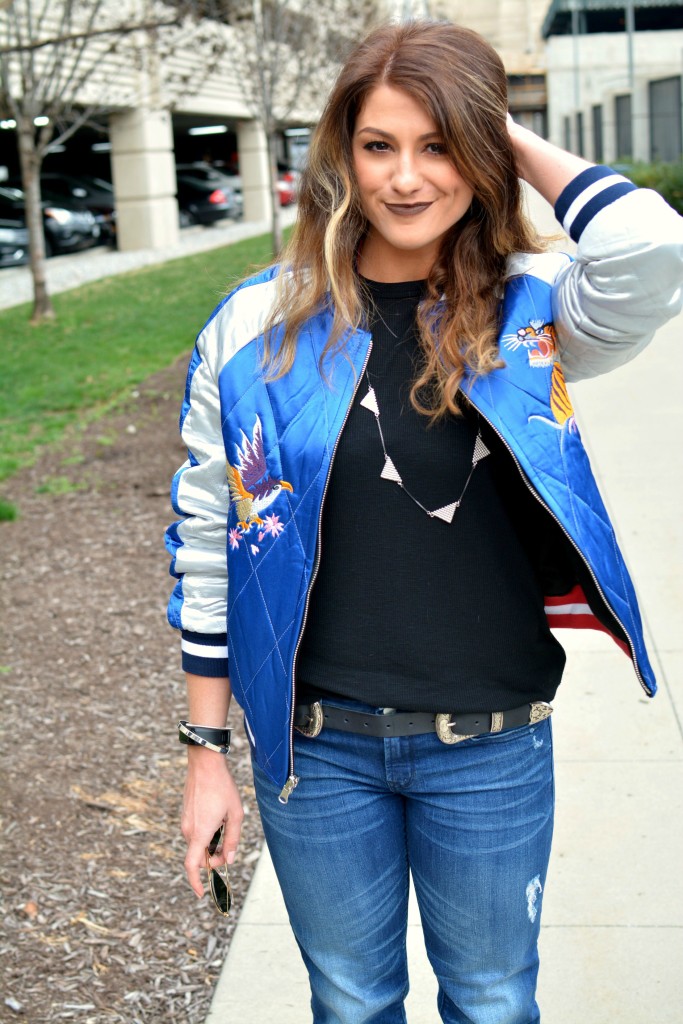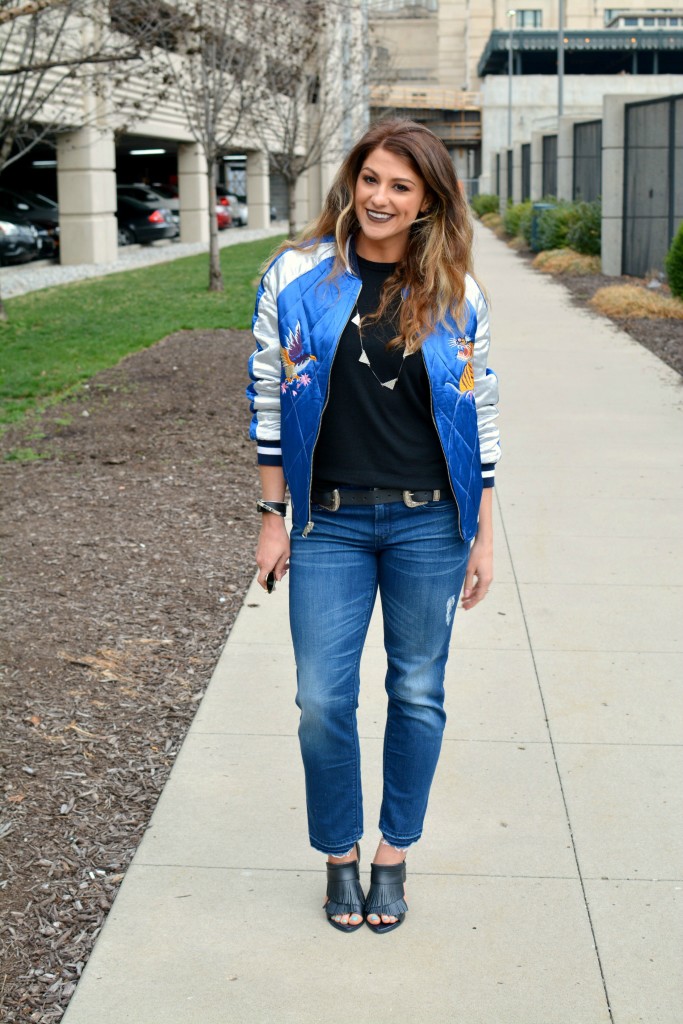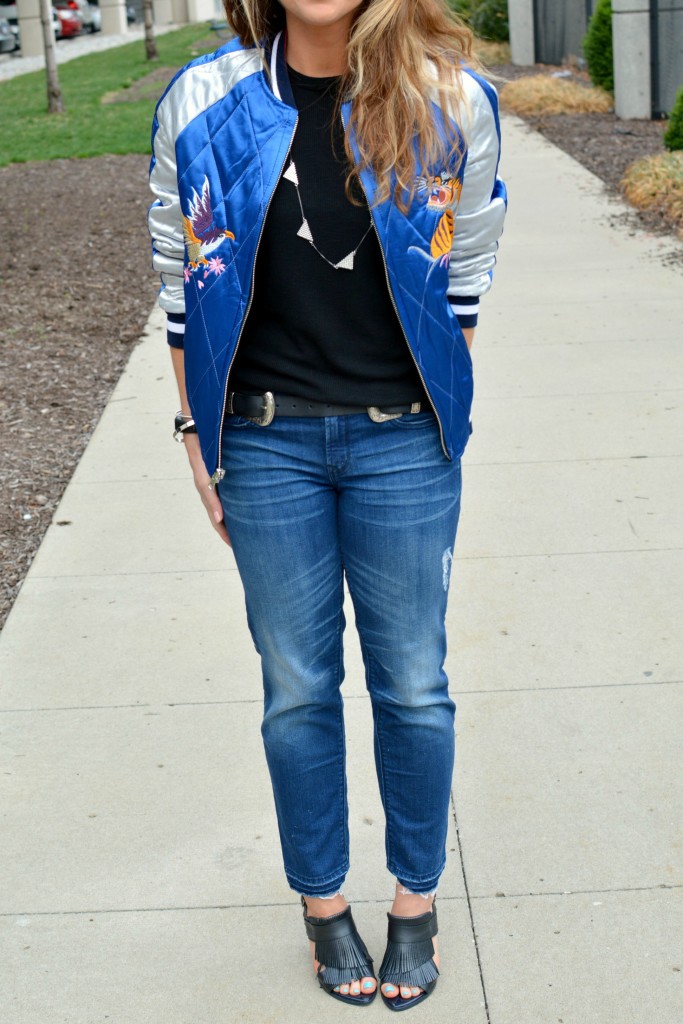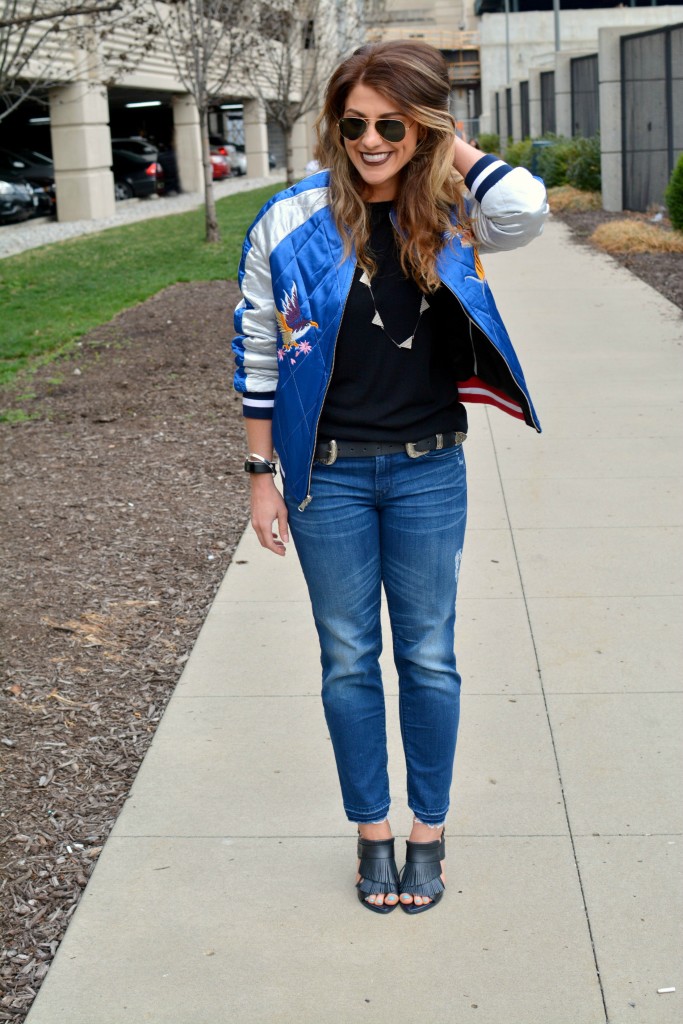 Shop the look:

Rest assured I'll be leaning on this bright (and reversible, by the way) souvenior bomber jacket all spring long to jazz up basic tees and add some serious style attitude to dresses. This trend is booming– get ready for jackets like this to pop up everywhere from Forever 21 to Nordie's. I'm currently picturing how to wear it next… Perhaps with an overall dress and Stan Smith's for a sangria patio session– perfect, right?
Friday Night at Kansas City Fashion Week
I am positive I say this every year, but the talent at KCFW just keeps getting better and better. I was so impressed– especially with young designers Kiana Godsey and Madison LaRae Durant. I loved the sheer pieces + major sex appeal at Kiana's show, while Madison's collection had vegan leather elements and structure I was all over. Paulie Gibson did right by menswear, with fun prints + killer coats. Rachel Anne Gottlieb sent some incredible pieces down the runway reminiscent of Victorian-era-meets-battle-gear (so good), and headpieces I was wondering how to incorporate into my wardrobe. So much talent + so much fun to see from the front row!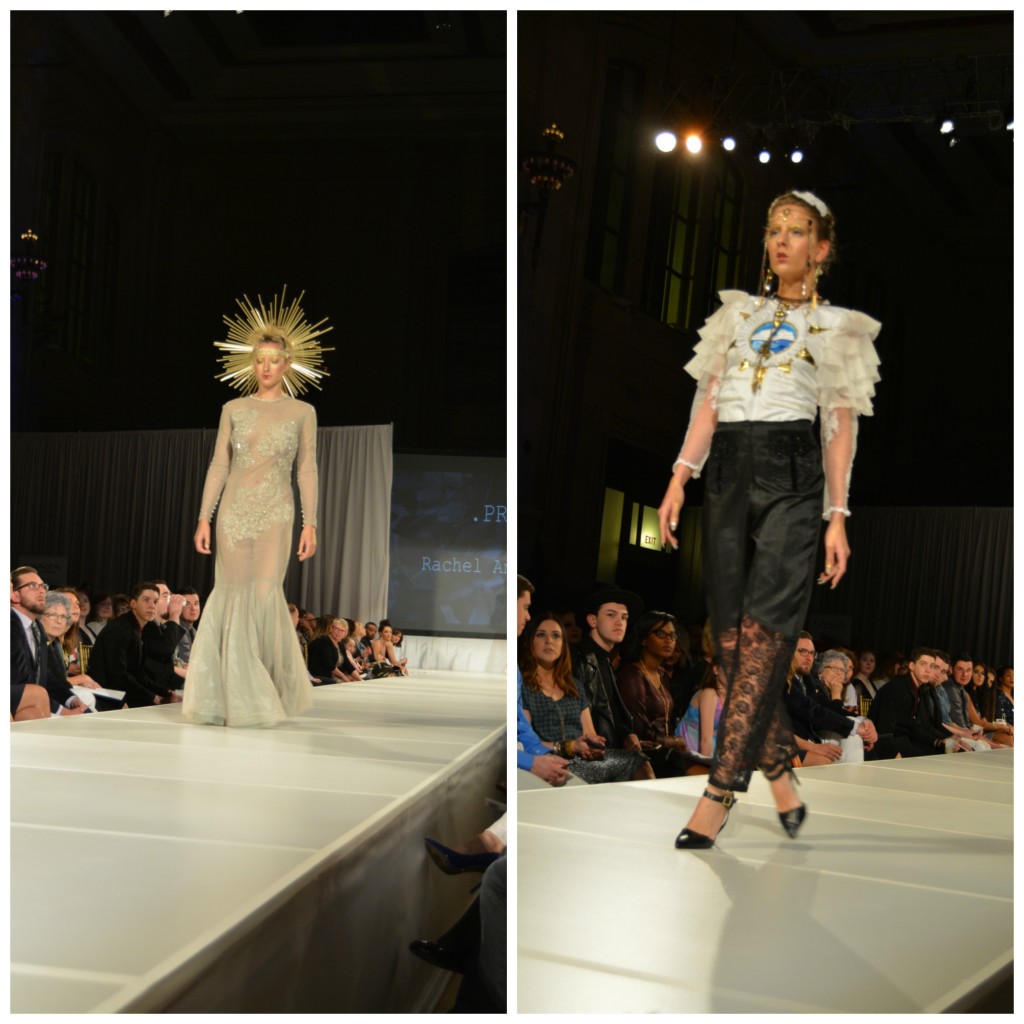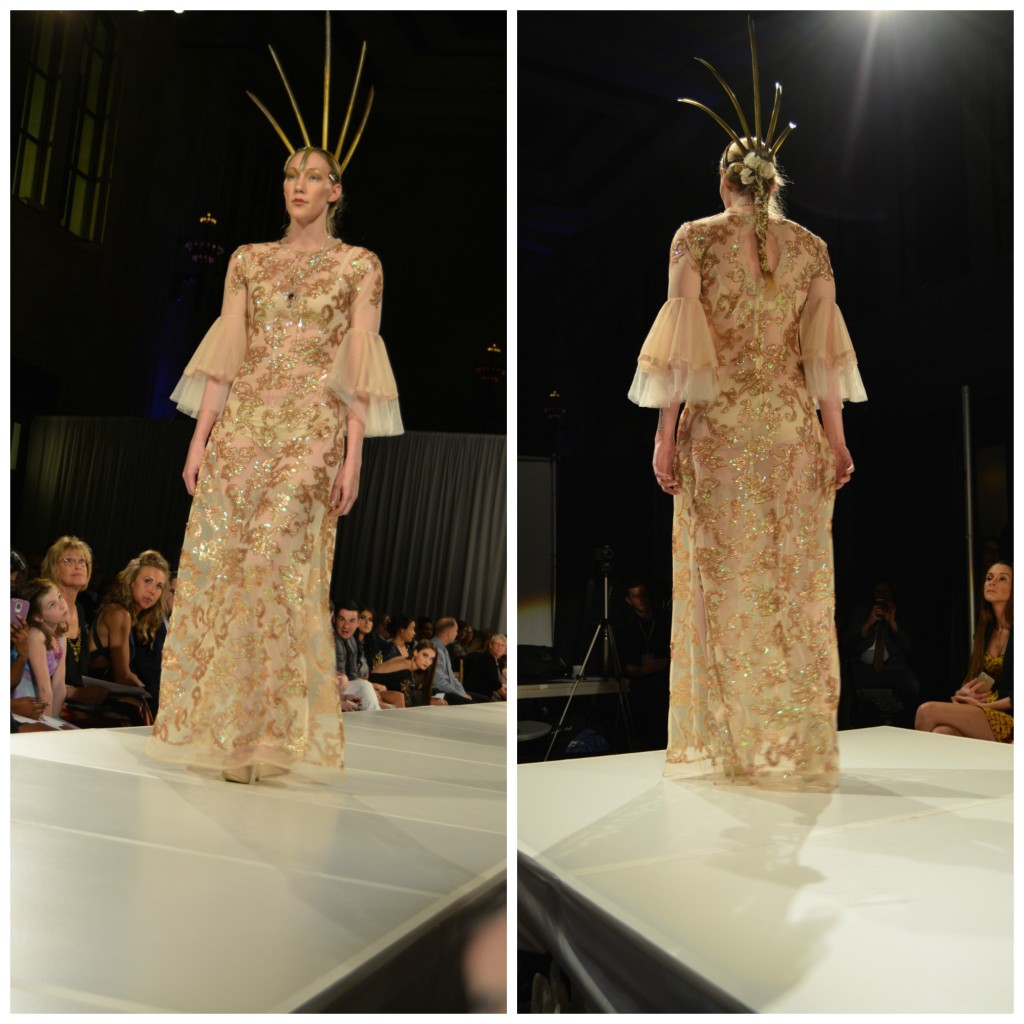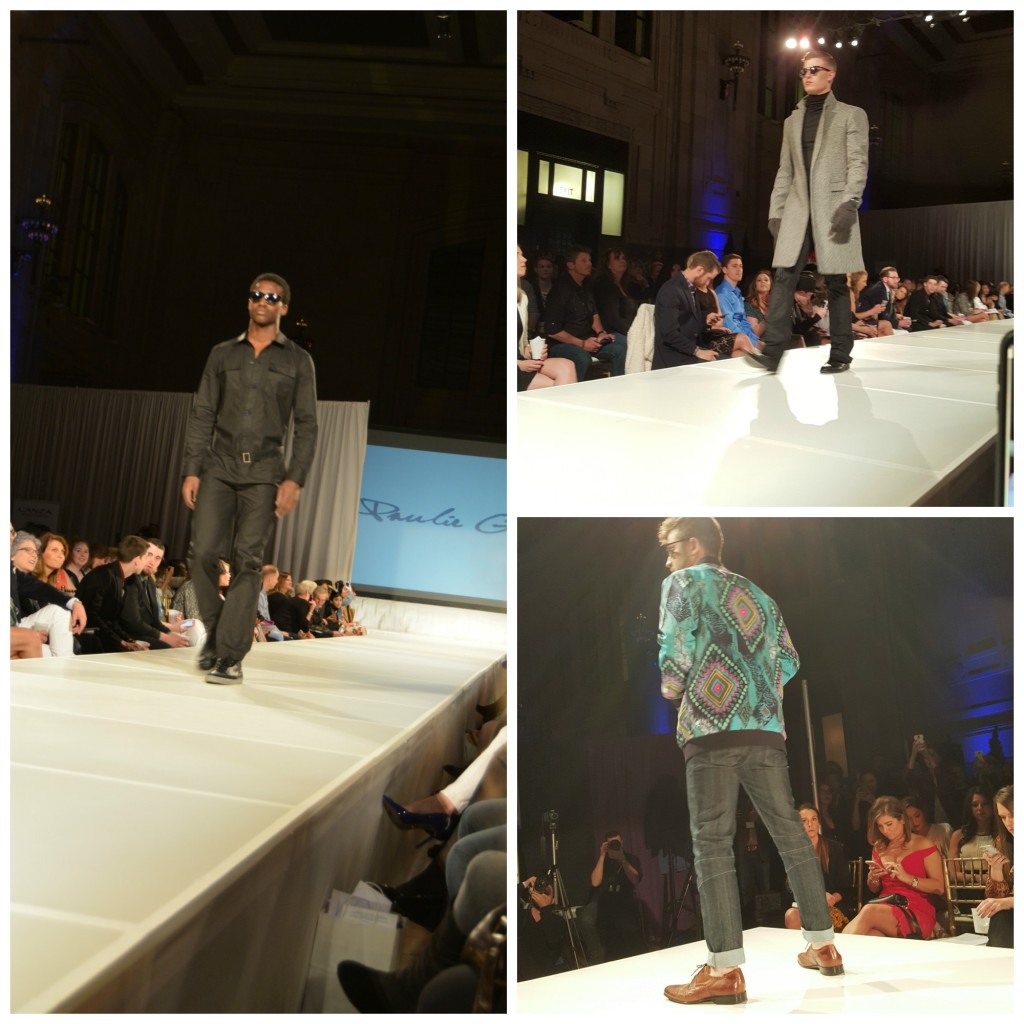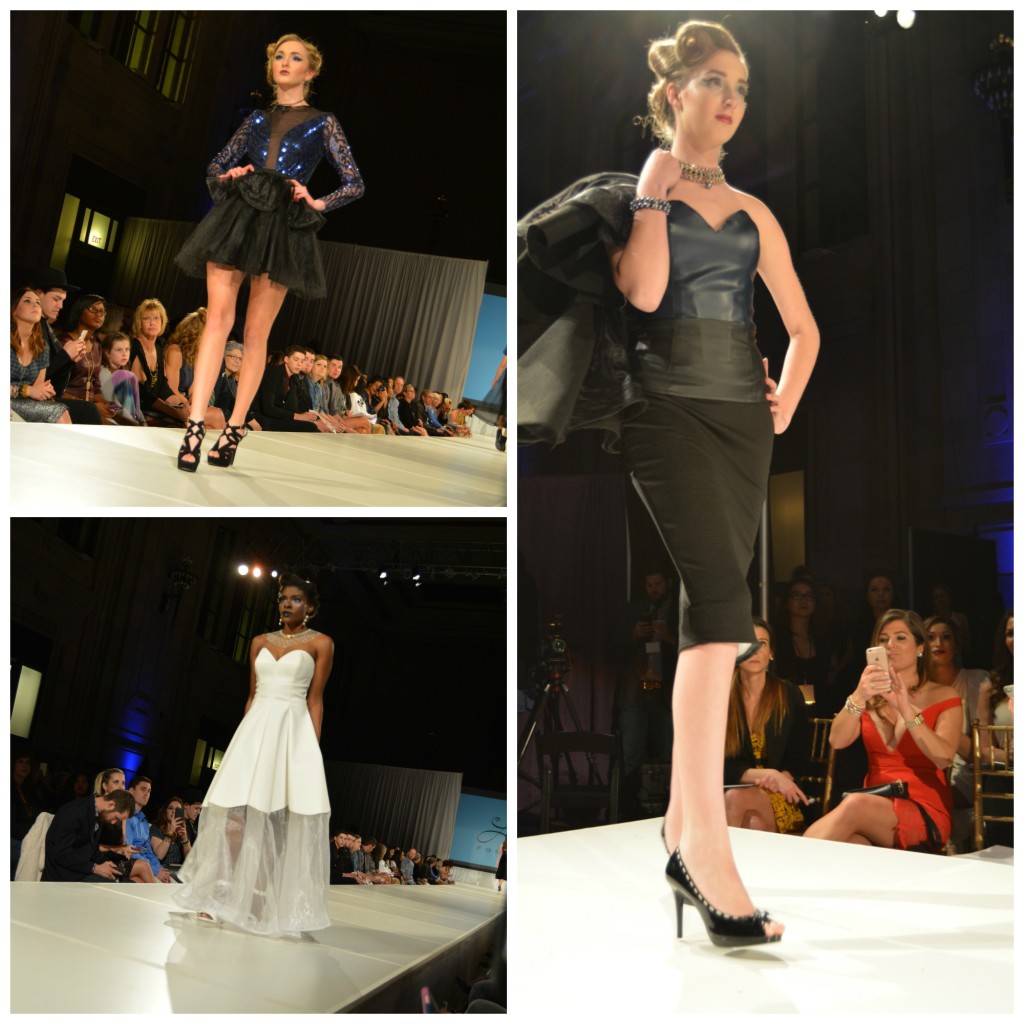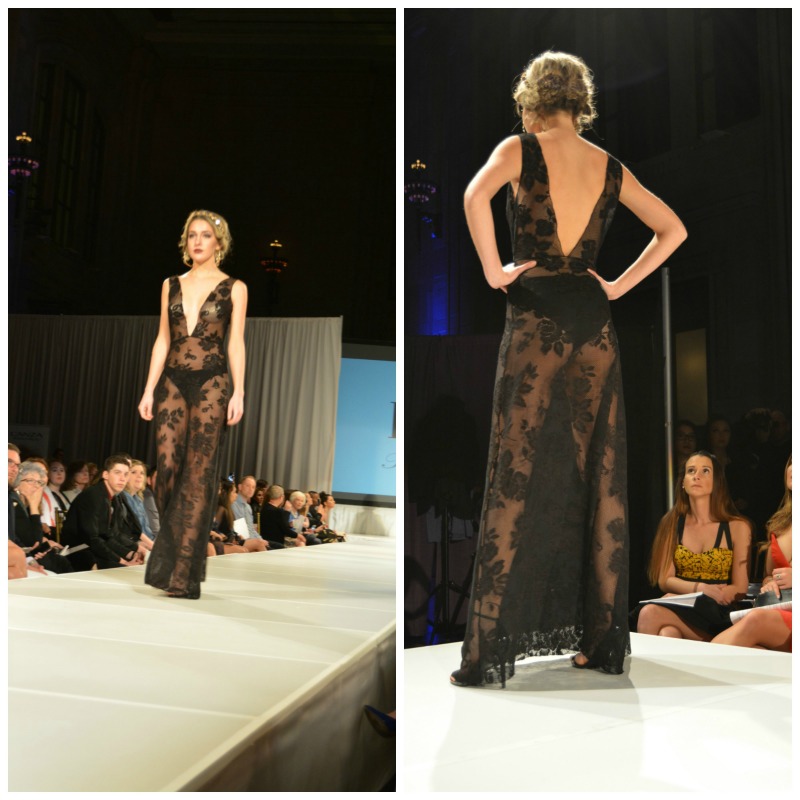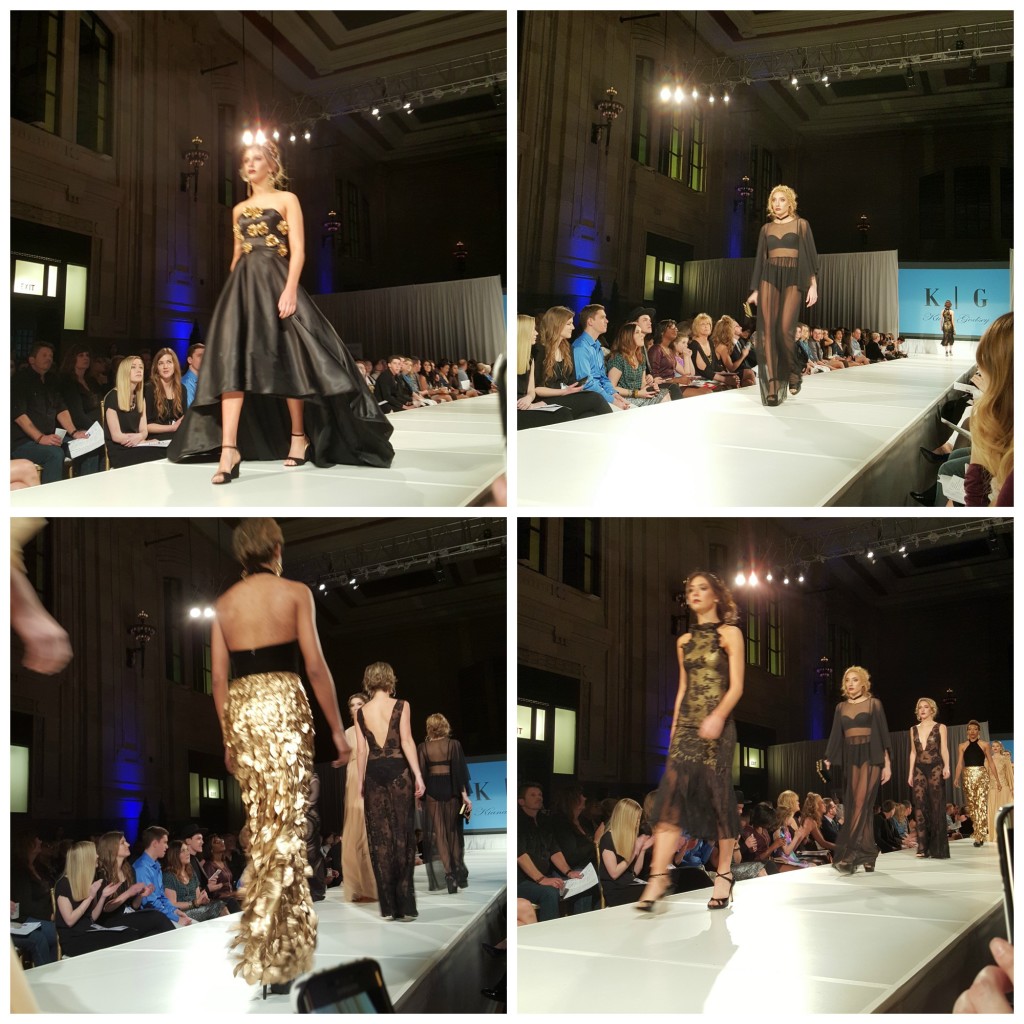 Linking up with Beauty By Miss L, Style Elixir, Elegantly Dressed and Stylish, Her Heartland Soul, Walking in Memphis in High Heels + The Fashion Canvas, I Do DeClaire, Two Peas in a Blog, Style Nudge, Mama and More, Shopping My Closet, Pumps and Push Ups, Chic Street Style, and The Pleated Poppy.