If Zara and Obi-Wan Kenobi had a baby, it would be this poncho.
I had been wanting to add a poncho to my closet since the beginning of the season; they seemed so cozy and when executed appropriately, could be really chic. We've been wearing huge blanket scarves for a few winters now, and I think those over-sized bad boys paved the way for the return of the poncho.
This Zara poncho had me at the gray and camel combo, but I was totally sold when I realized the lettering down the side read: "FREEZING." Yes, good. Especially considering it's not supposed to be above the 32° mark for at least another week here in Kansas City. (Argh, winter.)
Kept the neutral theme throughout: black skinny jeans (seriously, I live in Madewell denim), a gray cashmere blend sweater (on super sale right now in a ton of colors), and black cut-out stompers.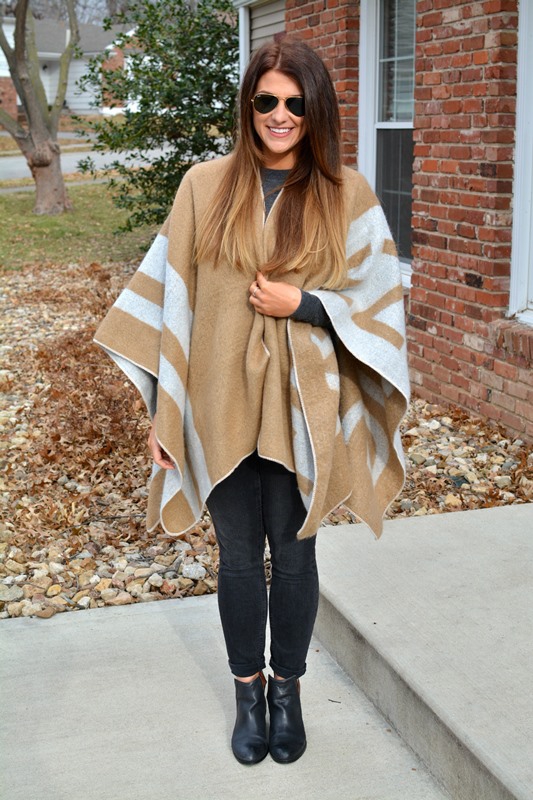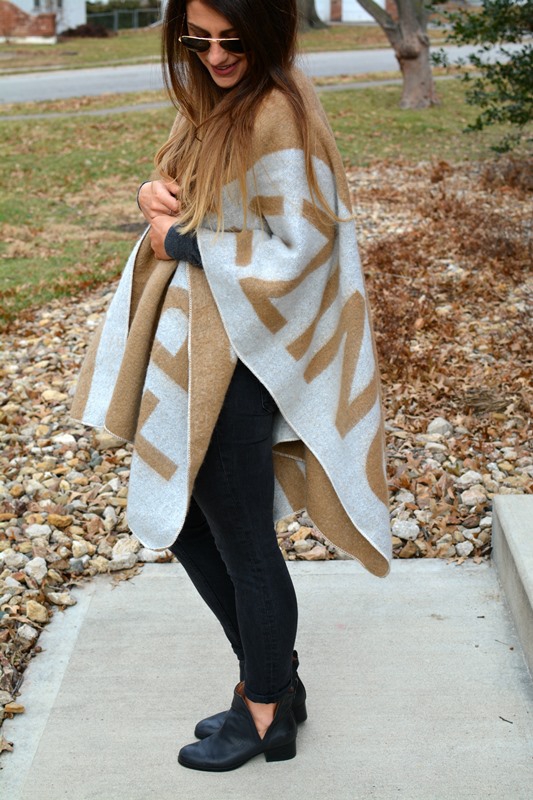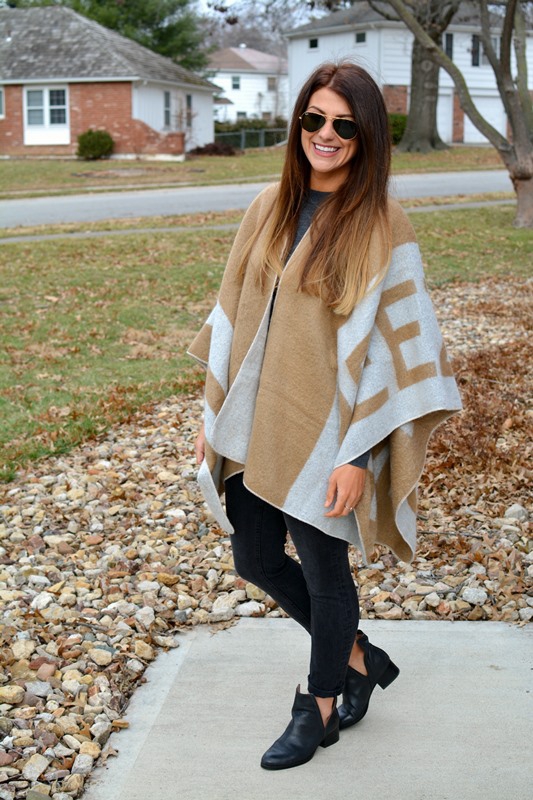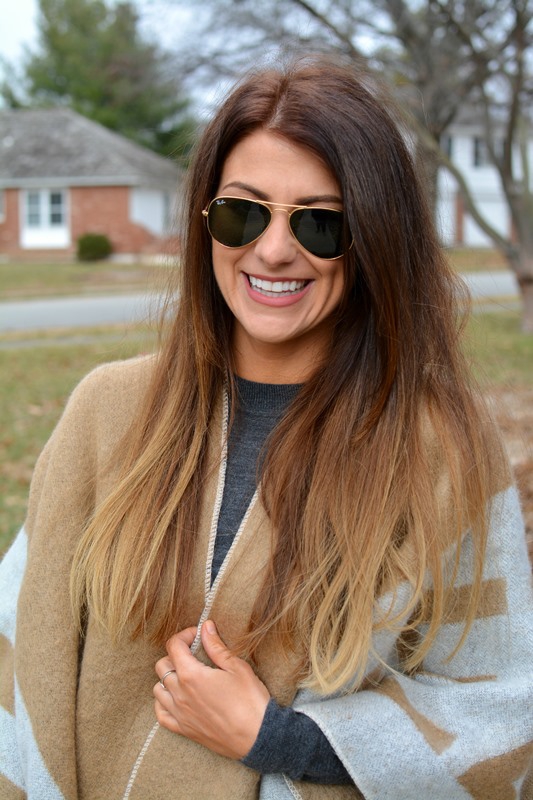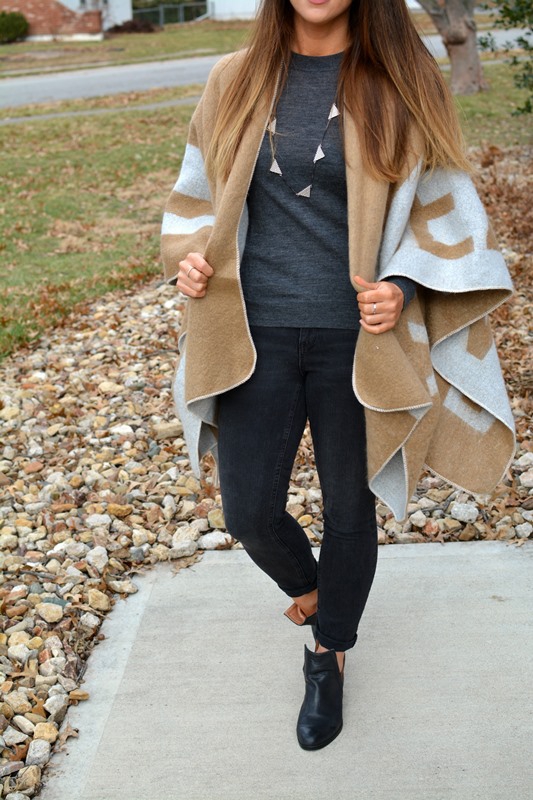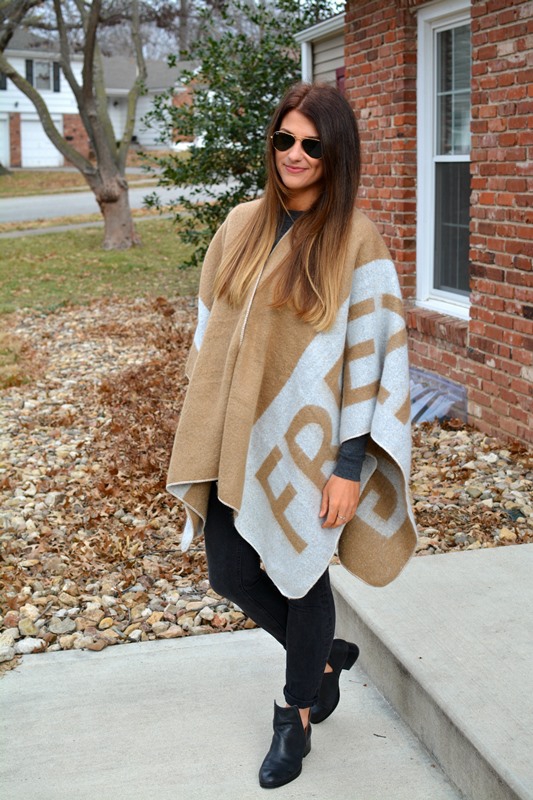 Shop the look:

Tips when shopping for a poncho:
Look for something that drapes over the shoulders rather than has a hole for you head to poke through. The former is more modern + allows the option to belt the poncho if you feel it's overwhelming your frame.
Neutral colors (black, winter white, tan, gray, navy, olive green, etc.) are your best color palette bets, especially for novice poncho-wearers.
Say yes to: patterns and fringe. Both work.
If you're short/petite, try wearing a poncho with tall heeled boots or pumps so your legs don't get lost.
Nordstrom $225 Giveaway
Who doesn't love a little shopping spree? A few blogger pals + yours truly have joined up to offer the chance to win $225 to Nordstrom! Not bad, not bad. I'm thinking that's at least new pair of pumps, some skin care essentials to get your winter skin in shape, and maybe a new lipstick to brighten things up. Easy entry below; the more entries, the more chances to win! Good luck!