Holiday party season is here and it's Babbleboxx to the rescue.
Here we are again, friends: holiday season. Lots of parties, festive happy hours, get-togethers with old friends who are town for turkey and presents, and just general merriment. It's the most wonderful time of the year! But it's also busy. You have to be ready to roll on a moment's notice, so the beauty and fashion routine need to be streamlined to minimize stress. Luckily, my friends at Babbleboxx came through with a box that makes staying party-ready super easy.  Let's dig in!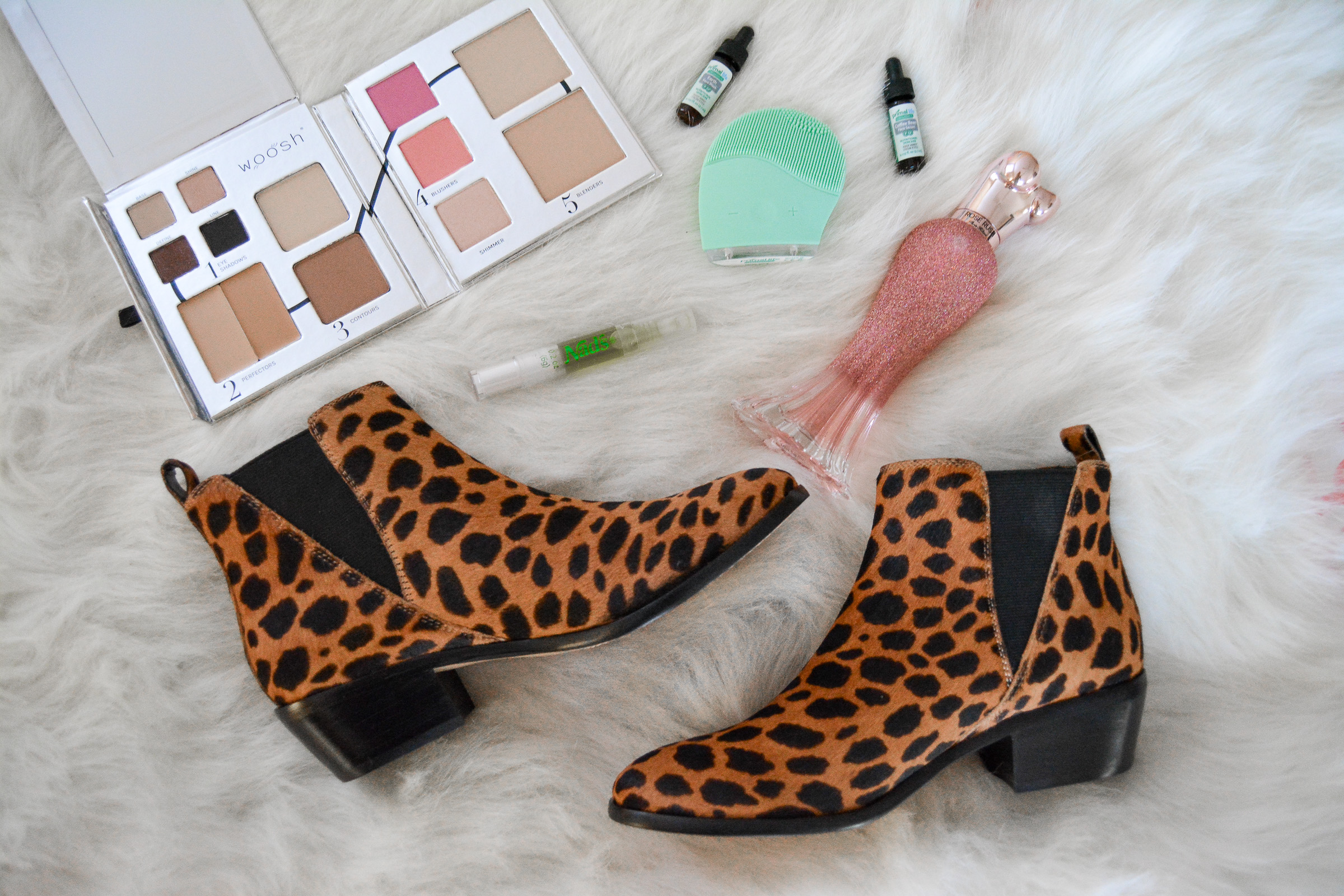 __
Ankle boots are a cornerstone of my shoe wardrobe, but I didn't have a pair of cheetah boots (believe it or not). These Vince Camuto boots take the classic Chelsea style and wrap 'em in gorgeous cheetah print for a boot that goes with both jeans and sweater dresses. I actually wore these last weekend with destroyed skinny denim and a black blouse for a little holiday party at my parents' house. They are super comfy (I can walk all day in these bad boys!) and run true to size. There's a little bit of a heel to give you some height, but nothing that's going to require a foot soak afterward. (As much as I love my stilettos, I'll take a sassy ankle boot with a bit of a heel any day of the week!) And even though these boots make a statement for the holiday season, they'll work all the way through to spring.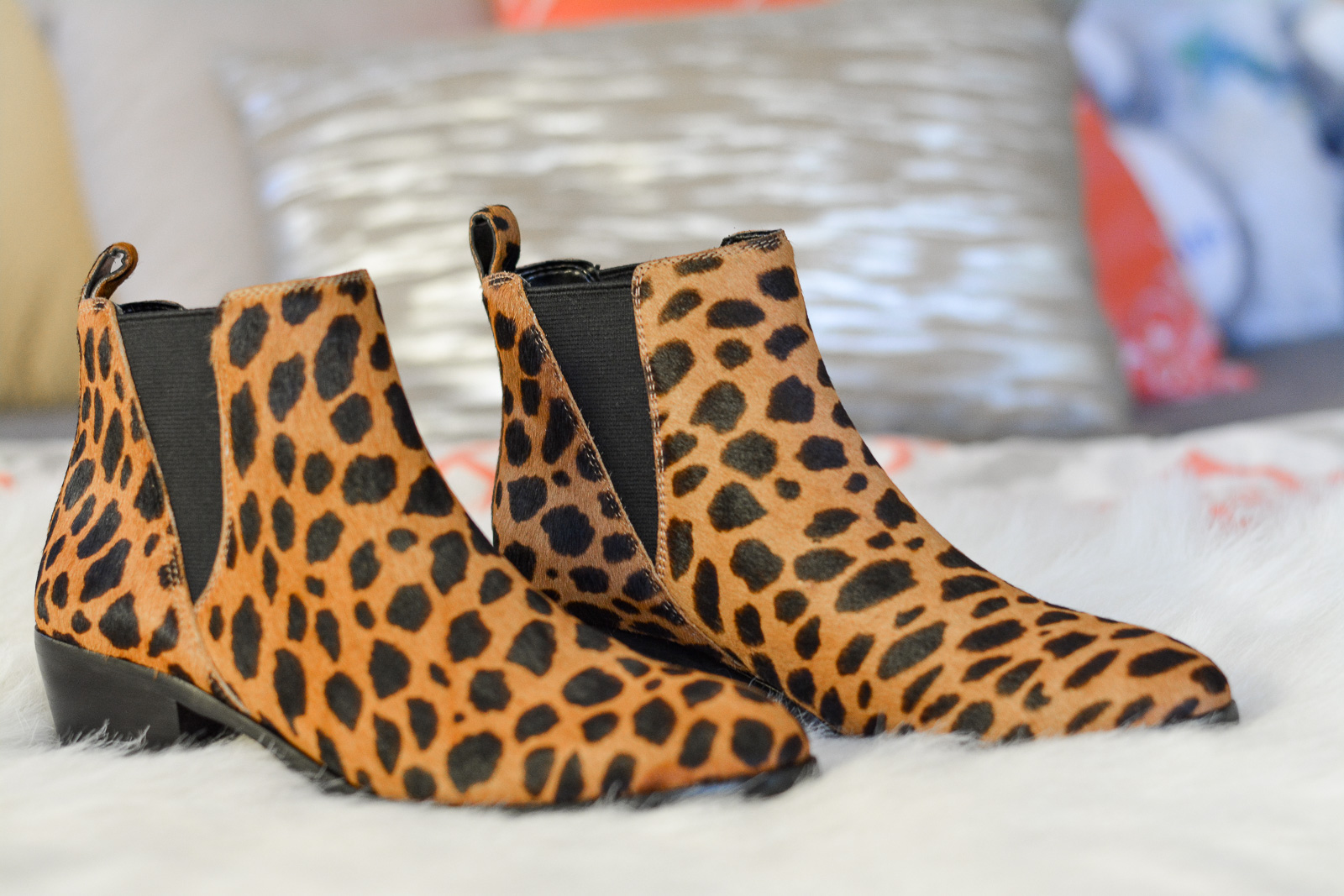 For most of us, the holidays mean hitting multiple Thanksgivings and Christmases. Last year alone, I tackled 5 Christmas celebrations over 2 days. What is absolutely necessary during those holiday overnights? Compact but comprehensive beauty. I just can't pack up my entire vanity; I need to be able to pare down my makeup to save space and streamline my holiday travel plans. Enter this amazing mineral-based Woosh Beauty palette. The Fold Out Face gets it all done for you: it evens out your complexion + conceals, perks up those cheeks with a warm and a cool blush, contours + highlights, and acheives a simple but lovely eyeshadow and liner look perfect for a holiday photo.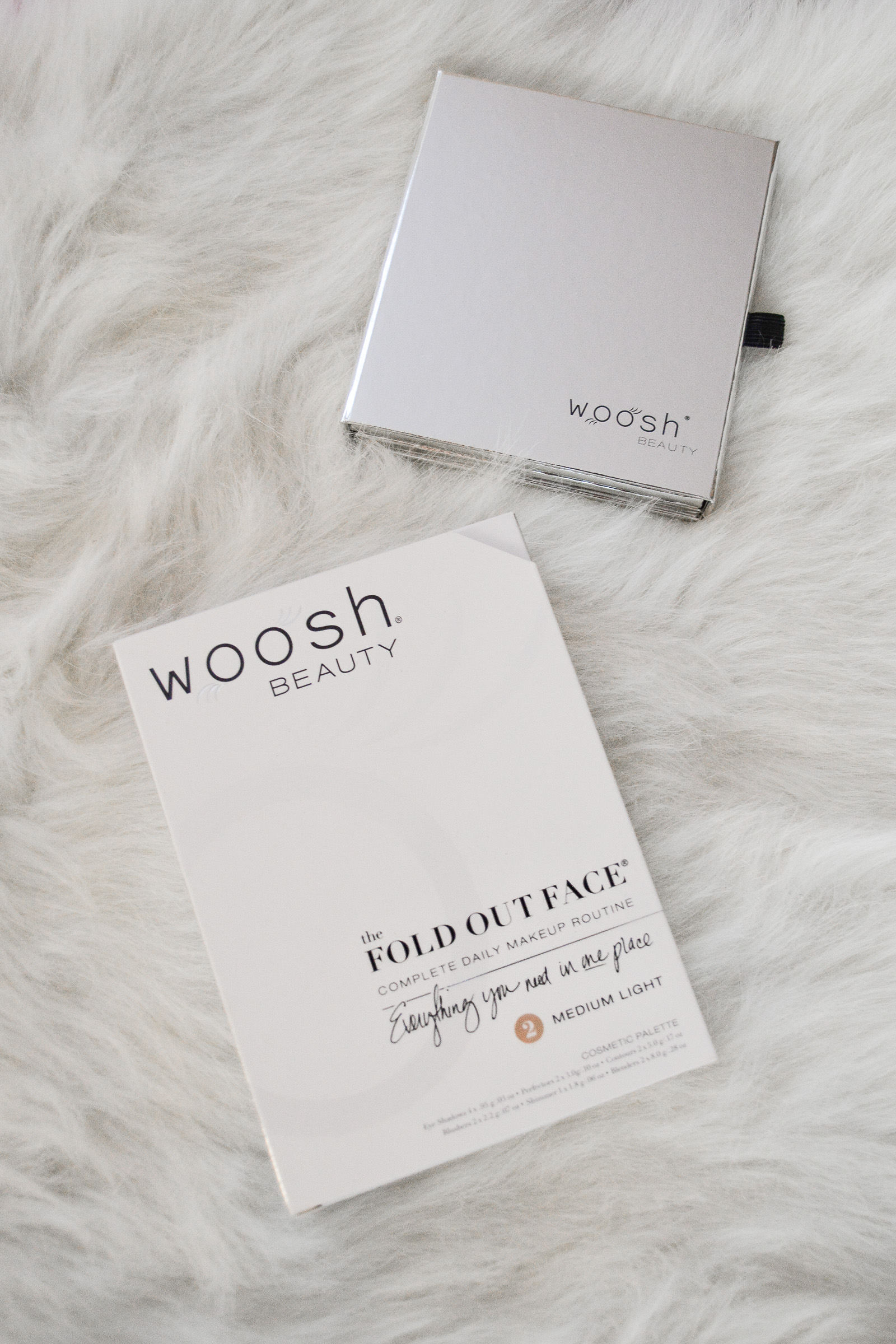 I used this palette when my boyfriend and I celebrated our 2-year anniversary downtown for a little staycation in the city. I packed the Fold Out Face palette, a mascara, and a lipgloss– that was it! Talk about easy. I was able to build an entire face from this essential palette– the blushes are so pretty and the highlight is legit.  This palette's going to come in so handy for holiday traveling and touch-ups during Thanksgiving and Christmas!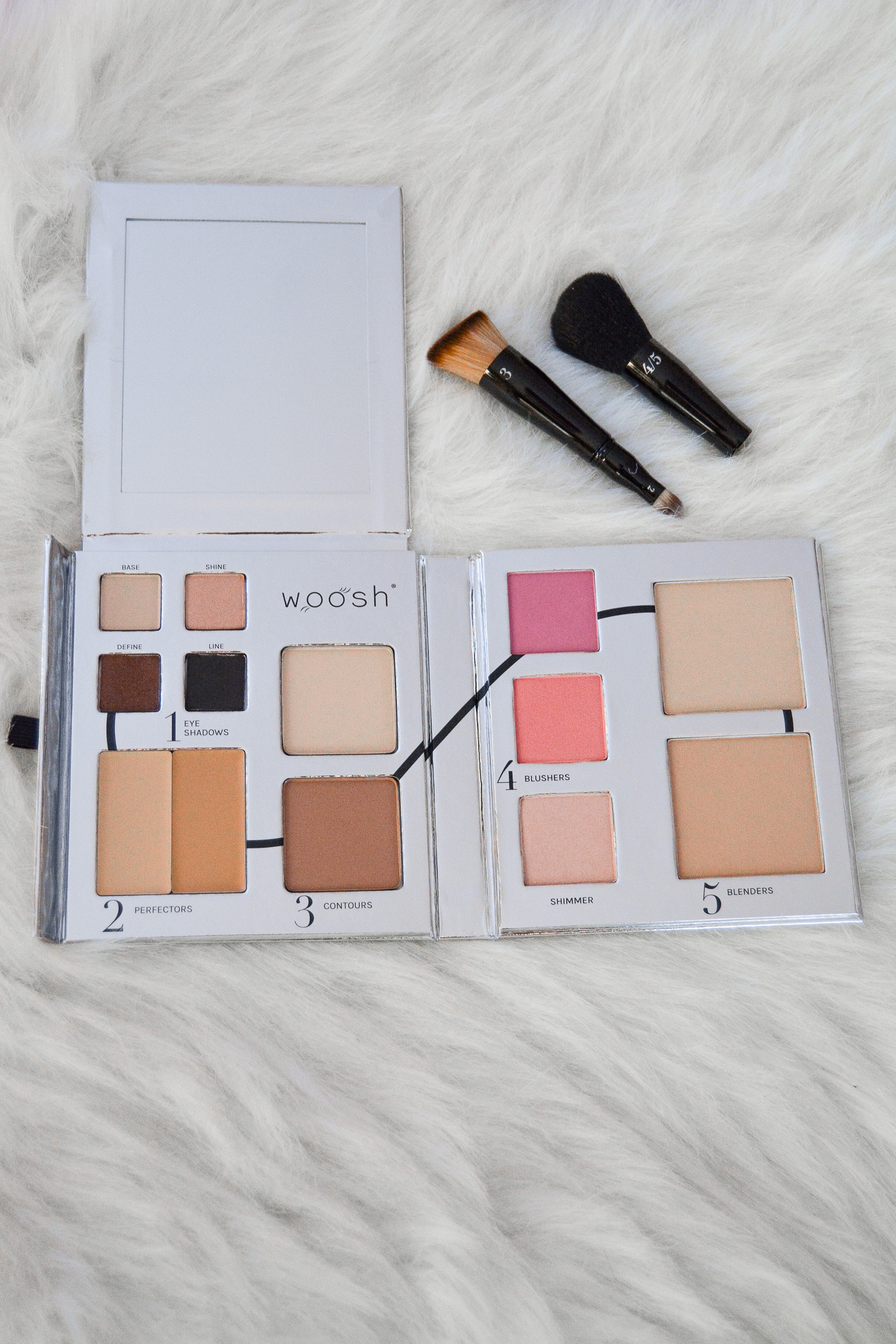 Woosh Beauty is cruelty-free, paraben-free, and only $59 (but a $250 value). Use code: BB15OFF to get 15% off your entire Woosh Beauty purchase.
ROSÉ RUSH Fragrance by Paris Hilton.
You guys know how I feel about my rosé: give me more, more, more. The new ROSÉ RUSH by Paris Hilton is a lovely feminine fragrance to help me add to those rosé vibes with the lychee, papaya, and rose notes. What I love about this scent is that it works for both day and night: I think it's light enough to work at the office, but it also has enough warmth to work as an evening fragrance. And just look at that bottle– too pretty! It looks divine sitting on my vanity.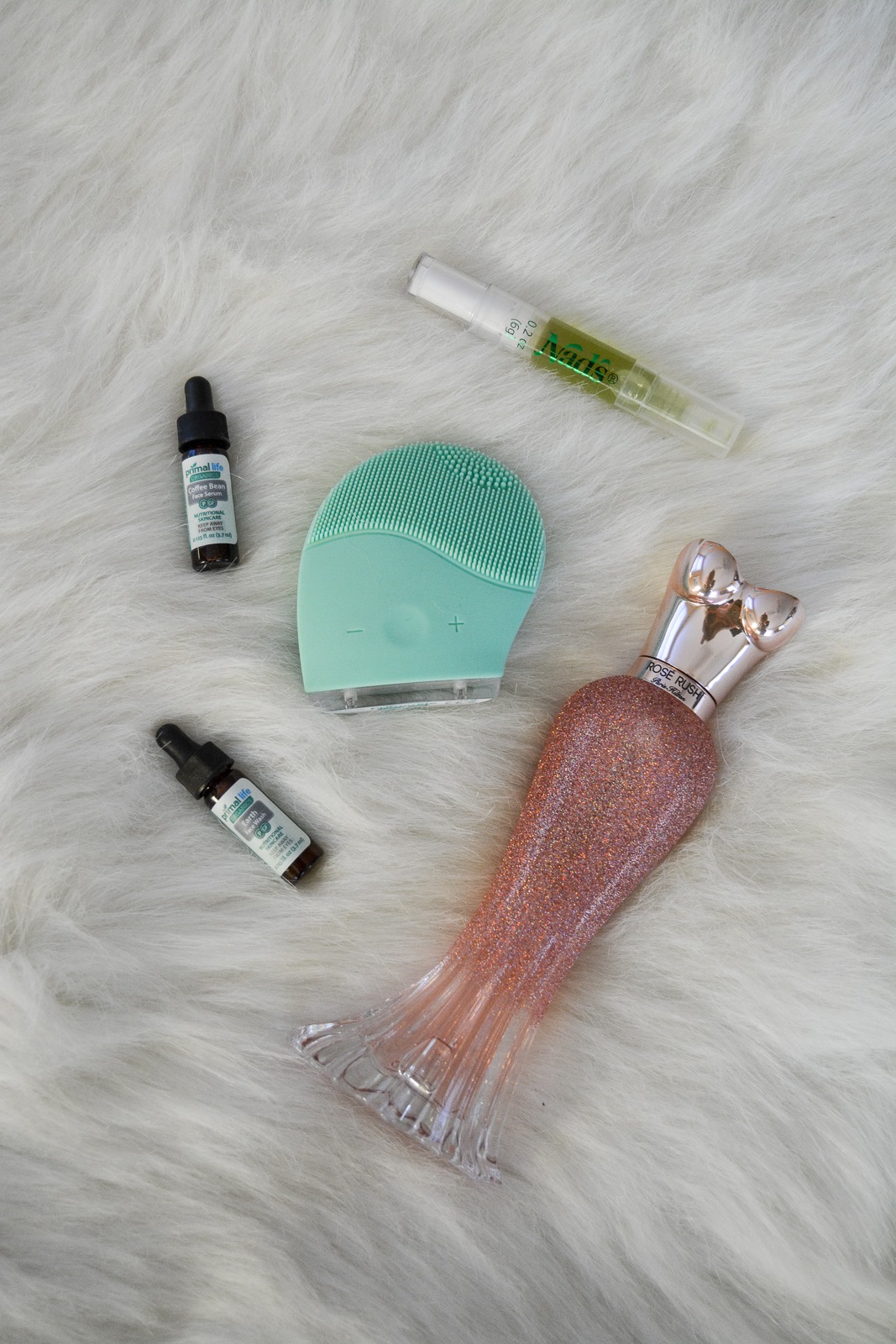 Skincare is so important, but sometimes people neglect the most necessary step: cleansing! It's so key to wash your face every day (and not just to wash off makeup– pollutants and toxins in the air take their toll on skin, too). The Primal Life Quiver sonic facial cleansing brush is just what a girl needs! Coffee Bean face serum and Earth or Ocean face wash. Use the face wash + facial cleansing brush to wash the day off your face. The Quiver sonic facial brush uses high-frequency vibrations (8,500 per minute!) to cleanse, open pores, and stimulate the skin + reduce fine lines. A deeper clean means the products you put on post-wash (serums, eye creams, moisturizers, etc.) actually work better because they can penetrate deeper into the skin. Brilliant, right? It's like giving yourself a facial without having to leave the comforts of your bathroom! The Quiver Sonic facial brush is definitely going in the daily skincare routine.
I also really love the Coffee Bean face serum, which uses Arabica coffee seed oil, collagen protein, and argan oil to boost your skin's moisture, elasticity, and tone. I look more awake and my skin looks brighter after a round with the Coffee Bean serum. I used this sample up quickly and am buying a full-size bottle soon!
Get 20% off your Primal Life purchase with code: PLOBOXX17.
Nad's Facial Wand Eyebrow Shaper.
Need to do a little brow grooming but don't have time to hit the salon for an eyebrow wax? The Nad's Facial Wand Eyebrow Shaper kit has everything you need for a clean + fresh brow shape. Use the applicator pen to spread the hair removal gel exactly where you need to do a little sprucing and then press a cotton strip (included in the kit) over the top. Hold one end firmly and then quickly pull the strip off; boom! The area is smooth for 4-6 weeks. This is eyebrow shaping done easy! You can also use this kit on your chin, upper lip, and other areas of the face.
Nad's is cruelty-free and the cotton strips in the kit are reusable (just give 'em a wash after each use).
 *This post is sponsored by BabbleBoxx.com on behalf of Single Edition Media; all thoughts and opinions are my own.