My birthday falls on New Year's Eve (you can imagine how this got infinitely more fun post-21), which is the perfect excuse for me to get super dressed up and drink fizzy beverages with my best friends.
I normally know exactly what I'm going to wear weeks in advance. This year was different– I kept waffling between choices (LBD or an all-white tuxedo suit? Sandals or glitter ankle booties? Smokey eye or red lip?), before finally settling on the outfit below. My focus was on the details, starting with a little black dress.
The cut of the dress is simple, but the velvet leopard embellishment makes it a bit more sassy. The sandals look silver from afar, but up close you can see they're metal mesh (I feel like I'm wearing that chainmail divers wear during Shark Week). Accessory-wise, I went with the "more is more" methodology and layered on a ton of gold necklaces and bracelets, with a few bits of silver thrown on to tie in the shoes.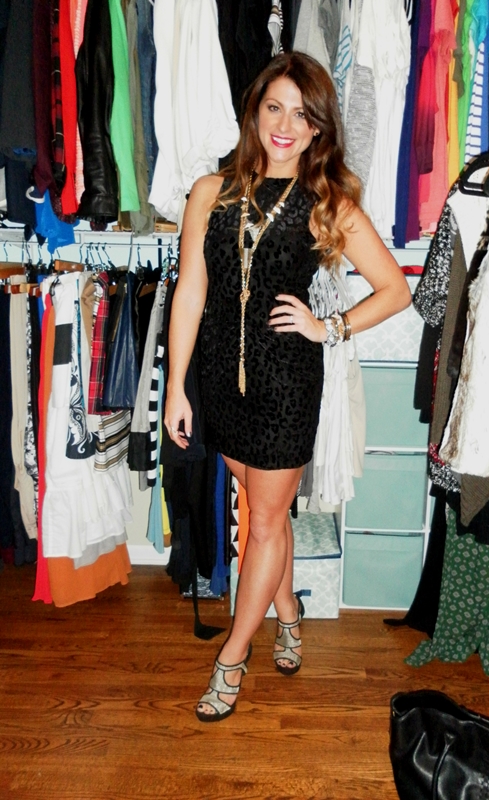 An over-sized tuxedo blazer (it's quickly becoming the official Holiday Jacket, is it not?) adds a layer of warmth and an  element of interest with its satin lapels and boyfriend-y feel.
I did go with the red lip, as you can see. Courtesy of NARS Dragon Girl– every girl needs this lipstick!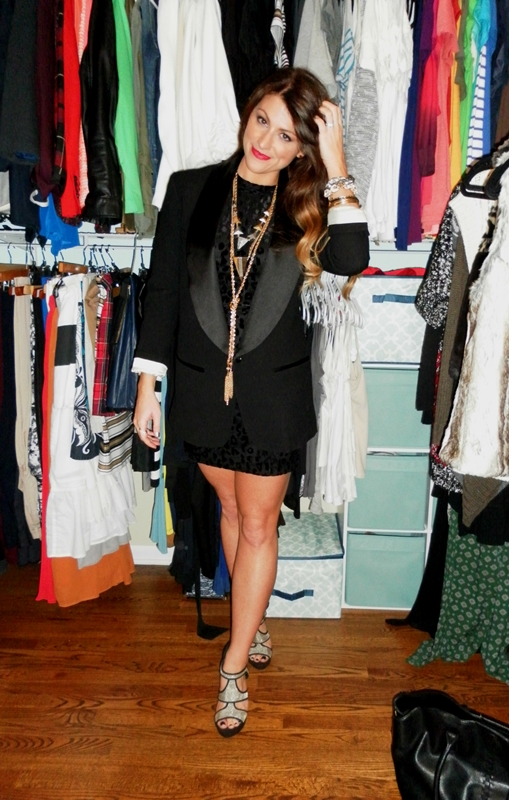 One of my fav shots of the night, taken by my best friend.
Hope everyone had a fun and happy NYE! Let's make 2014 brilliant. 🙂 Cheers!
Linking up today with Glitz and Gold, All Things Pretty, and Perfectly Coutured and Style Elixir.