It's patio season, that's for sure. Nothing like sitting outside and enjoying the early summer sunshine with your friends + a few beverages.
Two requirements for patio attire: cute and comfy. You're bound to be in an Instagram shot or two, so looking put-together is a plus. But you also are subject to the sun and humidity (KC, you muggy little metropolis, you), so comfort is key. Loose-fitting, breezy, check, check, check.
I often reach for a floaty tank, like this bright version from Swell. I love the print– it's so summer-appropriate. When layered on over a bralette, I basically get away with wearing the lace equivalent of a sports bra out of the house. (Score.) The rest of the look: boyfriend shorts, some signature jewelry, and a pair of cute strappy wedges. A high ponytail keeps my hair from getting too big, thanks very much.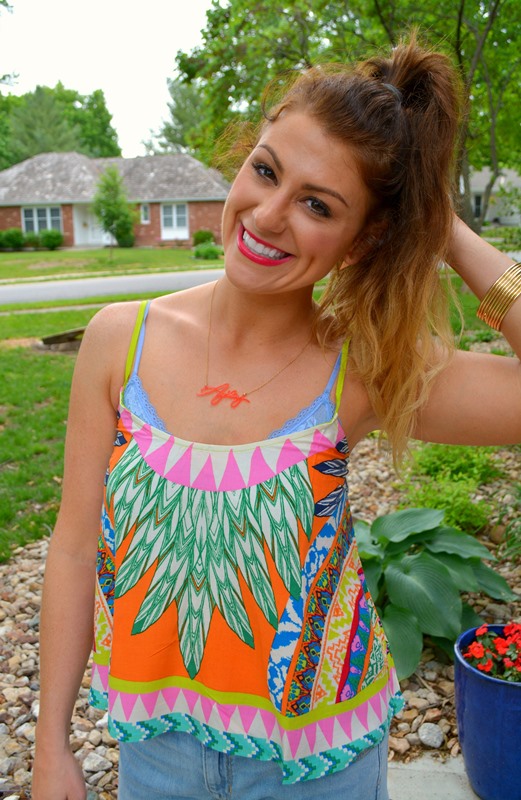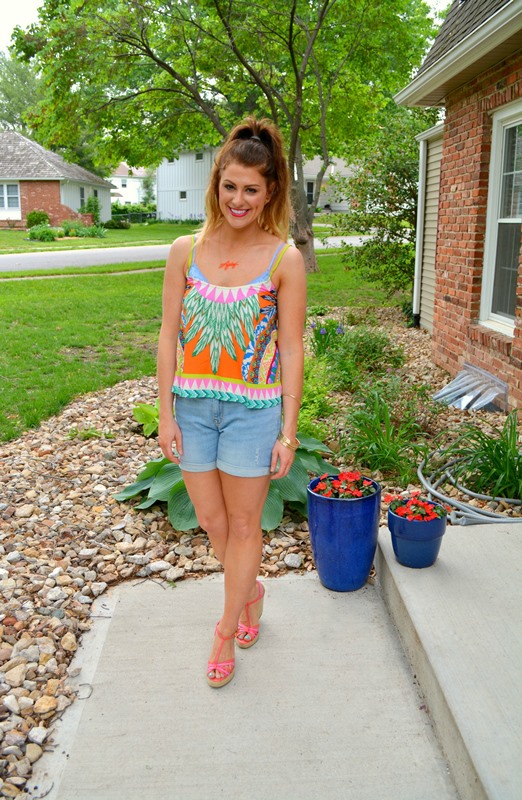 Hope everyone is having a good week. I'm having a blast in Charleston (palm trees! UX! Fellow nerds!) and am en route back to Kansas City tomorrow after an awesome week at Giant.
A big thank you to Jena from I'm Perfectly Human and Aisha at True Soul & Spirit for featuring my day-glo look as their featured outfit this week. Thanks, ladies!
Linking up today with Vodka Infused Lemonade, Stylin in St. Louis, Perfectly Coutured + Everyday Fashion & Finance, I'm Perfectly Human, VMG206, Elegance and Mommyhood, Just Jacq, Midwest Bloggers, and Style Elixir.