There are a lot of things I don't do.
I don't do morning workouts, I don't do Crocs, and I don't post on Mondays.
And yet here I am, posting on a Monday. But for a really good reason.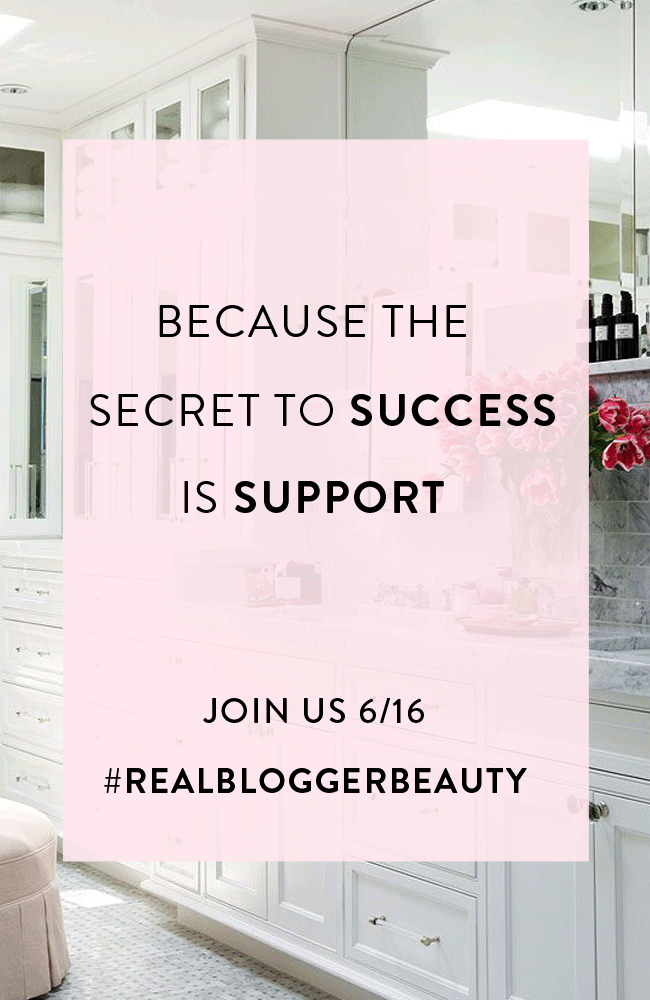 My friend Maya contacted me last month with the brilliant idea to get a bunch of bloggers talking about getting real. #RealBloggerBeauty, she called it. Whether it was sharing a personal story or talking about what inspires you, the goal was to lift the blogger's veil and let our readers in, while also supporting our fellow bloggers in arms. And we'd all do it on the same day– today, June 16th– and spread the word.
So what inspires me?
Recently, it's been getting to know the women behind the blogs I follow. When I first started LSR, it was a nice little creative outlet. An open journal; a catalog of outfits and trends as I interpreted them. But I blogged in a bubble. I didn't realize bloggers talked to each other (this seems naive– it was). I thought we all just sort of dumped content on the web to be consumed by the nameless, faceless Public. And the whole time, there was an entire community out there I was missing out on.
I met a few local girls who had been blogging longer than I, and that changed everything. All of the sudden there were events to attend and new people to meet. It was exhilarating and eye-opening. So many new faces, so many stories.
Here was a built-in support group I had been completely neglecting. A group of girls who not only knew the struggle of a botched outfit shoot ("I swear, that dress was flattering in the store…"), but who could relate to the pressures of a consistent editorial schedule while balancing a regular social life and full-time 9 to 5 gig. A network of shared experiences, and I was just blindly stumbling along cobbling together outfits in my closet.
There's a yin to the yang, of course. While most of the girls I've met thus far have been nothing short of lovely, there have been a few less-than-stellars. Girls who step on other girls to claw their way to the next sponsored post; bloggers who believe themselves better (for whatever reason) and act accordingly. I don't really get the ego; in the end: we're all people who take pictures of ourselves (or our food, or our DIY projects, etc.) and post 'em on the Internet. As much as I love to blog (and shop, let's get real), we're not curing diseases or saving the world (maybe just saving people from Crocs, but that's beside the point). There's no need for negativity; we should all be there for each other.
Support is what's important. The tagline for Maya's Real Blogger Beauty campaign is: "Because the secret of success is support."
It's so true.
You can't do it alone. The support is what gets you through everything from writer's block to a particularly bloated week of outfit shooting. It keeps you fresh, keeps you sharp. Keeps you from deleting your WordPress account when your tagging system goes awry and all your content jumbles into Blog Soup.
You get by with a little help from your friends, as the saying goes. I'm learning this, more and more. And these fellow bloggers, these girls all across the country and world, become your friends. Or they should, if you're doing it right.
What this post really is: a thank you to those I have forged friendships with. Those girls shoot me a fun email out of the blue, who follow me on twitter despite the fact I frequently scream about college basketball, who take my photography-ignorant ass DSLR shopping, who hit up a hotel bar with me until the wee hours of the morning throwing back glasses of wine and reminiscing about the glory days of Jonathan Taylor Thomas, etc. Finding you all has made the past year so much more fulfilling than it would've been if I were on my own, blogging in a little Kansas City vacuum.
You inspire me. Your blogs make me want to be better, to keep learning, to keep reaching. You all bring something interesting and worthwhile to the blogging table; girls who are doing for themselves and all that jazz. I love it. It's beyond rad. So this is my little love song for you.
There are a ton of blogs participating in the #RealBloggerBeauty campaign. Check 'em out by visiting the link up over at Charmingly Styled.
Happy Monday, dolls!