A little early fall print mixing with camo and a summer stripe.
Camo isn't really a print I embraced before this season, but I'm a convert after seeing a bunch of super versatile camo utility jackets in stores recently. I scored this camo jacket from H&M. I snagged a striped summer tank (because I'm all about summer-to-fall mixing this week) and a pair of basic high-waisted jeans, and then slipped on the tallest platforms in my closet. I picked these cognac faux suede sandals out from a pretty impressive lineup at Public Desire; they were the right amount of classic and edge. I also apparently love the fear of breaking an ankle.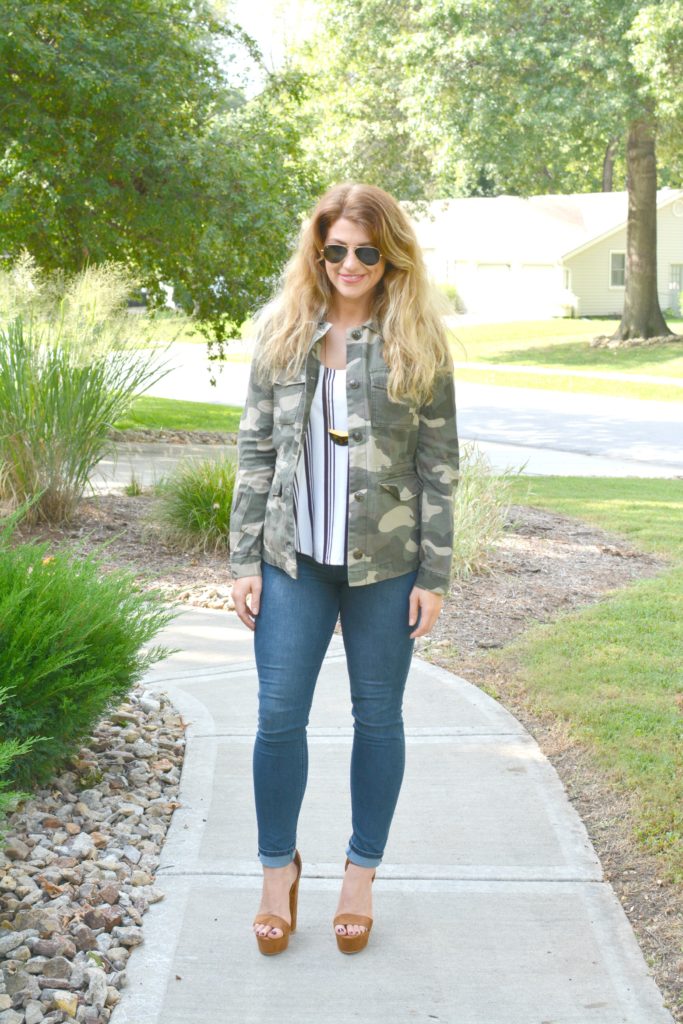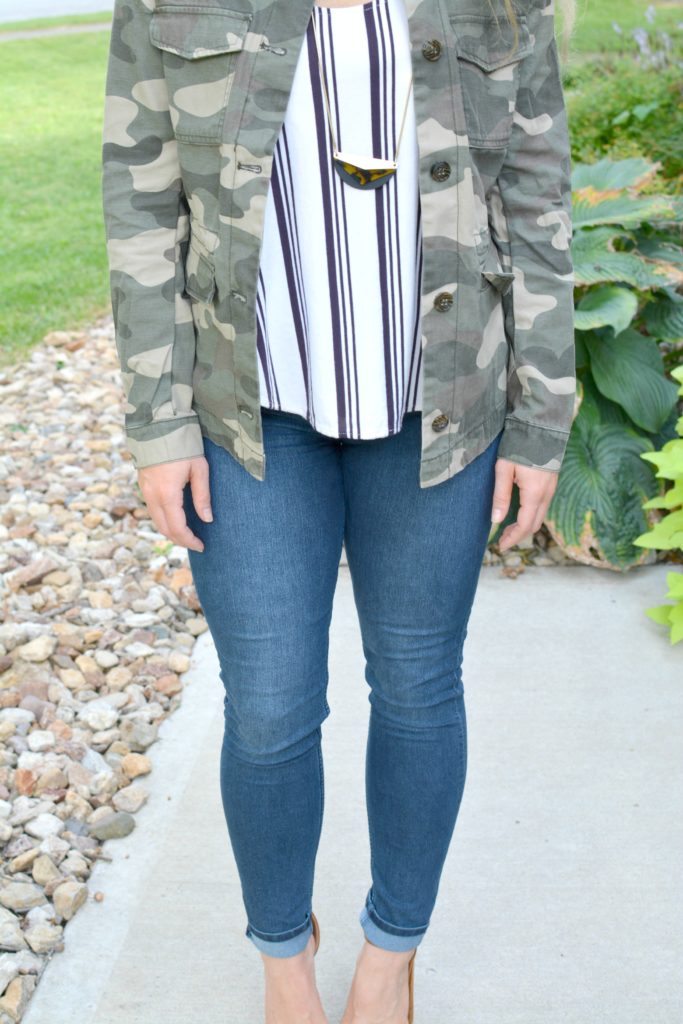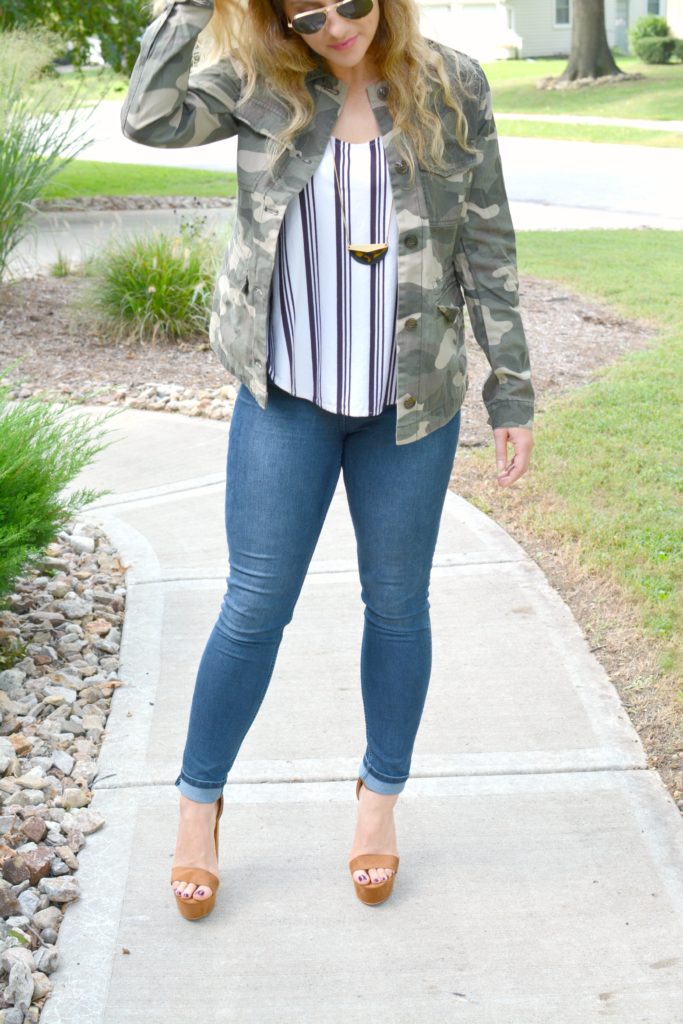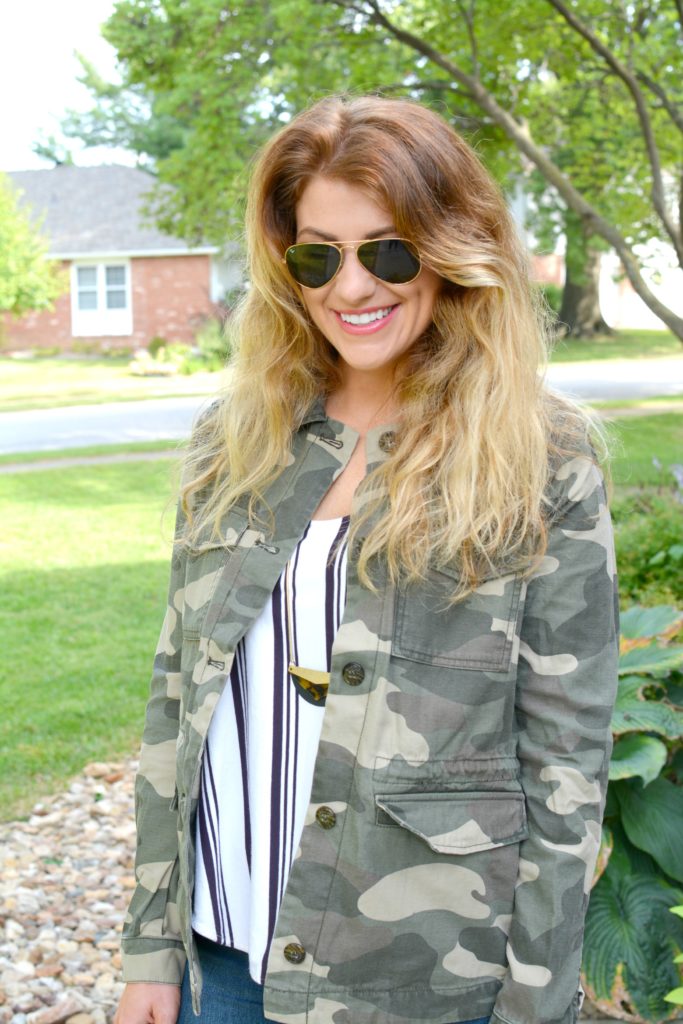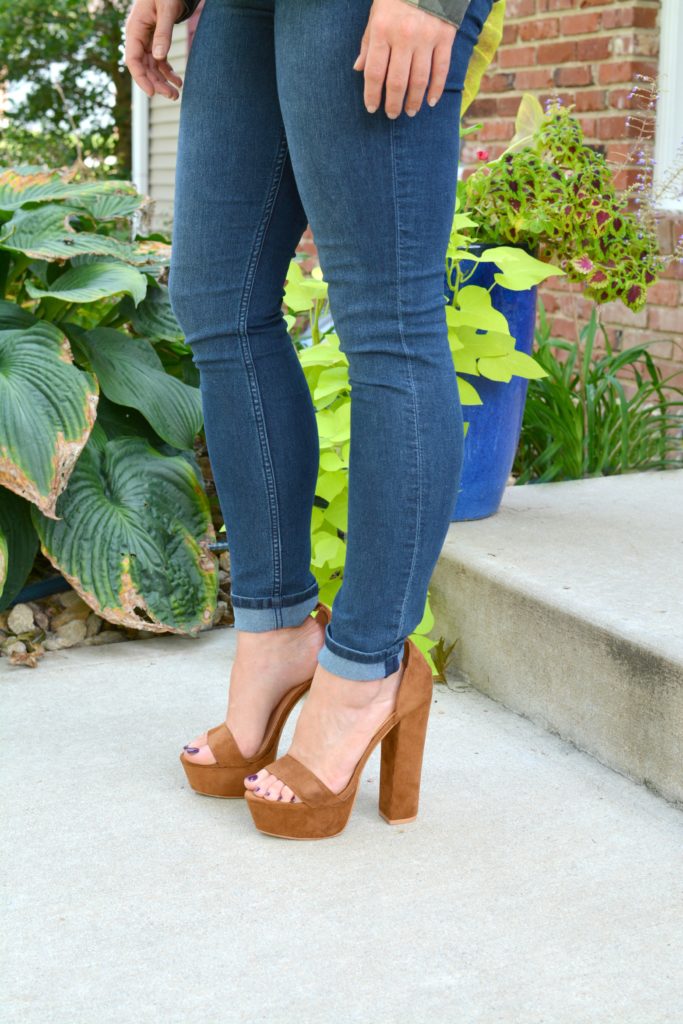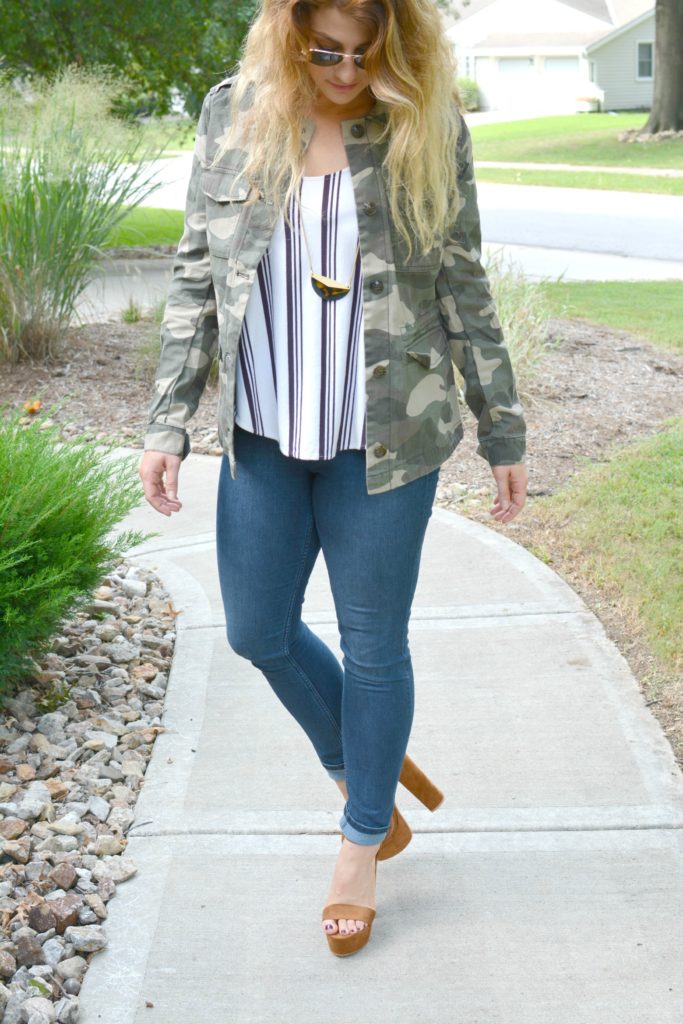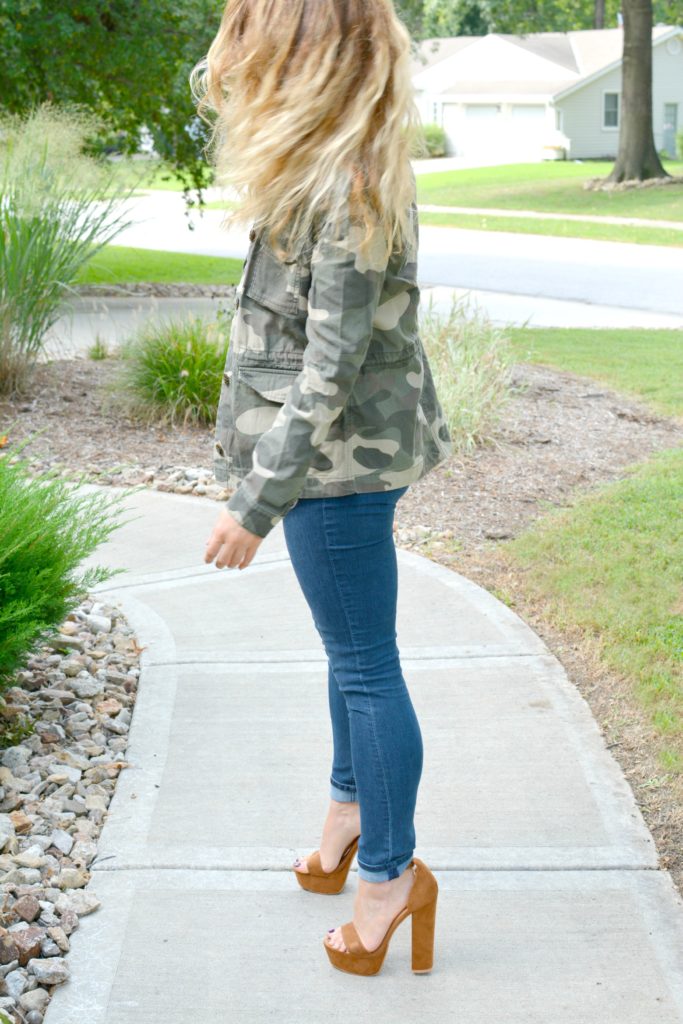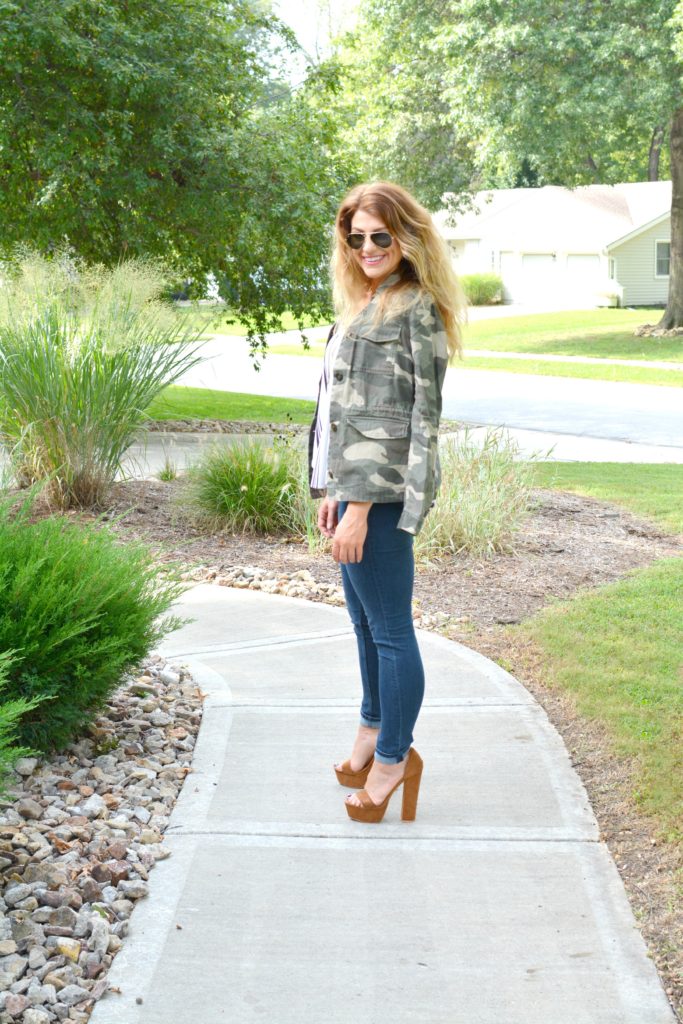 Shop the post:

This outfit is easy because you can swap out any of the elements to customize + remix the look. Don't like camo? Go with basic olive green. Packed away all your summer tanks? Grab a thin sweater, basic t-shirt, or a turtleneck. Printed or solid, both work. (The camo almost acts like a neutral.) Not into sky-high platforms because you have a healthy fear of death? Fair enough, these jeans look just as good with flats or standard ankle boots. Now go forth and outfit!
The FabFitFun Fall Box.
My fall FabFitFun box arrived last week– I unboxed it on Snap and it was bursting with cute + useful goodies. FabFitFun is a subscription box that ships four times a year and is full of $200+ worth of fun, full-sized products for you to fall in love with (the total value of the items below = $240). You only pay $49.95 each time a box ships. But never fear: use code ROUGE and get $10 off your subscription. Check out what's in the latest box!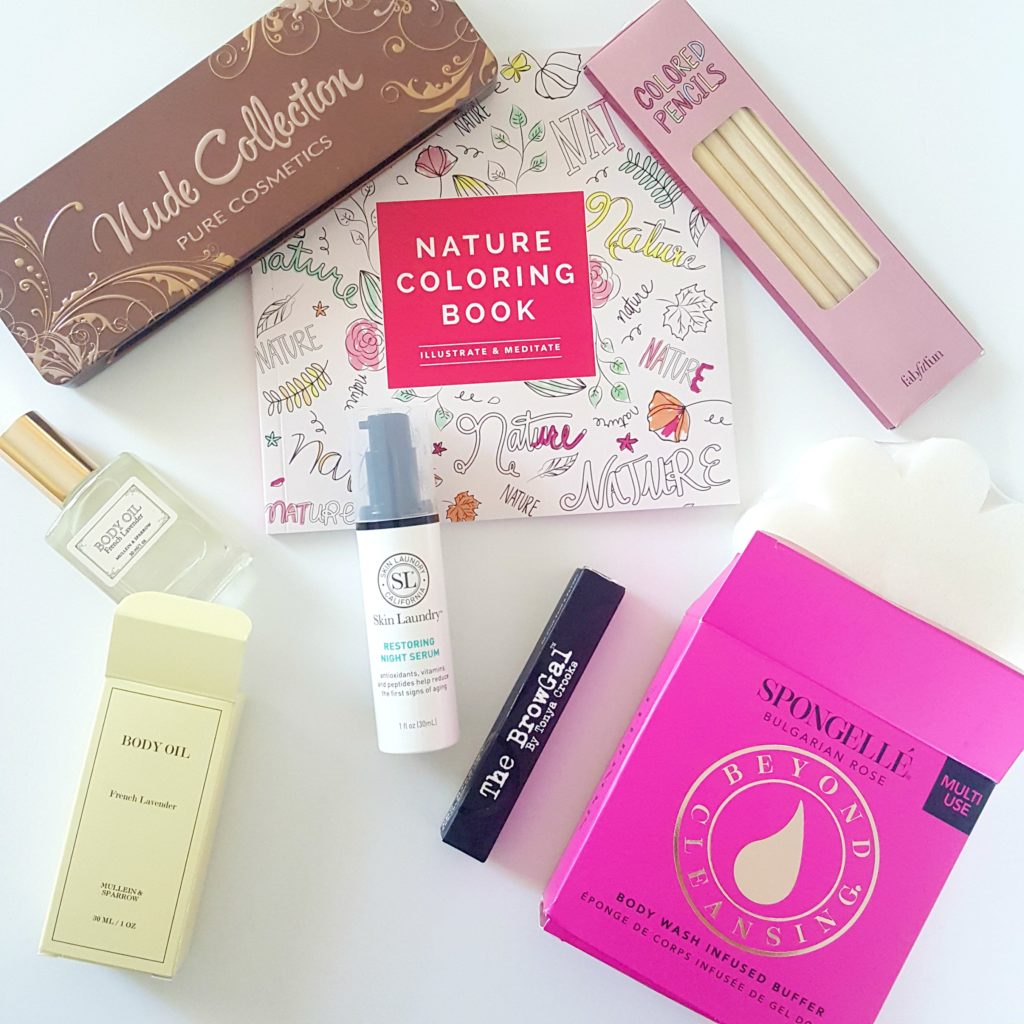 I cannot say no to a pretty nude shadow palette, so I was pumped to unwrap this one from Pure Cosmetics. It has an Urban Decay Naked vibe to it, right down to the brown packaging. The shades are pretty + wearable for every day. And I'm a brow girl, so seeing a brow product is always a welcome sight. The brow gel by BrowGal promises to be water-resistant, which is great for days when touch-ups aren't possible (or there's a chance for rain in KC).
Luxe bath + skincare products are another fave, and this fall box didn't disappoint. First up is a body wash infused buffer from Spongellé. It combines the exfoliation + cleansing steps in a super cute flower-shaped buffer. And it smells amazing. Next is a body oil from Mullein & Sparrow that also smells heavenly and promises to calm both the skin and your senses. Lastly, a night serum from Skin Laundry (love that name) bottles a bunch of good-for-your-skin ingredients (including amino acids, antioxidants, and vitamins) to boost firmness, elasticity, and improve texture.
To round out the box, I scored a cute (and huge) blanket scarf from Modcloth (Muffin is sporting it below) and a super cute coffee mug from The Created Co. that will be a go-to for early morning pick-me-ups. Finally, a coloring book + colored pencil set, which I'll use to unwind after a long day at the office with some Mr. Robot on in the background. Scratch that– you have to pay attention to Mr. Robot, so I'll save this for Housewives marathons.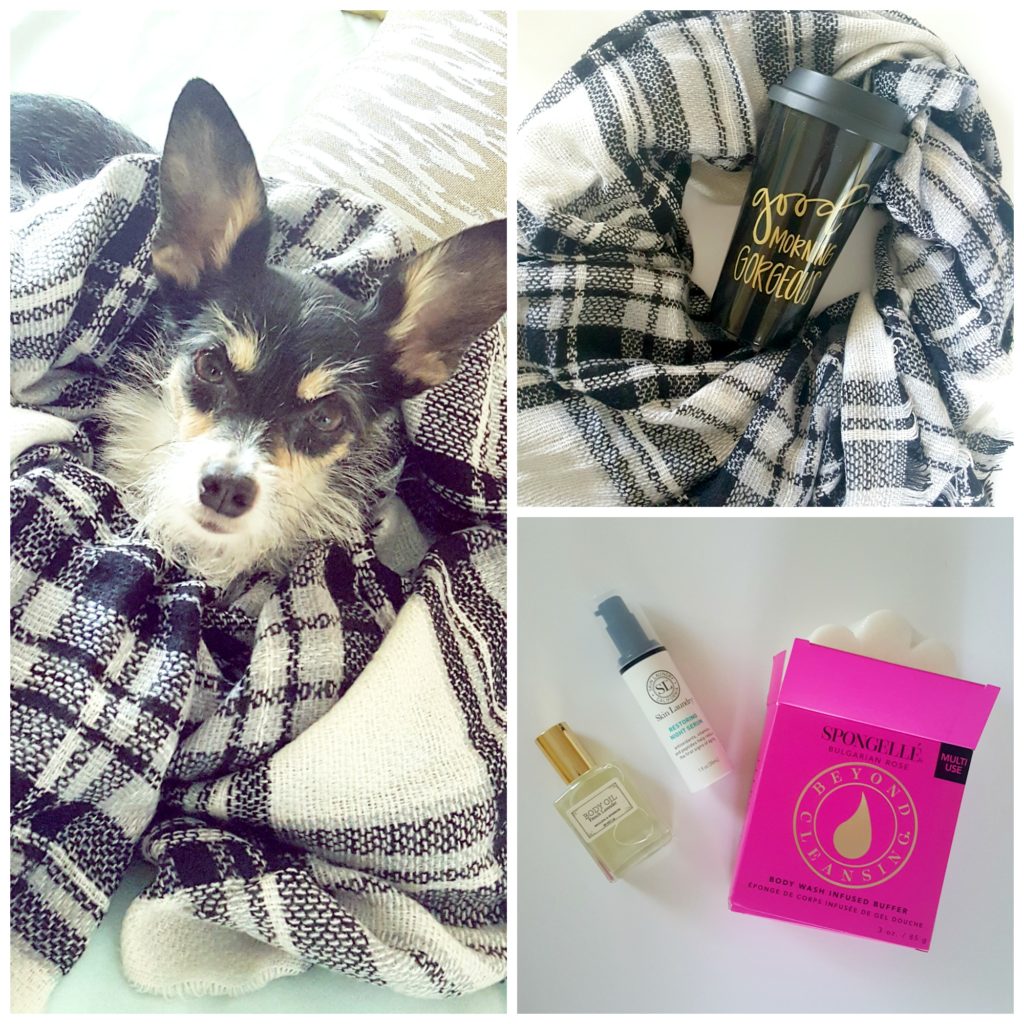 Linking up with Stylin in St. Louis, Doused in Pink + Curly Crafty Mom, Mix & Match Fashion, The Red Closet Diary, Elegance & Mommyhood, Living on Cloud Nine, Life of Malones + East Coast Chic, Adri Lately + Jeans and a Teacup, A Pocketful of Polka Dots, Style Elixir, Forage Fashion, Meet at the Barre, Lizzie in Lace, Threads for Thomas, Shelbee on the Edge, More Pieces of Me + Sincerely Jenna Marie, Michelle's Pa(i)ge + Northwest Blonde, Rachel's Lookbook, Being Zhenya + Style Optimist, and Pink Sole.