A lace-up sweater and statement booties perfect for fall.
Sweaters for fall are a given, but what is the must-have knit this season? The lace-up sweater. Lace-up body suits, flats, and booties have paved the way, and now the lace-up sweater gets a turn for the cooler months. I snagged this beige version from H&M (currently sold out, but a similar sweater here) and wore it with a standard pair of high-waisted skinny jeans. The show-stopper? A pair of printed boots that look like a couch from your grandmother's house in the 60's. Yes, give me all the ridiculous shoes. With a super chunky heel and a pointed toe, these boots are definitely made for walkin'. Final touch: a bright red lip and Ray-Ban's.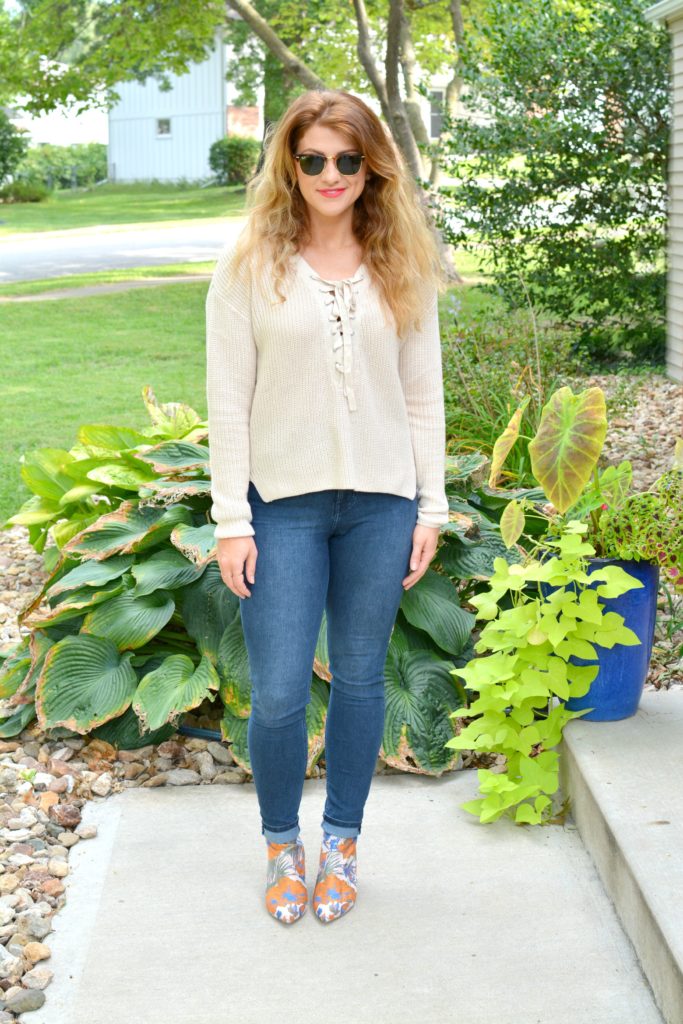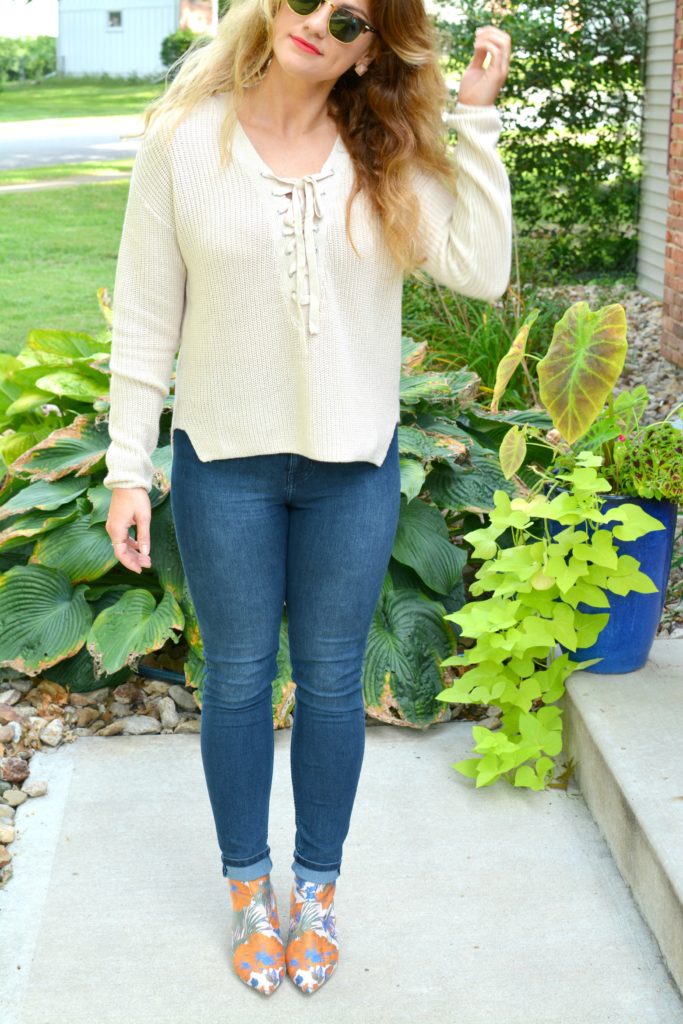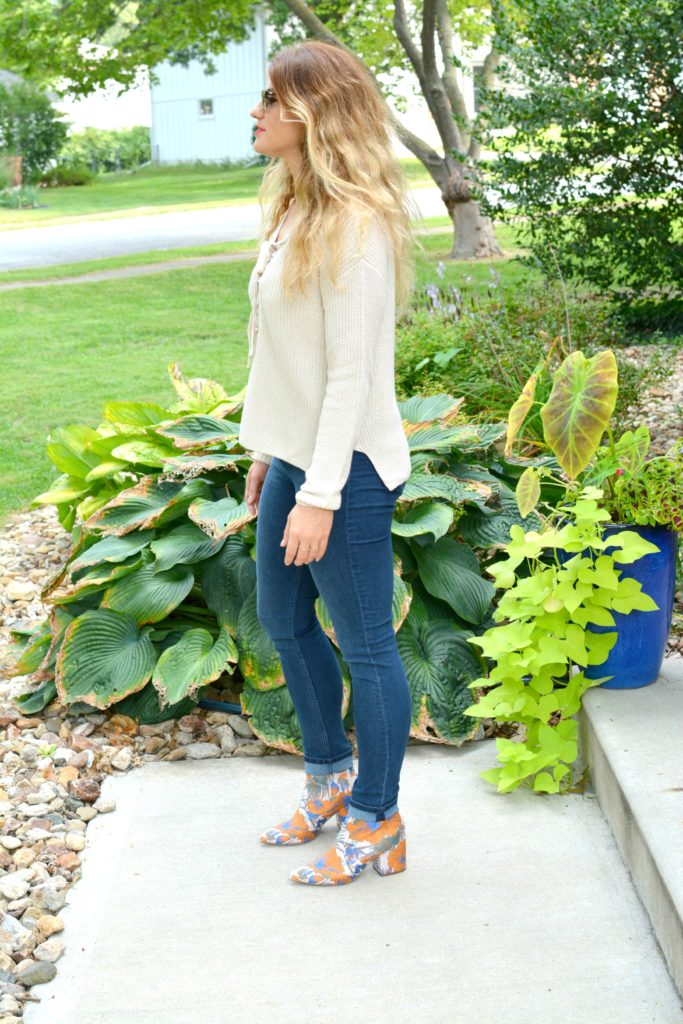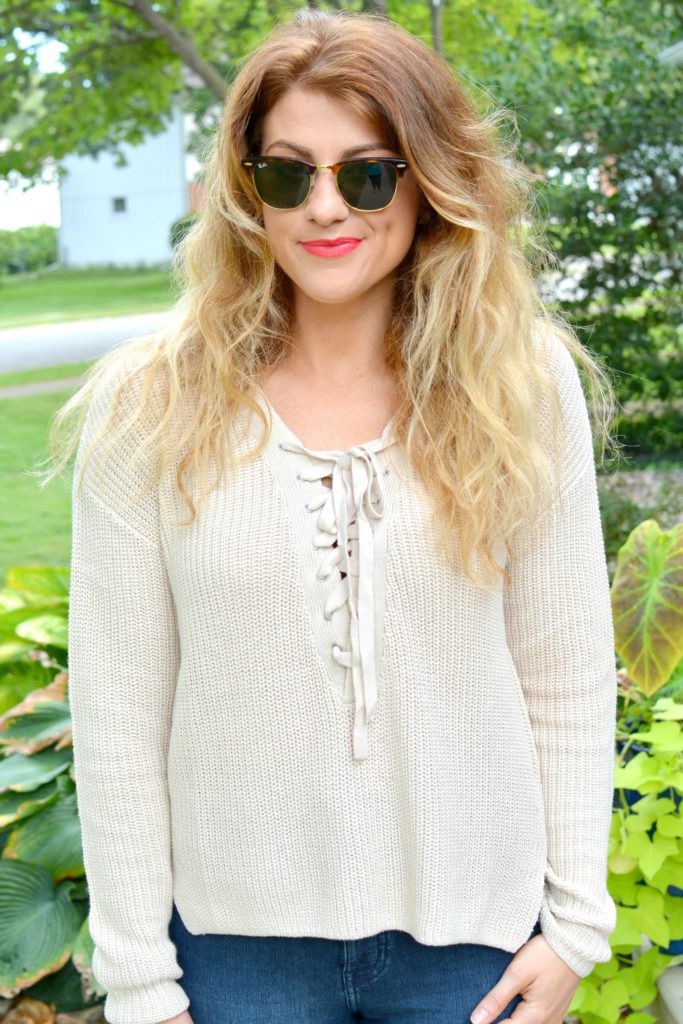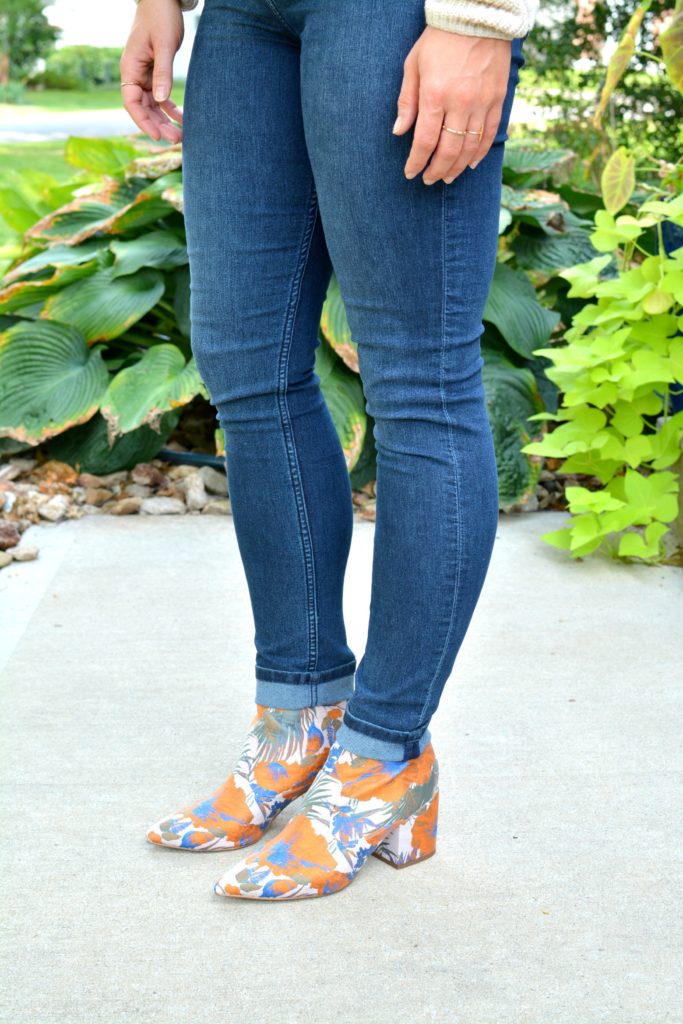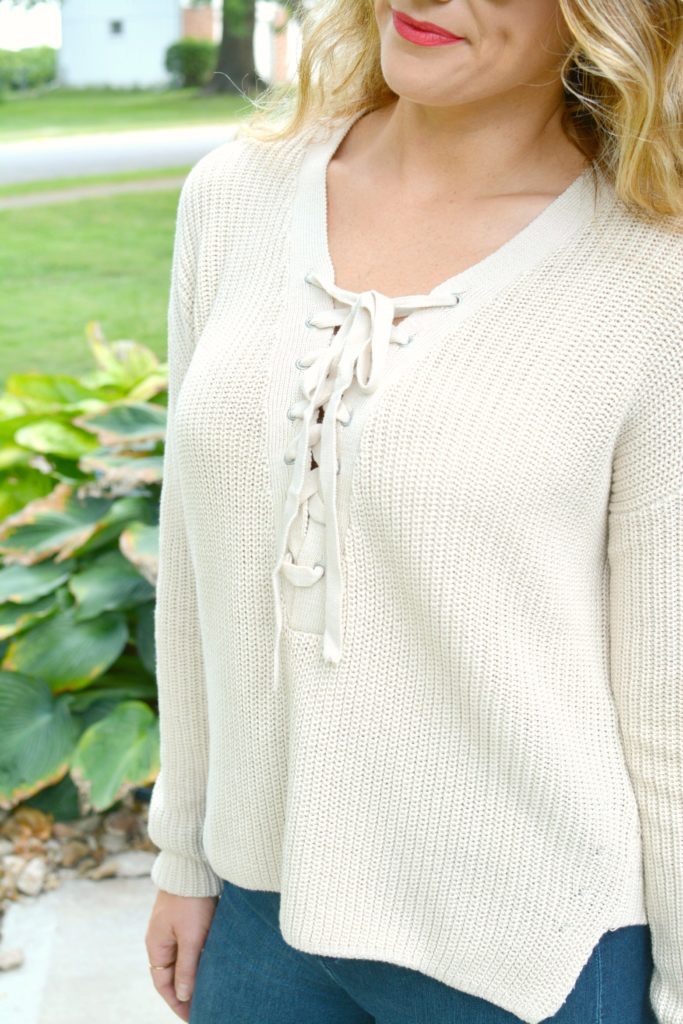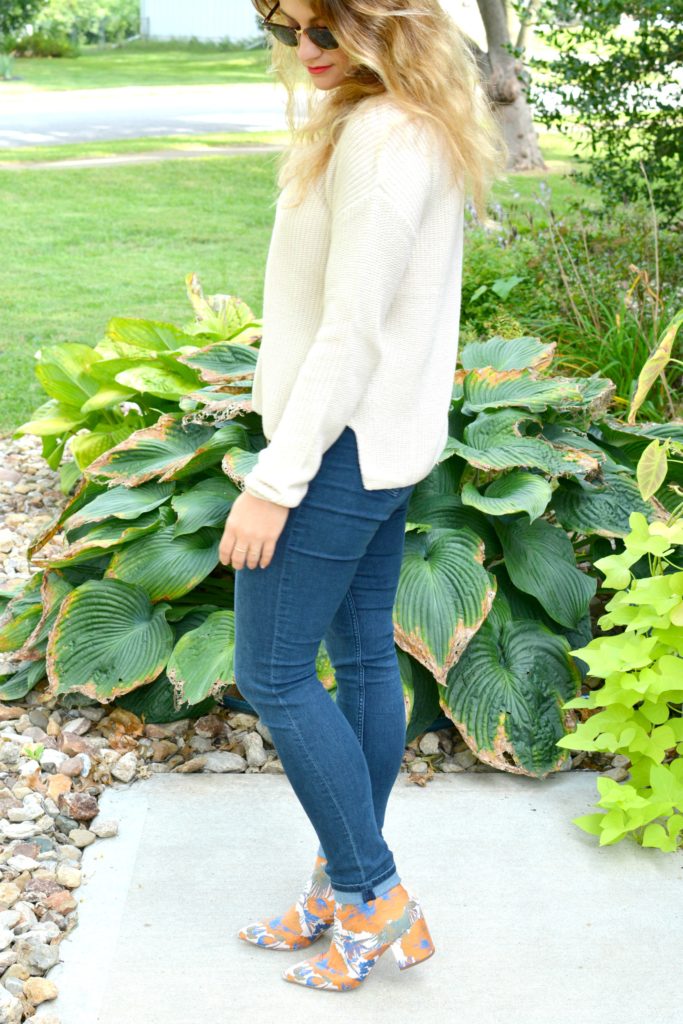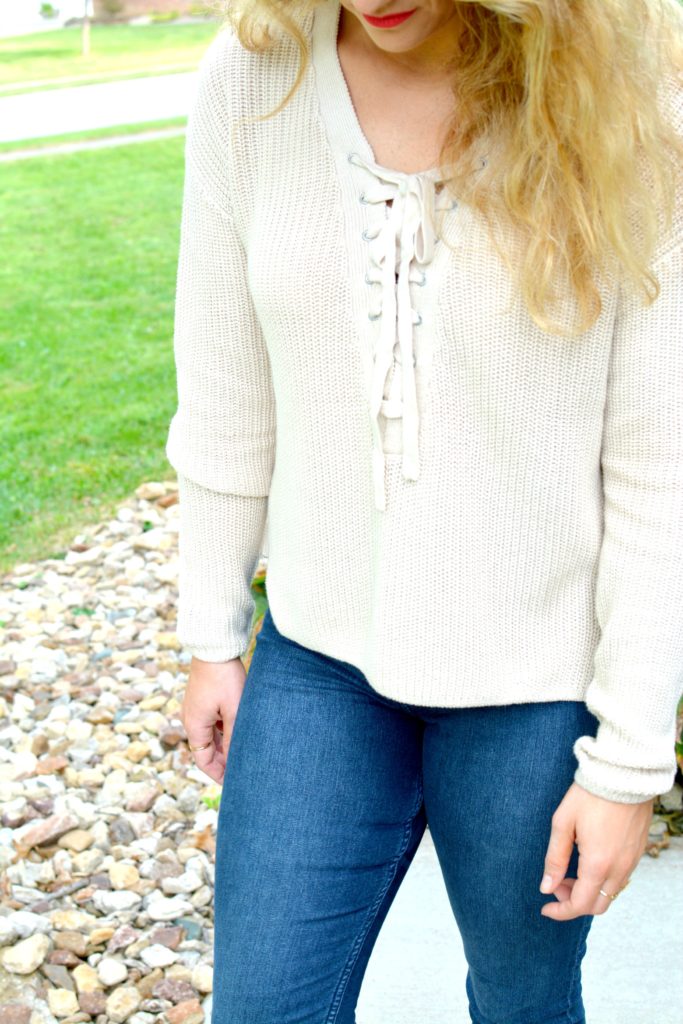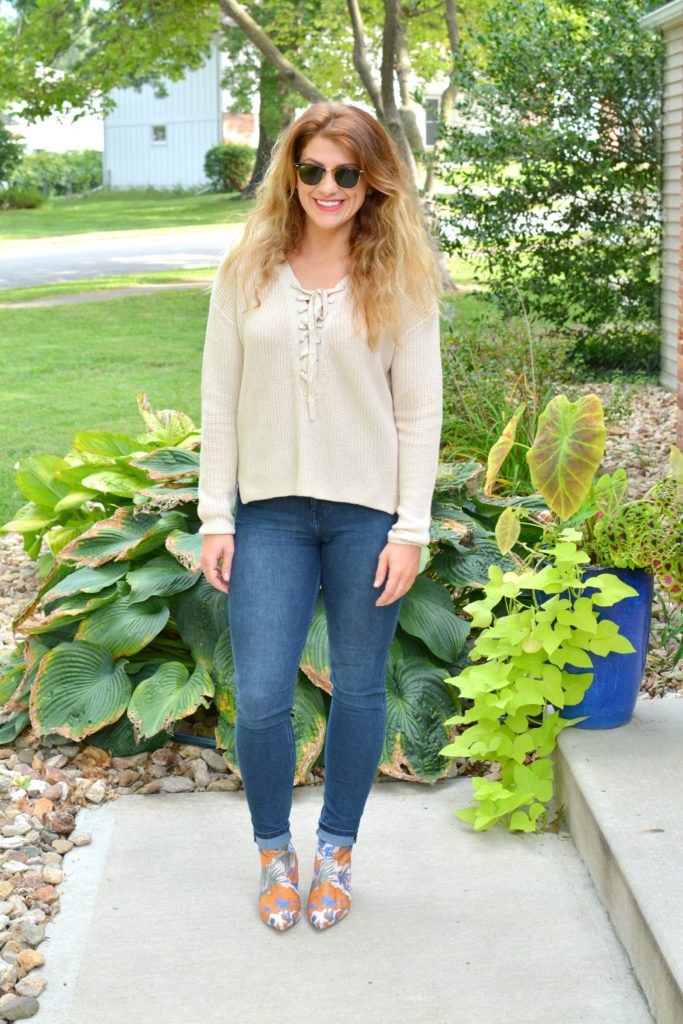 Shop the look:

The must-haves for fall don't stop with the lace-up sweater. The Ten Take girls are back this week with their picks. Check out the link-up below for what you should be shopping for right now.
New for Le Stylo Rouge: Extra LSR.
I've been thinking about expanding Le Stylo Rouge for a while. Don't get me wrong– fashion is where my heart is (and I have too many damn closets/clothes/ankle boots not to document this insanity in some way that legitimizes it, to be sure). But this space is currently a very one-dimensional view of what I'm passionate about, and I wanted to give you guys a look into other areas that round out my life.
I didn't want to muddy the fashion waters, and I'm certainly not ready (or qualified enough) to classify myself as a lifestyle blogger. No, no. Still mostly a fashion game 'round these parts. But I wanted more, wanted extra.
So here comes Extra LSR, a feature that gathers up all the other bits I want to share with you: food, fitness, beauty… You name it. I want this space to be a little more informal, raw, loose– I want it to feel more like a diary entry or an email to a friend. "Hey, here's what I've been doing lately…"
I also want to hear from you. What content do you want to see on Extra LSR? Tell me!
[yop_poll id="1″]
Looking forward to this new chapter, guys. Thanks in advance for voting + telling me what think! Feel free to drop me an email if there's something not listed/covered here; I wanna hear from you!
Bonus Ash: tonight kicks of Kansas City Fashion Week and I'm headed to Anaphora for a shopping event. The boutique is gorgeous + full of things I'm pretty much drooling over. Will be capturing it all via Snap if you want to follow along!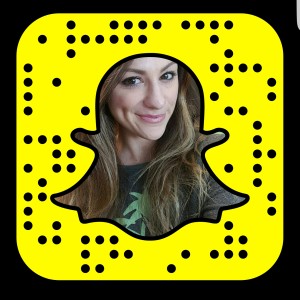 Linking up with Beauty By Miss L, Style Elixir, Elegantly Dressed and Stylish, Her Heartland Soul, Walking in Memphis in High Heels + The Fashion Canvas, I Do DeClaire, Two Peas in a Blog, Garay Treasures, Style Nudge, Myriad Musings, Shopping My Closet, Posh Classy Mom, Sydney Fashion Hunter, Get Your Pretty On, Rosy Outlook + Seeking Sunshine, Pumps and Push Ups, and The Pleated Poppy.