Say what you want about shearling, it's warm and cozy. Definitely keeps the crazy cold wind currently ravaging Kansas City at bay. (Seriously, we were in the 70s a week ago, and in the 30s ever since. Holy chill.)
I like my shearling dyed black and lining the inside of a pretty badass motorcycle jacket, especially when it comes at a Forever21 price. (This was the best $5o I've ever spent on a coat!)
That shearling jacket added warmth to an all-denim outfit. Over-sized chambray on top, black denim on bottom. I love these Lee skinnies; they're a deep, true black and work both worn casually or dressed up (with chunky pink suede pumps, even).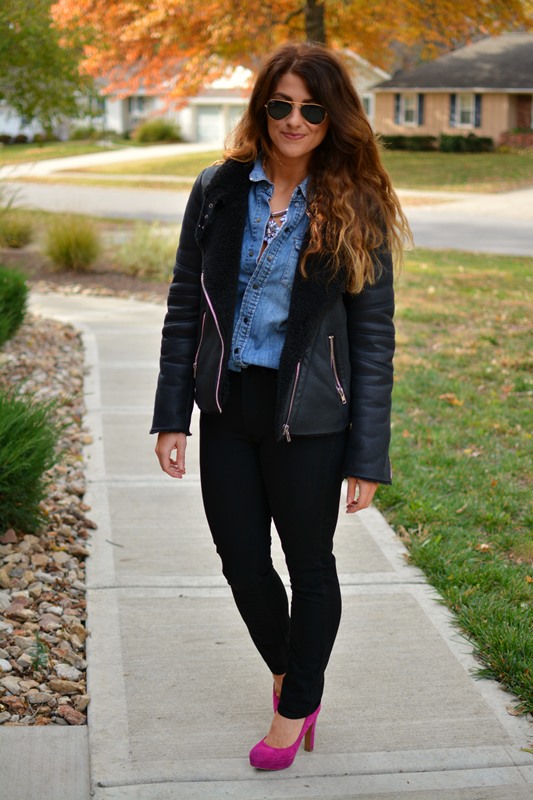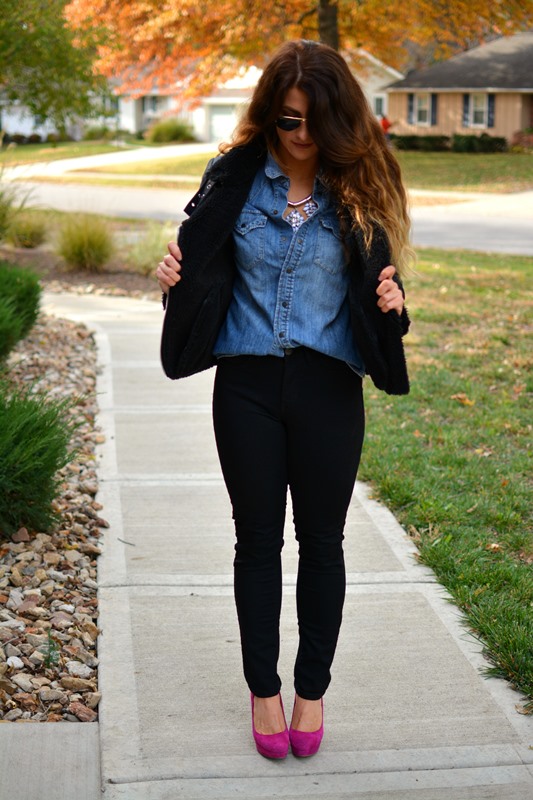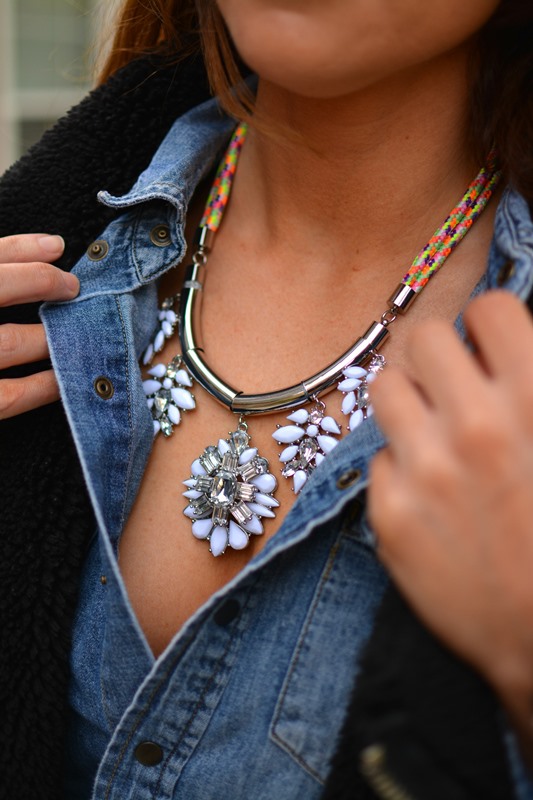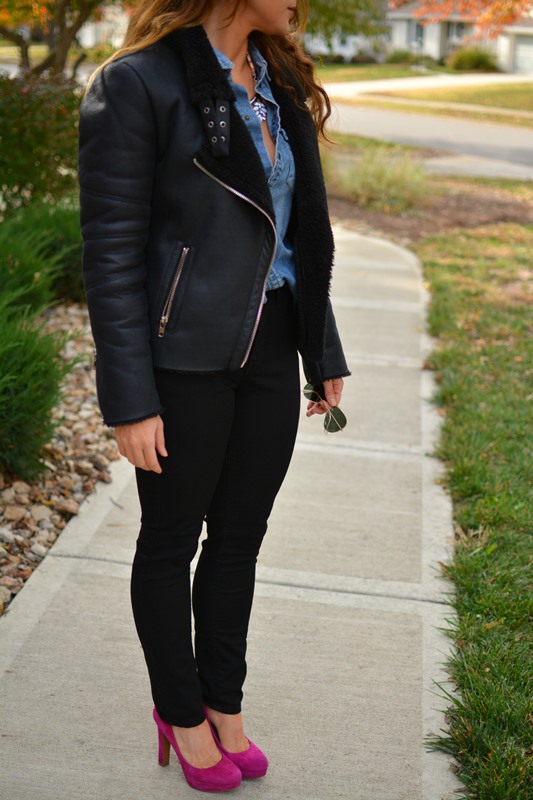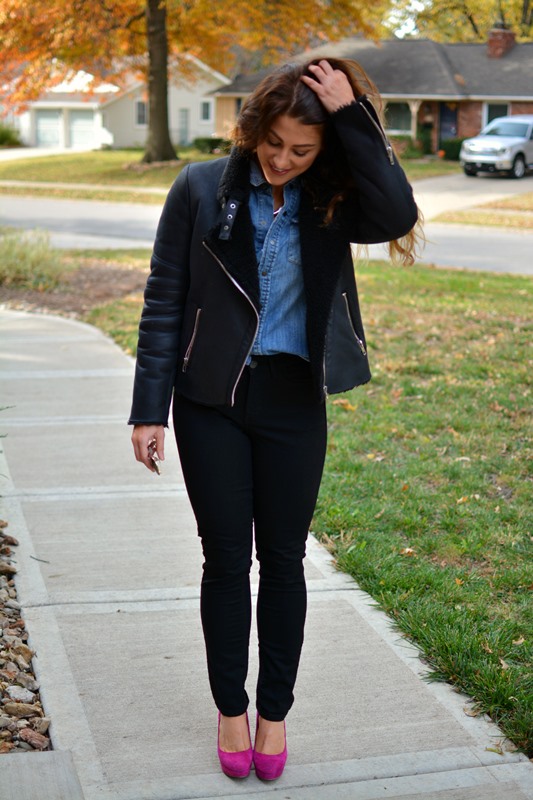 Shop the look:

Thanks a million for all your sweet comments re: my bum knee. I really appreciate it! I know you won't mind I shot the looks you'll see here on LSR for the next few weeks pre-surgery (because it's really tough to style crutches, y'all). Hopefully I'll be back in action soon. In the meantime, I've been live-tweeting quite a bit of my recovery (mostly raging about the fact someone put compression socks on me); follow along if you like + tweet me funny things when I'm hopped up on pain meds, let's make this a show. 🙂
And thank you to Laura of  Walking in Memphis in High Heels and Erin at The Fashion Canvas for having me as a featured blogger in their Trend Spin link up this week. Thanks, girls! Fellow bloggers, go check 'em out and link up. 
Holiday Gift Guide: The Beauty Guru.
Believe it or not, Christmas is only five weeks away. (Five weeks! How?!) Whether you've already made a sizeable dent in your shopping list or you have yet to start, I've got you covered. Big to small, classic to trendy, extravagant to affordable. First up, shopping for the girl who loves all things beauty.
1. Becca Shimmering Skin Perfector ($38)
2. L'Occitane Beautiful Hands Set ($28)
3. Hourglass Ambient Lighting Powder ($45)
4. Oribe Aprés Beach Wave and Shine Spray ($39)
5. Too Faced Melted Liquified Longwear Lipstick ($21)
6. NARS 'Laced With Edge Tech Fashion' Lip Gloss Coffret ($39)
7. Too Faced The Chocolate Bar Eye Palette ($49)
8. Clarisonic 'Mia 2 Refreshing Daily Cleanse' in Turquoise ($149)
9. Supergoop Forever Young Hand Cream ($11)
10. Jo Malone Wood Sage & Sea Salt Cologne ($60)
11. Urban Decay Naked Basics Palette ($29)
12. Bobbi Brown Deluxe Eye and Lip Palette ($80)
13. Dolce & Gabbana Light Blue Set ($85)
14. Philosophy Holiday Spice Rack Trio ($27)
15. Clarisonic Replacement Heads for Sensitive Skin (Set of 2) ($44)
A Clarisonic a day keeps the wrinkles away. This set (15) retails at $200, but clocks in just under $150 for the holiday season and comes in a fun turquoise color. I use my Clarisonic at least twice a week and cannot rave about the powers of exfoliation enough.
I love the seasonal shower gel sets Philosophy (14) comes out with each year; they're great to give as a package or to break up as stocking stuffers. This set includes spiced cinnamon stick, creamy cardamom, and vanilla bean nutmeg– yum!
Don't knock the power of a good hand cream; winter wind does a number on your hands. Beauty babes have been buzzing about the Supergoop Forever Young cream (9) for months now, and you gotta love a trio of L'Occitane (2) in shea rose heart, shea butter, and shea vanilla bouquet. I keep these little tubes everywhere: the car, my purse, and at my desk.
For the makeup lovers, there are palettes galore available right now. A few of my faves: a smaller Naked palette with perfect neutral shades for everyday (11), the yummy Chocolate Bar palette from Too Faced (7) looks and smells divine, and an eye + lip combo from the queen, Bobbi Brown (12). Palettes make traveling a breeze, too; who wants to keep track of 15 loose shadows?
I love Becca's skin perfectors (1); they're the best highlighters on the market, hands down. A teeny bit on the cheekbones is all you need to add some glow to your look. Another skin trick: Ambient Lighting Power by Hourglass (3). Use them to set makeup in the lighting effect of your choice (I'm a fan of Luminous Light) and it blurs, smooths, and gives such a beautiful finish.
Lip gloss sets are an awesome way to get more bang for your buck, and NARS doesn't disappoint with their holiday coffret (6). How fun is that plum color? And that cranberry red is a great choice for holiday parties; so festive!
Random hair product, but definitely worth mentioning: the Oribe Wave and Shine (4) spray is amazing. It texturizes without leaving your hair stiff and/or crunchy, and is paraben-free.
A girl's gotta smell good, right? I'm all about the Wood Sage & Sea Salt cologne from Jo Malone (10); it's earthy and beachy, but without being too heavy. I picked it up in Chicago over the summer and have been spritzing away ever since. For the citrus fans: Dolce & Gabbana have a Light Blue set (13) perfect for gift-giving. (It's retail value is $130!) I have loved Light Blue since college; such a bright, classic fragrance.
Linking up with Style Elixir, Walking in Memphis in High Heels, I Do DeClaire, Life's a Party Dress Like It, Induffinitely Me, Sew Crafty Angel, Get Your Pretty On, Because Shanna Said So,  Design Life Diaries + Posh Pair, The Mummy Chronicles, and The Pleated Poppy.
*Lee sent the denim for my review; thoughts and opinions are my own.