I love how sweatshirts have gotten a little makeover and are now a full-stop trend. From graphic designs to sequined embellishments, the sweatshirts in stores now are not your standard Hanes crew necks. Dress these bad boys up or down, they work everywhere (even layered under a blazer at the office).
I wore this cute "Oh My Chic" sweatshirt from ILY Couture with a pair of dark floral leggings, leather booties, and a utility jacket with leather sleeves. Nothing says your weekend wear can't be interesting.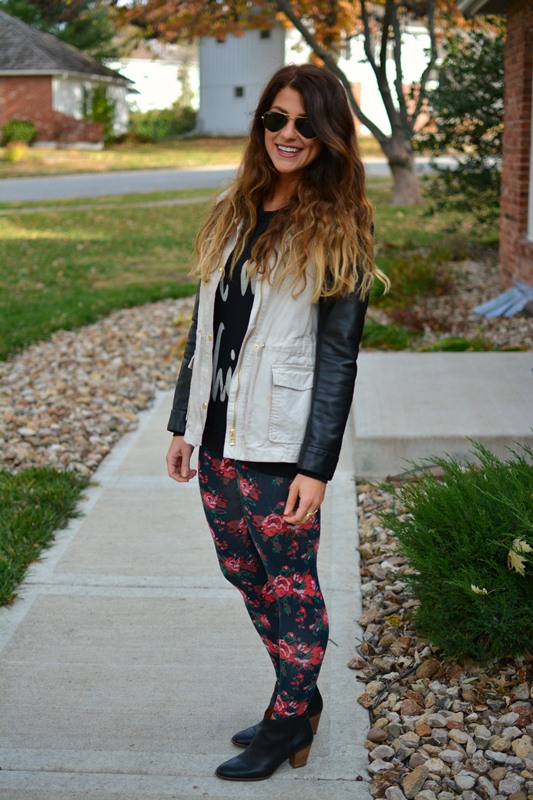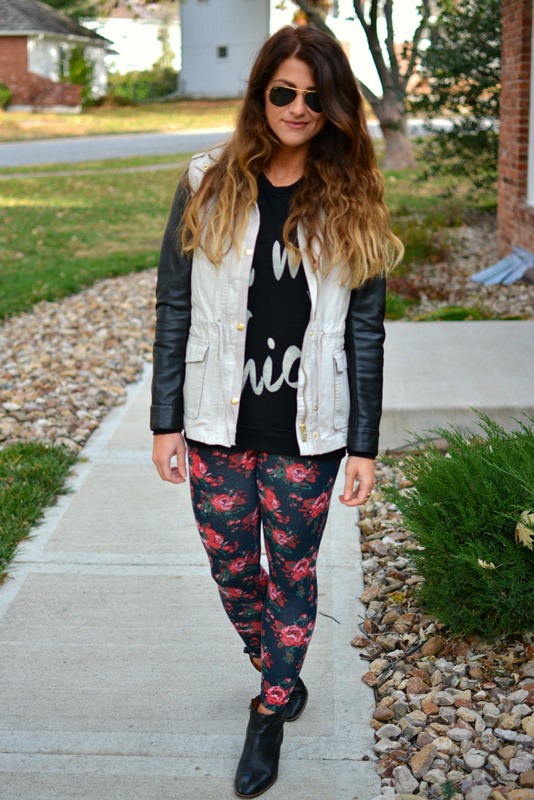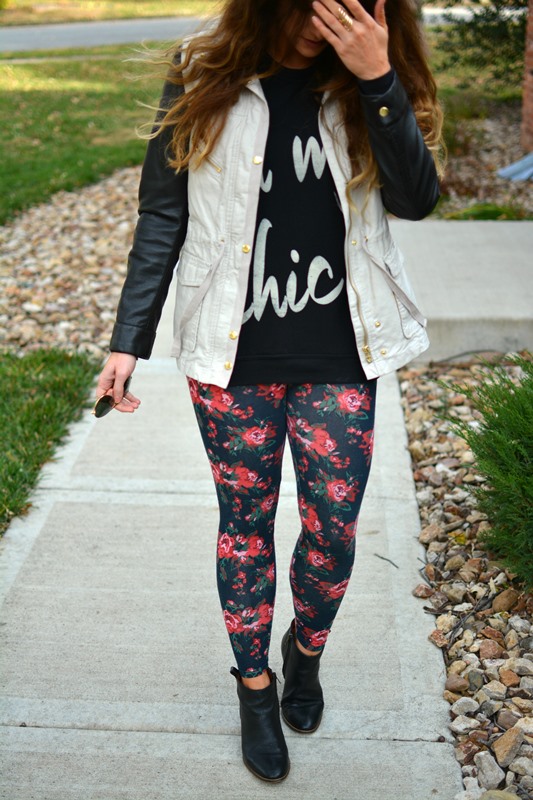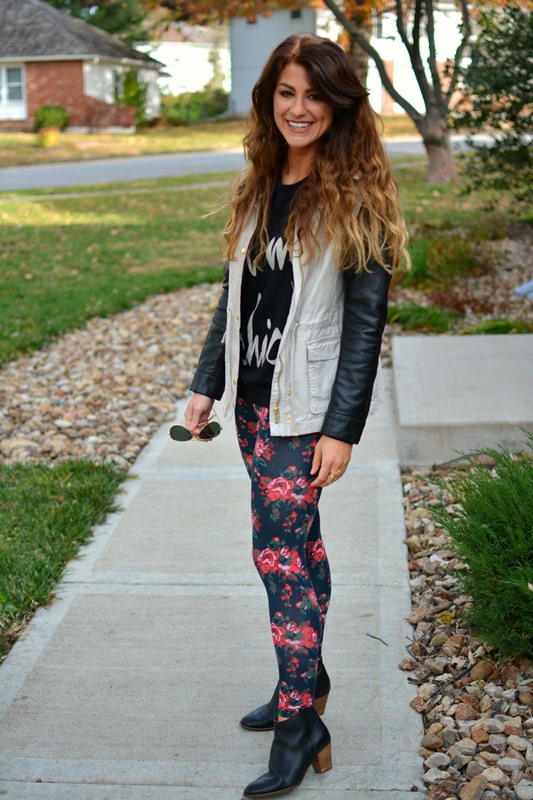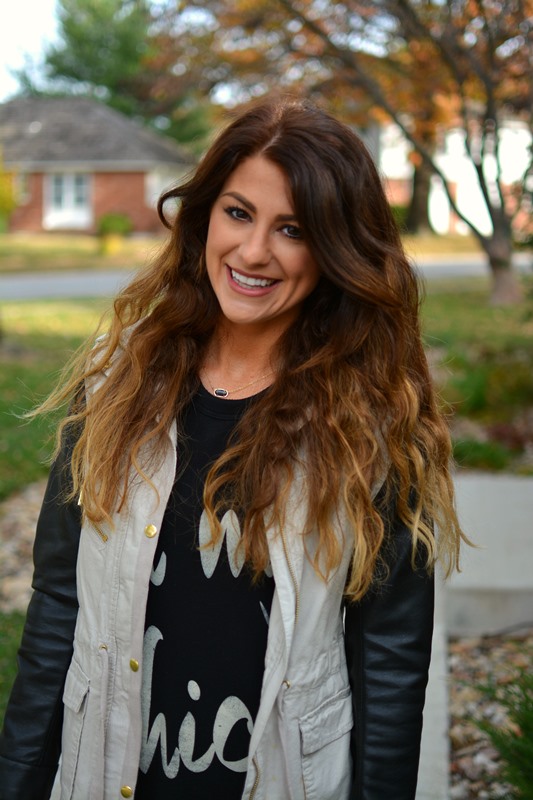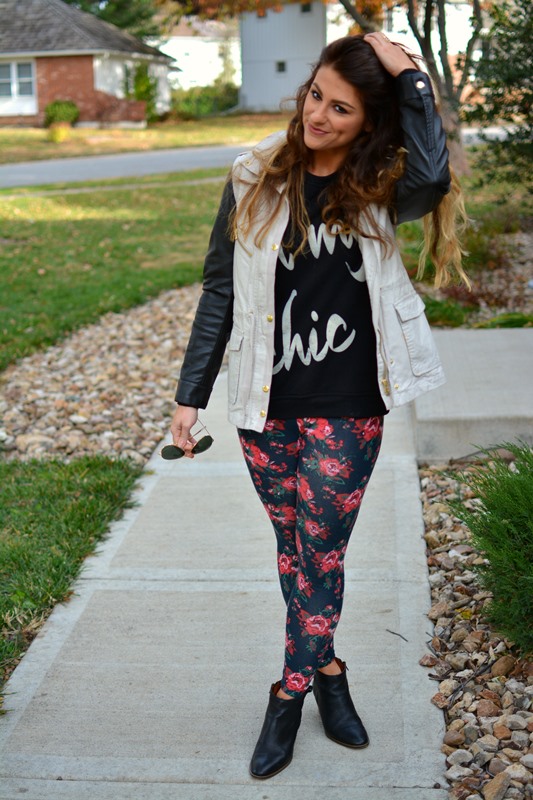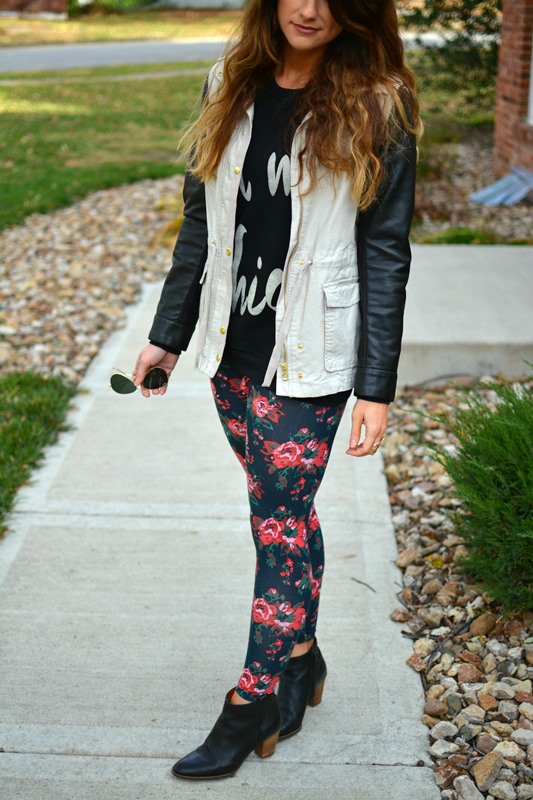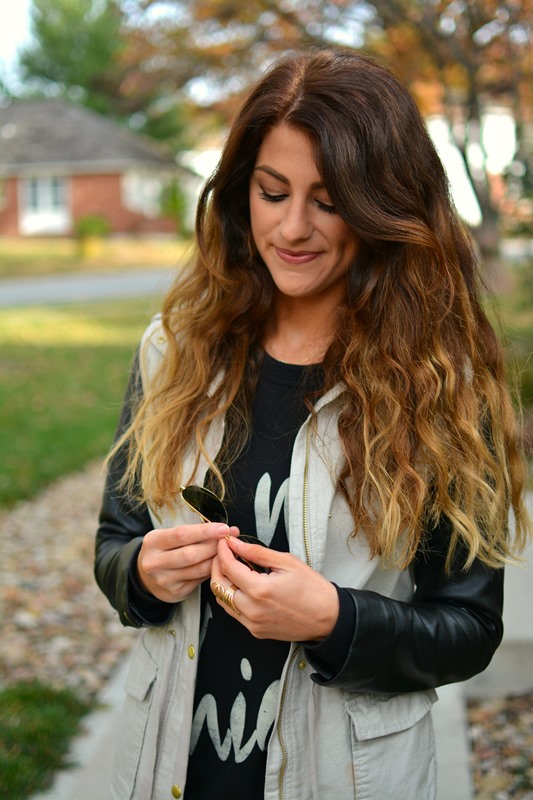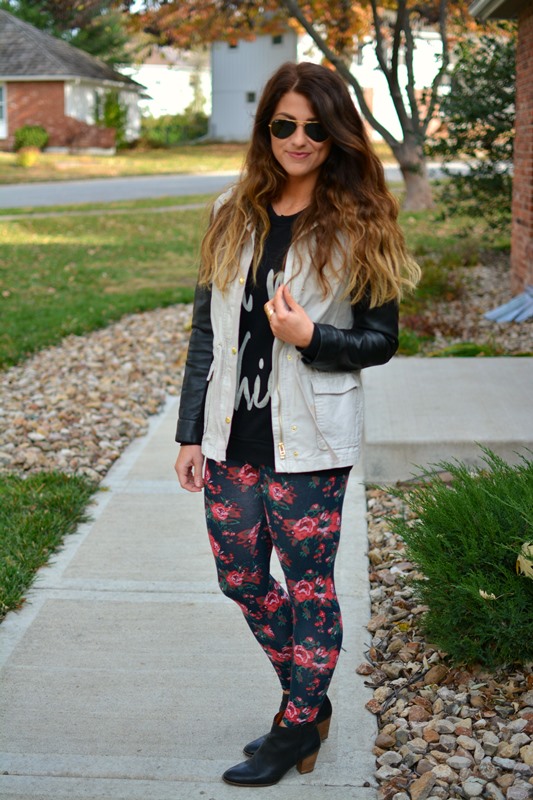 Shop the look:

How did you guys like the gift guide for beauty + makeup lovers? There are some serious favorites on that list; check it out. Another round is up today.
Holiday Gift Guide: The Trendsetter.
We all know that girl who is on top of the trends; she knows what's coming, going, and sticking around for a few seasons. (She's also pretty hard to shop for.) Try this list on for size.
1. Kristin Cavallari 'Layla' Sandal ($149)
2. Michael Kors Wrap Watch ($195)
3. BaubleBar Needle Ear Jackets ($32)
4. Athleta Women's Fuse Sweatshirt ($89)
5. Nike Roshe Run Sneakers ($75)
6. BaubleBar Acrylic Signature Necklace ($56)
7. ASOS Only Check Print Blazer (was $132; on sale for $106)
8. Rebecca Minkoff 'I Like Boys With Accents' Cory Pouch ($55)
9. Athleta Crackle Chatarunga Tights ($89)
If you know one thing about me, it's my ongoing love affair with ankle boots. I desperately want to add these lovely burgundy suede ankle boot/sandal hybrids (1) to my collection, and I'm pretty sure any trendsetter worth her salt would agree. Speaking of burgundy, how cute + functional is this coin purse from Rebecca Minkoff (8)? And some RM for half a Ben Franklin is a steal.
You have seen me wear this Michael Kors watch (2) over and over again; it's one of my favorite accessories. I love the classic camel-colored leather, the big gold face, and the double strap. Works perfectly with very-now ear jackets (3) and a statement necklace that = your own signature (6). (I adore this piece!)
Sportswear as street style is totally a thing, and I have to admit I've been bit by the activewear bug. Whether you're actually wearing this gear in the gym or just working athletic elements into legitimate outfits, sporty chic is everywhere. I love the look of black Nike's (5) with a pair of skinny + cuffed jeans, and I dig a pair of workout tights with a little sparkle + sass (9). Throw on a chic sweatshirt (4) over your yoga tank, and you can run post-gym errands without looking the least bit sloppy.
Last but definitely not least, you can't talk trends without mentioning the car coat. (I'm a fan.) This gorgeous over-sized jacket from ASOS (7) is a beauty. I love the gray plaid print and boyfriend cut combo.
Linking up today with My Girlish Whims, Pumps and Push Ups, Stylin in St. Louis, Mix & Match Fashion, Perfectly Coutured + White Coat Wardrobe, The Penniless Socialite + The Tiny Heart, The Red Closet Diary, I'm Perfectly Human + Made With Zeal, Happiness at Mid Life, Home of Malones + East Coast Chic, Sincerely Jenna Marie, VMG206, Birdie Shoots, Midwest Bloggers, Style Elixir, The Fashionista Momma, More Pieces of Me + On the Daily Express, Join The Gossip + I Have A Degree In This, Rhea Et Cetera, and Pink Sole + Cha Cha The Fashion Genius.