Happy first day of spring! May your skies be clear and your temperatures be in the mid-60s (at least).
I've been itching to wear this gorgeous red stone statement necklace since I picked it up at a boutique a few weeks back. Paired with a super comfy printed tee, a pair of olive green skinny khakis (bless you Gap for getting the fit right so the pants don't bag out halfway through the day!), and leopard print pumps, this was a fairly busy-but-kinda-fun work outfit.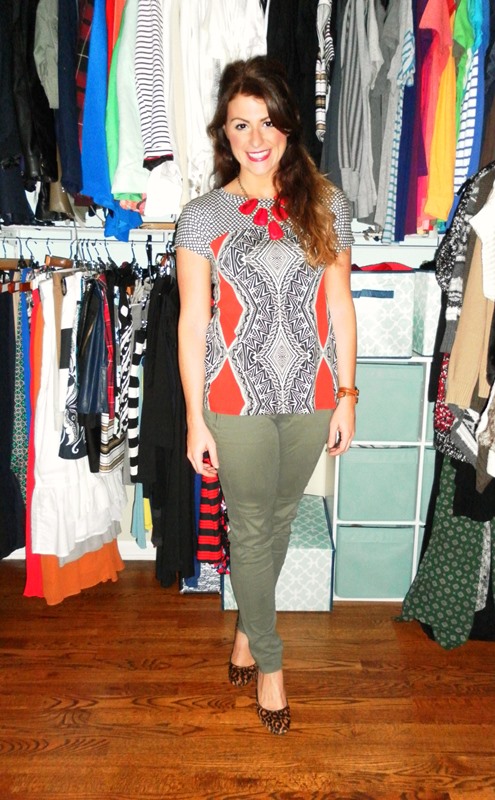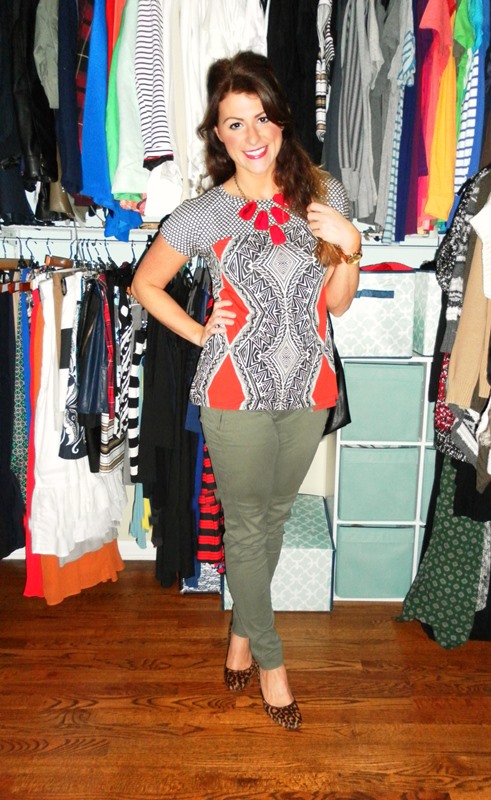 The print running through the shirt is a more orange than red, and the stones in the necklace have more pink in 'em than true crimson, but the combo doesn't offend. The leopard pumps are far enough away from the busy-busy happening up top so as not to look too crazy. Easy print mix: one print on the top, one print via the shoe, and separated by a clean neutral (like these olive green skinnies).
Really excited for the weekend. It's tournament season, ladies 'n gents! My Jayhawks drew a #2 seed in the South region (may the basketball gods be with us), so I'll be spending Friday afternoon and (hopefully) Sunday watching them play.
In between basketball rounds, I'll be at the Kansas City Blogger Brunch (hosted by some cool cats, including my bud Alissa) on Saturday morning. They said mimosas, donuts, and glitter letters– but in all honestly a little champagne + OJ is all you need to get me to RSVP "yes." Go Team KC/BB.
KC blogger pals, let me know if you're going!
Linking up today with Vodka Infused Lemonade, All Things Pretty, Stylin in St. Louis, Glitz and Gold, Perfectly Coutured, VMG206, Midwest Bloggers, and Style Elixir.