We covered busted knee jeans on Tuesday, and I'm showing you another way to wear the trend today.
These jeans are the same brand + cut as I wore in Tuesday's post, but in black and with the knees completely ripped out. So rock 'n roll, no? I wore them with a floaty, shimmery tank from the Isabel Marant for H&M collection, a pair of simple nude pumps, and that much-loved arrowstack necklace from Madewell. The perfect for a mini college reunion of sorts on the Plaza– but admittedly, my knees were a little chilly.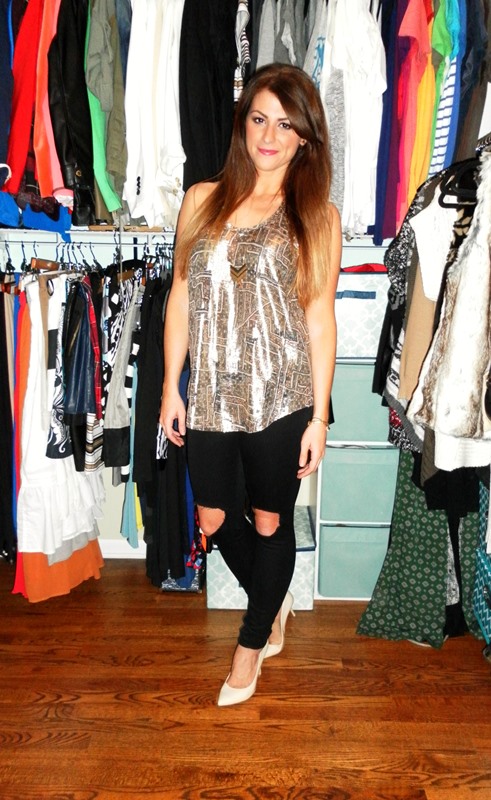 Changing gears right quick…
ModCloth's Uniquely You campaign challenges bloggers to build outfits around their most popular pieces with other items available at ModCloth.com. I created the outfit above around the lovely + classic Lead by Example dress. Not only do I love the bright blue color and timeless cut, but I dig that this piece works brilliantly in so many venues: at the office, brunch with your in-laws, or throwing your best friend a wedding shower. The ability to edit, revamp, and repeat means this dress isn't just a one and done.
So how to style? So easy. The black belt not only helps accentuate the waist, but also pairs perfectly with these d'Orsay flats. A bag in a contrasting color adds some interest; this gorgeous cherry red Cambridge satchel is perfect. Gold hardware in the form of a long chevron necklace, a black and gold wrap watch, and a few dainty bracelets are a feminine and practical touch. Finally, a super cute umbrella means getting caught in a spring shower doesn't ruin your ensemble.
A big thank you to ModCloth for including me as part of the Uniquely You campaign!
Linking up today with Vodka Infused Lemonade, All Things Pretty, Stylin in St. Louis, Glitz and Gold, Perfectly Coutured, VMG206, Midwest Bloggers, and Style Elixir.