Sequins are becoming a trend you can work in broad daylight. These shiny little embellishments are no longer reserved for New Year's Eve celebrations or weddings.
How to make sequins a bit more casual: use them as a base layer (rather than the focal point of an outfit), and work in more casual fabrics, like this chambray shirt. I finished the look with classic navy trousers + tortoiseshell ballet flats, and a little sparkle in the form of a statement necklace and a gold boyfriend watch (because you know I can't resist a little accessorizing).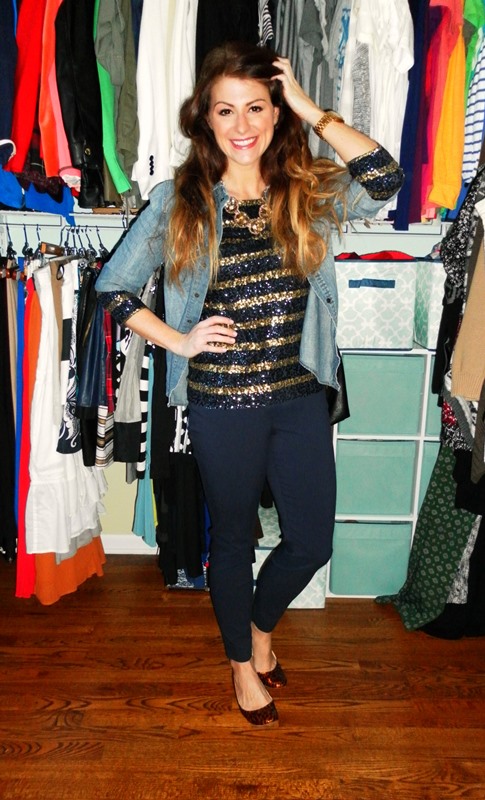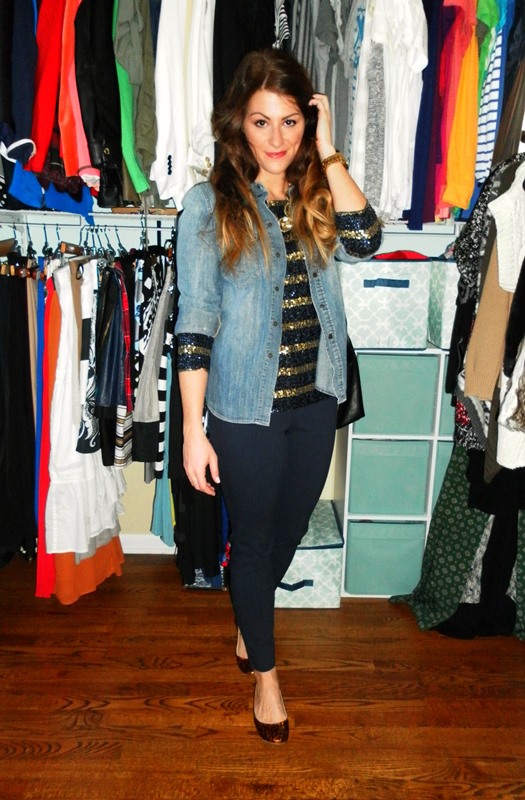 What I dig about this is even though I'm literally wearing an all-sequined top, I didn't feel overdressed for a normal Tuesday at the office. And how easy is it to transition this outfit for drinks after work? Swap the flats for pumps, shed the chambray-shirt-as-jacket, and you're ready to roll.
Braving more super cold temperatures here in Kansas City through Wednesday (ish), and then they say we could be in the 50s by Friday. Could it be? A little taste of actual spring weather? I'm more than a little pumped for this. Winter-weary doesn't even begin describe how I currently feel.
Linking up with More Pieces of Me + On the Daily Express, Fizz and Frosting, Get Your Pretty On, Style Elixir, The Pleated Poppy, Glossy Blonde + Karly Kim, Sew Crafty Angel, Walking in Memphis in High Heels, and Life's a Party Dress Like It.