Sharing my incredible getaway to Greece.
Greece + the Greek Isles have been on my bucket list since I was a little kid; I buy a Greek Isles-themed calendar every year and tack it up in my office for wistful moments when I'm allowed a little daydreaming instead of computer-squinting. I've never been able to wrap my head around how those incredible beaches, steep cliffs, and bright blue waters actually exist, but I knew I had to see 'em for myself.
About a year ago, my boyfriend and I started kicking the idea to go. Not just talk about the someday, but actually planning the trip. We booked our flights in January and had everything hammered out hotel-wise by mid-March. But Greece didn't feel real until we stepped off the ferry in Mykonos (after a 10-hour flight to Athens and then a 2-hour boat trip to the island), where I was greeted with a golden Greek sunset, rocky hills dotted with bright white buildings, and the ocean just a few feet away. Hello, Greece!
First stop: Mykonos, Greece.
Mykonos might be a small island, but it's absolutely packed with good times: gorgeous beaches, amazing shopping (I found a Balenciaga, guys), scenic views, and amazing food.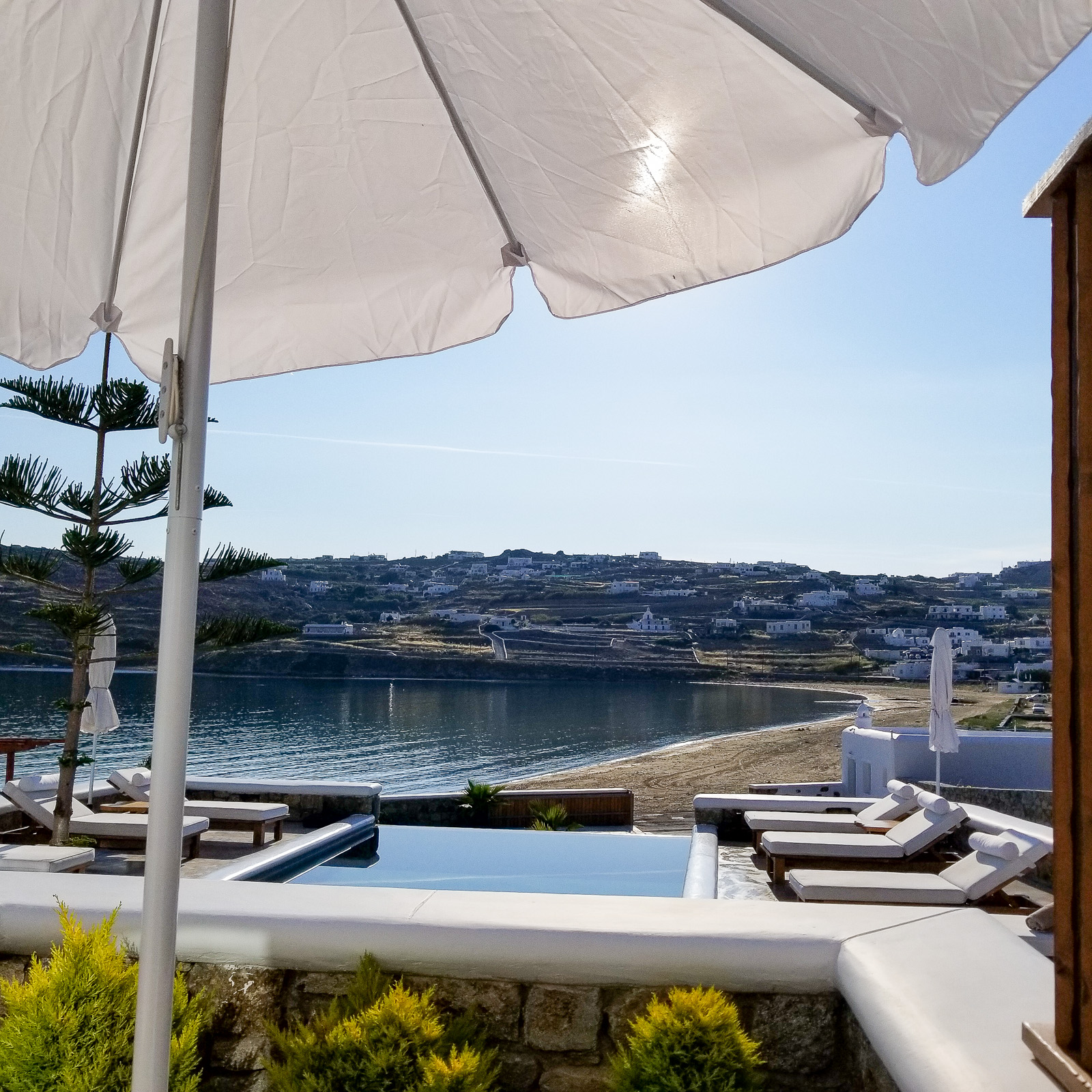 We settled into our hotel (which was absolutely gorgeous) and then immediately changed for dinner on Ornos Beach at Costantis. I was ready to start taking in those views, so we opted for a place on the beach.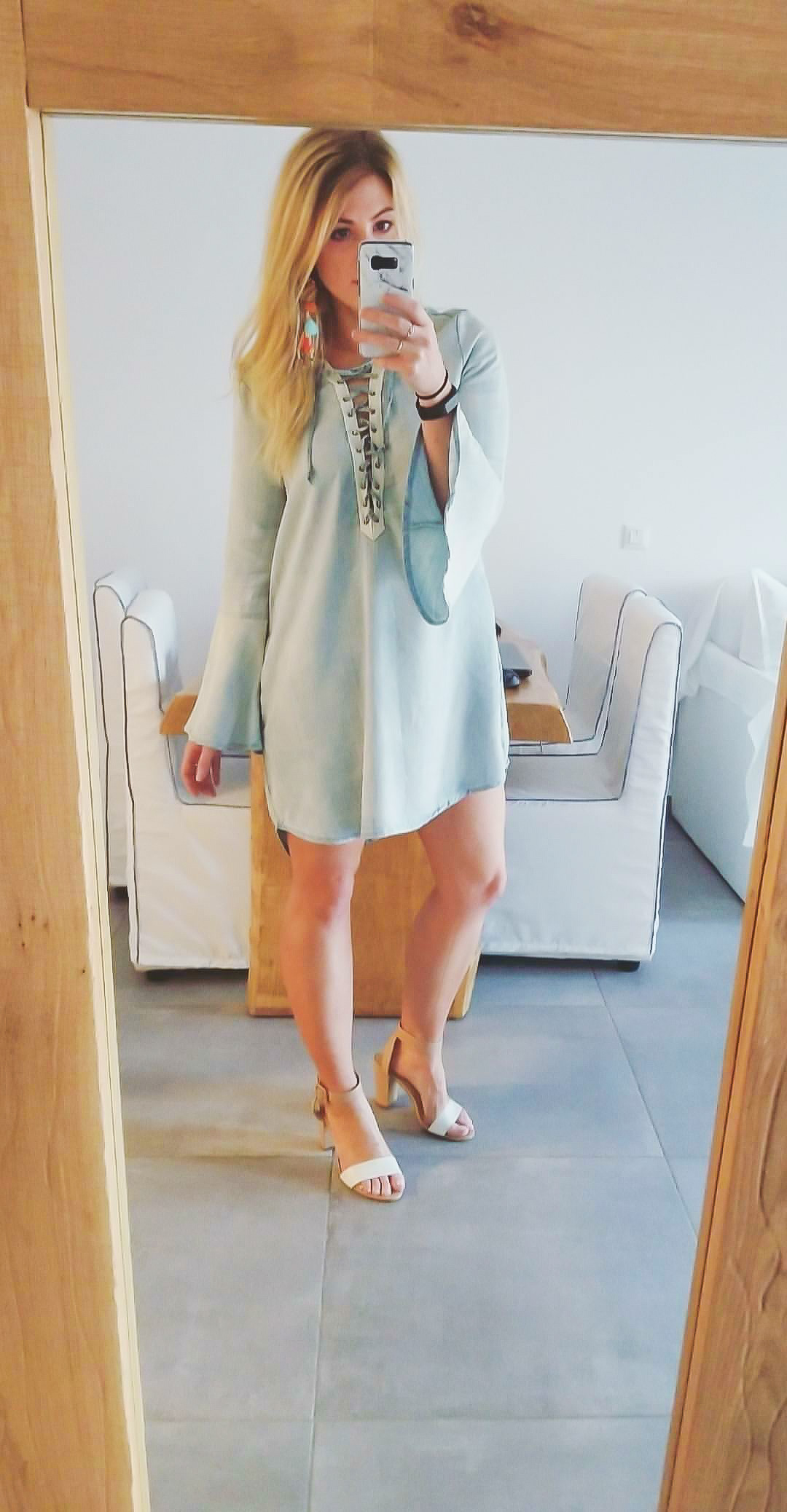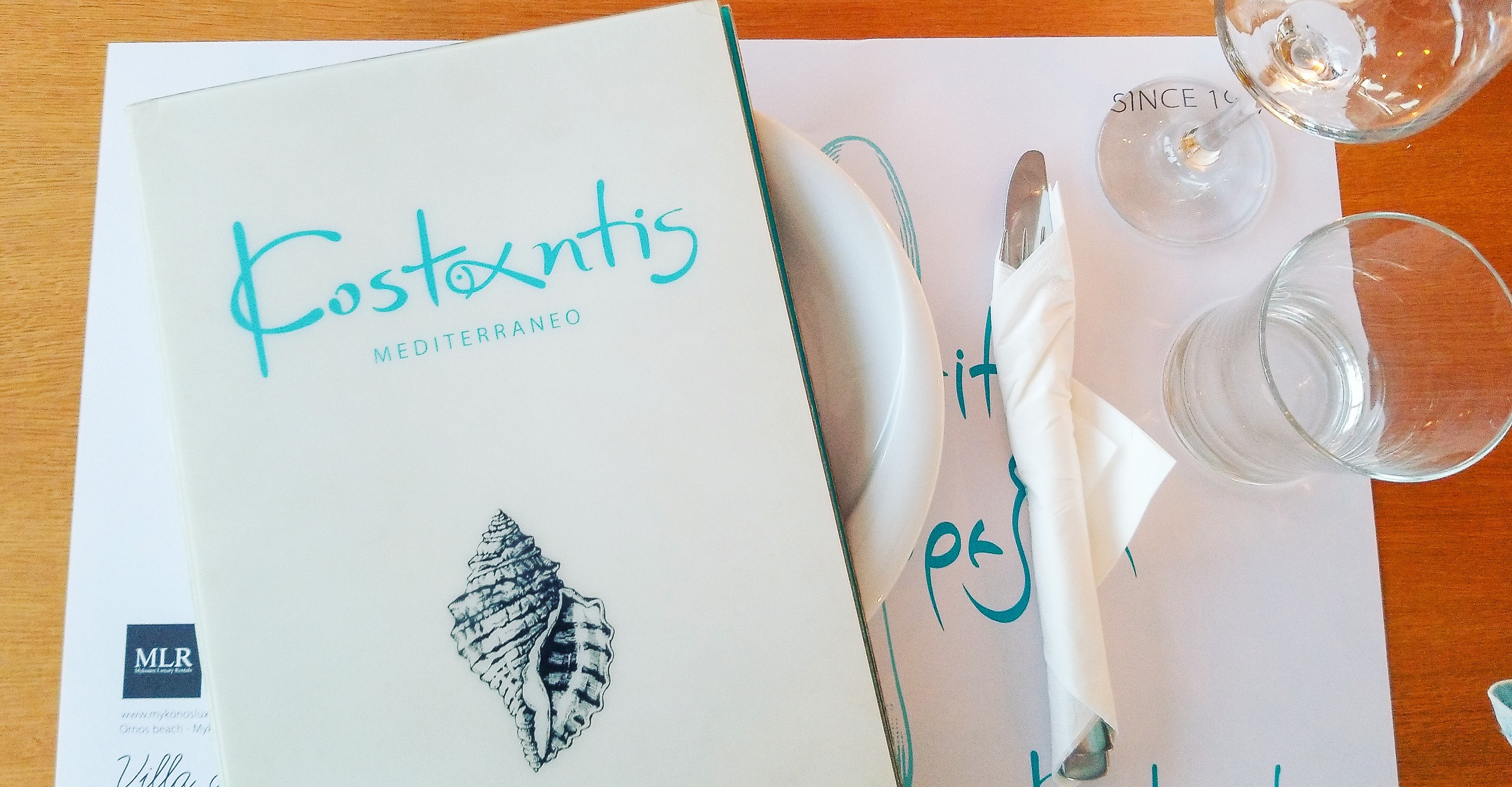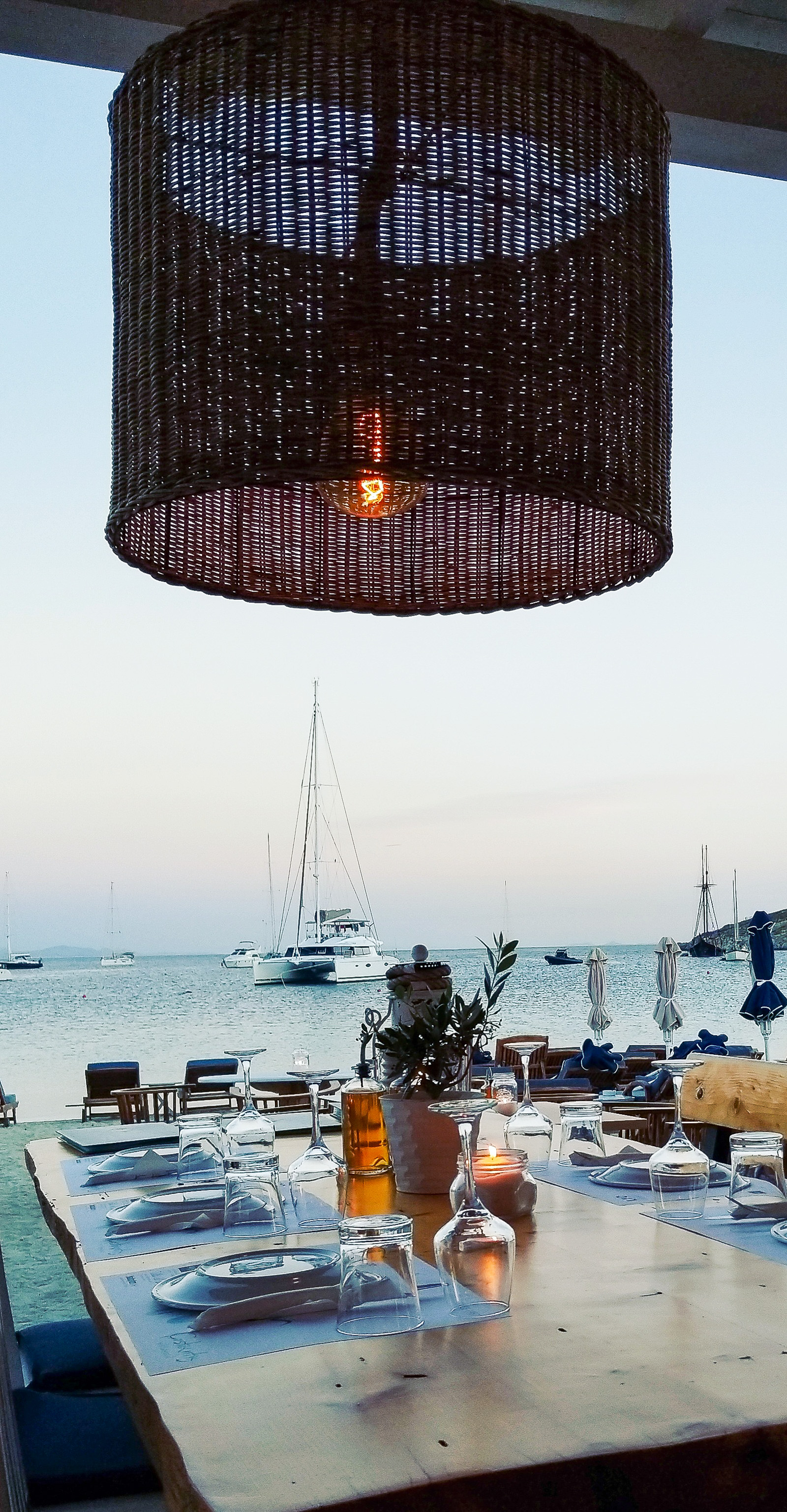 Our hotel was about 10 minutes from Mykonos Town, which is where you find those famed windmills, stone streets lined with white + blue buildings, and Little Venice. We spent hours wandering around, taking photos in the pristine alleyways and shopping the boutiques.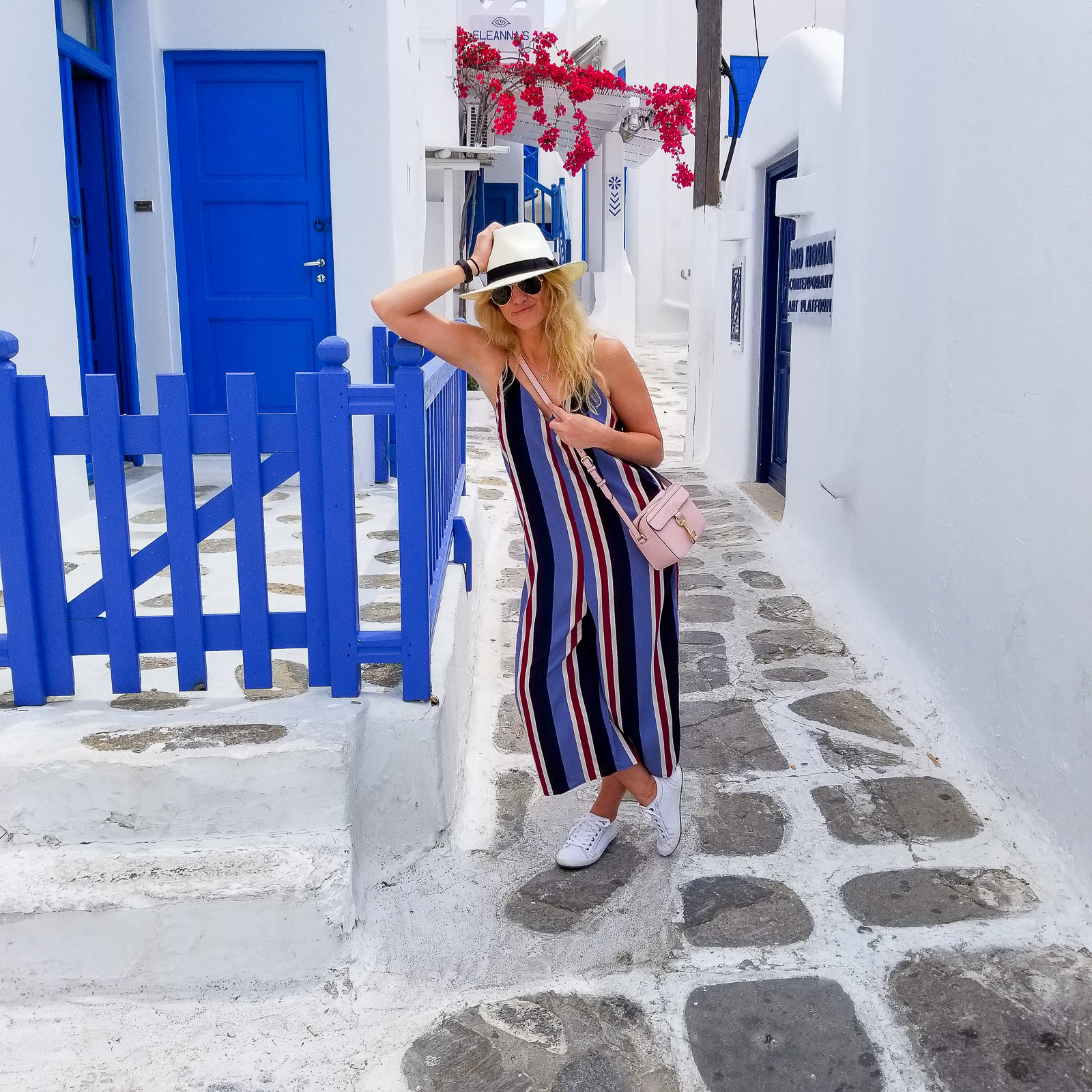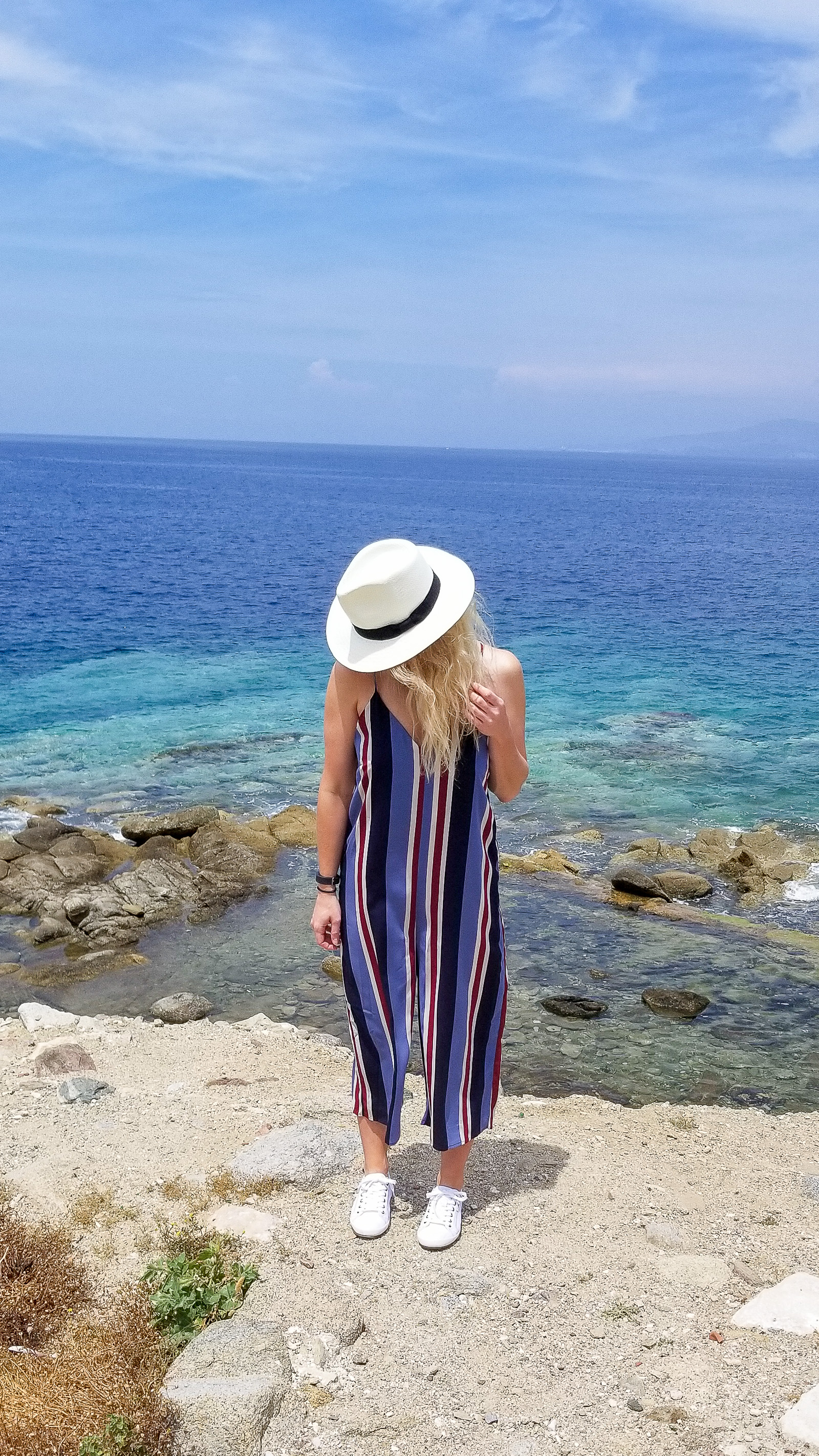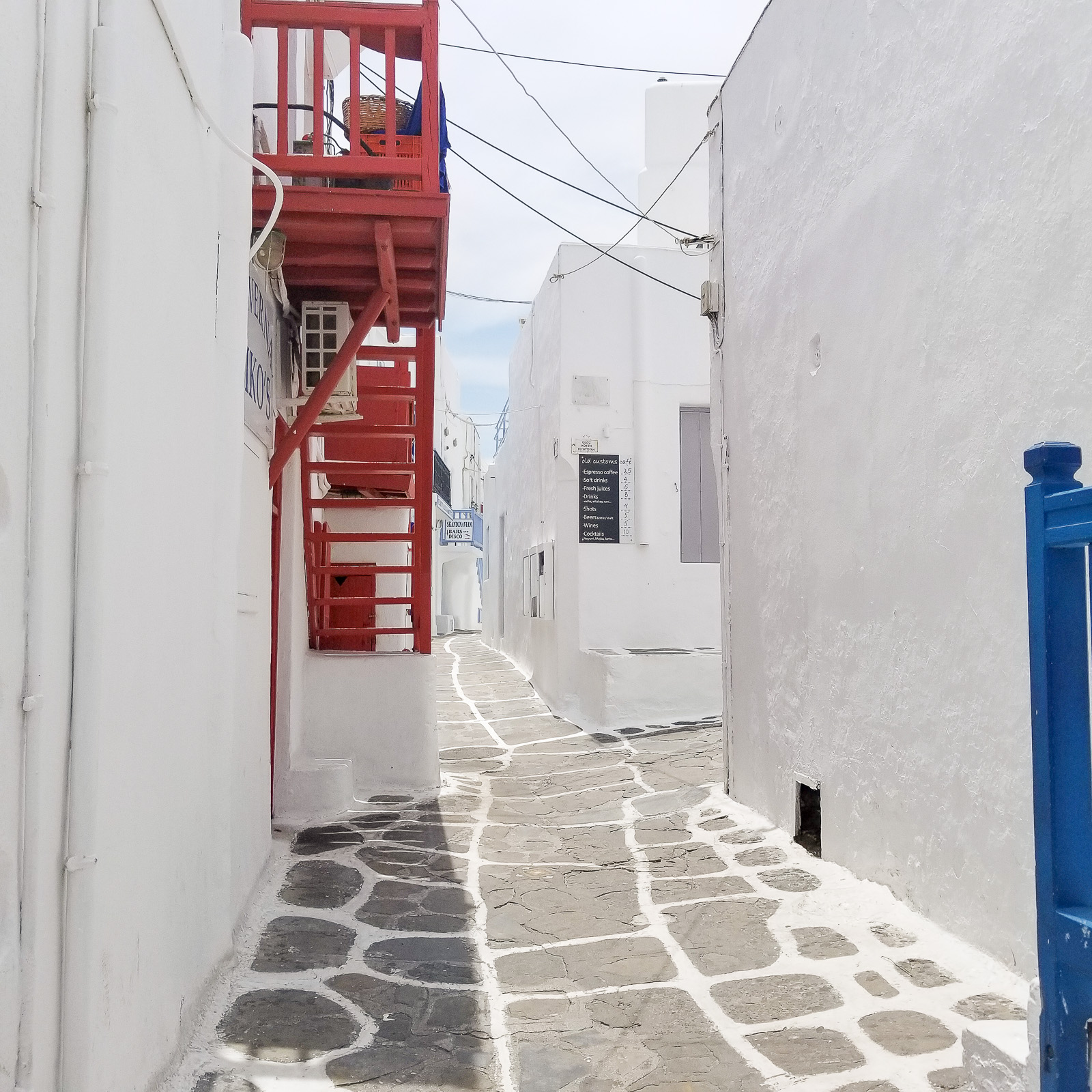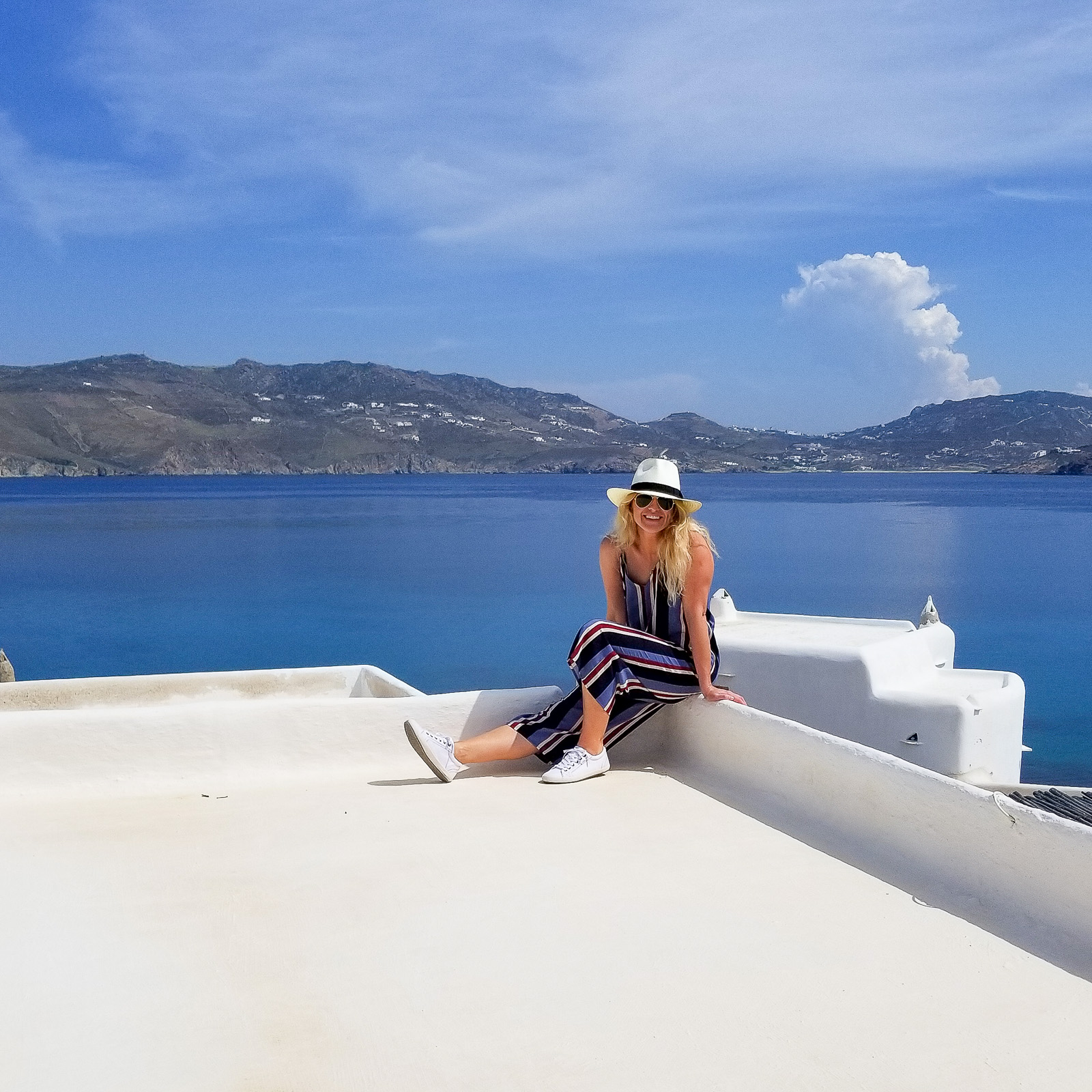 Every morning, our hotel provided a breakfast basket stocked with Greek goodies: meats, cheeses, eggs, Greek yogurt, jam, sweet and savory breads, and juice. We would take it out on the patio and watch the town wake up in the distance.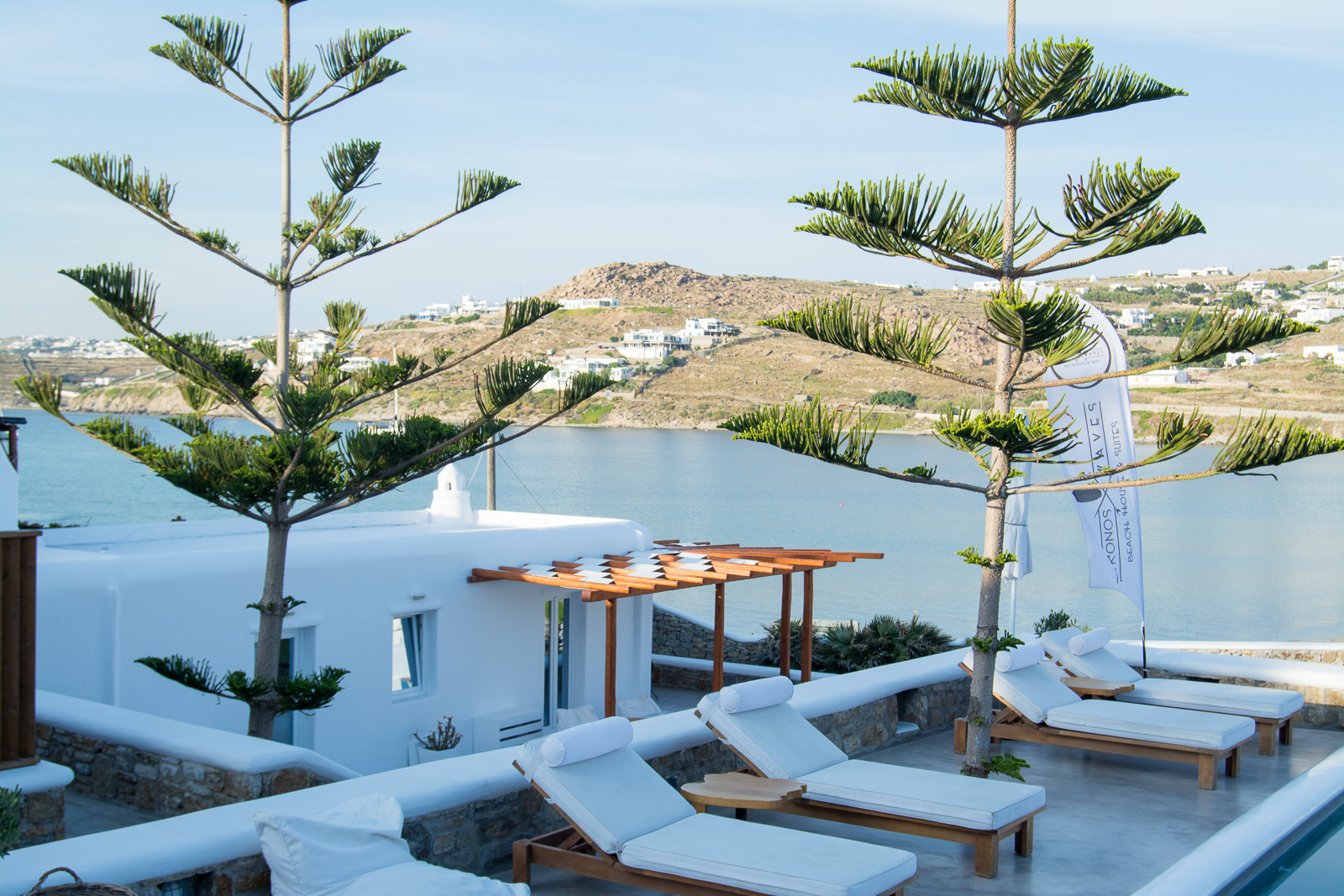 We hit the windmills at sunset for some prime shots and then headed down to the water's edge for a cocktail in Little Venice.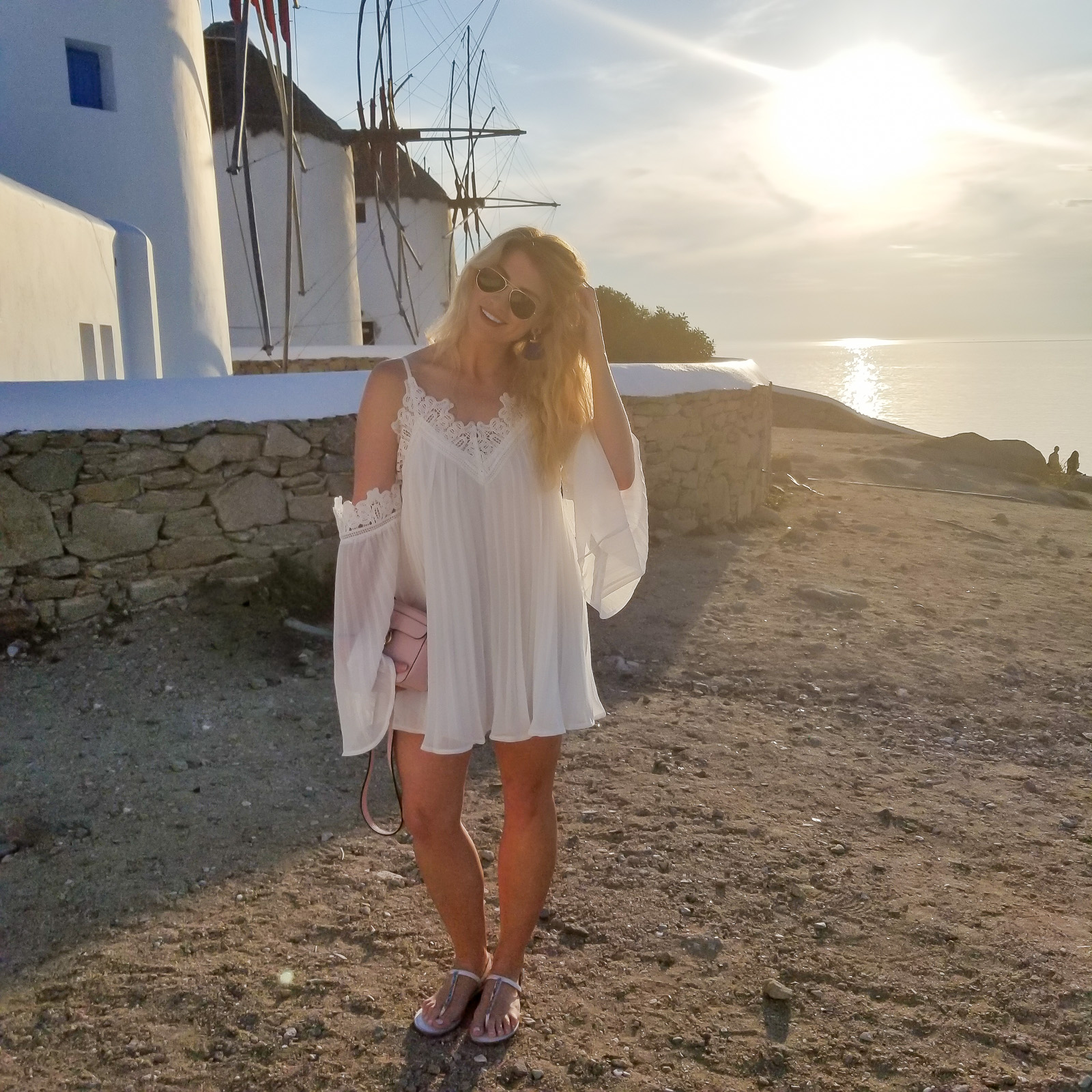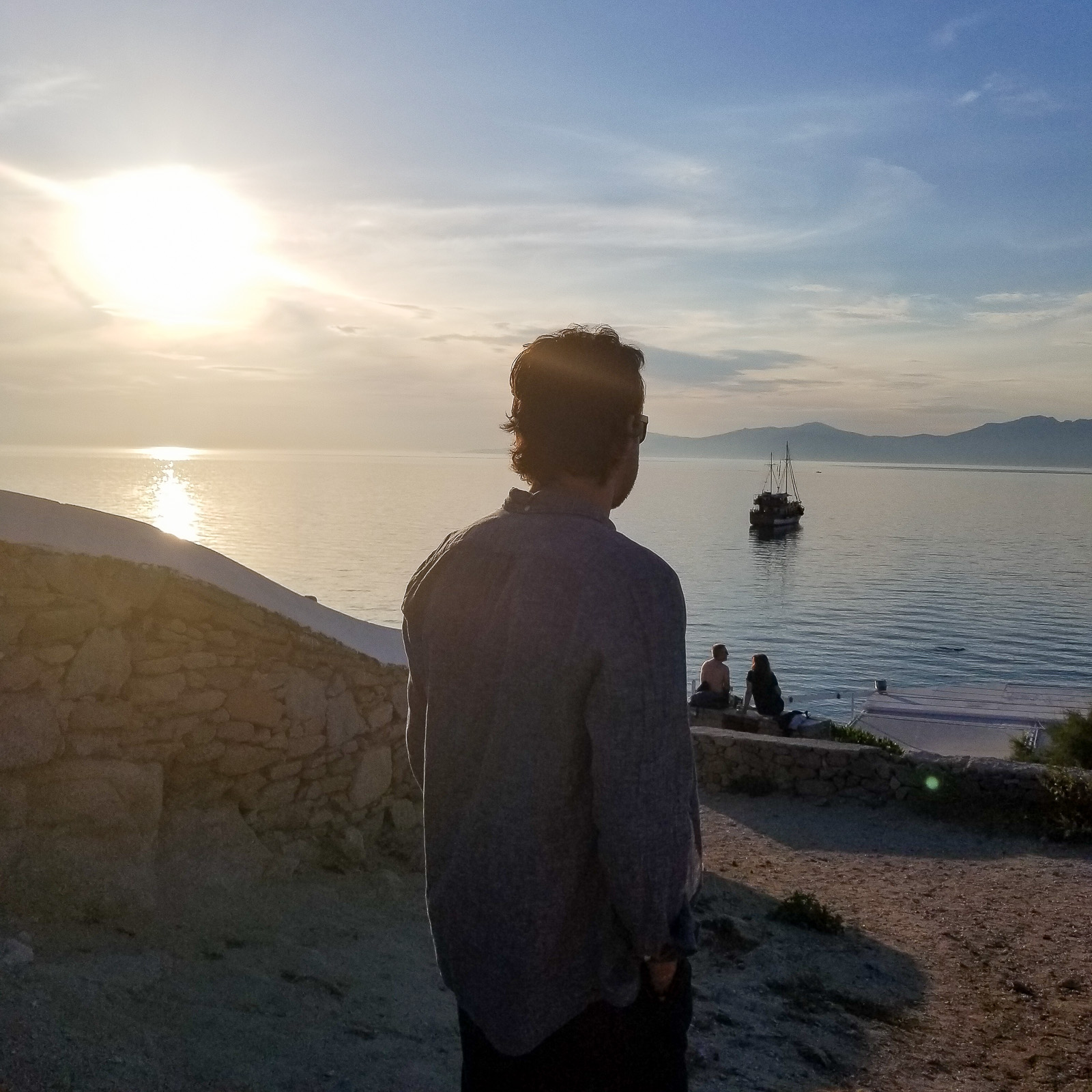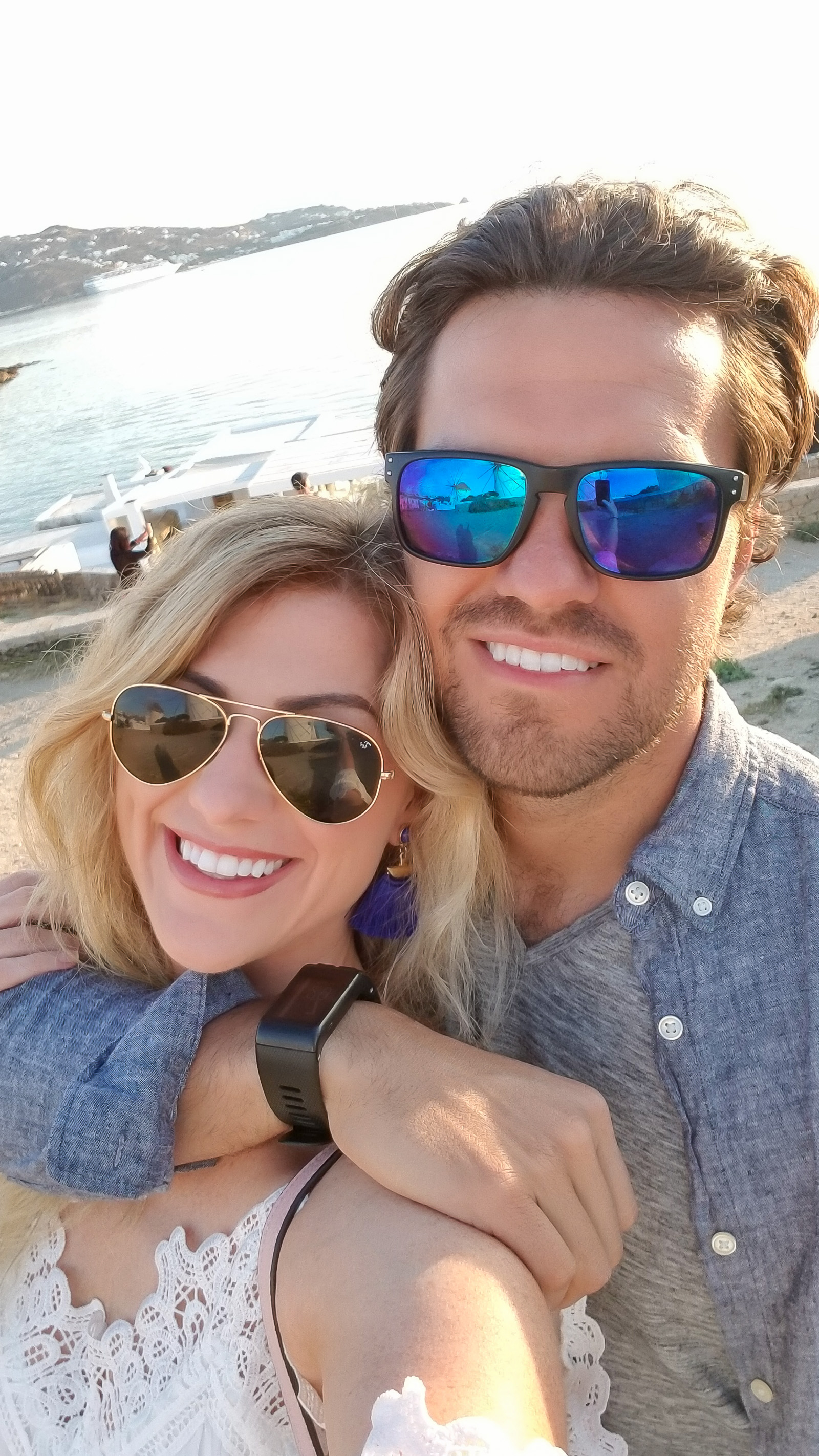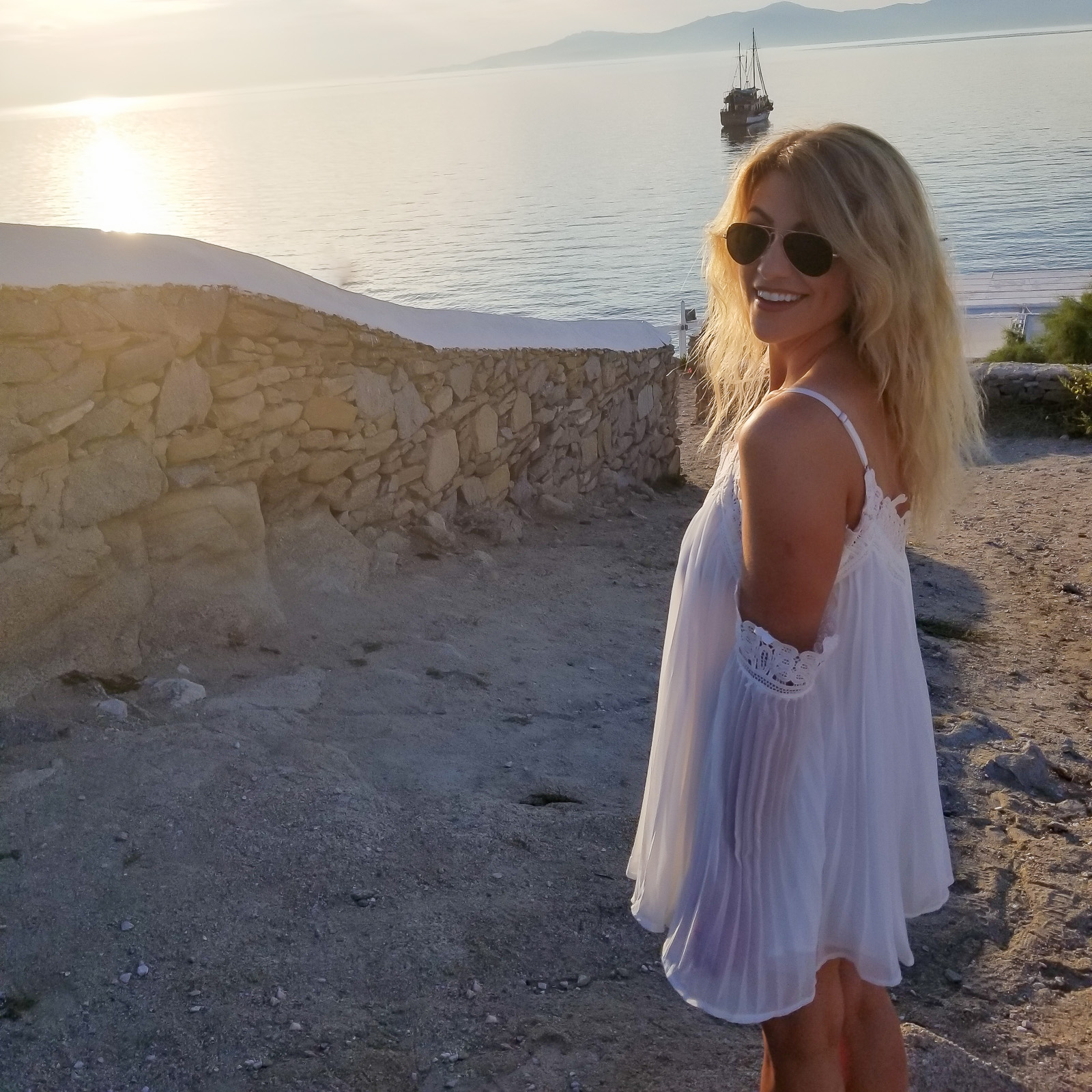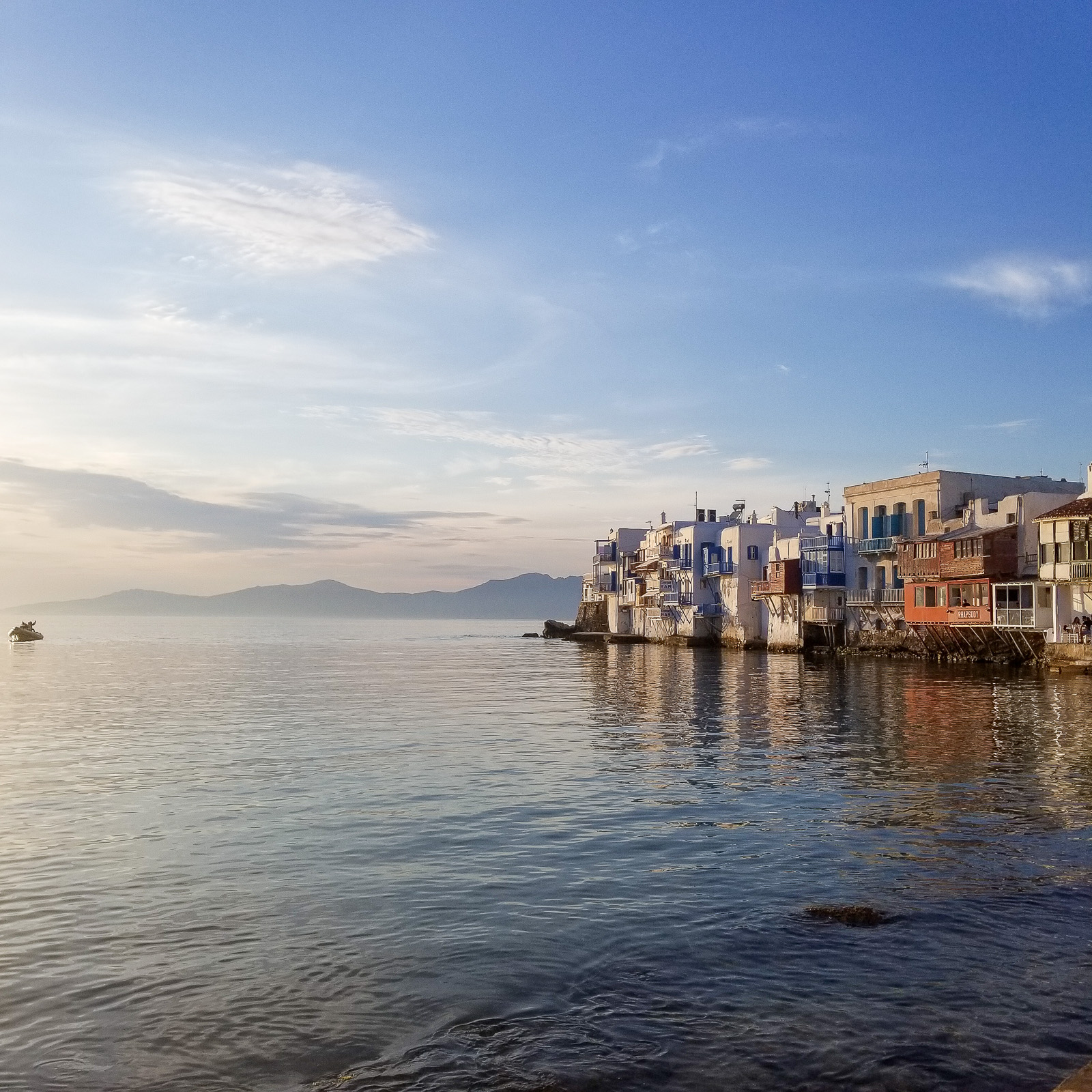 In Little Venice, the bars and cafés butt right up to the water's edge; not even a hand rail blocks your view of the sunset (or keeps you from falling, so watching your step is a necessity). We snagged a front row table and watched the sun lower over the water while the bartender at Breeze brought us several interesting cocktails. (We were told to ask for Nick and let him bring us whatever; apparently Nick was some sort of alcohol magician.) My first was something with whipped cream and berries, my second had cocoa powder in it. Both were really good– and really dangerous.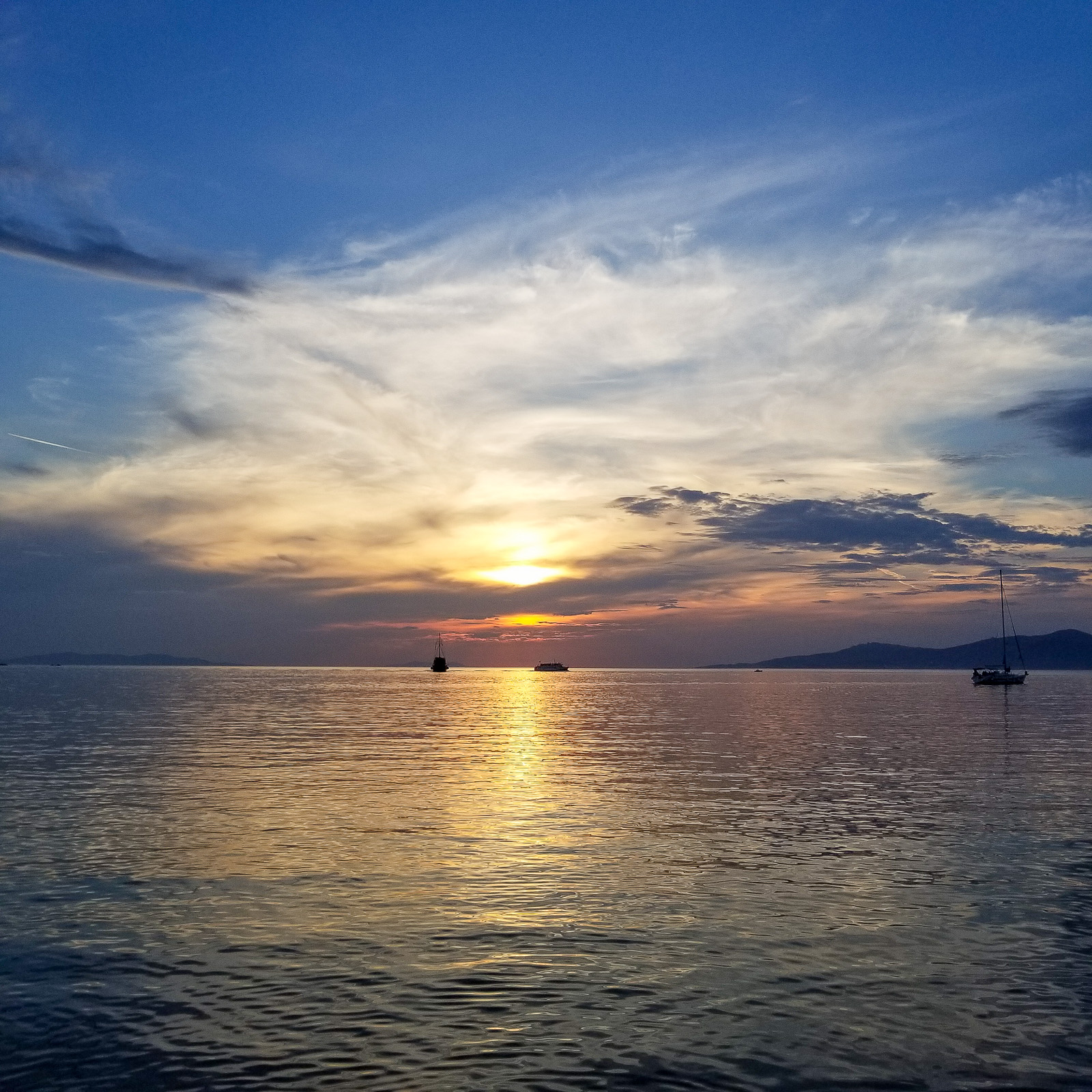 We rented an ATV while on Mykonos, which allowed us to jet around the island without having to worry about a cab. Our little quad bike was only a 50-cylinder, which meant it straight up struggled to get up some of the big hills in Mykonos. It was terrifying at first, as we were going so much slower than the rest of traffic, and the Greeks drive fast. They also don't have any qualms about passing– there were several times we got passed by a huge tour bus, on a blind curve, while we were halfway up one of the mini mountains in Mykonos. I'm sure I said, "This is how we die," about 100 times that first day. After that, we got the hang of things (and realized that despite being speed demons, the Greeks actually weren't bad drivers) and riding the ATV wasn't quite so nerve-wracking.
Being on the back of the ATV allowed me to get some great shots of the island (when I wasn't holding on for dear life) and navigate for Dave (thank the gods for Google maps, because street signs were tough to follow). We used it to zip to the nearby beaches: Paradise and Ornos, and up to Kiki's on the north side for some Greek barbecue (which is essentially just grilled everything; no sauce like my KC pals are used to).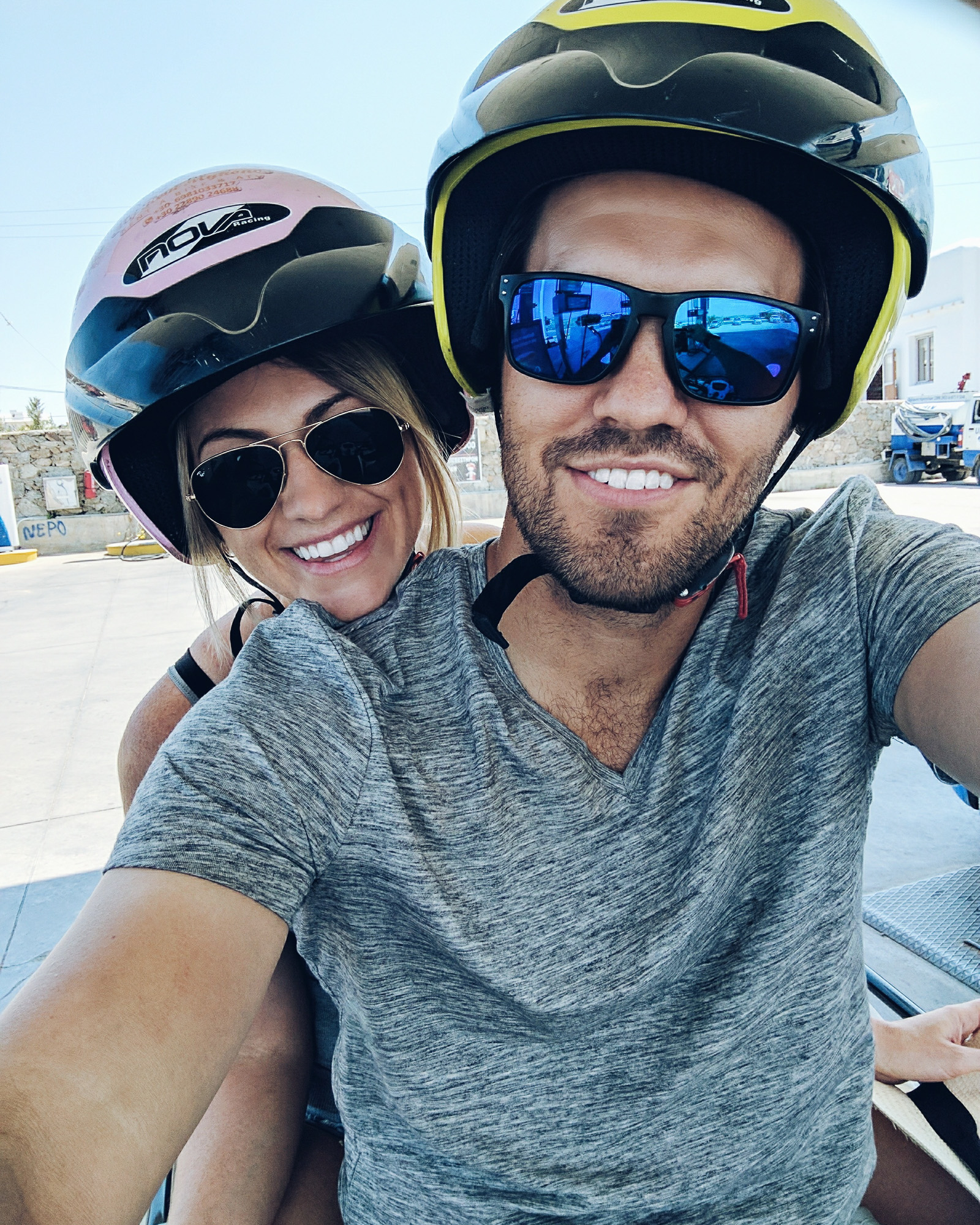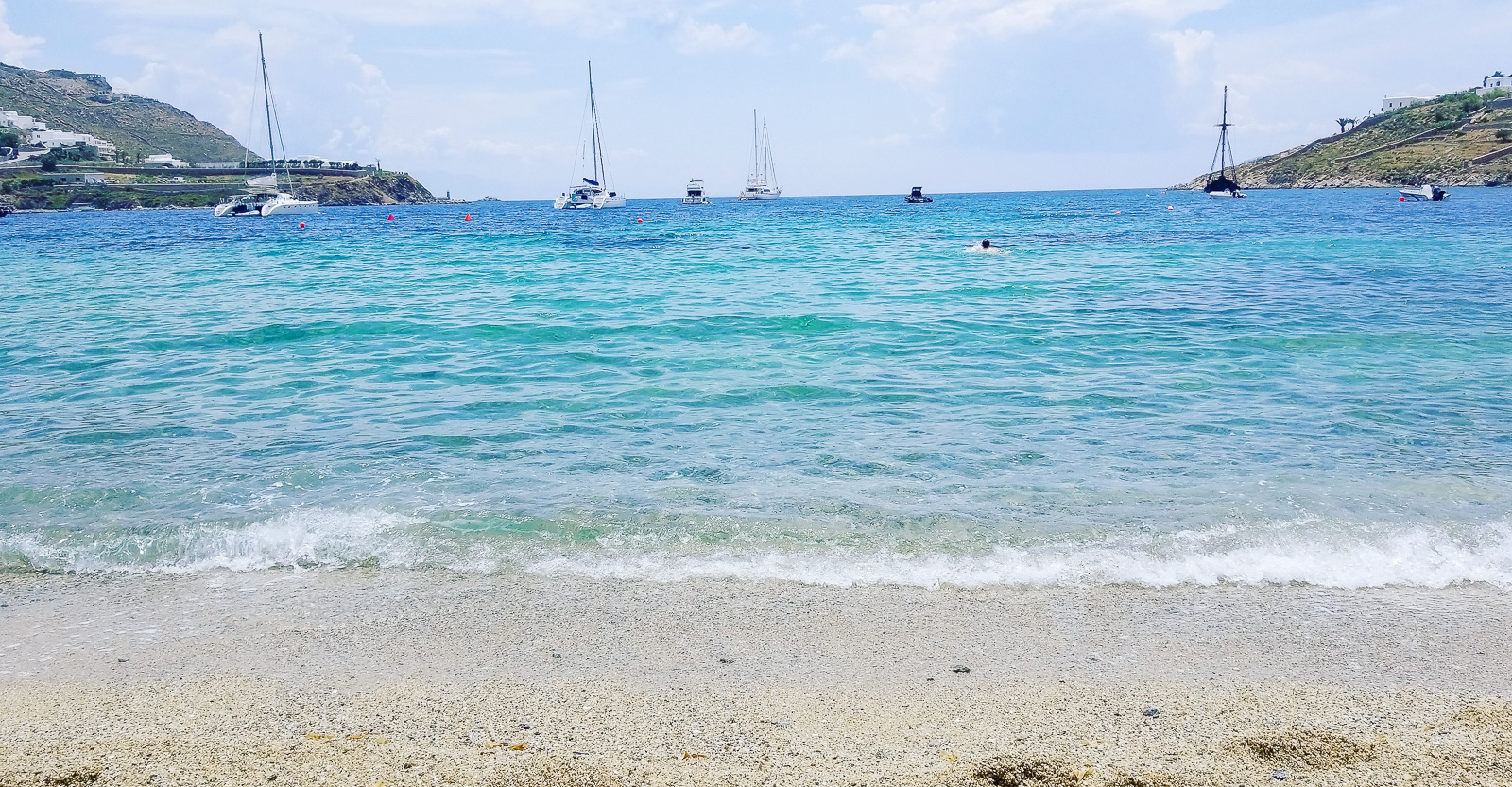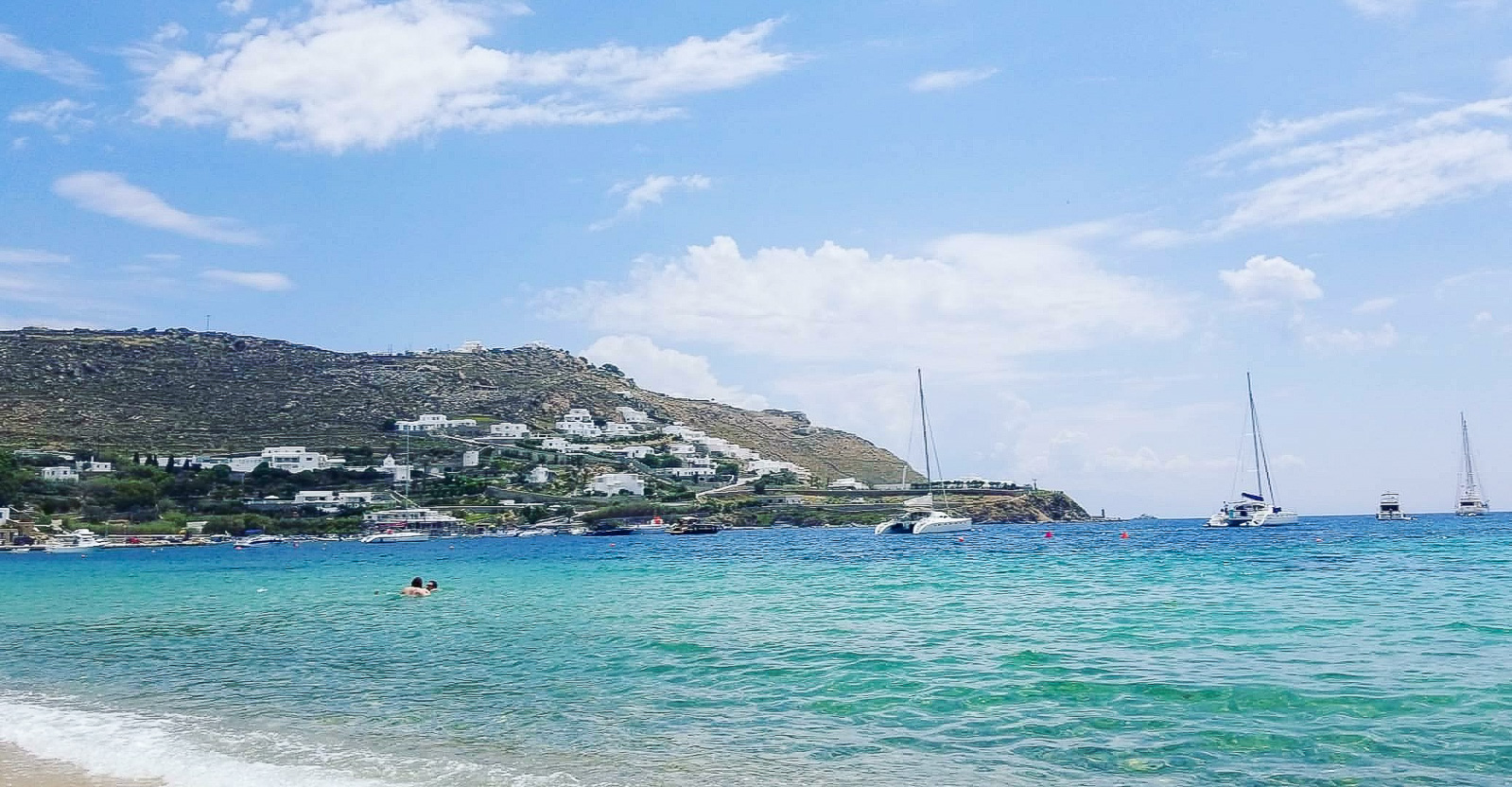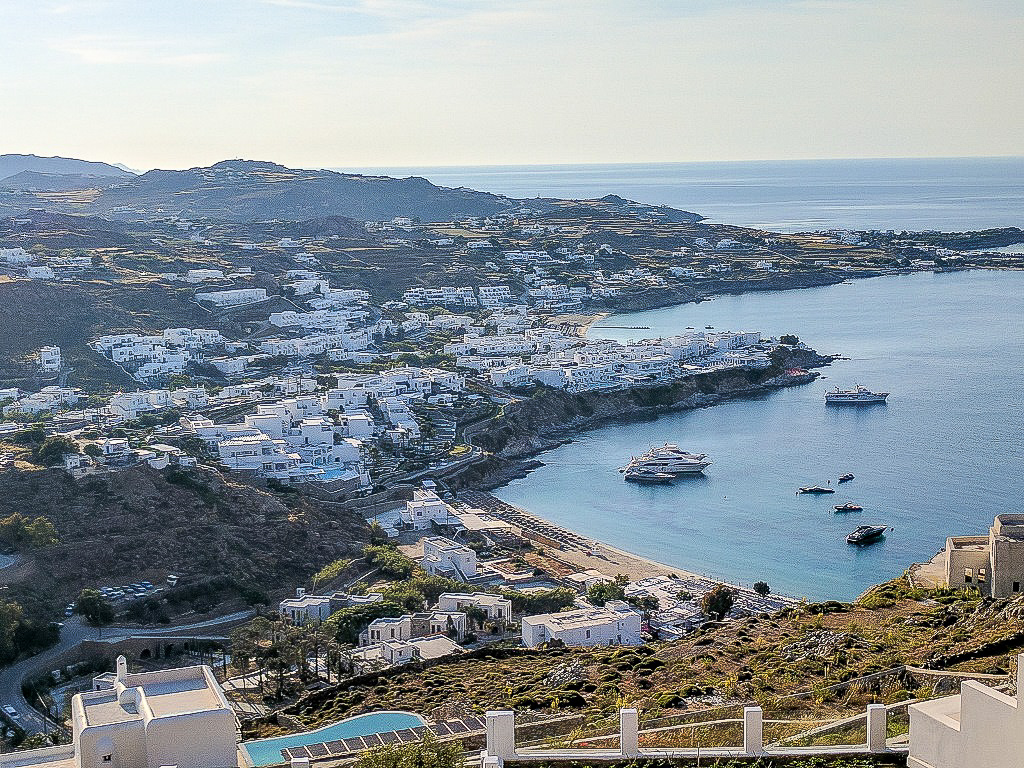 One of my favorite things about Mykonos was the horse that lived in the paddock right next to our hotel. (Imagine that, Ashley taking a liking to an animal.) She belonged to the owner and would trot up when she spotted our ATV pulling in. (This was likely because I gave her lots of nose scratches and bought carrots at the market specifically for her.)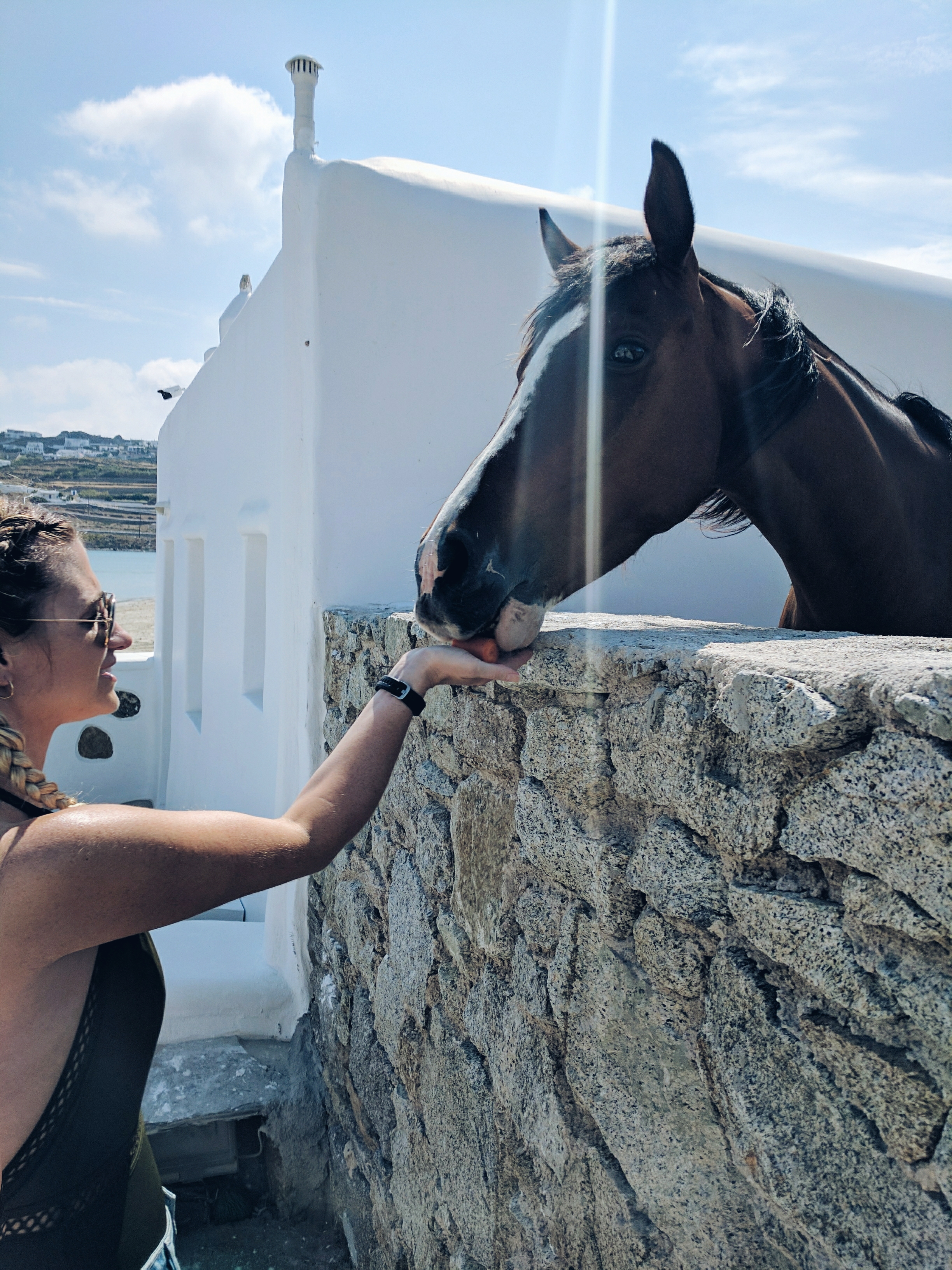 We spent our last day lounging at Ornos Beach and then poolside at our hotel. We cracked open (and finished) a bottle of rosé and played chess to pass the time before our flight to Crete. It was a really lovely way to say goodbye to Mykonos. (Plus going to the airport with just a bit of a buzz wasn't the worst thing in the world.)
Second stop: Rethymnon, Crete.
Our initial reason for going to Crete: Dave had signed up for a marathon in Rethymnon. After we booked our flight, he searched around for races happening the same time we'd be in the country; what were the odds? Turns out, pretty damn good. He couldn't pass that opportunity up and I was happy to add another island to the vacay list.
We stayed in Rethymnon, which was the cutest little town right on the coast. The water was beautiful + calm, and you could see the mountains in the distance. Our hotel was right in the middle of town, giving us quick access to shops, the boardwalk, and the ocean.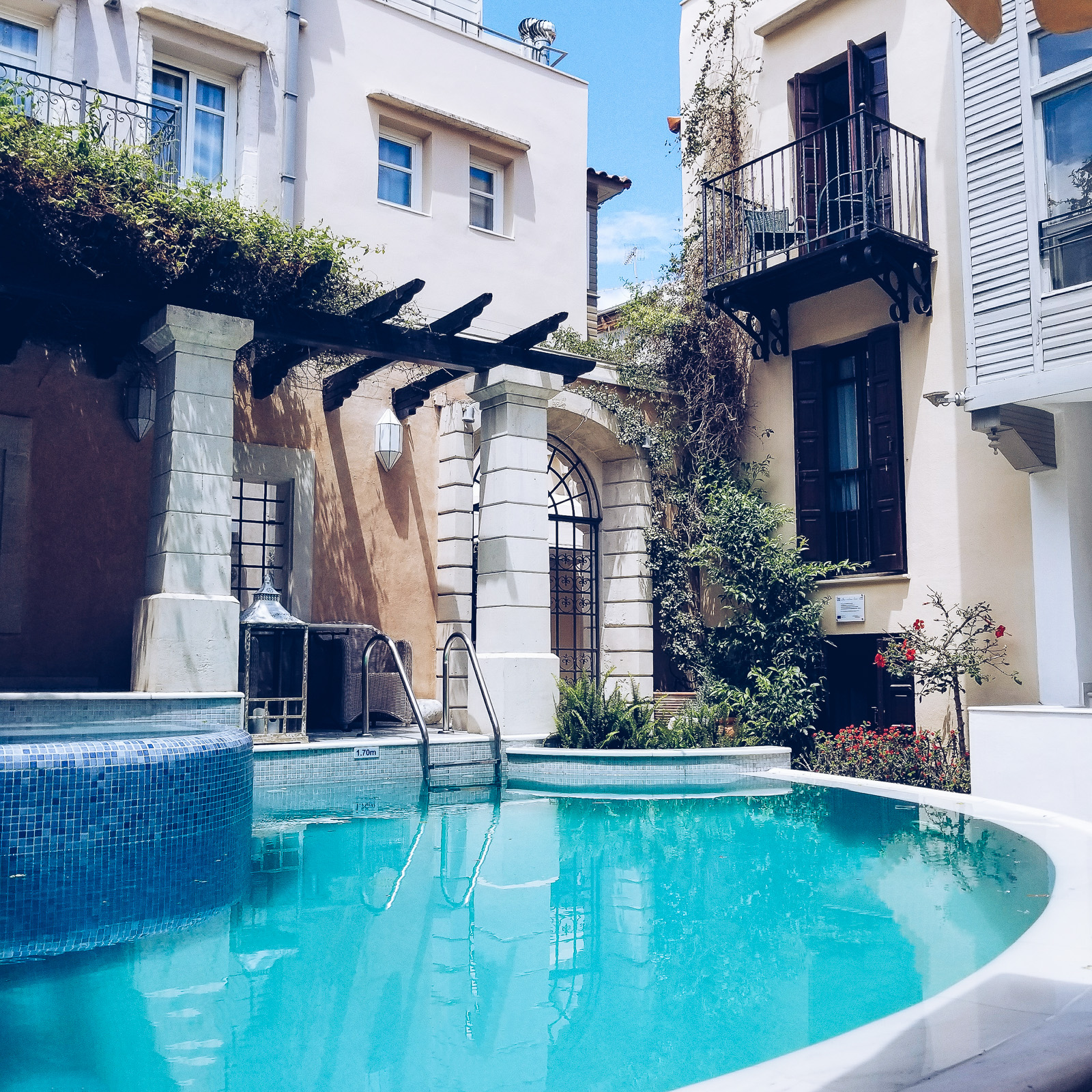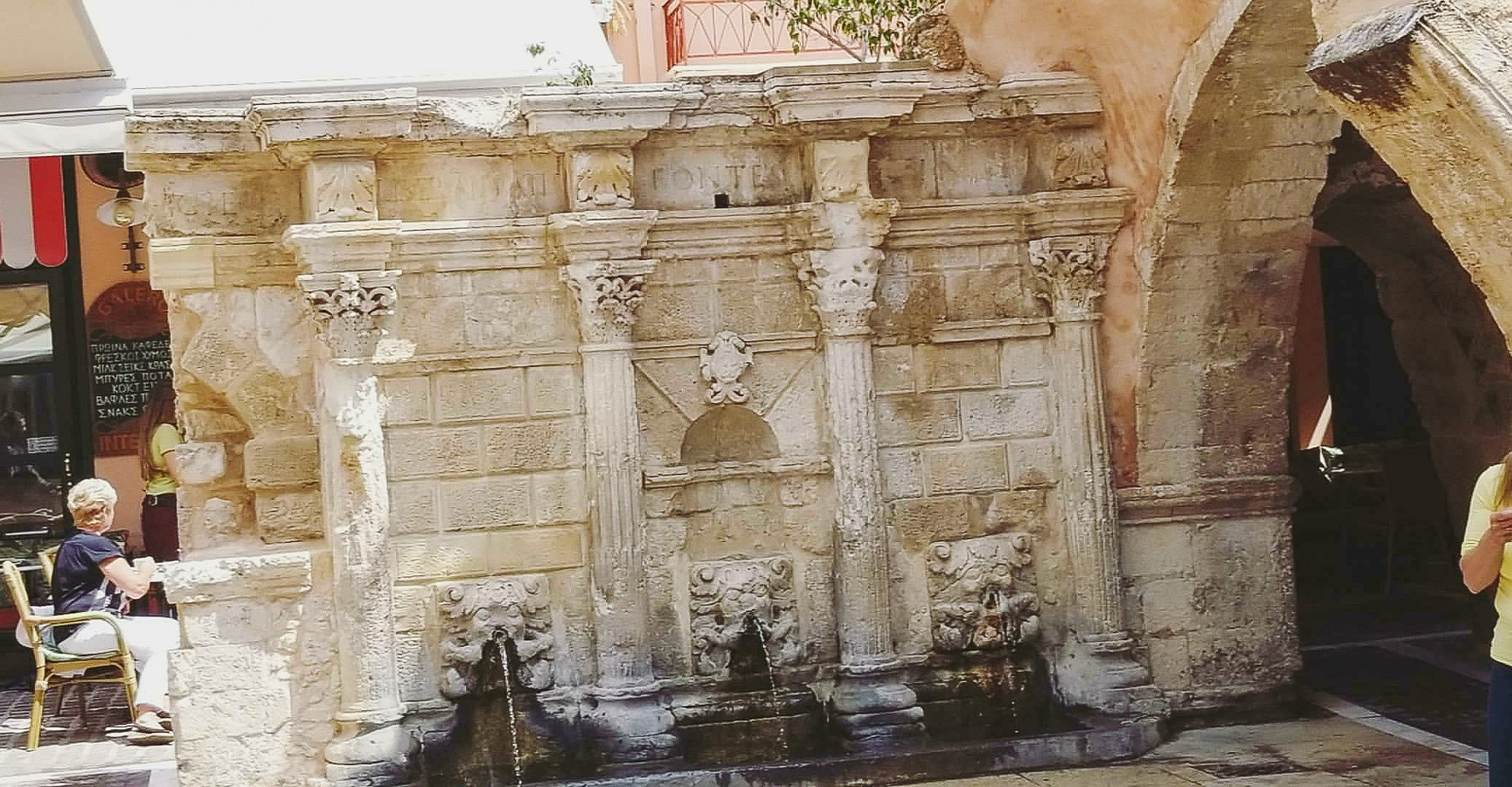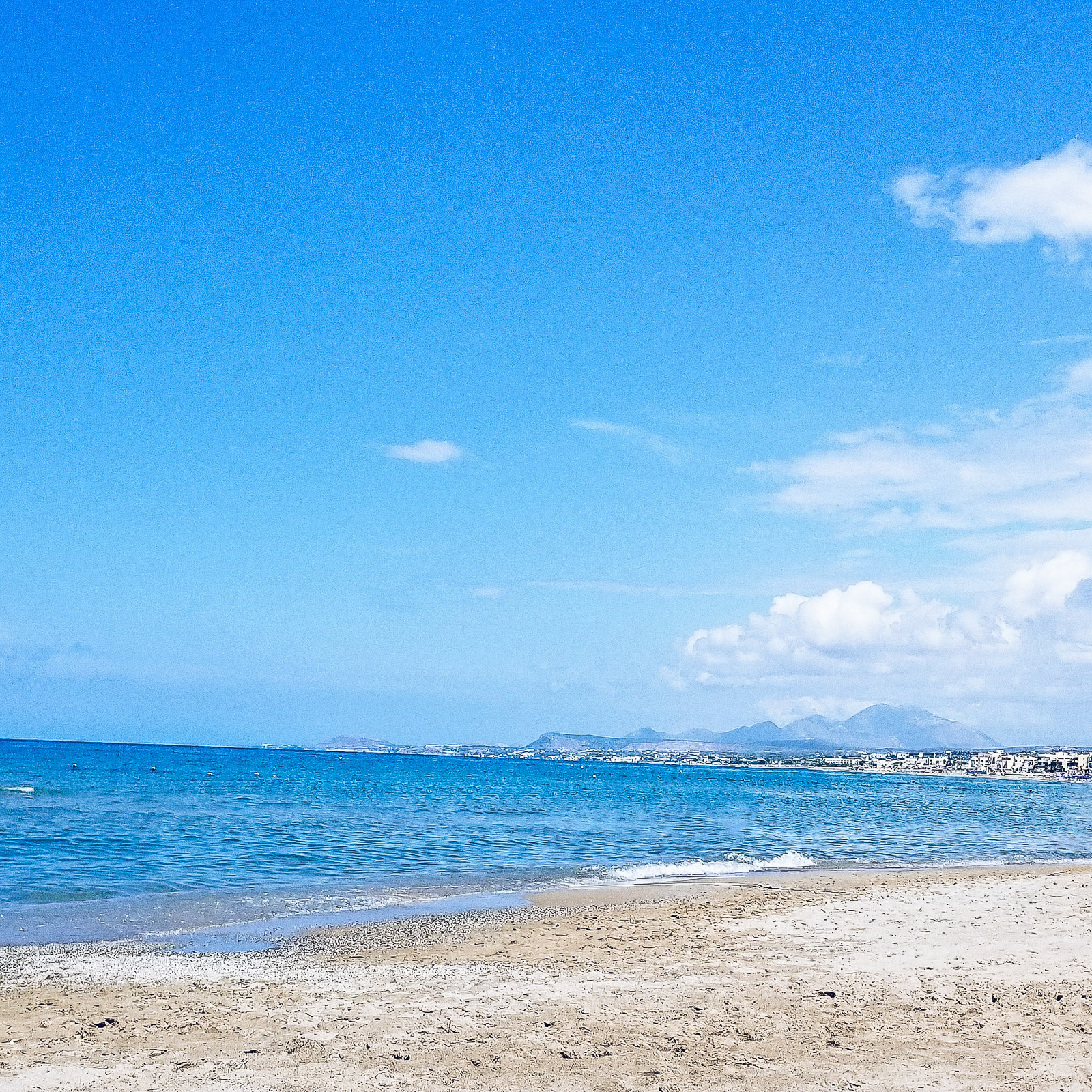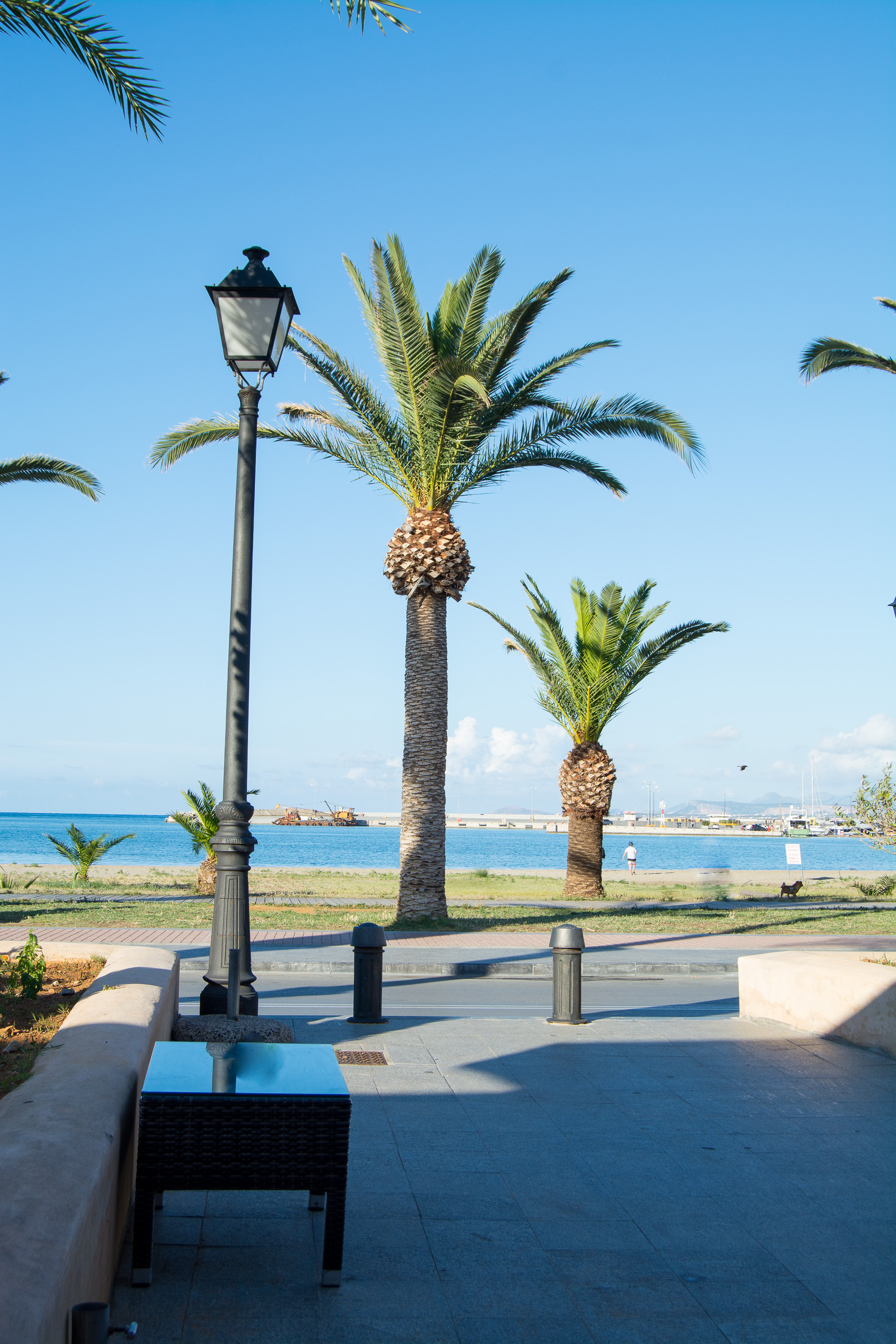 The race Dave entered was the Psiloritis Marathon and is considered the marathon of Zeus (seriously, the motto is, "Run in the footsteps of Zeus"). It's a grueling race that starts halfway up the Psiloritis Mountain at 6,000 feet 4,400 feet and forces its participants to run up steep terrain through the cloud layer (um, literally) into the snowpack, up to the summit at 8,000 feet, and back down to the little village. People from all over the world come to run this marathon (including my boyfriend, apparently).
This poster was just outside a building designated for race check-in, where we listened to the organizers talk about the steep terrain, thorny plants to avoid, and general race precautions to take. (No pressure.)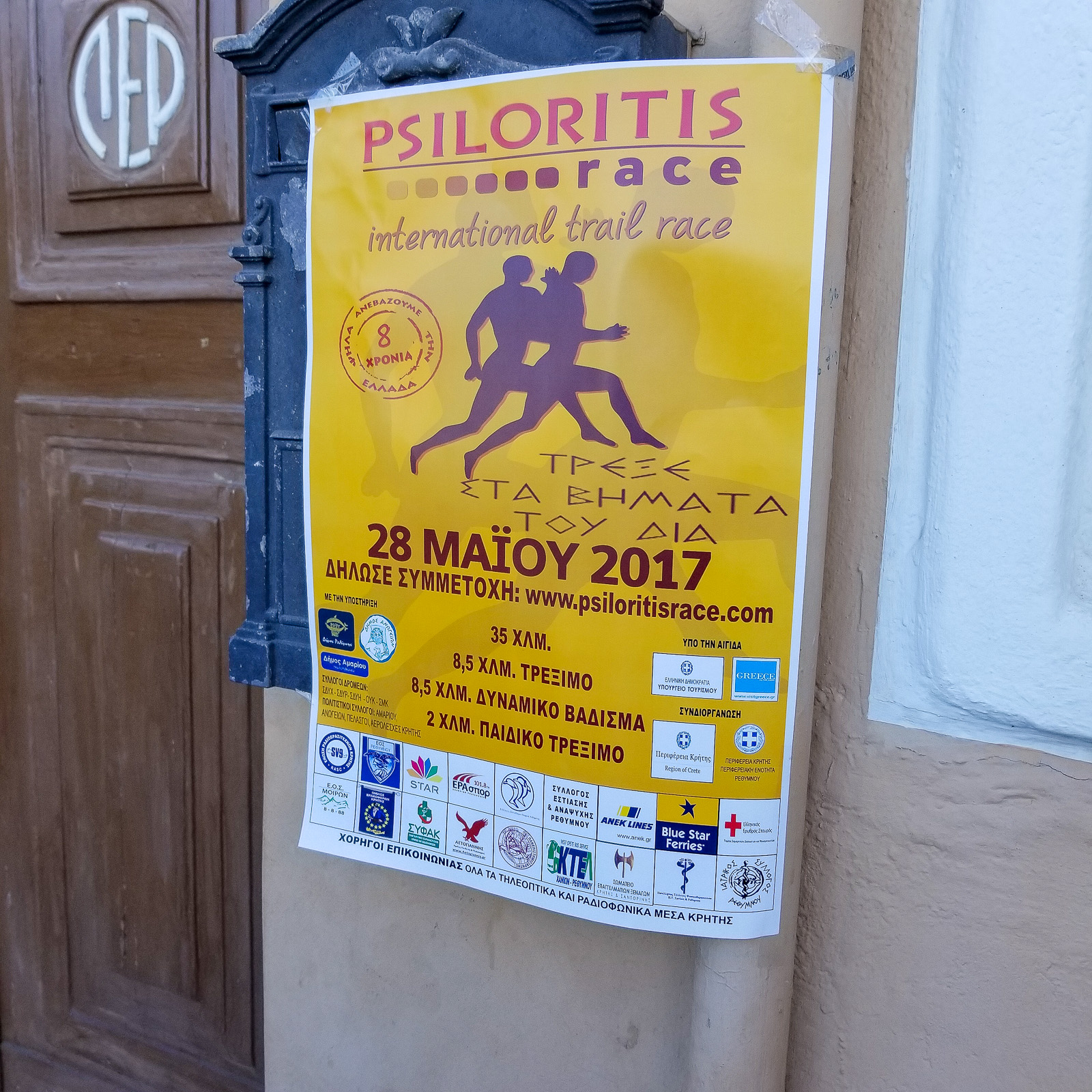 We explored the village after check-in, walking the streets and popping into shops along the way. (We also did a photo shoot, which you can see right here.)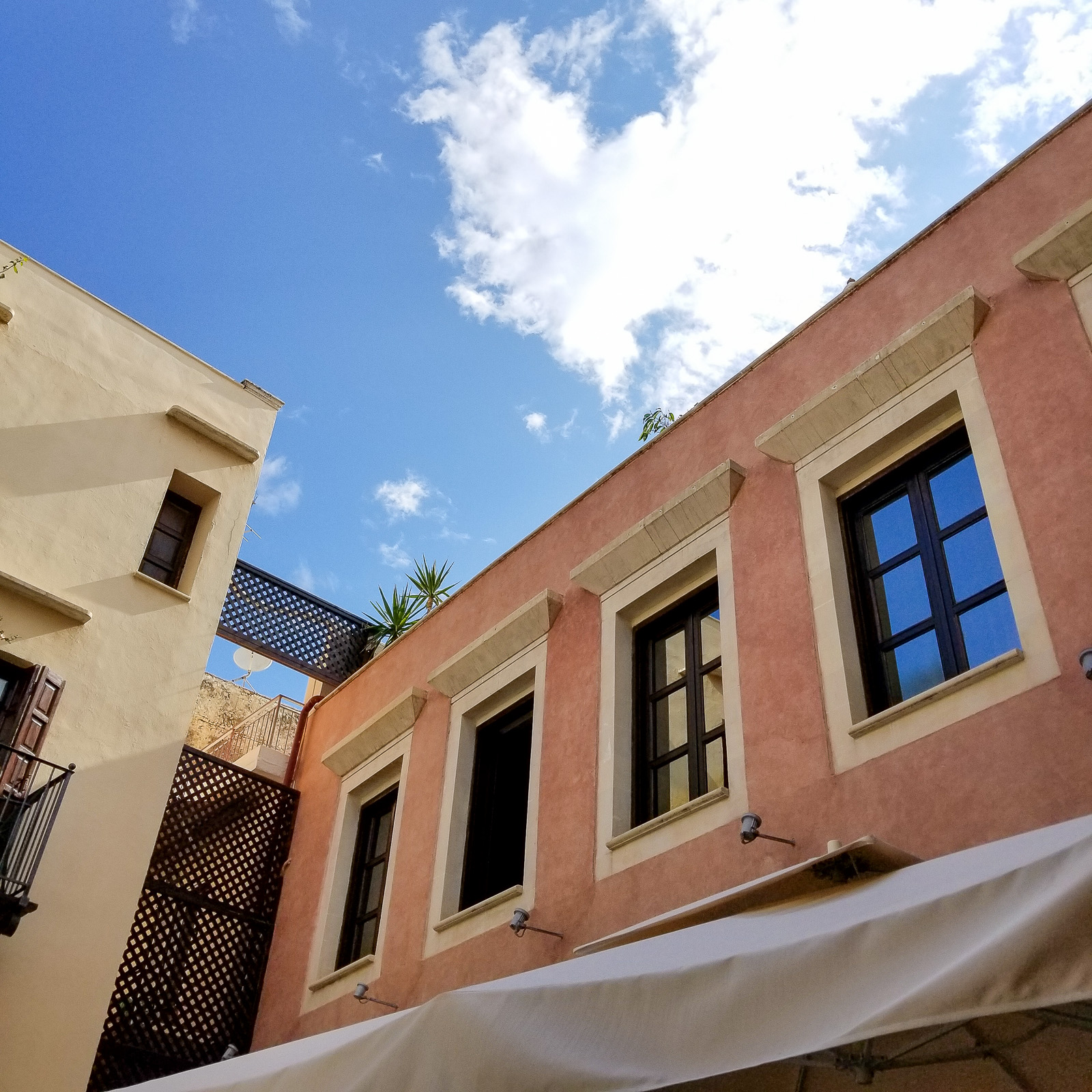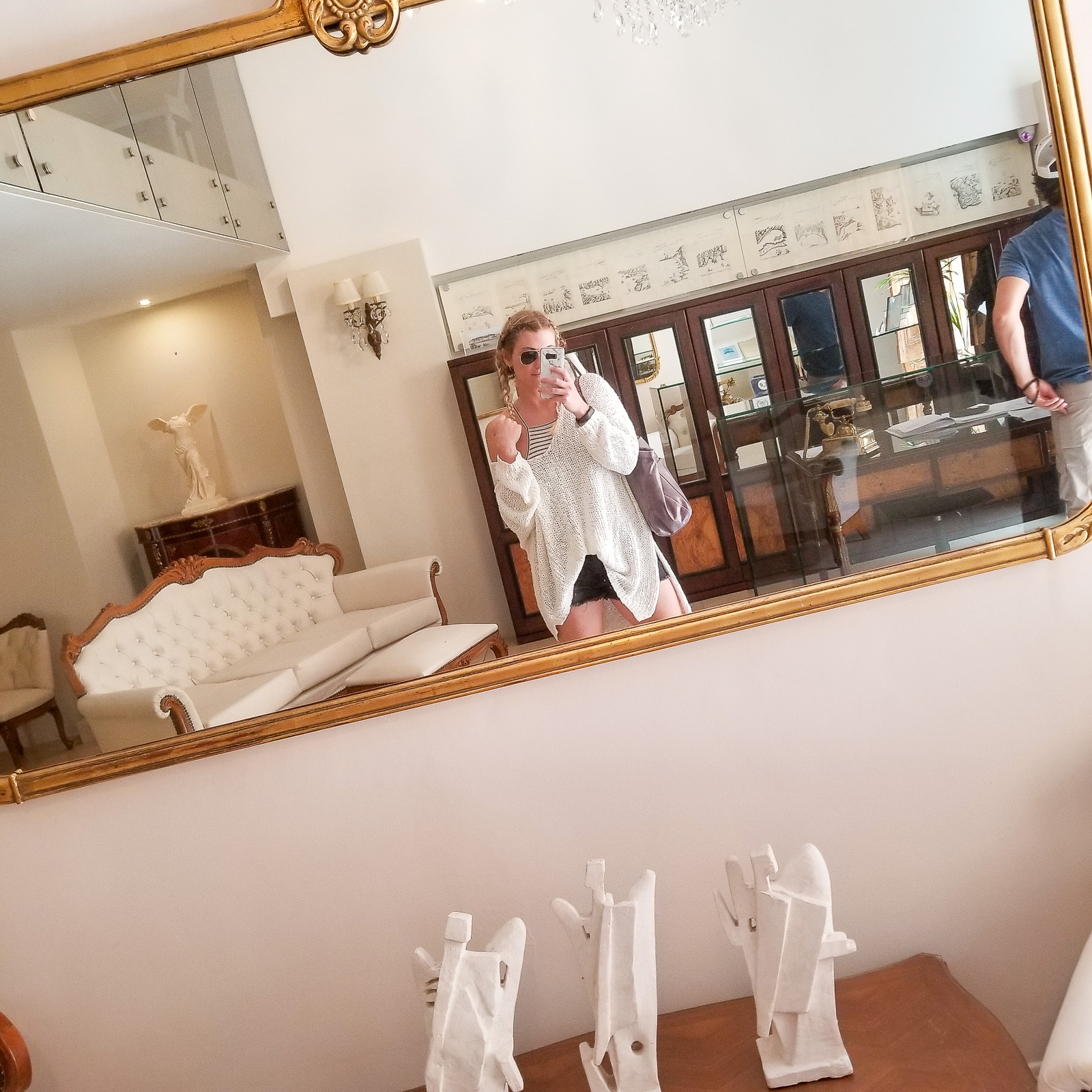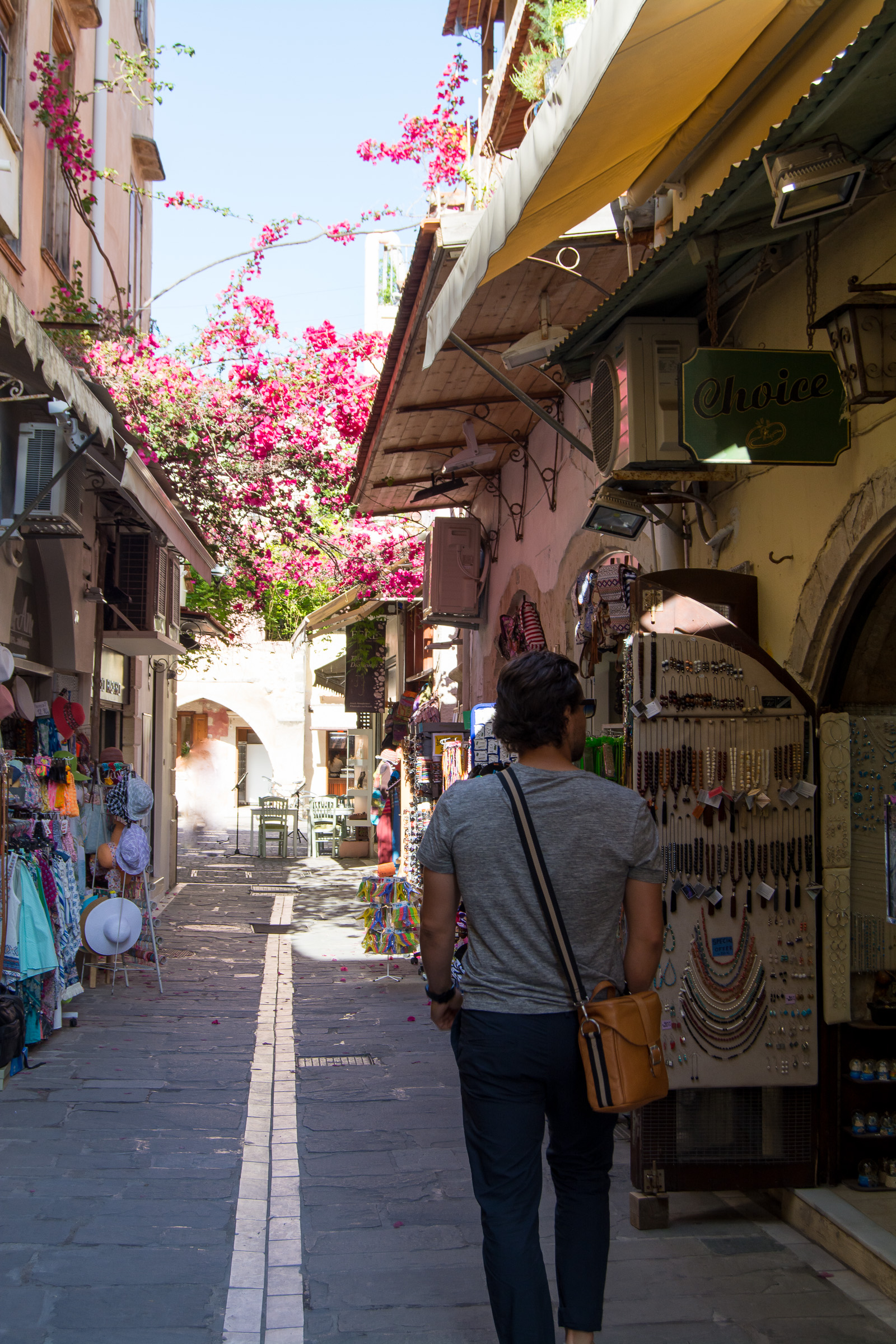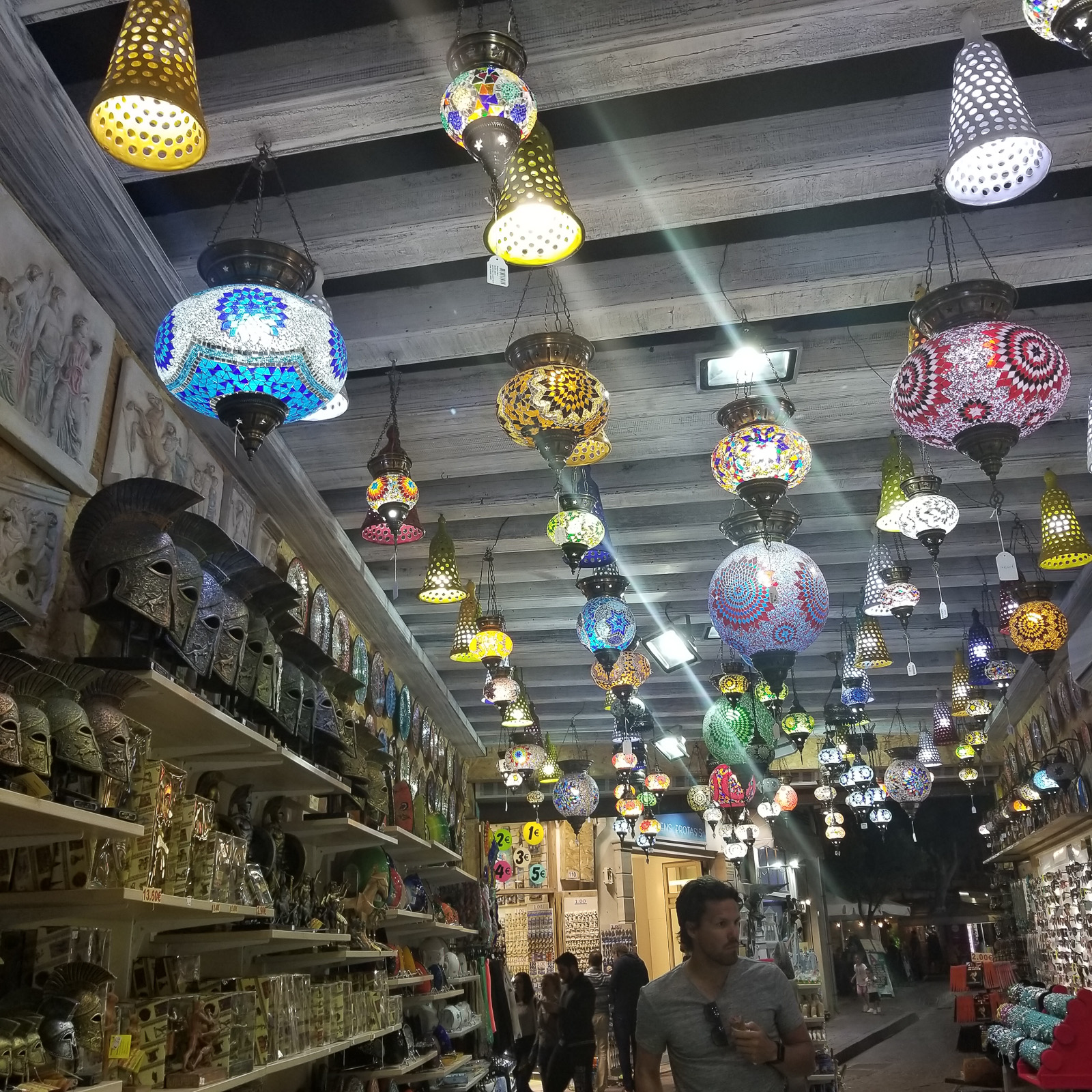 On marathon day, Dave woke up at 4:30 a.m. in order to be dressed and ready by the time the bus pulled away from town hall at 5:30. While I spent the day in a bathrobe lounging by the hotel pool and catching up on emails, he ran up one side of a mountain and down the other. (Our definitions of "vacation" can differ.)
Dave finished 7th in the race and was the first American across the line (!!!). I was so pumped for him. I would, in all likelihood, die trying before I cleared the clouds– or, at the very least, would have flagged down a donkey cart and hustled my ass back to the comfort of sea level before mile marker 1.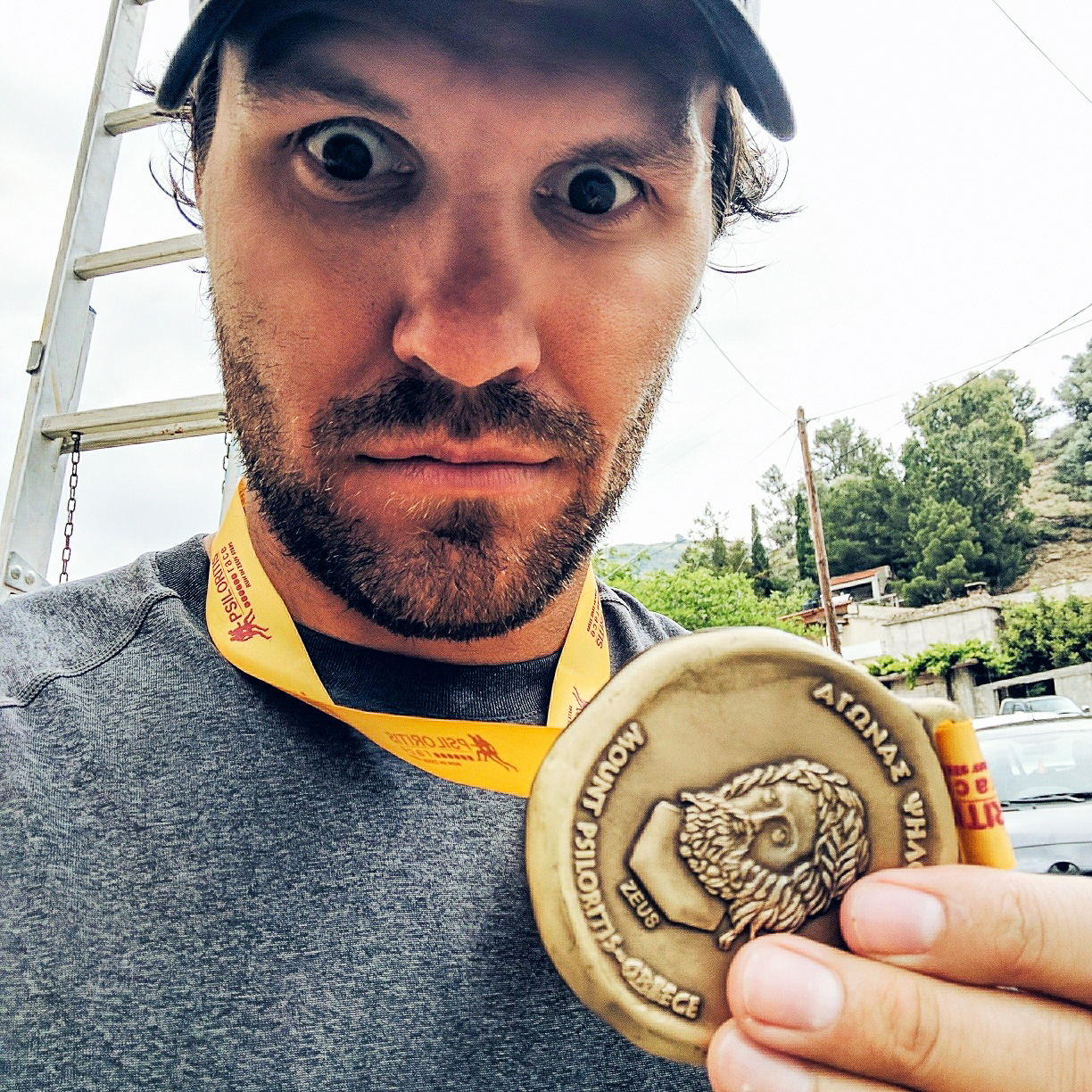 We had some serious cause to celebrate after a race like that, so we hit the town for drinks, dinner, and more drinks.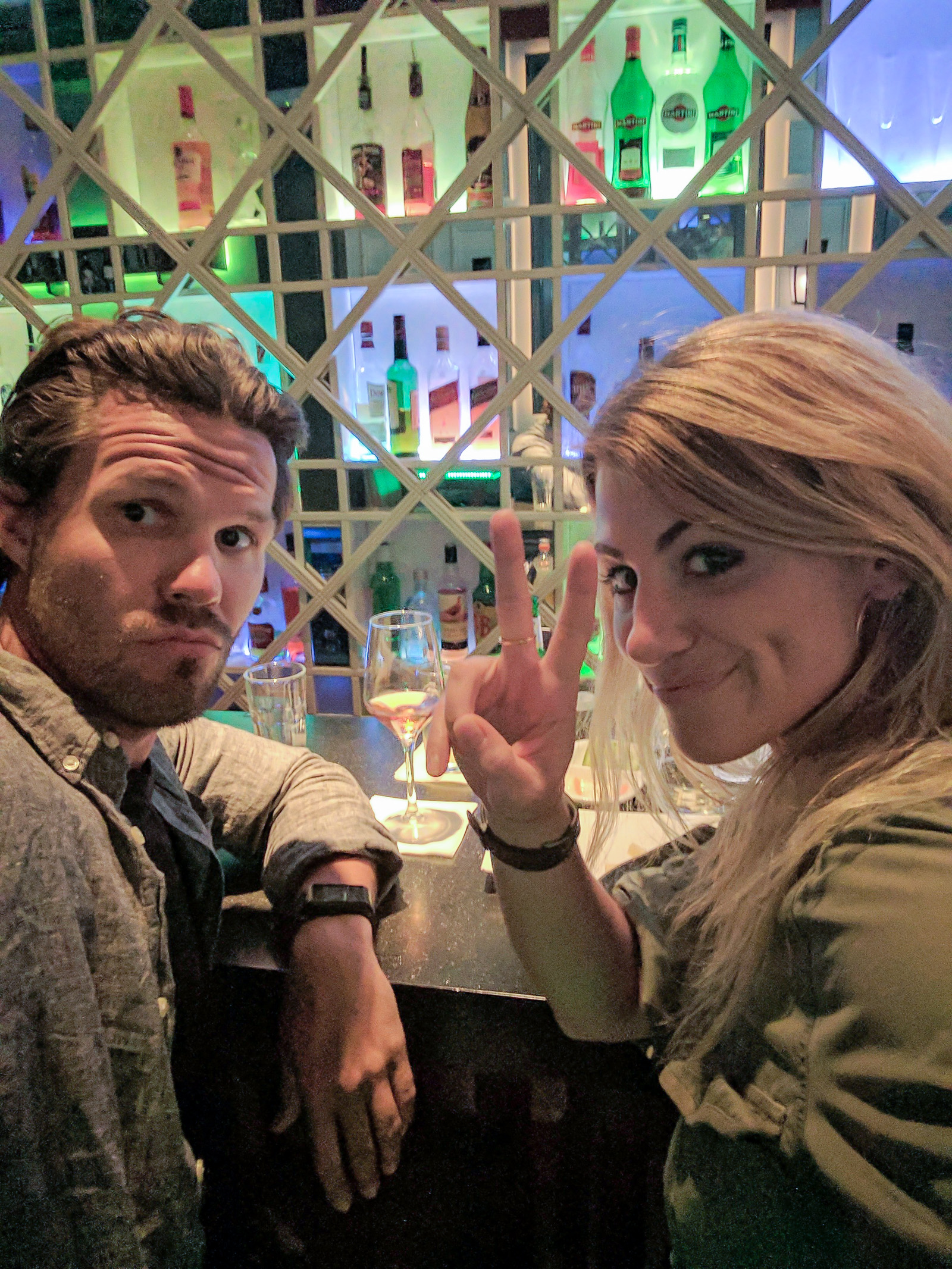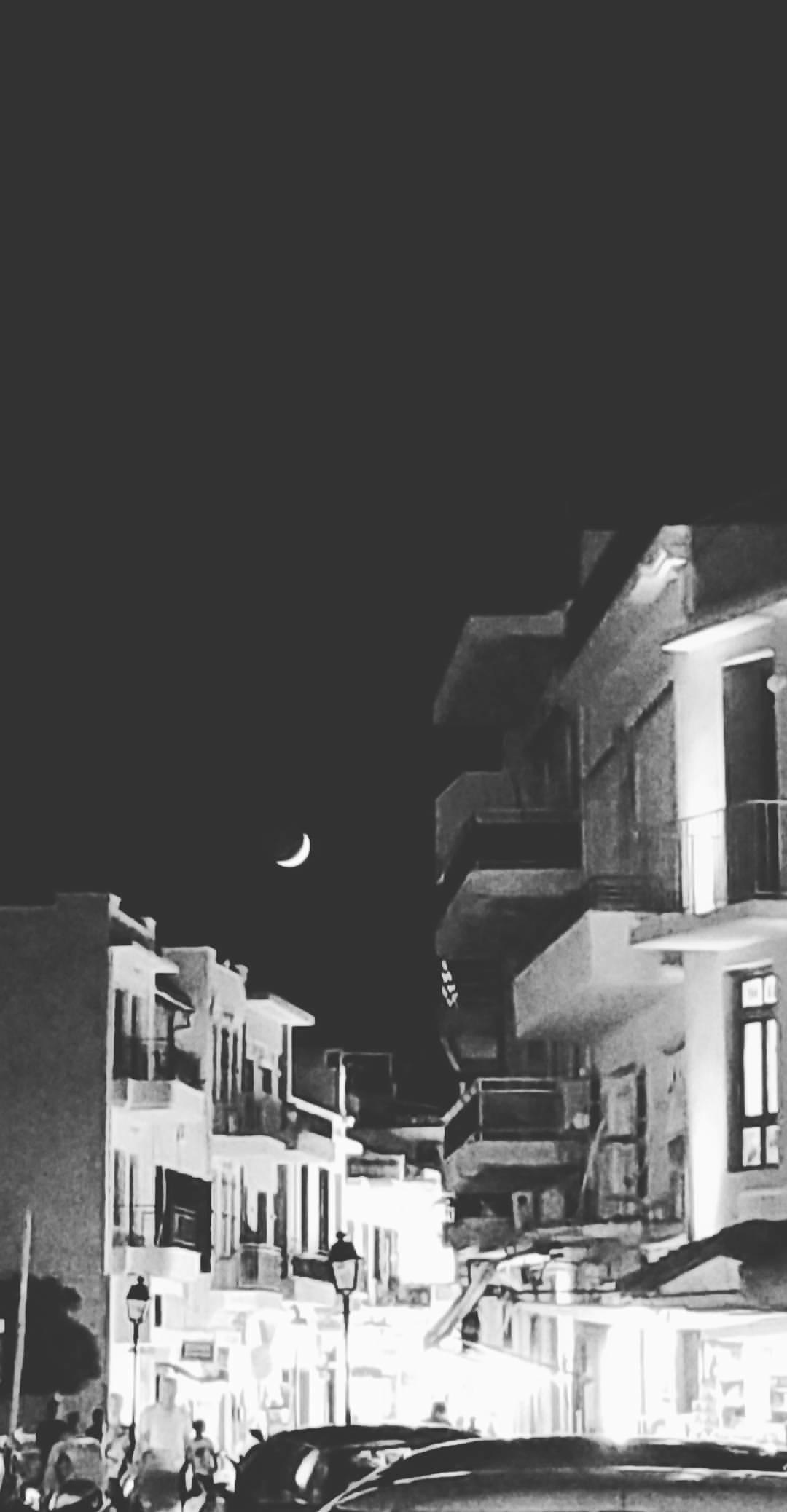 Crete was very good to us– the location, the food, and the people were all lovely. We were disappointed we didn't get a chance to explore the other regions (Crete is huge), but it gives us something to explore when we come back.
Third stop: Santorini, Greece.
Santorini has always been the main attraction for me when it comes to Greece. The incredible history of the island as a caldera, the can't-believe-it's-real seascape, and the amazing culture pulled me to Santorini like a magnet. We saved it as the last island because I knew it was going to be my favorite.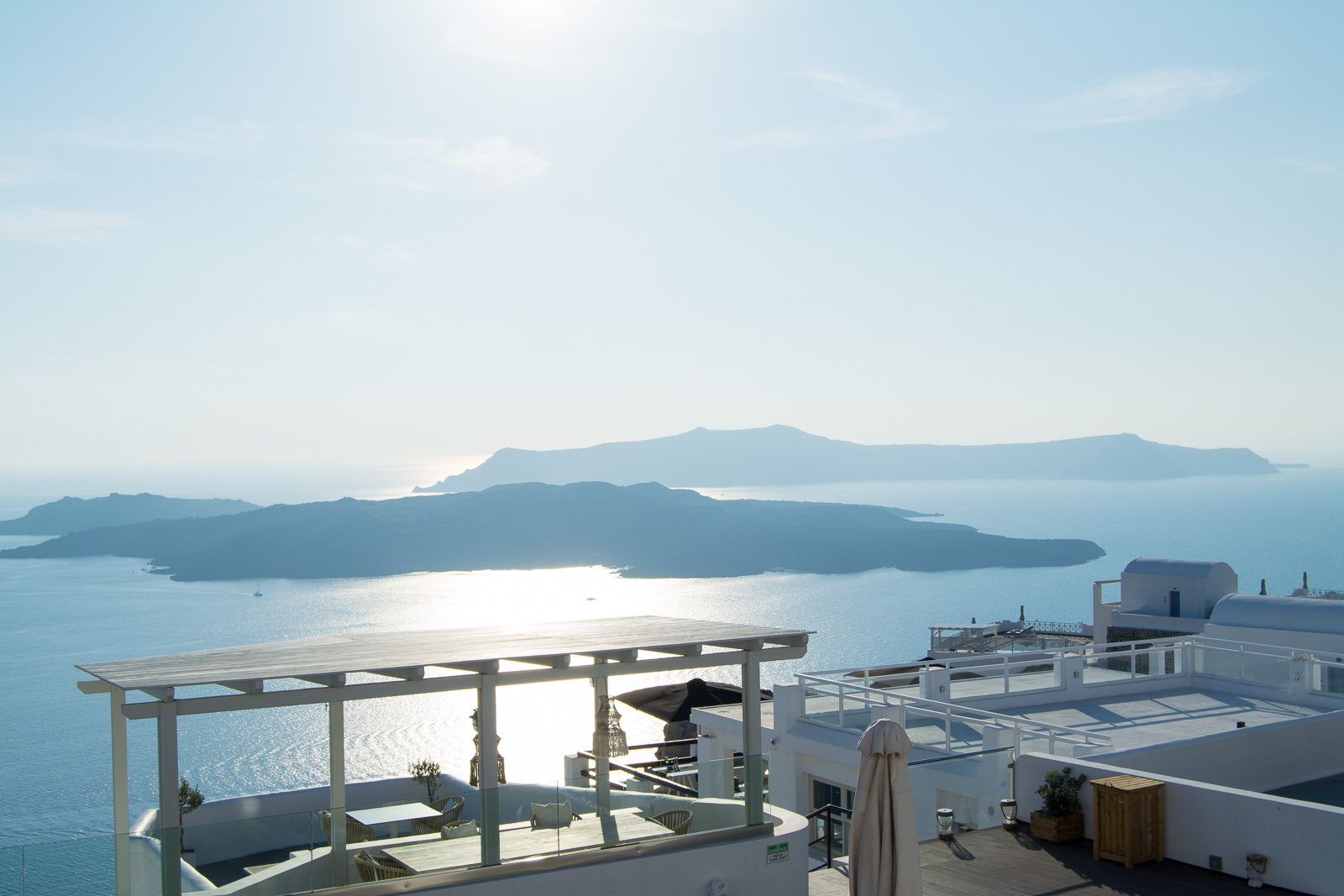 We got to the hotel well ahead of our 3:00 pm check-in, so we hit the hotel restaurant for an extended lunch. Over bowls of rose (the waiter, George, was so good to me!) and an amazing Greek salad, Dave and I got acquainted with the caldera.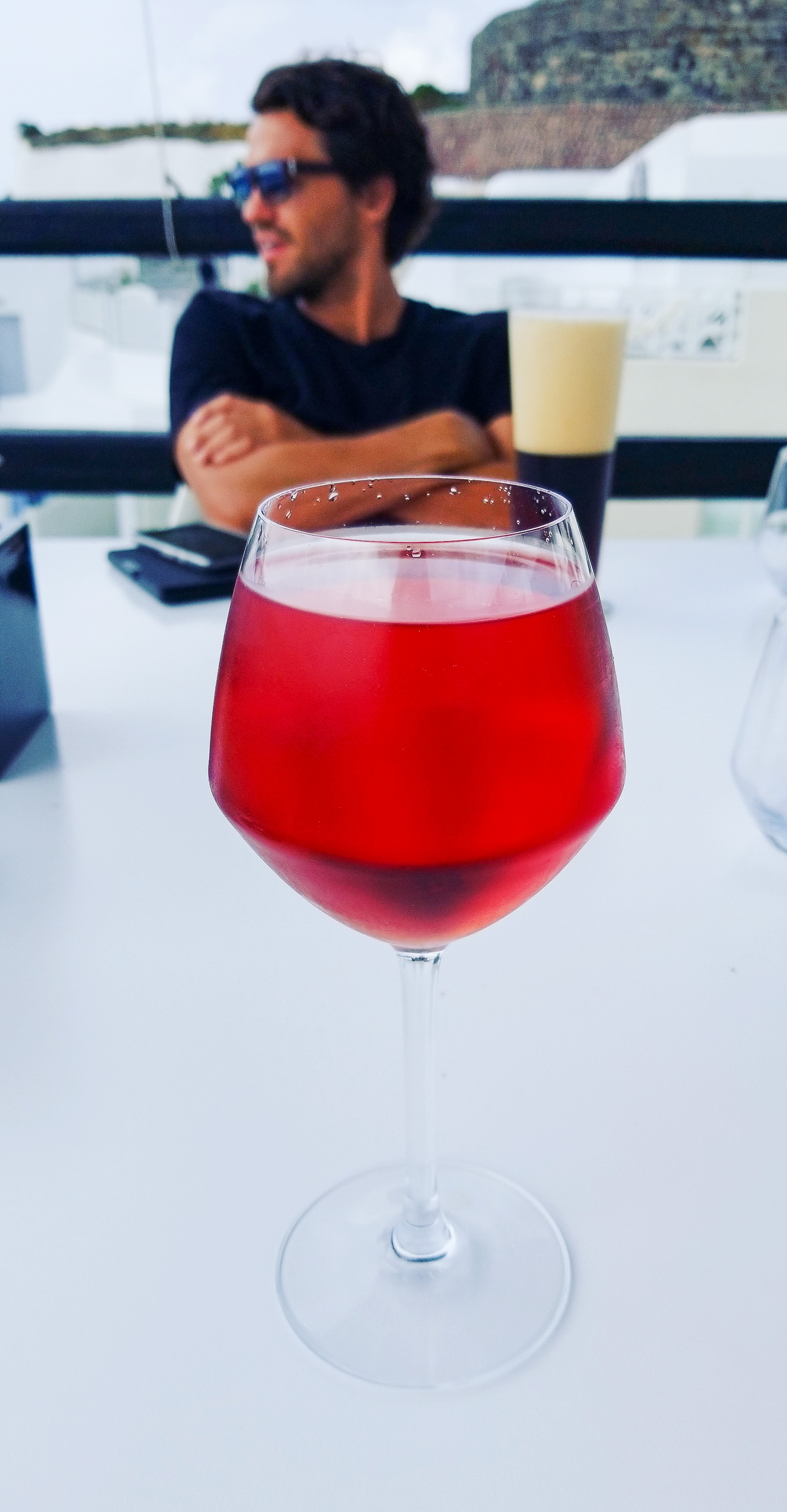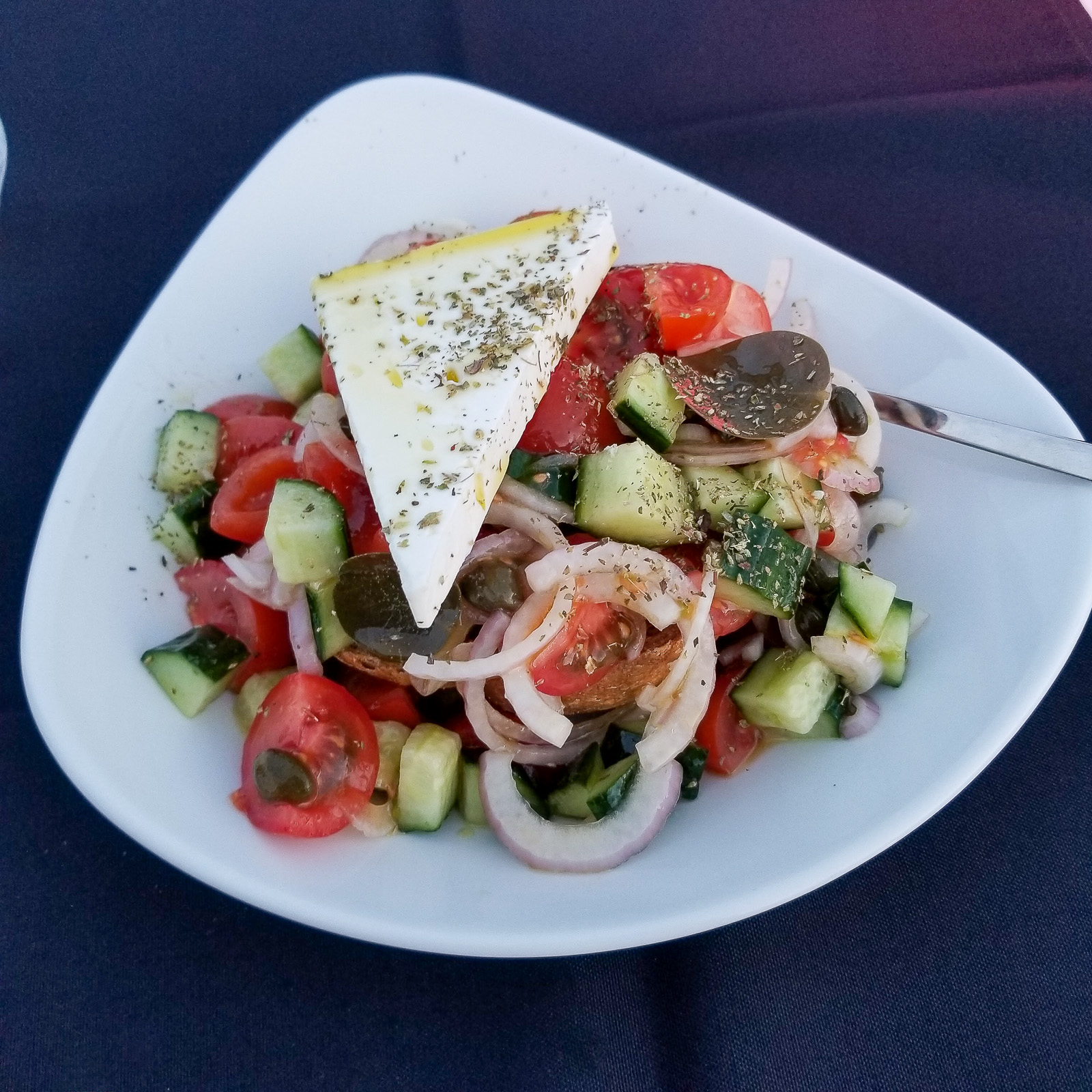 After checking into our room, we unpacked and settled in. Honestly, I could've spent the entire trip on our private balcony with a view of the caldera and been completely content. Instead we threw on suits and hit the pool for a bit. I wore this super cute striped maillot (shop similar versions here and here) and this amazing long kimono, which my KC pals can score at KC Garment (similar here and here).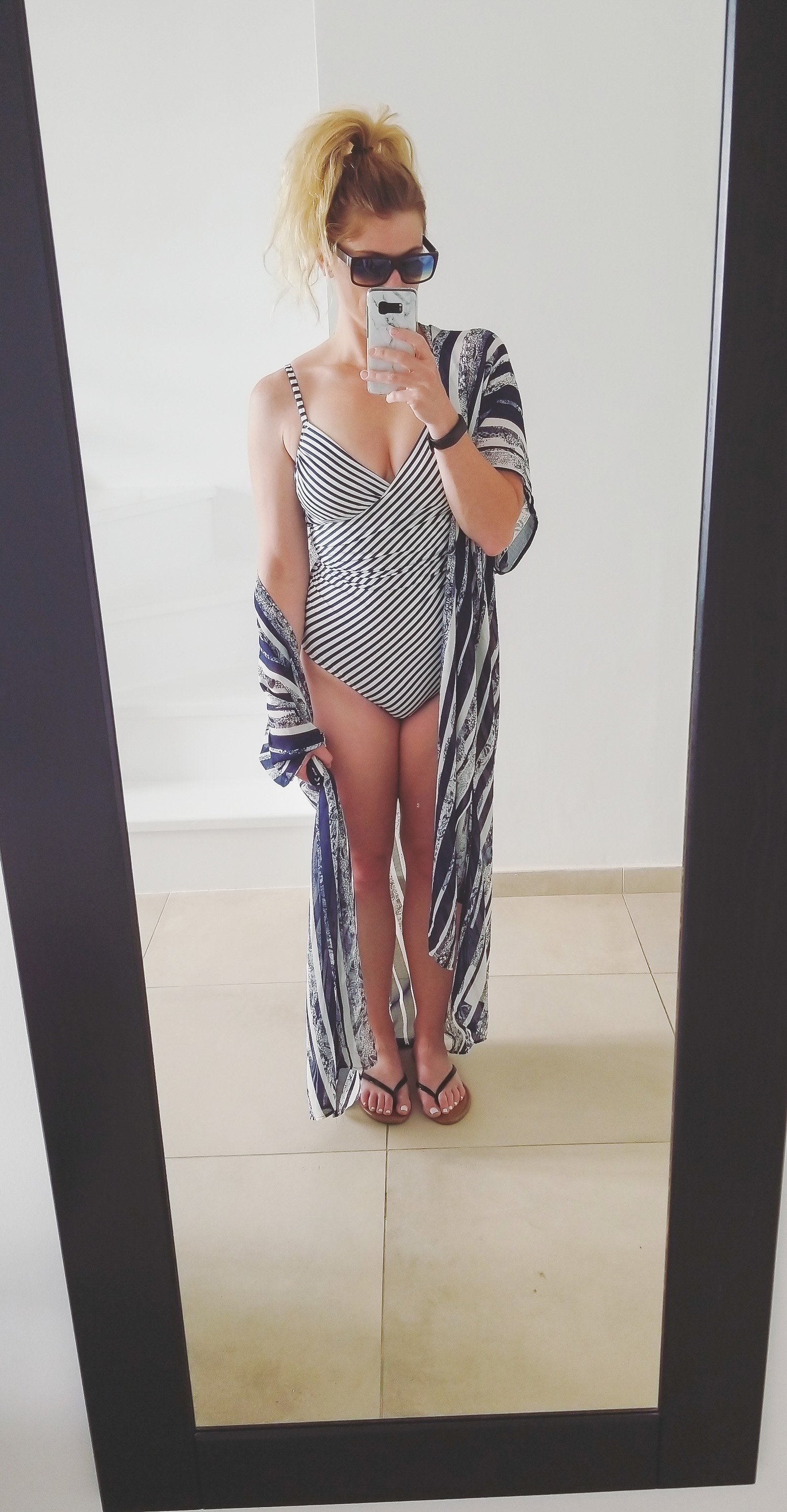 We had passed a Mexican restaurant called Senor Zorba on the ride to the hotel from port, and couldn't believe our eyes. Mexican food! In Greece! It was something we had to try for ourselves– it was either going to be really, really good, or really, really bad.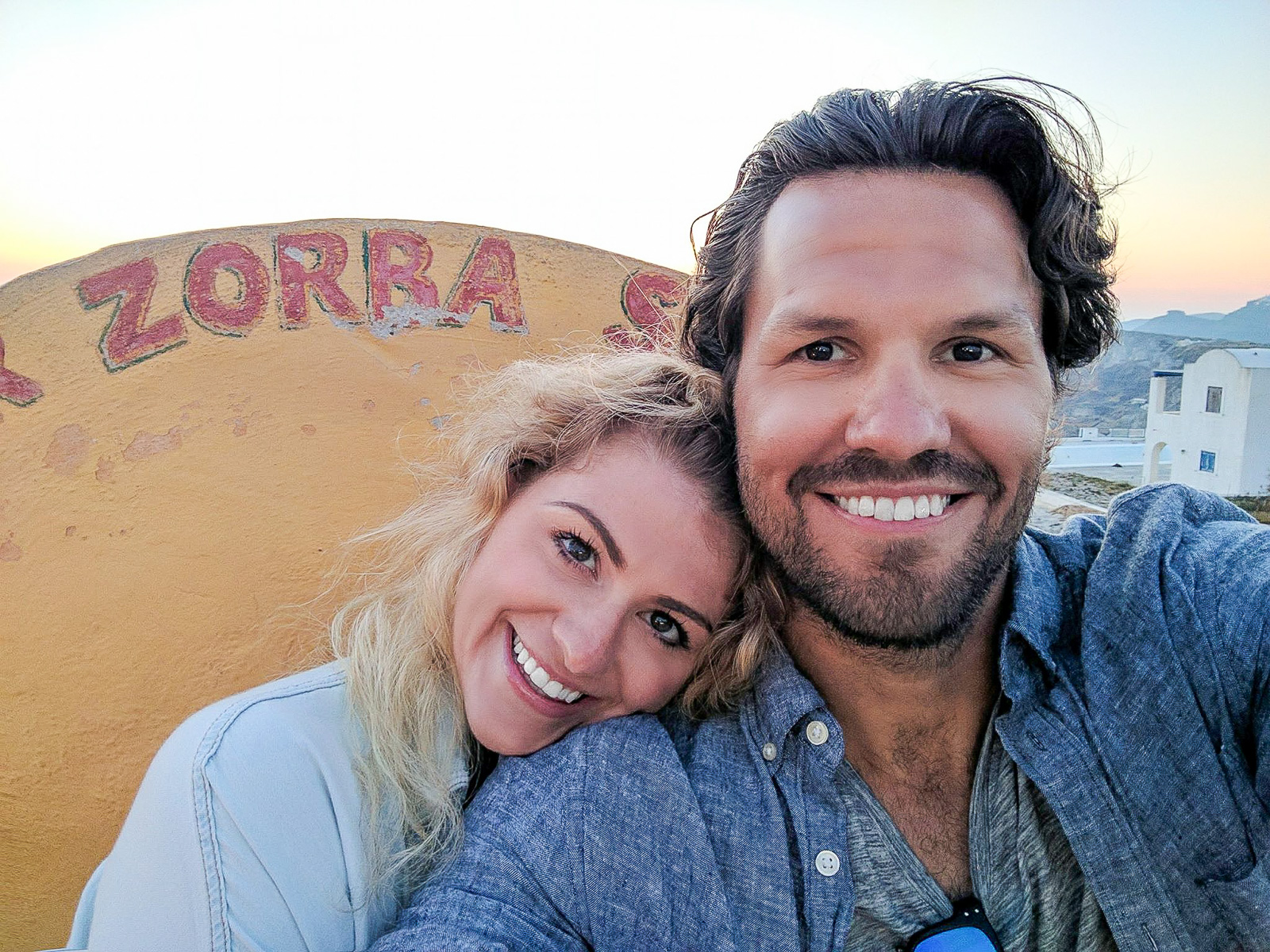 The food turned out to be so damn good. Oh my word, everything was so tasty. We have a ton of really good Mexican joints here in Kansas City, but Senor Zorba ranks right up there with the best of 'em. As it turns out, the restaurant was started by a Colorado native who moved to Santorini full-time in the early 90's. She and her sons run the place now, and it's popular with both tourists and local Greeks.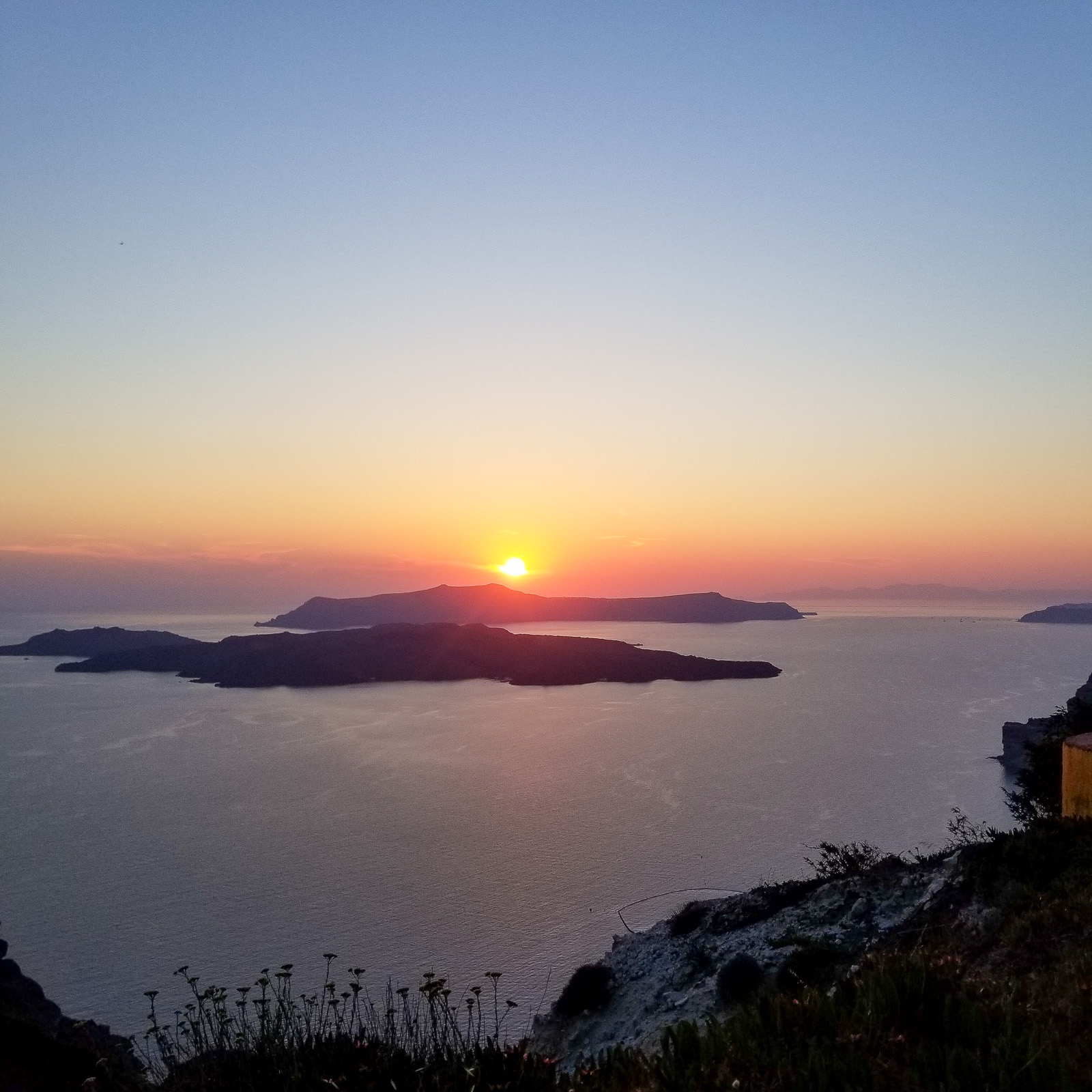 After dinner, we trekked into town. It was a bit of a hike (2 miles each way), but a little exercise was just what we needed after all that amazing Mexican food (and sangria). Balance, people!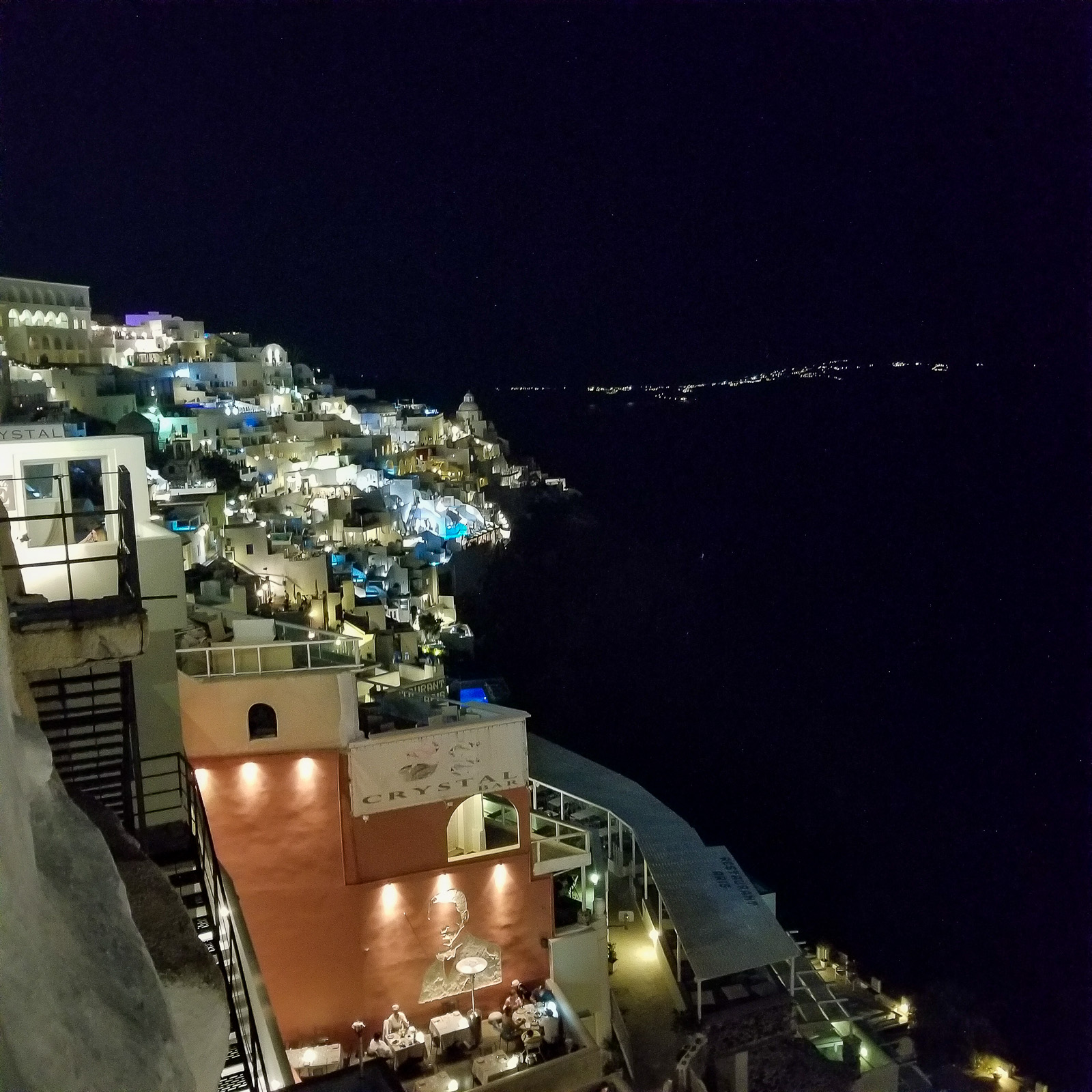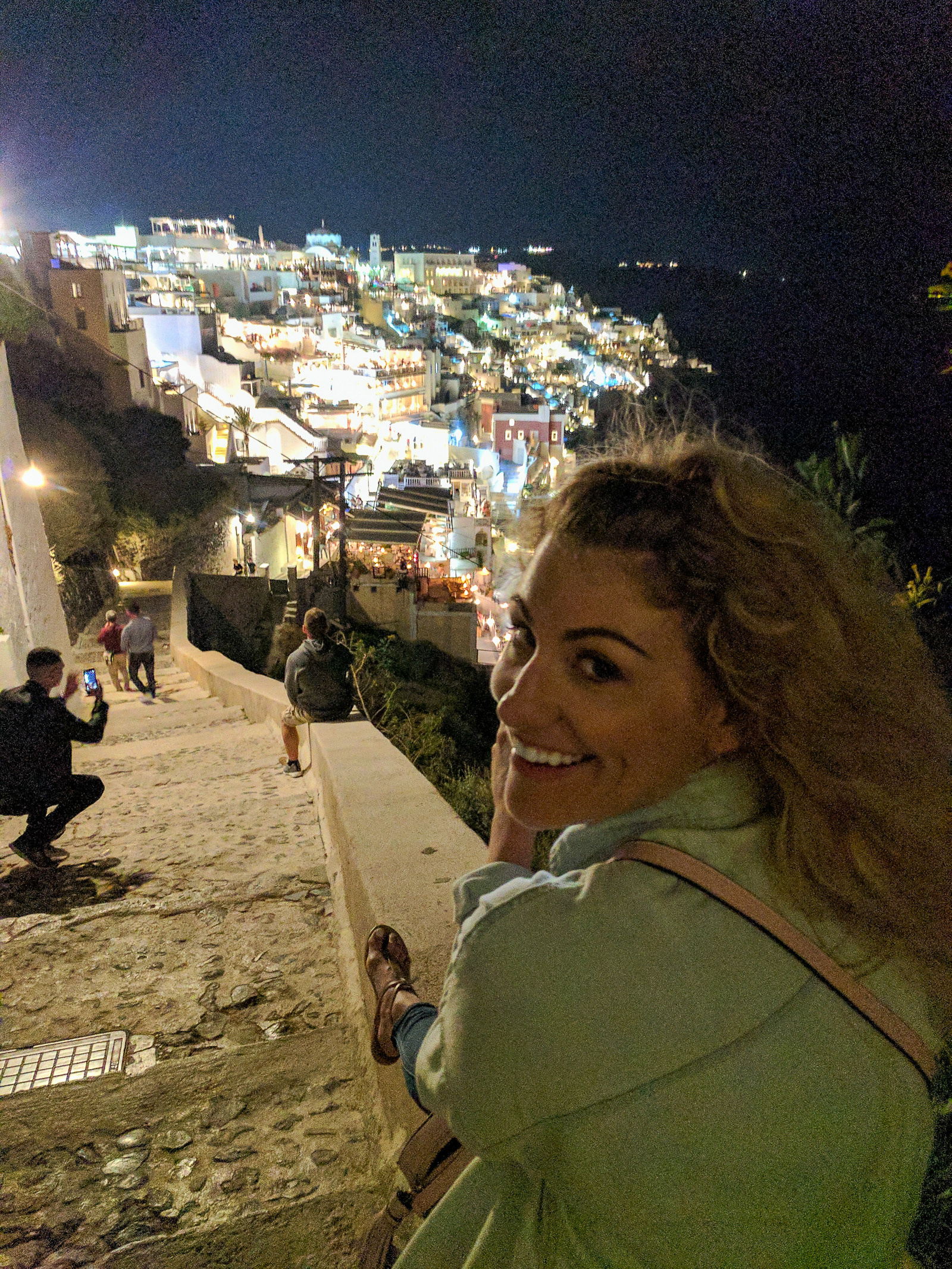 We rented a car the next day to do some more exploring of the island. This meant another ride into town (in the daylight), to shop and sightsee. Oh, and hunt for a cool bar with an IPA for Dave. (Greek beer is the one thing really lacking; not enough hoppy IPAs for my boyfriend's taste.)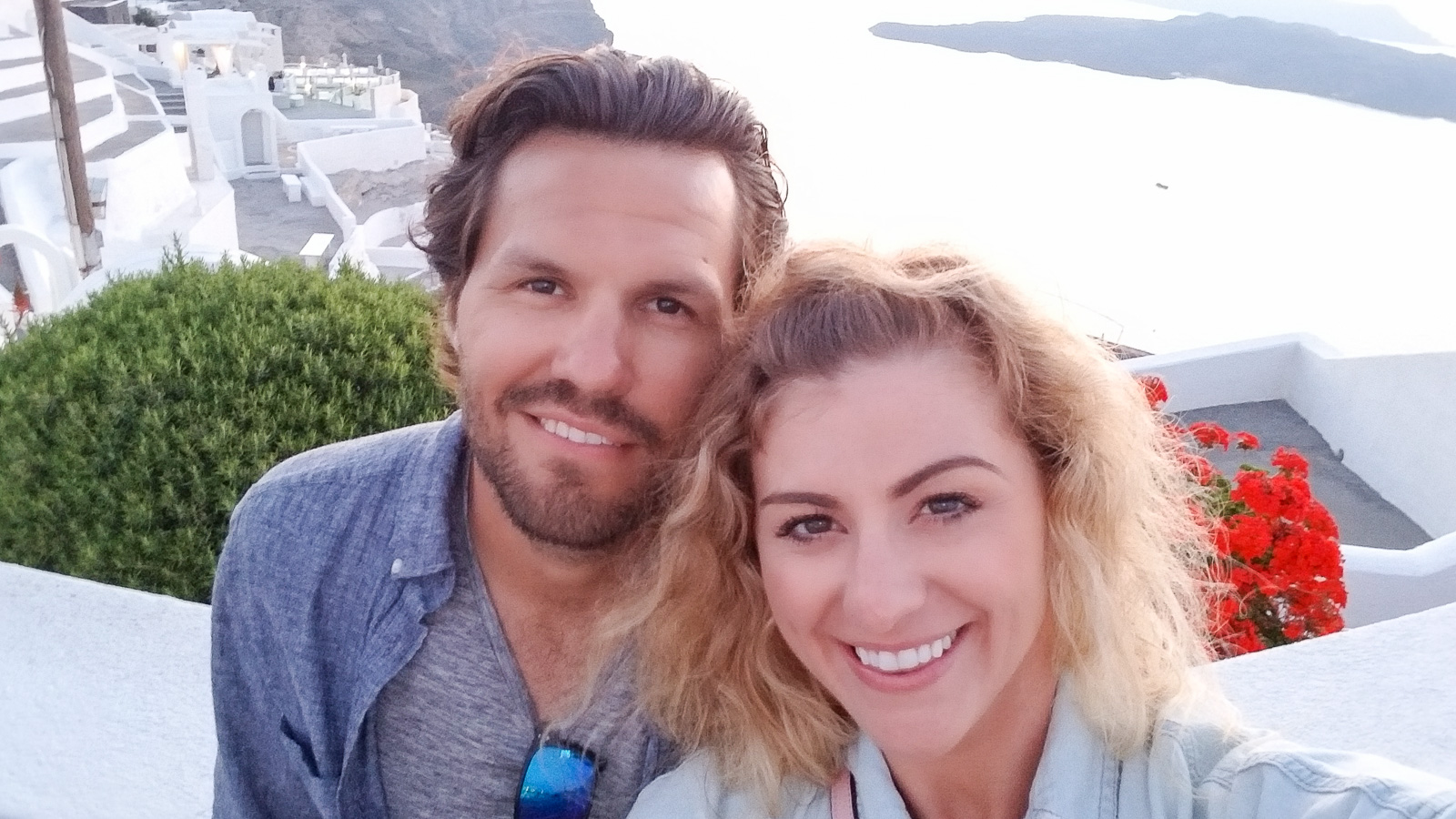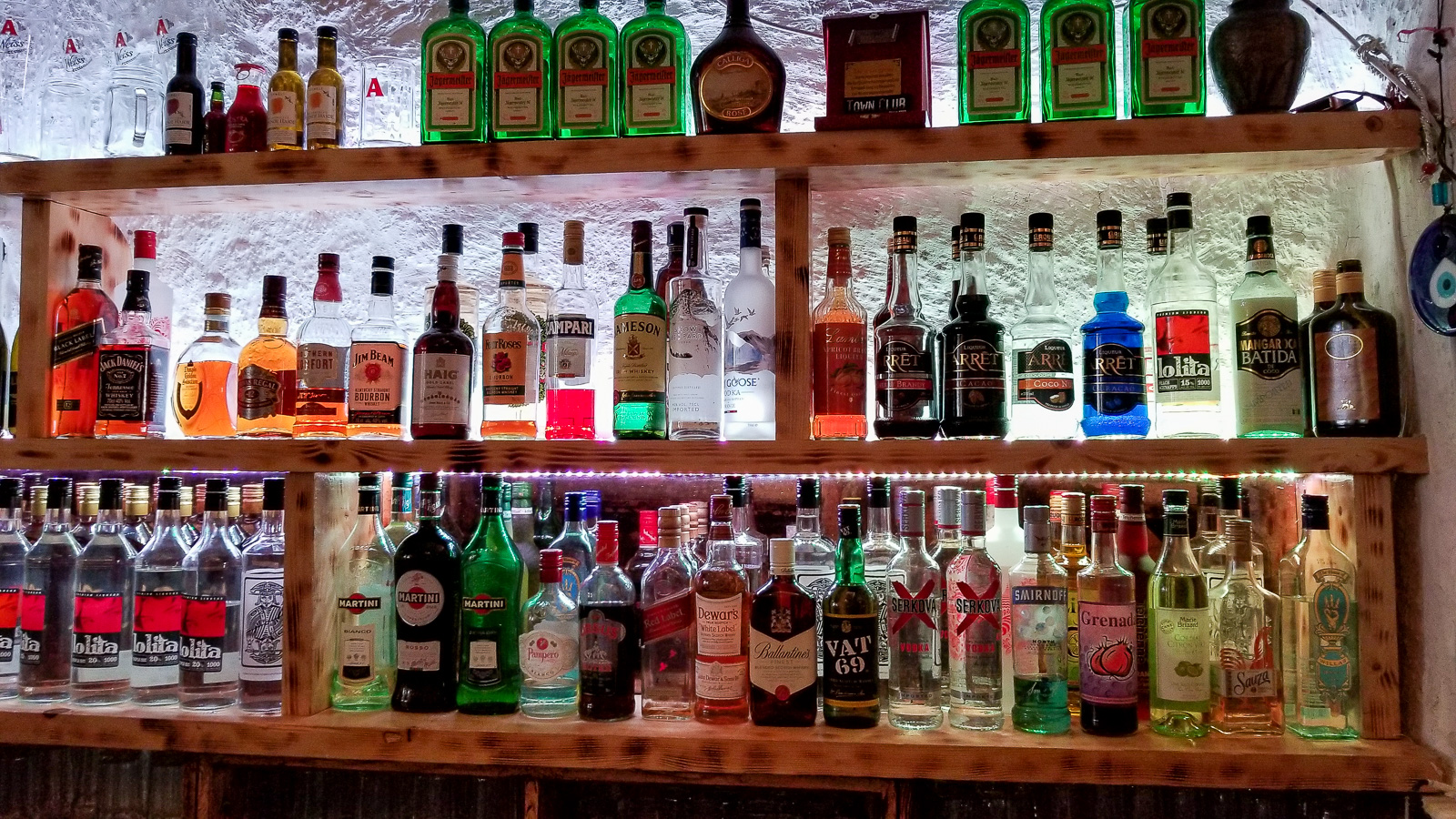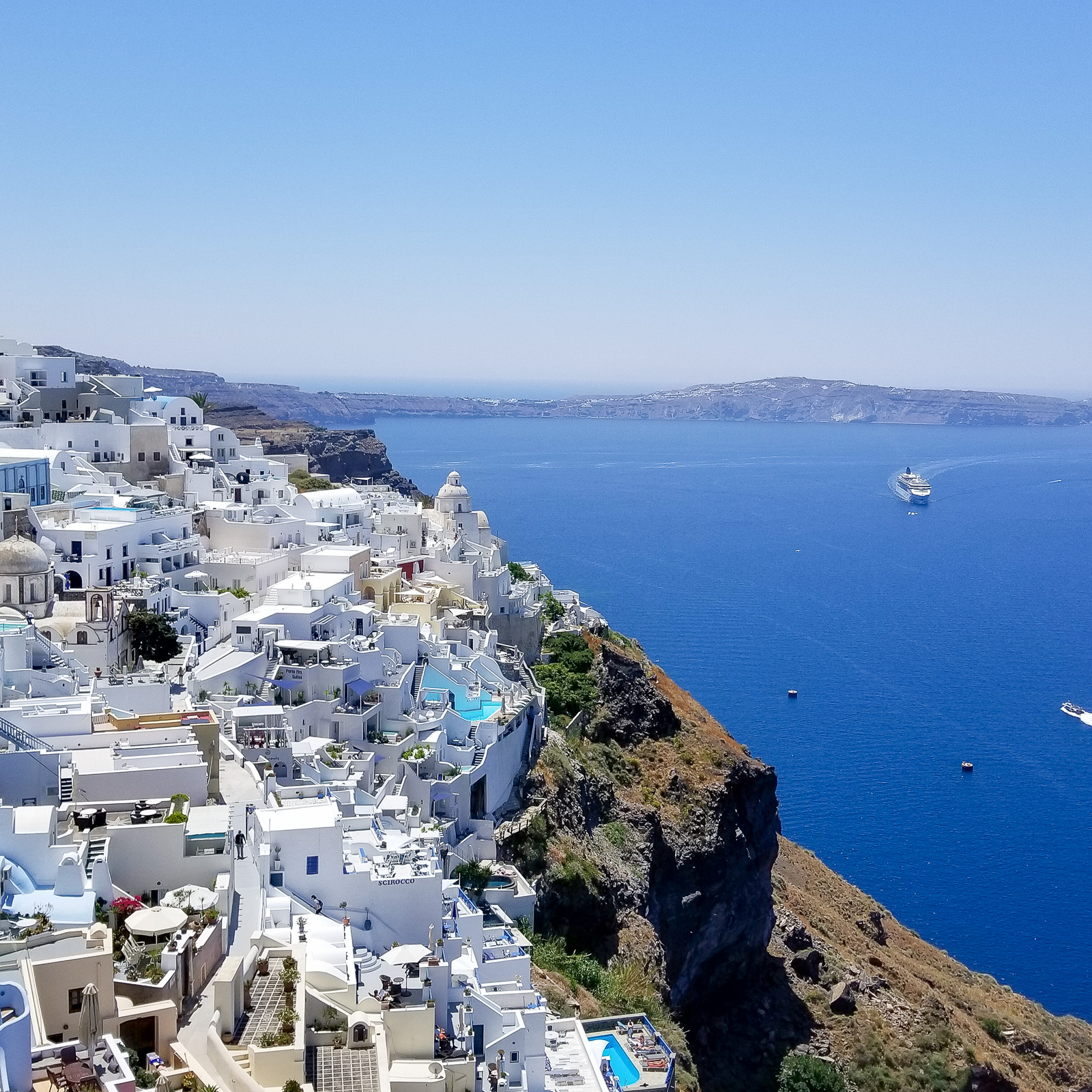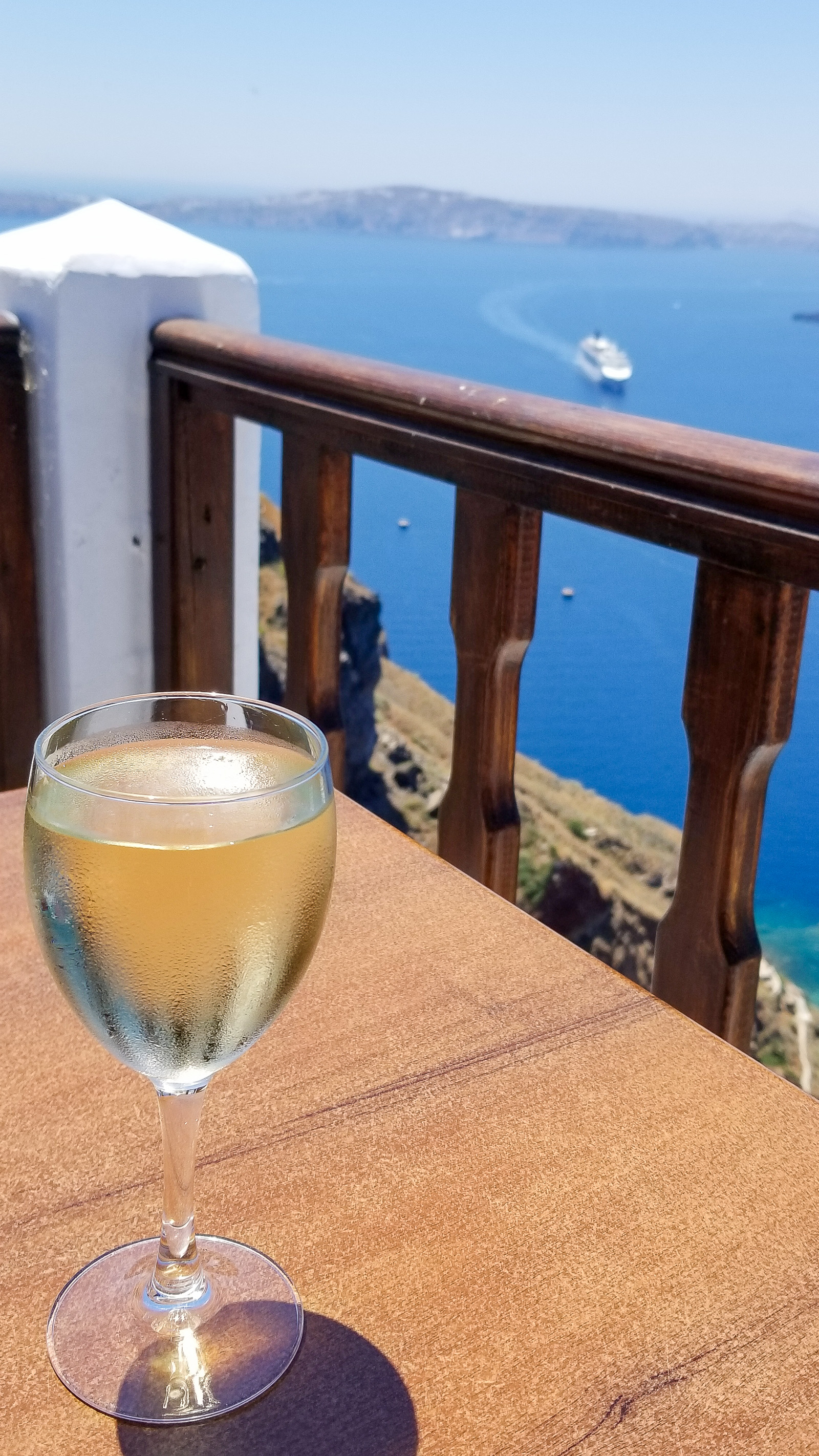 Low and behold, we found an IPA that not only met Dave's beer standards but was actually brewed on Santorini. The bartender told us we could visit the brewery and do a tasting, plus buy bottles there at a discounted rate. Off we went! We took the car and wound around the east side of the island, which boasts black sand beaches rather than the extreme cliffs of the west side.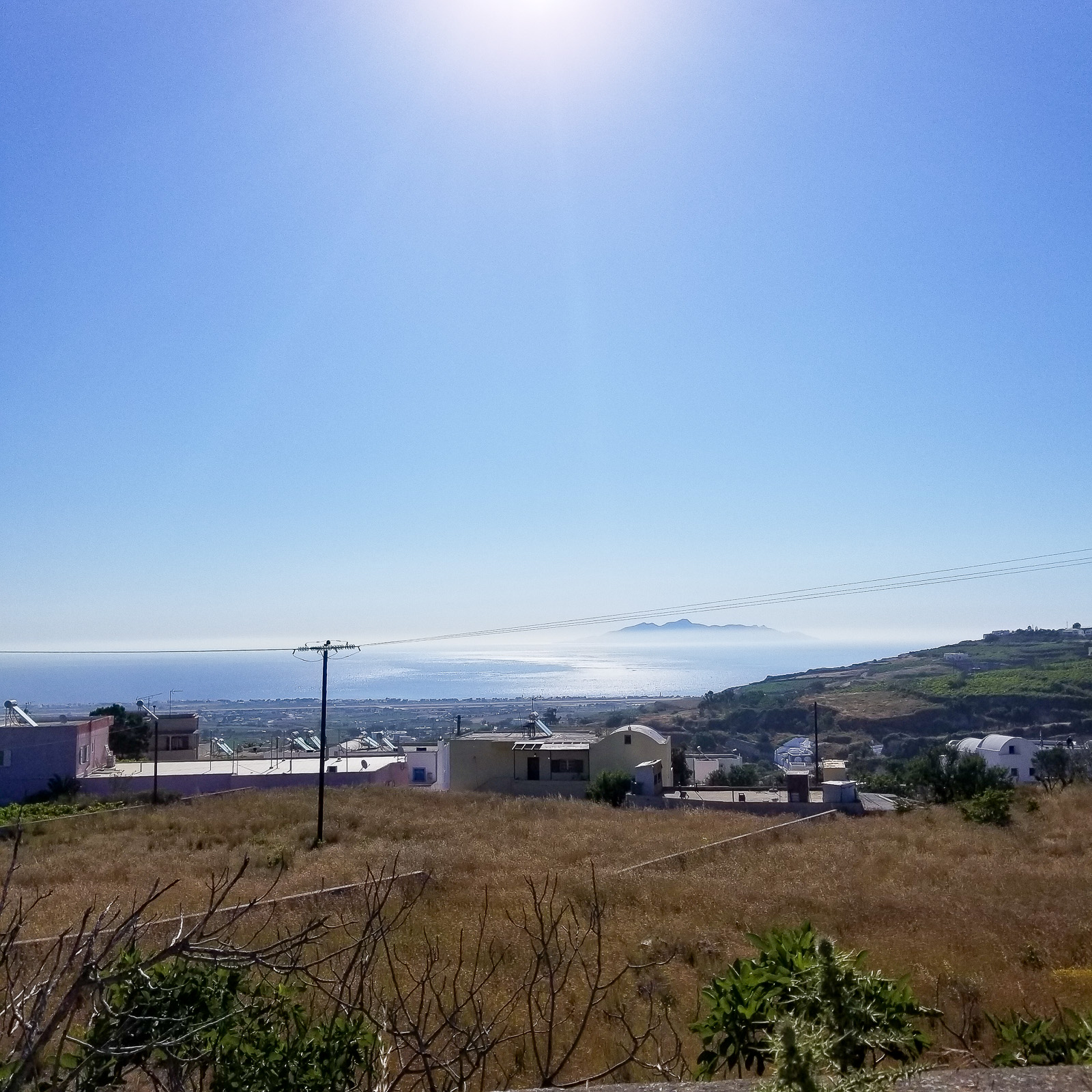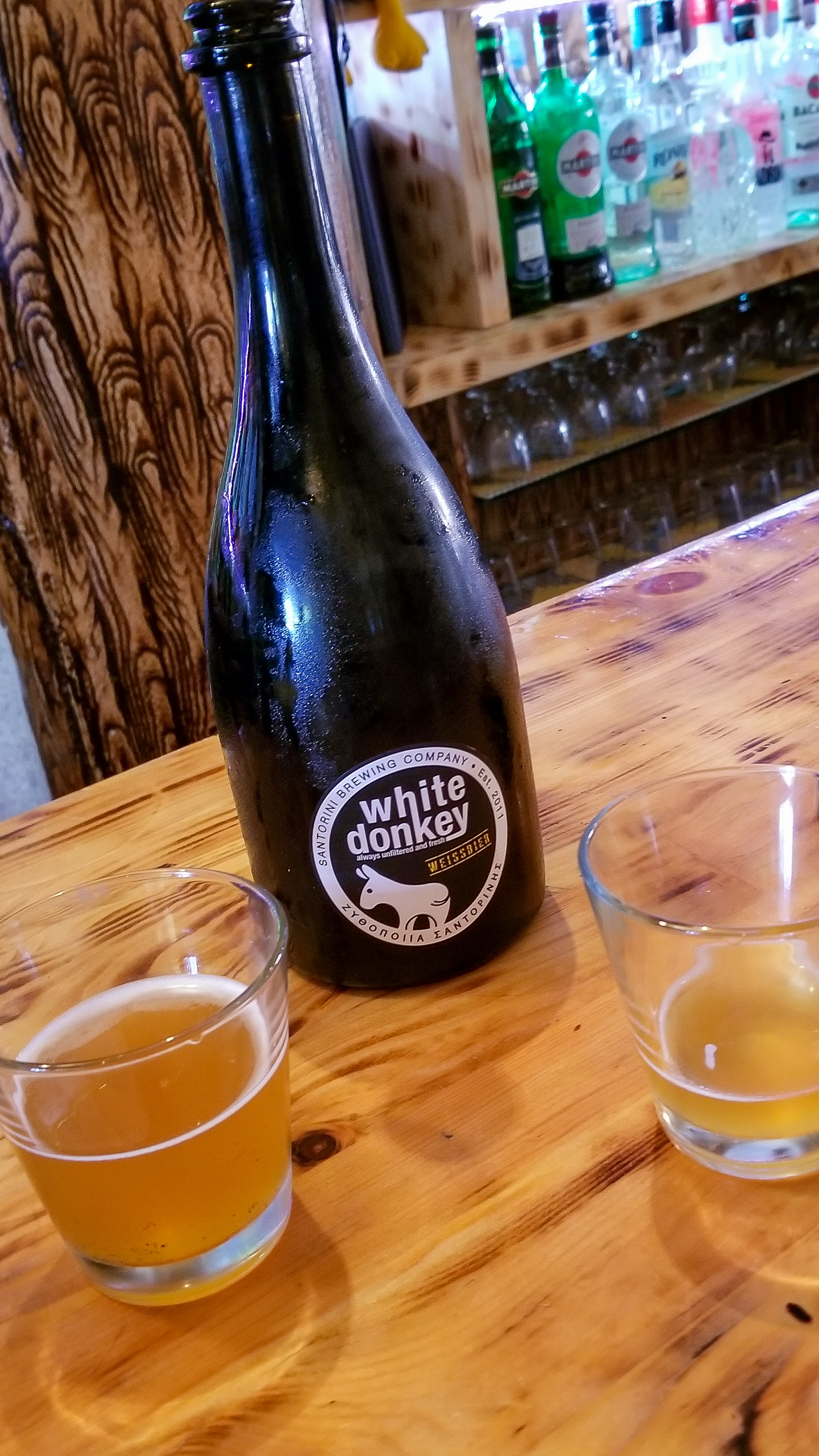 After our tasting, we bought a bottle of Dave's favorite and headed back to the hotel. I realized I needed to do an outfit shoot (what sort of blogger would I be if I didn't take advantage of that caldera background?!), so I popped on a cute maxi romper and we traipsed around the hotel property (ie, 130 sets of stairs) to find the best shots.
My fave part of shooting on vacay: scouting a location required Dave to stand in my place while I checked angles and framed the shot. He would do his best "fashion blogger poses," which resulted in photos like this: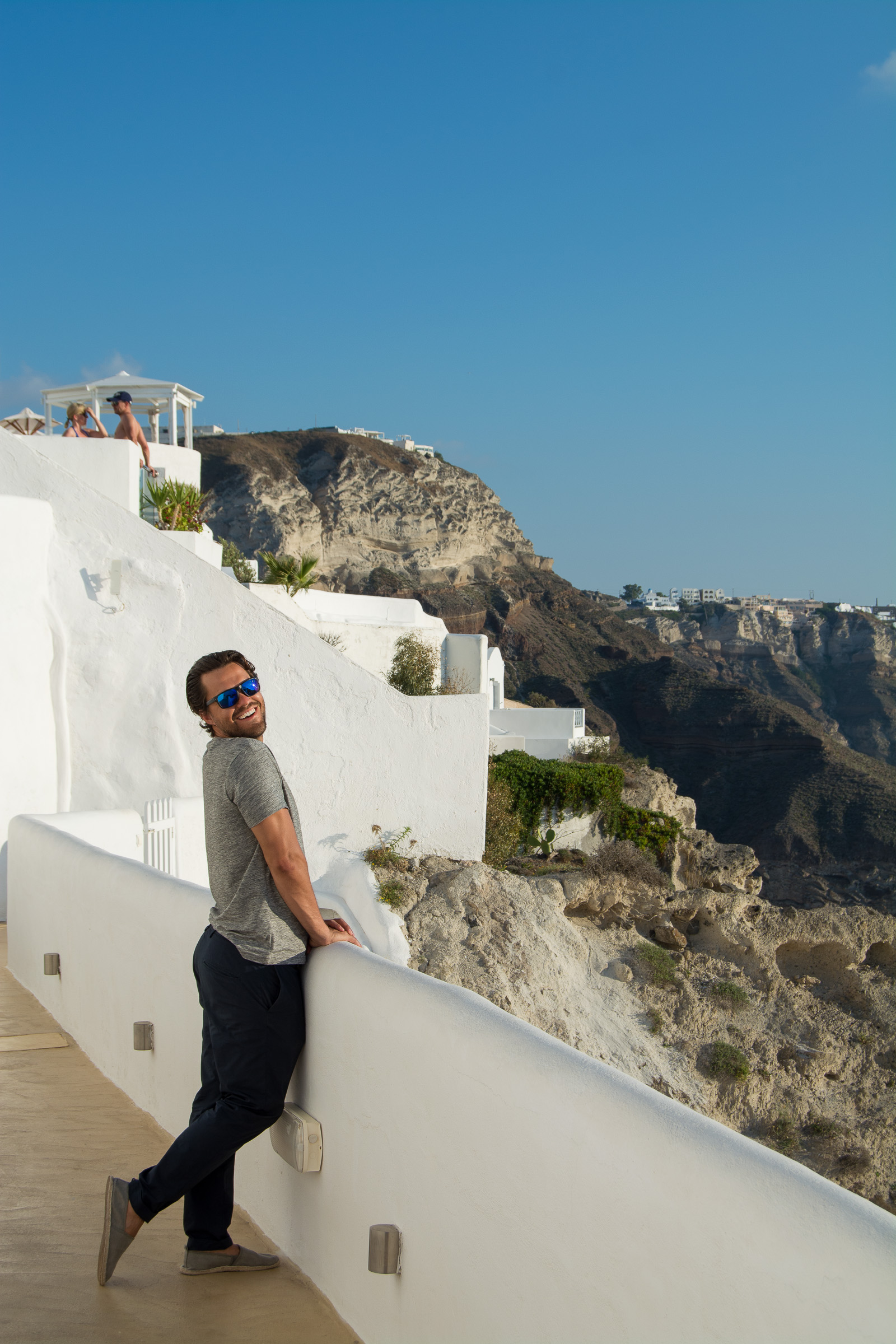 This trip was actually the first time we've shot together. Dave got a crash course in DSLR from my best pal + photog before we left, but other than that, he was a total newbie. Which made this OCD blogger a bit nervous, but then you get shots like this: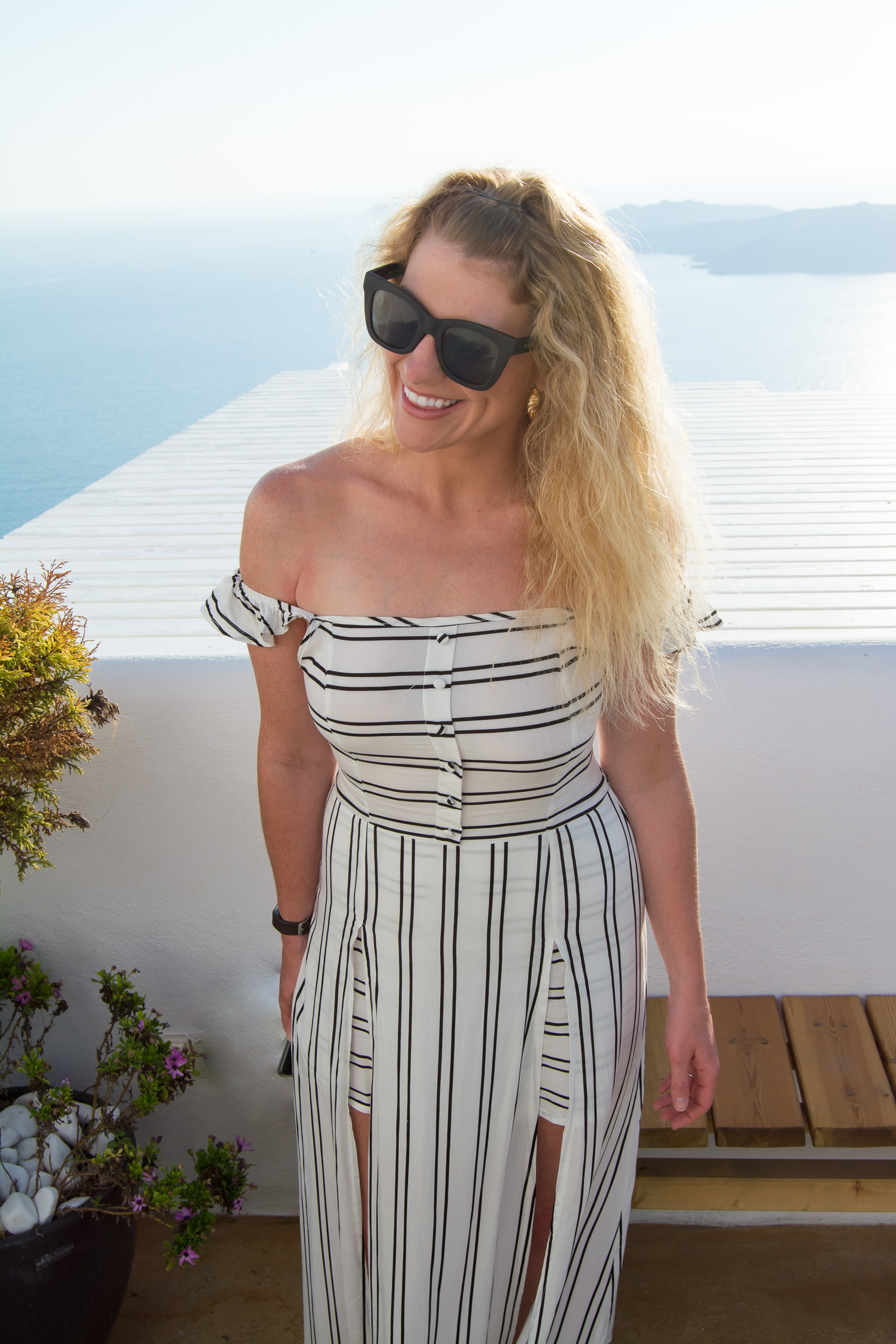 And I promptly shut up. Photography win!
More amazing views + food for dinner, where we snapped the obligatory couples caldera pic.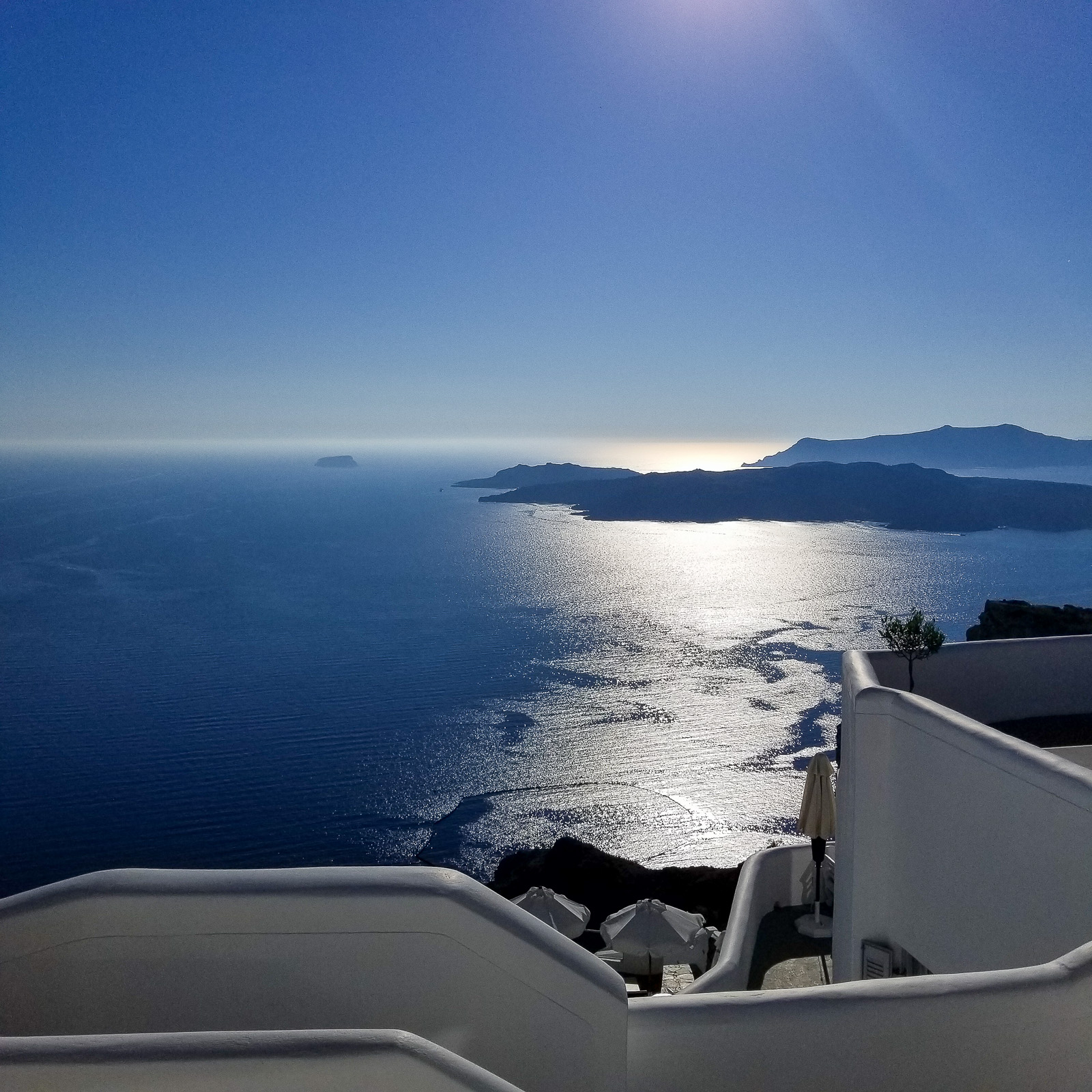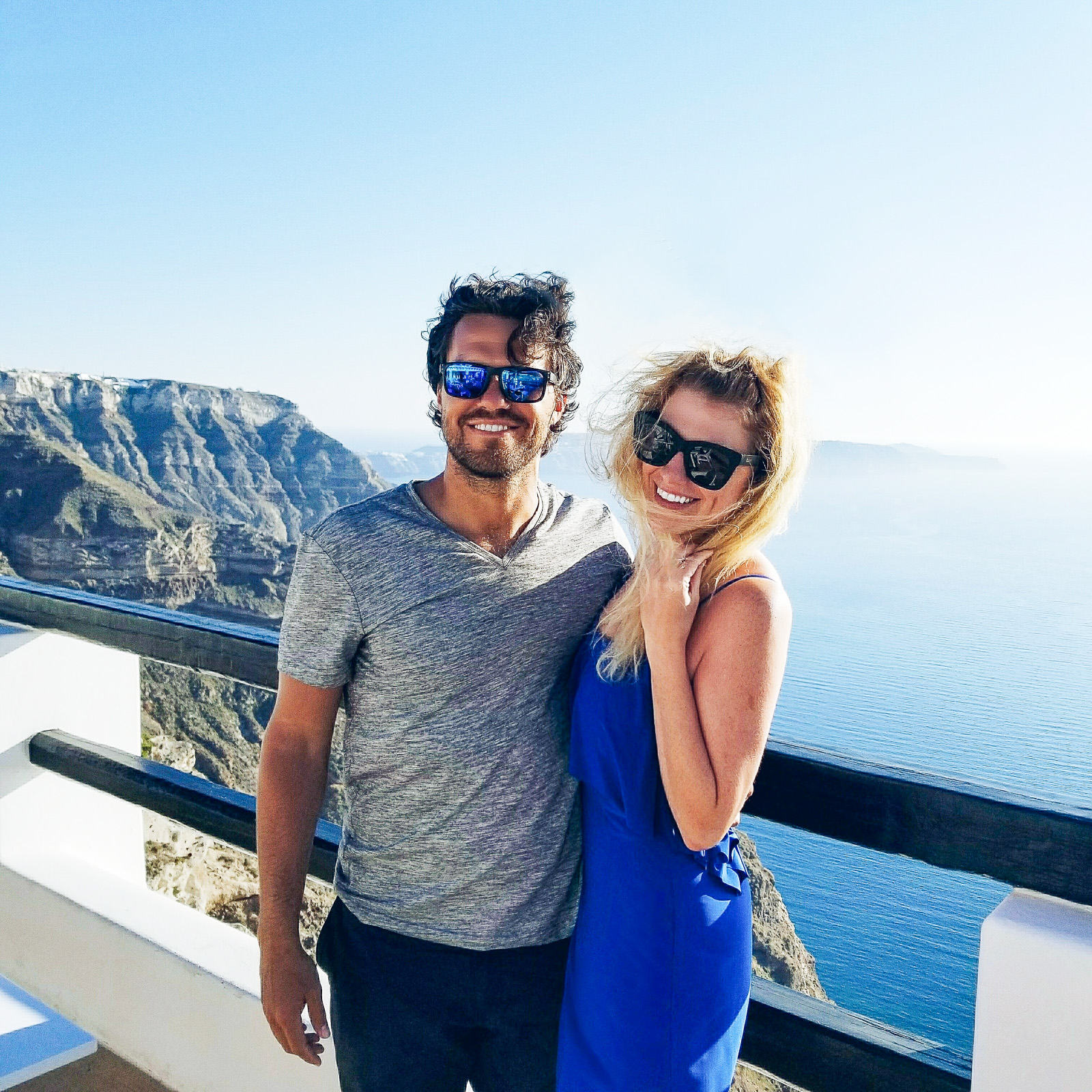 Last stop: Athens, Greece.
We wanted a day buffer in between leaving Santorini and leaving for home from Athens. Not only did this work in our favor (our flight from Santorini was delayed 3 hours; talk about airport hell), it gave us the chance to do a little exploring in the capital. I have been wanting to visit the Acropolis + Parthenon since I fell in love with Greek history in college, so we booked a hotel within walking distance to ensure we could easily check this box.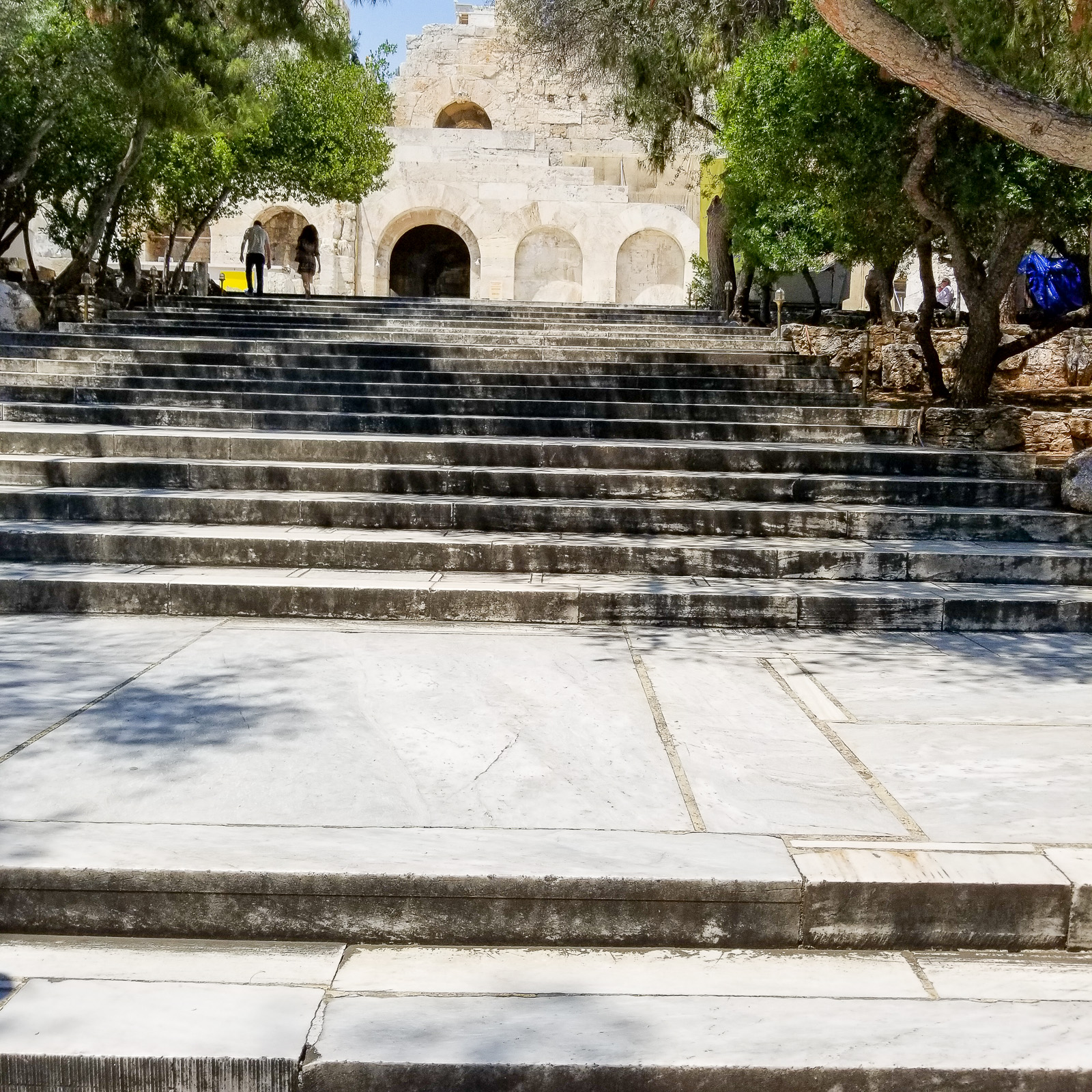 It was hot in Athens. Hotter than it had been on any of the islands throughout the trip– I guess this is a common occurrence, as Athenians were not surprised to hear us muse this. I didn't do the fashion-blogger-on-vacay thing and wear a cute outfit; my ass wore Nike shorts, a dry-fit cutoff tank, and sneakers. Ha! And don't forget lots of SPF, because by this point in the trip my freckles had their own freckles.
The walk up to the Acropolis was scorching under a nearly cloudless sky and a super hot sun. Greek sunshine is so legit. We trekked up about a mile of stepped Greek marble, which had been worn slick-smooth by hundreds of thousands of visitors over the years. Dave and I were both in sneakers but still found ourselves slipping when we didn't pay attention to where we walked. I can't imagine navigating the hike in tread-less sandals.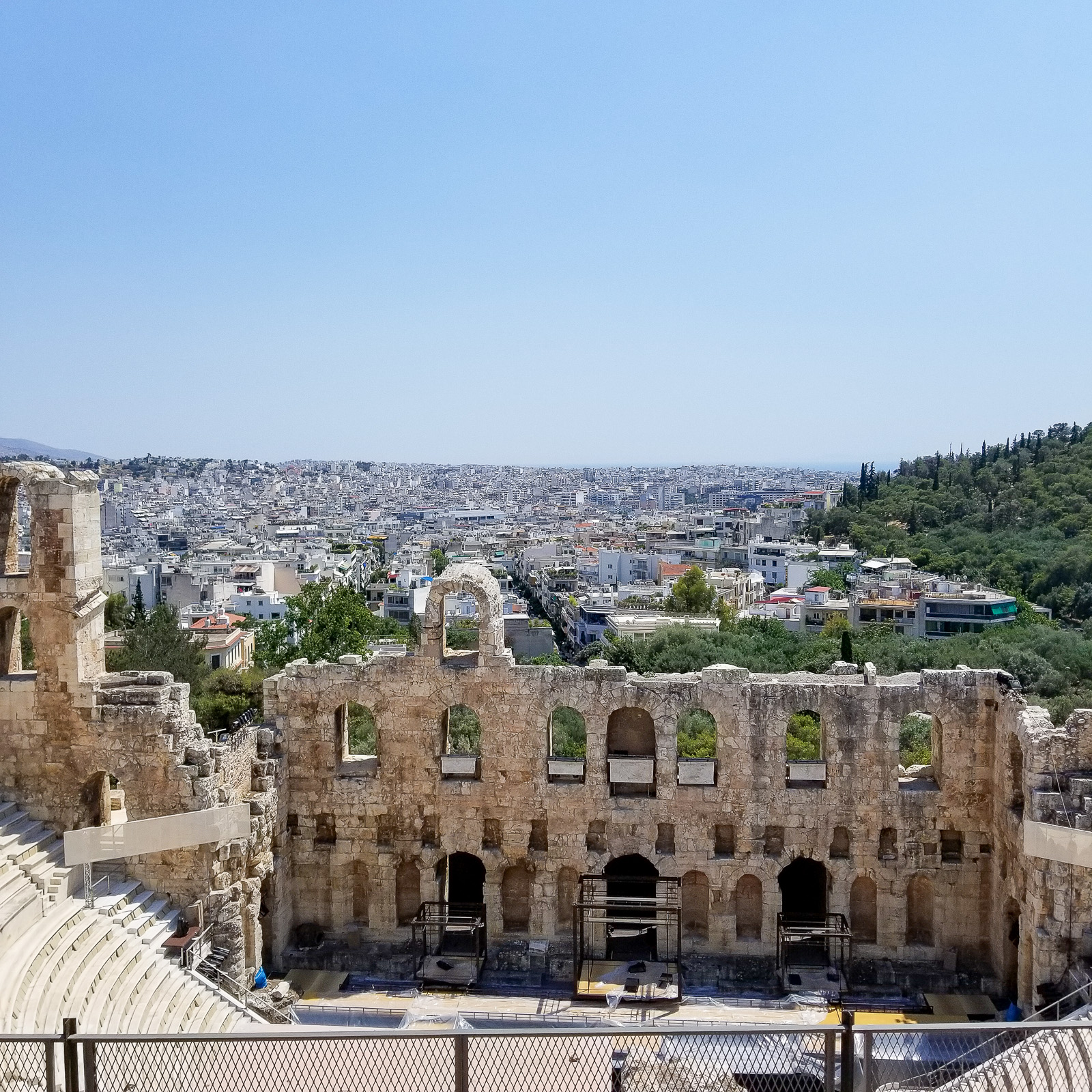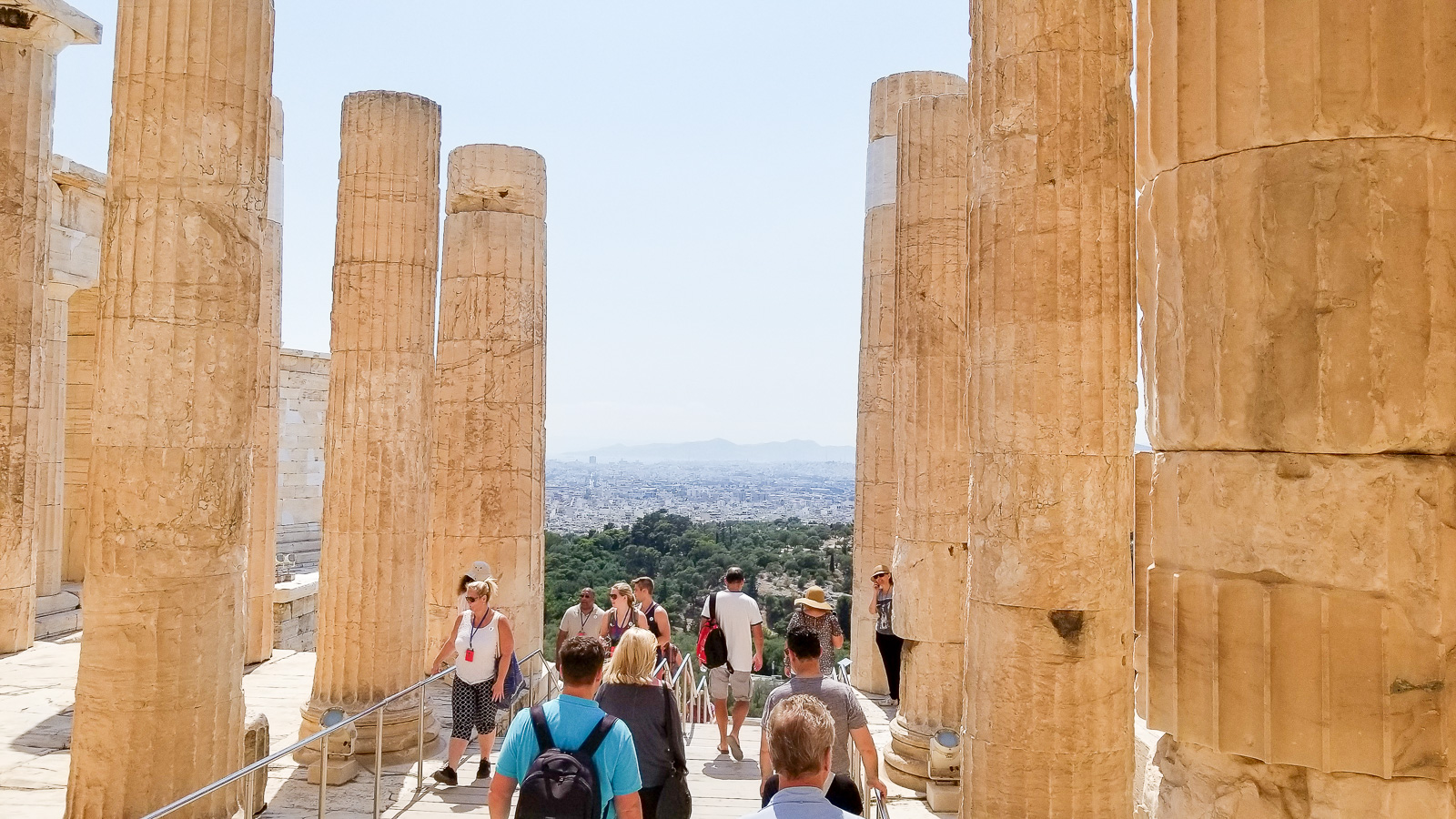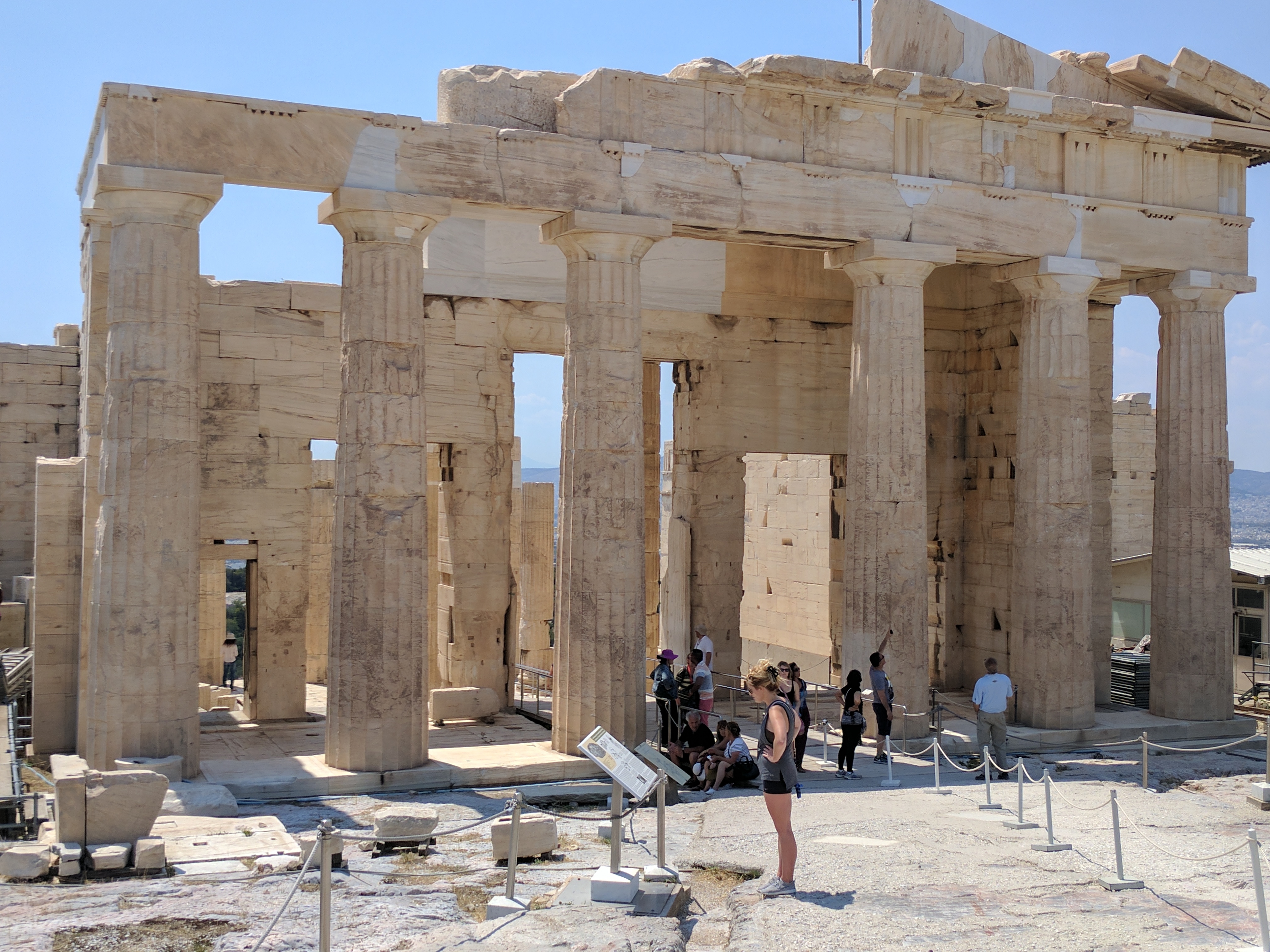 Once we passed through the Propylaea, the Parthenon came into view. In short, it was incredible. Mind-blowing to think that a civilization built this in 500 BC without any of the technology we use today. It's an unbelievable testament to how advanced the Greeks were during this time period.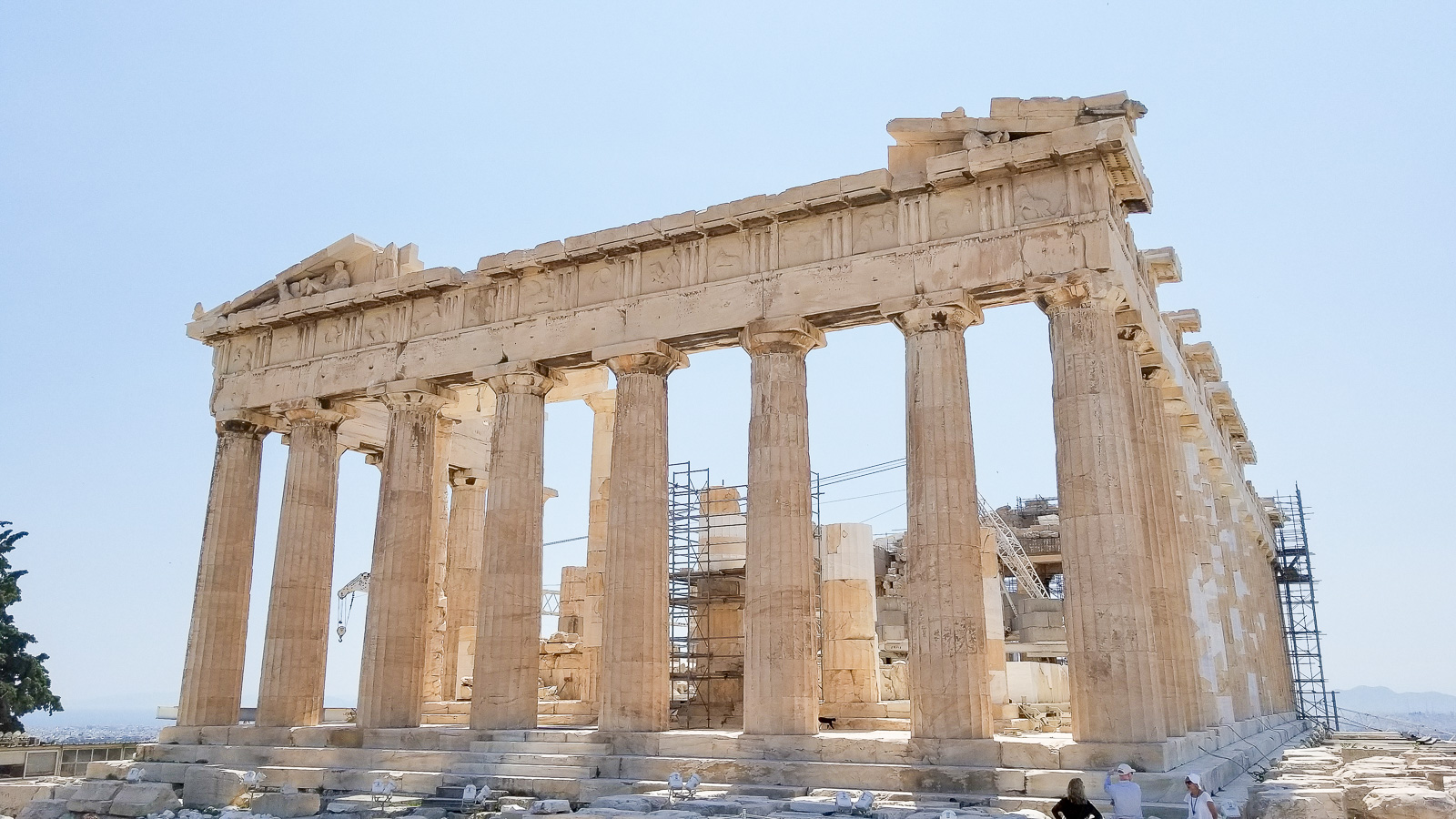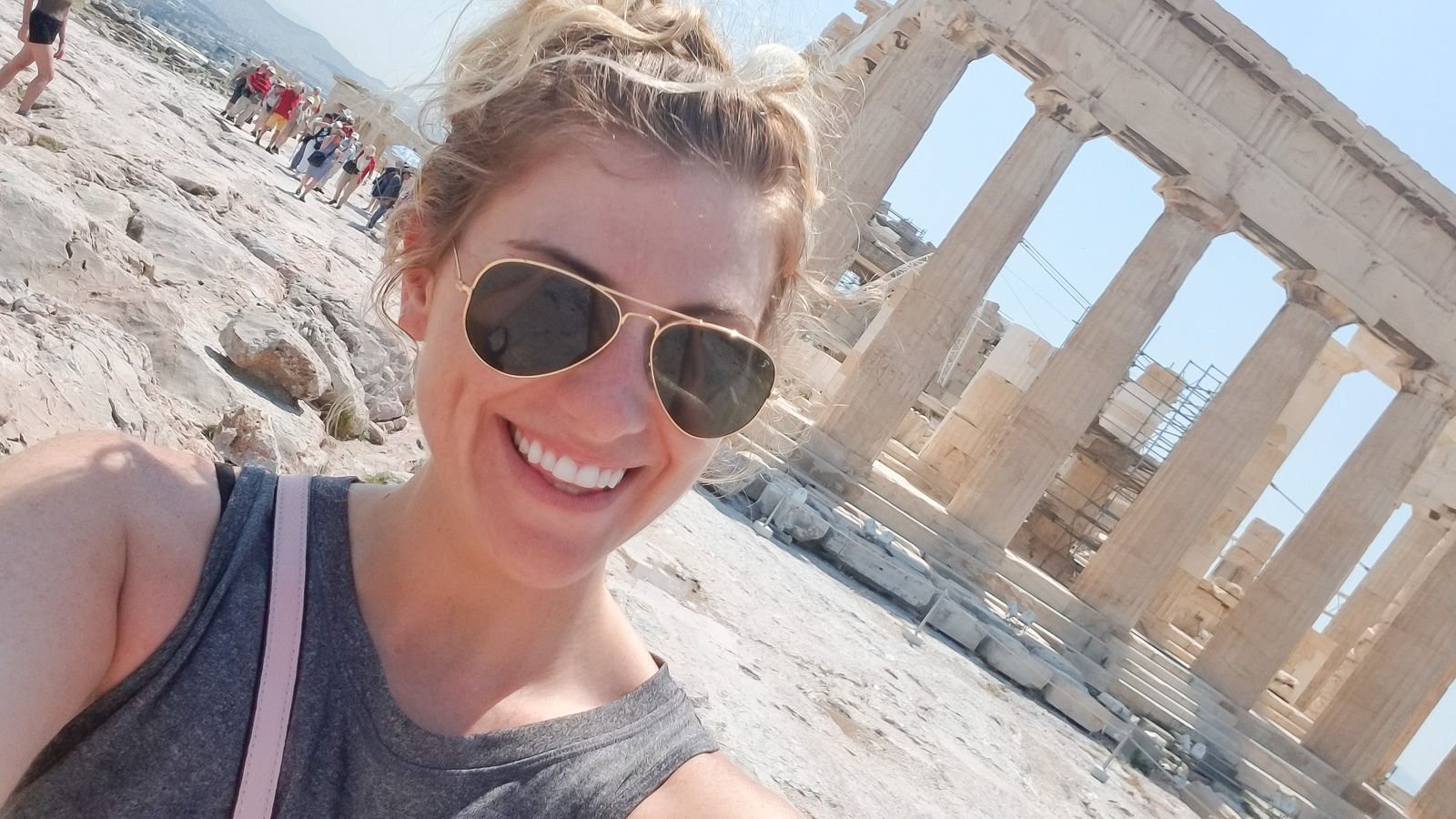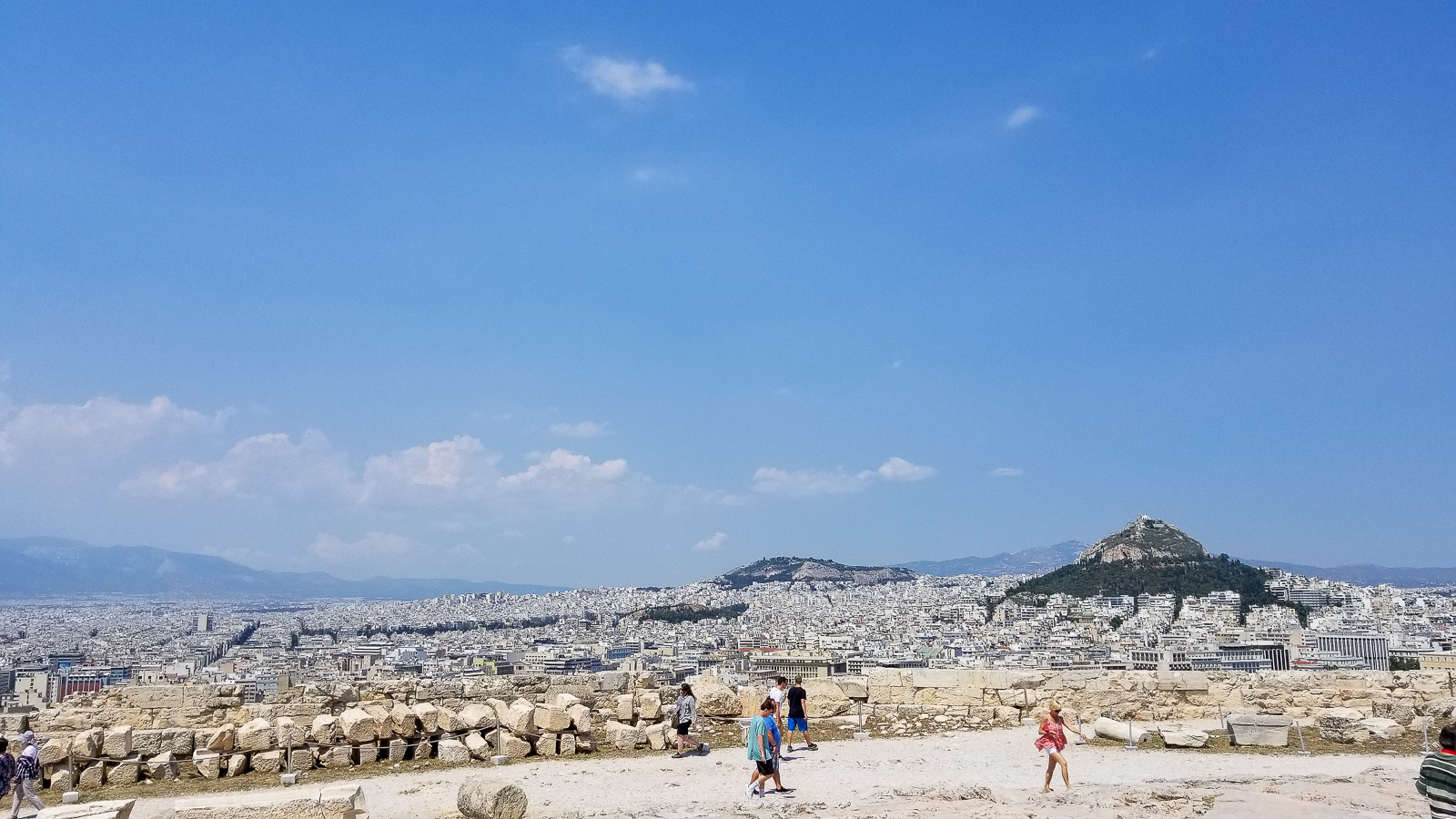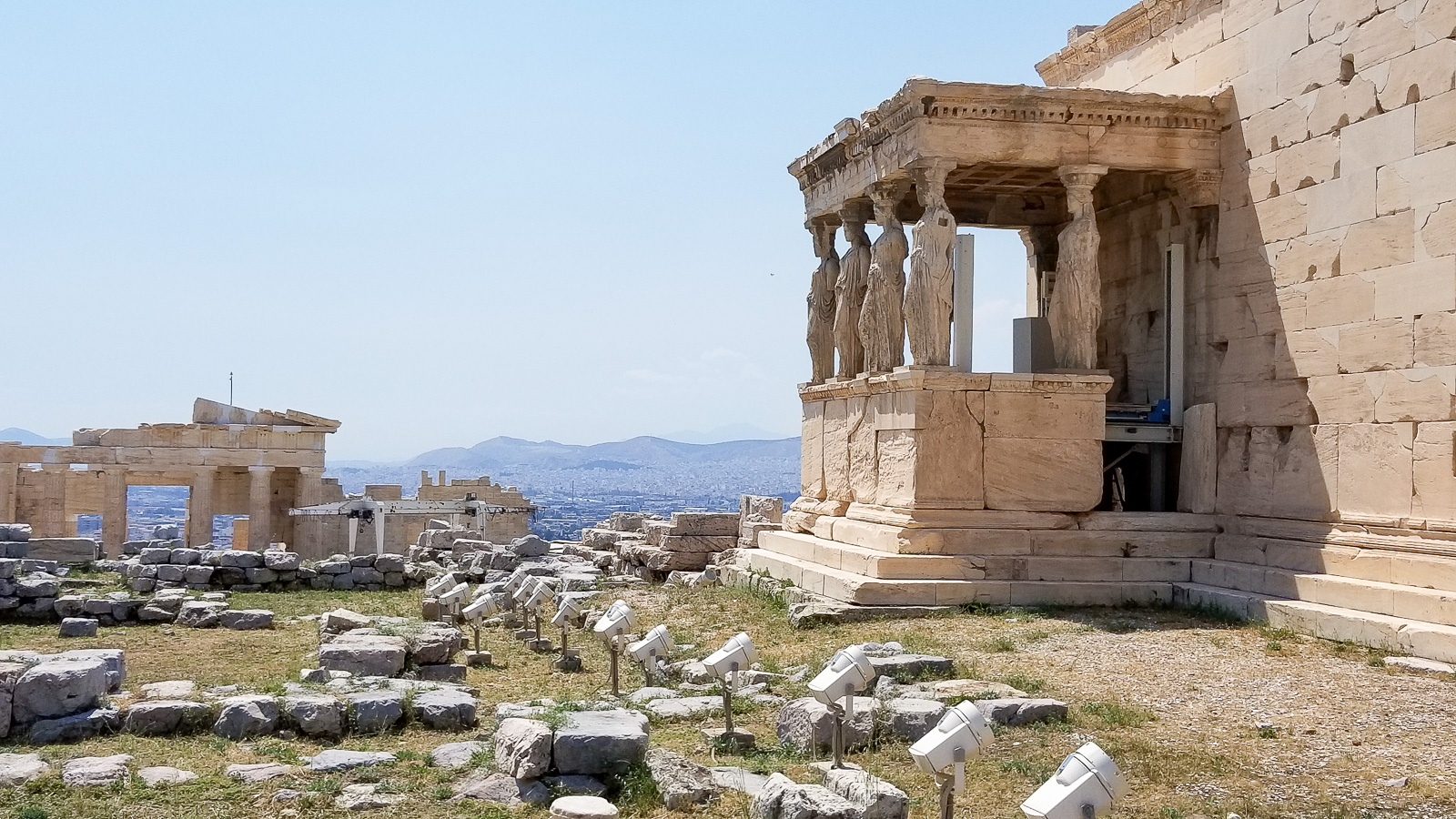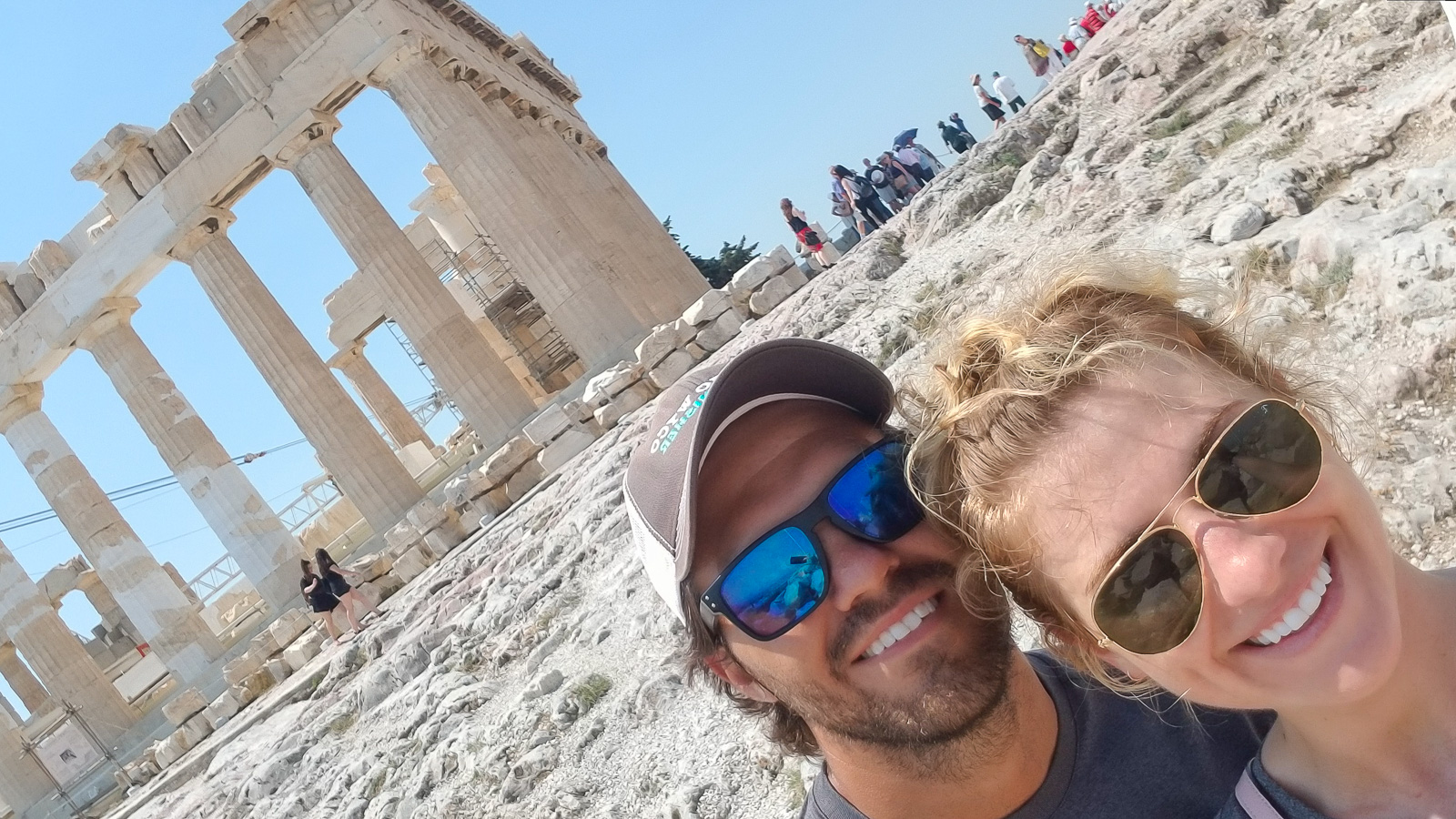 After our little date with history, we showered up and started hunting for a dinner spot for our last night in Greece. We came across Attikos, just a 10-minute walk from our hotel and with a rooftop Acropolis view. Sold!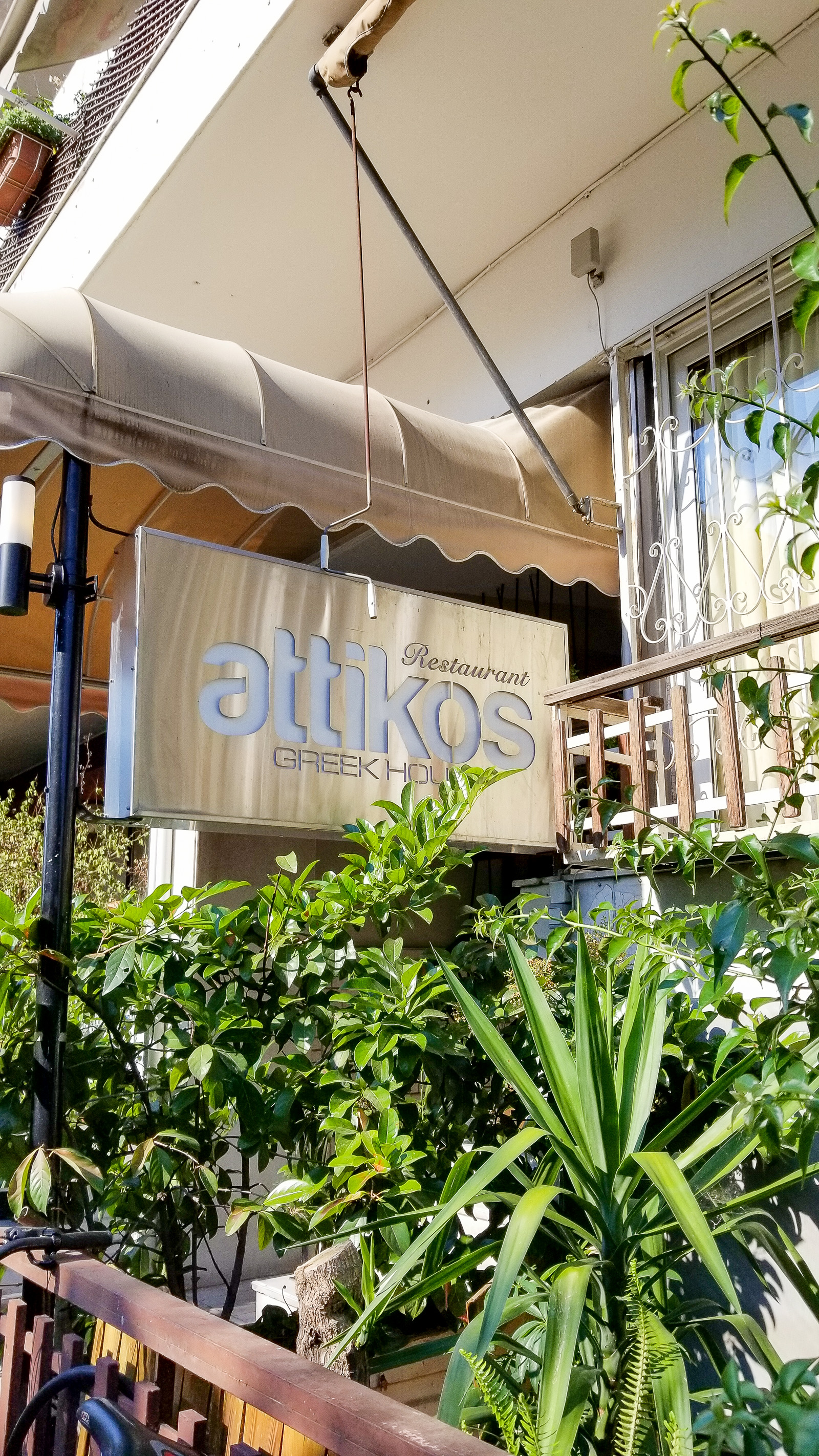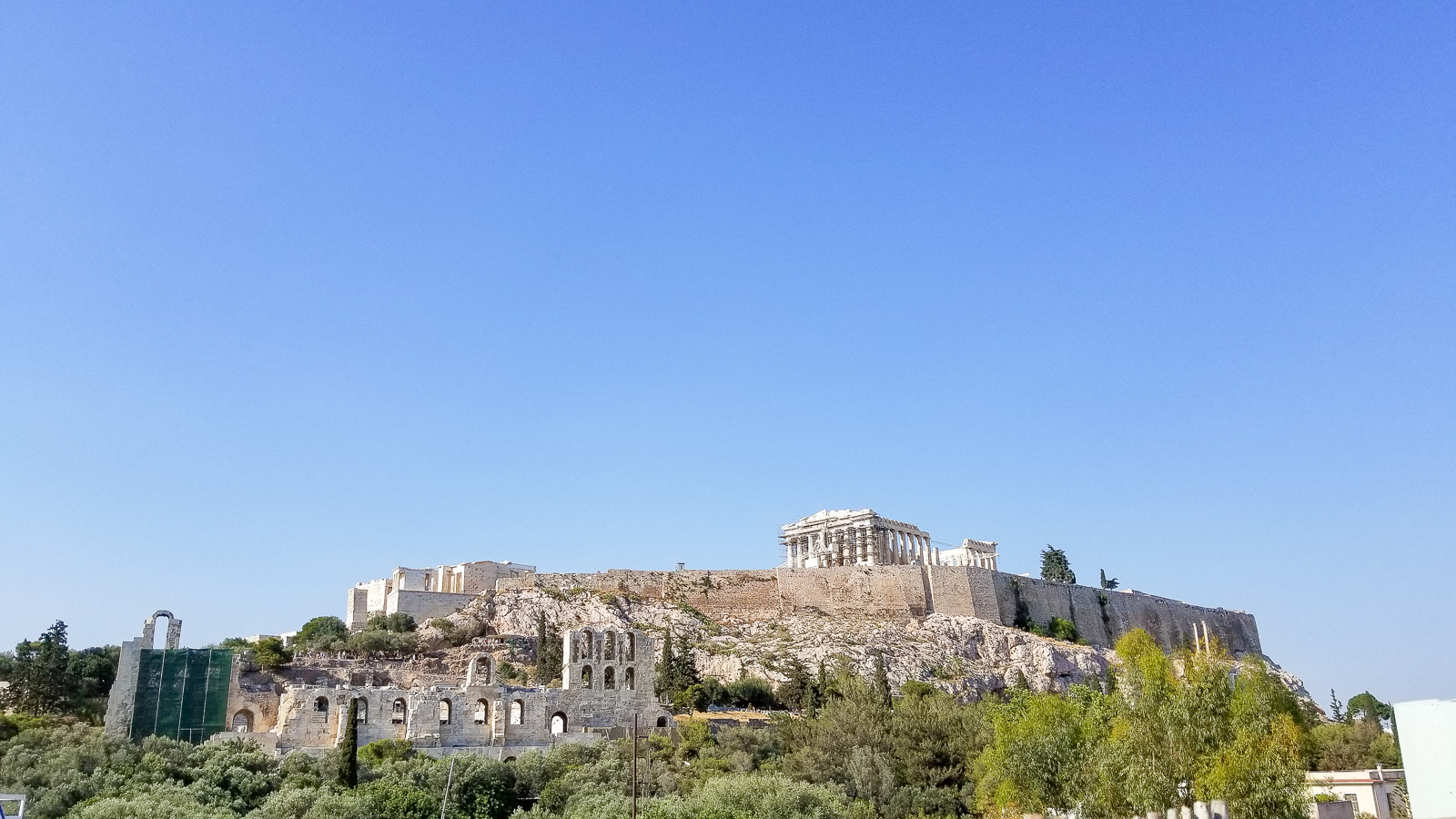 Greece was beyond amazing. A dream trip! I hope you've enjoyed this (massive) rundown; apologies for the mixed bag of shots– I was pulling from phone, DSLR, Snapchat, and Instagram stories to put this post together. You know how travel goes: document, document, document.
You can shop some of the items featured above using the widget below. I've linked to similar pieces where applicable.

Linking up with Stylin in St. Louis, Doused in Pink + Curly Crafty Mom, Elegance & Mommyhood, Living on Cloud Nine, Adri Lately, Style Elixir, Meet at the Barre, Threads for Thomas, Nancy's Fashion Style, A Pocketful of Polka Dots, Shelbee on the Edge, More Pieces of Me + Sincerely Jenna Marie, Michelle's Pa(i)ge + Northwest Blonde, Rachel's Lookbook, Being Zhenya + Style Optimist, and Pink Sole.