Sharing a quick life update for  June.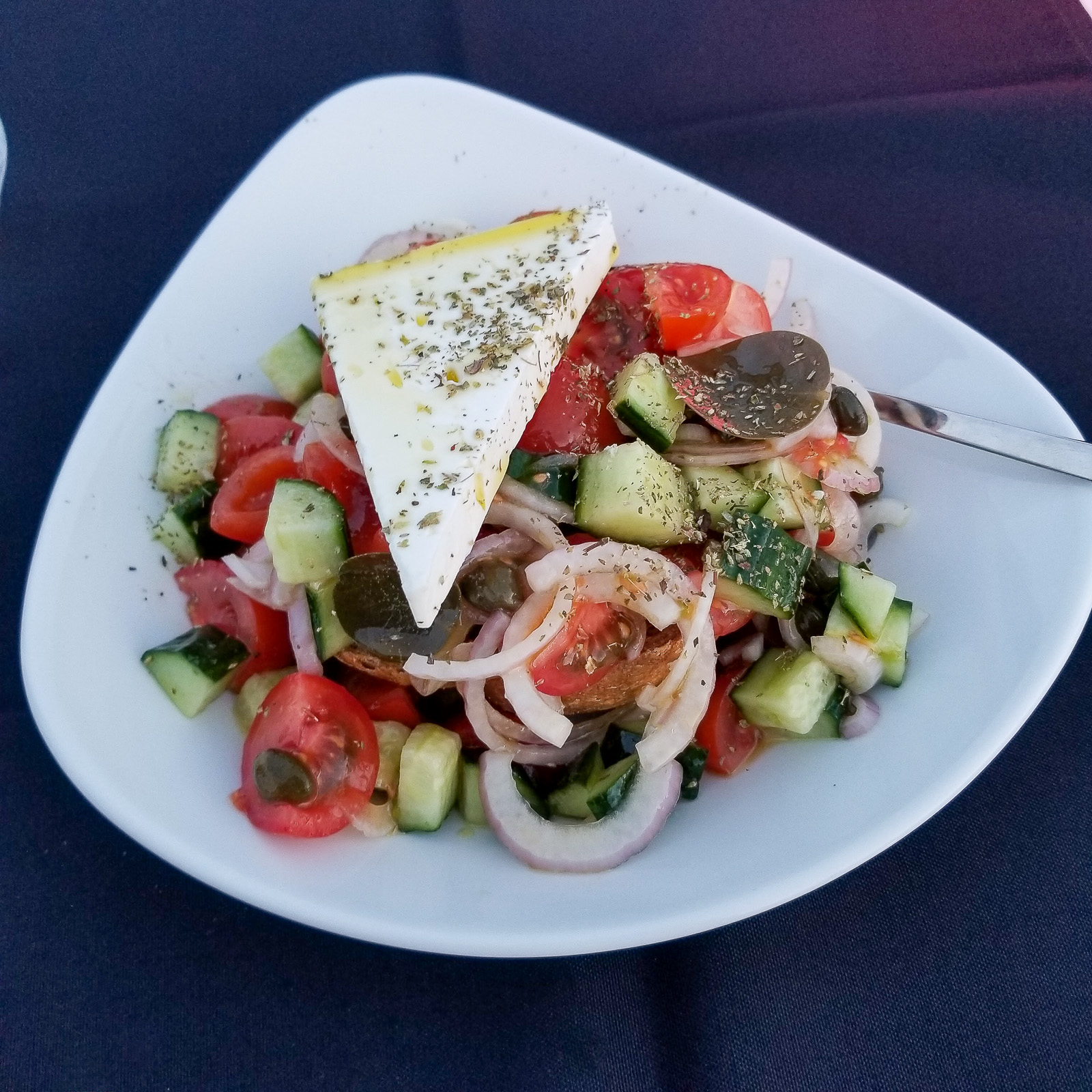 Eating: all the Greek salads. I ate my body weight in the stuff when I was in Greece a few weeks back, and I've been recreating these yummy veggie-packed salads for summer dinners. What I add: cucumbers, red onion, grape tomatoes, red peppers, feta cheese, dried Mediterranean herbs. I toss with olive oil and sprinkle with salt and boom! Dinner is served.
Drinking: Bulletproof coffee. Have you heard of it? It's coffee made from super clean (ie, no toxins) and super fresh coffee beans, then mixed with grass-fed organic butter (I'm serious) and MCT oil (MCT= medium chain triglyceride). The combo acts as a meal replacement (no kidding; you're drinking fat!), but is supposed to suppress hunger, give you a steady energy source, and assist in mental clarity. (Read more about bulletproof coffee here; this post is by the guy who invented + patented it, but you don't have to buy his stuff to make your own.) My boyfriend is on a keto kick (ketosis = when the body uses fat as fuel rather than blood glucose) and has been making this for us each morning before work. I don't typically add the butter + oil during the week, opting instead for the coffee alone. But on the weekends, butter me up! 🙂
Watching: Handmaid's Tale. You guys, it's so good. The perfect combination of make-you-think and make-you-mad. It's set in the near future in a dystopian, totalitarian theocracy (the US is no more; hello Gilead!). I won't give too much away– just put it in your queue if you haven't already!
Going:  To shoot with my photog this weekend. Summer outfit style on deck!
Reading: How Did You Get This Number. I love Sloane Crosley, but somehow missed this particular essay collection. Crosley's writing is sharp, detailed, and funny. Can't wait to dig in!
Loving: World of Dance. Maybe it's because I think J.Lo made some sort of youth pact with the devil (she never ages!) or the fact I've always wanted to be a dance troupe, but this dance show is totally addictive.
Working:  With a new set of partners at my 9-5. We've had some staff turnover in my division, which gave me the opportunity to switch up who I provide content strategy support to– so far, I'm digging the change. I'll miss a few of my old partners (others can quite literally kick rocks; there's always a few that have to ruin it for everyone), but this change is good.
Listening: To Selena Gomez's Bad Liar. It's so quirky + catchy. Good punchy summer tune!
Buying: A new potato vine plant after a rogue squirrel completely ravaged the one I had planted in a pot on the back patio. I fight this battle every year: plant a bunch of pretty flowers in pots, then check them obsessively as the squirrels tear them apart + root them up (in service of what, I have no idea). Yesterday afternoon, I came out to water and found a previously gorgeous lime green potato vine completely stripped of its leaves. Ugh. I love animals, but squirrels really test that love.
Planning: A trip to Washington, DC, for work. I've never been to DC, and even though it's going to be a short trip, I'm excited to see a bit of the city.
Wondering: How it's already the end of June. I swear it was the beginning of May just yesterday.
Feeling: The full effect post-vacation depression. Speaking of which, did you catch the big Greece rundown from earlier this week? Where we stayed, what we did, what we ate, what I wore… It's all there.