Ah yes, let's start the week at LSR with a memorable Clueless reference, shall we?
Before we jump into the details of my pretty ridiculous outfit, I want to announce a $75 gift card to Sephora giveaway I'm participating in with a few lovely ladies in celebration of Alissa at The Adored Life's second blogging anniversary.
So my fellow Millennials might remember wearing overalls when we were kids; I know I had a few pairs perfect for climbing trees and jumping curbs with my 10-speed. And now overalls are back and better than ever.
I found this black twill pair at ASOS and my interest was immediately piqued. These were either going to be really good or really bad. Challenge accepted.
They arrived in the post and I was in love– the skinny leg was flattering and easy to wear, but the top bib portion had enough slouch so it didn't create any weird pulling. To finish off the outfit, I slipped on a basic white tank, calf-hair leopard pumps, and a new necklace from BaubleBar.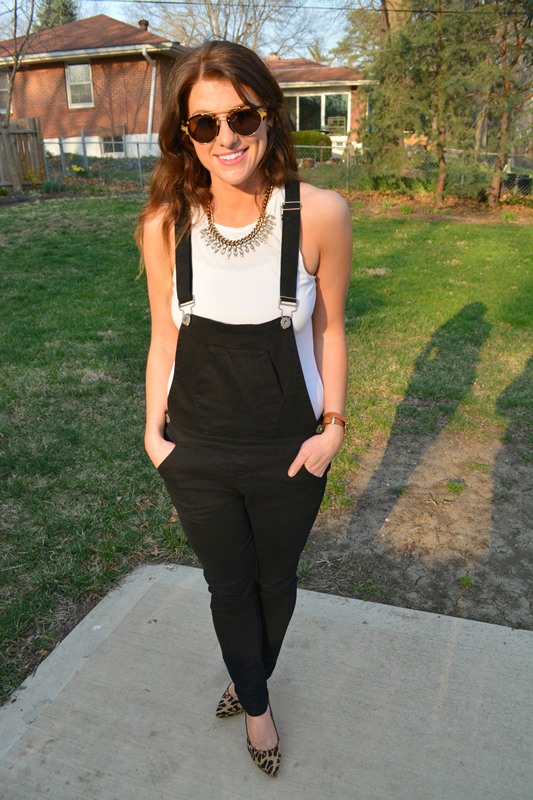 I ended up loving these overalls so much I wore 'em to work last Friday (with a fitted gray hoodie and b&w brogues). I got a few raised eyebrows that clearly said, "Are you really wearing overalls?" but they were a hit with most. Most definitely rocking these bad boys throughout the spring and summer.
 Linking up with More Pieces of Me + On the Daily Express, Get Your Pretty On, Style Elixir, The Adored Life + Style Honestly, The Pleated Poppy, Sew Crafty Angel, Walking in Memphis in High Heels, and Life's a Party Dress Like It.