All the KCFW fun.
I get so excited each time Kansas City Fashion Week rolls around. Not only does it mean I get to wear some fun + crazy looks (see this season's here, here, here, and here), but I get to see some incredible collections from extremely talented designers up close and in person via the KCFW runway.
For those new to the fashion game, designers show a season ahead; which means that in the fall, we're seeing collections that'll be on shelves for the spring/summer season (and in the spring, we're seeing fall looks). With that being said, let's dig in!
Kansas City Fashion Week: Friday night.
My runway adventures this year started on Friday night. Brina and I headed down to Union Station for an outfit shoot before going inside. The weather was warm but at least it wasn't raining and/or freezing! You never know with mid-October in Kansas City.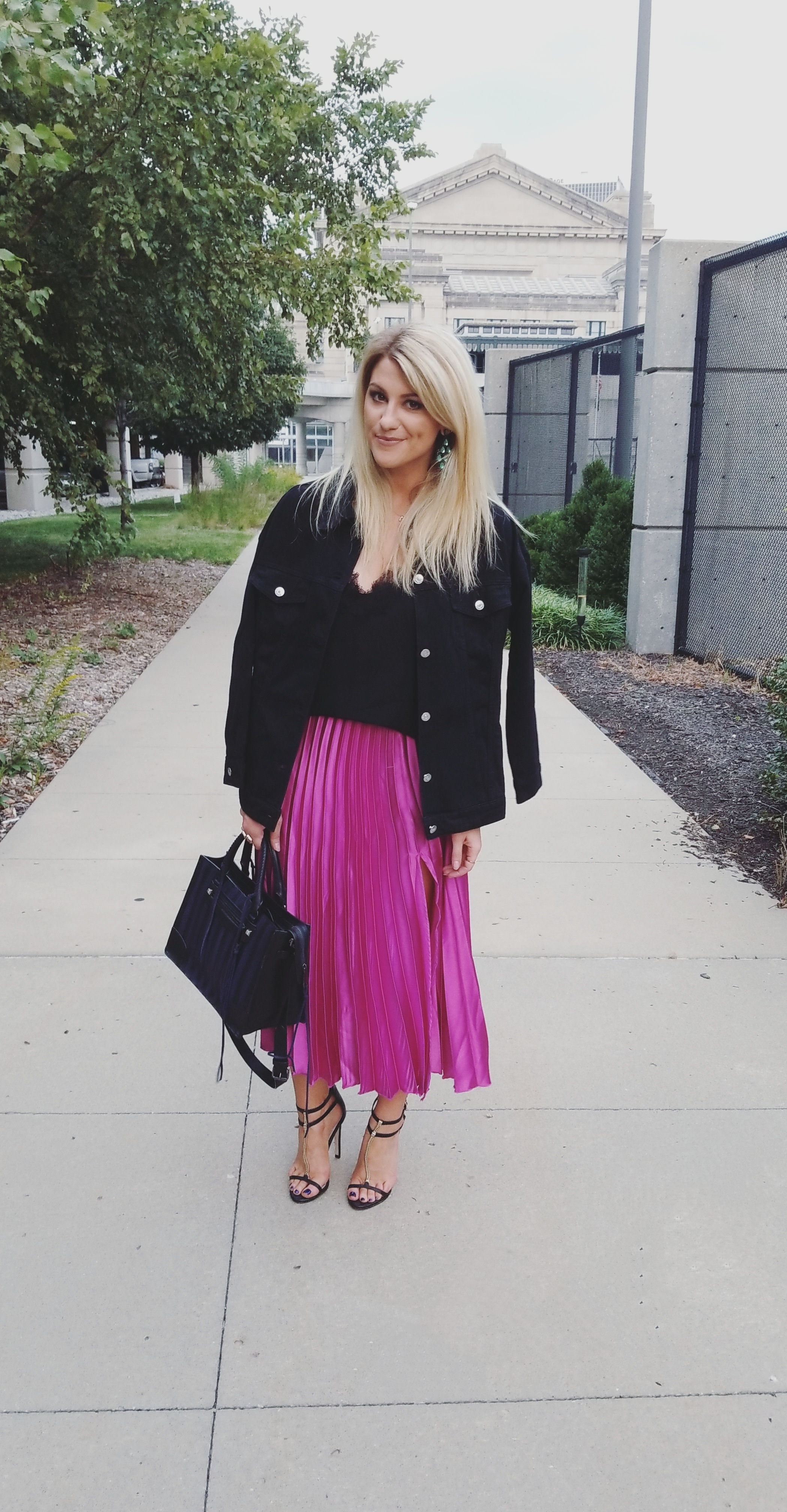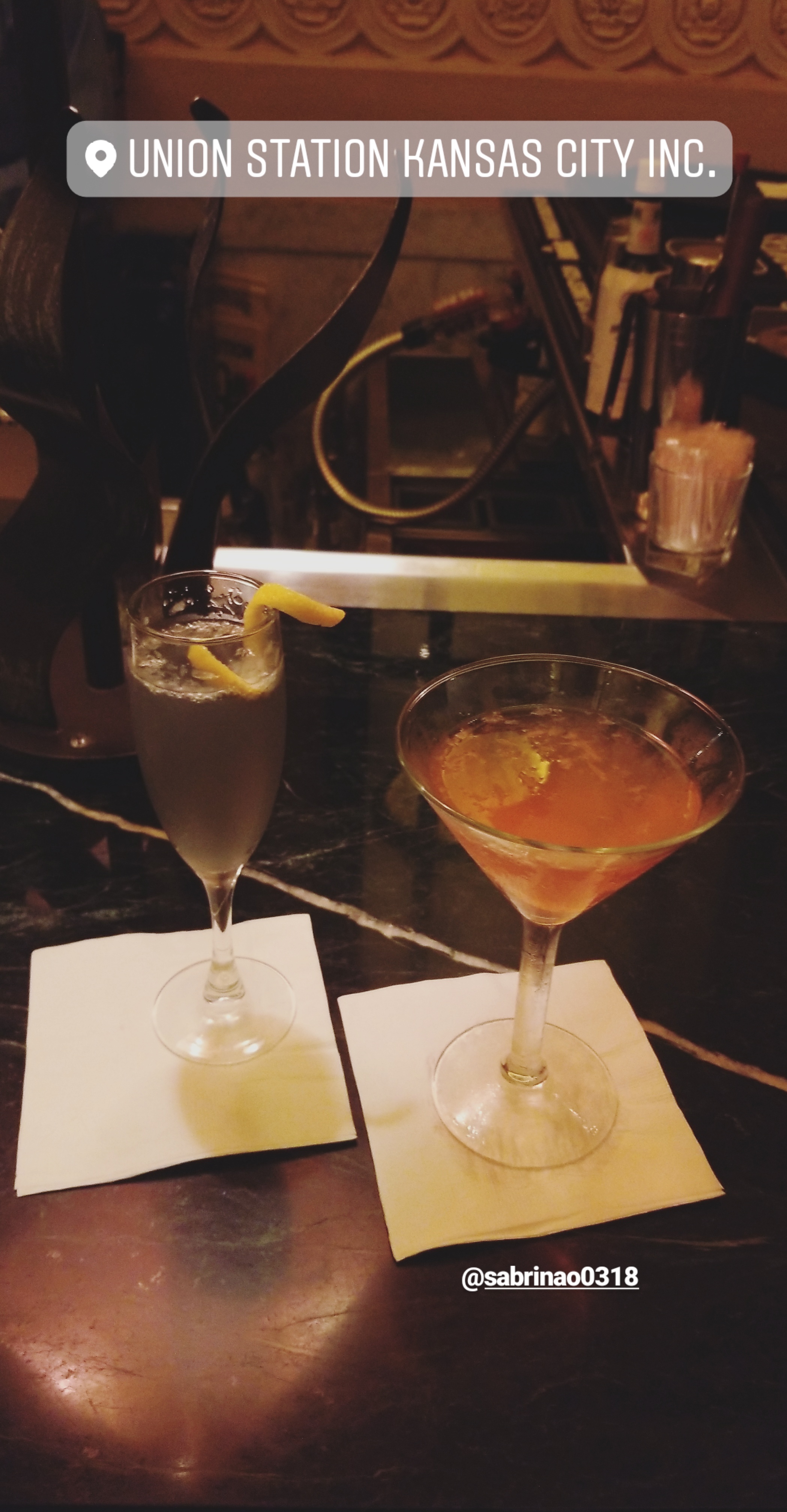 After checking in at the media table, we hit the step and repeat for some red carpet shots. KCFW really does make everyone feel just a wee bit famous!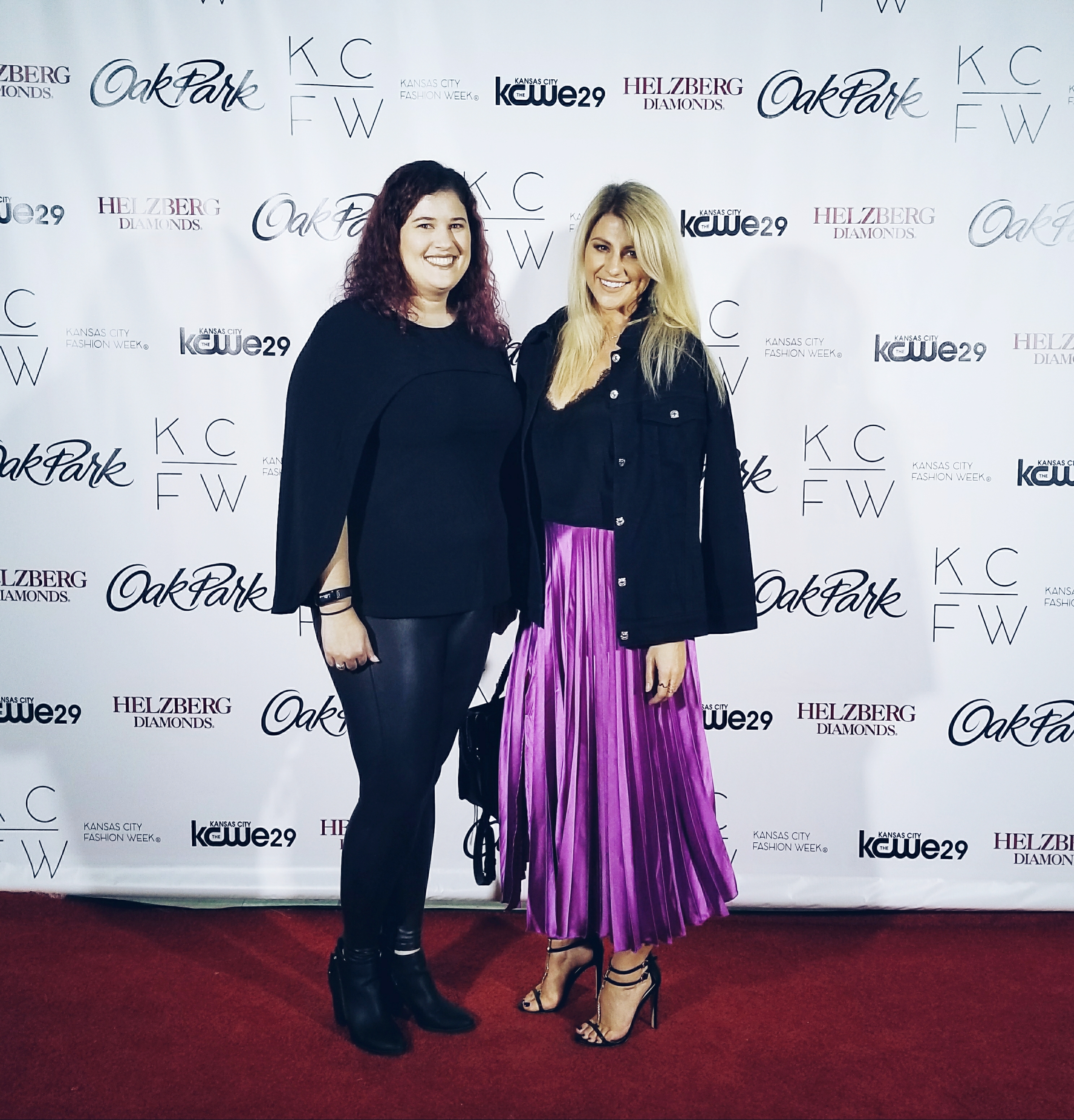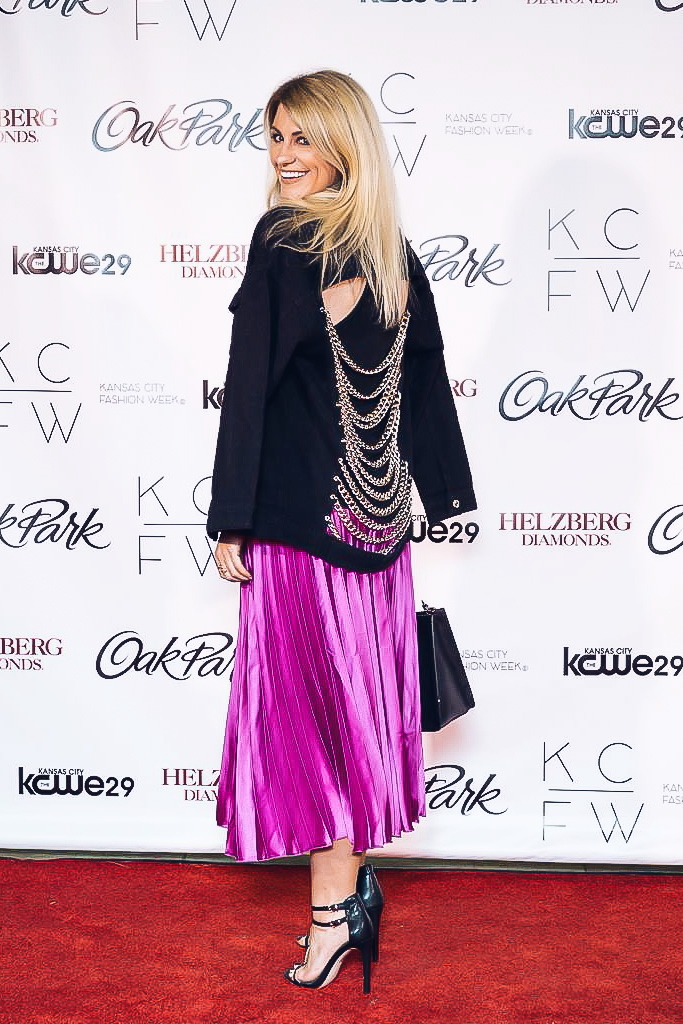 We found our seats and started gearing up for the runway shows: swapping out lenses, checking lighting, making note of the designers' social handles, plugging phones into charging banks– it's usually a mad scramble to get prepped before the lights go down and the first collection starts down the runway.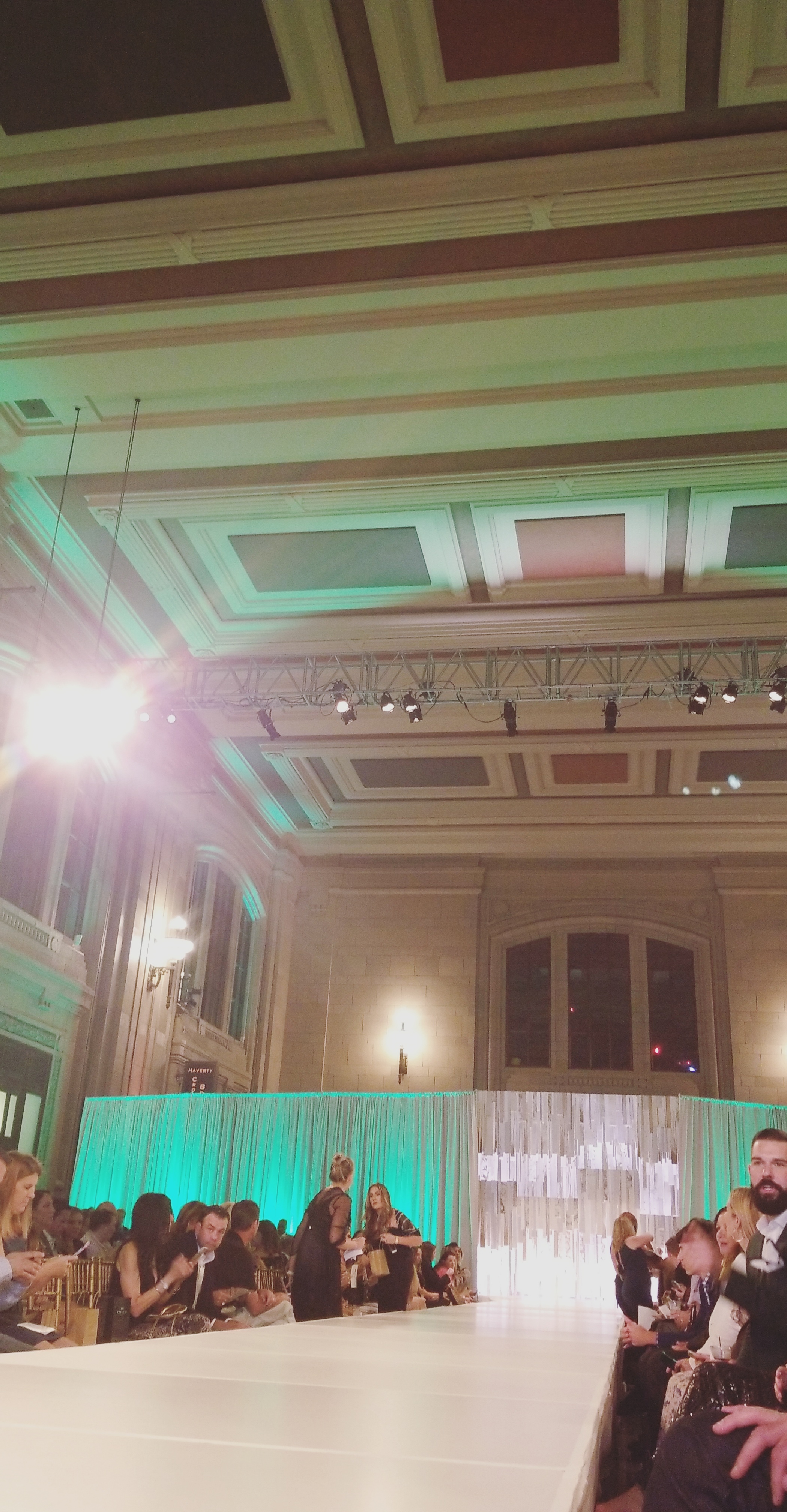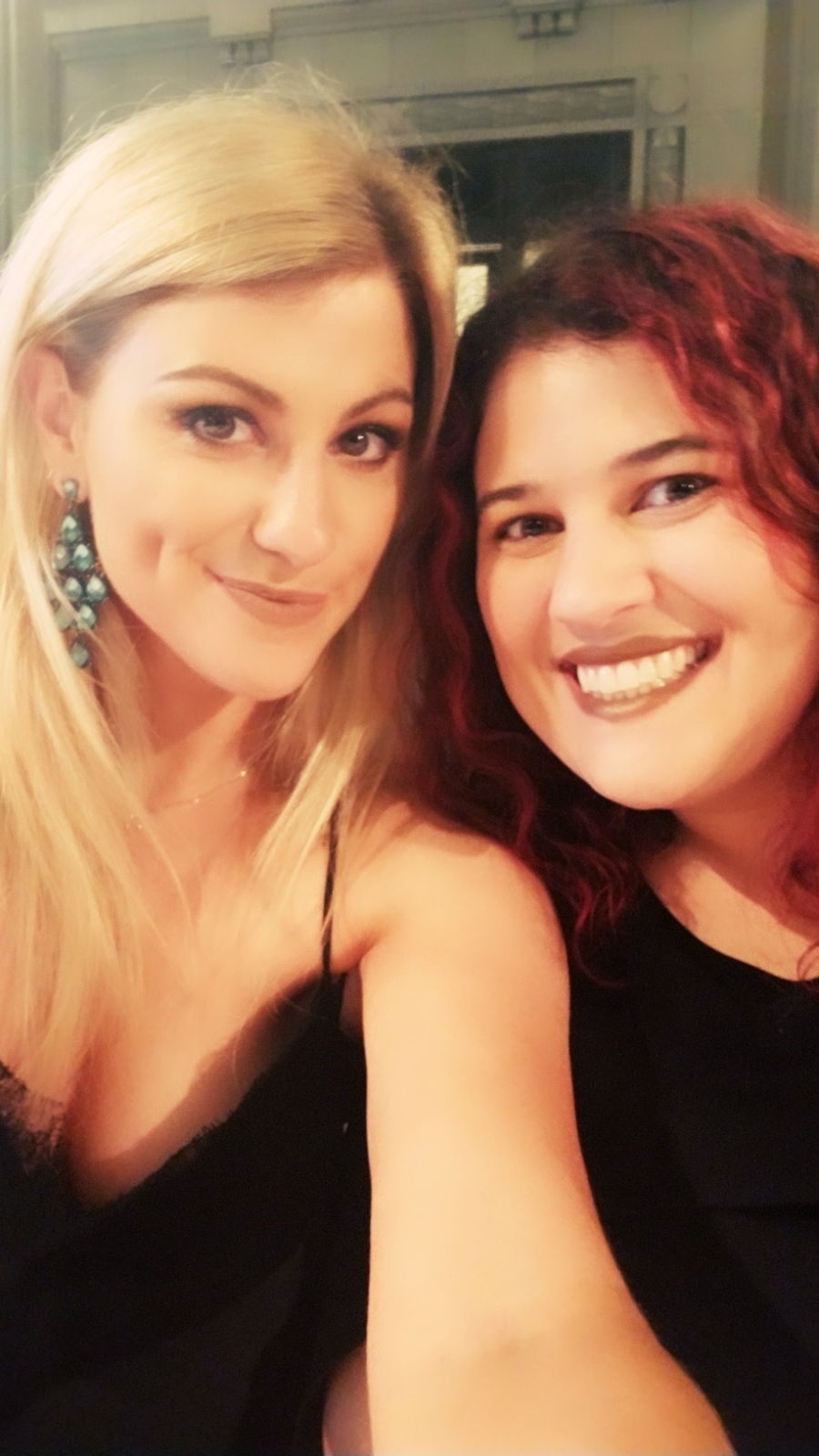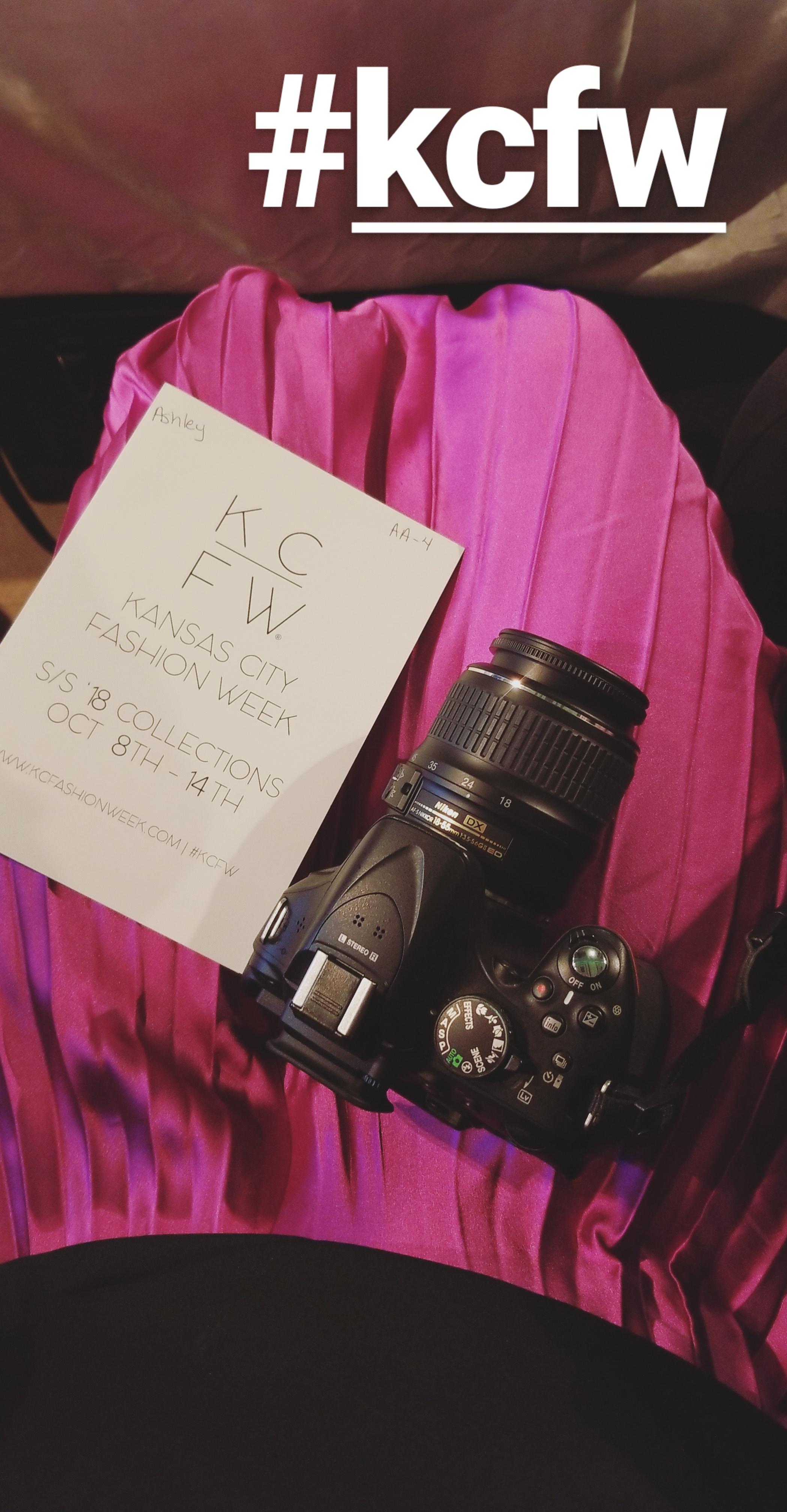 The first collection was by Gabriela International Productions. Talk about attention to detail– the embroidery work was insane. I loved all the bright colors and the full skirts.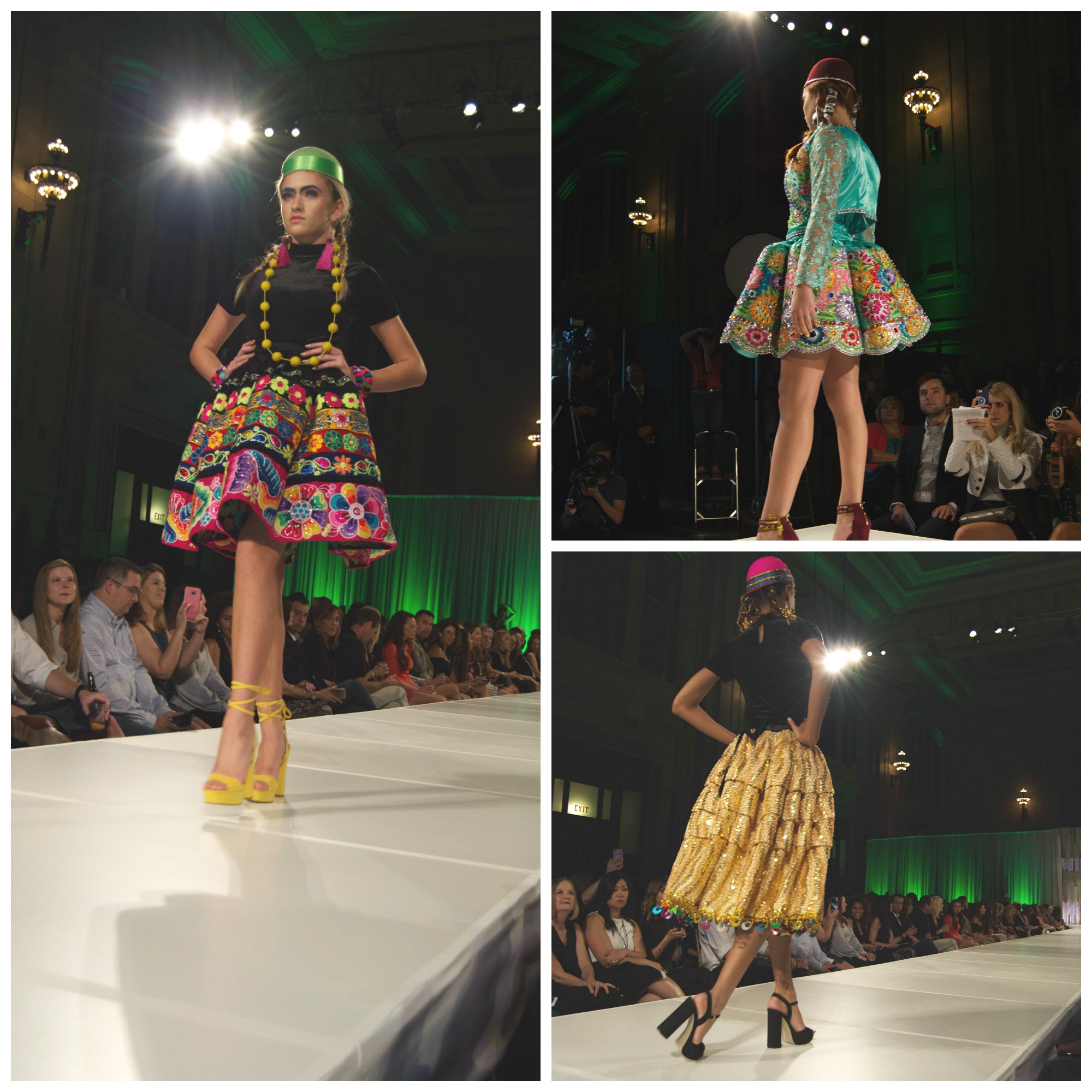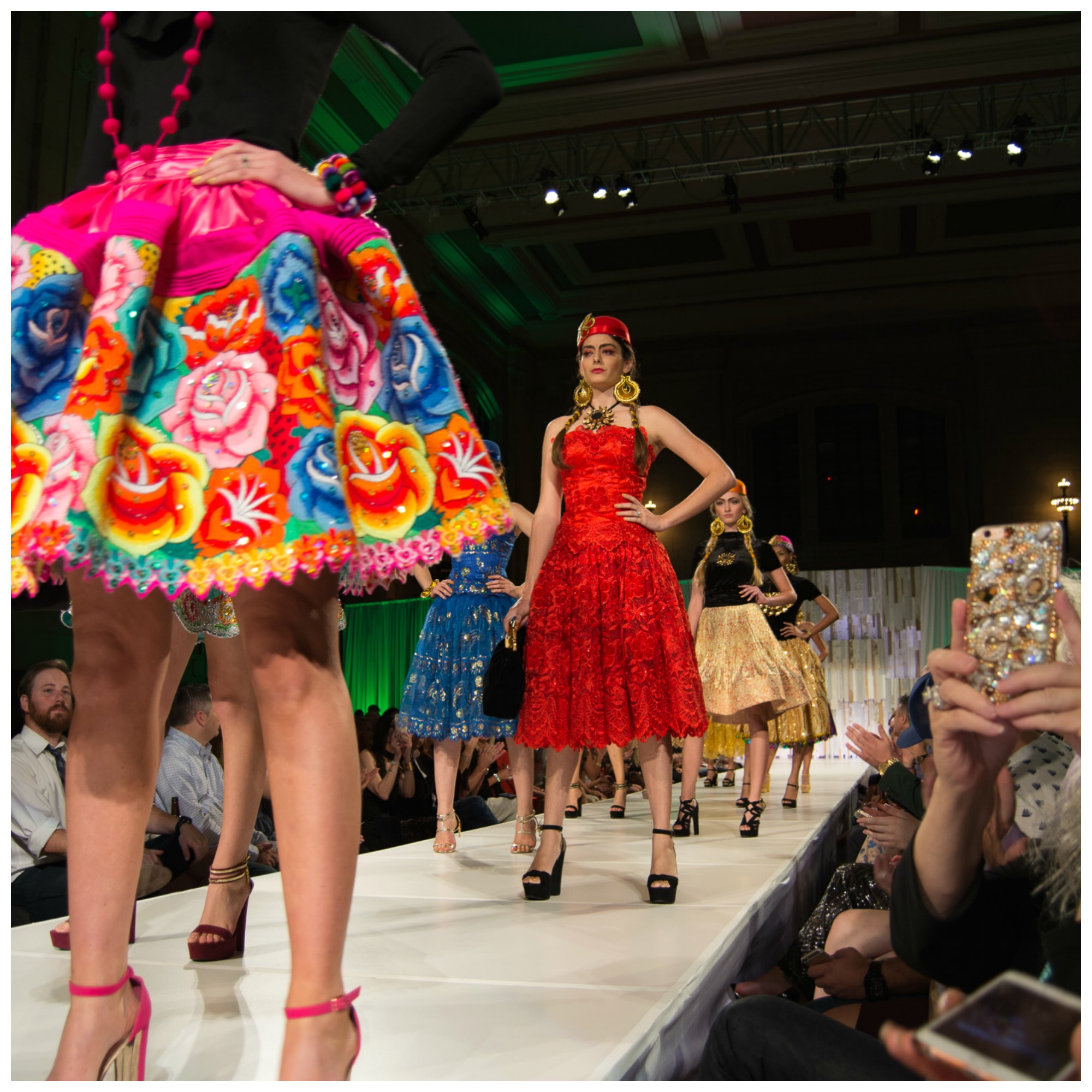 Next was Cassandra P with a wedding collection that left us all breathless. From sleek silhouettes to full gorgeous ballgowns, this collection had something for everyone (and every body type, which was incredible!). I was completely drooling over the classic mermaid gown with the sheer lace cape over the top. Talk about stunning.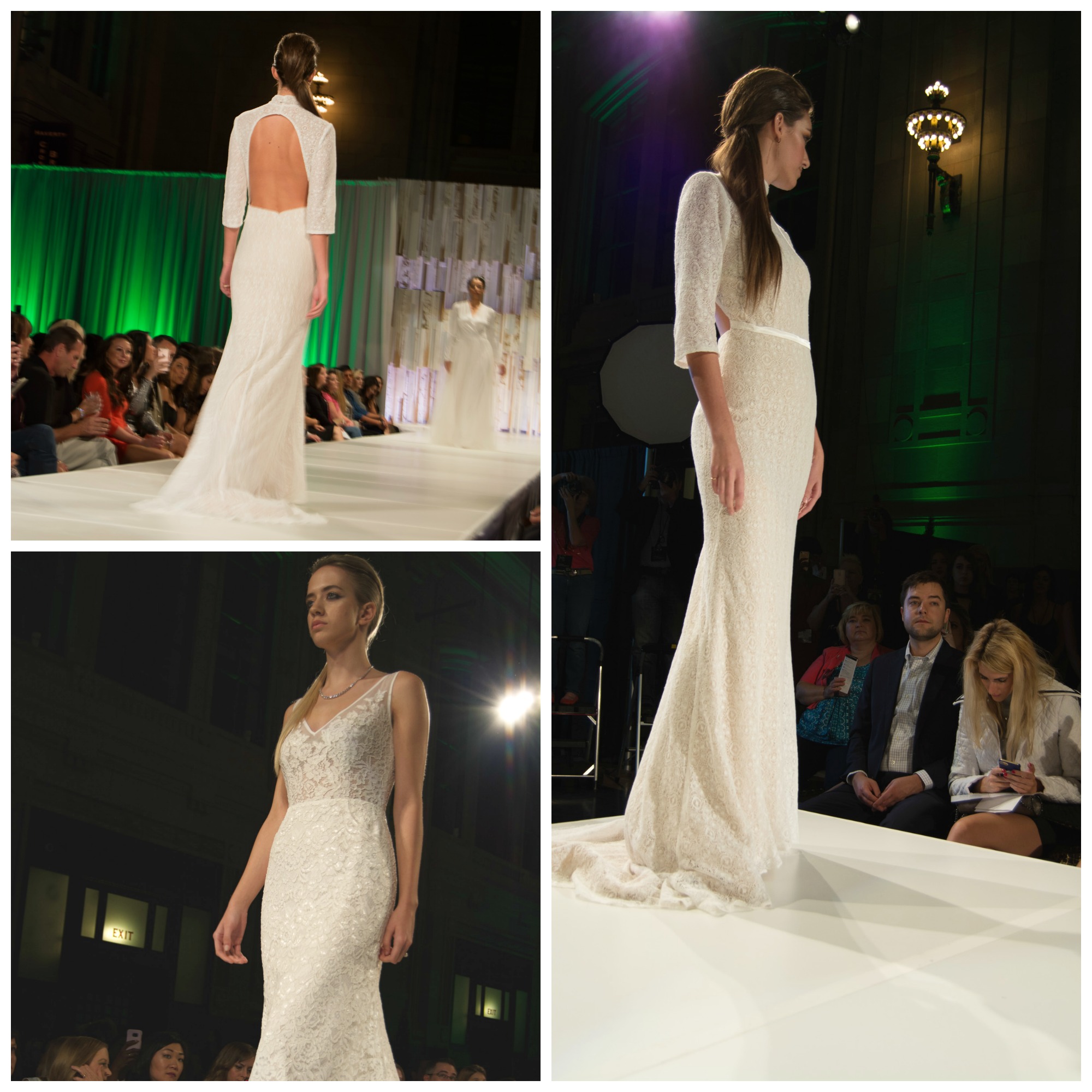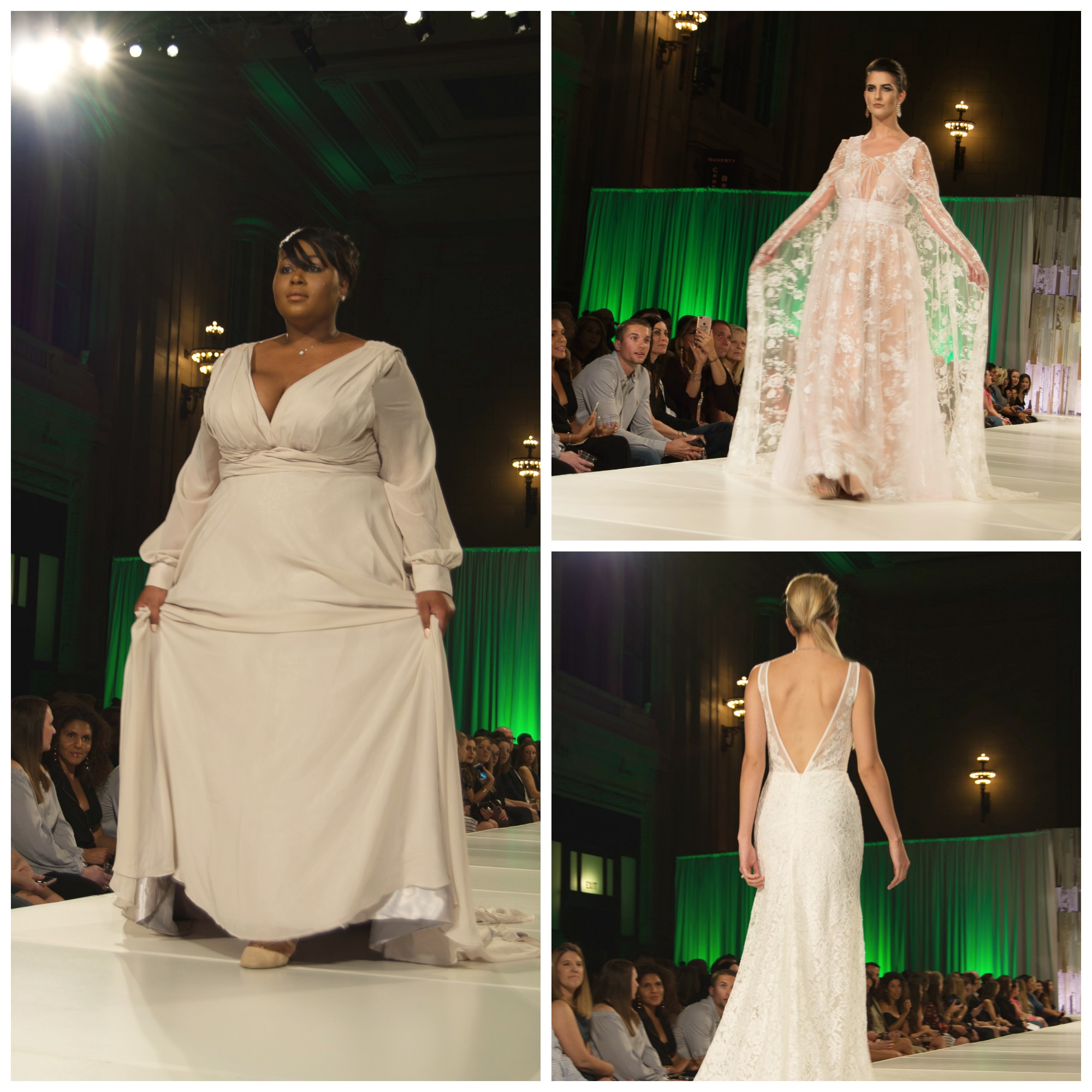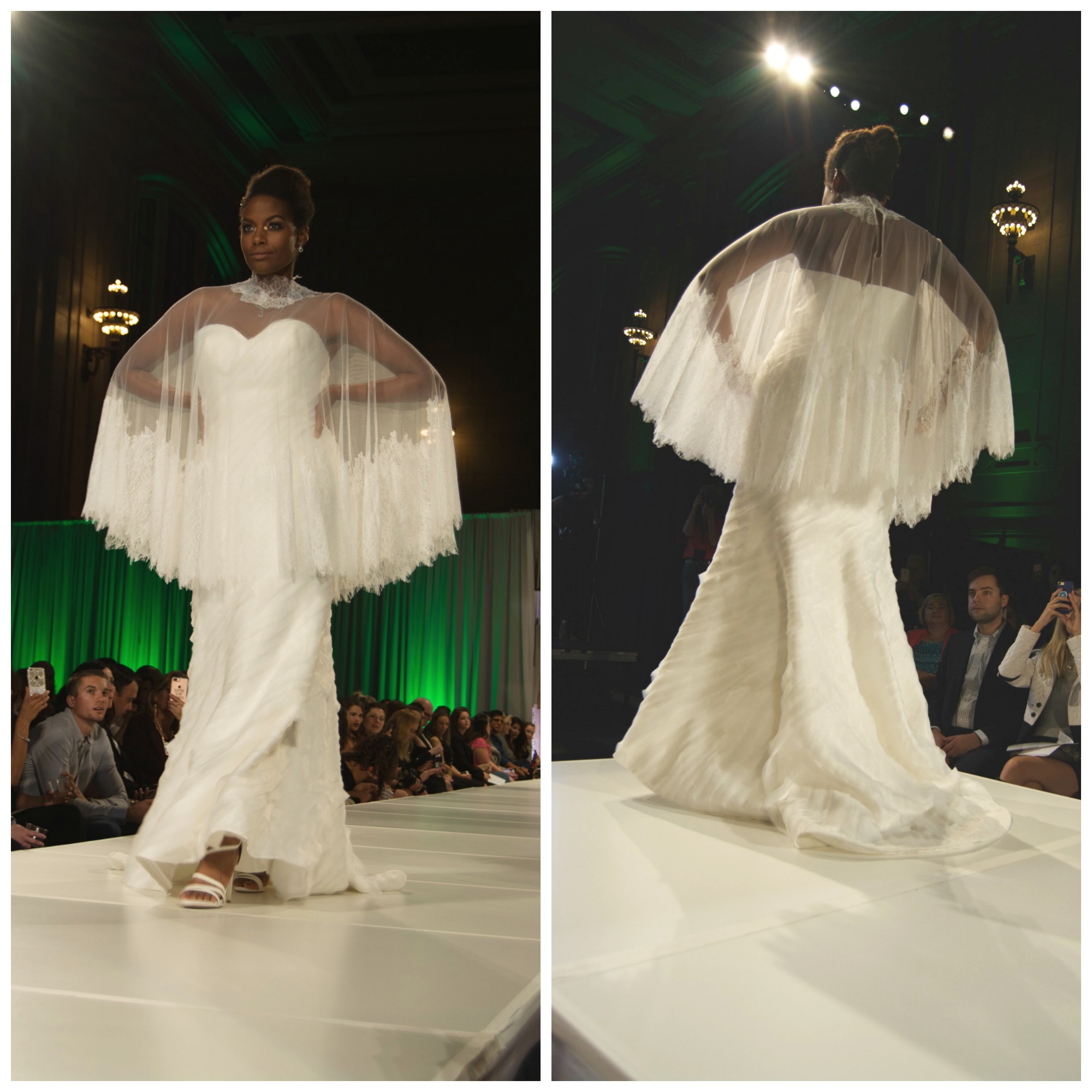 Amanda Casarez sent down a neon collection that I was in love with– I thought the sun had set on my love for mega-brights, but this collection made me second guess that, for sure.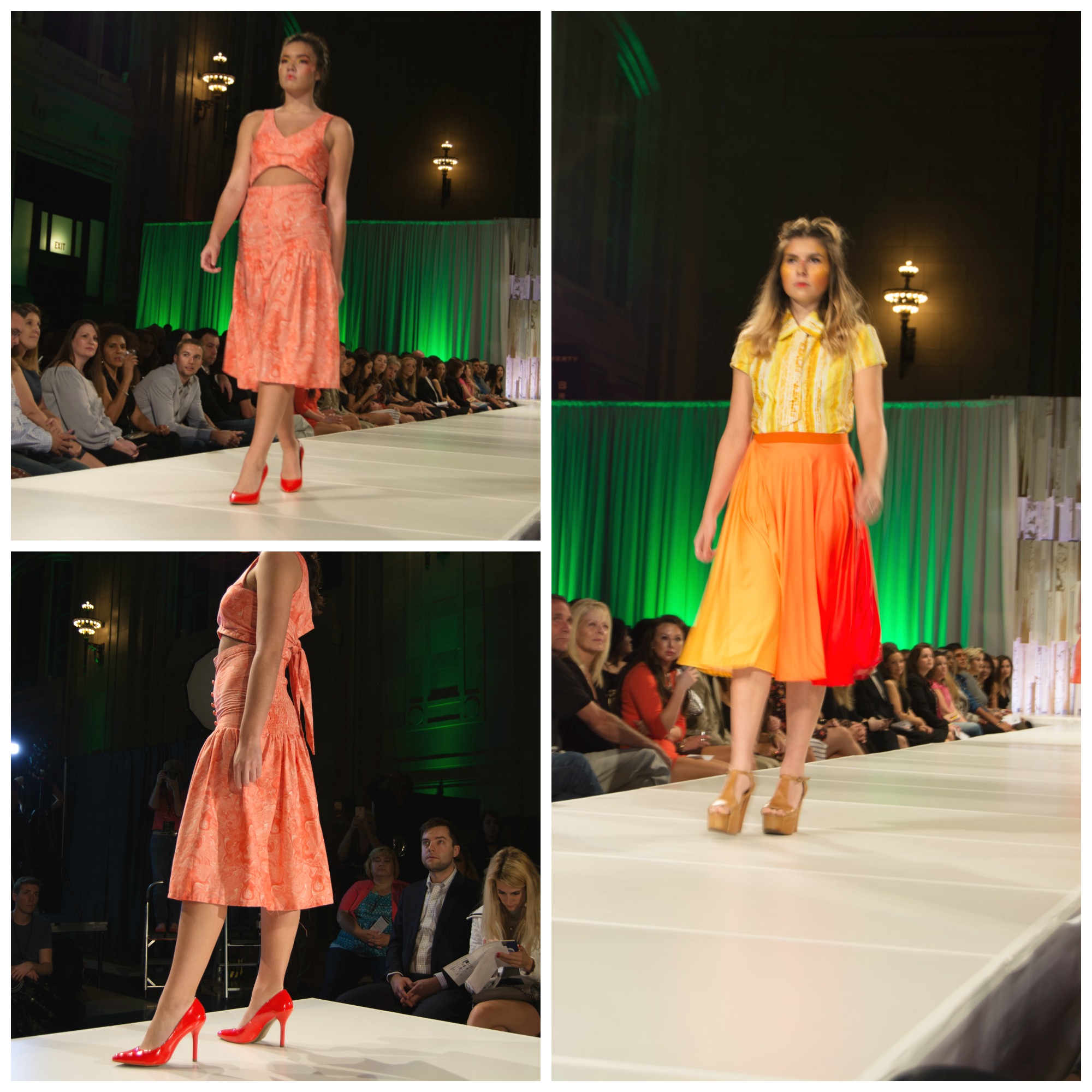 Jewelry time! Her by Georgina Herrera was statement piece after statement piece. The finale piece was a gorgeous tiled crop top that was an absolute piece of art.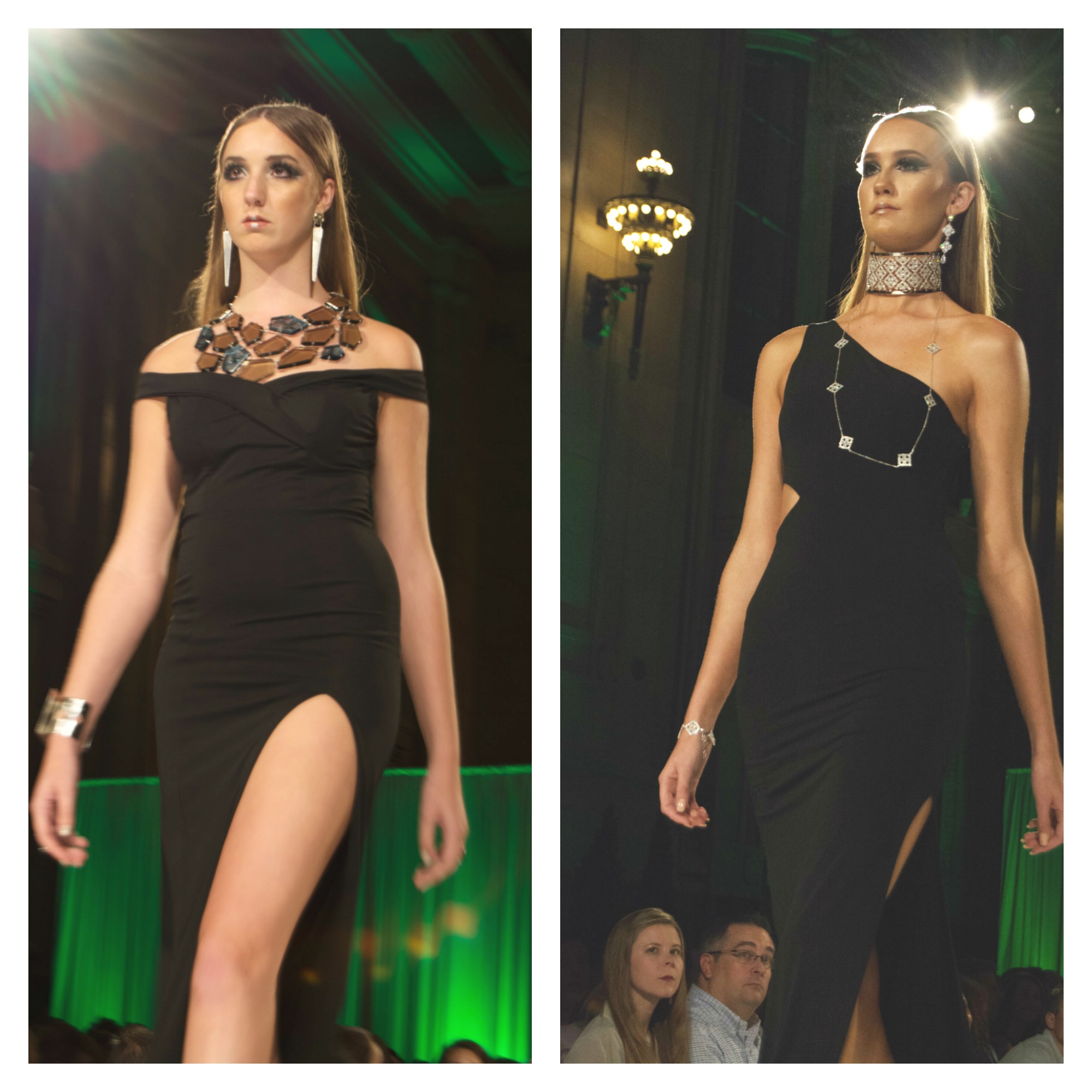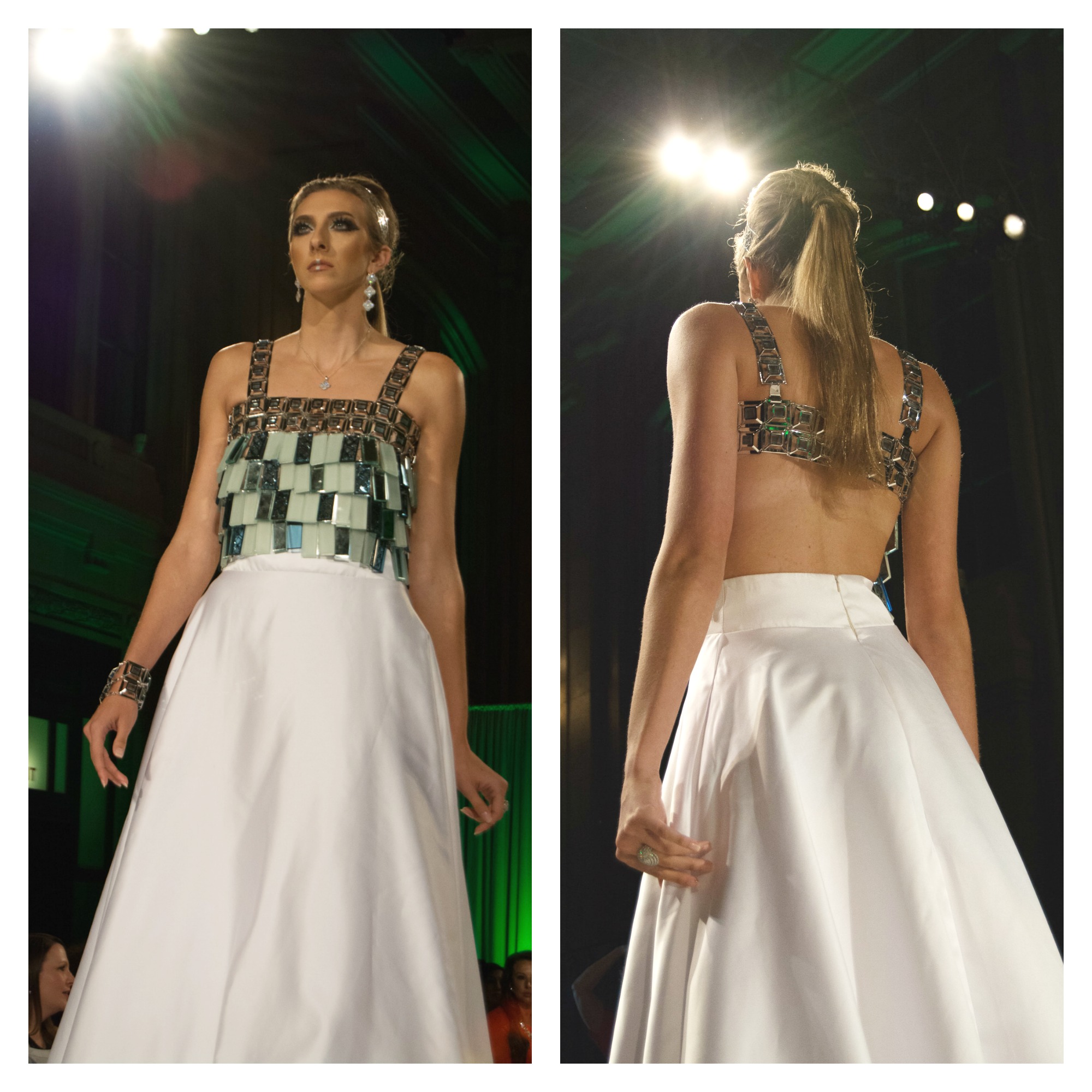 J. Manning sent down a collection that included offerings for both men and women. So cohesive; a great mix of stark black and pretty navy- and white-based florals. The tailoring was lovely, and I'm pretty sure J. Manning had some of the most attractive models in the history of ever.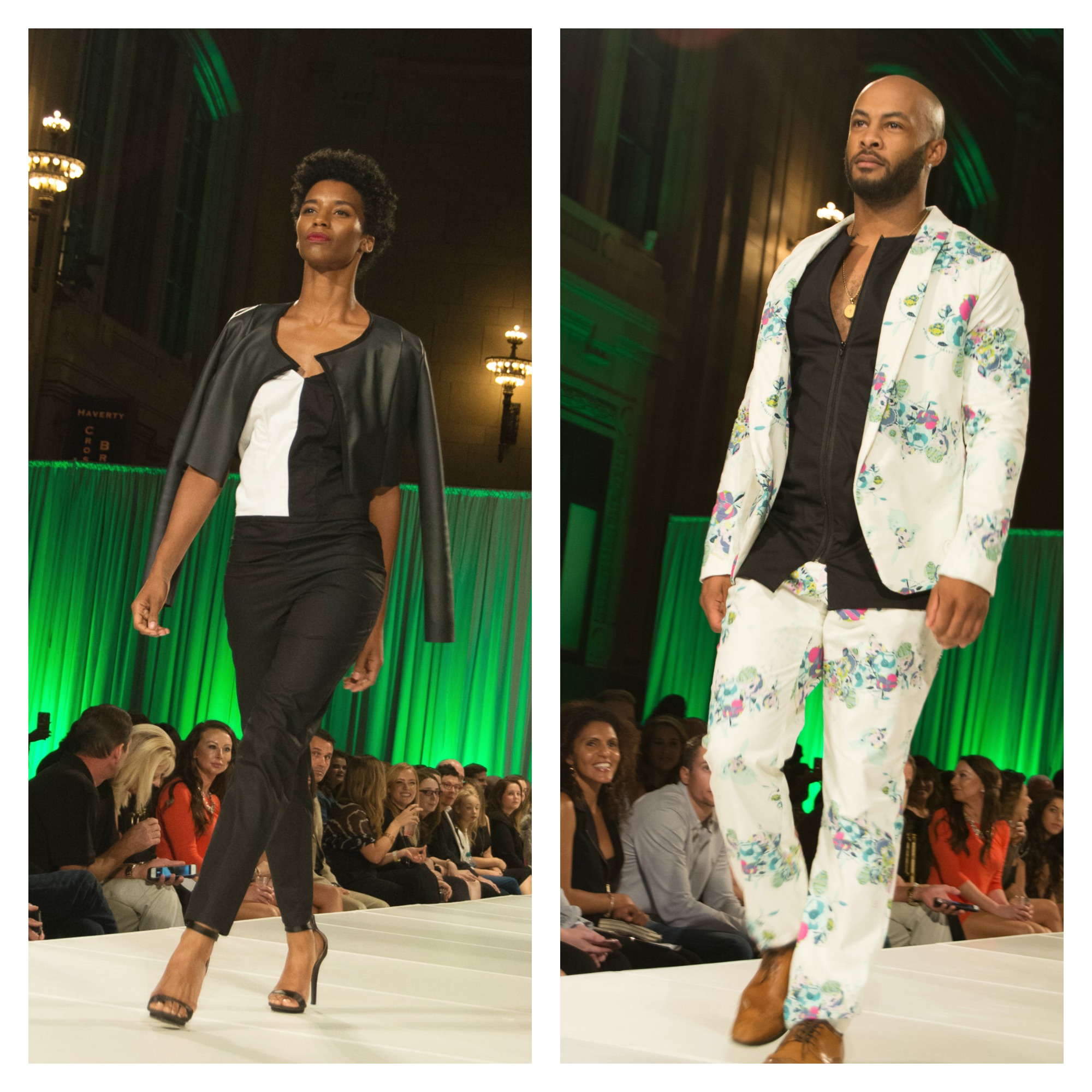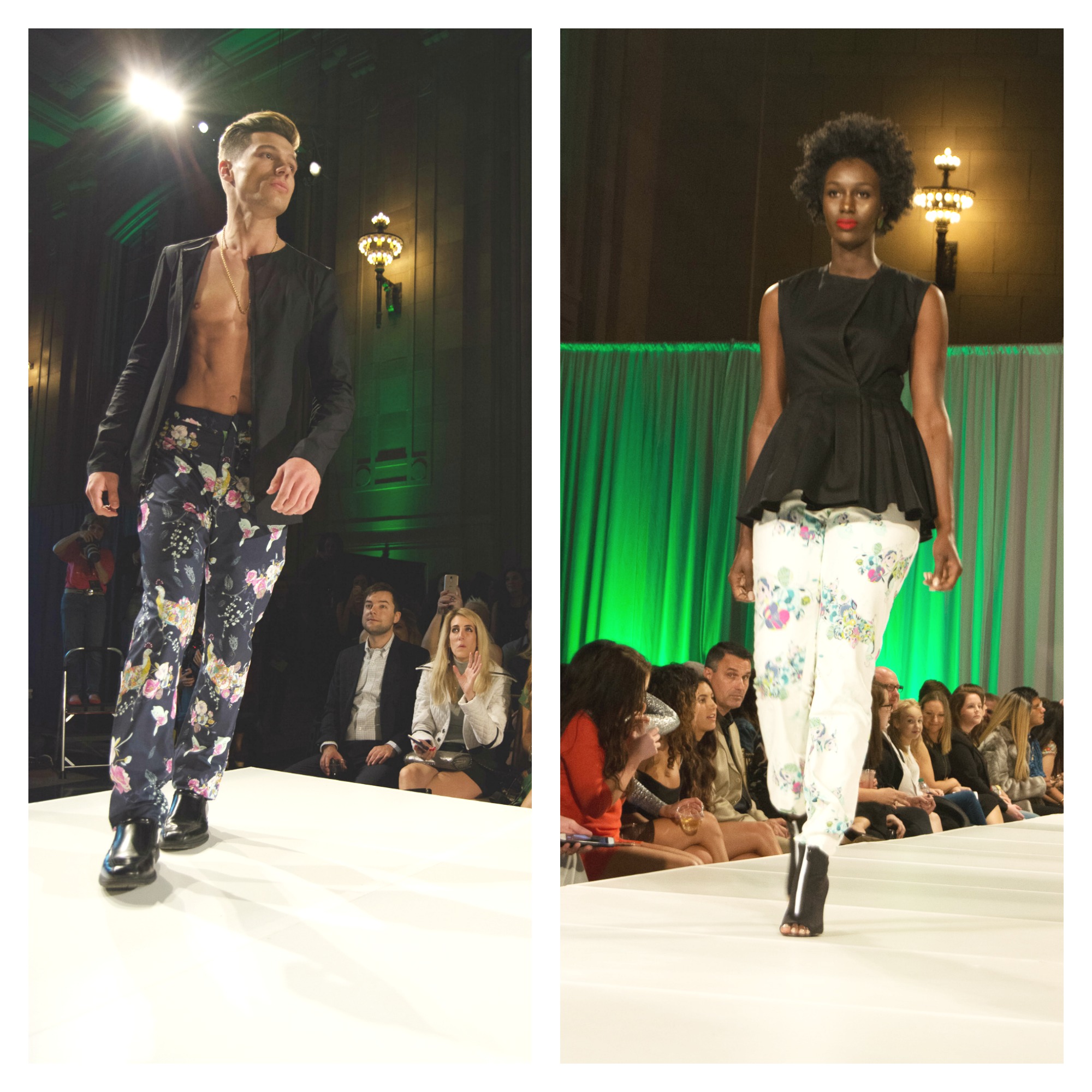 Last of the night was Michael Drummond, who puts a cool urban spin on everything he does. I fell in love with a pair of black and gold leather leggings and really enjoyed all the floaty pieces in black and gray that felt super fresh.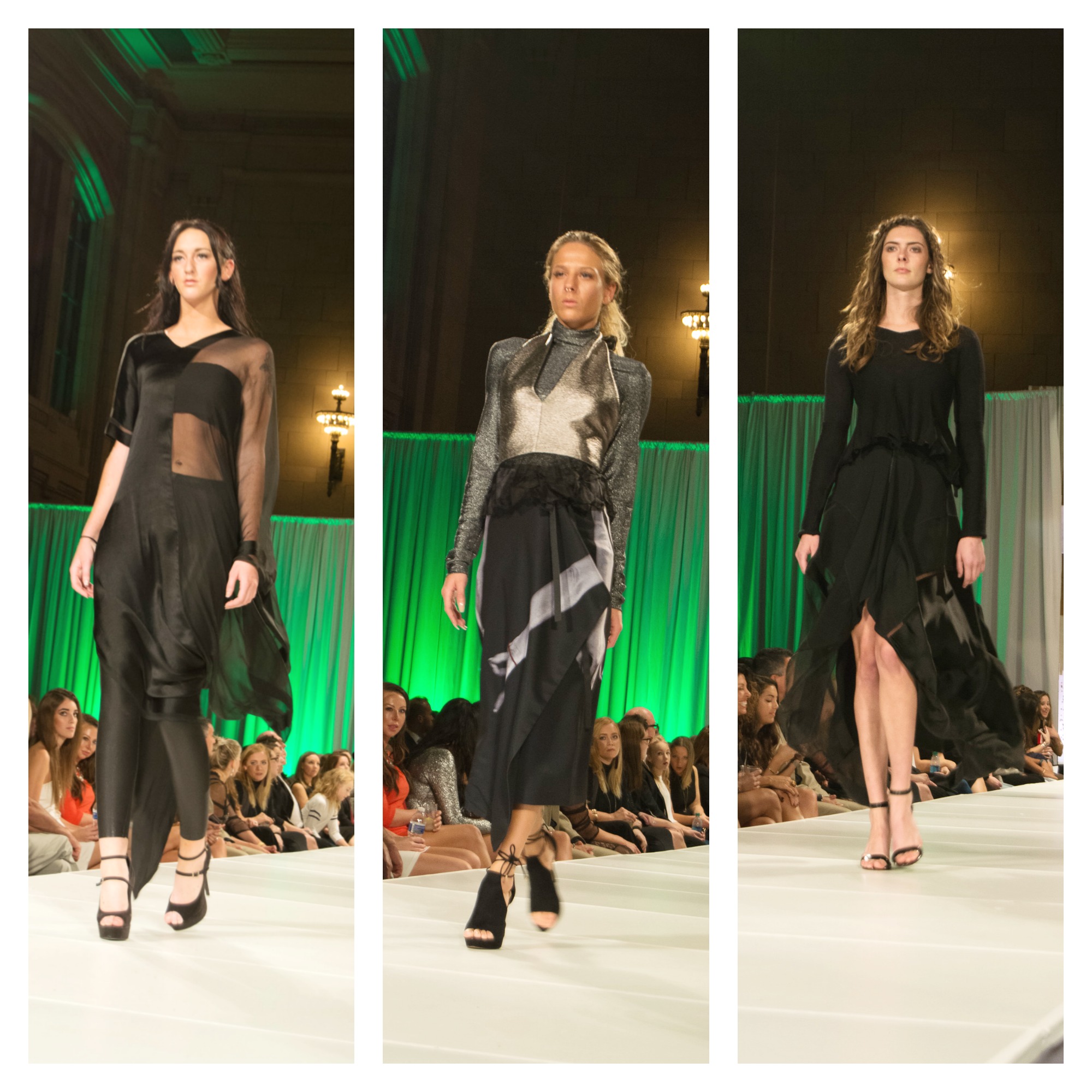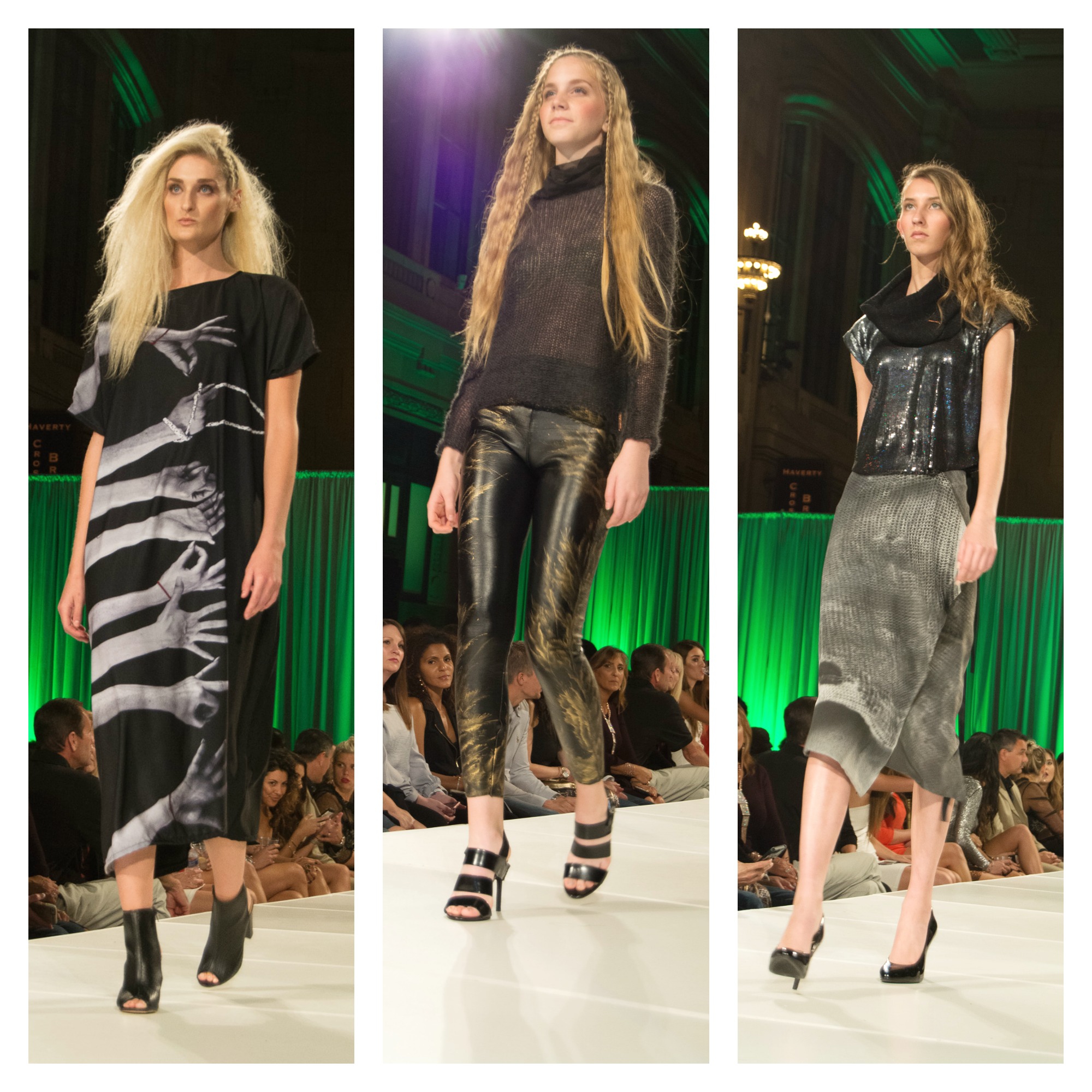 Saturday night.
KCFW kicked off Saturday night with dinner + drinks with my pals Brina and Cait at Nara. Nothing like some sushi (and lots of plum wine!) to get the party started. We were battling the weather, as a huge thunderstorm system moved through the city right during the time when we figured we'd take outfit photos. More plum wine to the rescue! We stalled a bit at Nara before heading over to Union Station to shoot after the rain had moved past.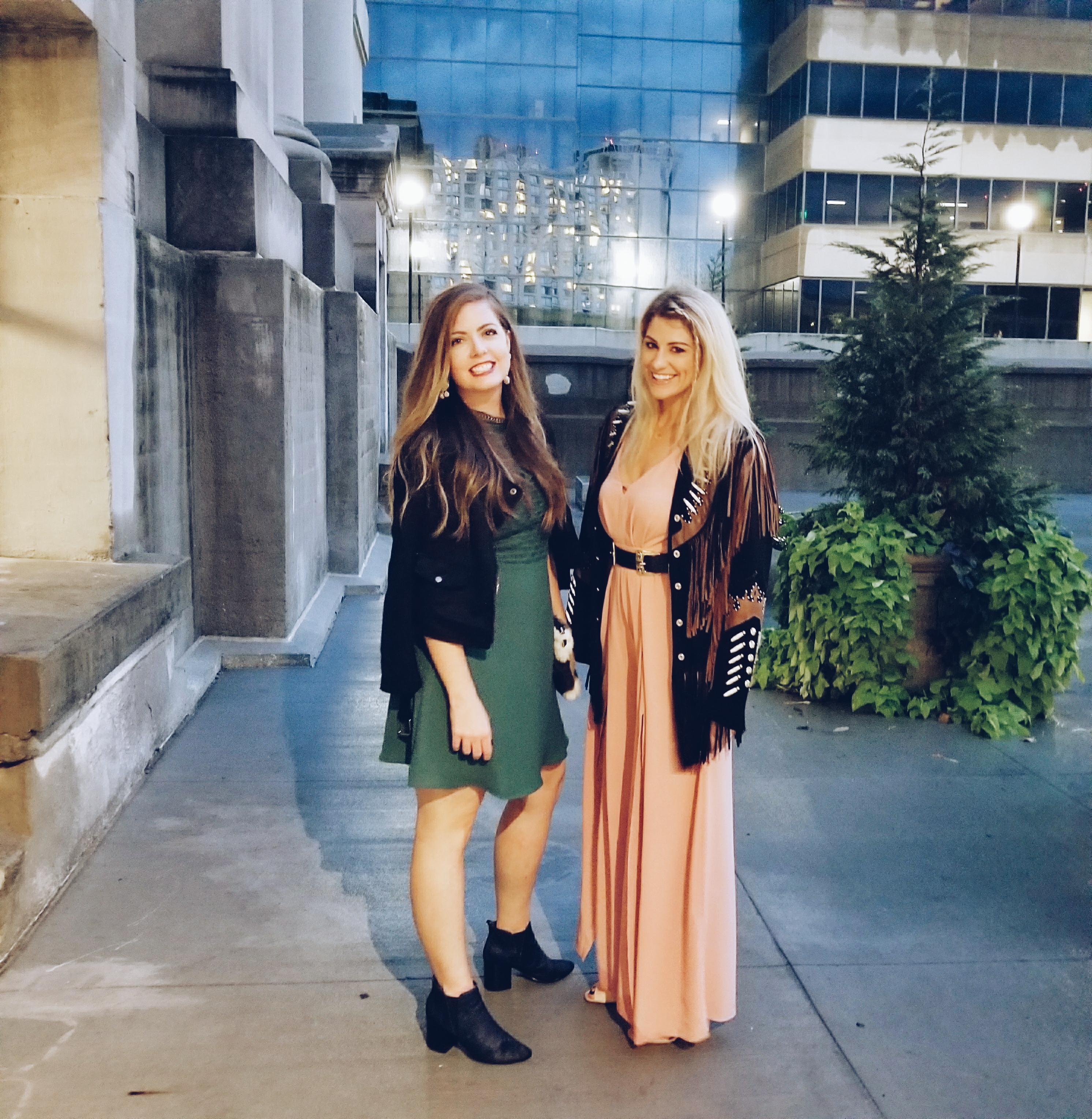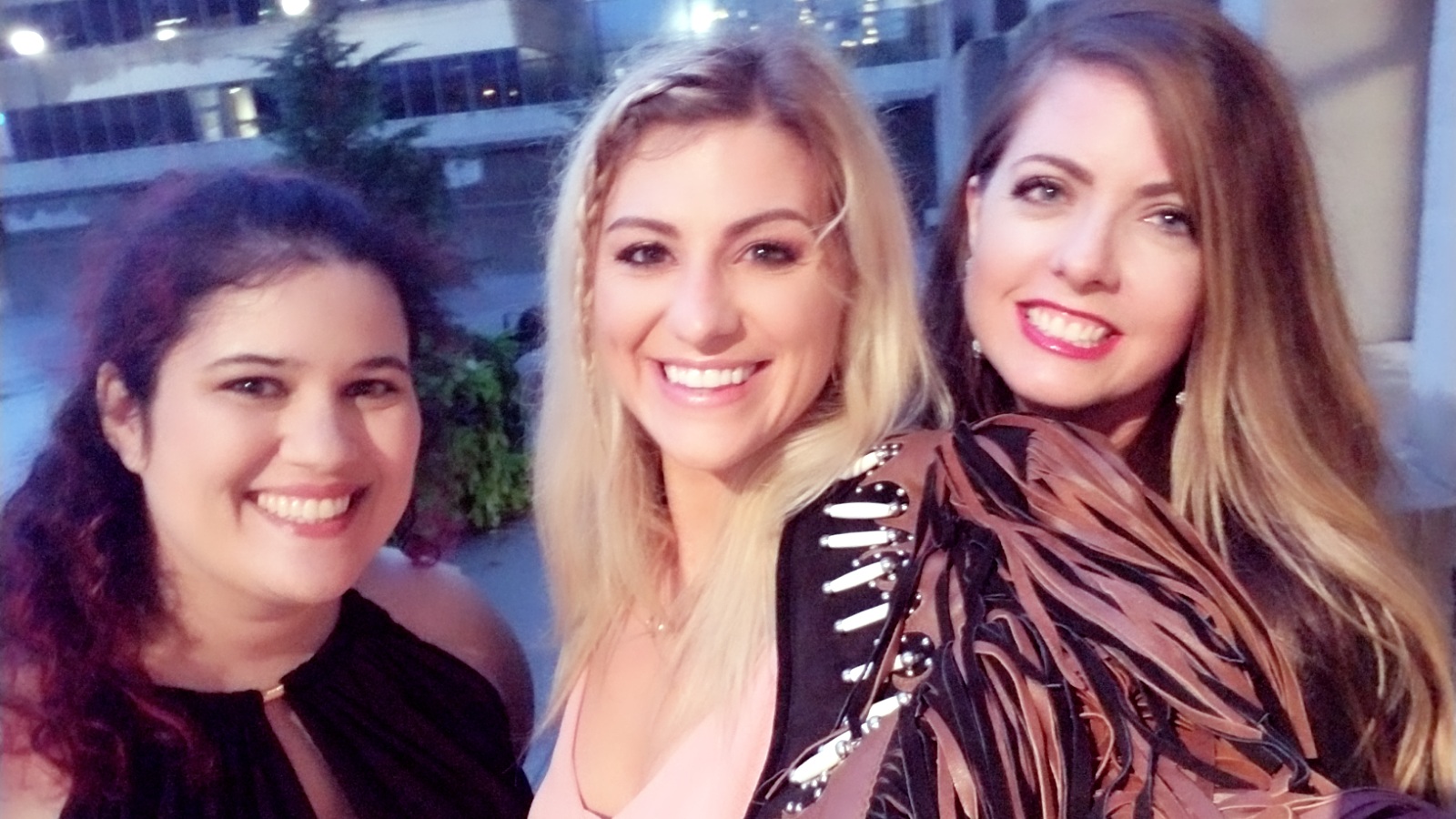 I got the chance to sit down with Rachel in the KCFW + R24 Studios Media Lounge. We chatted what shows we were excited to see, how to dress for KCFW (spoiler alert: I said wear the dumbest thing you can find), and how KC is really stepping up to the fashion scene.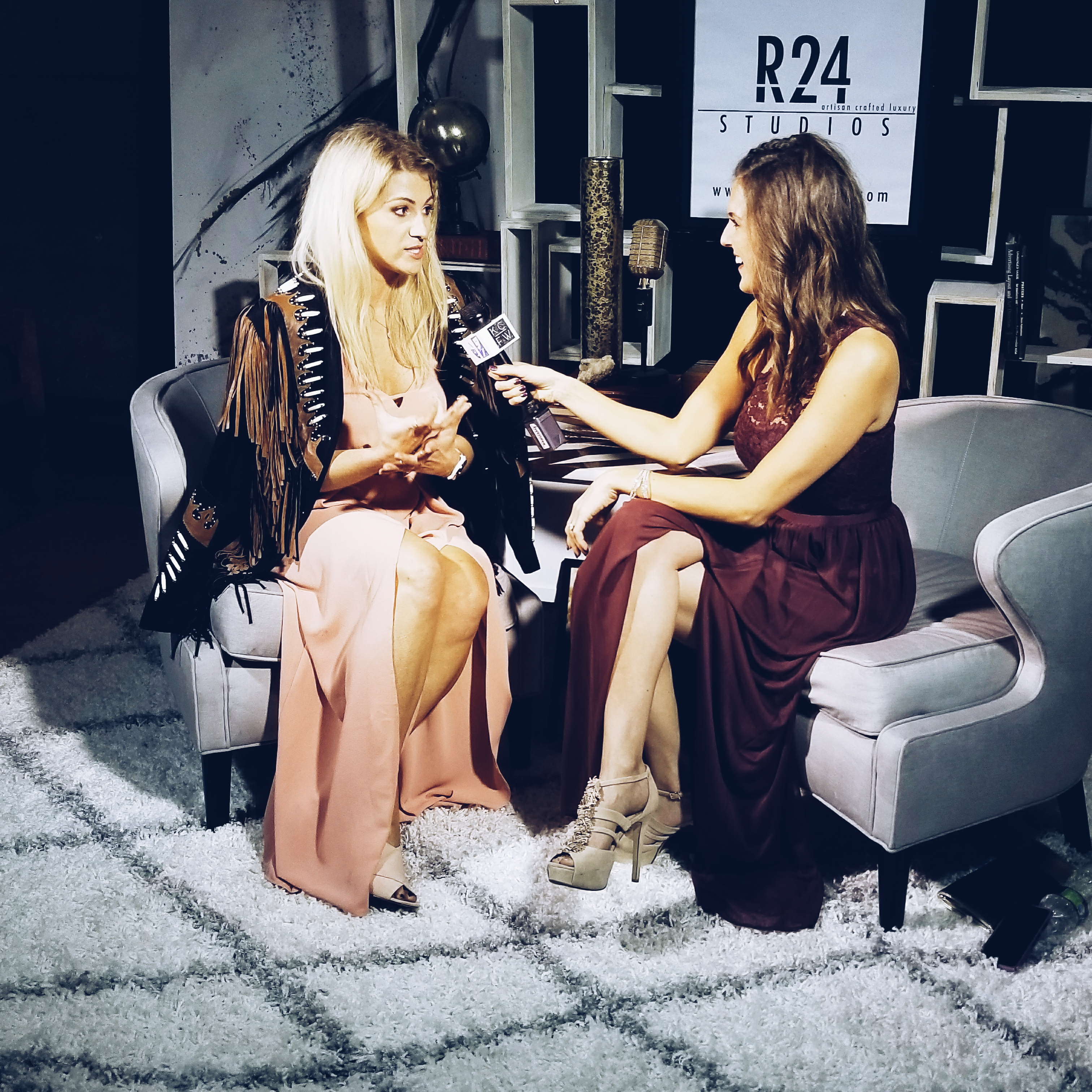 Want to watch the interview?
Time to hit the red carpet for our final step and repeat of the fall season.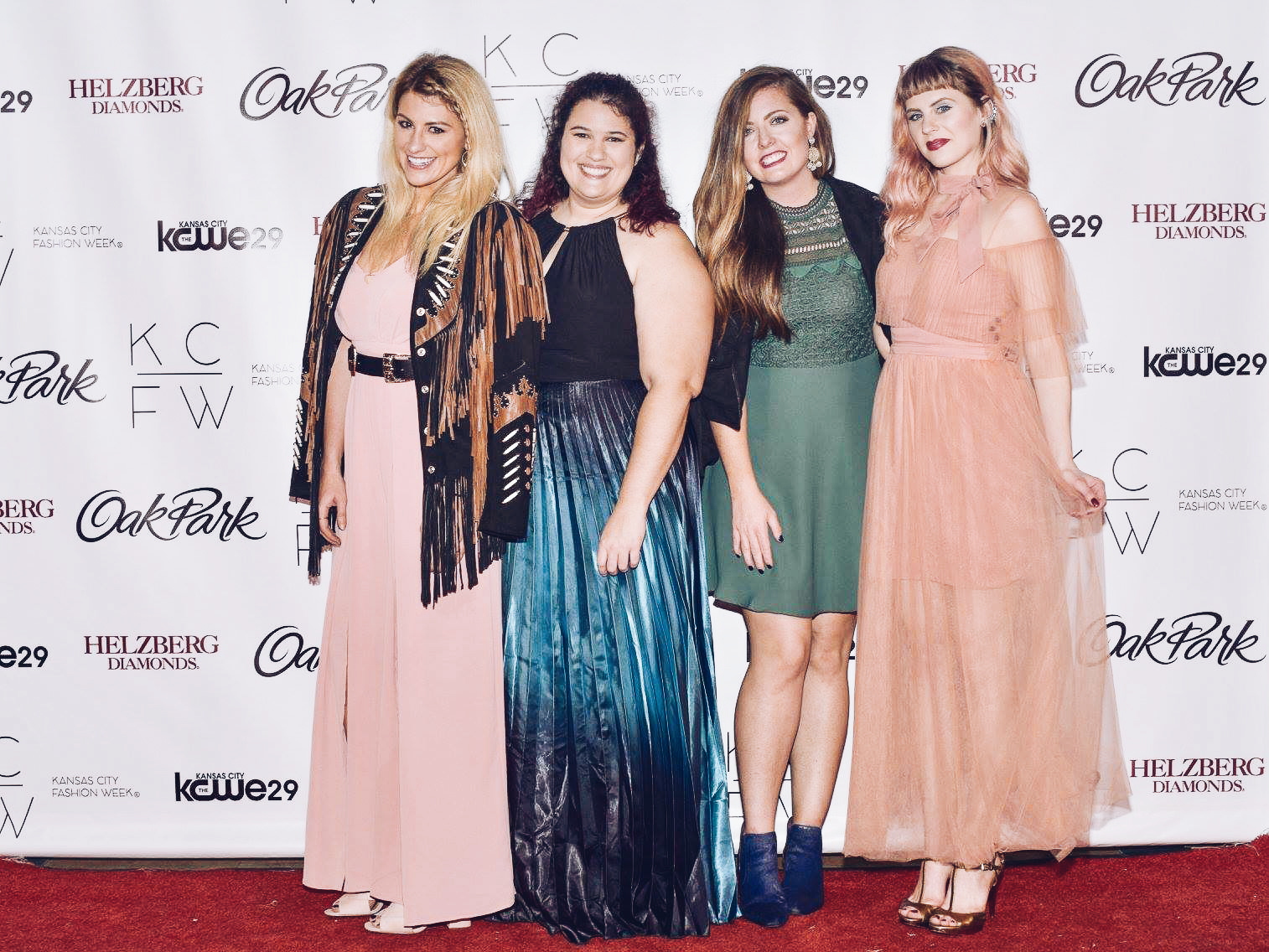 First show of the night was Barbara Bultman. Talk about a rock 'n roll vibe: a dress made from shredded records, a crop top made of guitar picks– and lots of matching with different cool printed pieces.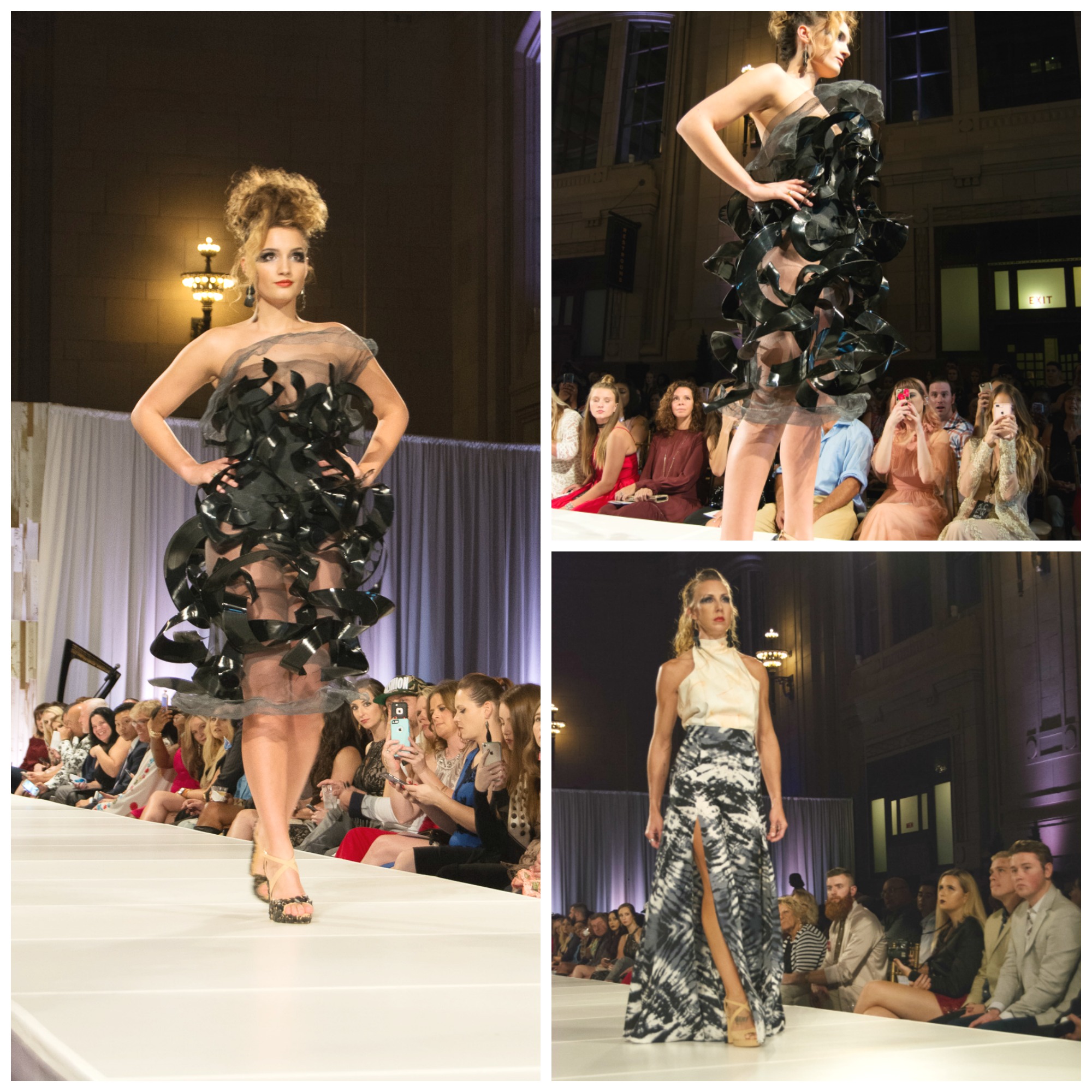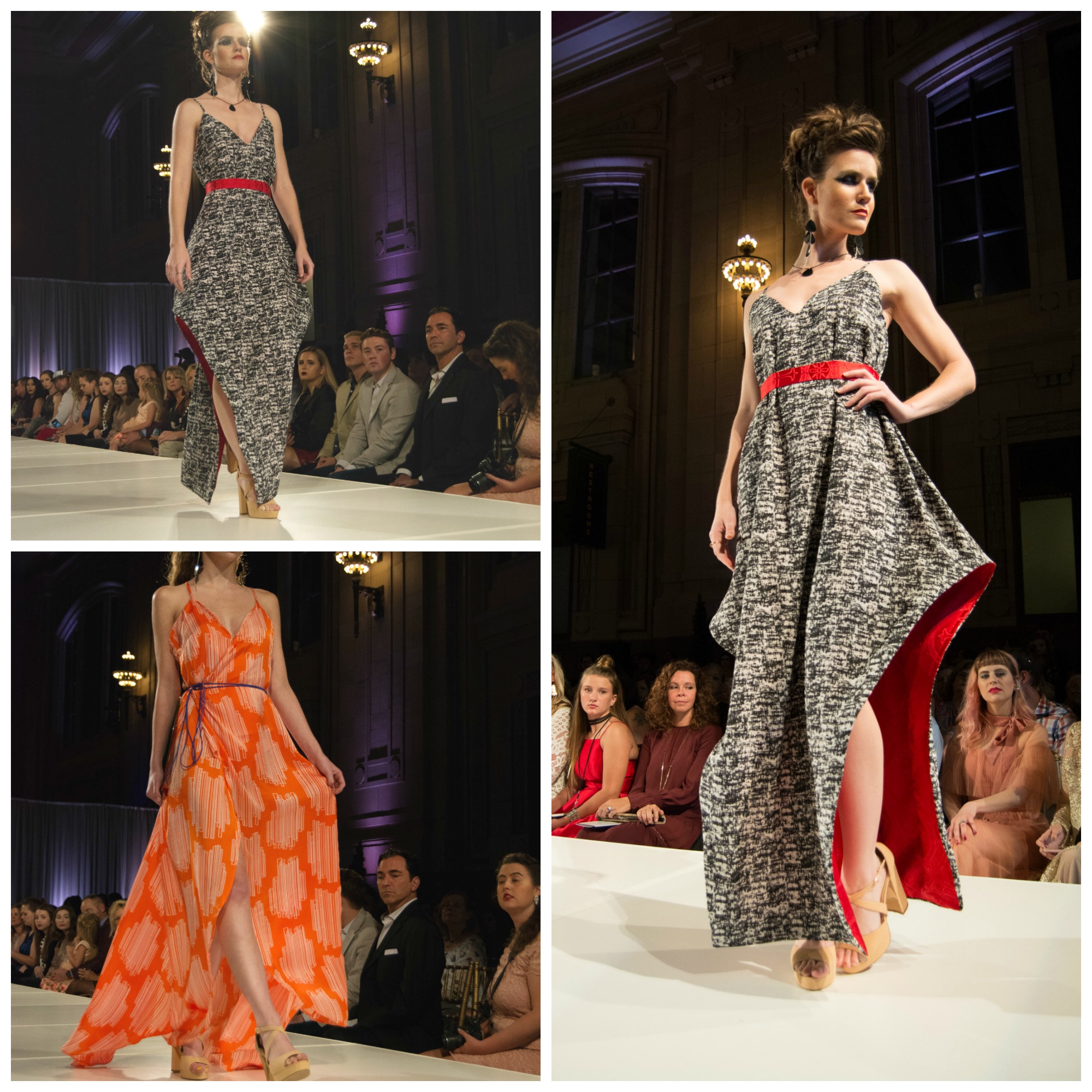 Queen's Rocket included lots of print mixing for the boys: loud florals (I love that jacket!) and leopard were a few faves. And a maxi skirt thrown in for good measure, as Queen's Rocket does.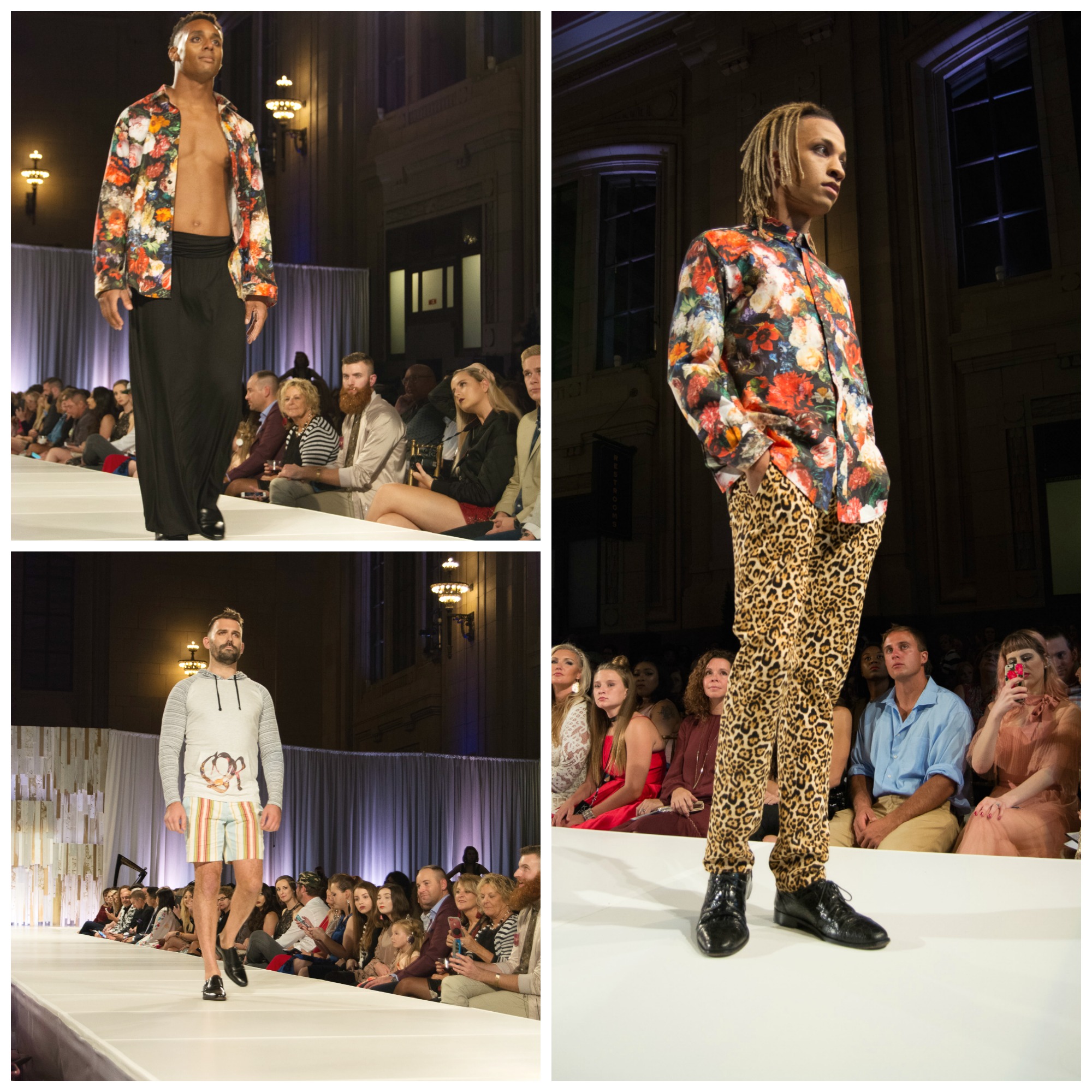 The Masisa collection was my absolute favorite show of this season. The designs blended classic feminine + Victorian silhouettes in pretty lace, but with some very strategic sheer elements. A little spin and oh! That's a bum. I loved it. Obviously you would wear a slipdress underneath when doing these looks off-runway, but man, was this presentation gorgeous and provocative. A total clinic in mixing elegance with sex appeal.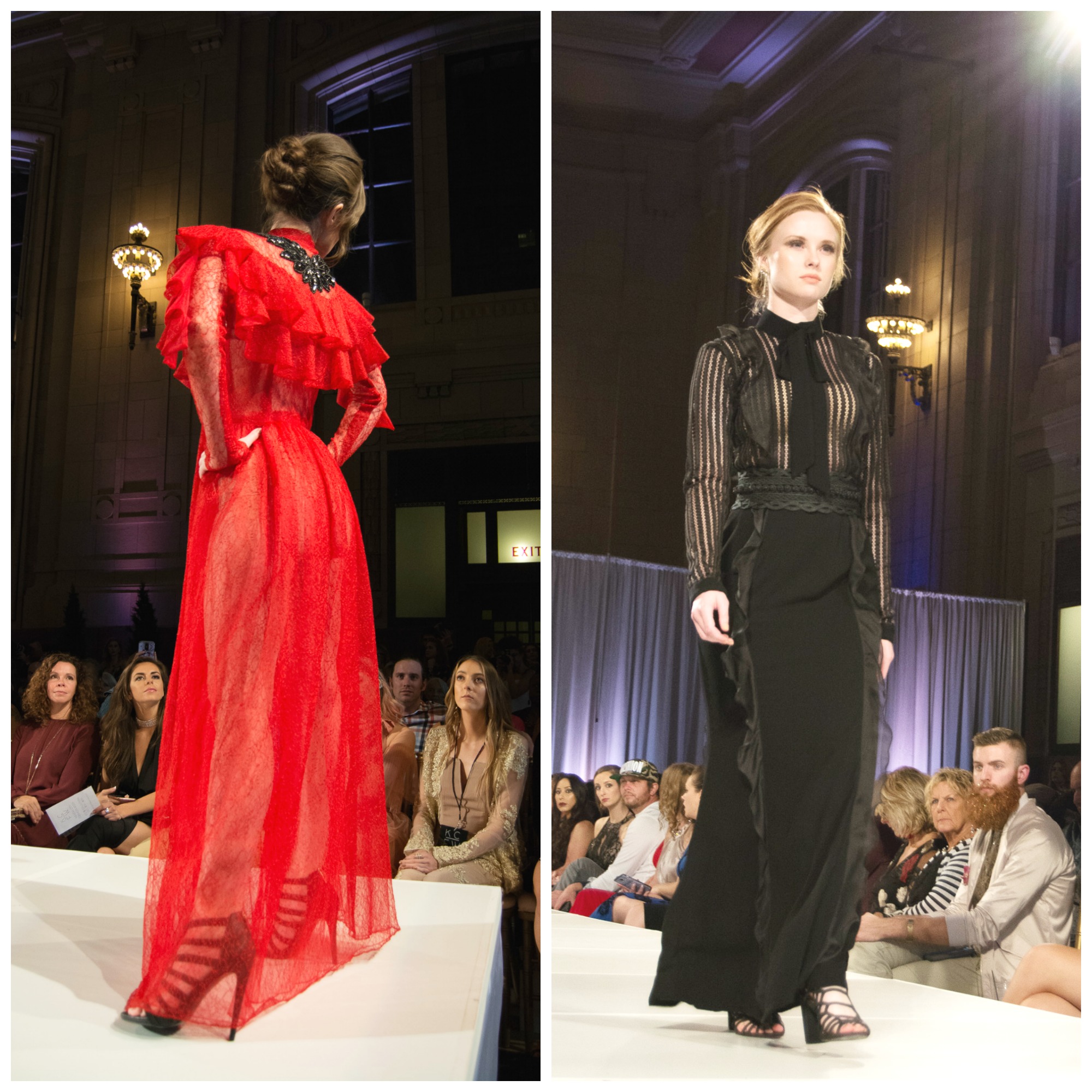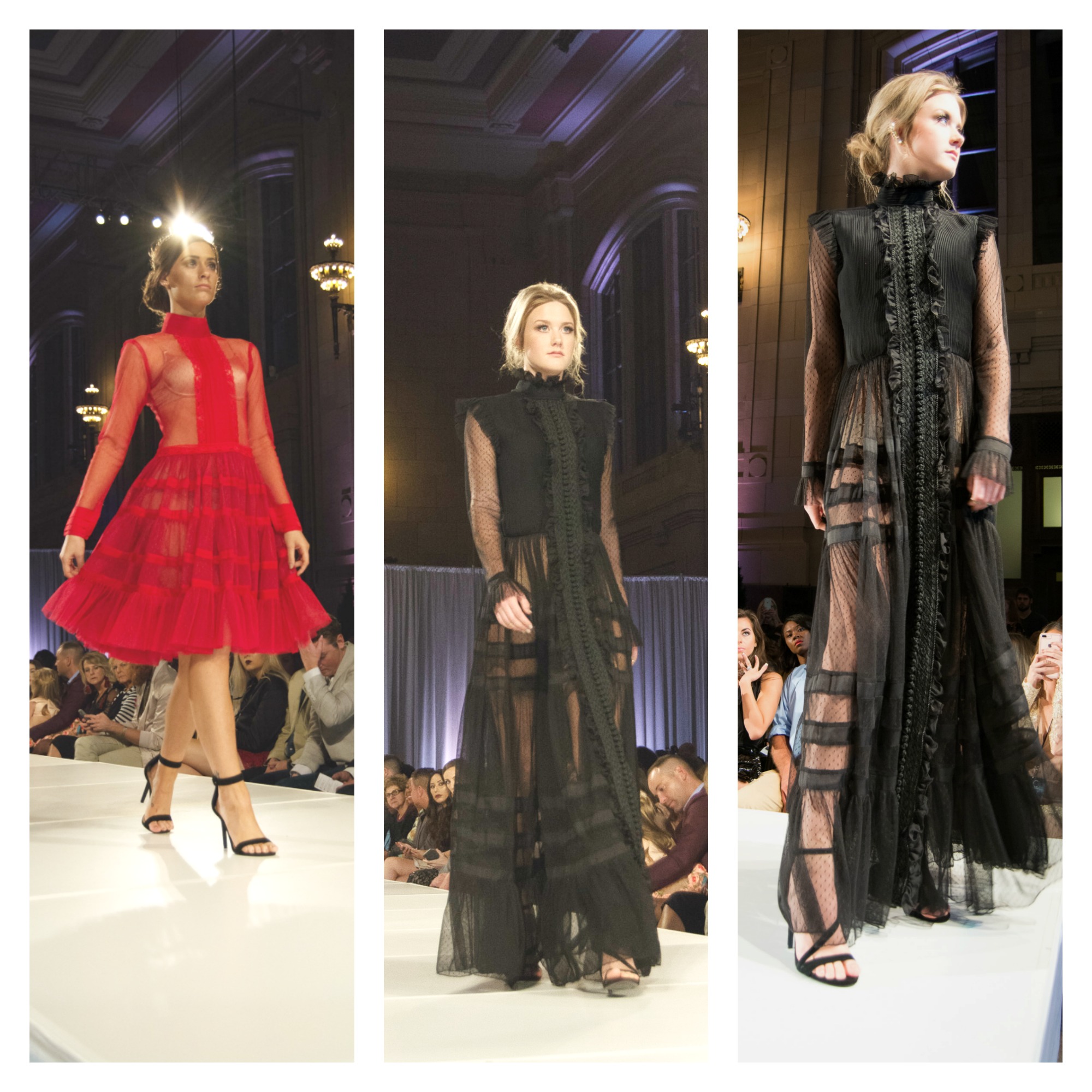 This season's collection of jewelry from Enve Designs was so gorgeous. Statement collars dripping in delicate gold + lots of back-facing pieces, all done up in this lovely wood nymph style that showed so well. It was this beautiful complete package– right down to the moss-covered lace-up sandals!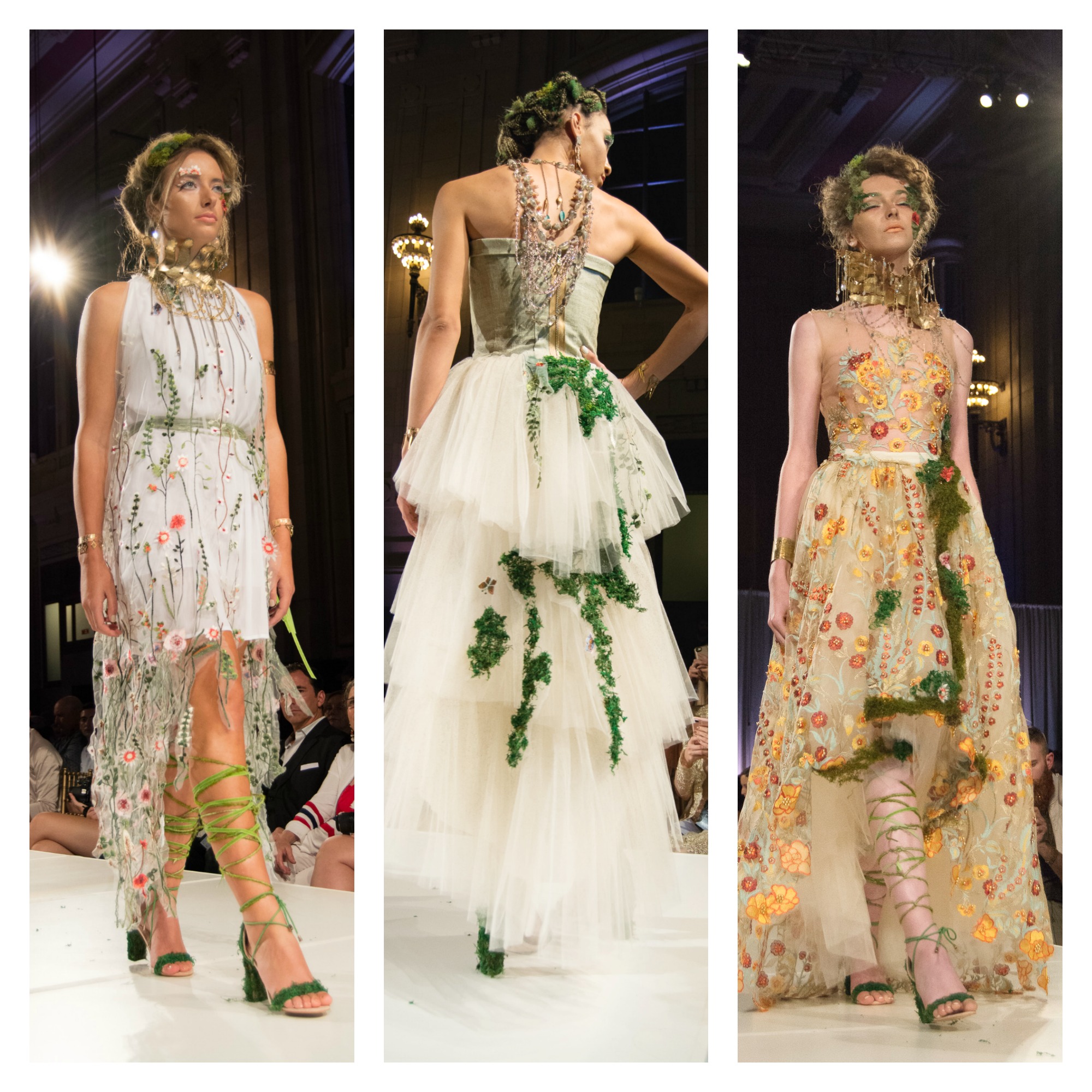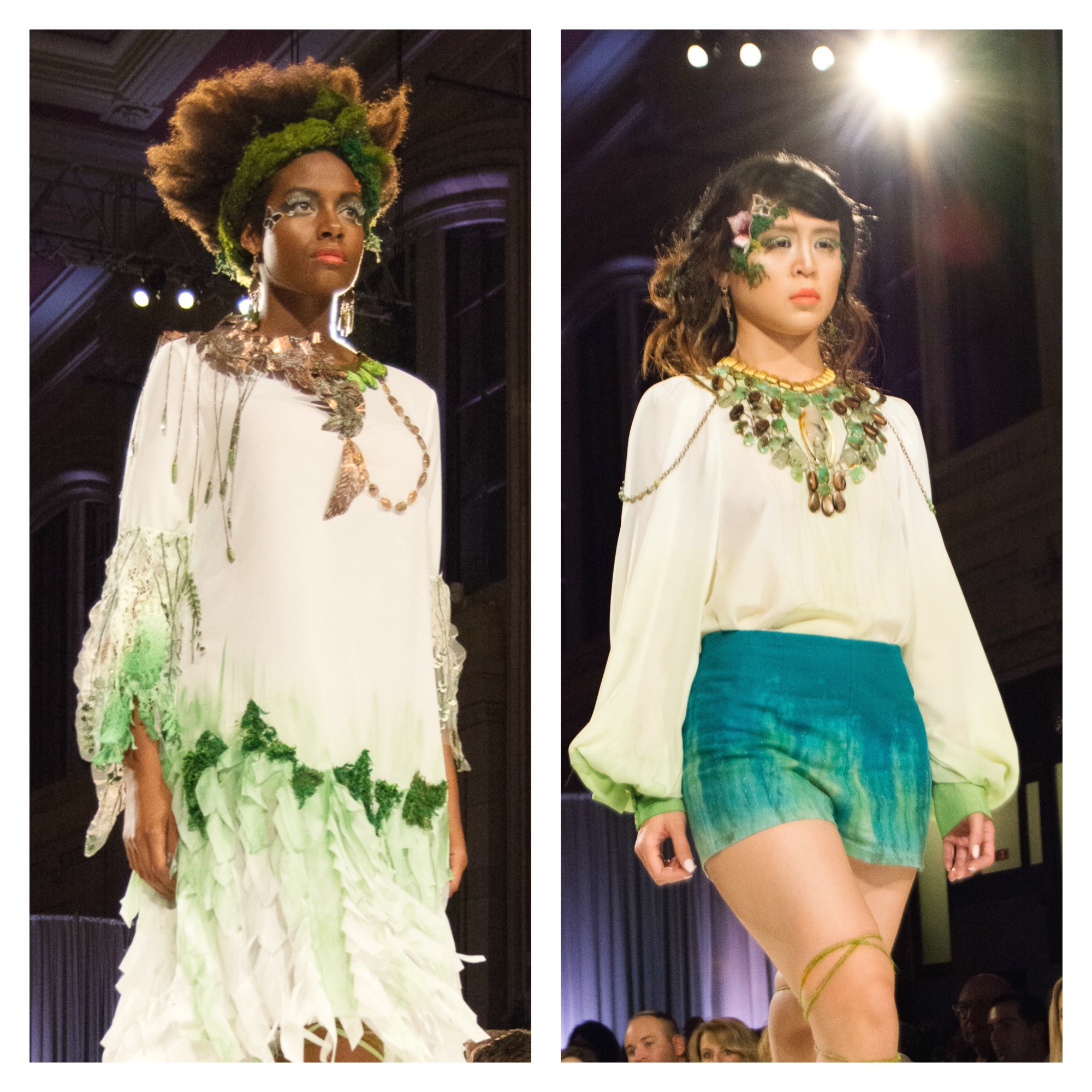 Lucia's Sarto is always a stunning show. I could not pick a favorite look this year: I loved the elegant hunter green suit, but also fell in love with the purple embroidered sheer gown. And don't even get me started on the red suit with the major shoulder detail– so incredible! Tailoring and finishing on point, as per usual at Lucia's Sarto.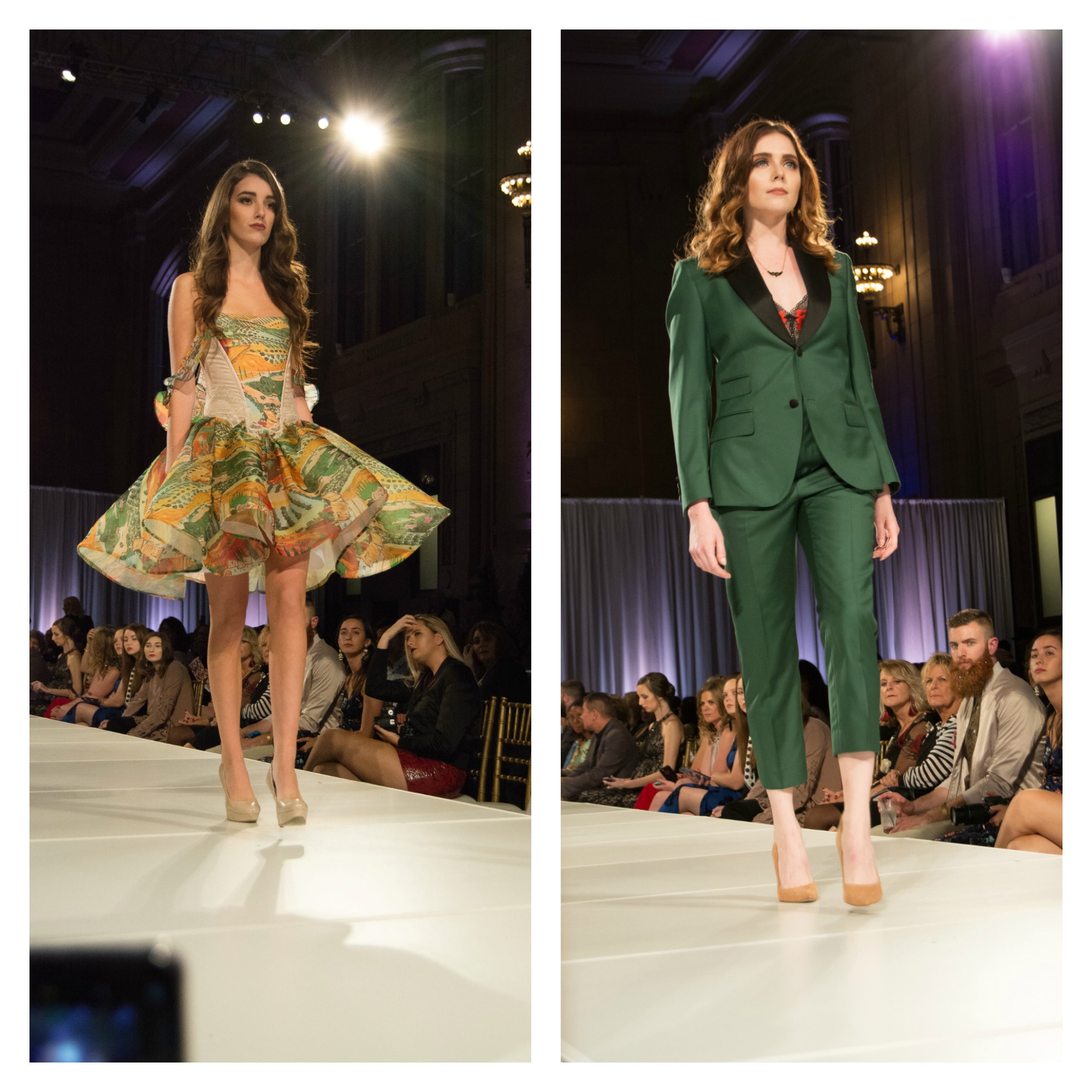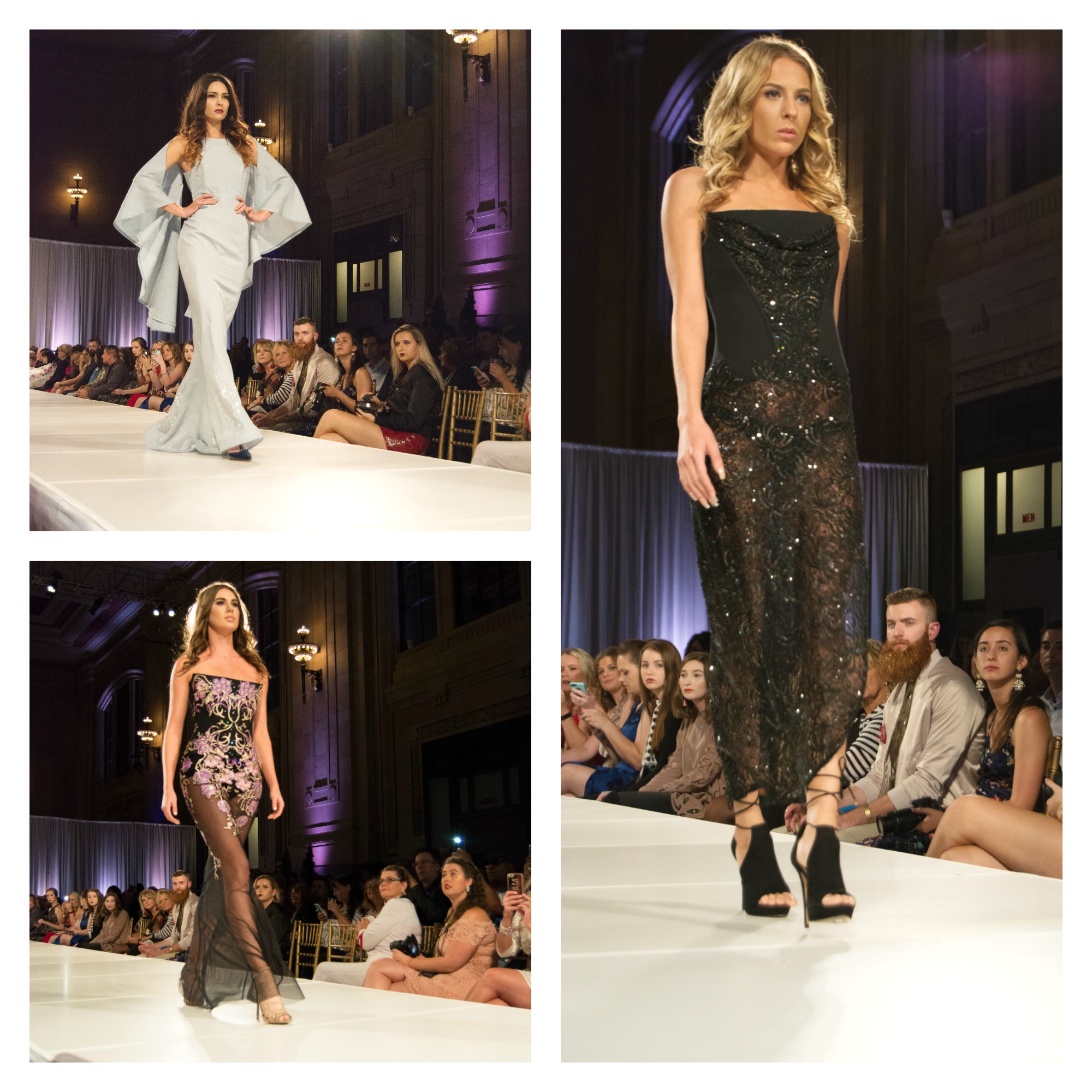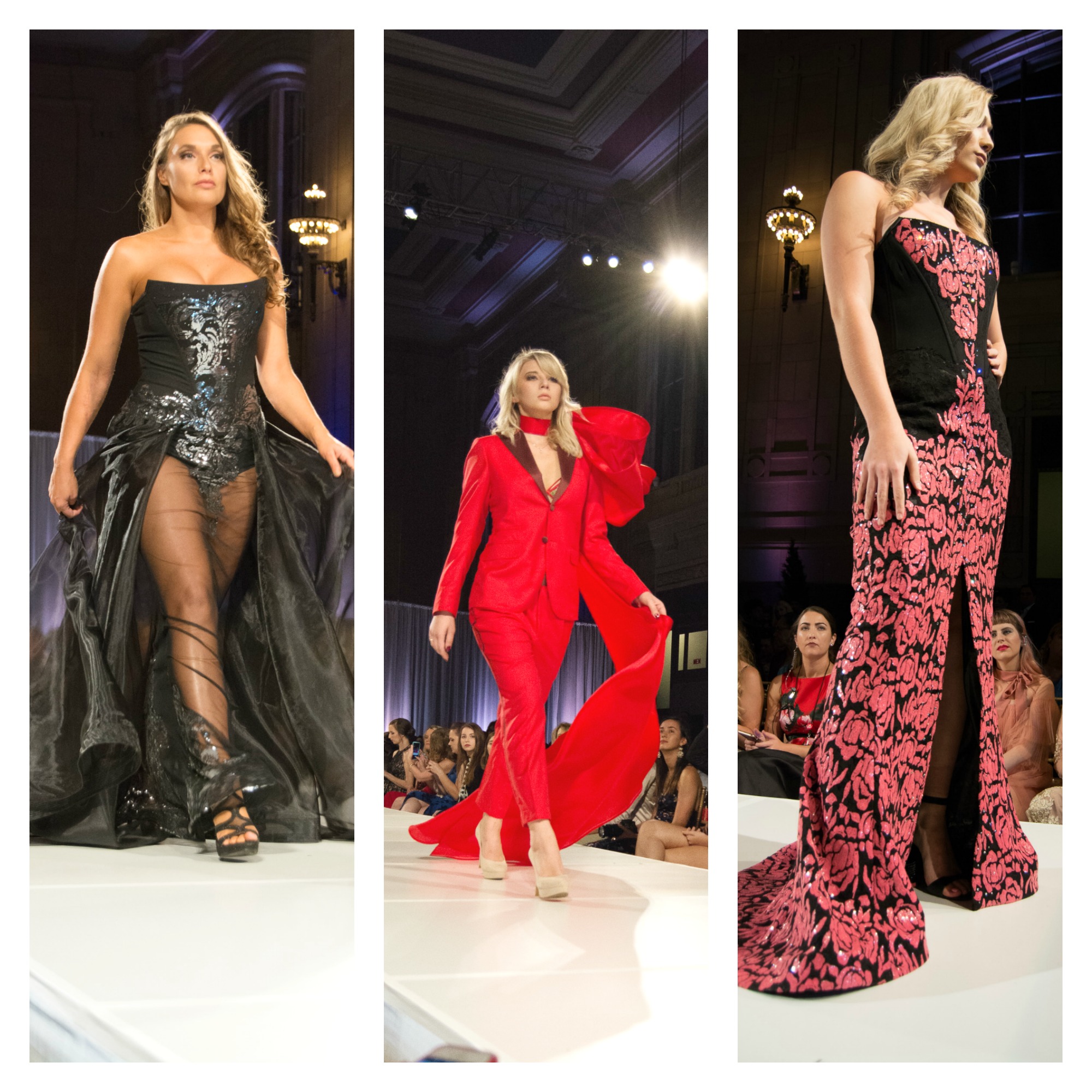 Joshua Christensen sent down a collection that played with classic gender prints and shapes: we had sequined rompers for girls and guys, florals for the fellas, and a killer red tracksuit. And how fun is that masks?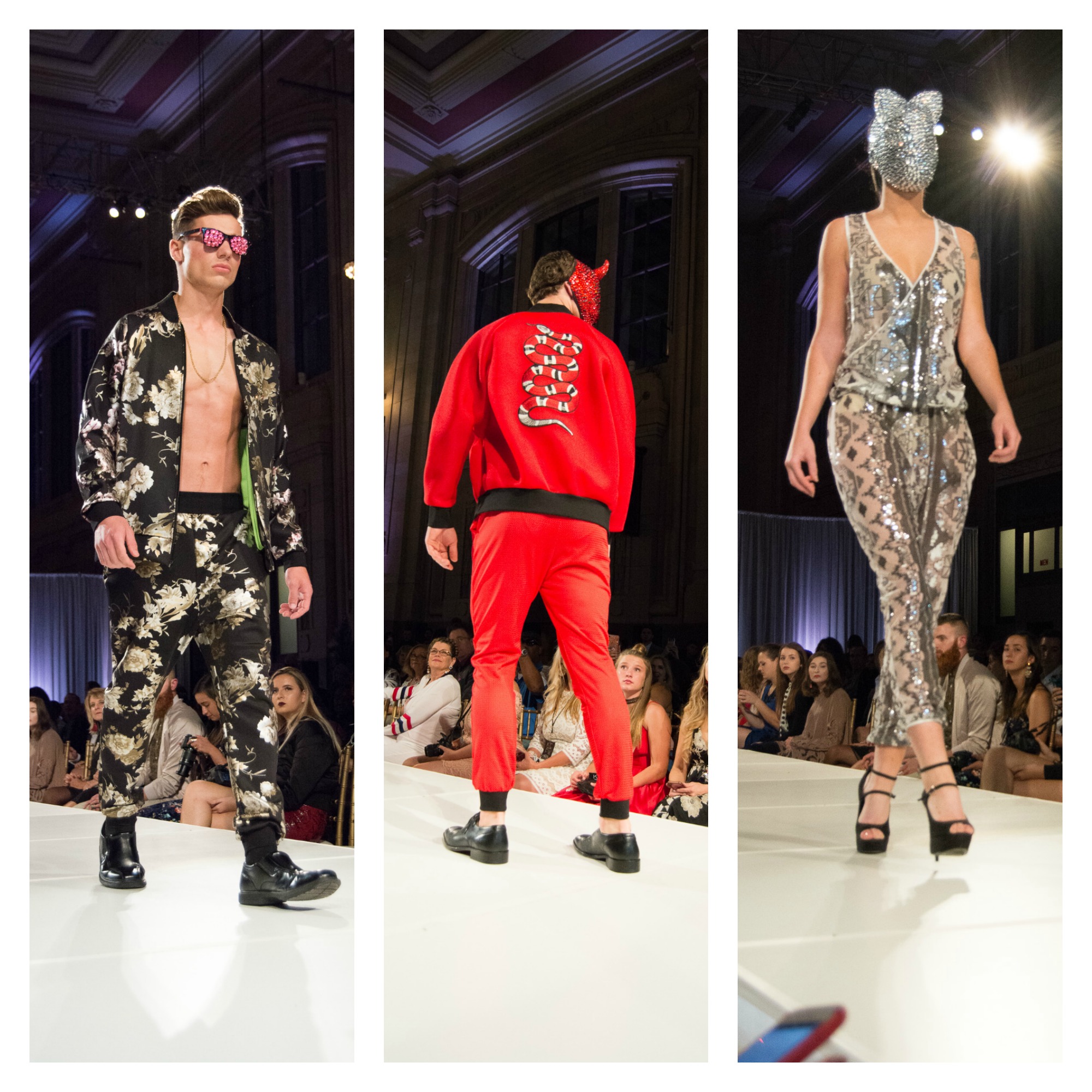 The Maria Behnen collection made me want to book a trip to Havana. Lots of 60's prints, sequins, and retro hair + makeup. The finale look featured a dude in body paint– let's just say everyone was a fan.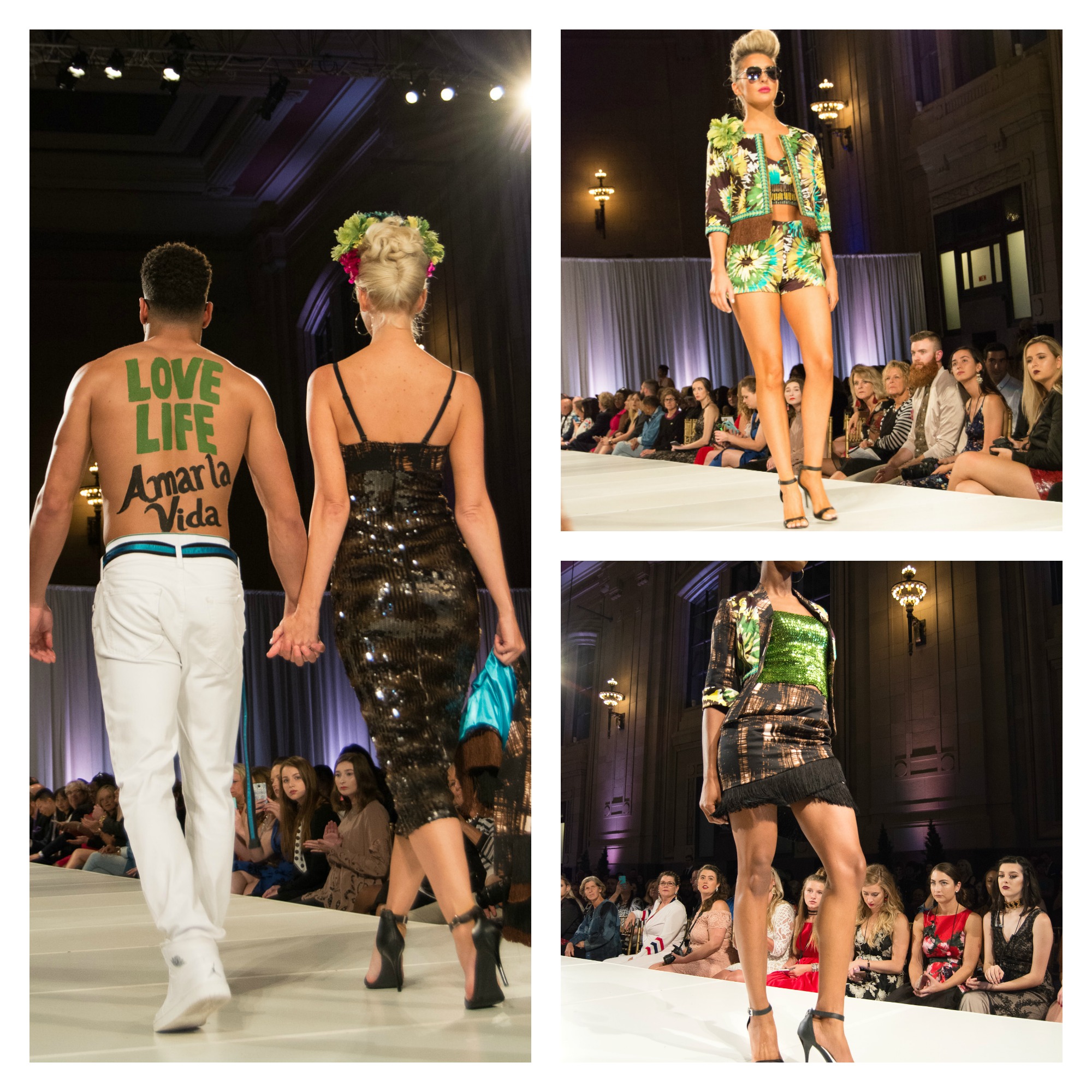 That's a wrap on this season's KCFW coverage! I want to thank the team for including as part of the media group; it's always a blast to see these collections up close and in person.
With that, wishing you all a wonderful rest of the weekend!