I may not get an official spring break now that my college days are behind me, but I'm more than happy to celebrate the official farewell to winter that comes with March with a little shopping spree on holiday wear. Boohoo's vacation + swimwear collection is pretty killer, and includes this bold blue + white striped shirt and embellished clutch. I grabbed a pair of One Teaspoon super shredded boyfriend jeans and all the red I could find: some serious red fringe sandals (a great dupe for the Aquazzura Wild Things you've been seeing everywhere), a bright (but cheap!) red lip, and a dainty red Kendra Scott bracelet.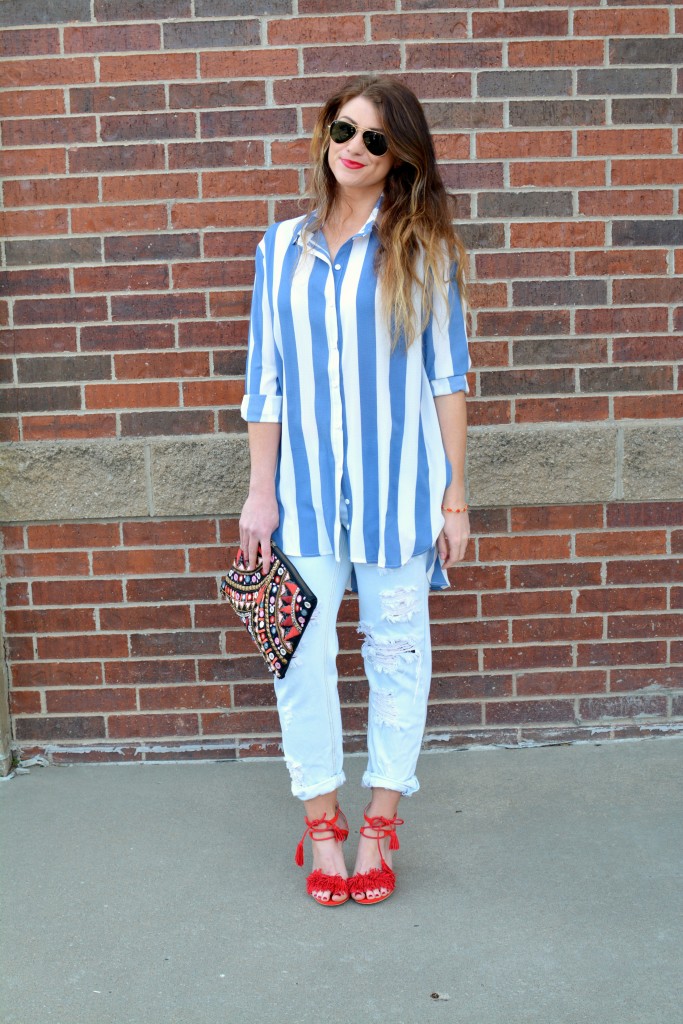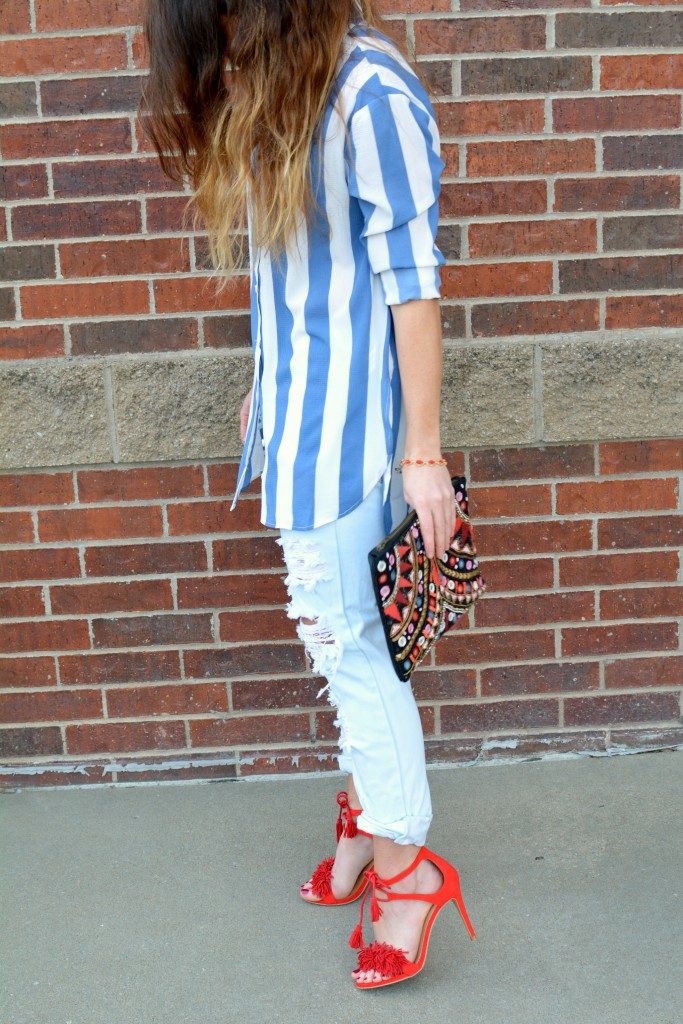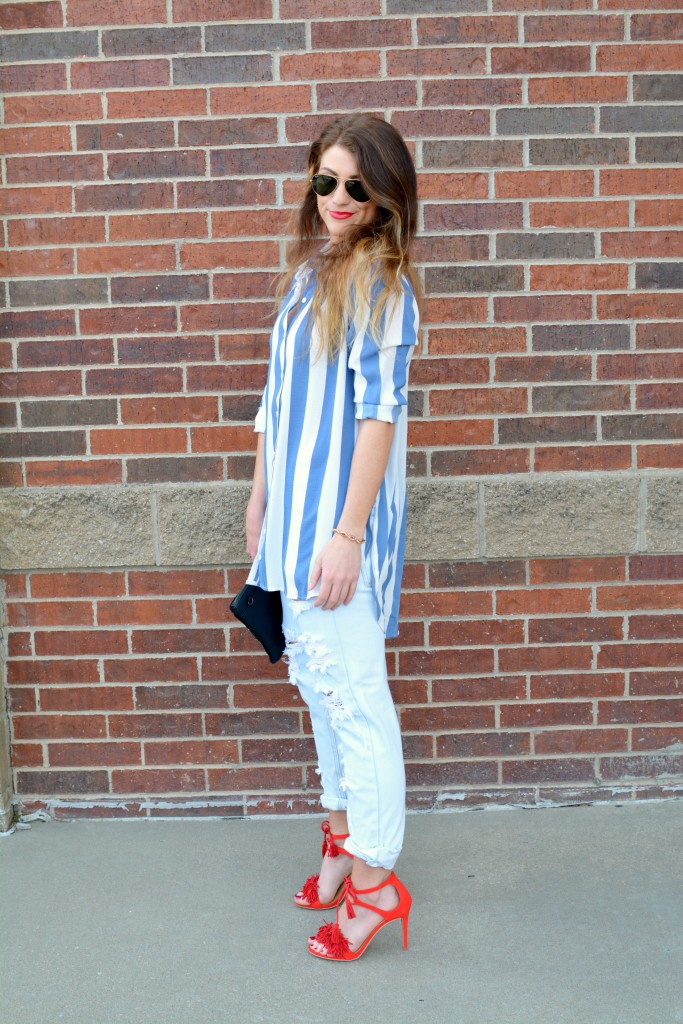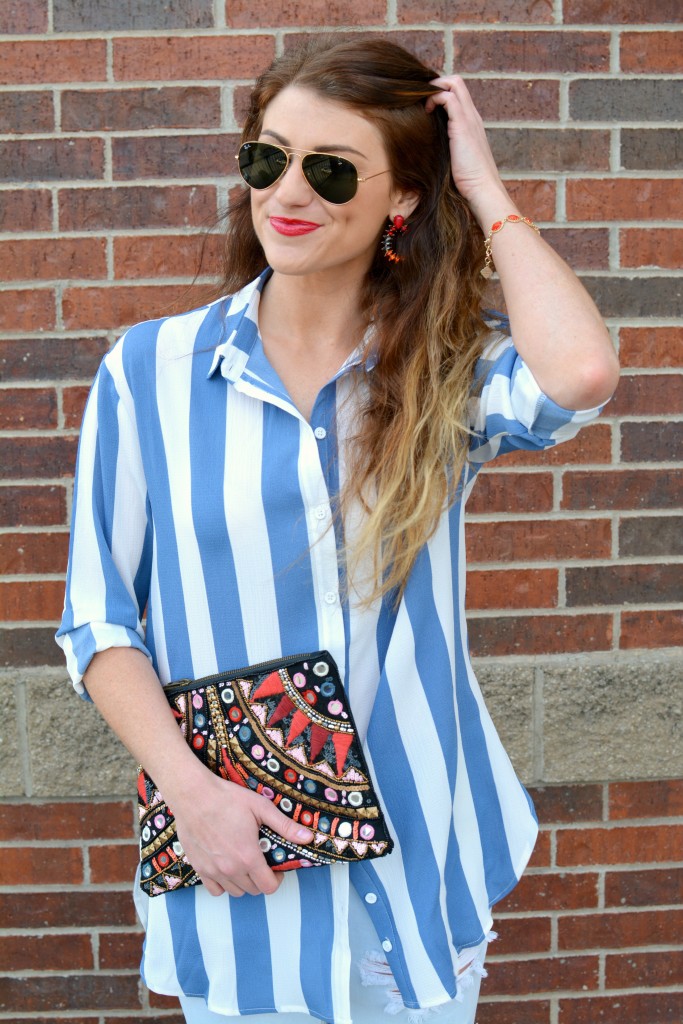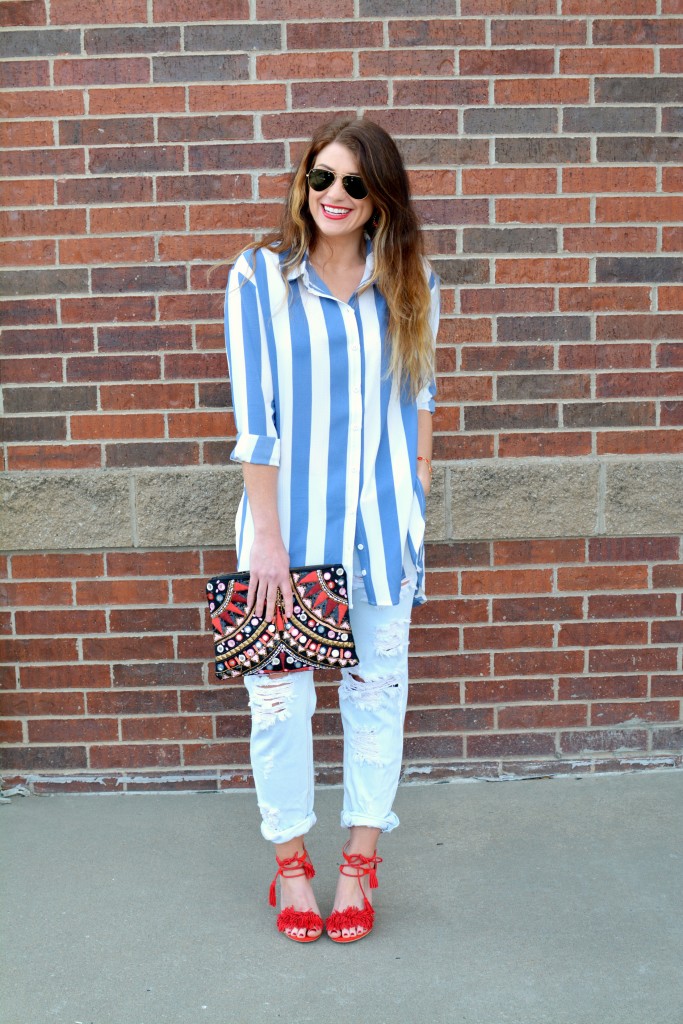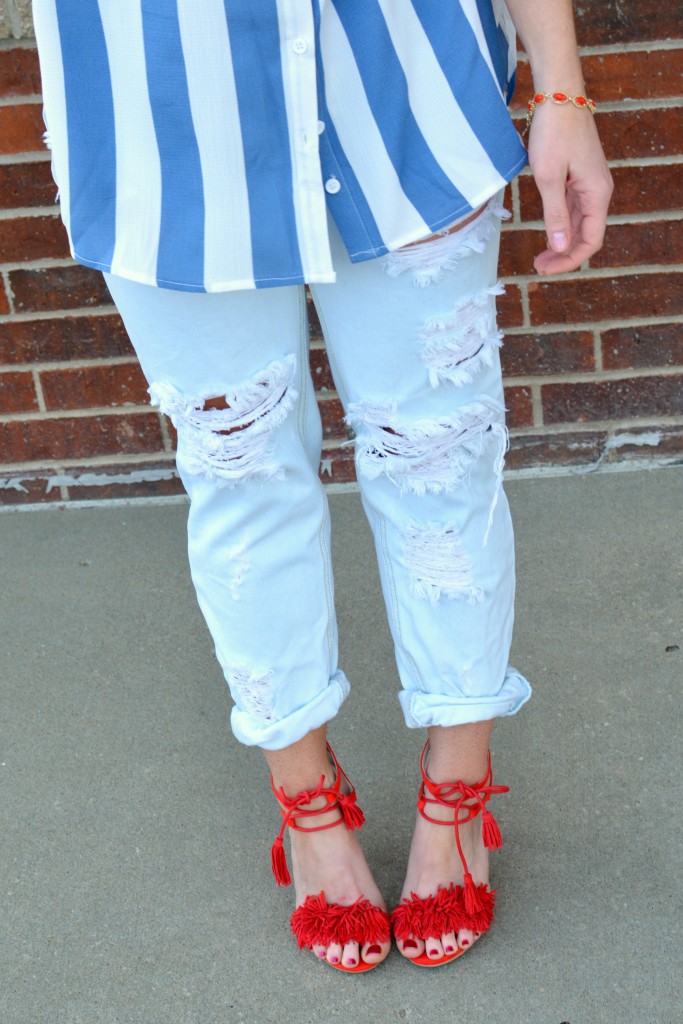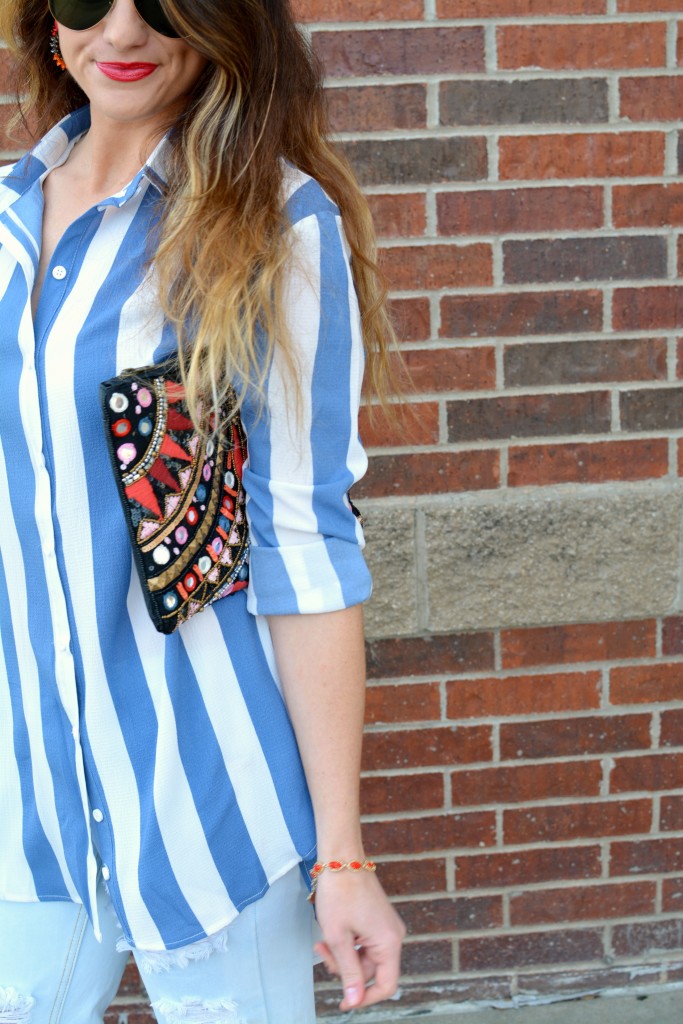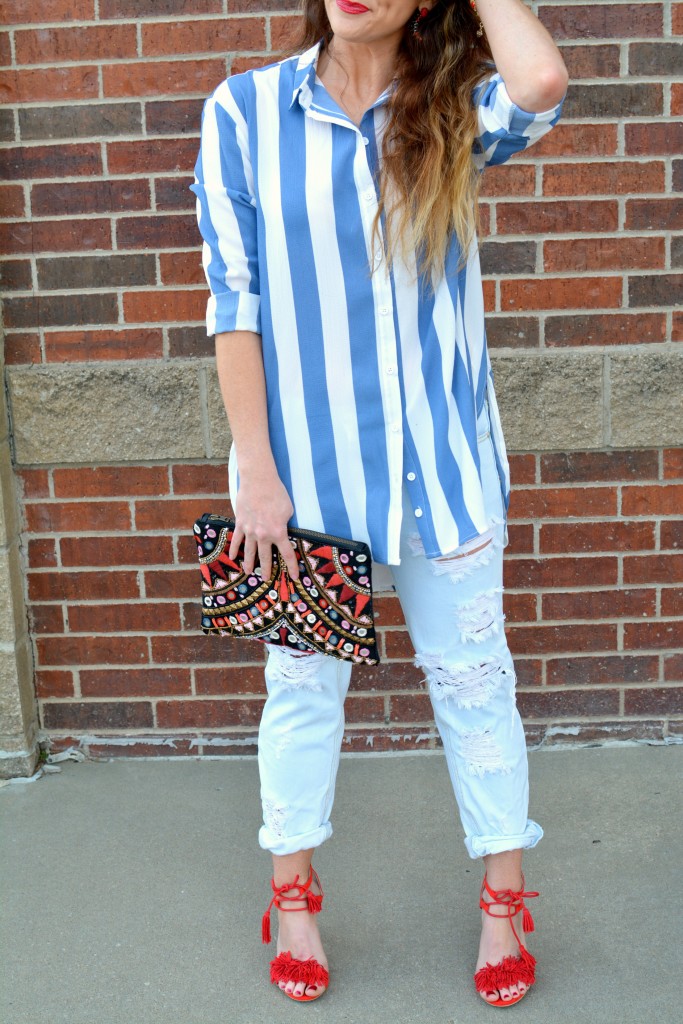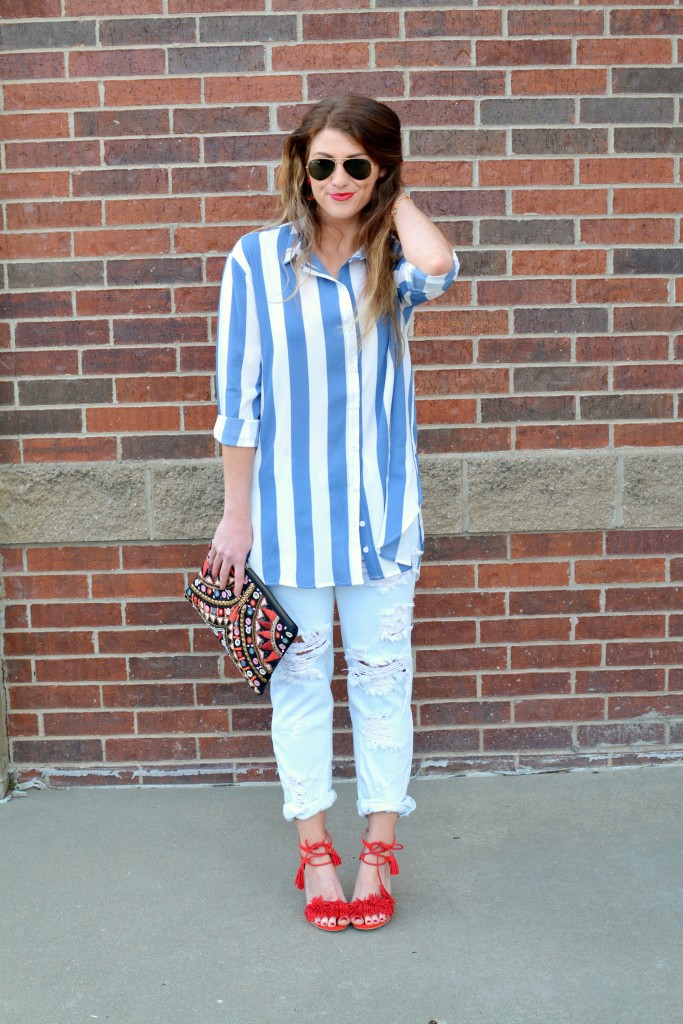 Shop the look:

A striped shirt like this goes so many places: the office (tucked in with trousers, maybe a blazer thrown on top), the beach (hello, perfect cover-up), date night (as shown here), and super casual brunches with pals (half-tucked in the front with sneakers). Have I told you lately that I love versatile pieces?
Kansas City Fashion Week is this week! I'll find myself down at Union Station Friday + Saturday covering the shows and taking in what's sure to be another great KCFW season. In town? Check the KCFW schedule and buy some tickets; you have so many options from Wednesday to Saturday.
I got the chance to interview the talented Ami Beck of Dolyn Bags. She's featuring her collection at the Wednesday night kick-off party and was kind enough to sit down + answer a few of my questions.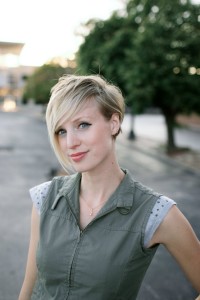 LSR: Ami, I love that you're a local girl + are showing at KCFW this year. Talk to me about when you started designing.
AB: I like to think I've always been a designer! Since I was a young teenager, I've been making bags out of t-shirts and jewelry out of anything I could find. I specifically began my focus on leather bags in August 2012 when I returned to school to study fashion design.
LSR: Ah, the childhood dream realized and revisited; I love that. Inspiration is so important in driving us to pursue our passion– what inspired you to become a designer?
AB: Being a designer always struck me as being a very freeing and exciting occupation; continually changing and innovating. It was always a wish of mine, but I didn't think anyone would take me seriously– so I first earned a degree in Psychology from Northwest Missouri State University. I was inspired to return to school to study my true passion after realizing I have sole responsibility for creating my life. Might as well make it look like what I want!
LSR: So true; no one else is going to make your dream happen! Have you previously shown your work at KCFW?
AB: I actually launched Dolyn Bags onto the Kansas City market exactly a year ago during KCFW. That was my first experience with my products on the runway. It was absolutely exhilarating. This year my bags and models will be on pedestals during the kickoff party for KCFW. What a way to celebrate!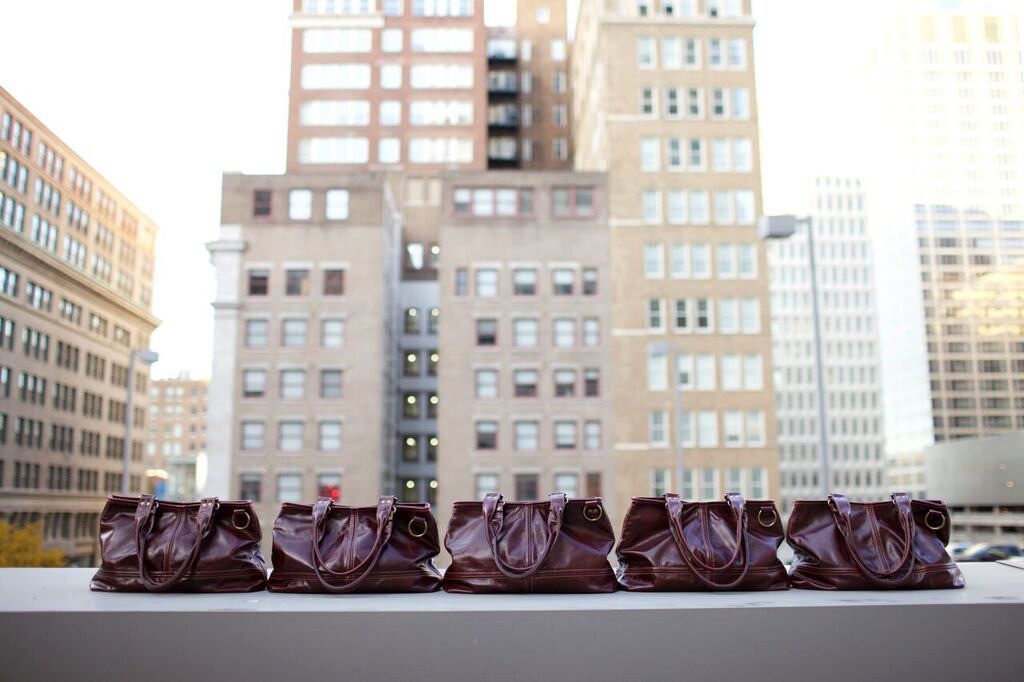 LSR: How fun! The cocktail party is always an amazing way to kick off KCFW. So after launching your line at KCFW last year, it seems like a no-brainer for you to return this season, yes? 
AB: Right– I am obsessed with the KC fashion community. Anything I can do to be a part of it and celebrate all the local talent while showing off what I've been working on is an absolute dream.
LSR: It's truly one of my favorite events of the year; there are so many different designers to take in! I always try and ascribe one word to a designer's collection when I'm covering the shows; it helps me to focus my thoughts later when I'm recounting the event on LSR. Do you have a word you would use to describe your collection?
AB: That's a hard question! How about two: sass and class.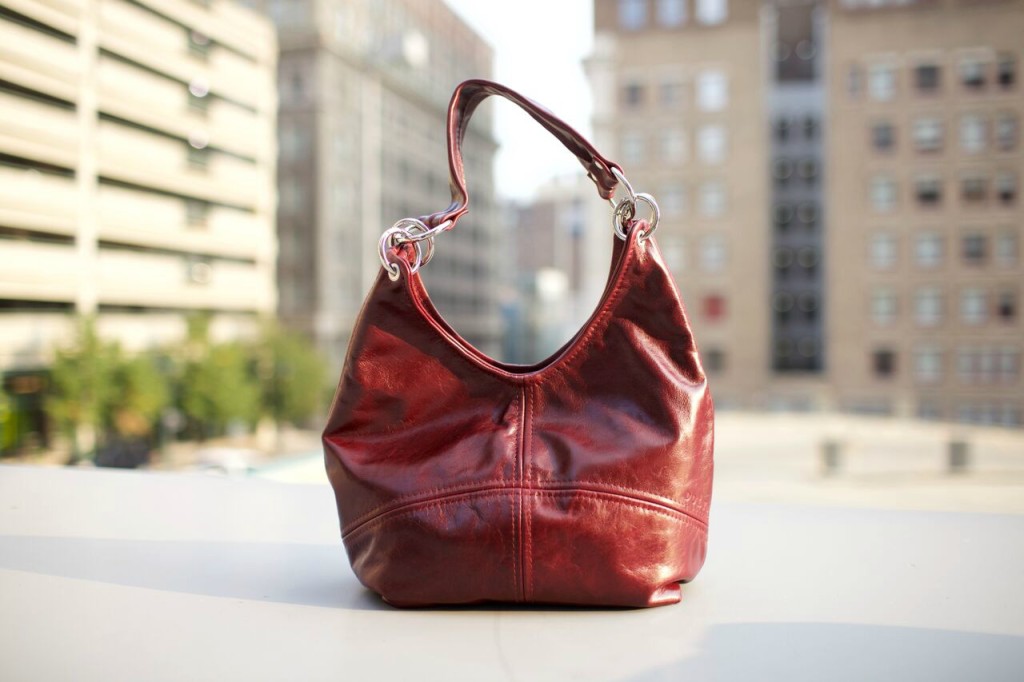 LSR: I like it! Where do you draw your inspiration from when you design?
AB: Inspiration comes to me randomly. There are hundreds of bags I would love to make. I usually come up with my favorite ideas when I am completely relaxed and doing something not related to bags at all– like when I'm eating. Or watching Disney movies.
LSR: The muse strikes when it strikes! I'm the same way when it comes to writing and creating looks for LSR, so I understand. What's your favorite thing about being a designer and showing at fashion week?
AB: My favorite thing is that it's a blast and I love meeting all the other designers. It feels like I am long lost friends with all of them and just love to see what everyone has been working on. Designers– especially KC designers– models, bloggers, dreamers, business owners, etc., are my people. They provide a huge dose of heart and ambition to this city.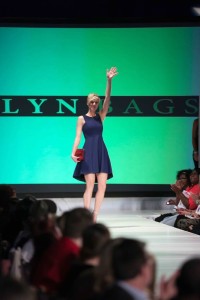 LSR: I agree- the people make it great. What makes your latest collection or design aesthetic stand out?
AB: I have a way of adding some exotic skins or color blocks to stately, classic pieces to make them stand out. At the end of the day I want to be a brand that offers gorgeous, staple bags to my consumers. When I can take the same silhouette and make them really sassy, I definitely play that up for KCFW for the Awe Factor.
LSR: I love that! Mixing timeless with trends is a killer skill. Last question: what is your favorite thing about Kansas City?
AB: KC has all of the heart, talent, and ambition of any big city, plus so much kindness and willingness to collaborate. We are the best kept secret of the U.S.
Ami's a KC girl like me, you guys– she gets it. Major love to her for indulging me in this interview + make sure you check out her collection if you're attending the Bubbly & Bow Tie kick-off party on Wednesday!
Linking up with Beauty By Miss L, Style Elixir, Elegantly Dressed and Stylish, Her Heartland Soul, Walking in Memphis in High Heels + The Fashion Canvas, I Do DeClaire, Two Peas in a Blog, Style Nudge, Mama and More, Shopping My Closet, Pumps and Push Ups, Chic Street Style, and The Pleated Poppy.