Another day, another blazer.
And I'm completely fine with that, as a well-established Blazer Girl.
I've teamed up with Paige from Life's a Party Dress Like It to bring you two ways to style a blazer. Paige is a style blogger from LA (by way of South Carolina, hello Southern Belle!) and has a passion for shoes, jewelry, chevron, and anything monogrammed. (My kinda girl!)
Paige is Parisian chic in a black blazer, beige color-blocked bow blouse (say that 5 times fast), and some super cute snakeskin pumps. I love this look– works for the 9 to 5, and works for drinks after. You know the outfit's a winner when you can stretch it across several events/parts of your day.
I took a familiar burgundy blazer and attempted to add some edge with a leather camisole. I snagged this piece from Cami NYC. (Get this: they only make camisoles, but they are really, really good at it.) I absolutely fell in love with this leather cami. Raw edges, soft leather, almost an industrial type feel– but so cool. Couldn't resist. Gray skinny denim and patent platform pumps round out this look, keep the focus up top on the cool blazer and edgy tank.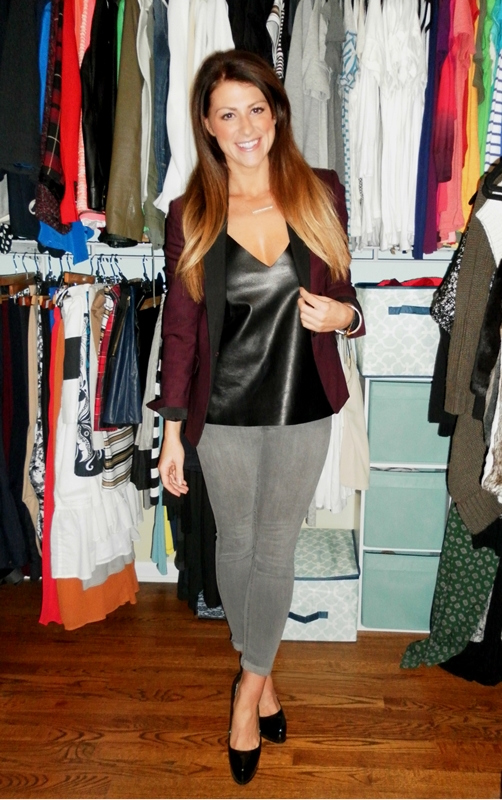 Thanks to Paige for teaming up with me today for this collab post! Guys, go check out her blog!
Linking up today with Vodka Infused Lemonade, Just Jacq, All Things Pretty, Stylin in St. Louis, Perfectly Coutured, and Style Elixir.