You know when the Laundry Demons attack a favorite piece and all of the sudden there are mysterious bleach spots on a much-loved dress, skirt, or blouse ?
Yeah, that's exactly what happened to this dress.
It was the perfect maxi– a little slouchy, lightweight but not too thin, in lovely dove gray color that went with everything, with wider straps to make for an easier bra situation. Perfect.
And then one day, I pulled it out of the washer and noticed light splotches all over the back of the dress. What?! How?!
Unwilling to toss the dress in the trash, I googled how to tie-dye with bleach (figuring if you can't beat 'em, join 'em) and experimented with bleach-dying. A few hours later, my dress was a bleached-out pink with little veins of the original gray running through.
It's still a super versatile piece (I love it with a denim jacket or white blazer at the office), but here I'm wearing it with snakeskin gladiator flats, a leopard clutch, and some new jewelry goodies. The Courtney Loves Gorjana collection launched last week, and I could click away without buying this gorgeous ring to wrist cuff. I also snagged this dainty necklace because it was too pretty to pass up.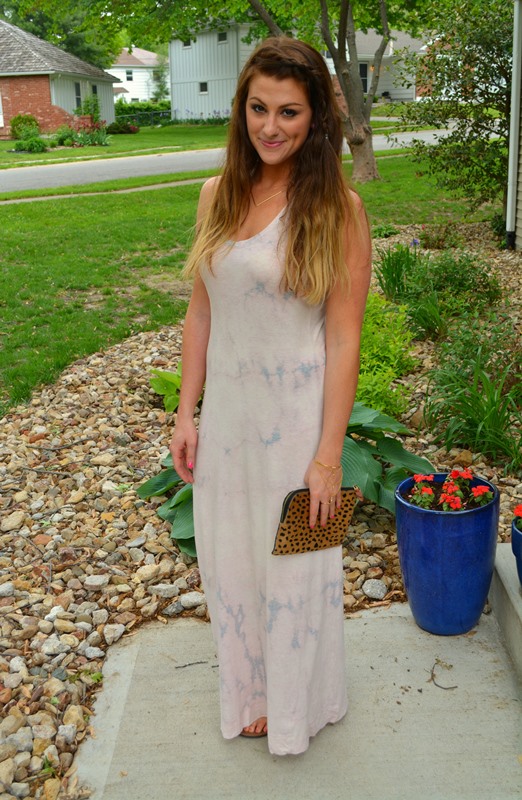 Not a bad little outfit for a cloudy and cool Saturday afternoon. Hopefully my summer gladiators and bare arms usher in some warmer spring weather soon!
Linking up with More Pieces of Me + On the Daily Express, Join The Gossip + I Have A Degree In This, Pink Sole + Cha Cha The Fashion Genius, Style Elixir, Sew Crafty Angel, Walking in Memphis in High Heels, Life's a Party Dress Like It, Get Your Pretty On, Style Honestly, and The Pleated Poppy.