You guys know I don't shy away from a bold print. Just the opposite, in fact. So when this dress popped up on the ASOS site (during sale time, hello), I couldn't resist adding it to my cart. So fun, and does all the fashion heavy-lifting for you. I just threw on a pair of pumps and a few pieces of jewelry and was ready for Friday on the town, no sweat.
The dress is super swingy, which was the perfect answer to Kansas City's early summer humidity. (My hair keeps getting bigger and bigger as the dew point goes up.) I was not in the mood for body con with the temperatures in the 80s and the air thick enough to slice. No thank you, sir. This dress did me a solid and kept me cool.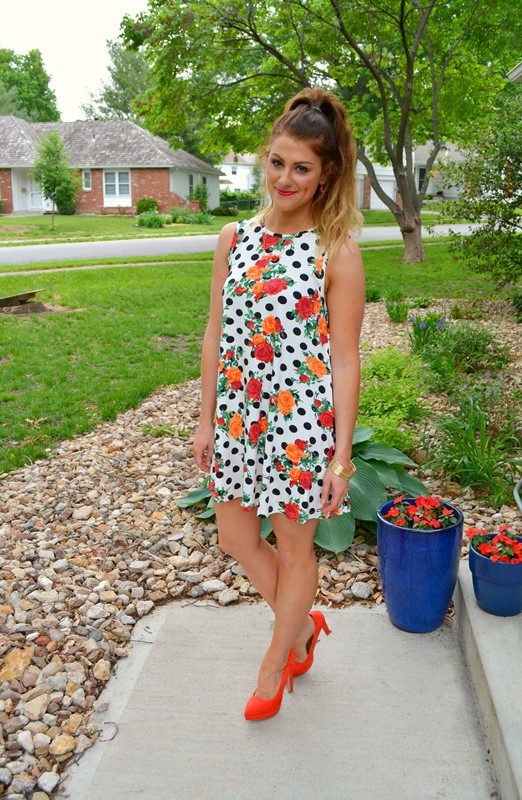 The Vanity.
New feature here on LSR… The Vanity!
Most of you know I converted one of the spare bedrooms in my house into a closet + vanity. Given the sheer amount of stuff I own, it just wasn't feasible to split a closet with the boy or crowd up the bathroom counter with my massive makeup stash.
I get a few emails/comments from you guys asking what I'm using in the beauty product arena: foundation, lipstick, polish, etc. I also receive beauty products from companies to review + offer my thoughts on (which will always be disclosed, of course). What better way to showcase these little beauty baubles than a feature I'm fondly calling The Vanity?
In this round, we're talking super saturated lipstick in a stay-put formula. I'm into a bright lip, especially for spring + summer. It wakes up the whole face and gives an outfit an extra dose of color.
What I'm not really good at: reapplying. Once I'm out, I'm not the girl constantly reaching for her lipstick tube. (I get wayyyy too distracted by whatever yummy food is coming. Or tequila. These things happen.) So I'm totally down for long-wear lipsticks that stick around for the duration of the evening, but also don't dry out, flake, or bleed. My current fave is the Revlon ColorStay Ultimate Suede lipstick.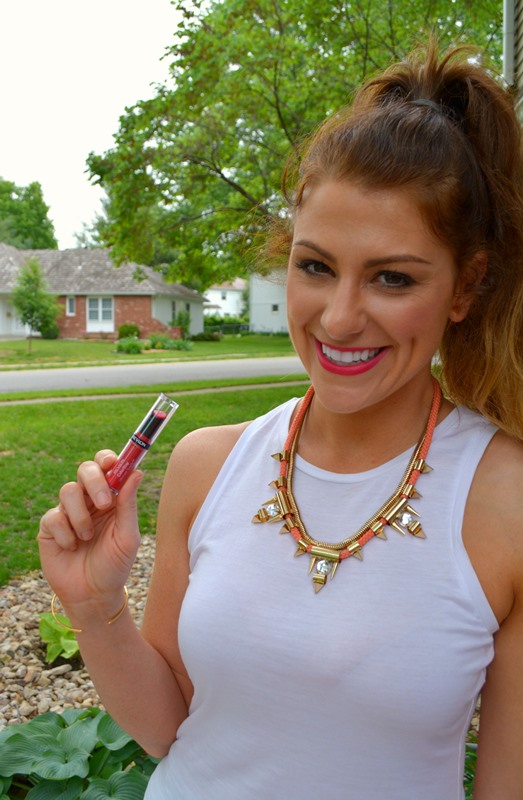 This lipstick makes application easy (always a plus). It goes on creamy and doesn't set right away, which gives you a chance to build the desired amount of product, blot, etc., before it dries completely. It goes on exactly as it looks in the tube (ie, it's not sheer). Once it sets, I'm good for hours and hours. No worries about losing your lip when eating and/or drinking because this stuff stays put. The best part? You can pick this up at any drugstore for about $10. Win/win!
Don't forget to enter to win a new pair of shoes from Sole Society! The giveaway ends Thursday, so hurry hurry!
Linking up with More Pieces of Me + On the Daily Express, Join The Gossip + I Have A Degree In This, Pink Sole + Cha Cha The Fashion Genius, Style Elixir, Sew Crafty Angel, Walking in Memphis in High Heels, Life's a Party Dress Like It, Get Your Pretty On, Style Honestly, and The Pleated Poppy.