Wearing a normally buttoned-up piece (see also: dressy, formal) with a something super casual is a great way to achieve a cool, carefree vibe without getting sloppy. A navy pinstripe blazer usually reserved for the office takes on a whole new feel when paired with a muscle tank, shredded up cutoff shorts, and a pair of dusted-up ankle boots.
And while I'm loving the blazer + cutoff combo, my favorite part of the outfit is my new shades. The kids at OGI Eyewear were kind enough to let me choose a pair, and these sleek sunnies by Innotec were just what I was in the market for: modern, black, and really lightweight.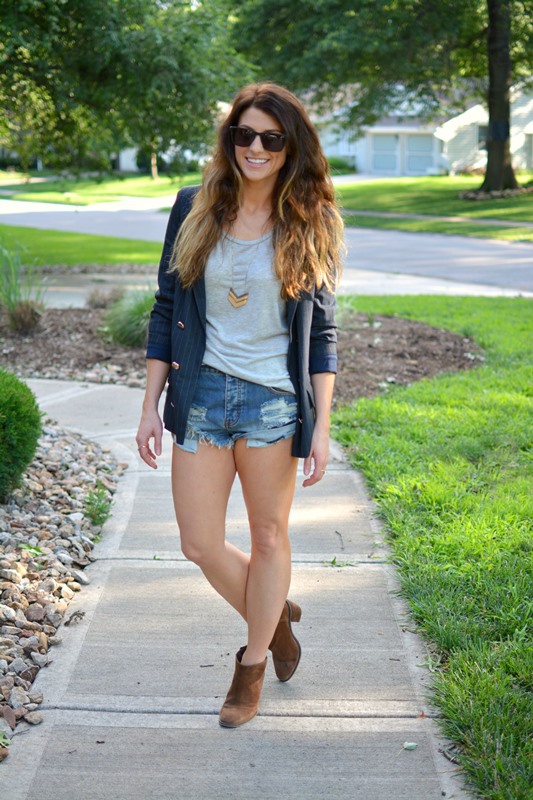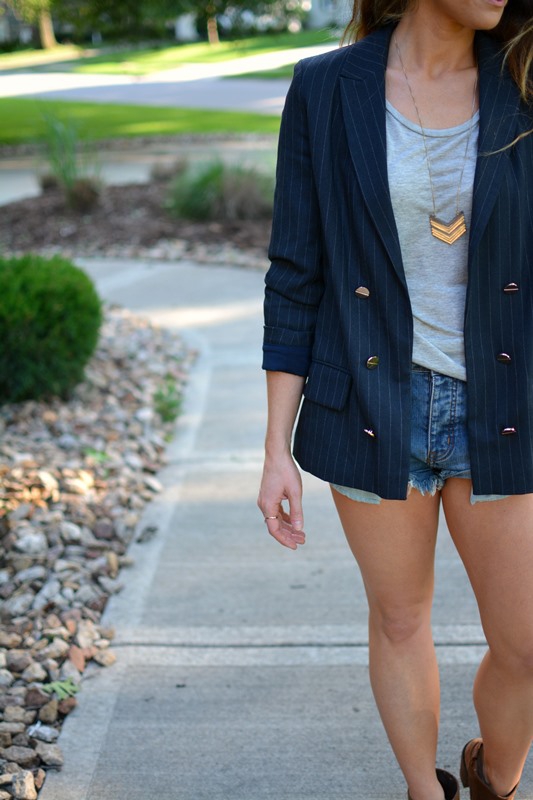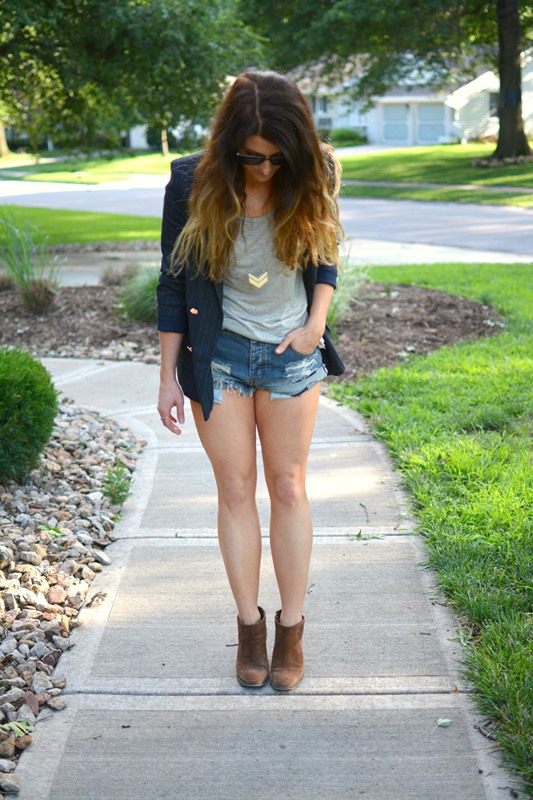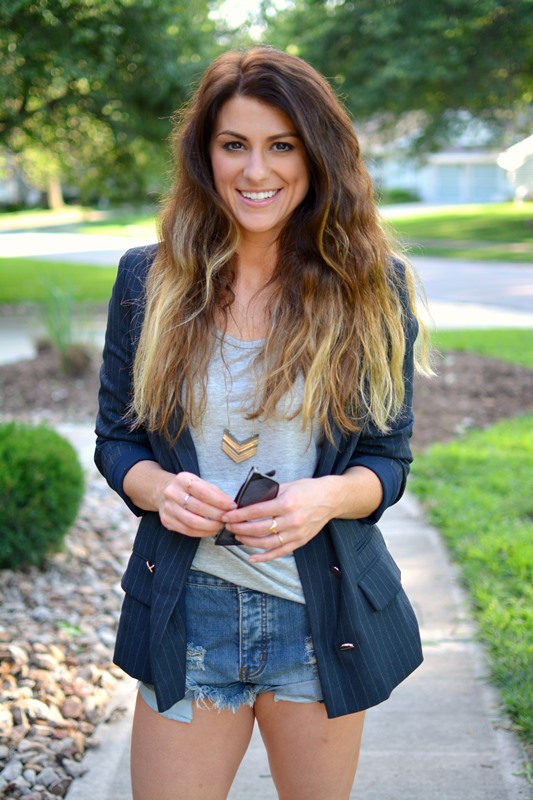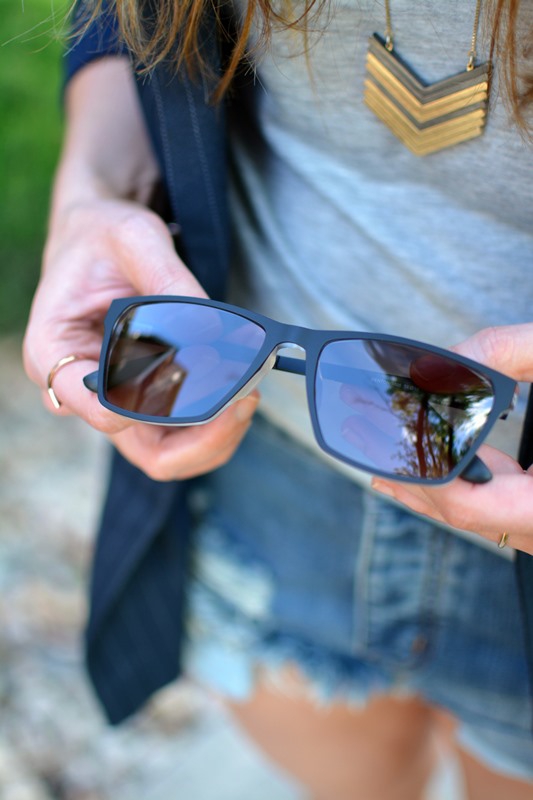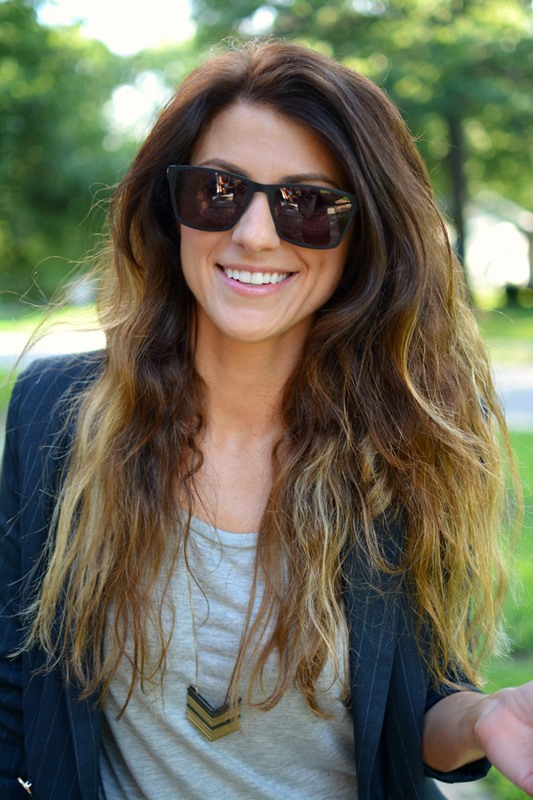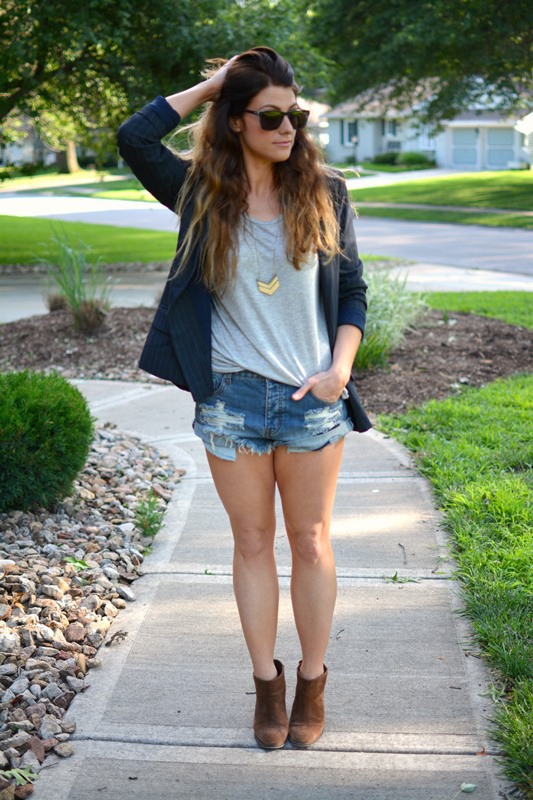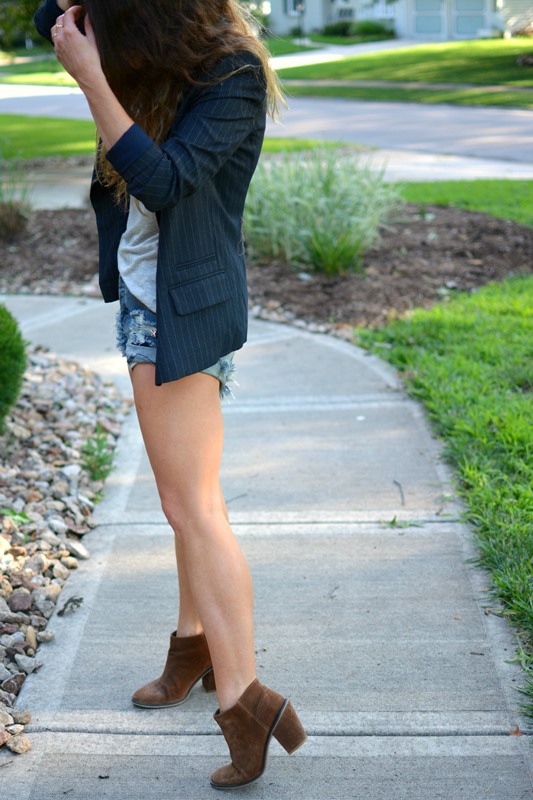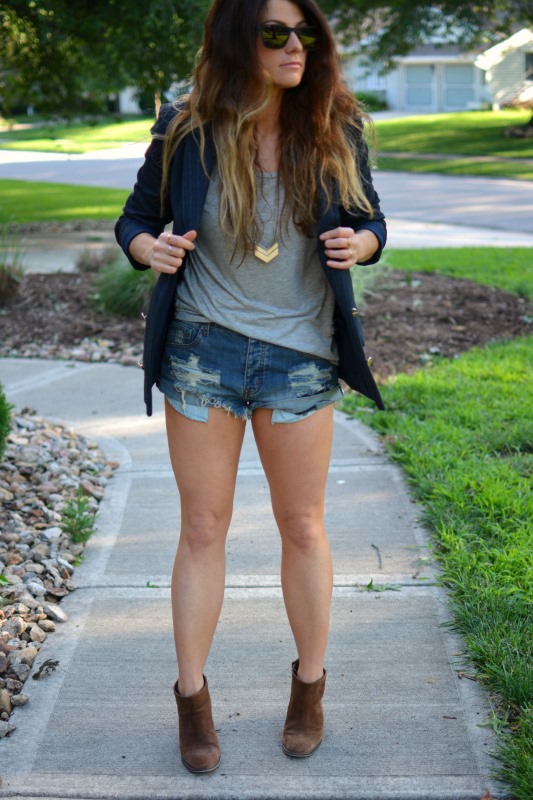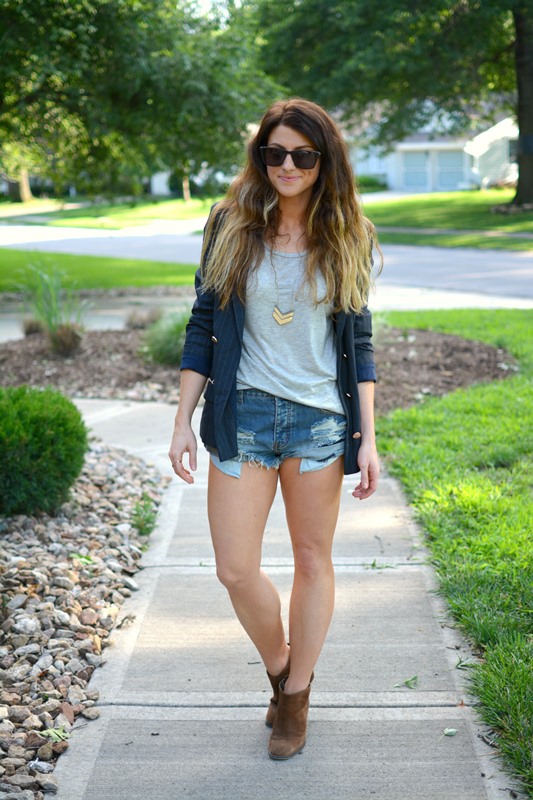 Shop the look:

I want thank my friends at OGI Eyewear for the cool shades. They are a killer addition to the collection! Want to try 'em on? Kansas City pals, you can find OGI Eyewear + Innotec at Romanelli Optix. Not in KC? No worries; to find a local optical boutique in your area that carries Innotec sunglasses, shoot an email to: info@ogiframes.com.
The Vanity: Ultimate Skin Spa
For the past few weeks, I've been using Vanity Planet's Ultimate Skin Spa System. And loving it. Spin + sonic skin brushes have been all the rage the past few years.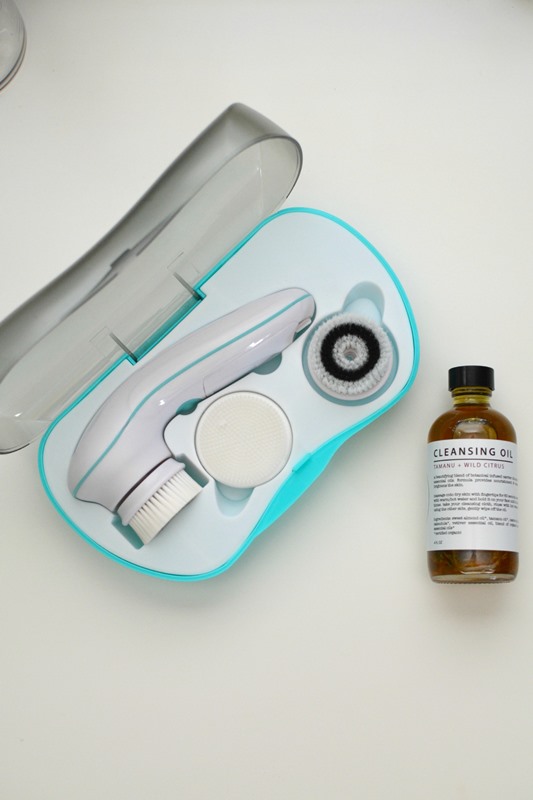 Why the buzz? You get a deeper clean when using a skin brush– which means no traces of makeup/sweat from your workout/pollution from the air left behind to mess up that pretty face of yours. Skin brushes also exfoliate (gently!), which turns over shiny new cells that brighten your skin and diminish pesky troubles like fine lines and large pores.
The Ultimate Skin Spa System is a killer set to have in your beauty arsenal because it comes with not one brush, but three:
A cleansing brush for every day use
An exfoliating brush
A silicone brush for a gentle clean
I've been using the cleansing brush a few nights each week. Super easy + effective. My skin is left soft, and I've noticed it seems a bit brighter. I don't stop with my face, either; I hit the neck and chest area, too. You just wet your face, add your usual cleanser to the brush, and go to town. Bada bing, bada boom: better skin.
The exfoliating brush comes in handy when I'm due for a spray tan. Exfoliation is key to an even tan, so a round with this brush means my skin is fully prepped and ready to go.
The silicone brush is perfect for when you need a really gentle but effective clean. My skin can be on the dry side, and I was a little drier than normal when the Ultimate Skin Spa System first arrived in the post. The dryness had made everything a little sensitive, so I started with the silicone brush. It provided a really good clean without irritating my dry skin.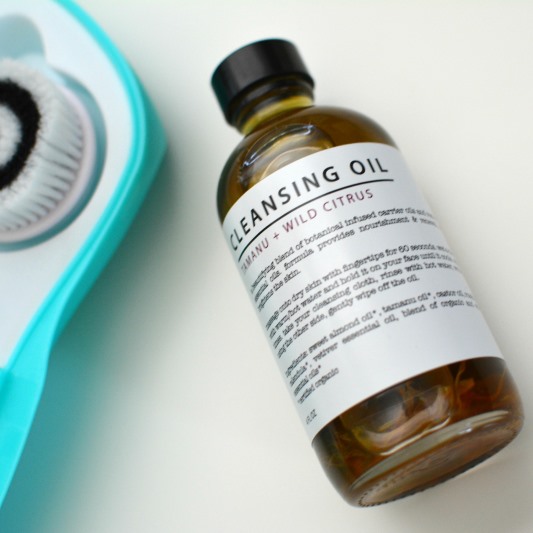 Vanity Planet also included the Tamanu and Wild Citrus Cleansing Oil with my system. Cleansing oils are also huge right now; they cleanse the face of dirt and makeup without stripping the skin of its natural oils. The Tamanu and Wild Citrus Cleansing Oil smells heavenly + leaves my skin really soft but definitely clean.
Some tips when using a skin brush like the Ultimate Skin Spa System:
Wet your face first before diving in with the brush; it's easier on your skin.
Cleanse in small, circular motions. And don't rush!
Don't forget the neck and chest! These areas are exposed to sunlight + air pollution just like your face; they also have less oil glands than your face, so they dry out (and age!) more quickly.
Don't press too hard; let those bristles do the work.
If you're sensitive, try working a skin brush into your routine once or twice a week at first. And take advantage of the Ultimate Skin Spa System's silicone brush; it's a life saver for sensitive skin.
Change your brush heads every three months or so. Fresh brushes = a better, deeper clean!
And now for the best part: discount codes! The Ultimate Skin Spa System retails for $125, but with the code loveashley you can get it for 70% off. Hello, that's $37.50– such a steal. Your face will thank you, y'all. You can also use the code wildcitrus to get $10 off the cleansing oil (or any Vanity Spa body scrub).
___
Linking up with Style Elixir, Elegantly Dressed and Stylish, Her Heartland Soul, Walking in Memphis in High Heels + The Fashion Canvas, A Touch of Tartan, I Do DeClaire, Bless Her Heart Y'all, Style Nudge, Mama and More, Sew Crafty Angel, Because Shanna Said So, For the Love of Leopard, Pumps and Push Ups, The Mummy Chronicles, and The Pleated Poppy.
*Vanity Planet sent the products for my review; thoughts and opinions are my own.