When you're a childless clothes horse like me, you convert second bedrooms into dressing rooms.
It's both indulgent and practical– indulgent for obvious reasons. Practical because the main bathroom and master closet in our house are not huge by anyone's standards, so my boyfriend just might leave me if I tried to cram my clothing and girly beauty-related items into those small spaces. The concept of my wardrobe is like quantum physics to him.
He once said, "Fifteen white tee shirts? You have fifteen white t-shirts?!"
(Yes, I do.
You can never have too many white t-hirts.)
The room itself came with these quaint (and huge!) built-in drawers, with a double dowel-rod enclave in the center for hanging. I painted the walls a pale turquoise (to mimic the shade of the water in a print I have of the Trevi Fountion).
I created a modern vanity out of a free-standing kitchen island I picked up in college, paired with a mirror and many, many Sterilite drawer sets. Added a few garment racks plus a full length mirror and the Fashion Closet was born.
But with the spring weather comes the spring cleaning itch. I decided I felt a little like purging and rearranging in preparation for bringing out my sundresses and sandals.  (The life of the obsessive-compulsive is very glamorous, don't you think?)
Found a gorgeous chair to sit in the center of the room (makes for a nice to place to slip on stilettos or wrangle on tall boots).
Decided on adding more Sterilite. Like the white tee, I'm convinced I can't have too many. A few quick snags from Bed Bath and Beyond organized my vanity top and some space-saving hangers freed up some room on my stuffed garment racks.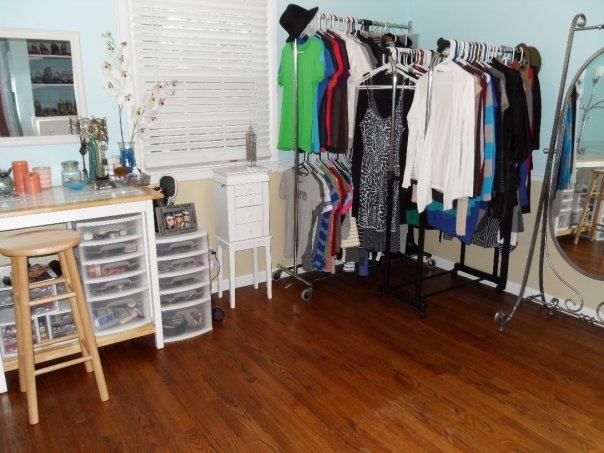 I think I've scratched my spring cleaning itch… For now.