The #NSale is where you score fall digs on the cheap.
You're going to be hearing a lot about the Nordstrom Anniversary Sale for the next few weeks. Why? Because it's one of the biggest + best sales of the year. Not only are you scoring 25-30% off, you're getting that discount on next season's merchandise. The NSale isn't on already picked-over summer product or pieces that didn't sell in the spring– it's on the stuff everyone is going to be wearing come September through the winter. That's huge; Nordstrom is having a sale on items that aren't even on the shelves yet!
Early access for the Nordstrom Anniversary Sale starts today. This means if you have a Nordie's credit card, you get to shop the sale before the rest of the world– which ups your chances of scoring pieces before they sell out. (Spoiler alert: stuff sells out, fast.) If you've shopped the sale before, you know how this goes. If you're not familiar, here are the #nsale highlights:
What's on sale: fall pieces, shoes, accessories, athleisure. The Anniversary Sale is the best time to grab new fall pieces: including denim, boots and booties, sweaters, and jackets. It can seem a little odd to be buying chunky sweaters and tall boots, but buying now means you will have it in your closet come October (and you'll have scored it at a deep discount). Stuff to buy that you can wear/use now: accessories like handbags, watches, jewelry, shoes, and athleisure goodies.
The sale is open to Nordstrom cardholders (debit and/or credit) from July 13th – July 20th. Shop early, score often. Early access is key because once pieces sell out, they're gone until after the sale.
What if I'm unsure about an item? Or my size? No worries– Nordstrom has one of the best return policies in the business. It's hassle-free, no questions asked. So if you're on the fence about something, buy it! You can absolutely return it for a full refund later– and Nordie's offers free shipping and free returns, whew.
The sale opens to the public on July 21st through August 6th. On August 7th, all the prices go up.
How do I shop the #nsale? I hit the sale on the first day and snap up a few pieces I've earmarked for my fall wardrobe, and then check back throughout the sale for items that grow on me. Peep my must-have's below.
Bookmark this post. I've got so many deals for you– and so many for under $150! I'll be updating this post throughout the sale with fresh pieces as other product sells out. I've also added it to the Shop LSR dropdown in the top nav for easy reference.
Fall Favorites.
Buy these now on the cheap, thank yourself when the leaves start to turn.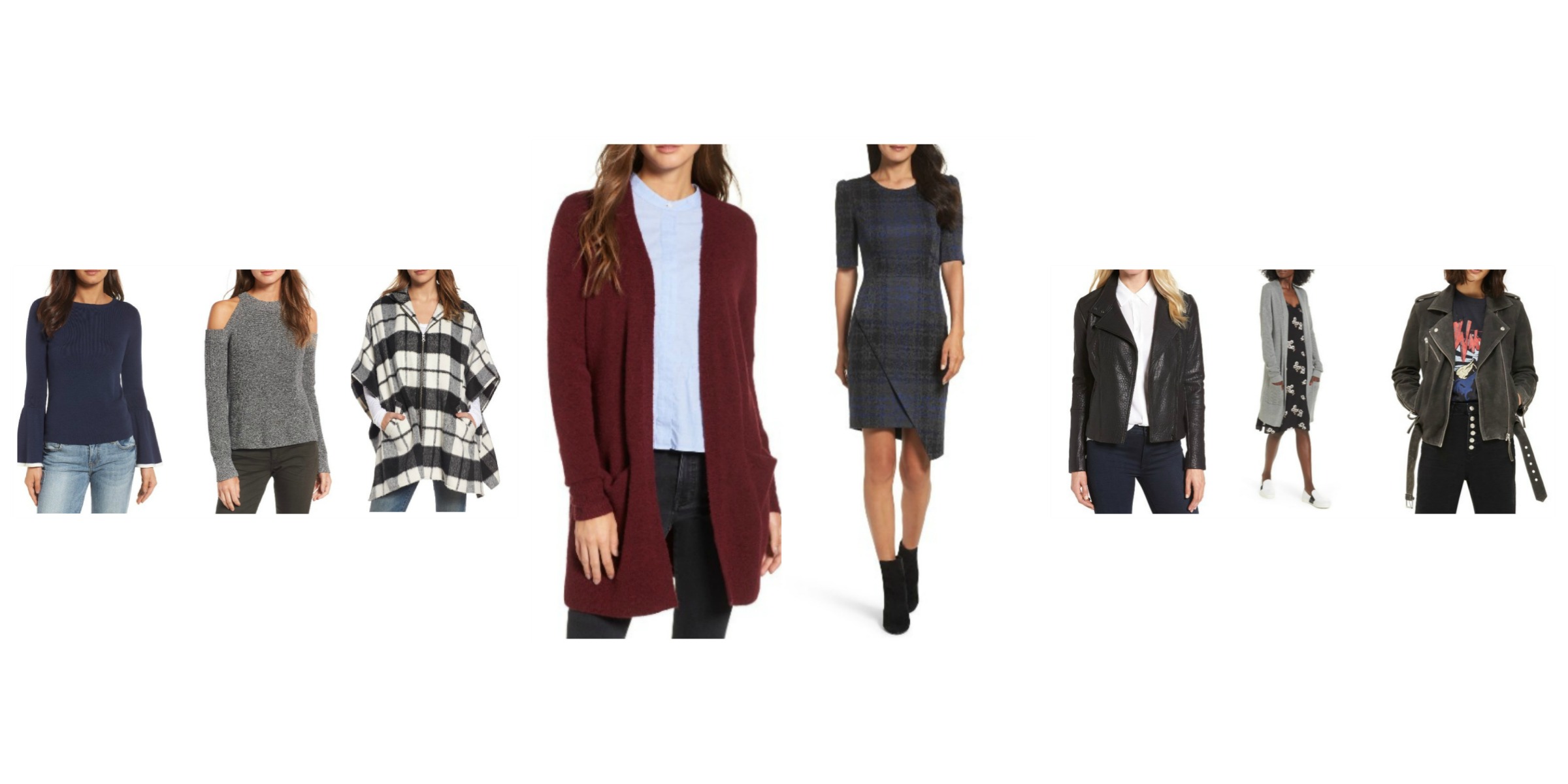 First things first: those amazing Spanx leggings I'm always wearing are part of the sale! GET THEM– they're over $30 off! I paid full price for mine and would do it all over again– these leggings are so flattering and have a killer leather look. Score them now for a discount!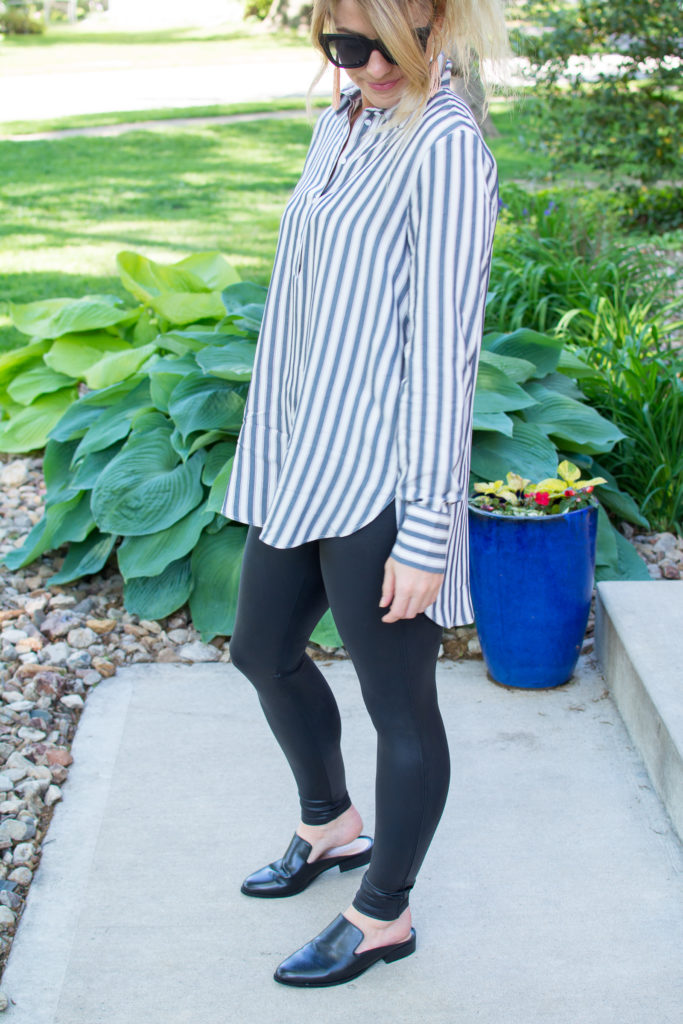 Now onto the rest of the fall best… Sweaters might be the farthest thing from your mind right now, but in typical Game of Thrones style: winter is totally coming. I love the bell sleeves on this blue number and the cold-shoulder feature of this sweater. It's always smart to add a cardigan or two to the fall mix: I love this burgundy one from Madewell (but it also comes in tan and navy) and this gray jam for only $32 (and also comes in a range of colors).
Now is the time to buy a leather jacket– my faves are this gorgeous pebbled moto from Halogen (only $200; will be $300 after the sale!) and this cool slouchy faded black suede jacket from Topshop ($219 during the sale; $370 after). This gorgeous suede jacket is back in new colors for 2017; it will sell out, so act fast. Oh and that embroidered faux leather jacket I love so much? It's part of the sale; get it here for a little over $100. It fits true to size and is worth every penny– BlankNYC does the best faux leather!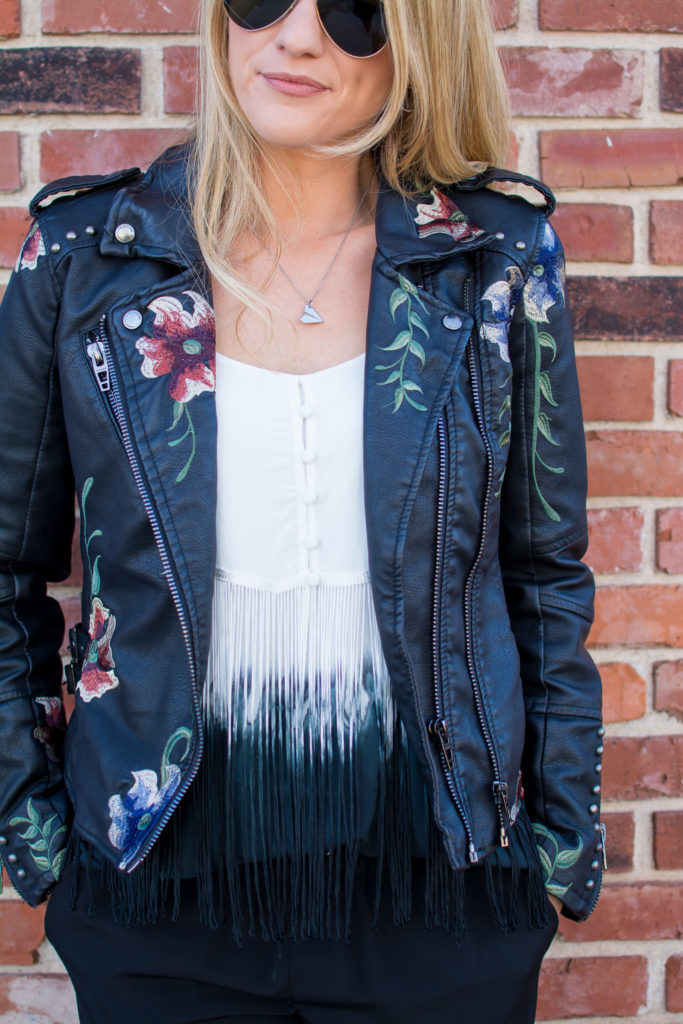 More fall-friendly pieces:

Wear Right Now.
From dresses to denim, wear these pieces right now for some instant style gratification. (Bonus: you can also keep these items around come fall.)

Blue + white striped ruffled anything is so right-this-second, so snap yourself up this cute Halogen blouse for on sale for $45. If you're looking for statement pieces, I love this striped Topshop blouse. Breezy dresses are very appropriate for July + August, so try this blush slip dress for $53 or this cute (and perfect for the office!) floral number for $65. In the mood for some new jeans? This ankle-length pair is only $38 or try a pair of Joe's (a fave of mine!) on sale for $99.
Shop pieces you can wear right now here:

Athleisure Will Never Die.
If you think the trend is slowing down, you're mistaken. Snag the pieces below to look cool inside and outside the gym.

A girl can never have too many leggings, am I right? Snag some Adidas on sale for $26 (such a score!), some gray + white color block leggings for $42, or a high-waisted pair with cool slits for $42. I am loving minimalist gear right now, so I'll be picking up these white sneakers (on sale for $75!) and black cropped sweatshirt, and vintage sweats ASAP.
More athleisure goodies:

The Best Accessories.
The NSale isn't just about clothing– there are a ton of accessories included in the NSale, from new wallets to statement necklaces.

If you don't have a Madewell Transport tote, get yourself one. The sale version comes in a cool stripe and is $70 cheaper than the usual price. I love snagging a few pieces of jewelry to add to the mix, too, so I'll be getting this cool geometric gold jam and these pearl drop earrings. Score a cute floral wallet for $58 (a steal for Ted Baker) while you're at it.
Stock up on fun accessories:

Shoes You Need.
You know I can't leave out shoes– need a new pair of fall booties? Or wear-everywhere pumps? I've got you covered.

Come first frost, over-the-knee boots will start taking over. These Marc Fisher boots are on sale for $149 (they'll be $230 after the sale ends) and come in black, tan, and brown. Go! Mules are everywhere now + will be in the fall, so pick up these killer red BP numbers for $49 (they also come in gray and black) or these flat pointed slides for $50 (they come in tan and silver, too). Need a fun statement shoe? Get these floral booties. I love a dressed-up sneaker, so I'm snagging these Caslon dusty rose bad boys for just under $60.
Shop all the best shoes here:

Beauty Haul.
Last but not least: get your beauty fix! Score a badass hair dryer, makeup goodies, and a Clarisonic. Bonus: these make great Christmas gifts, in case you're someone who gets her holiday shopping done early.

MAC is the end-all-be-all (as you very well know), and there are some nice bundled goodies to score during the Anniversary Sale, like this nude lip kit for $36 (a $55 value). I love a do-it-all palette, so this one from Bobbi Brown is going in my cart. It'll be great for travel, too. Do you have a Clairsonic? If not, now's a great time to score one at a discount. This one is just over $100. Your skin will thank you; nothing exfoliates like a face brush! You can also score luxury-sized beauty items during the sale, like this Purity set from Philosophy. I buy a version of this every year and never have to repurchase until the next Anniversary Sale rolls around.
Get your beauty fix right here:

Happy hunting, guys! Reach out to me on social or leave a comment if you have any questions! I've been shopping the Nordstrom Anniversary Sale for over 10 years and it's still one of the best. Nordie's come through again and again!
Linking up with Doused in Pink + Curly Crafty Mom, Elegance & Mommyhood, Living on Cloud Nine, Adri Lately, Style Elixir, Meet at the Barre, Threads for Thomas, Nancy's Fashion Style, A Pocketful of Polka Dots, Shelbee on the Edge, More Pieces of Me + Sincerely Jenna Marie, Michelle's Pa(i)ge + Northwest Blonde, Rachel's Lookbook, Being Zhenya + Style Optimist, and Pink Sole.