Happy Thanksgiving! How many slices of pumpkin pie have you had today? (I bet my number by day's end will be at least three. Maybe four.)
Okay, so I'm a bit of cape mood this week. Blazer capes, capes as coats, I'm game for all of the above. Such a fun alternative to your winter coat.
Take a basic pair of super stretchy gray skinny jeans and black patent loafers (with a gold cap heel!), toss a cape over it, and you're ready to roll. I grabbed my Daniel Wellington watch to add just a bit of color. (You can get 15% your DW purchase with code: "lestylorouge" now through the end of the month, by the way.)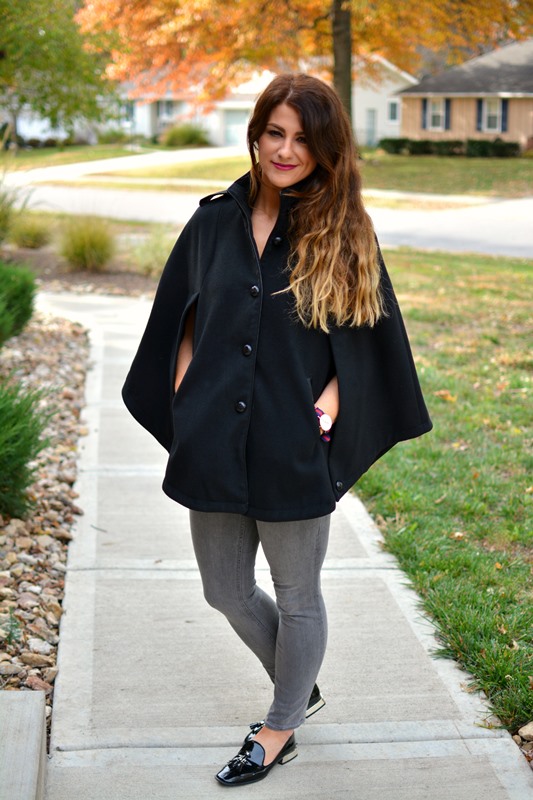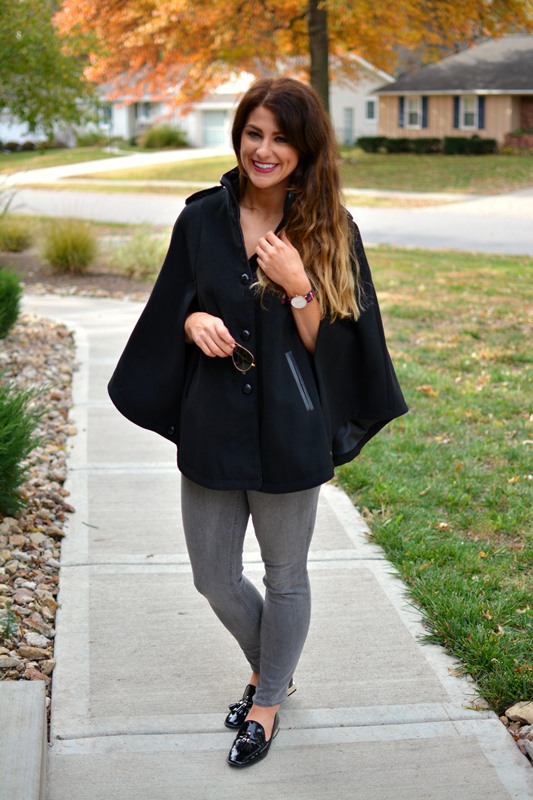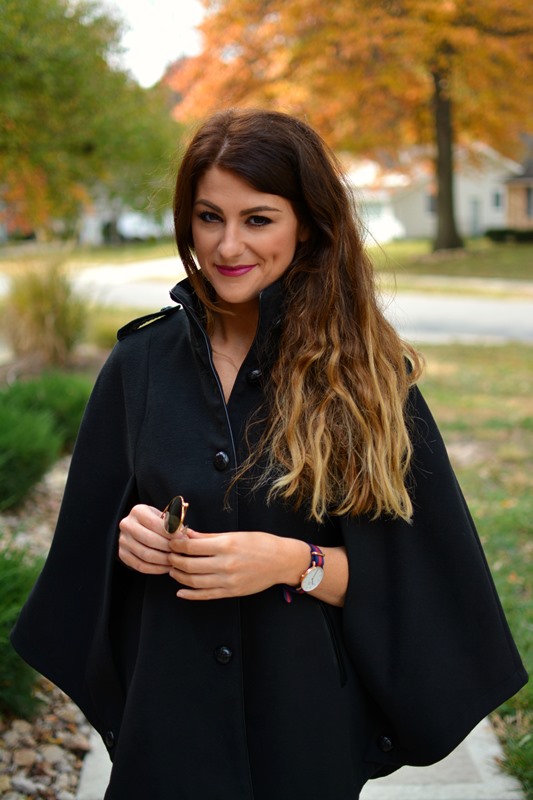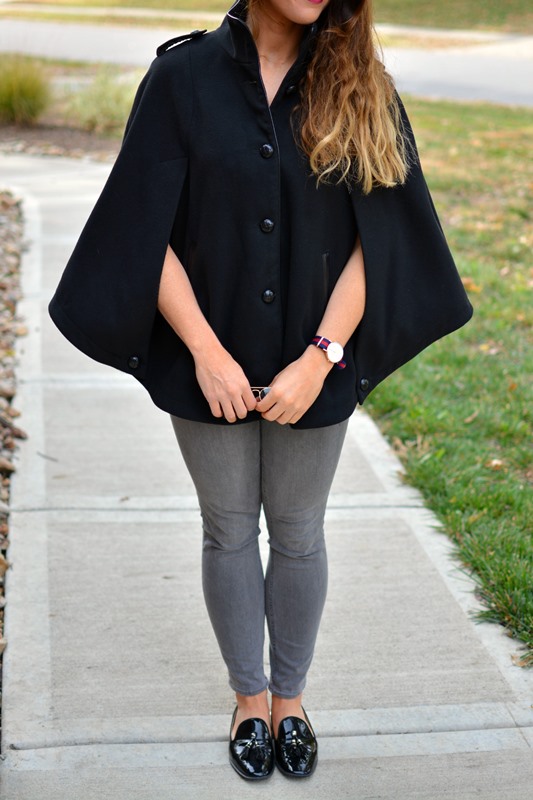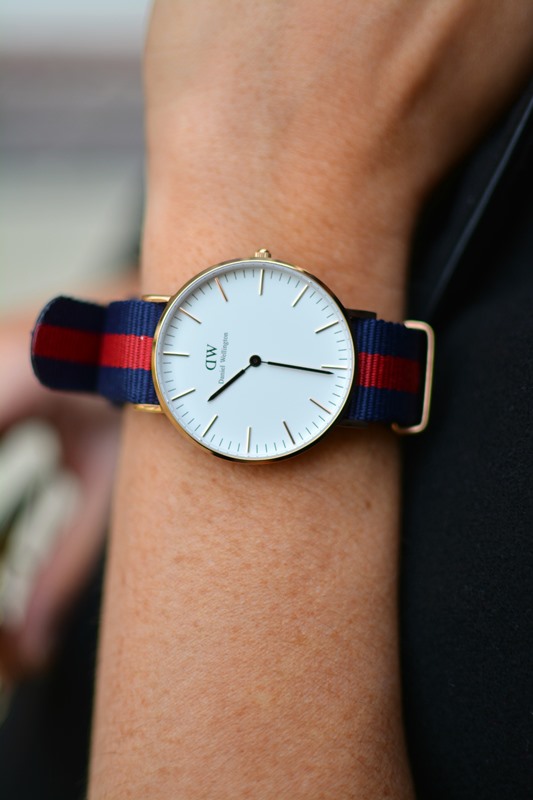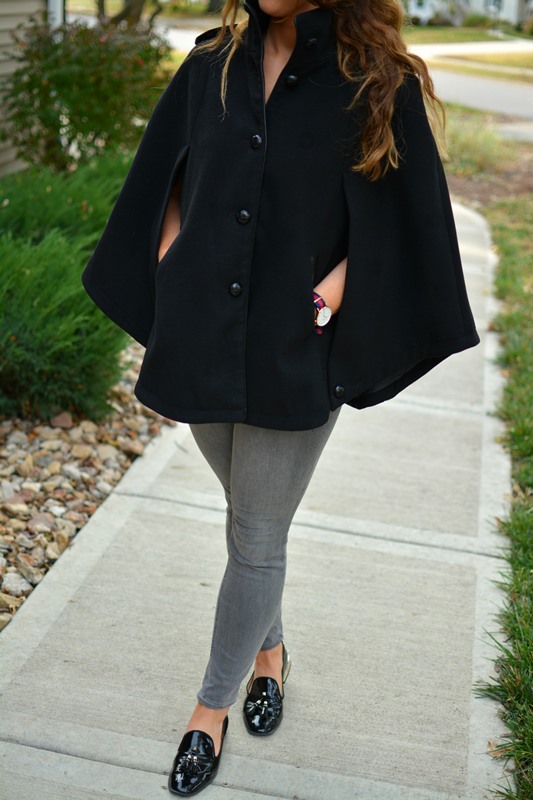 Shop the look:

A cape is a great way to add a little interest to an outfit, don't you think?
Black Friday Fun.
Confession: I don't go out on Black Friday. My tummy is usually still full of pie and cranberry sauce, and the thought of getting up at the crack of dawn (or earlier!) to fight the masses over a $99 television is not my idea of a good time. Plus, with my doing-well-but-still-stiff-and-wobbly-knee, I'd likely get trampled and then have to spend 25 to life in the big house because I killed someone with my crutch. I would be like a violent, incredibly impatient Tiny Tim of Black Friday.
But just because I don't brave the throngs for Black Friday, doesn't mean I don't shop Black Friday. So many good deals to be had from the comforts of your own home. God bless the Internet. And e-commerce. And free shipping. Amen.
Here are a list of my favorite online shopping spots, complete with the current Black Friday deals 'n offerings.
To get your started, here's a few of my must-haves from each retailer. Faux leather, metallic clutches, and bucket bags, oh my.
1. ASOS Over-sized Scarf ($34)
2. BB Dakota Lillian Jacket (was $95, now on sale for $66.50)
3. Madewell Arrowstack Necklace ($55)
4. Clare V. Flat Metallic Clutch ($205)
5. Nasty Gal Boys Club Sweater ($58)
6. JCrew Downing Bucket Bag ($138)
7. Leith 'Pop Fizz Clink' Pullover ($48)
8. Clinique Almost Lipstick in 'Black Honey' ($16)
9. BaubleBar Titania Gem Collar ($44)
10. Express Over-sized Plaid Shirt (was $60, now on sale for $30)
11. JCrew Factory Keating Boy Blazer (was $178, now on sale for $89)
You've seen me wear many of the items on the above list, including the Madewell necklace (3) and that amazing BB Dakota faux leather jacket (2). I dig a good blanket scarf, and this ASOS scarf (1) is super cute and way affordable. JCrew blazers are a staple in my closet, so I love this classic version from Factory (11). Plaid is the official print of the holiday season, and Express has a ton of plaid in stock right now (10). I have a thing for 90s-style lipstick, so Clinique's 'Black Honey' lippie (8) has been in my purse for weeks and weeks (I'm wearing it here, btw).
There are a few pieces on this list I'm queing up (online!) to buy on Black Friday, including this 80s style varsity sweater from Nasty Gal (5) and a cheeky embellished sweatshirt from Nordstrom (7). (You guys know sweatshirts are back, right?) BaubleBar is my go-to for statement pieces, and this frosty crystal necklace (9) is on the must-have list. The bucket bag trend is pretty solid right now, and I love this icy gray version from JCrew (6).
Last but not least, this gorgeous little metallic clutch (4) is currently on deck to make its blog debut next week. Such a fun holiday bag!
Happy Thanksgiving and have a successful Black Friday, everyone! Let me know if you score some killer deals!
Linking up today with My Girlish Whims, Pumps and Push Ups, The Red Closet Diary, Sincerely Jenna Marie, VMG206, Birdie Shoots, Style Elixir, The Fashionista Momma, More Pieces of Me + On the Daily Express, Join The Gossip + I Have A Degree In This, Rhea Et Cetera, and Pink Sole + Cha Cha The Fashion Genius.