I do this– I fixate on a color/trend and wear it constantly, over and over, trying to work it from every angle. Milk it for what it's worth, if you will. If I'm spending the money on it, I want to be able to wear it multiple ways to stretch my dollar. (Insert commentary about rebounding from a national recession and phrases like "in this economy," etc.)
Remixing is my current M.O. with cobalt blue (last seen in this post) and these Gap boyfriend shorts. The shorts are on the longer side and get a bit more boyfriend-y as the day wears on. An army green over-sized work shirt is super relaxed and so easy to wear; I'll probably toss this on over a tank and wear it as a jacket just as often as I go fully-buttoned.
Spring is here, so it's time to bring the toes out. Rope wedges, hello! And lots of bright blue touches throughout the outfit to really punch things up. Cobalt and army green make a fun combo, no?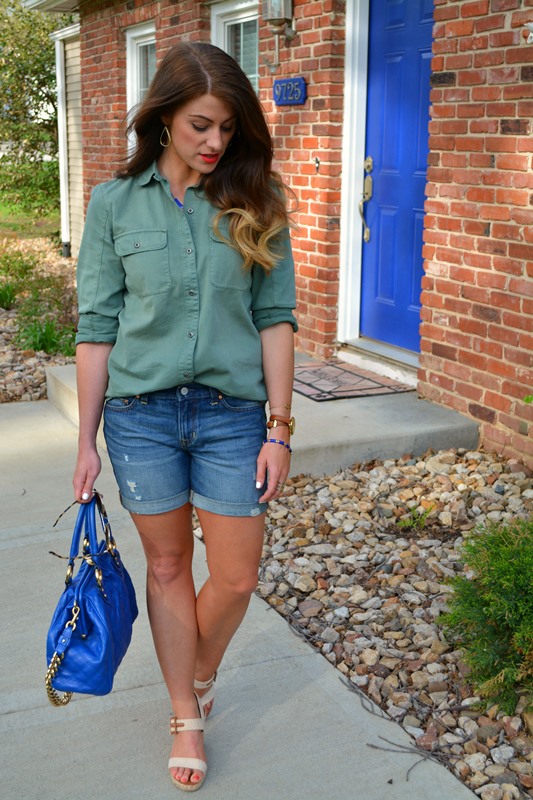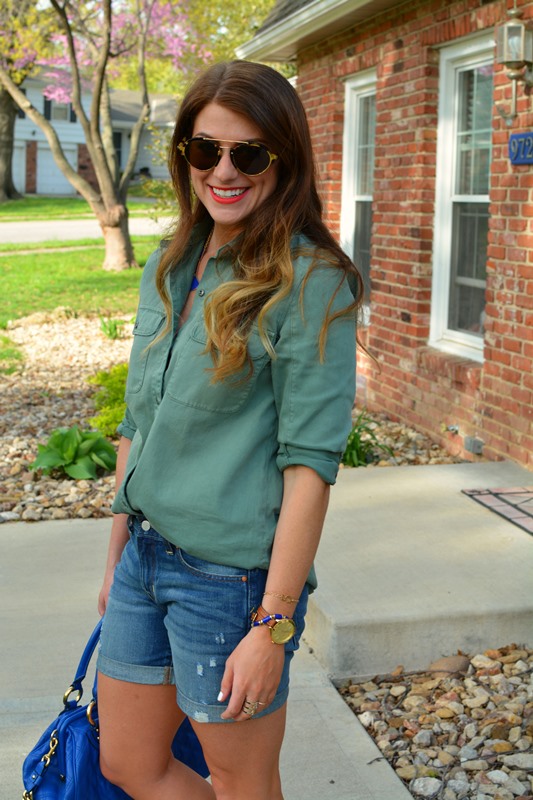 Check back on Thursday– I'm giving cobalt a rest (for the moment) and styling these boyfriend shorts with shades of coral.
Linking up with More Pieces of Me + On the Daily Express, Join The Gossip + I Have A Degree In This, Fizz & Frosting, Get Your Pretty On, Style Elixir, The Adored Life + Style Honestly, The Pleated Poppy, Sew Crafty Angel, Walking in Memphis in High Heels, and Life's a Party Dress Like It.