That Chicago trip this summer resulted in me stumbling across this gorgeous faux leather dress at Zara. (Flagships, how I love thee.) I didn't have anywhere to wear it at the time, but it was one of those instant love affairs in the dressing room. Deep hunter green (almost black, no?), v-neck, midi length, side slit… Yes x100.
I broke it out for the Saturday evening round of shows at KCFW. I matched it with leopard pumps (I live in these, exhibits a, b, and c) and a tortoiseshell BaubleBar necklace. Early fall faux leather chic!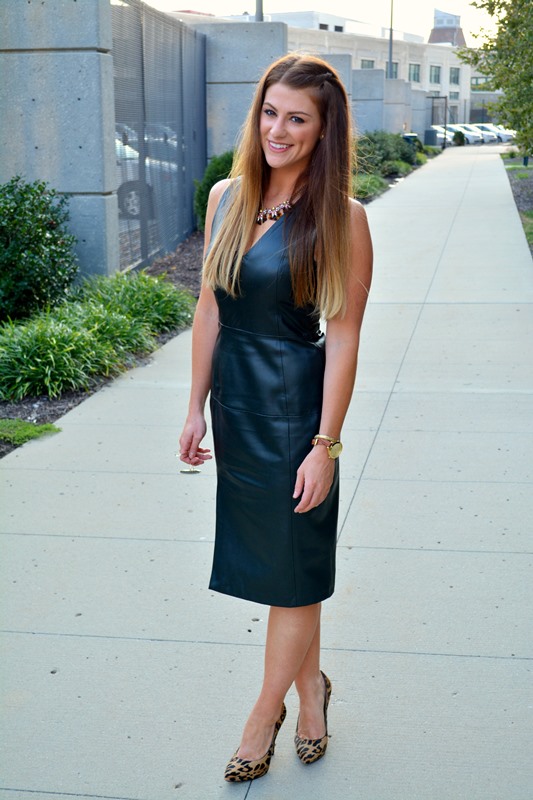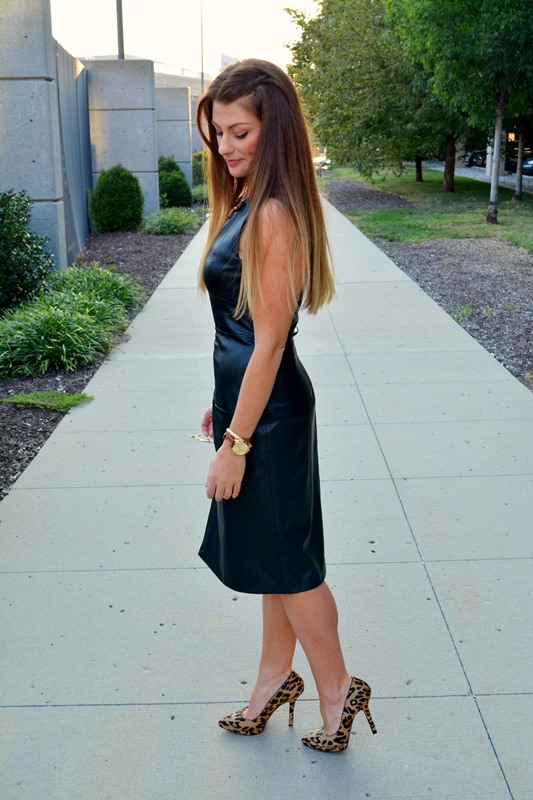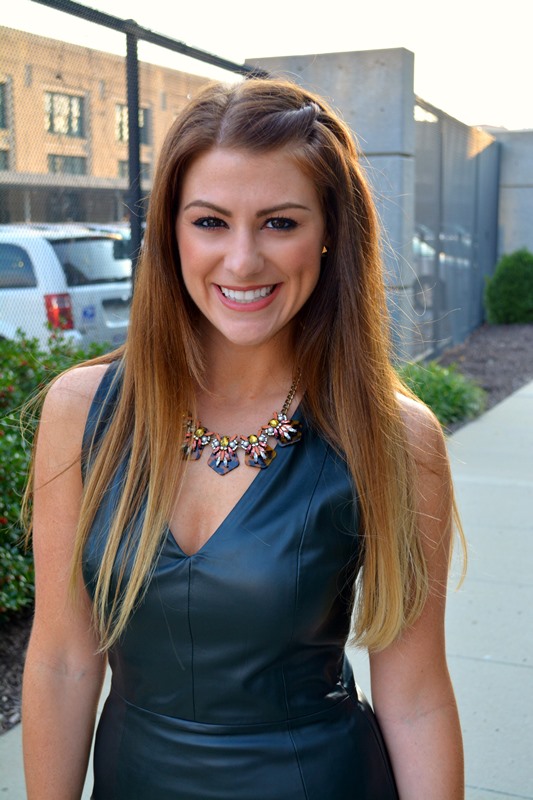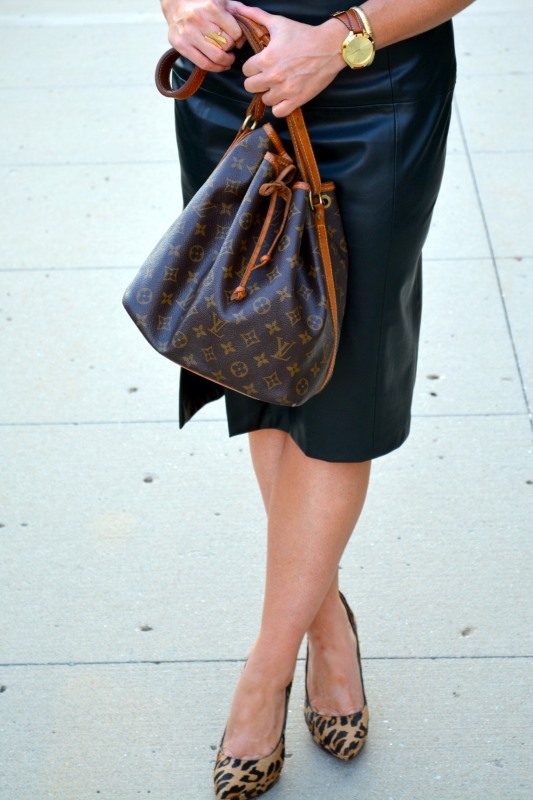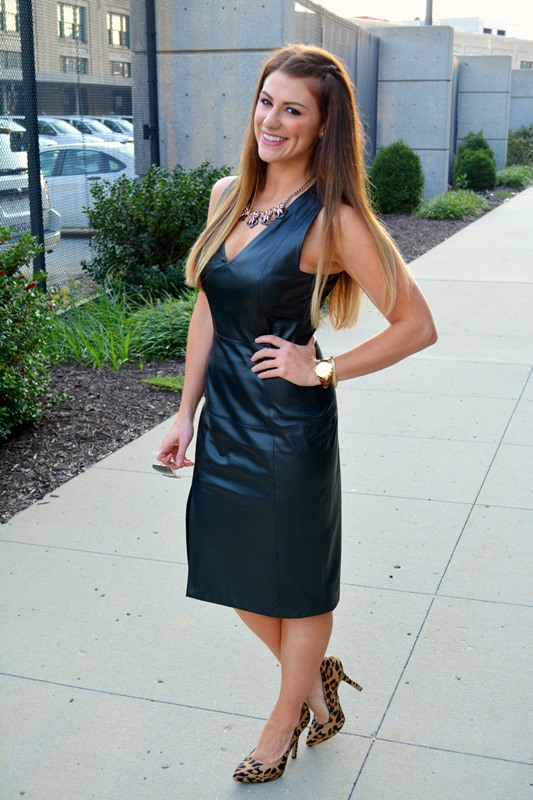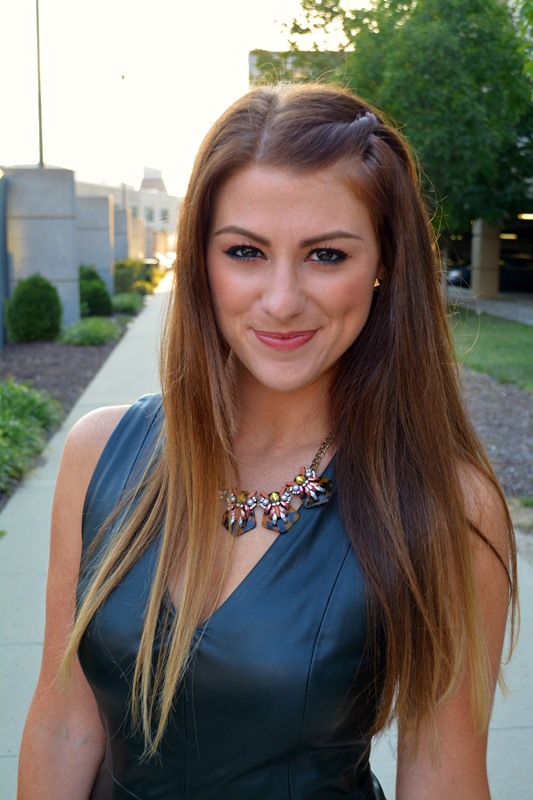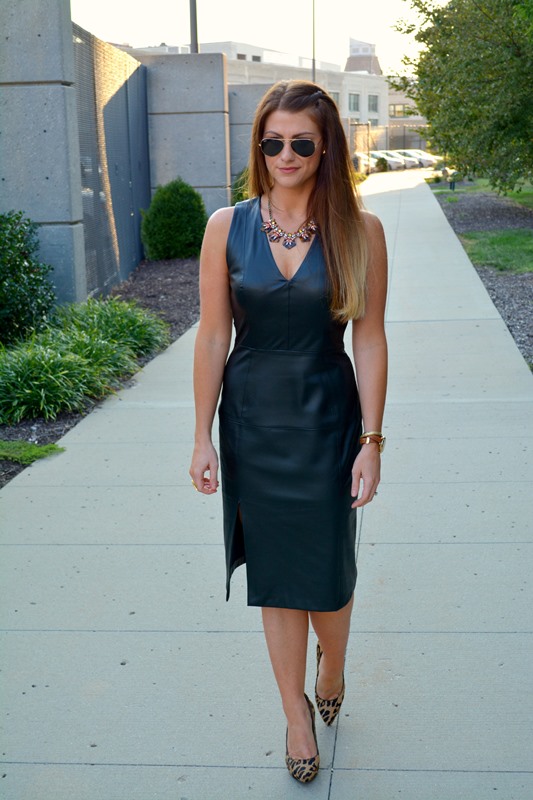 I'm looking forward to wearing this dress again as the weather continues to cool down. I think an over-sized chunky sweater thrown on top would be really cool, and you could totally put a cardigan or blazer on to tone this look down a bit. I wonder how it might look with tall heeled boots + leggings, or slipper flats? The possibilities!
A Blog Tour.
The lovely ladies at Regally Soled featured me as part of the blog tour series… Which means I get to share the following with y'all:
1. What am I working on? By far the coolest thing I'm working on is a little collaboration project with my friend Nikki from The Fashionable Wife. We've been cooking up something for the past few months, and are on track to launch it in December. Hopefully, it involves a lot of you guys, my fellow blogger pals. More to come!
2. How does my work differ from others in its genre? I don't know if what I do is really any different from what other style bloggers do– at the end of the day, we're all showing you how we get dressed. I try to keep it fun, mix a lot of investment pieces with more affordable pieces to stretch the closet, and attempt to take trends one might think too weird/crazy/retro/whatever and make them a bit more mainstream.
3. Why do I write and/or create what I do? For as long as I can remember, I've always loved to write. I was an English creative writing major in college. This blog is a creative outlet not only for my love of fashion, but for that geeky writer in me who dreamed as a little girl of seeing her name on the spine of a novel on a bookstore shelf.
4. How does my writing/creating process work? It all starts with the outfit. What am I going to wear? Do I have something new to shoot? Should I re-work older pieces in a different way? What season is it– should I start featuring more spring/summer/fall pieces?
After I get a rough sketch of what outfit I want to shoot, I set up a session with my good pal and photog extraordinaire, Brina. (Usually this is just a, "Hey, you wanna shoot Friday after work?" text.) Homegirl knows my angles better than I do. We get together (weather-permitting), and I throw on a few outfits for her to shoot. We've got it down to a pretty efficient science; we can bang out a shoot in less than 10 minutes if the light is right and my face isn't doing anything weird.
Then, editing. Ugh. I hate editing. I don't know why. It's tedious, mostly. And because I'm detail-oriented to a fault, it takes about 70 years.
When I've selected 5-10 shots, I drop them in a draft post and start writing. This is usually the easiest part. I'm pretty straight-up-no-fuss; there's not a lot of fluff here on ol' LSR. That's mostly because I know how the internet works: cut to the chase and give me what I'm after (aka, the outfit shots). Some discussion about how I styled the look is involved, because I want my readers to get a feel for how I put things together in the event they want to recreate.
And that's that! A little behind the scenes look at how things get done around here.
Sale alert! Shopbop is having a friends + family sale, 3 days only! 25% off your total purchase with code: FAMILY25. Now that's a score!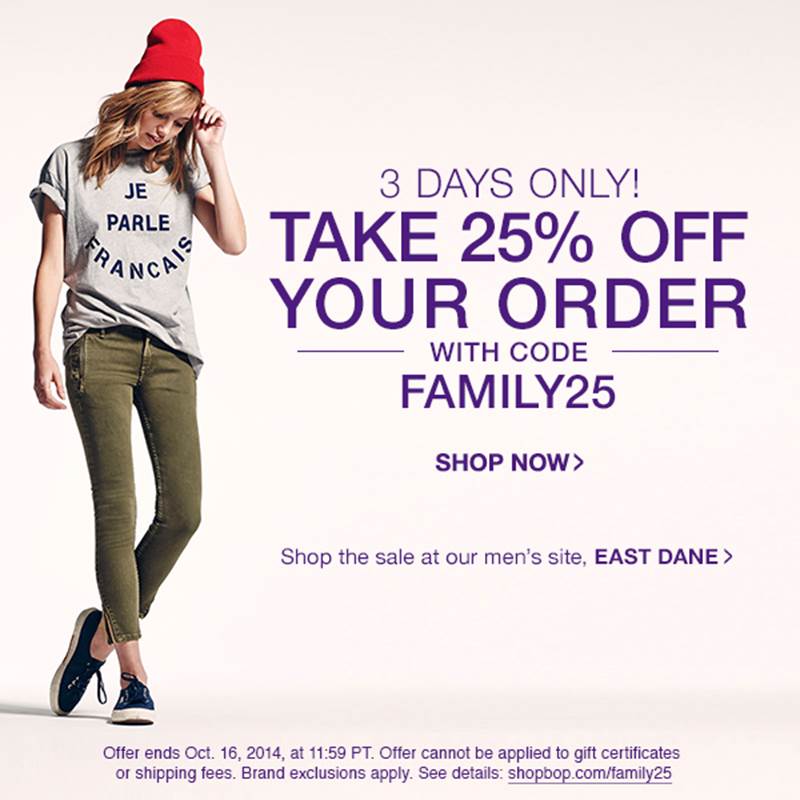 Is anyone else shocked it's already the middle of October? Coat season, pie-scented candles, and apple picking abound. We're in full fall mode here in Kansas City, and in the playoffs for the first time in 29 years. (Go Royals!) Wishing everyone a lovely week!
Linking up with More Pieces of Me + On the Daily Express, Join The Gossip + I Have A Degree In This, Rhea Et Cetera, Pink Sole + Cha Cha The Fashion Genius, Style Elixir, The Glossy Blonde,Walking in Memphis in High Heels, I Do DeClaire, Induffinitely Me, Sew Crafty Angel, Get Your Pretty On, Because Shanna Said So,  Design Life Diaries + Posh Pair, and The Pleated Poppy.