Getting dressed for work can get a bit monotonous, no? You feel like you wear the same thing, over and over. This is especially true in the winter, where if you don't stick to a pretty strict fashion diet of tall boots + trousers + sweaters, you're literally out in the cold.
I find adding color in unusual places, prints, and fun but office-friendly shoes keep my work wardrobe feeling fresh.
I wanted to wear a new printed H&M blazer, which I planned on wearing with a basic white v-neck t-shirt. I resisted the urge to grab a pair of black trousers as a base, and instead chose these burgundy slim fit versions. A black and white brogue made more of a statement than a black ballet flat.
The printed jacket, standout trouser, and interesting shoe make this work outfit seem a bit extra (without any actual effort).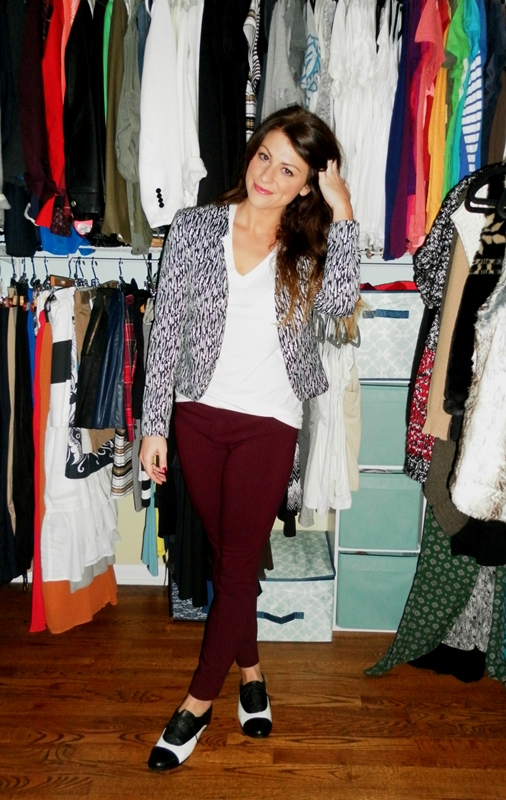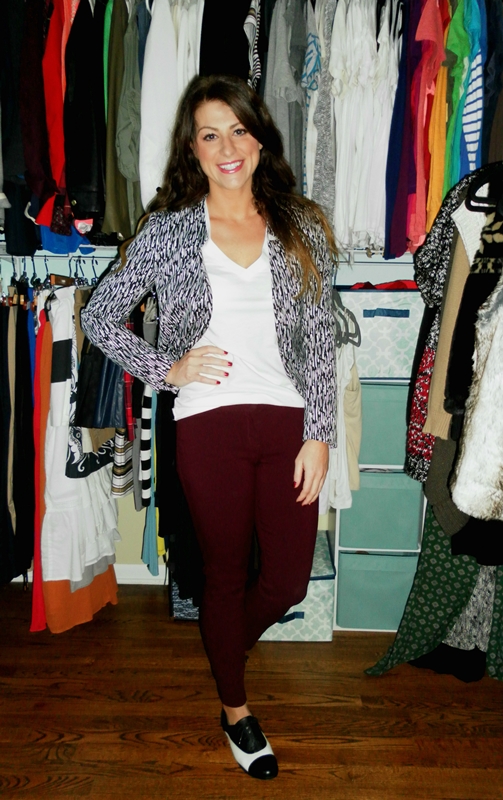 A few tweaks to the basics can make all the difference, don't you agree?
Housekeeping: don't miss out on the $1000 PayPal cash giveaway I'm hosting with a bunch of my blogging buds, and stay tuned next week for a beauty-related giveaway. (Especially you local girls!)
Linking up today with Vodka Infused Lemonade, All Things Pretty, Stylin in St. Louis, Glitz and Gold, Perfectly Coutured, and Style Elixir.