A utility vest over stripes for an easy spring outfit.
As much as I love ridiculous + edgy outfits, you can't beat the classics. Gather these pieces (which are probably already in your closet) and put 'em together for a solid, go-anywhere spring + summer outfit: a utility vest, striped tank, skinny jeans, and neutral sandals. Olive green and navy stripes? That's a no-brainer; I love that combo. And it's finally warm enough for t-strap sandals, which really adds a summer punch. The result is an outfit you can dress up (with a statement necklace + pair of pumps) or down (swap in some sneakers) and it carries you from Friday's happy hour to Sunday evening errands.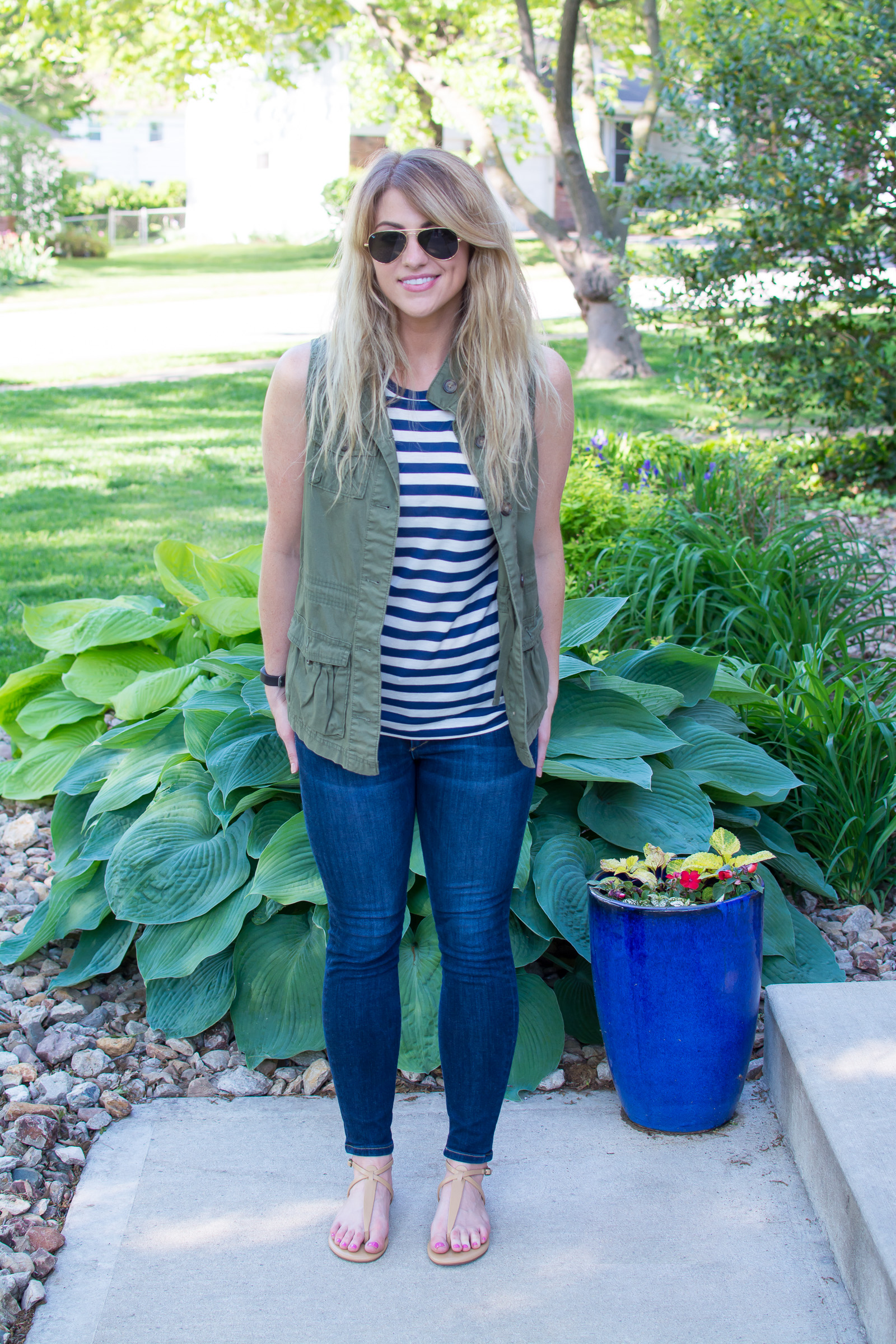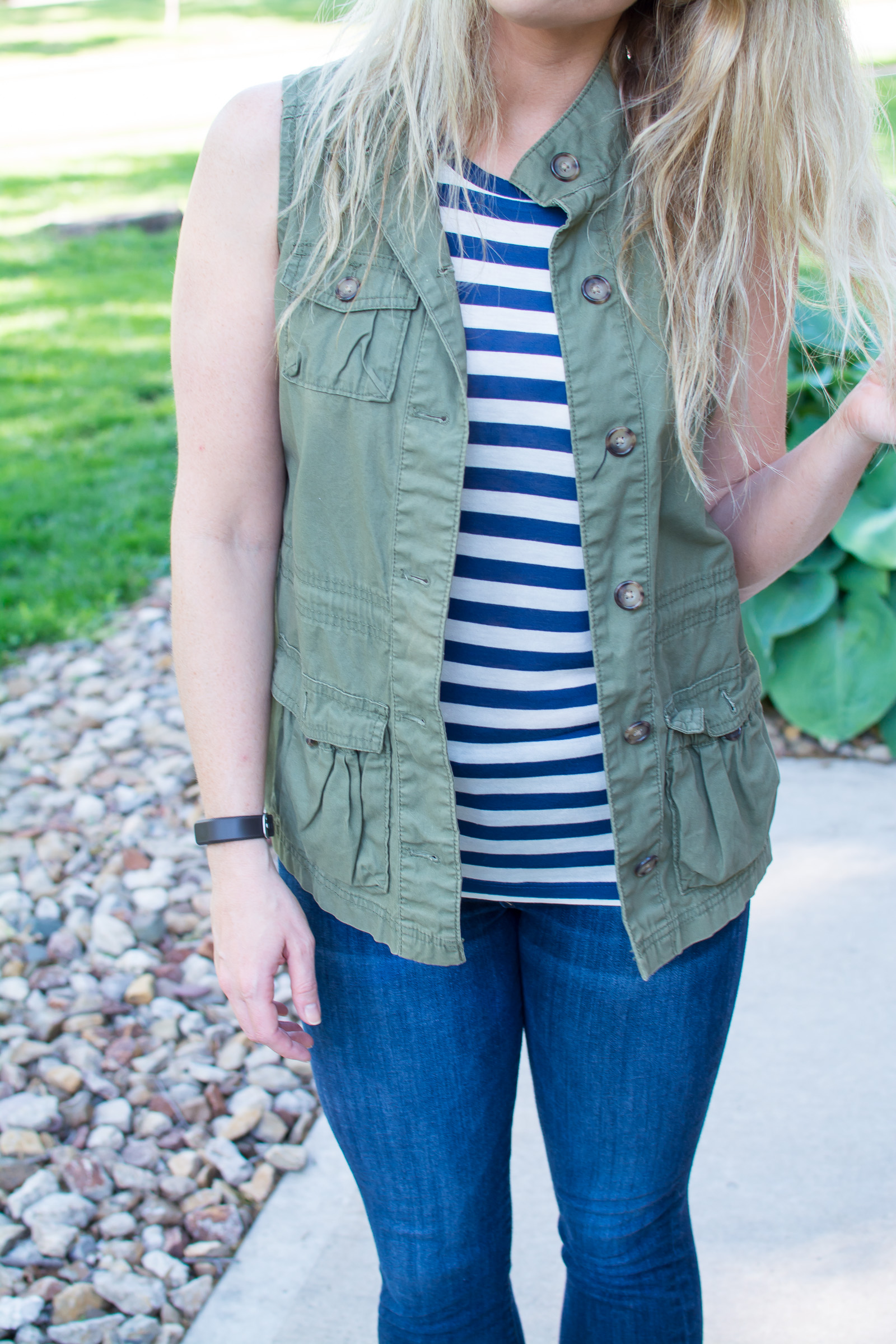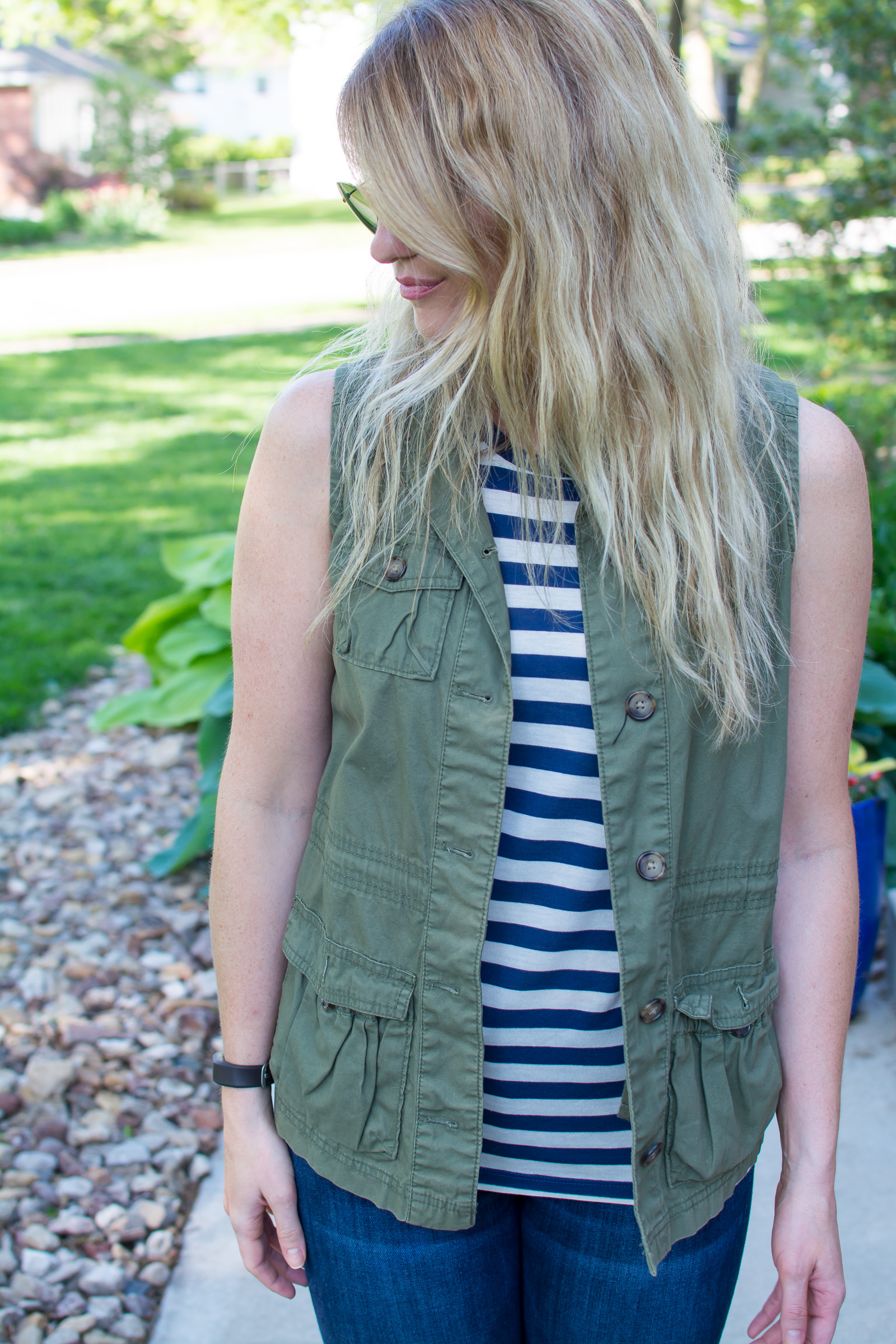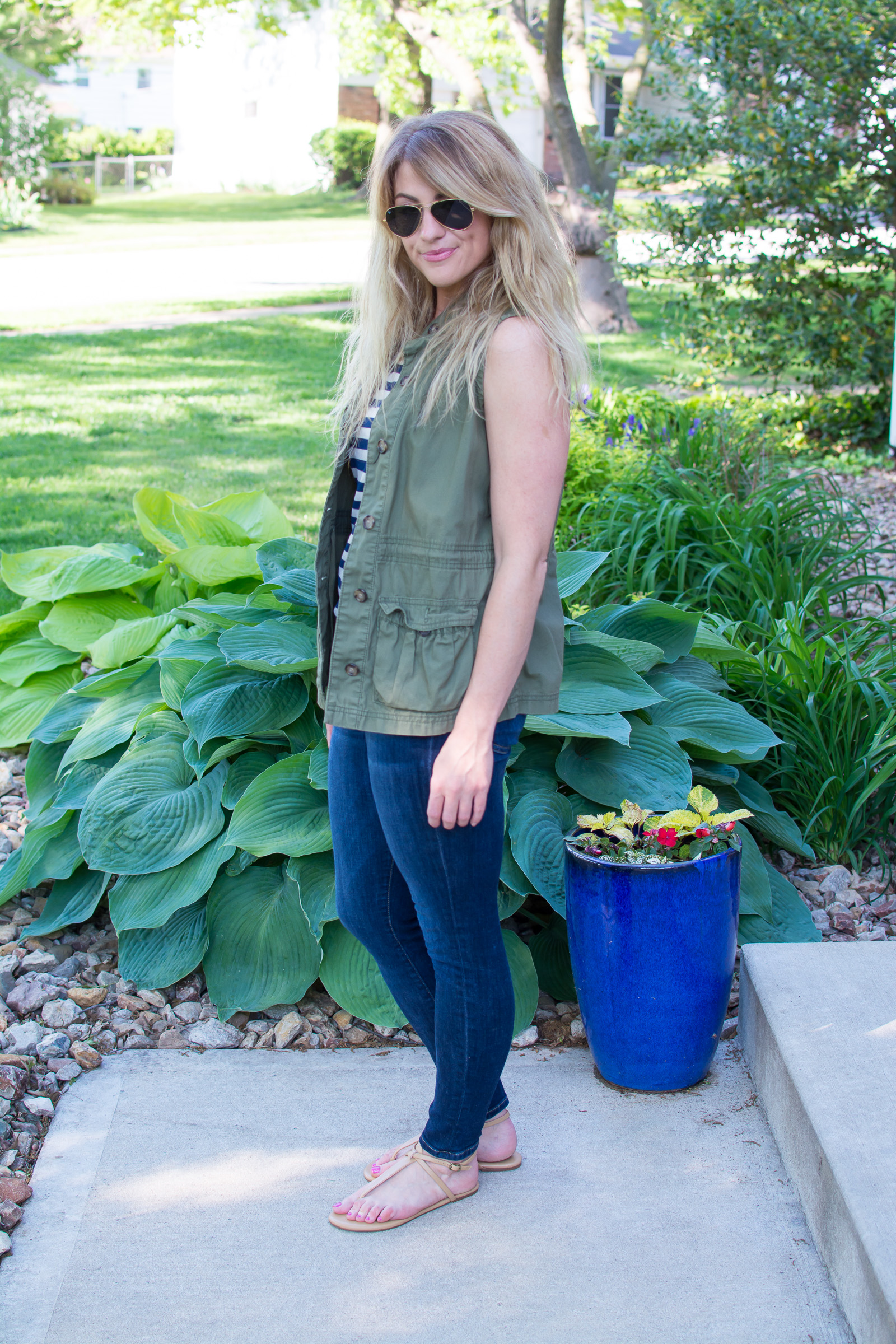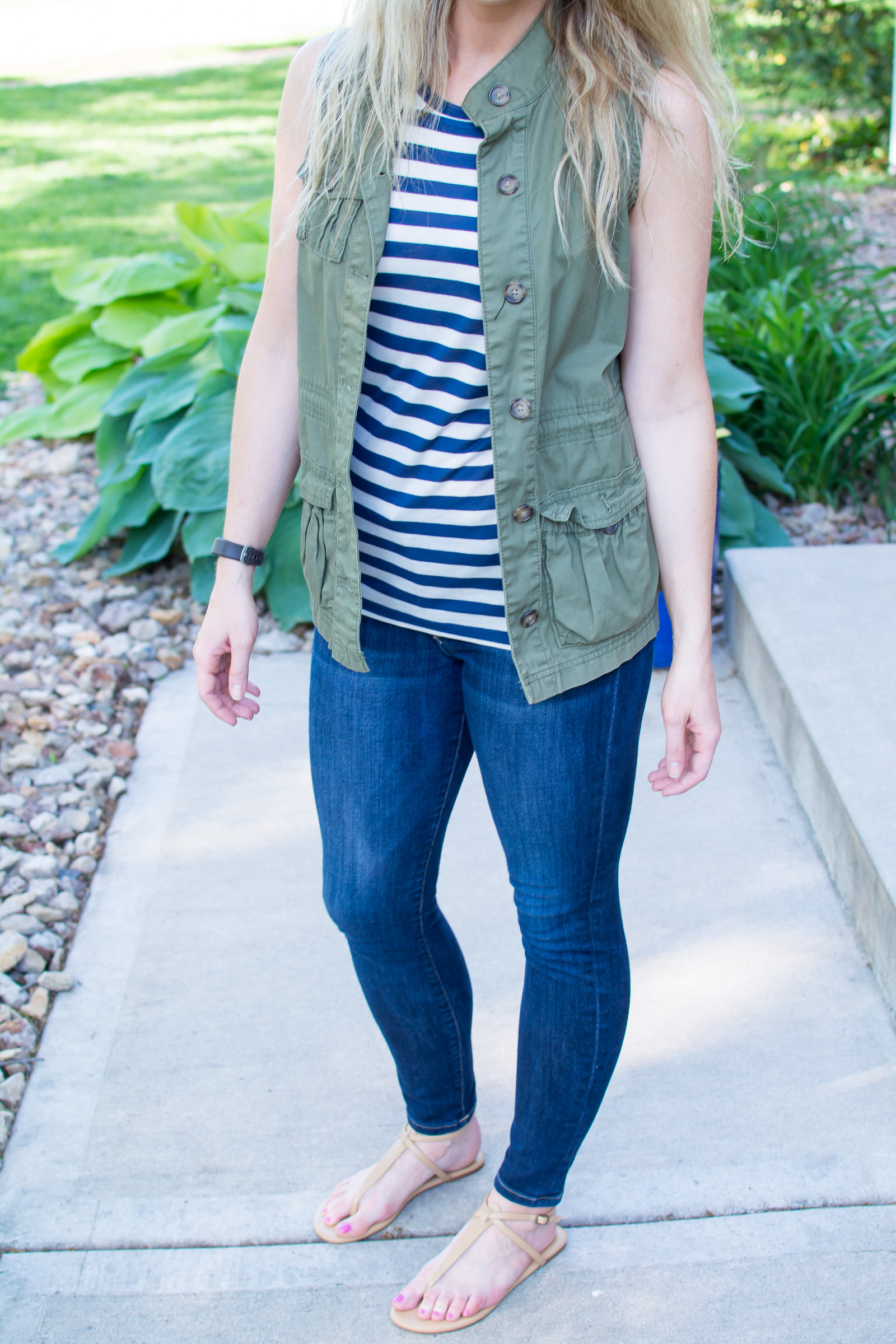 Shop the look:

The utility vest is such a cool piece– and while I love it with t-shirts and jeans, my favorite is to toss a vest on over the top of a summer dress. That's where a classic piece like the utility vest has a chance to show its edge. Happy weekend, guys! I'm hitting the salon (the Blonde Journey continues) + getting a spray tan, all in preparation for vacation. Next stop: Greece! Programming note: the blog will be light for the next few weeks while I'm in Greece. (Holy travel dreams, for real.) I've got a few posts planned, but things will definitely be slower 'round here while I'm on the other side of the globe. Blogger pals, please forgive me if I'm not as quick to respond to comments + emails; I promise I'll get to 'em when I'm back Stateside. However, I'll be active over on Instagram, so you should follow me there if you want to keep up with the adventure. Lots of snaps + stories to come!
Linking up with Stylin in St. Louis, Doused in Pink + Curly Crafty Mom, Elegance & Mommyhood, Living on Cloud Nine, Adri Lately + Jeans and a Teacup, Style Elixir, Meet at the Barre, Threads for Thomas, Lizzie in Lace, Nancy's Fashion Style, A Pocketful of Polka Dots, Shelbee on the Edge, More Pieces of Me + Sincerely Jenna Marie, Michelle's Pa(i)ge + Northwest Blonde, Rachel's Lookbook, Being Zhenya + Style Optimist, and Pink Sole.