When you're looking for a t-shirt alternative, substituting in a printed popover tunic is a good call. Easy pieces like this Madewell popover still strike that relaxed vibe when worn with jeans, while also mixing things up from you basic v-neck.
I'm wearing this lightweight flowerstamp popover tunic with the new Gap 1969 Resolution skinny jeans (hello, in love) and a pair of nude patent pumps. Excellent casual Friday outfit or a solid choice for brunch with the fam.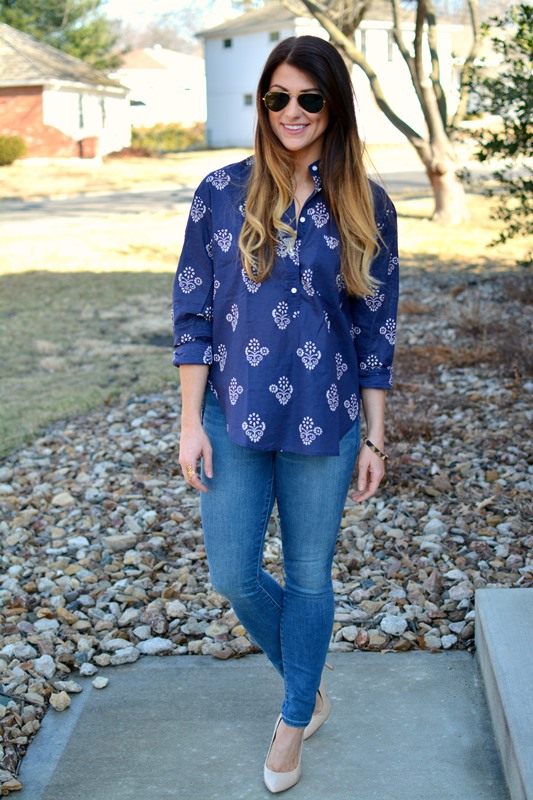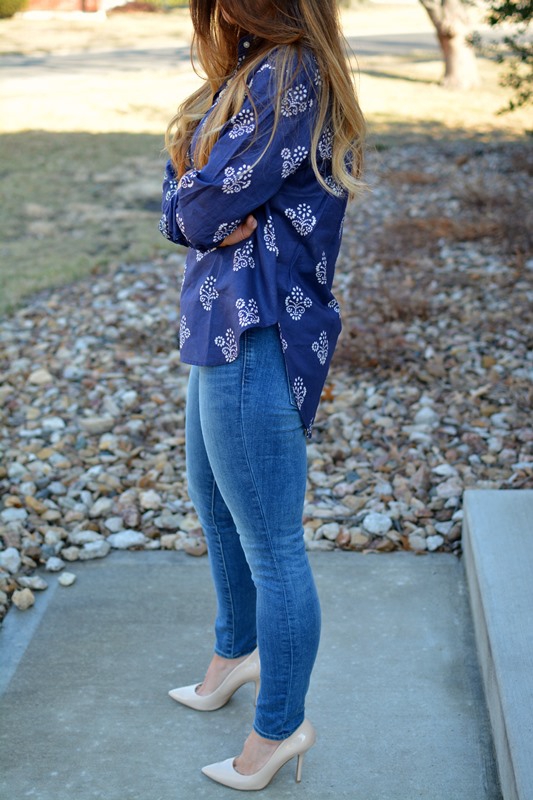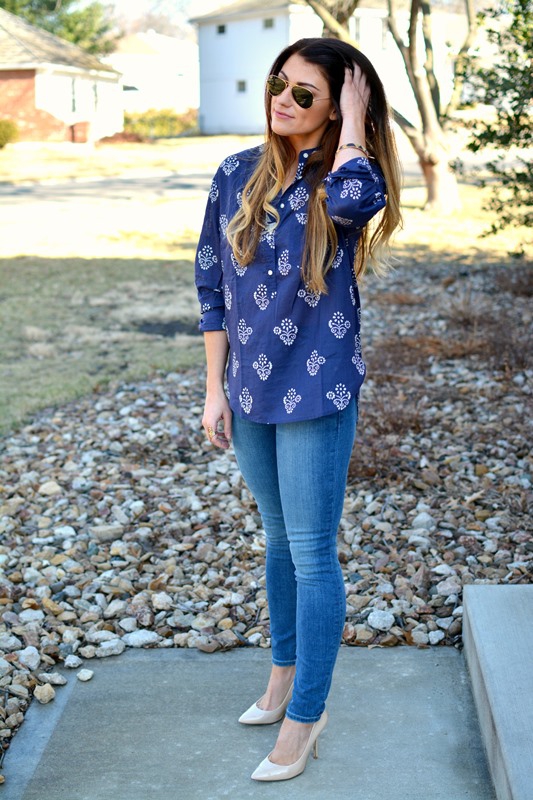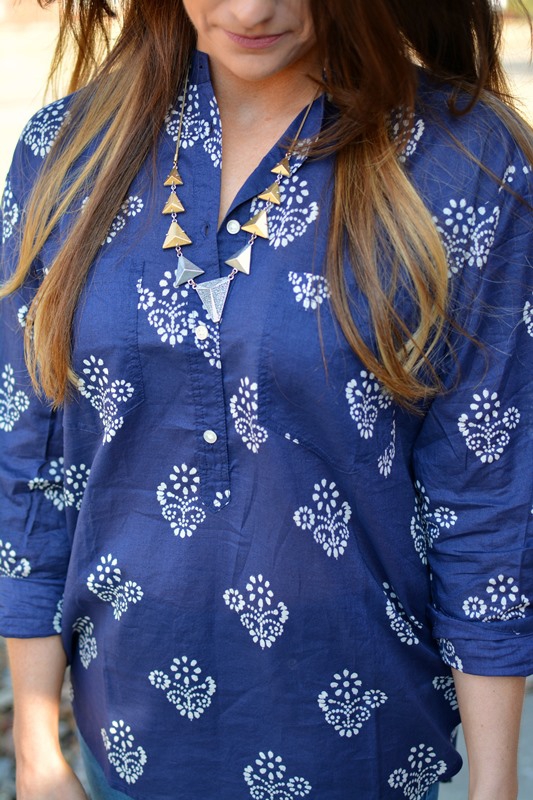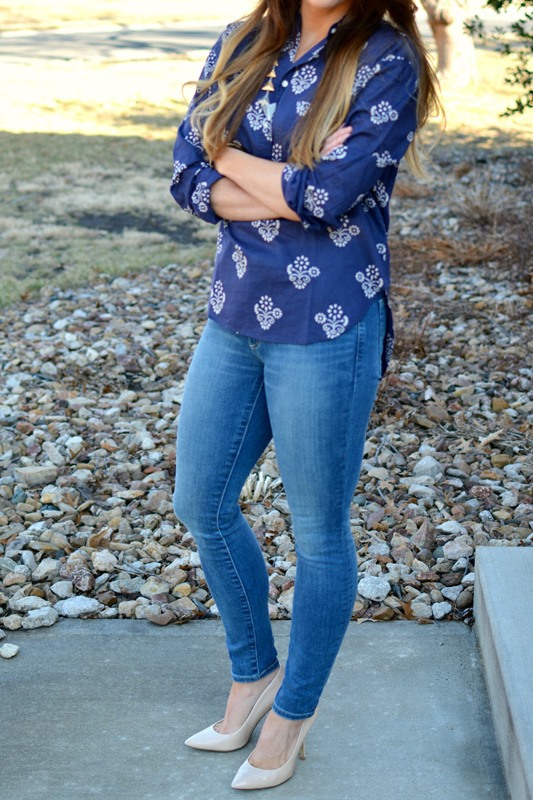 Shop the look:

The weekend is nigh, folks. What are you up to? Hope it's bright and warm(er) where you are! But before we get into full weekend mode, you need to check out the giveaway below.
The Vanity: Borghese Cosmetics + Giveaway
My mother always kept a stash of super luxe Borghese bath and body products for special occasions: birthdays, anniversary dinners, etc. Beautiful bottles with pictures of a vibrant Italian countryside tucked away in a cute wicker basket that sat on a shelf over the tub. I was a grubby little kid, always climbing trees and going on 1o-speed adventures, so Borghese was not to be wasted on my baths.
Imagine my delight when the lovely folks at Borghese reached out with the opportunity to test drive their products, which now includes cosmetics. (Who's fancy now, Mom?) I've been playing around with their Eclissare palettes and glosses for a while now, and I'm digging the quality + color pay-off.
The eye shadow palettes are super pigmented and come in sleek black magnetic cases with quilted detailing. The 5-shadow Sultry palette is perfect for creating a black + gray smokey eye, while the Torrid palette is a staple cool-tone brown palette. I love the Shadow and Light Luminous palette, a huge 12-shadow kit that serves as a killer light to dark neutral palette with both warm and cool options.
The Eclissare Color Eclipse ColorGlass glosses have been in heavy rotation; I love the high-shine factor. They're packed with shimmer, but the particles are very fine so you don't end up with chunky-glitter-mouth. The glosses provide a sheer wash of color, so I love to layer these on over lipstick for an extra touch.
[caption id="attachment_6437" align="aligncenter" width="533"]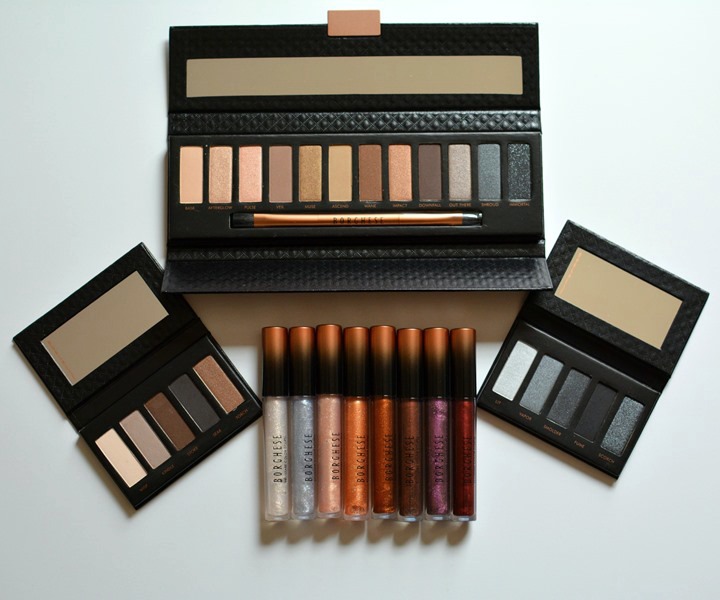 Win all this! Clockwise from top: Shadow and Light Luminous palette, Sultry palette, ColorGlass lip glosses, and Torrid palette.[/caption]
And you've got a chance to win this Borghese haul! Up for grabs:
Sultry 5-shadow palette
Torrid 5-shadow palette
Shadow and Light Luminous 12-shadow palette
A full set of the Color Eclipse ColorGlass lip glosses (9 total)
Enter below! Contest is open to everyone in the United States + Canada and will run through Thursday, March 5th. Good luck!
Linking up today with My Girlish Whims, Stylin in St. Louis, Mix & Match Fashion, Chic Street Style, The Penniless Socialite + The Tiny Heart, The Red Closet Diary, I'm Perfectly Human + Made With Zeal, Happiness at Mid Life, Life of Malones+ East Coast Chic, Sincerely Jenna Marie, VMG206, Simple Nails and Beauty, Birdie Shoots, Midwest Bloggers, Style Elixir, The Fashionista Momma, More Pieces of Me + On the Daily Express, Rhea Et Cetera, and Pink Sole + Cha Cha The Fashion Genius.
*Borghese provided the products for my review; thoughts and opinions are my own.