I am so game for clothing comfy enough to be pajamas but are actually legitimate made-for-public outfits. A fashion loophole. Am I wearing jammies or not? Doesn't matter; I'm digging it. This bright + floaty coral outfit does not disappoint and was the perfect contrast from my all-black ensemble from earlier this week to promote Fashion for a Cause. I worked with the lovely team at Clique Boutique in Prairie Village, who helped me pull these killer coral joggers and gorgeous watercolor blouse to create a bright + super cozy look.
While I particularly enjoy how loud the outfit is, you could absolutely break these piece apart. The blouse works with everything from skinny jeans (white, true blue, busted at the knee– you name it) to a pencil skirt for the office. Take these joggers, throw on a slouchy tee and a blazer or denim jacket, then add a pair of gladiator flats and you've got yourself a perfect weekend outfit for spring + summer. Brunch, anyone?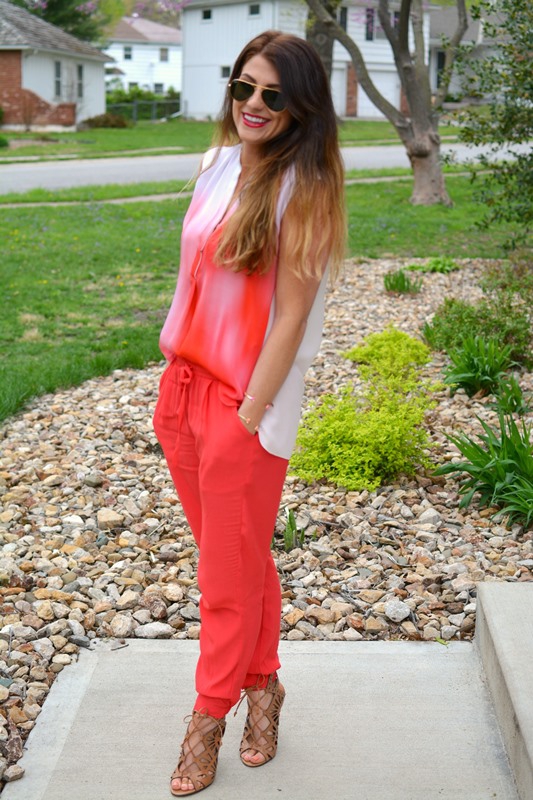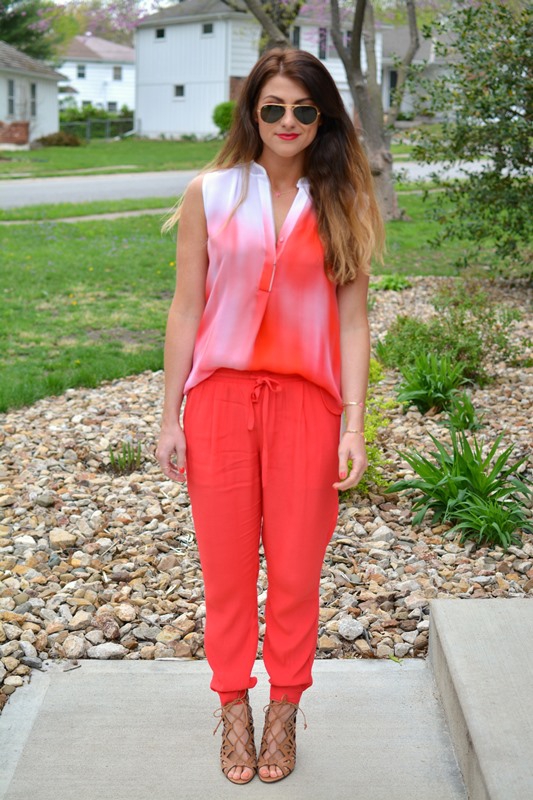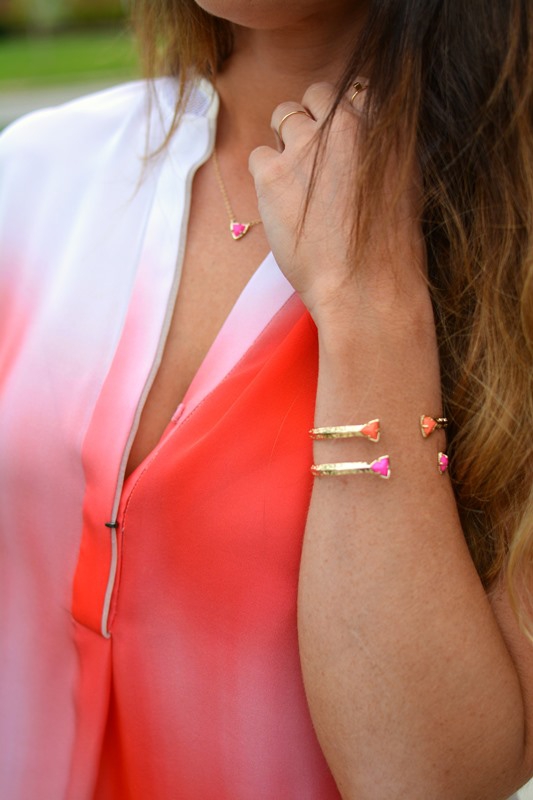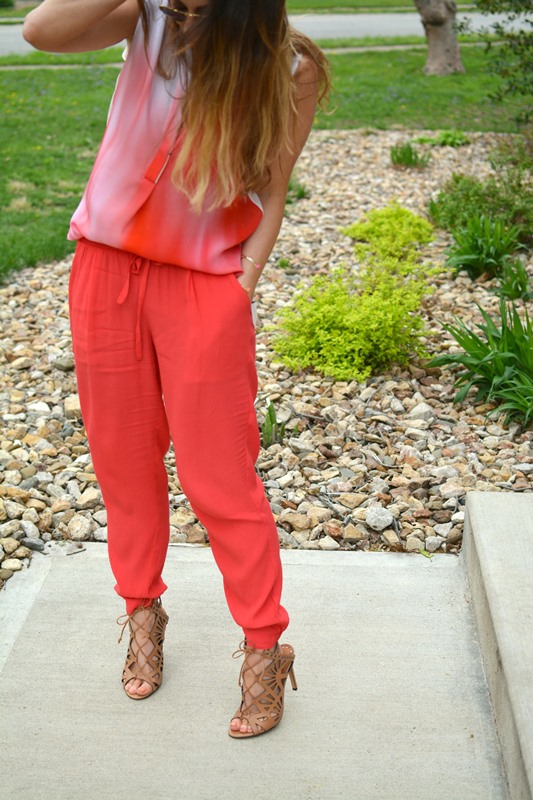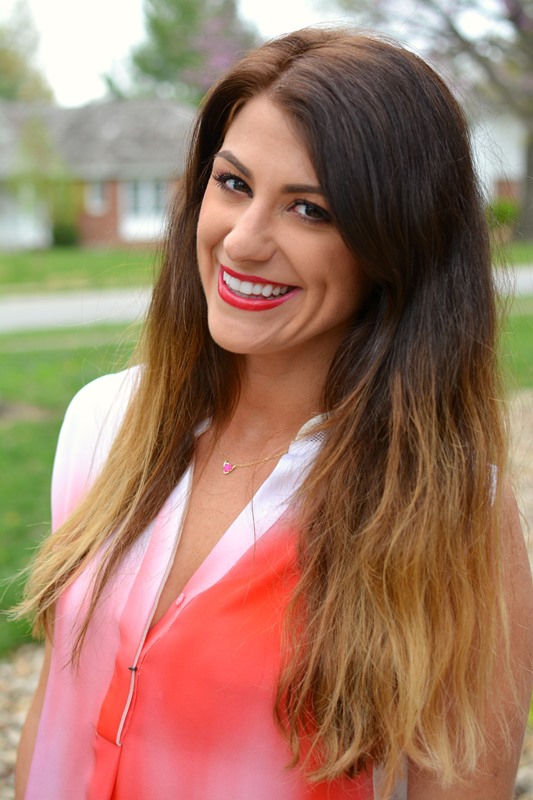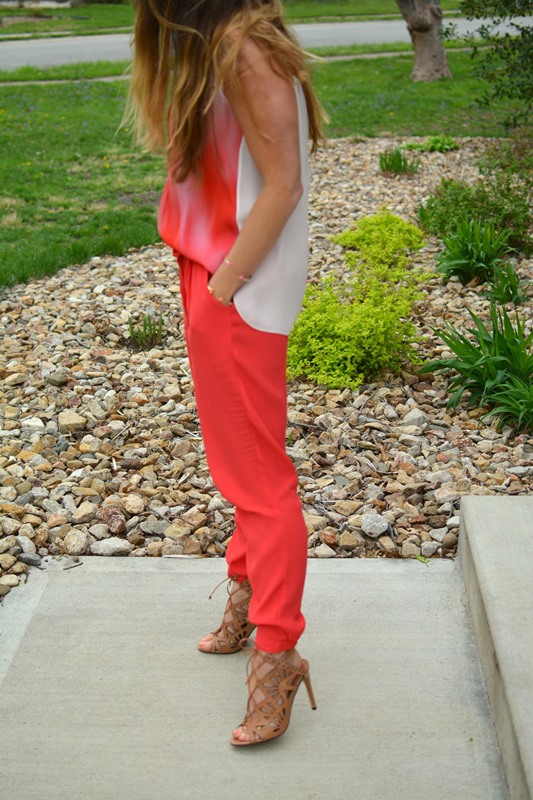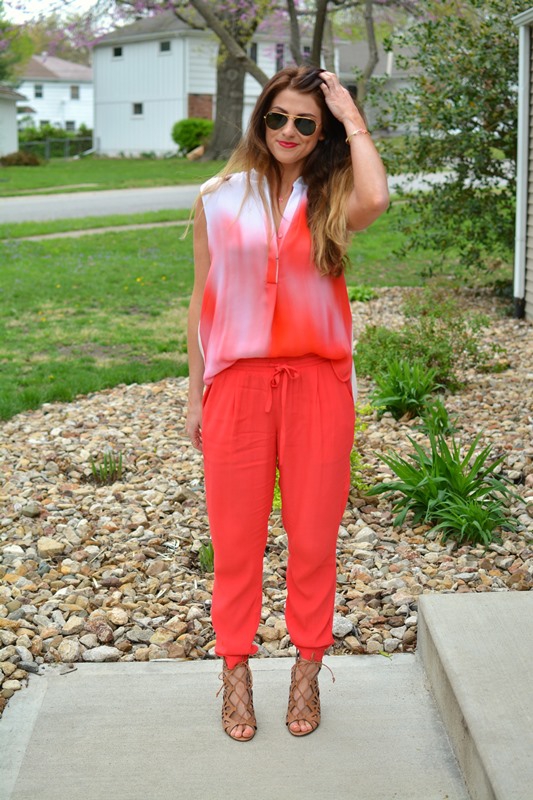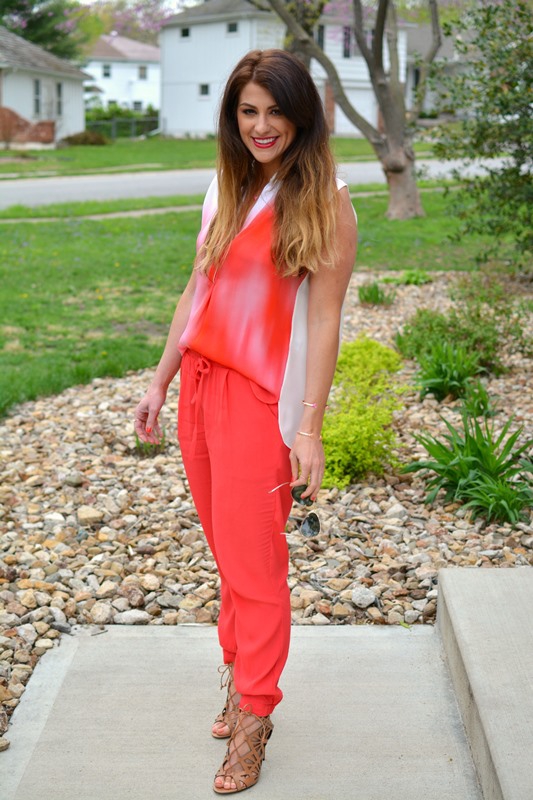 Shop the post:

Also: I was this close to naming this post I Dream of Retirement Homes because isn't this outfit the absolute perfect blend of I Dream of Jeannie + Blanche Devereaux on vacation in the Turks and Caicos? I LOVE IT. Meemaw Chic is a thing I want to be part of.
Tomorrow night is the Fashion for a Cause show at the Grand Ballroom here in KC– I'm so excited! Going to be a fun event for an amazing cause. In town and want to come? Tickets are still available.
Linking up today with My Girlish Whims, Reasons to Dress, Stylin in St. Louis, Doused in Pink + Curly Crafty Mom, Mix & Match Fashion, Chic Street Style, The Penniless Socialite + The Tiny Heart, The Red Closet Diary, I'm Perfectly Human + Made With Zeal, Happiness at Mid Life, Life of Malones + East Coast Chic, Sincerely Jenna Marie, VMG206, Simple Nails and Beauty, Birdie Shoots, Midwest Bloggers, Style Elixir, The Fashionista Momma, More Pieces of Me + On the Daily Express, Rhea Et Cetera, and Pink Sole + Cha Cha The Fashion Genius.
*Clique Boutique allowed me to borrow pieces to create this look as part of Fashion for a Cause; all thoughts and opinions are my own.