The Village at Briarcliff is a great place to spend a Saturday.
Kansas City friends, I have a great shopping spot for you to check out: the Village at Briarcliff. It's just 5 minutes outside of downtown KC, and 25 minutes from my place in the south metro. They invited me up a few weeks ago on a sunny Saturday to check out what they have to offer a shopaholic like myself. Spoiler alert: I was floored.
Eclektica Salon.
I started the morning at Eclektica for a blowout.  The salon was gorgeous and stocked full of products I wanted to take home with me– including the L'Oreal Professional Mythic Oil, which smelled amazing. It's super nourishing, too!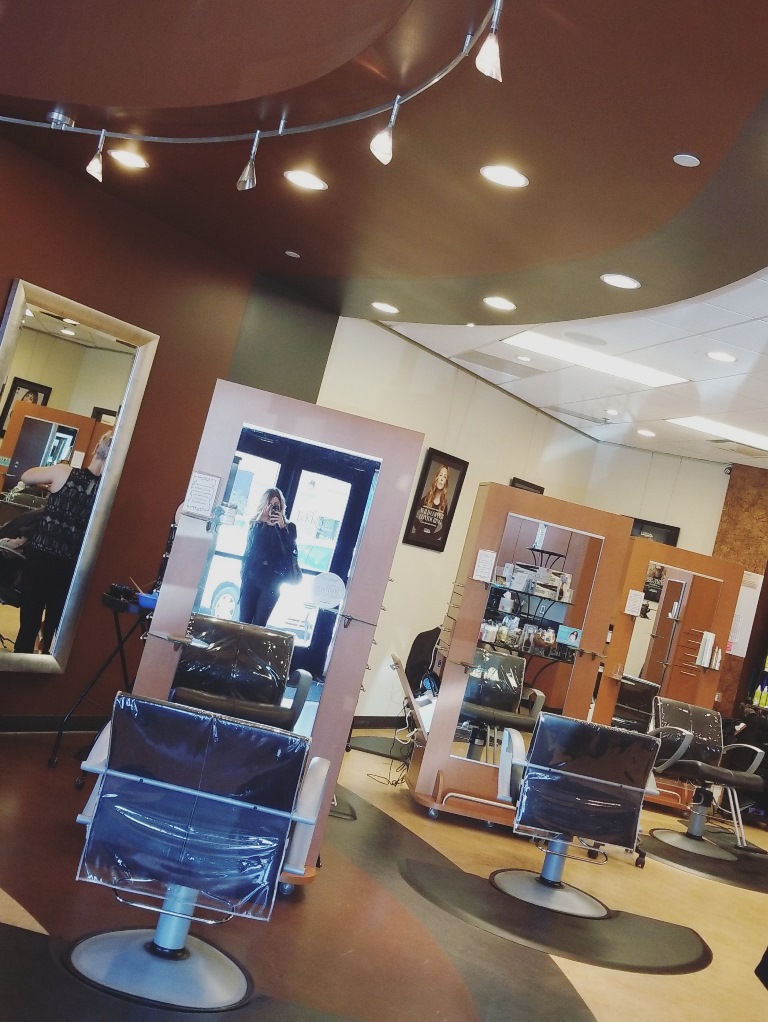 You know your girl's hair is something to be tamed (read: lion to the max), so I love the opportunity for a proper styling session. Elisa was lovely– and she never once complained about my crazy tresses. After a shampoo + deep conditioning treatment, she gave me a swingy blowout with just a bit of curl. I loved it!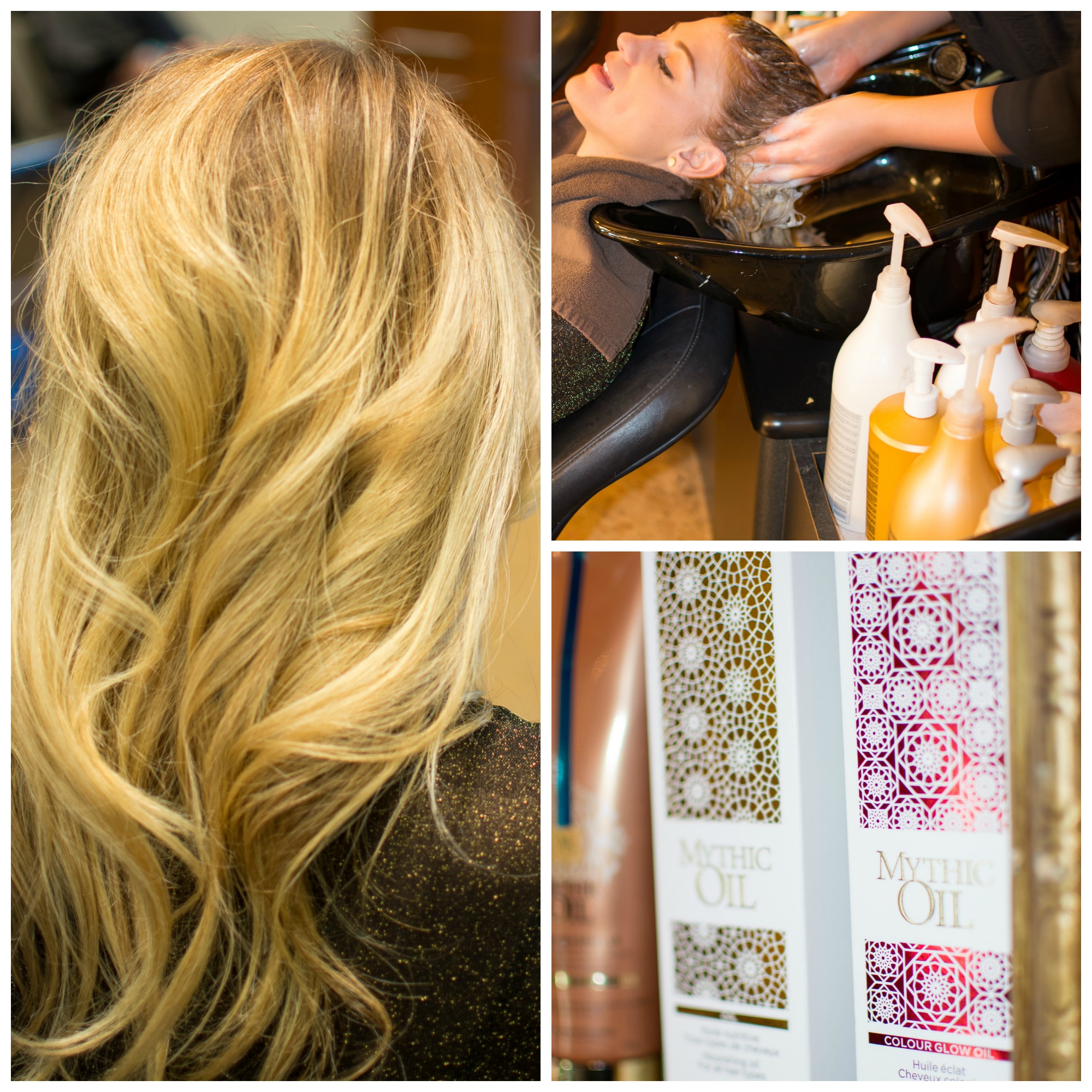 Eclektica is a full-service salon, offering everything from haircuts, color, to texture treatments. They also do brow shaping + tinting, lash tinting, and face waxing. If you're in the area, I would definitely swing in and treat yourself. You can follow them on Facebook or call to book at (816) 587-4159. Ask for Elisa– she's adorable and did such a killer job on my blowout!
Design in the City Boutique.
My next stop was Design in the City. My first thought when walking through the front doors was, "Oh, I could do some damage in here." There were so many cool pieces (like that fun tie-dye blue and white dress below) that were screaming to be added to my summer closet (and to my suitcase for Greece).
The owner, Mindy, was so kind and welcoming– she was also serving spicy Bloody Mary's, so I knew we were going to get along. (I was actually following my low-carb-hit-your-macros plan and needed to abstain from alcohol, but Mindy brought me out a little cup of jalapeno-stuffed olives when she noticed me poaching the olives from my pal's drink!) She's the buyer for the boutique and has such a good eye. There's an awesome mix for all ages: girls in their teens can find something just as easily as a woman in her 40's and 50's. Yes! I love a boutique with some range.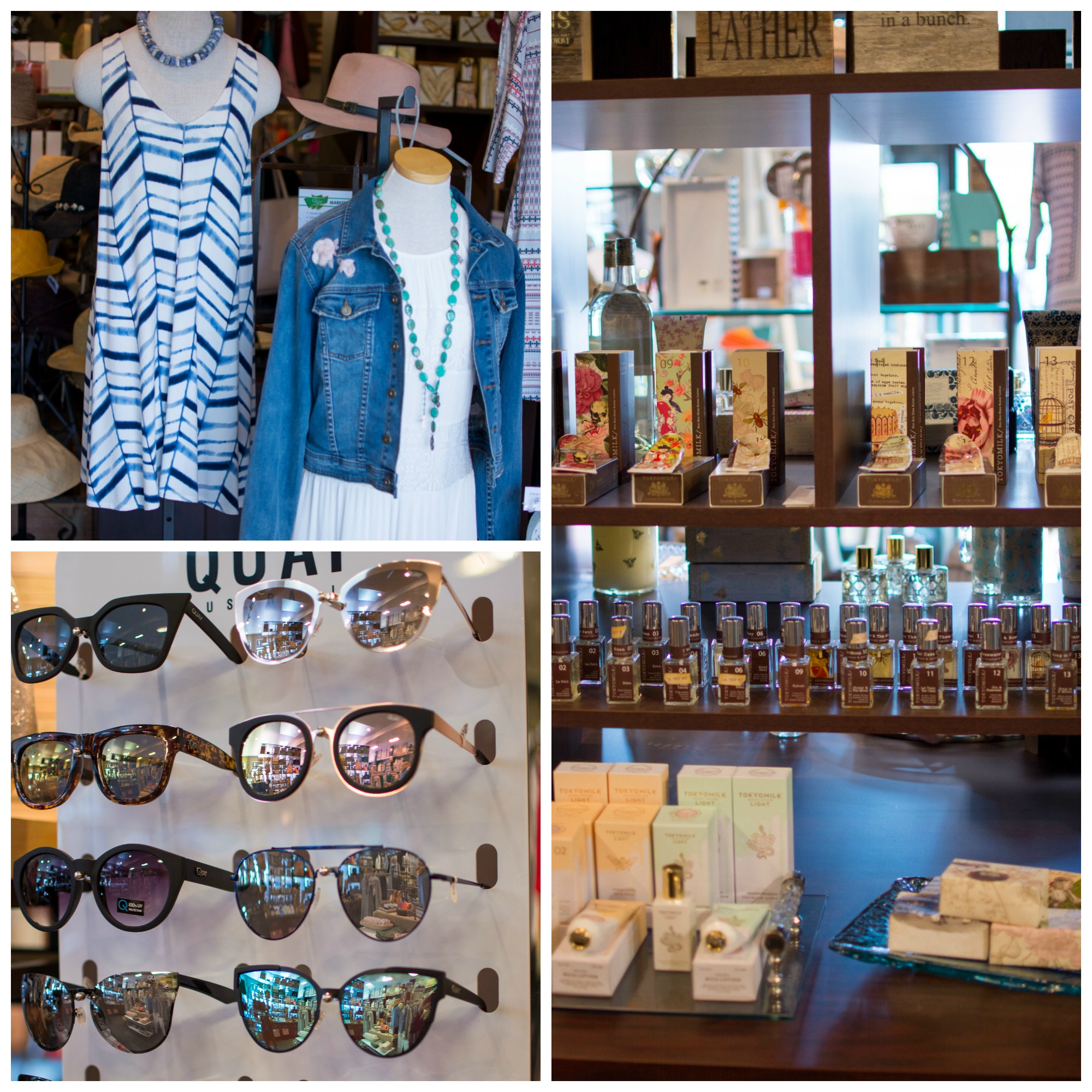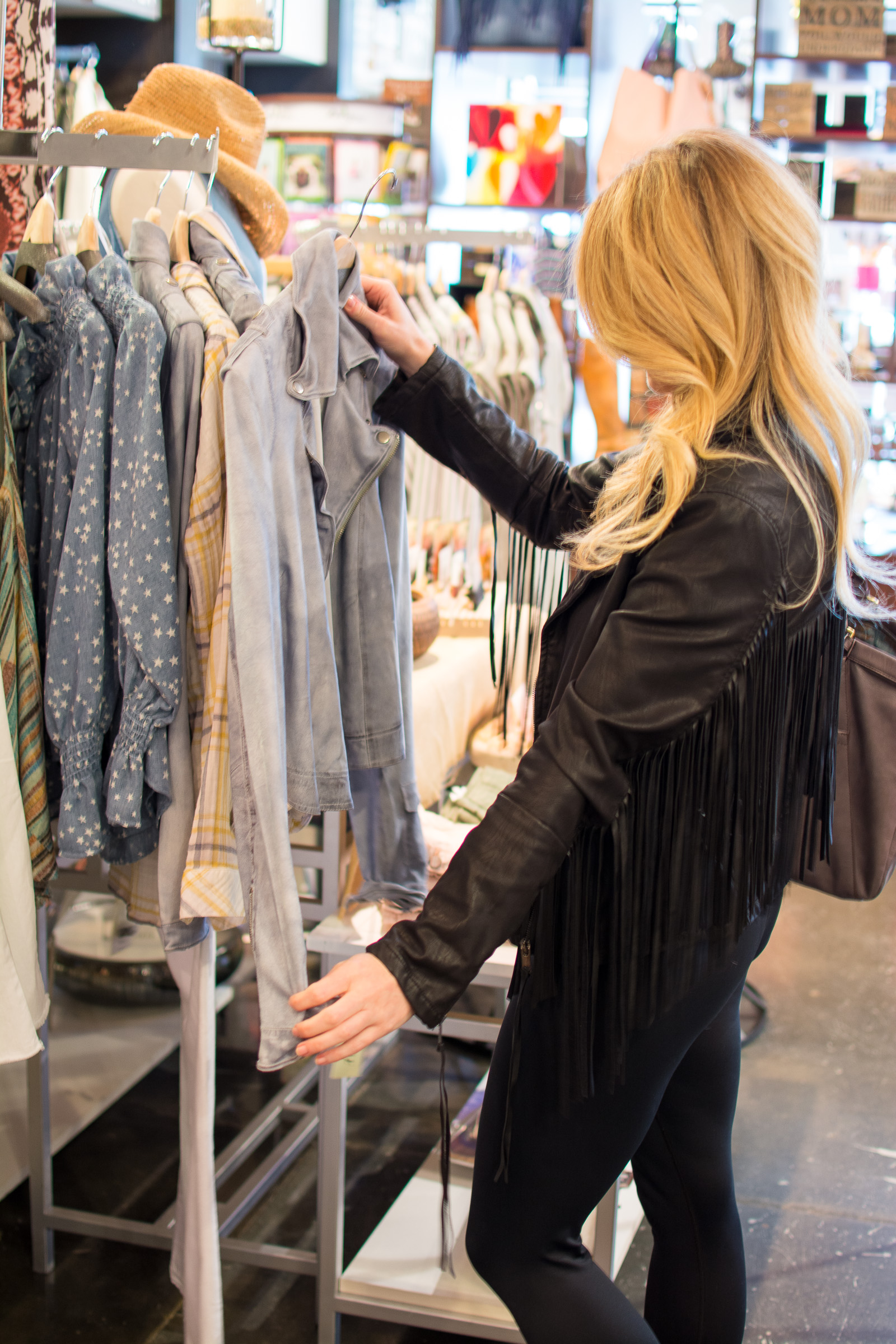 As I dug deeper into the store, I spotted a few displays of Quay sunglasses (super on trend + affordable) and a Kendra Scott station. (Yesss, give me all the Kendra Scott baubles.) Even more reasons to earmark Design in the City as a go-to shopping destination.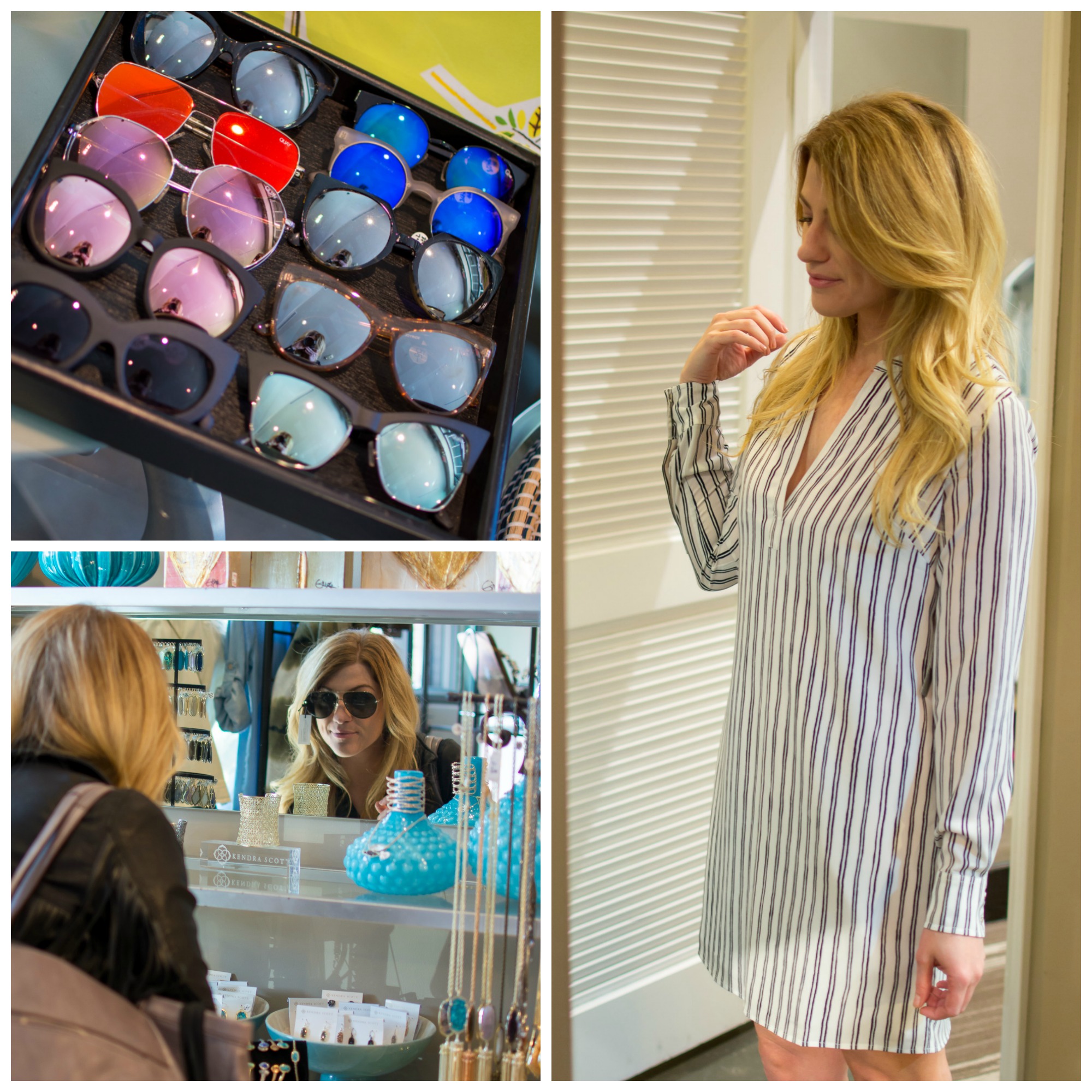 I was especially interested in pulling things that would work not only for spring + summer, but specifically to pack for Greece. Design in the City served up everything I needed: lots of lightweight chambray, nautical stripes, and breezy tunics all perfect for the Mediterranean. If you were following along on my Insta stories, you know I spent a lot of time in the dressing room, drooling over all the fun pieces. I walked out of the salon with an armload of killer stuff– and a new pair of Quay sunnies– all thanks to Mindy.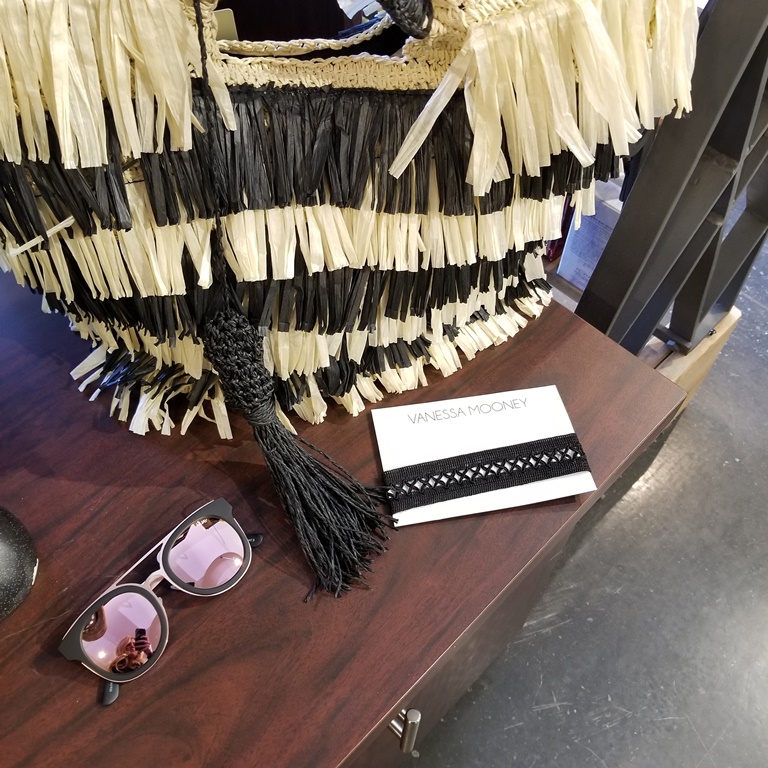 More exciting news from the Design in the City team: they're opening a second location! Look for a brand new Design in the City boutique to open in the Brookside area this summer. (I'm especially excited about this because it's a bit closer to my house out south, which means more Design in the City trips for me!)
Follow Design in the City on Instagram (for cute outfit ideas + what's currently in-store) and Facebook.
Boutique Collective.
Boutique Collective is six super cute + wearable boutiques in one. So convenient + set in a roomy store that gives you plenty of space to dive into all the goodies from each boutique. Which, to introduce 'em, are:
Ruby Rouge Boutique
Fitwear Boutique
Jeweled Gypsy
Anchora Bella
Sideline Chic
Mended Wing
I was immediately drawn to the Ruby Rouge section because there was lots of gingham happening and I've been in the mood to add some of the fun summery prints to my wardrobe. I snagged the 90's sheath you see below + will be totally rockin' that bad boy on the blog soon. (I loved it so much, I wore it out of the store with my fringe leather jacket and sneakers; peep the shot here!)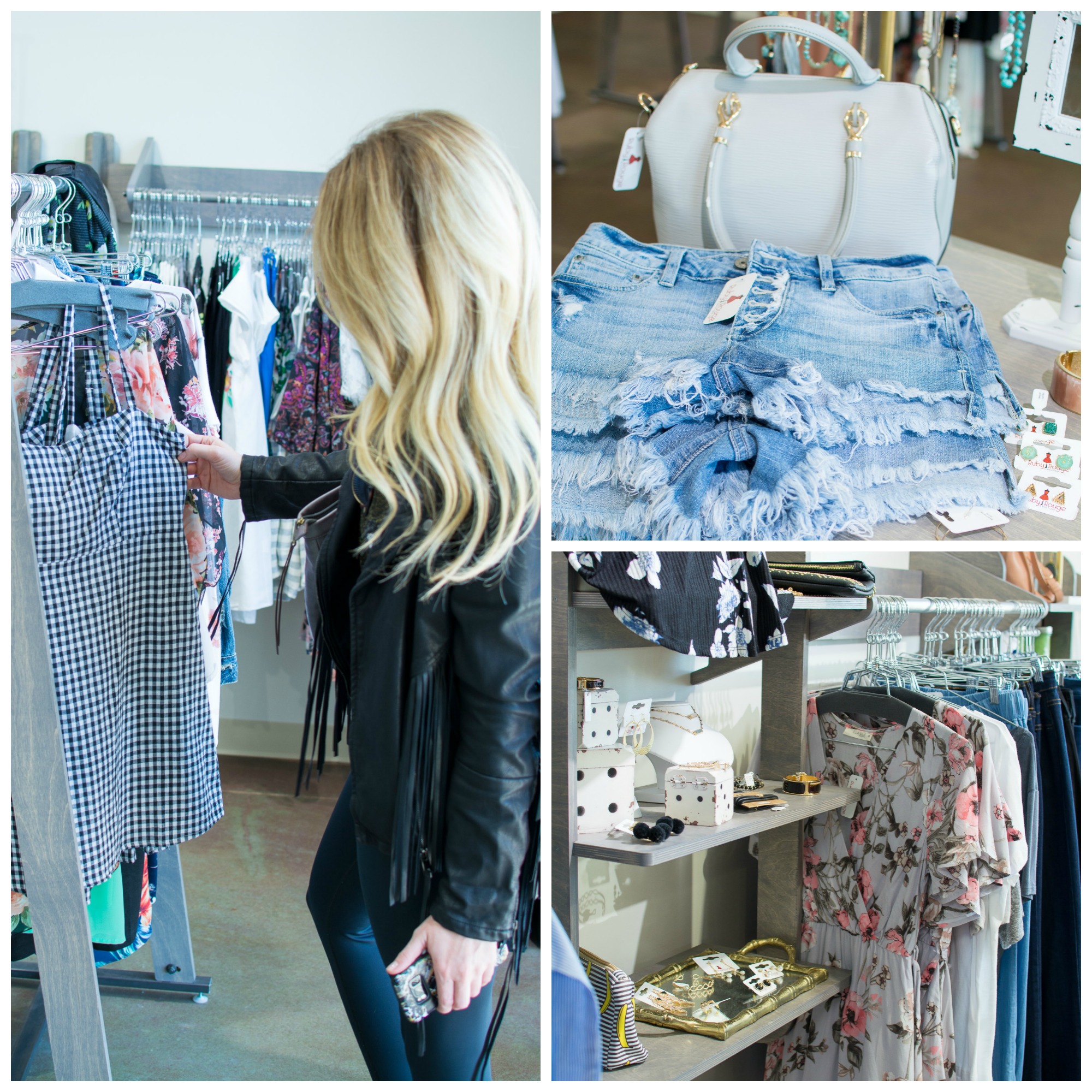 I also snagged those frayed denim shorts you see in the photo above. You can't have too many pairs of cutoffs come summer, right?
Fitwear Boutique (below) had a ton of cute athleisure + workout options. I was especially loving the pale pink + olive green palm leggings.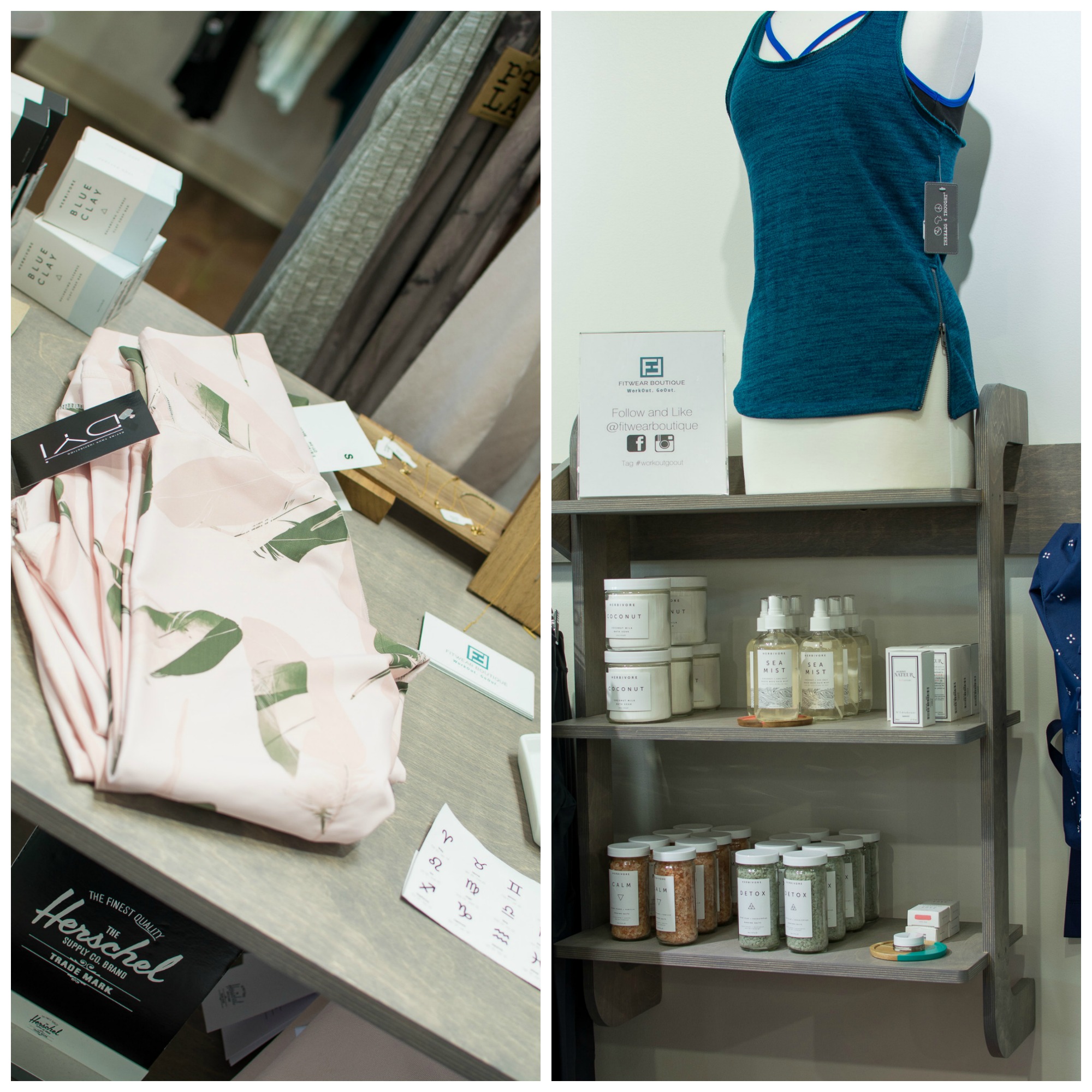 I loved this khaki shirt dress from Mended Wing; how good would that be for summer days at the office? I also dug this cute tee from Sideline Chic– such a cute KC piece.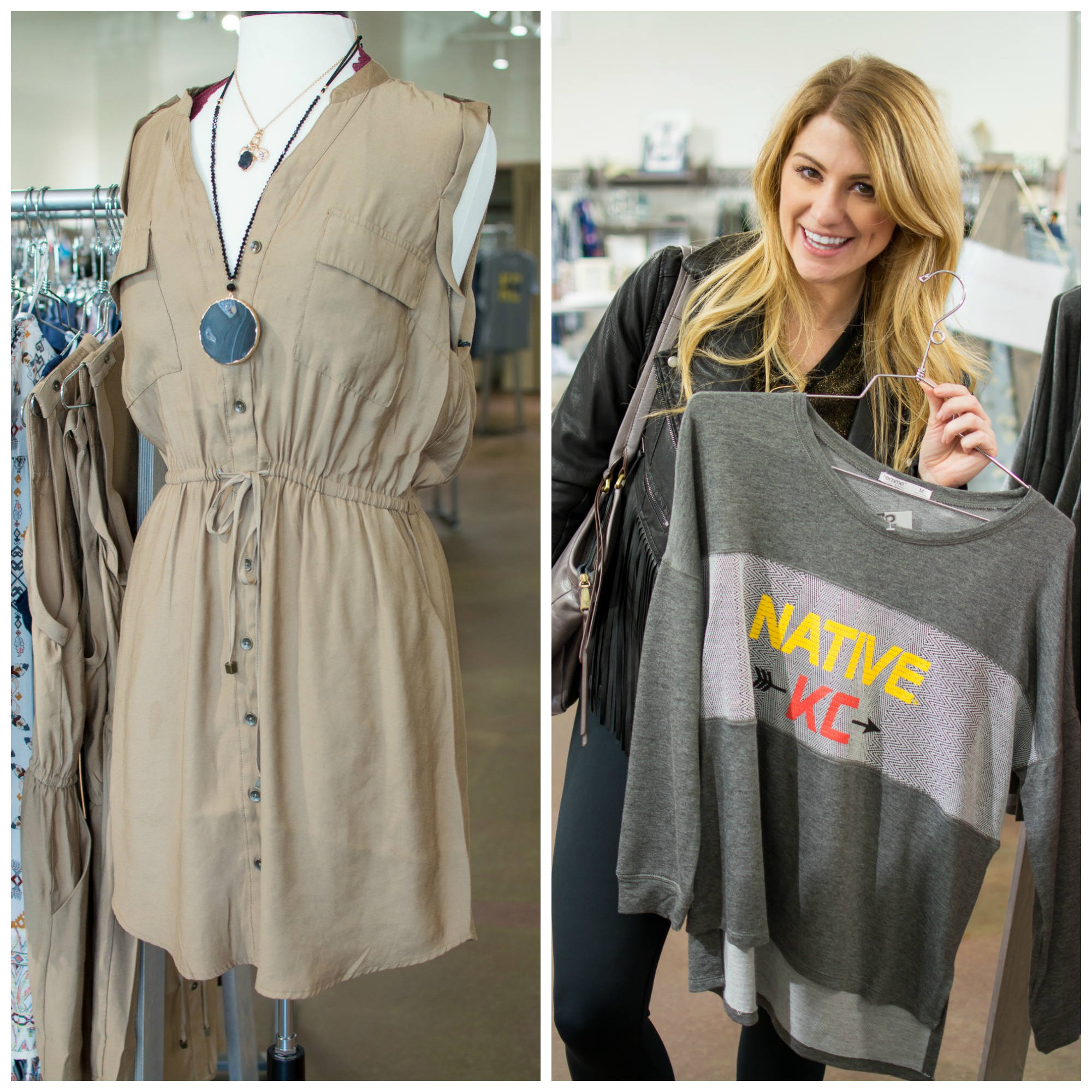 Jeweled Gypsy had a ton of fun baubles to pore over; I immediately gravitated toward the sunglasses. Mega mirrored lenses? I'm down. Anchora Bella was stocked with lots of pastel and lace-trimmed pieces– perfect for rounding out that spring wardrobe.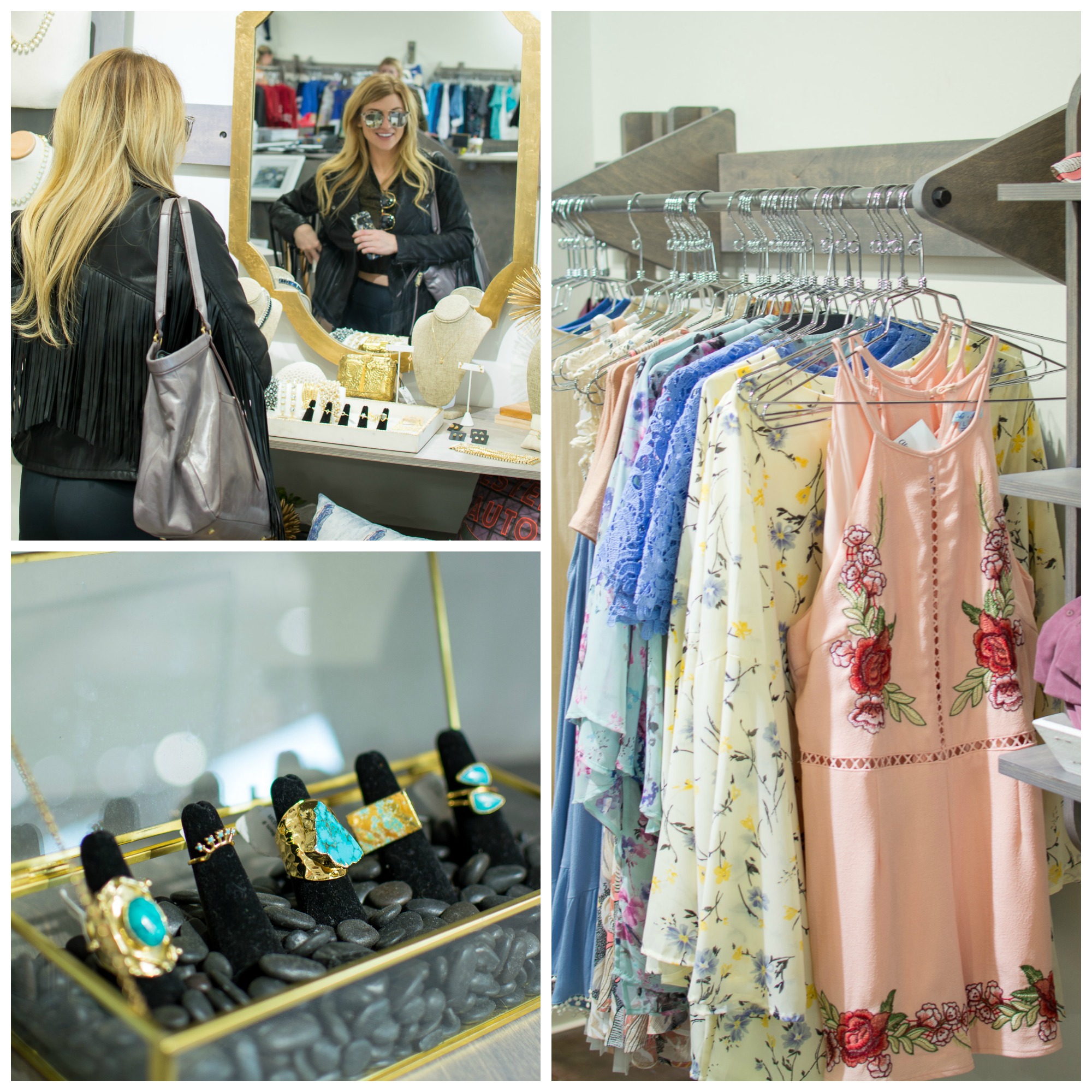 The girls at Boutique Collective were so nice + helpful. They were around to answer any questions I had about the boutiques and made sure my dressing room was packed with cute stuff to try on. The store overall definitely had a younger vibe (very wearable for teens through early 30's, for sure) and was stocked with lots of trendy pieces. I will be back!
Follow the Boutique Collective fam here on Instagram and Facebook.
Lillians.
My last stop of the day was Lillians, where I was greeted by the super sweet + laid back Bella the Bulldog.
Lillians had some really cute Kansas City burnout tees, bright summer dresses, and a wall of denim by Dear John (which I had never tried on before but immediately loved). What really caught my eye? This incredible white pantsuit that allowed me to have a bit of a Hillary-Clinton-on-vacay moment.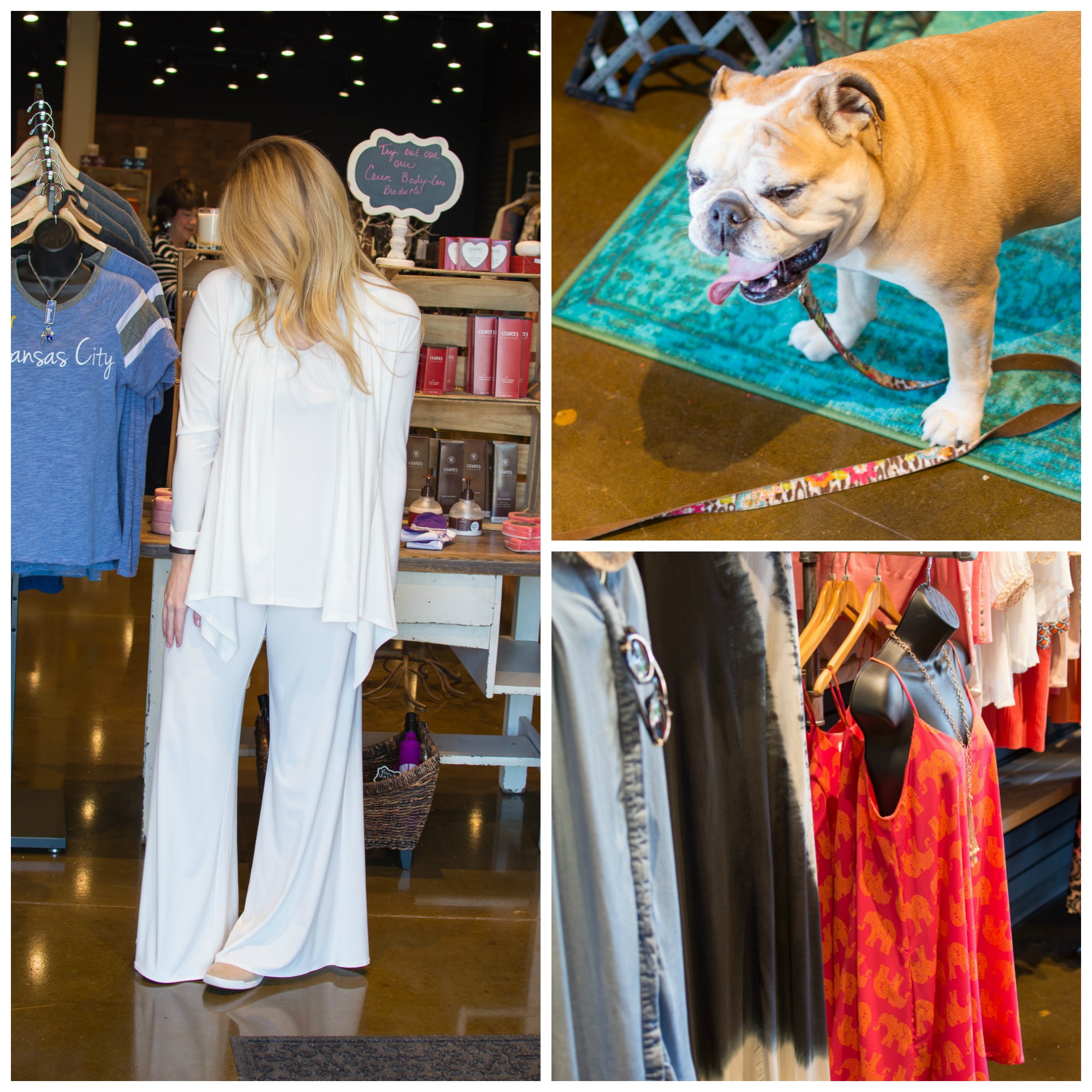 Lillians definitely had a vibe that lent itself to a more mature crowd, but that doesn't mean someone in her 20's or 30's couldn't something cute. (Like that adorable pink + orange elephant dress, for one.)
Follow Lillians on Facebook and Instagram.
___
My day at The Village at Briarcliff was so fun, you guys. The area is gorgeous– "cliff" is not a metaphor; the district actually sits up atop a huge hill with a great view of downtown Kansas City– and is a lovely destination for some open-air shopping. (And dining: my pal Brina and I swung through Trezo Mare for lunch on their patio. There's also Piropos, Green Acres Deli, Jose Peppers, and PhillyTime– something to satisfy every craving!)
I loved my shopping trip to The Village and will be back soon! Massive thanks to everyone for having me!
*This post is sponsored by The Village at Briarcliff; all thoughts and opinions are my own