Logging some serious beauty time to get ready for award season.
Award season is here + in full swing, so why not do a little pampering to get all primped + prepped just like the stars do?  I never shrug off an offer to boost my beauty routine. The team at Babbleboxx has just the solution: a box stuffed full of must-have beauty goodies to work some serious skin, hair, and makeup magic. So let's dig in!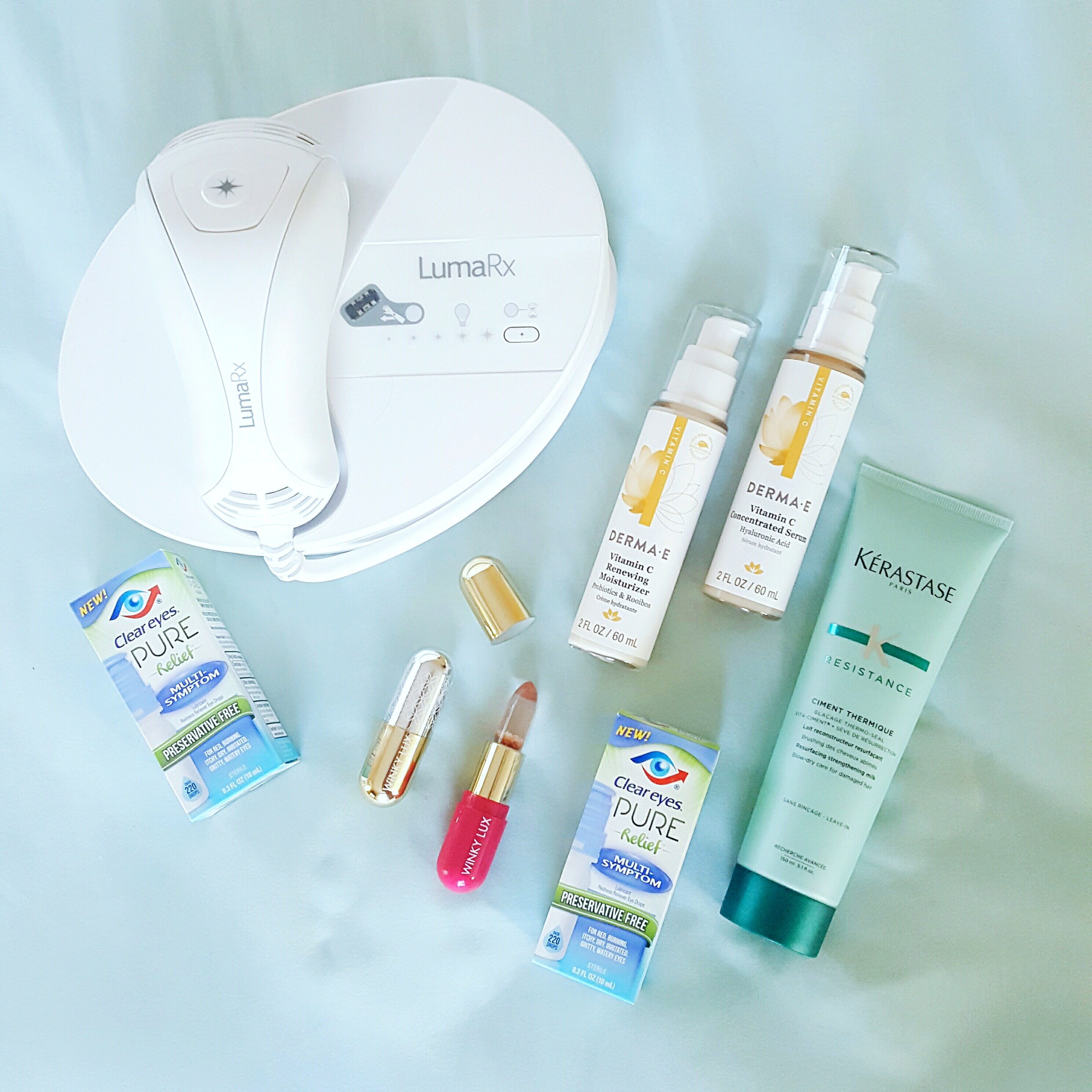 Product: LumaRX Full Body Device
What it does: Removes unwanted hair using IPL technology
IPL (or intense pulse light) tech zaps the hair follicle at the root with light energy. It stuns the follicle and breaks the growth cycle, and then hair in treated areas fall out in roughly 7-10 days. (More about the science behind IPL here.) What this means is the LumaRX device can deliver a permanent reduction in the amount of unwanted hair with up to 94% hair reduction after just 3 treatments.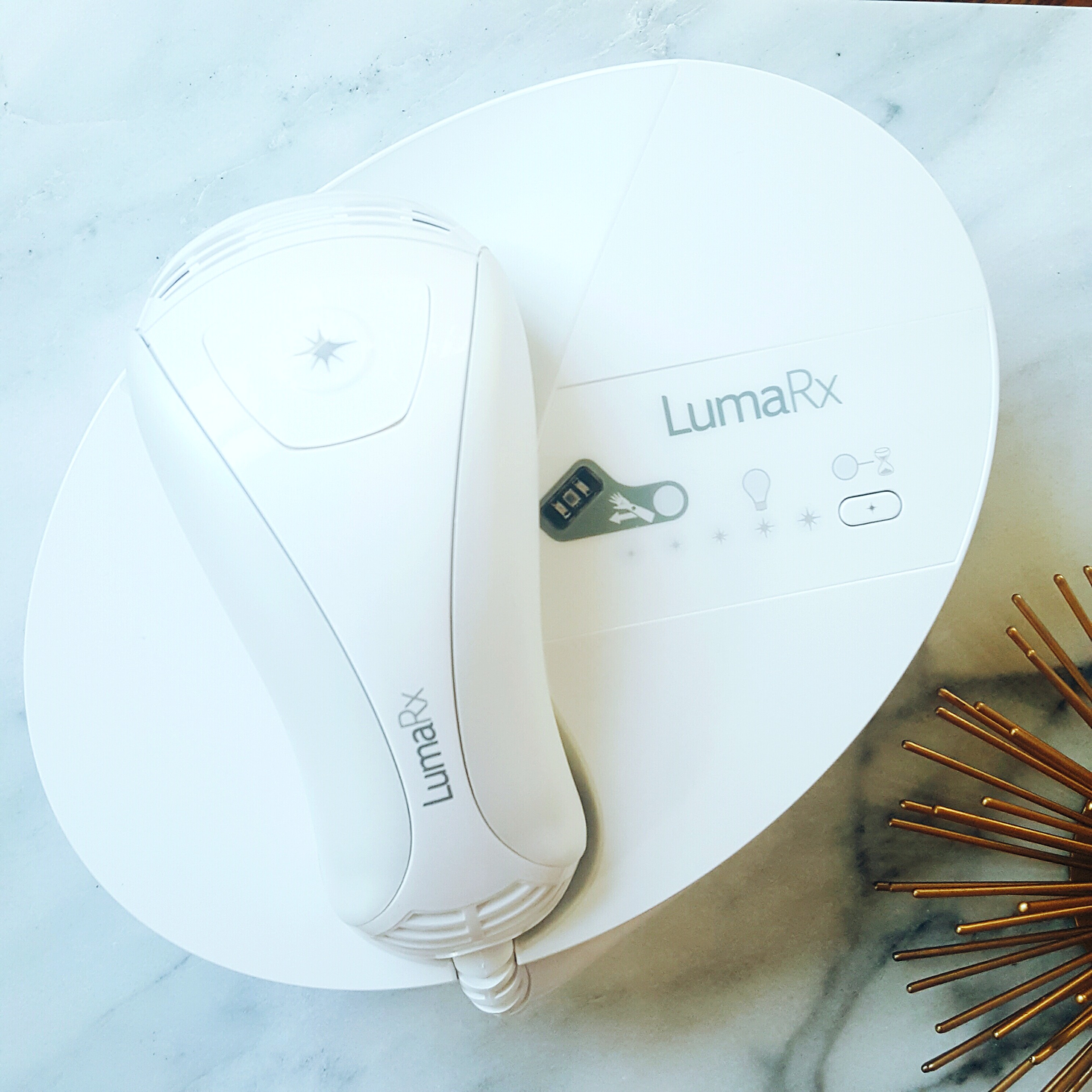 The LumaRX kit includes two detachable heads: one for use on the face, one for use on the body. Maybe you have a little mustache situation you want to clean up, or an area between your brows + hairline that you get tired of plucking. (These things happen– we're mammals!) You would use the face attachment for these delicate areas. If you're wanting to tidy up that bikini line or zap your underarm area, you would reach for the body attachment.
ComfortFilterTM technology keeps things from getting too painful. So what will you feel? Some warmth, and maybe a light snap– like the snap of a rubber band. This sensation decreases the closer you shave before using the LumaRX Full Body Device. (Hair poking through the follicle? Bigger "snap.")
What I love about the LumaRX Full Body Device is I can get medi spa-like results in the comfort of my own home. And decreasing my need to shave (especially with spring and summer on the horizon)? Yes, please. I'm tackling my underarms and bikini line stat with this bad boy. Want your own LumaRX Full Body Device? You can score $75 off with coupon code: BB75 now through March 11, 2017. Smooth skin ahead!
Products: Derma E Vitamin C Concentrated Serum & Vitamin C Renewing Moisturizer
What they do: The Vitamin C Concentrated Serum helps to boost collagen in the skin with nonoxidizing vitamin C, which can soften fine line and wrinkles as well as even out skin tone. (Nonoxidizing vitamin C is best; it means your skin gets more of the good stuff, so better results.) This serum is also packed with hyaluronic acid, aloe, and vitamin E– all serious moisture magnets. The Vitamin C Renewing Moisturizer builds on the steps taken by the serum, providing a lightweight layer of moisture that supports collagen health. Probiotics and rooibos (an antioxidant) work together with nonoxidizing vitamin C to help shield your skin from pollutants and boost its radiance. This one-two serum + moisturizer punch means smoother, firmer skin.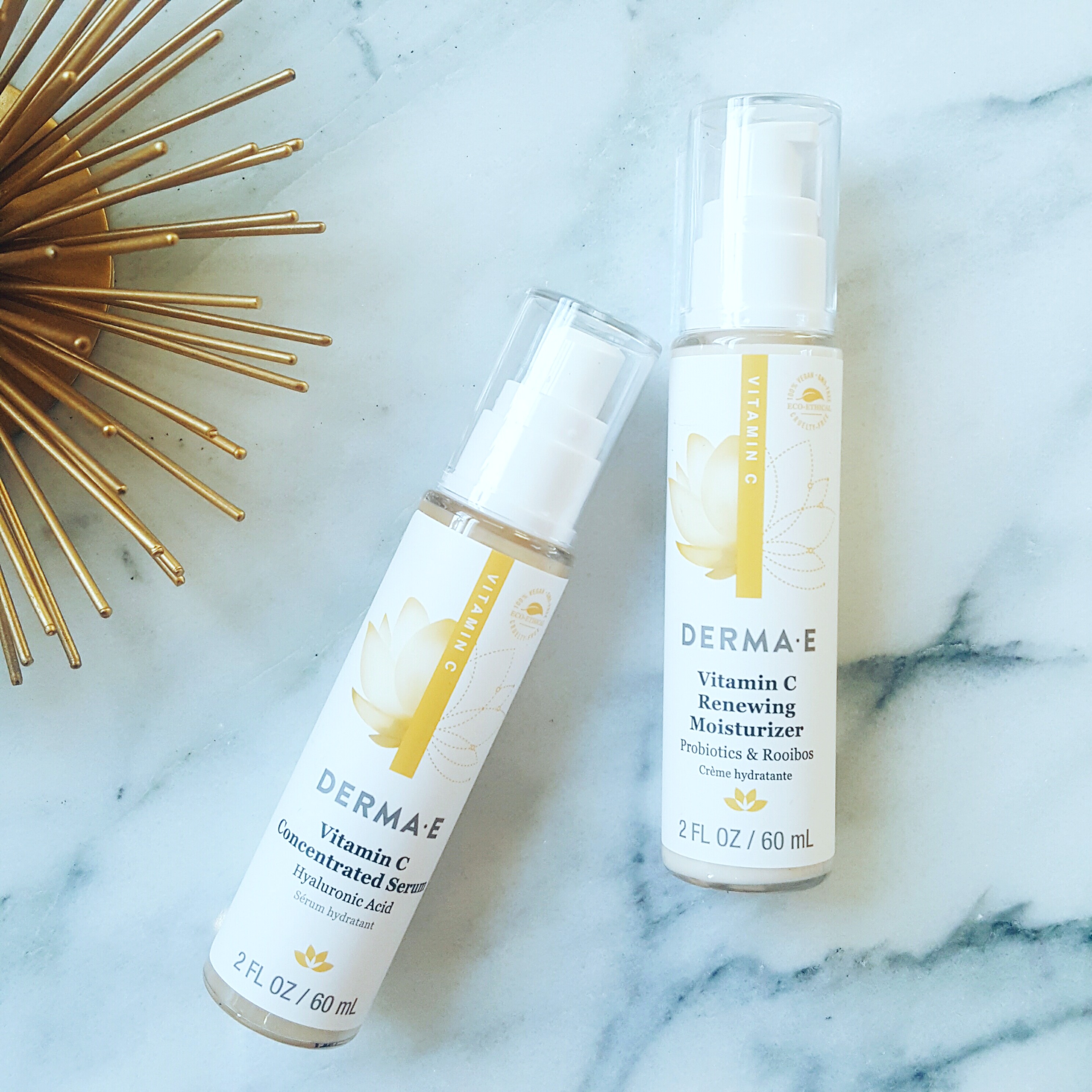 I am a complete sucker for a solid serum and moisturizer combo. Serums are the perfect way to deliver lots of nutrients into your skin; this Derma E formula is lightweight and absorbs quickly, which is great for on-the-go mornings and just-get-me-to-bed nights. You follow with the moisturizer, which is also
Vitamin C is a known radiance booster and defender against dangerous free radicals. (Basically, free radicals are healthy cells turned into bad cells via trauma; the free radicals we have, the faster our skin ages. Free radicals are caused by lots of things: the sun's rays, stress, pollutants in the air, smoking, etc. Antioxidants like vitamin C neutralize free radicals and keep everything balanced and youthful.) As a 32-year old bag of bones (ha), I'm very interested in prolonging the effects of free radicals and pushing off the signs of aging as long as I can– so give me all the good-for-you ingredients!
What I love about Derma E? They're all natural, baby. Yes! Natural skin care is becoming more and more important; chemicals are bad, people. Incorporating more natural products into my skin care routine has been something on my beauty to-do list for quite some time. (Also, big bonus: Derma E doesn't test on animals! Bless!)
Product: Clear Eyes Pure Relief Multi-Symptom Eye Drops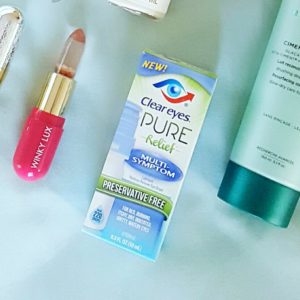 What it does: Relieves red eyes with a preservative-free formula perfect for taking care of burning, itchy, dry, irritated, gritty or watery eyes for up 12 hours.
I wear contacts every day and spend a huge chunk of my time in front of a computer screen. Hello there, itchy + red eyes. Ugh. These drops are perfect for keeping at my desk + on my vanity to freshen up my peepers and combat redness. Clear Eyes Pure Relief is the first preservative free eye drops in a multi-dose bottle at US retail in the US. Preservatives are used to keep bacteria from forming in the bottle, but don't do anything once dropped in the eye. (In fact, some people are sensitive to preservatives, which counteracts the entire reason for using eye drops in the first place.) The Clear Eyes Pure Relief® bottles have built-in purifying filters that keep bacteria out, so you still end up with soothing, bacteria-free drops without potentially irritating preservatives.
Bonus: you can download a coupon for $4 off a bottle of Clear Eyes Pure Relief Multi-Symptoms eye drops right here.
Product: Kérastase Ciment Thermique
What it does: A leave-in hair primer that strengthens and protects during heat styling, leaving you with shiny + smooth hair.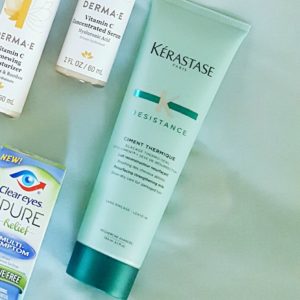 We all know the crazy damage heat styling can cause. Kérastase's primer aims to change that by fortifying the hair, resulting in 85% less breakage via exposure to hair dryers, straighteners, and curling irons. It creates a seal that means salon-level blowout results (yes!) and a way to smooth out those split ends.
I'm always looking for top quality heat protectors, and this one is now a must-have! I used it for an at-home blowout before my segment on Better Kansas City this week and my hair looked killer.
Product: Winky Lux Flower Balm & Stella Marina Lipstick
What they do: Flower Balm is a lip stain that reacts to your lips' pH levels to produce a perfect-for-you pink shade. Stella Marina is a gorgeous vampy burgundy shade with tiny flecks of metallic pink to give it a bit of a twist.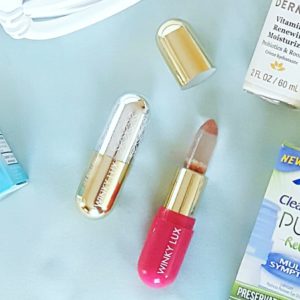 I love the texture of the Flower Balm; it glides on so nicely! My lips turned a pretty shade of pink after a few minutes, and I loved the coconut scent. There's also a tiny dried flower in the bottom of the jelly tube! Super cute. Stella Marina is a fun shade to wear; I do love a vampy lip for some drama (you can see why a color like this would be perfect for an award show red carpet).
Stella Marina is a fun shade to wear; I do love a vampy lip for some drama (you can see why a color like this would be perfect for an award show red carpet).
Winky Lux promises to deliver high-quality luxury makeup at reasonable prices. The result? These lippies are $14 and $15 each, respectively. Another Winky Lux bonus: all their products are cruelty-free!
Another Winky Lux bonus: all their products are cruelty-free!
Thanks to the Babbleboxx team for hooking me up with all these goodies! I'm going to be totally red carpet-ready for Kansas City Fashion Week next month. Cannot wait!
This post is sponsored by BabbleBoxx.com on behalf of Single Edition Media; all thoughts and opinions are my own.