So just how do I fast?
A few weeks ago, I shared a little bit about intermittent fasting + why I've adopted an intermittent fasting protocol (IFP) approach to my diet. You guys have indicated you want to know just how I do this– because not eating for a predetermined amount of time is hard; food is so good.
I agree with you. Totally.
For the past few months, I've been following an IFP. I went with the 16:8 at first– which meant a 16-hour fasting window followed by an 8-hour feeding window. Fasting isn't about what time of day you eat, just scheduling fasting windows and eating windows; this is great for tailoring a fasting schedule to what works for you.
I started by using sleep to take up the bulk of the fasting hours, skipping breakfast, and making lunch my first meal of the day after 16 hours of fasting. (I know, "breakfast is the most important meal of the day." Turns out, not always. Read this article for more on all that jazz.) That was giving me the benefit of a 16-hour fast (inflammation reduction, insulin sensitivity), and limiting my calorie consumption from noon to 8:00 p.m. (essentially, two full meals and a snack or two a day).
I wanted to try a longer fast, as the benefits of fasting increase with the number of hours logged. I had attempted a few 24-hour fasts before, but found myself headachey, dizzy, or reaching for small snacks like almonds to keep me going (and while they did, they also probably broke my fast and zeroed out any fasting gains). Also, those 24-hour fasts were spent focusing on just how hungry I was, so it became a willpower battle– and one I often lost.
My trainer reached out with not only a solution to my fasting problem, but a way to reset my diet while not scrimping on the essential vitamins, minerals, and protein the body needs to perform at a high level. I started the Isagenix 30-day at the beginning of this month, which calls for one cleansing (fasting) day a week. You eat dinner on Tuesday, for example, and don't eat a meal again until you have a meal replacement + protein shake for breakfast on Thursday. That means roughly 36 hours of solid fasting– but, how?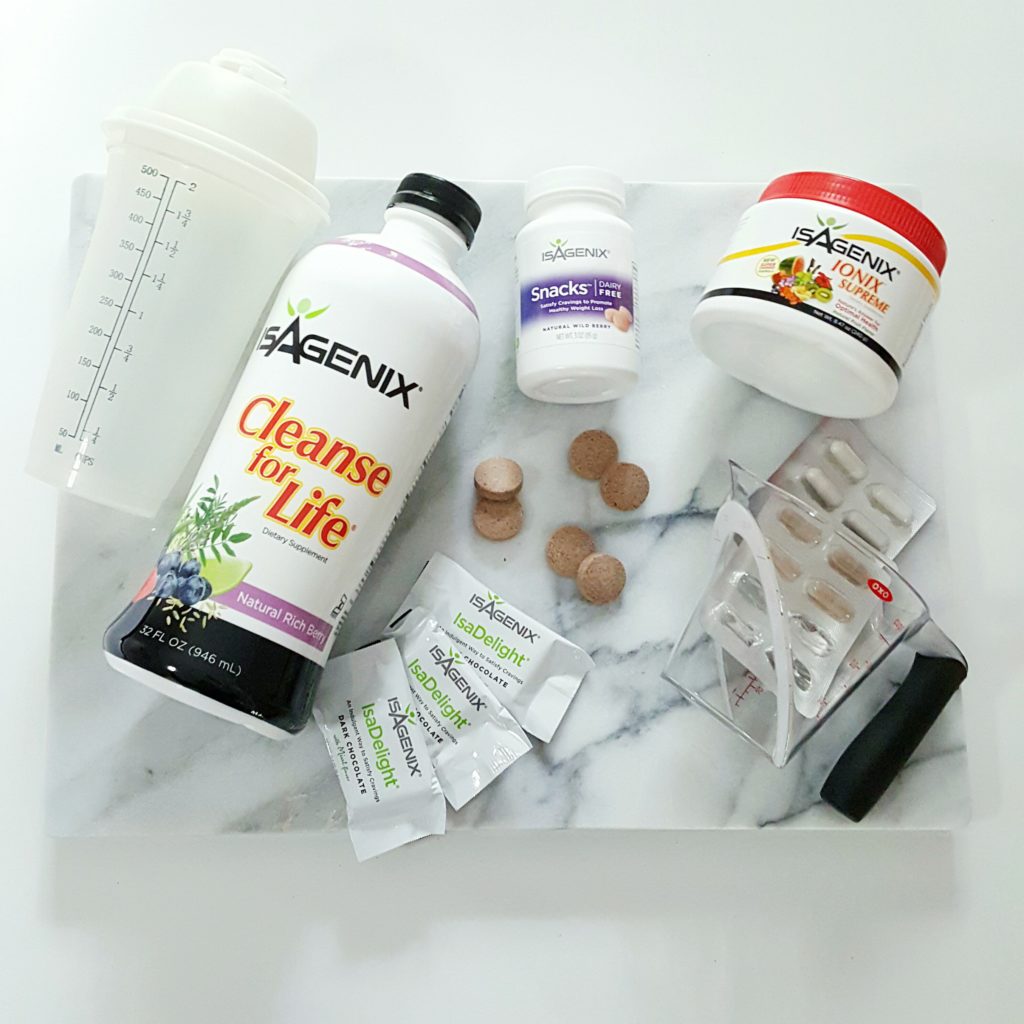 Basically, Isagenix supports your fast through products that don't break it. And you're drinking throughout the entire day (which not only helps keep you feeling full, but also keeps you hydrated). Two rounds of an Ionix drink mix (packed with vitamins and minerals to combat stress and fatigue), four rounds of the Cleanse drink (nourishes the system while removing impurities and boosting metabolism), plus water and coffee as you please.
The best part are the Isagenix snacks. Little dark chocolate squares (with green tea extract, amino acids, and antioxidants that immediately satisfy + curb hunger) and IsaSnacks (wafers that look like vitamins on steroids but keep hunger at bay) are the secret to my fasting success. With them, I'm able to sustain a fast without feeling weak, hungry, or overly grumpy.
At publish time, I've been able to complete three 36-hour fasts (one each week for the last three weeks). Not bad, not bad. I plan on continuing to incorporate a full fast day into my weekly schedule even after I finish the Isagenix 30-day, using the cleansing products to ensure success.
Note: this is what works for me. IF in general accounts for many, many different types of approaches, and there is room in each protocol for customization to what the individual wants/needs. Also, I'm not a doctor/certified dietitian. I'm just some random Midwestern girl with the Internet and a curiosity about something with some scientific backing that I wanted to try. If this is something you want to test drive, it wouldn't be a bad idea to do a lot of research and check with your doctor first.
If you have any questions, I'm happy to answer 'em. And if you're curious about Isagenix + what's best for you, I'd love to help you get started! Shoot me an email or drop a comment.