Celebrating spring with a new FabFitFun box.
The FabFitFun spring box has arrived! Everything inside is geared toward getting you ready for warmer weather– skin, nails, hair, and even some goodies to stock that beach bag.
Haven't heard of FabFitFun? it's is a subscription box that ships 4 times a year and is packed with $200+ worth of fun, full-sized products. (The total value of the items below = $369). You only pay $49.95 each time a box ships. Paying full price not your thing? That's okay, use coupon code: ROUGE and get $10 off your subscription. Let's get to unboxing!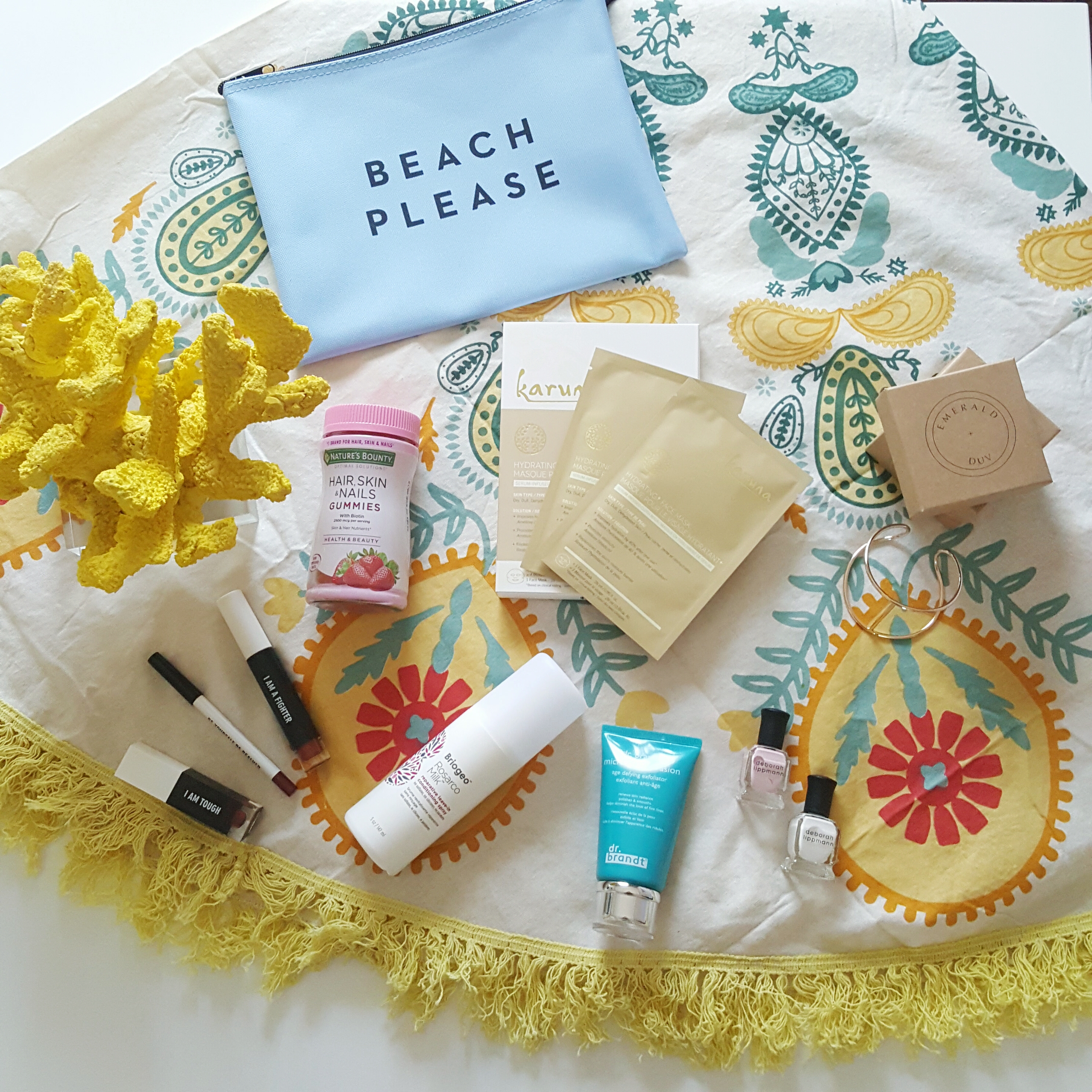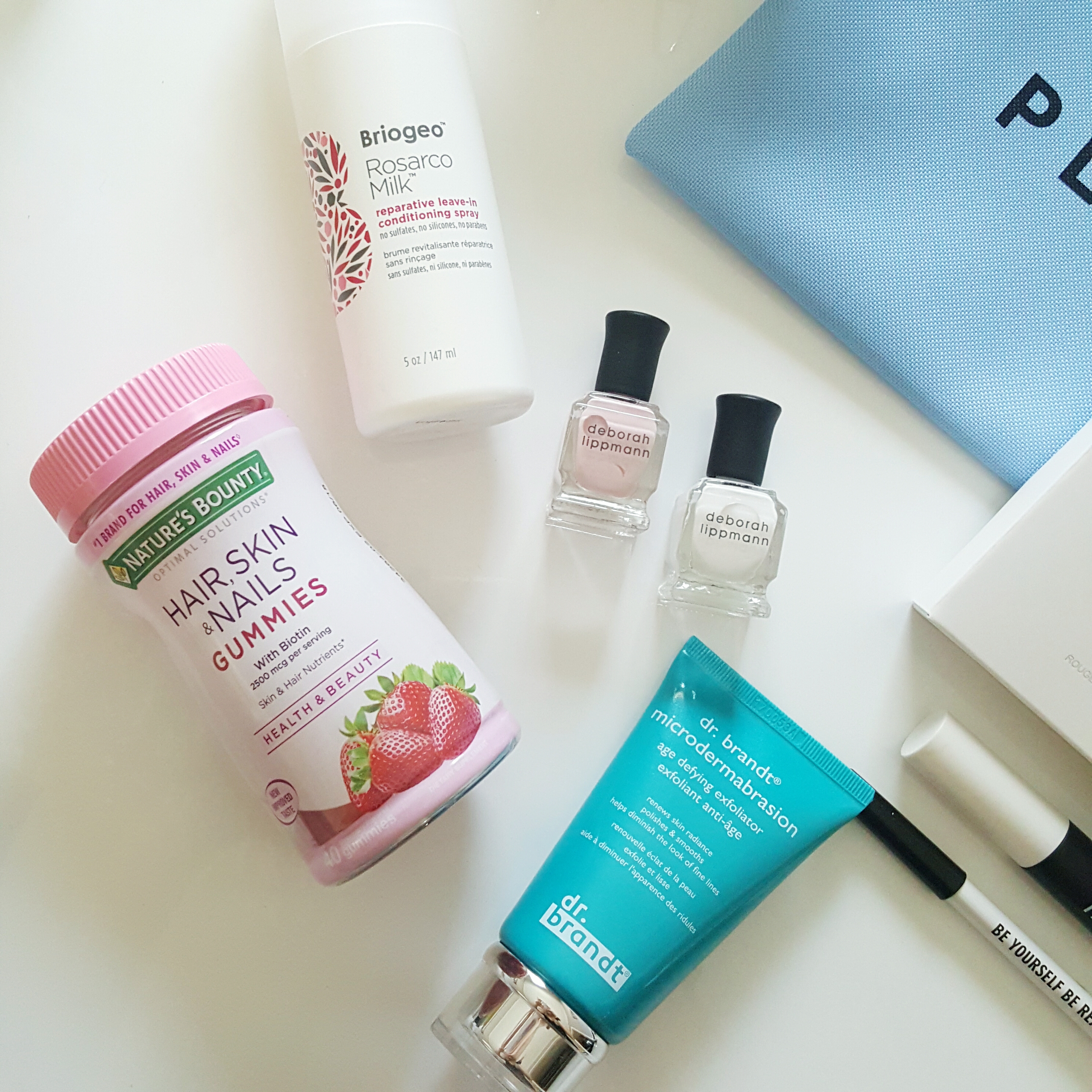 I can always count on FabFitFun to come through with some serious skin goodies. In this box, Dr. Brandt's Microdermabrasion Age Defying Exfoliator promises to reveal radiant + renewed skin with lactic acid, aluminum oxide crystals, and smoothing botanicals. A set of 5 hydrating sheet masks for Karuna will make for an excellent exfoliation follow up.  Bonus: both the Dr. Brandt exfoliator and the sheet masks are paraben free, which is music to my ears. To beautify from within, I'm going to start popping these biotin-packed Nature's Bounty Hair, Skin, and Nails gummy vitamins.
Speaking of hair, I'm super pumped to try Briogeo's Rosarco Milk Reparative Leave-in Conditioning Spray. It's lightweight and has rosehip, argan, and coconut oils to make hair soft and a strong. It also acts as a heat protectant– always a good thing!
A cute nail duo from Deborah Lippmann is going to deliver quite the spring-ready mani + pedi in pale pink and soft white. I'm all about pastels on the nails right now! I'm excited to give this lip kit from RealHer a try; it includes a liner, liquid lipstick, and a plumping lip gloss. You can't beat a classic red lip. I love the empowering messages on the packaging, too– we all need a little reminder of this now and again, right?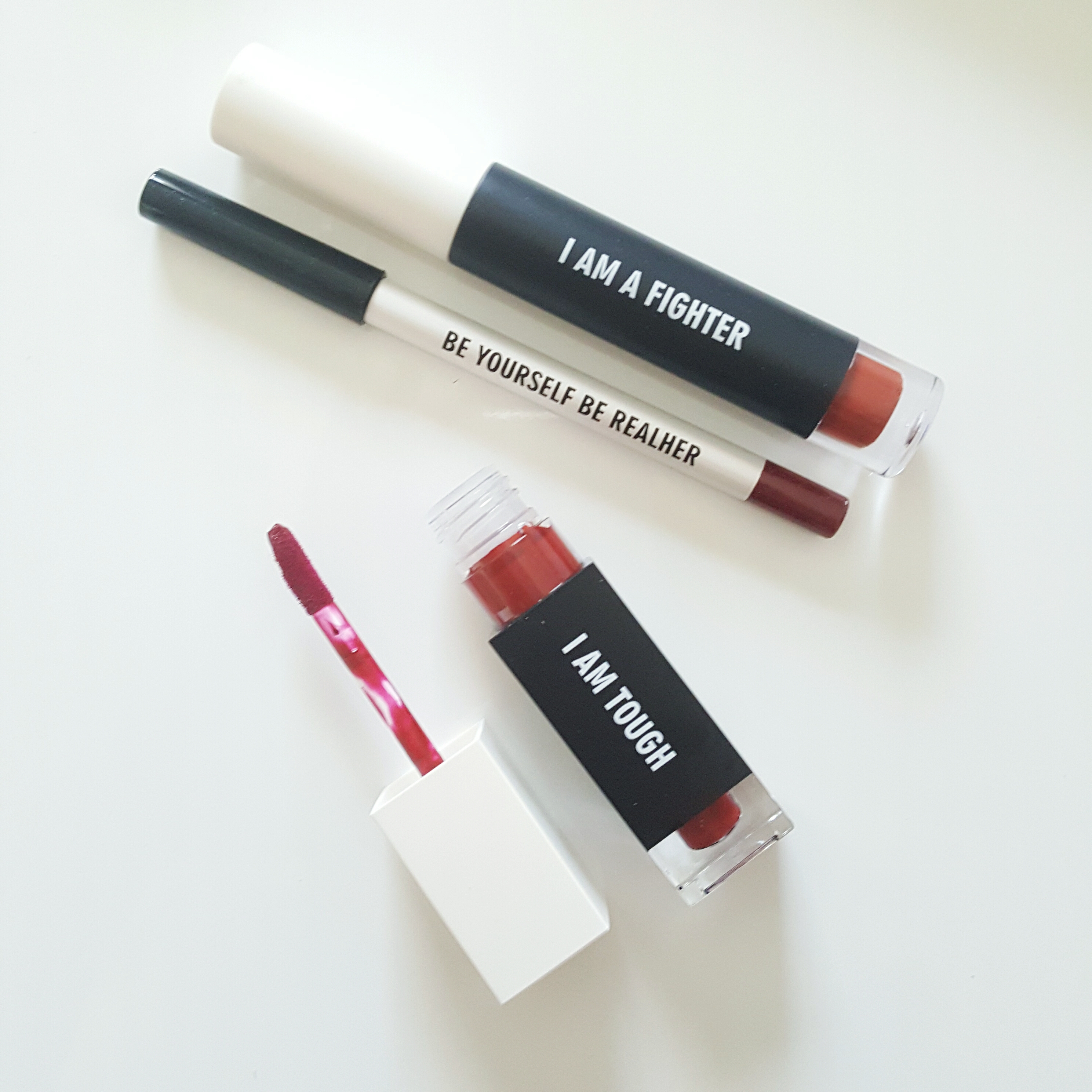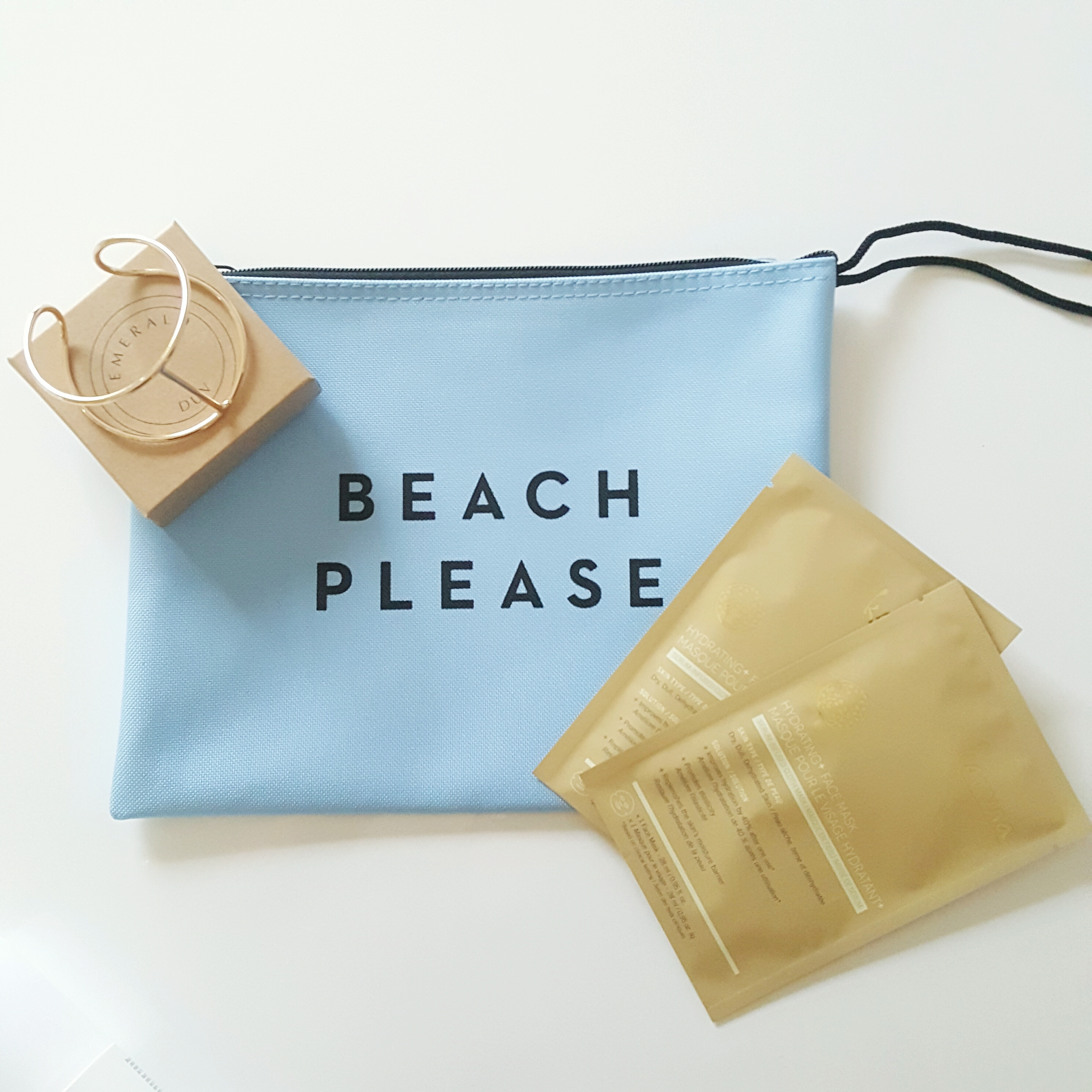 This pretty gold cuff from Emerald Duv is going to be on my wrist all spring and summer long! Such a pretty piece that will go with my dainty + gold theme as of late.
Just in time for vacation season, the FabFitFun team included a huge round beach blanket from Gypsy 05 and a super cute water-resistant bag from Milly (perfect for wet swimsuits). I can't wait to pack this little pouch on my Greece trip in May; it's going to come in handy!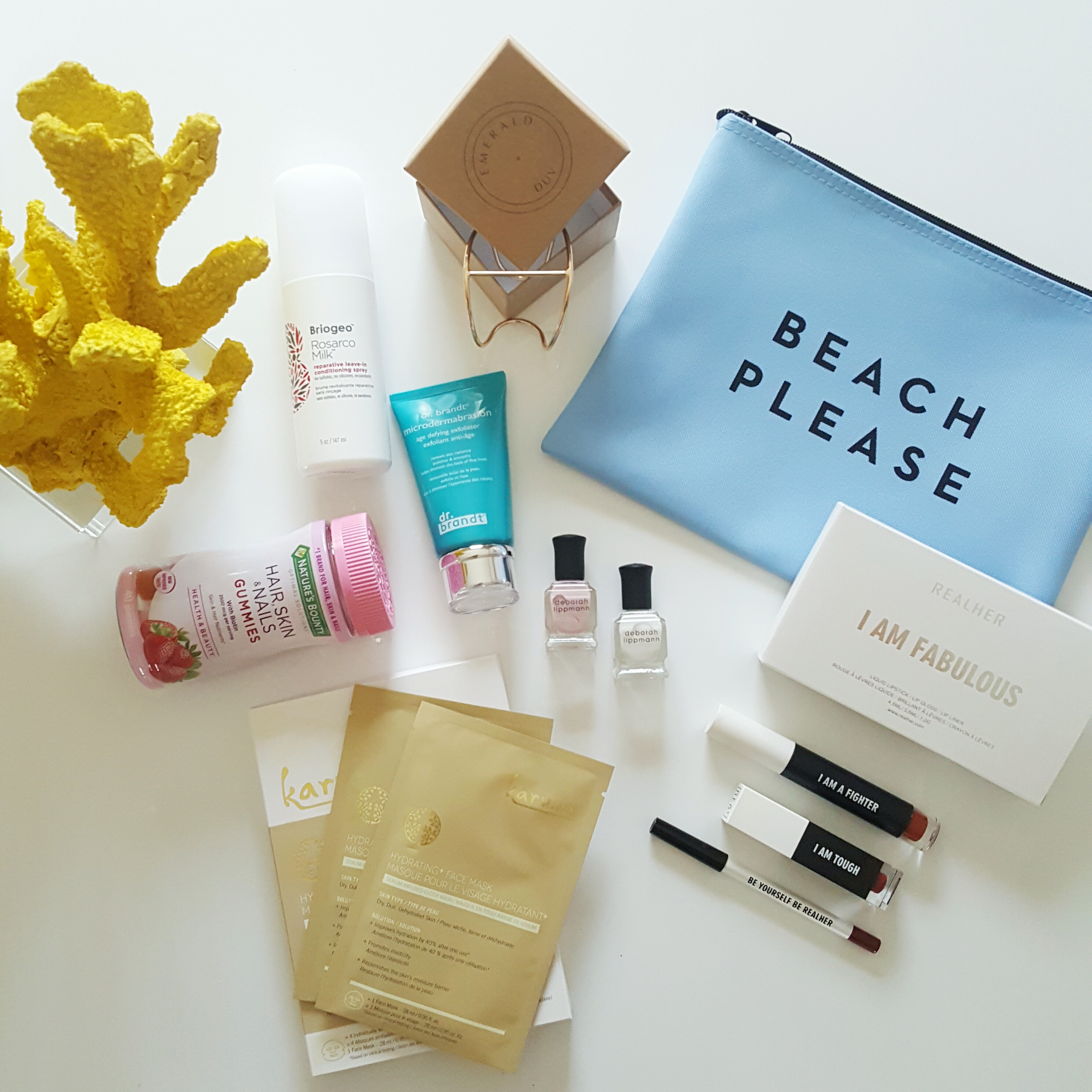 What do you think? Is this FabFitFun spring box a winner, or what? Massive thanks to the FabFitFun team for sending it to me! Get yours soon before it sells out!