For my KC pals: this mobile spray tan service is the absolute business.
I'm a spray tanner, guys. This pale, freckly body needs some help in the melanin department– and because I don't tan in the regular sun (just means more freckles; plus it's so bad for you) I rely on spray tans to get my dose of summer color all year long.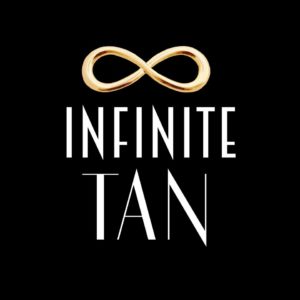 So when Amanda from Infinite Tan reached out with the opportunity to come to my house and give me a custom spray tan, I was game. How convenient is that? I just opened the door in a robe and said, "Hi, let's tan!"
Amanda came in and set up her tanning suite: a tent + filtered fan (to protect furniture from getting its own unwanted tan), an airbrush tanning system, and lots of goodies to help boost my tanning experience. She first handed me an exfoliating towelette and had me go to the bathroom and run it over my entire body to balance out my skin's pH level in order to be more receptive to the DHA. (DHA is the active ingredient in tanning formulas that gives your skin the end-result color.) She had disposable underwear (a bandeau and undies) if I needed 'em, and told me she was comfortable with me tanning in whatever I wanted. (So if you're going for the no tan lines look, you can.)
Next we talked through scents to add to the spray to lessen that telltale I-just-had-a-spray-tan smell. I chose citrus (she also had coconut, vanilla, and cucumber melon). Amanda had a towel laid out with little sticky pads sitting on top; I stepped onto those and they stuck to my feet, which kept the bottoms of my feet from turning brown. (So clever!)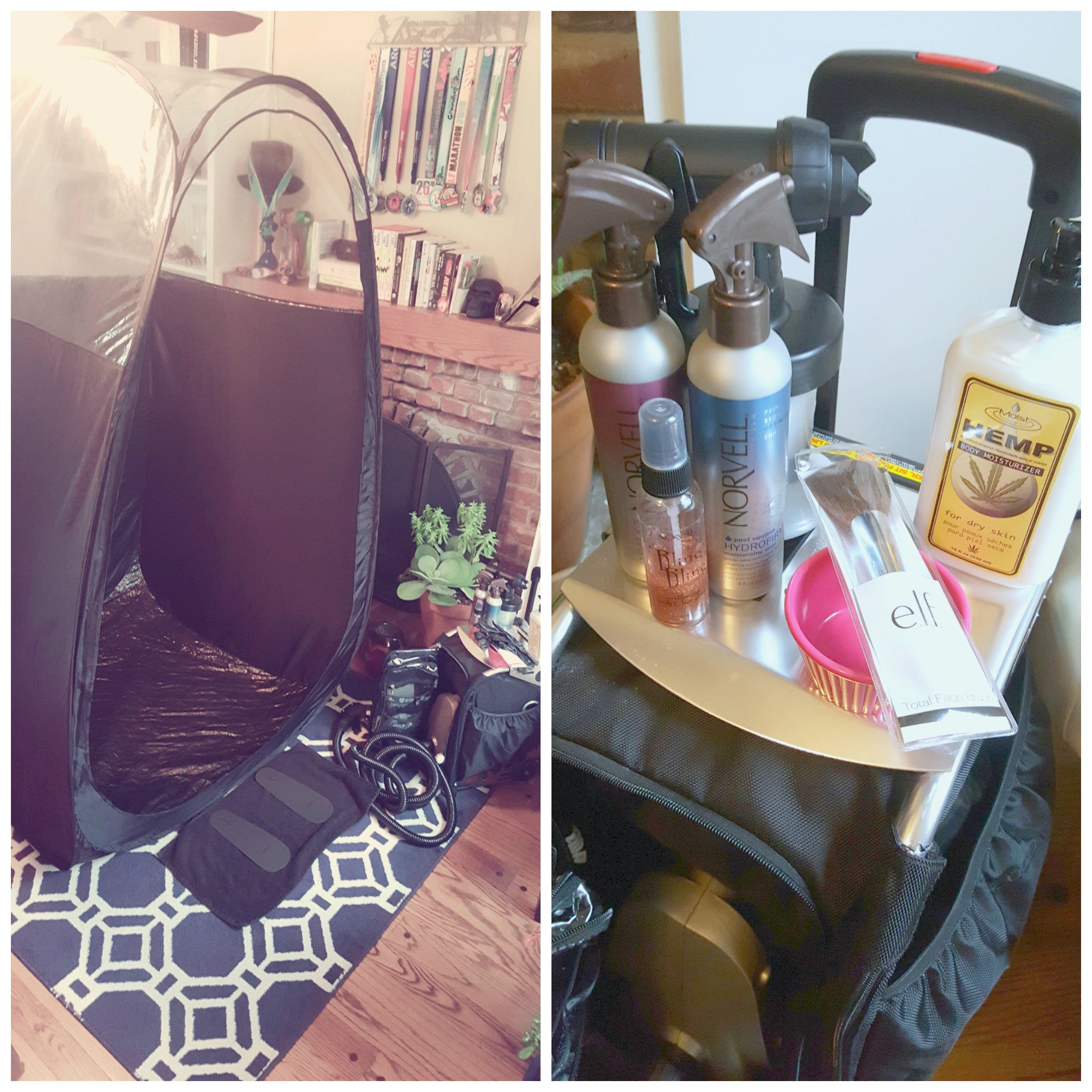 Now it was time to tan! If you've ever spray tanned in a booth before, you know what I mean when I say it's freezing. Those jets of spray tan hit you hard and fast– and it's always so cold. (And wet– which can result in a streaky tan.) A custom spray like the version Infinite Tan offers is a very different experience. Amanda used a hand-held airbrush system, which not only meant less cold air at one time but allowed her more control over the amount + placement of the product (resulting in a more natural, even tan). The mist was super fine, which meant it dried faster. (No drips or streaks!) A major bonus: Amanda made me feel so comfortable. We chatted the entire time, and I sorta forgot that my nipples were just out there for anyone to see.
The spray tan didn't take long to complete; Amanda is a pro. First up: a primer that balances the skin's pH levels and maximizes color results. Then came the tan itself. Last pass: a moisturizing spray that enhances the color and hydrates the skin.
I was in the spray tent for a little over 5 minutes. Super quick considering Amanda was carefully following the lines of my body for a natural result and adjusting her color application based on body part (knees, elbows, hands, and feet get less color, for example). To finish, Amanda dusted some known trouble spots that never seem to dry with powder using a fluffy brush– areas like the backs of the knees, chest, and neck. This took care of those sticky spots and made it easy to get back into my robe. Voilà! I was done.
After my tan, I had a 2-hour waiting period until I could rinse off. (Warm water rinse, no soap, pat dry.) It was so nice to be able to go to bed with the overspray rinsed off; normally, I leave a spray tan on overnight before showering the next morning. This was so much better!
Amanda gave me a few products to extend the life of my tan: a pH-balanced body wash, a pH-balanced moisturizer with DHA to even + boost the tan as it fades, and an exfoliator to scrub off the tan once I was ready to prep my skin for a new tanning session. I didn't realize that most cleansers, body washes, and lotions aren't great at balancing the pH levels of your skin, which can strip your spray tan faster. But not showering isn't an option– hello, gross. Products that balance the pH levels and also cleanse + moisturize check both boxes: freshen you up and protect your tan.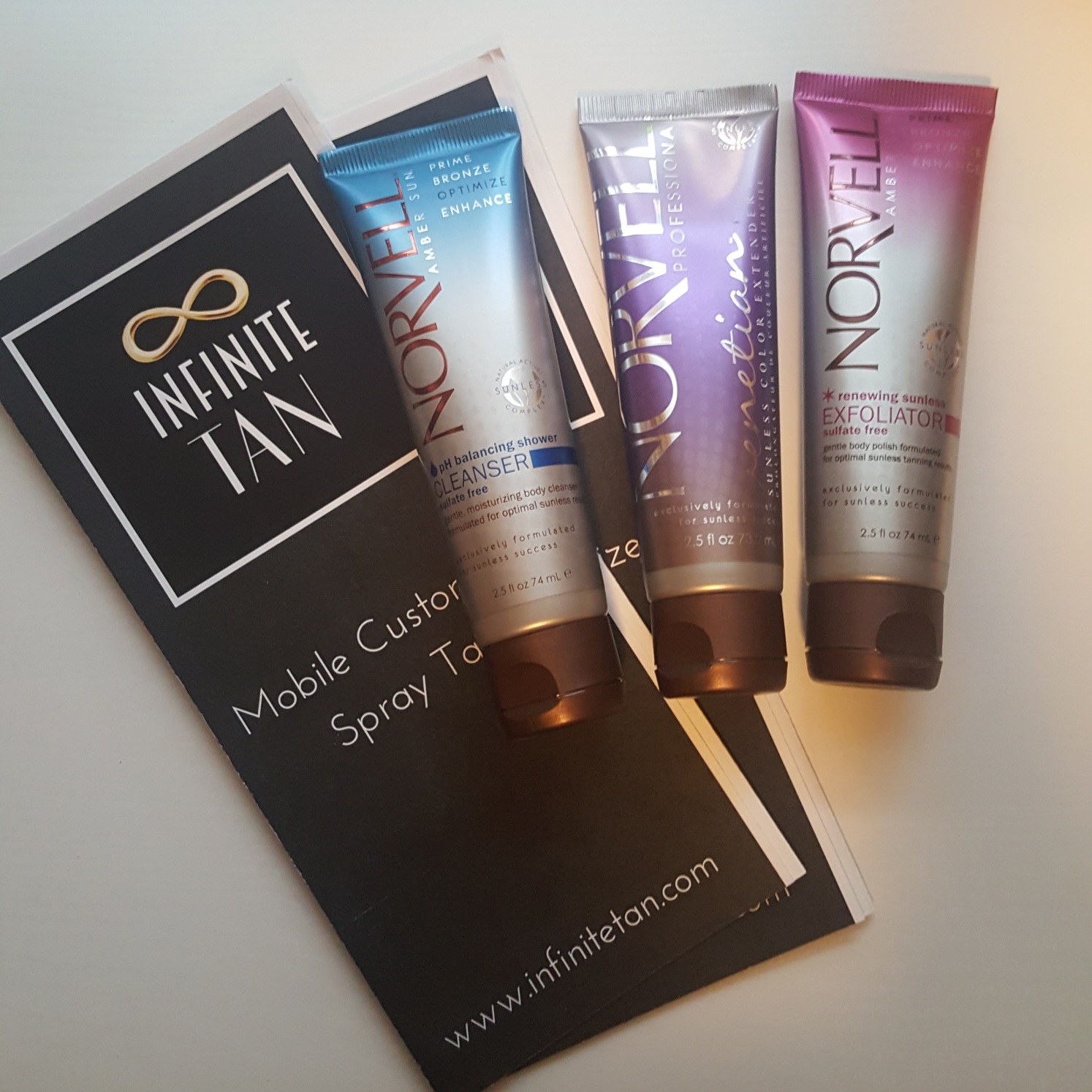 I was able to get my tan to last 8 days, which is quite a bit longer than I can usually get a typical booth spray tan to last. My color had faded quite a bit by the end of the run, but I still had enough color that I needed that exfoliator to get back to square one. I would say I was truly tan for a solid 5 days, and then the last 3 days I had just a bit of color (i.e., not pale, but not tan).
What really sold Infinite Tan for me was the custom experience. My tan looked so much better (more natural, deeper in areas where the sun would naturally hit me, a better fade) than it does when I hit the spray booth. It was also beyond convenient to have Amanda just swing by my house and spray me. (It was also fun; she's so sweet!) I also love that her products in her tanning solution are vegan, paraben-free, and gluten-free.
Here's a shot of me in my bronzed glory about 24 hours after my tan (post-rinse and post-shower).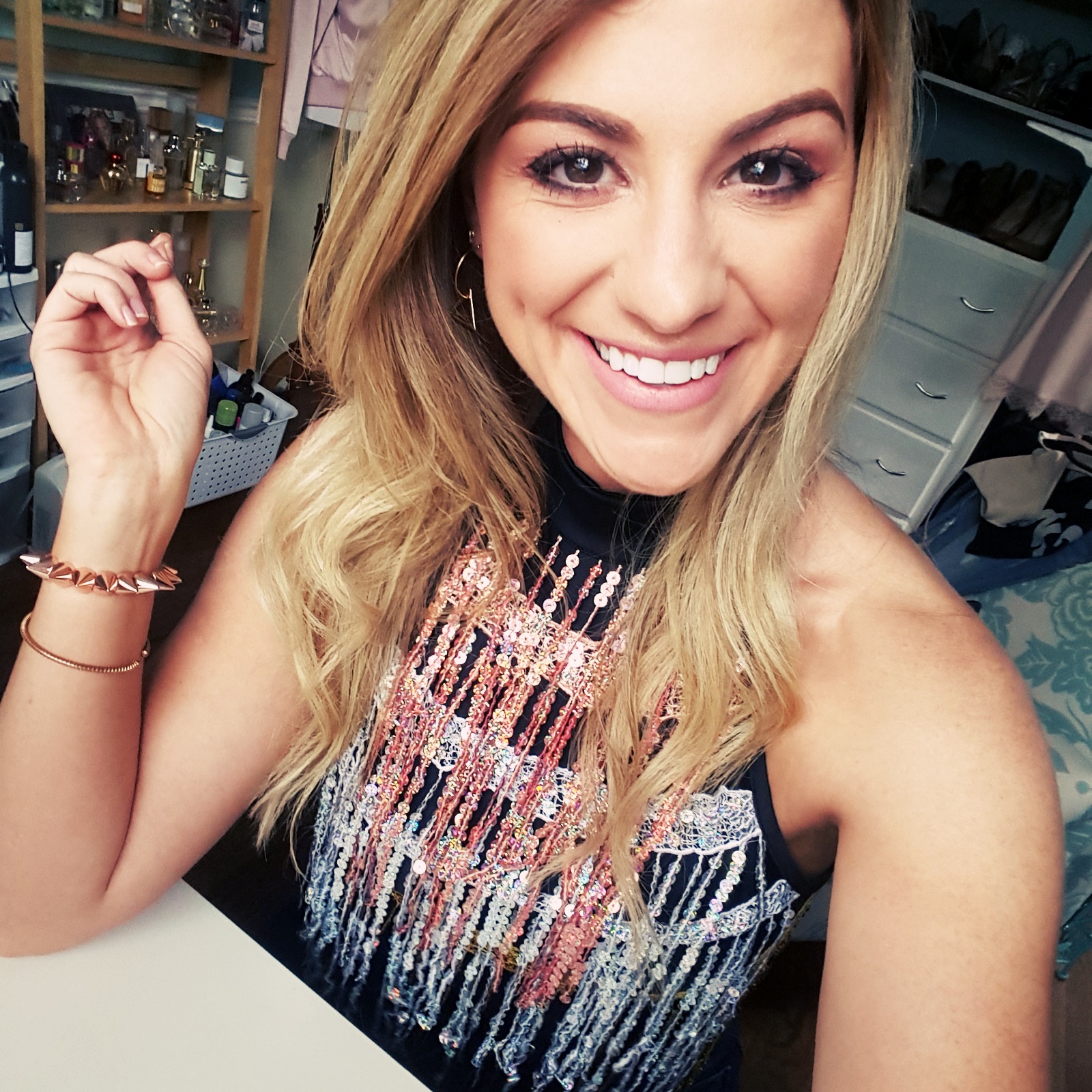 The results were natural but noticeable– and I felt pretty amazing! A good spray tan takes off 10 pounds, I swear.
I would absolutely recommend Amanda + her services for anyone in the KC area looking for a killer spray tan experience. This would be the perfect thing to schedule before a big event, too: prom, weddings (wedding season is just around the corner, guys), summer vacations, dance/fitness competitions, pageants, you name it. Her prices are reasonable, considering the convenience and the quality:
$40 for the Venetian or the Venetian Plus spray tan; $45 for the Venetian One (which allows you to shower in as little as an hour + is what Amanda sprayed me with)
$18 for the 3-pack of tan-extending products (which I'm still using, weeks later!)
Infinite Tan Giveaway: Kansas City
Amanda and I have teamed up to give someone in the Kansas City area the chance to win a free mobile custom spray tan from Infinite Tan! Amanda will come to your house and give you the exact experience she gave me– and you'll end up with a gorgeous, long-lasting tan. Sounds solid, right? The giveaway starts today and runs until next Saturday (April 22). Use the Rafflecopter widget below to enter:
a Rafflecopter giveaway
Please note, Kansas City metro residents only. (You must live within a 20-minute radius of KC to enter.)