Just because winter is coming doesn't mean I'm done with blush.
Last week it was all-black for Lady Gaga, this week I'm in head-to-toe blush for a wintertime athleisure look. My fashion knows no bounds, guys. I scored these blush leggings as part of the Nordstrom Anniversary sale over the summer and decided to style 'em for fall + winter here with a dark blush hoodie, metallic rose gold sneakers (last seen here) and a cute knit hat (only $13 here). Super casual, but cute enough to be seen in public wearing– grocery run, holiday shopping, coffee date with a pal? Yep x3.
My exact leggings are sold out (Nordstrom, if you're listening: get Zella to make more of these!), but these are a total dupe and these are a killer affordable darker version if light pink isn't your jam.
And don't forget to scroll down to the bottom of this post to see what I'm launching next… (Hint: it involves an animated Ashley, wine, and hair products.)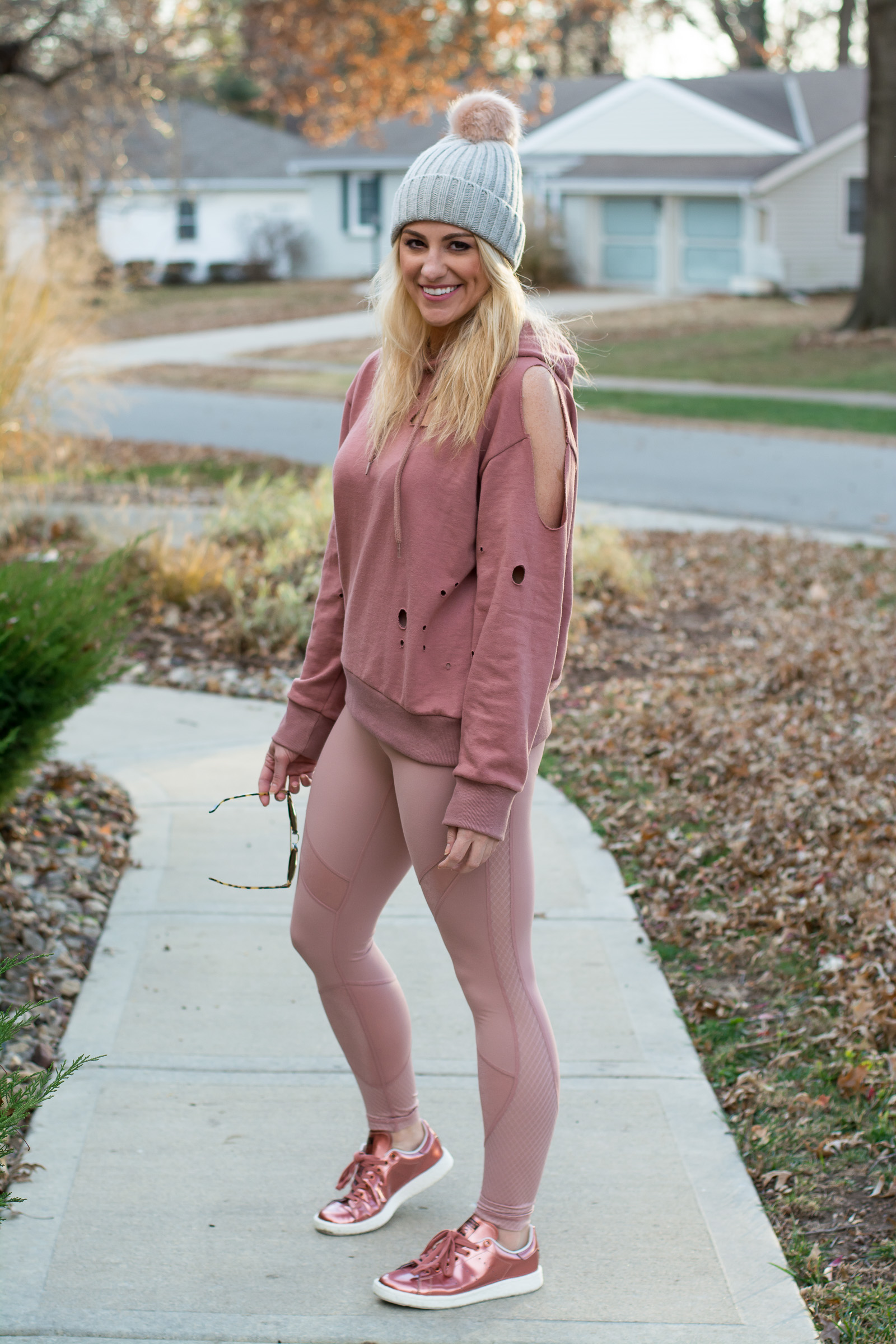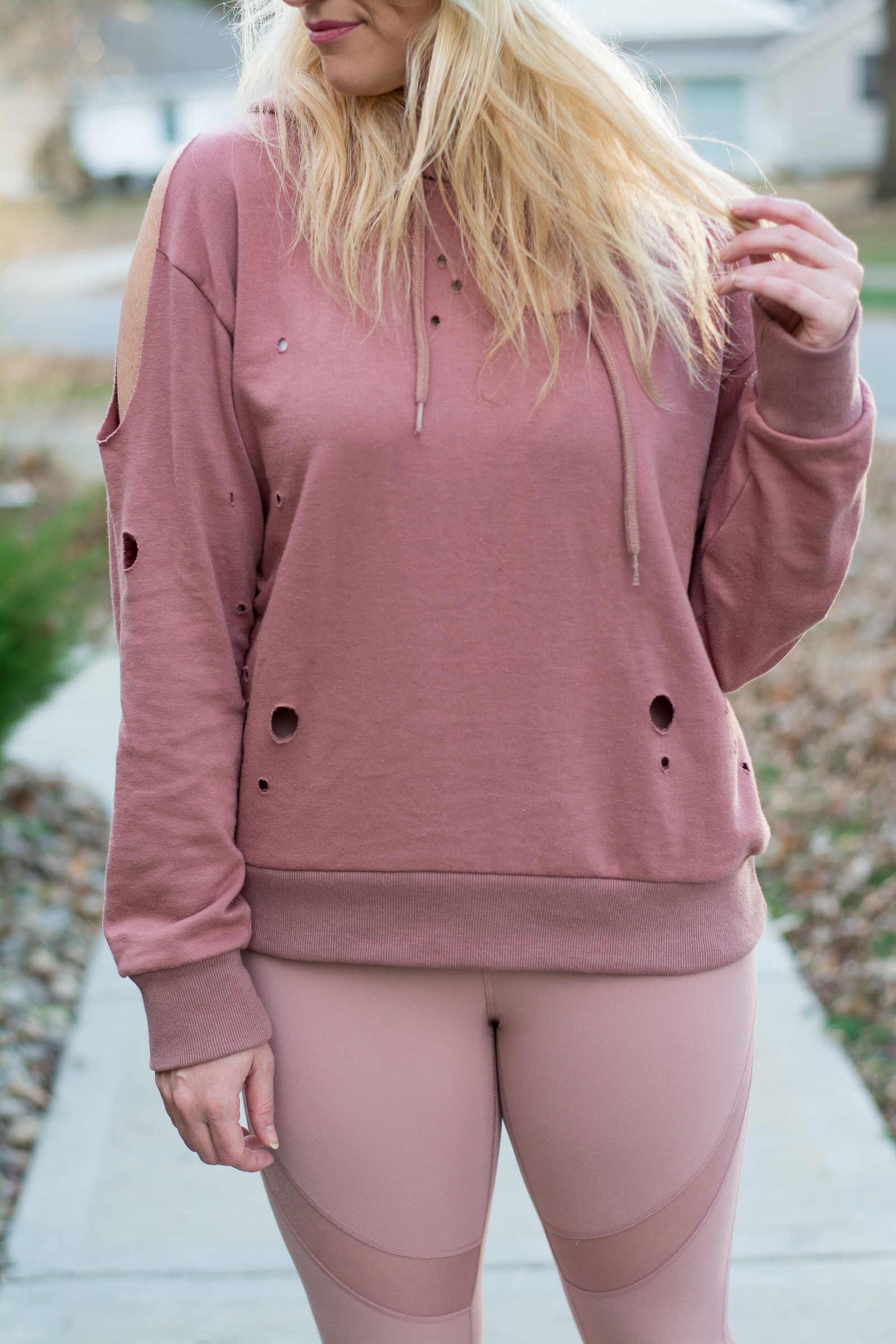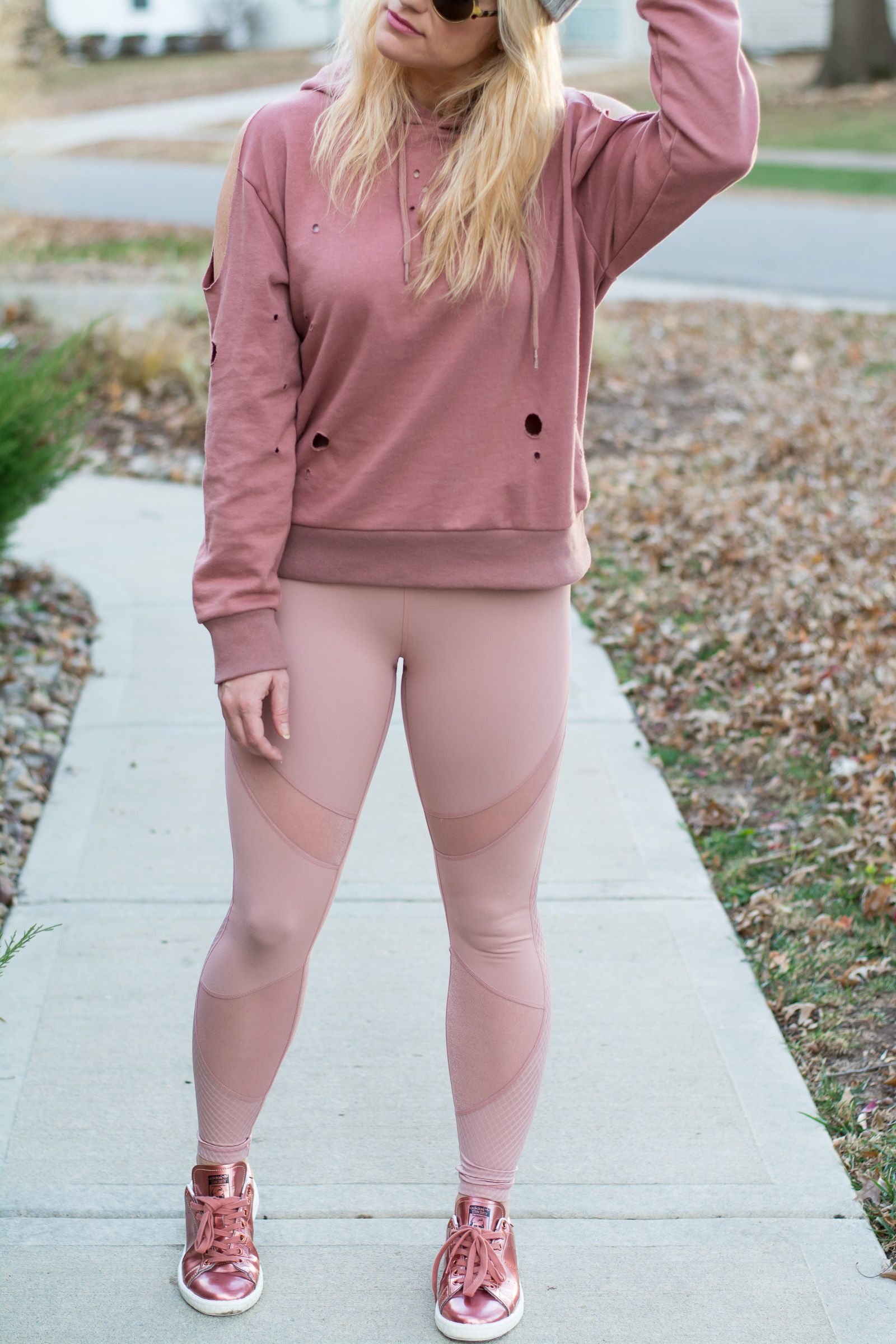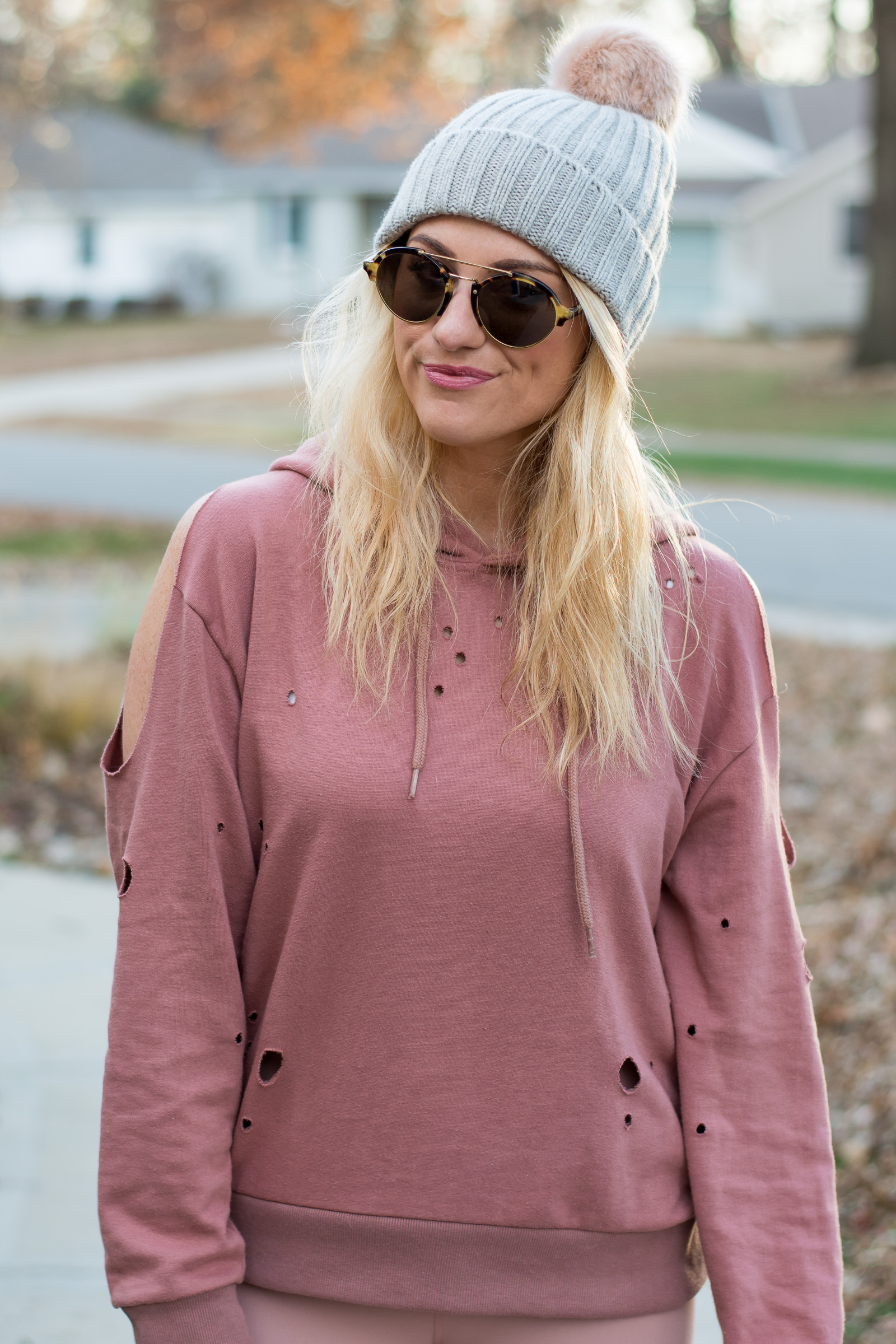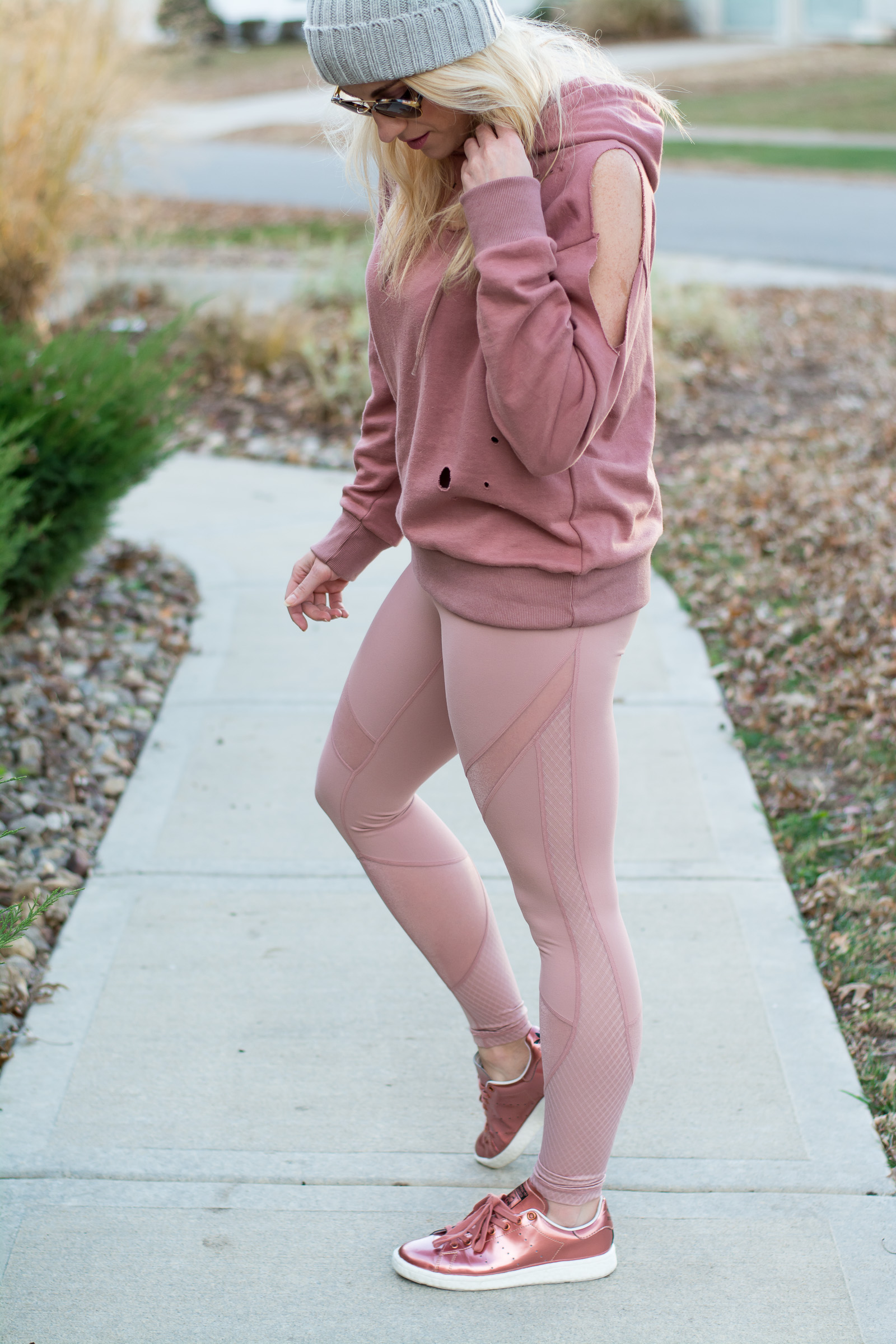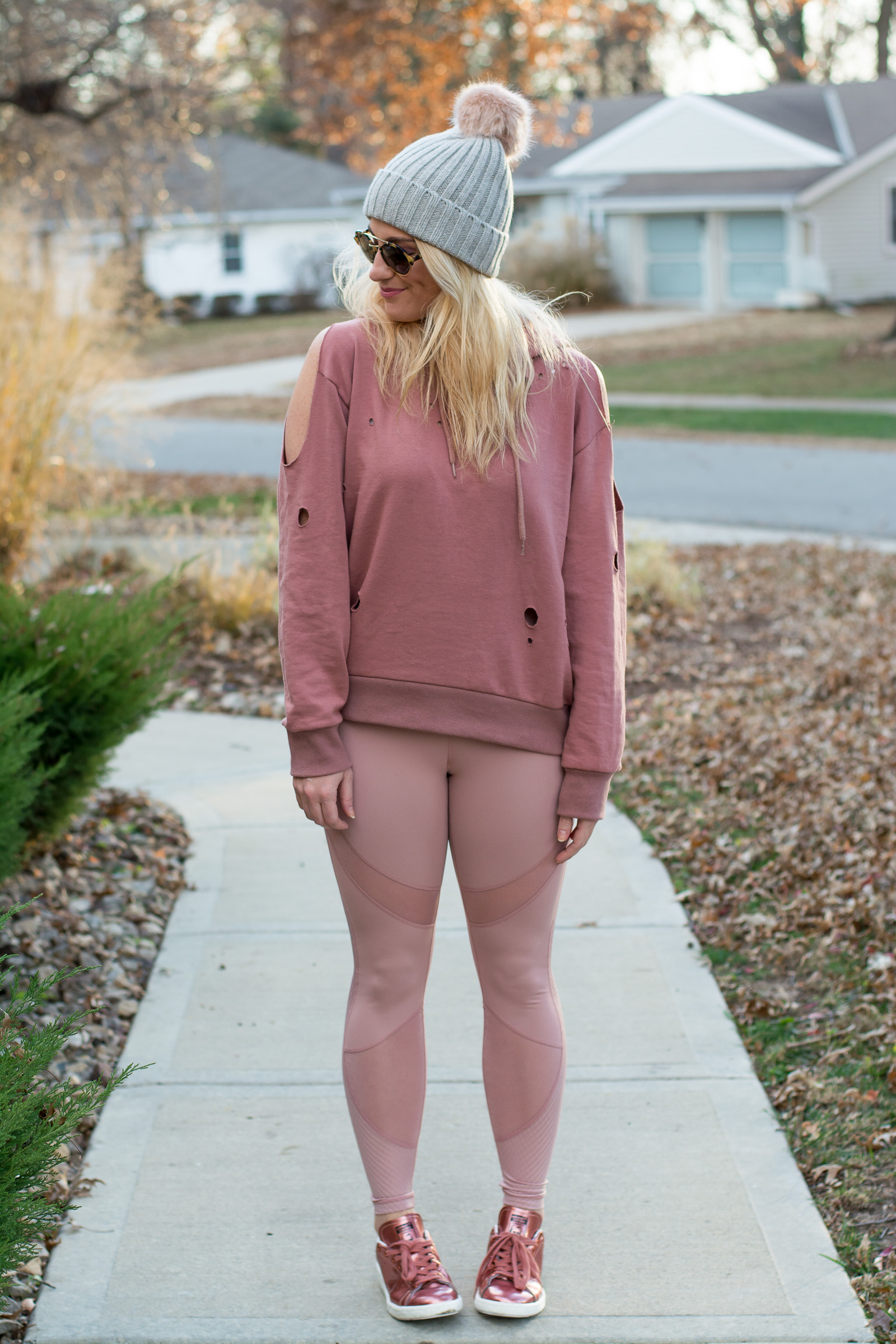 Shop the look:

This post is essentially a love letter to Millennial pink, for sure. I'm good with that, despite not being your typical Pink Girl. I'm so down for the blush things.
There are other ways to wear these blush leggings that don't require such an intense blush commitment. Try 'em with black sneakers, a black sweater, and a leather jacket. Or perhaps with a winter white tunic and mule slides. Lots of options!
YouTube Channel Launch
I've been teaming up with my hair stylist, Stephanie Holle, for a while now to bring you haircare tips and tricks– and now we've moved to video! I have been toying with the idea of launching a YouTube channel for a while now, but never really had the time + right content to bring to that medium. Steph gave me the content idea + my boyfriend handled the video editing (bless!), and now we're live with the definitive video on 5 must-have products you need right now for happy + healthy hair all winter long.
Super hot showers, cold winter wind, and the constant barrage of dry heated air combine to suck all the moisture out of your hair. So how do you fight against the dryness? Moisture, moisture, moisture! And sealing up that hair cuticle before heat styling. We're covering it all + sharing the products that do just that below– and drinking a little (lot) of wine in the process!
I'd love for you guys to visit my channel and like, comment, and subscribe– it would mean the world to have your support in this new (and kinda scary!) venture. In the meantime, watch the vid and let me know what you think:
Linking up with Elegantly Dressed and Stylish, Walking in Memphis in High Heels + The Fashion Canvas, I Do DeClaire, Straight A Style + On the Daily Express, Get Your Pretty On, Rosy Outlook + Seeking Sunshine, and Pumps and Push Ups.