Let's not waste any time, shall we? There's so much to see and discuss.
The good:
Demi Moore in Atelier Versace. Okay, this was it for me. I saw her and literally lost my breath. How lame is that? Yes, so lame. But Demi was gorgeous. Quick, I'm Rachel Zoe: "She shut it down." Stunning. The color— the perfect shade of peach. Didn't wash her out. The ruffles— such a big trend. And there are so many ruffles here— but she's not Vera Famiga (see later and file under "Omgf, wtf is that?") And, ladies, please take note: Demi is 47. Not old, because let's not be ageist and say that you're an old hag cow after 35, because that attitude sucks. But not young. And she is still soooo beautiful. So pretty. The work is subtle, super flawless.
Cameron Diaz in Oscar de la Renta. Perfection. She gets it. Totally gets it. The variation of sparkle here— from the larger chunks up top to the smattering of smaller pieces on bottom. Amazing. Gold was a big theme this year, and Cam did it best. Her hair is casual, which is interesting considering the drama of the dress. But I like it— she's softer, even with the red lip. And Cam has a tendency to look too hard sometimes. C'est parfait.
Elizabeth Banks in Versace. Again with the perfect ruffles. Versace wins the Ruffle Race. And the color— what is it? Is it blue? Is it gray? I want to call it pale slate. It works here, especially against her cool coloring. I'm usually very iffy on the fitted-bodice-into-BAM!-ruffles… But here, I love it. She's a mermaid, but an elegant Oscar Mermaid. So I'm okay with it. I'm actually really into it.
Anna Kendrick in Elie Saab. Elie Saab was another favorite on the carpet. The draping here is divine. Another gown in a beautiful peachy shade. Anna's body looks incredible here— how fabulous is the waist on this dress? And the off-the-shoulder. And the lace lining the slit. This is glam-our, and just a hint of bedroom-sexy. The shoes might be  a touch heavy, but the color helps balance. Love her hair— so pretty. Safe, yes. But I don't want her to show up with a Gaga-hairbow, you know?
Kristen Stewart in Monique Lhuillier. Kristen looked amazing. The navy is perfect with her complexion; the tulip cut gives her serious curves. Love that her hair is simple (the Oscars are no place for a Joan Jett mullet, or even the shaggy grown-out version I'm digging), and I love that she went with simple studs and a bracelet. Let the dress be the thing. Beautiful.
Carey Mulligan in Prada. It is rare that I appreciate a funky higher-in-the-front-than-in-the-back hem. Especially on a special event gown. But this worked for me. The black, the sweetheart neckline, the train… Reminds me of a ballerina in some weird way. Maybe it's the shoes— the way the straps cross at the ankle, the way she's standing… A little like toe shoes. And the beading! You can't tell in this pic, but the beading was tiny flatware— forks, spoons, knives, etc. (You can see a peek at FabSugar.) Punches up the basic black, don't you think? And I'm loving a blonde Carey. The red was too… Old? And too much for her small features. Loved this, though. This was good.
Kate Winslet in YSL. Is there anyone else? Kate is almost incomparable. And she knows how to play the game. Do you know the game? The game: you always bring it when you go the Oscars. Always. It's like the biggest prom in the history of proms. But you also know to be a little reserved when you're not nominated. You leave the majority of the spotlight for the girls that are up for the statue, you know? Last year, Kate took home Best Actress. And she brought it in a navy YSL. This year, she presented in champagne YSL. Fitted, chic, but not uber dramatic. Her body is tight, her hair is gorgeous relaxed 20's glam, but the look in simple. Clean.
Maggie Gyllenhaal in Dries van Noten. Maggie is growing on me. Her style is something else— she's never safe, rarely predictable. This was bright. Love the watercolor print. Does it remind you a little bit of a Lisa Frank folder? Or maybe like the scary scene from Disney's Fantasia? The cut is simple. And it's sateen— I typically hate fitted sateen. It creates weird lines and lumps; makes fit girls look fat(ish), or at least not as fit as usual. (See Elisabetta Canalis below.) But not here, not on Maggie. How? Is she magic?
Rachel McAdams in Elie Saab. Seriously gorgeous. The color scheme makes me think of Monet. The watercolor is beautiful. Softer than Maggie's, less vibrant than Maggie's, but still so pretty. The flow— it looks like water. Love the draping at the bodice. Highlights her figure and balances the sweep of the skirt. Not a big fan of her hair— too up, too stuffy. But the dress. The dress did it for me.
Miley Cyrus in Jenny Packham. First of all, let's establish that I loathe putting Miley on my Best Dressed. Miley turns something really squishy and unpleasant in my gut (perhaps the entirety of my small intestine). Maybe it's her sense of entitlement (Lainey chronicles all of this so, so well), maybe it's her super-sexual, not-a-girl-not-yet-a-woman, "But I swear I'm a virgin, y'all" mantra (I hated Britney for this too, during the Rolling Stone Teletubby days), or maybe it's the way she comes from a Disney background (pop) and gushes over Lady Gaga (pop) and Britney (pop) and then claims to not like/listen to/sing pop music. But this dress was a win. I could've done the color a tad warmer for her skin tone, and I'll admit the bodice is a little boudoir (but would you care so much if it were worn by Demi? Or Cam?), but I love the beading through the middle and the subtle pleated tulle at the bottom. Somehow this dress incorporates a lot of different textures without getting too heavy/too busy/too much (see Zoe Saldana below and weep with me).
The Meh:
The following dresses neither wowed nor completely offended… Some were a little off, some were boring, all made me go, "Meh."
Diane Kruger in Chanel. Diane is a risk-taker. An admirable quality in a sea of starlets that wearing practically the same dress over and over again (Penelope Cruz, I'm looking at you). And this is Chanel, so of course it's art and born from the mind of the amazing Karl Lagerfeld. But I don't really like this. Do you? The shredded material in the middle is the part that I really can't get over. The black and cream combo could be really flattering, but it doesn't work so well here with so much going on. It's that middle section. And maybe the tattered-factor of the train. Can't endorse.
Nicole Richie in Reem Acra. I really wanted to put this on my Best list. Truly. Because I love Nicole and I love that she's different and I love how she takes the boho and runs with it. But I didn't completely love this dress. I love the length of the skirt and the idea of Missoni-esque metallic, but I don't like the length of the sleeves and there's something chain-mail-shark-suit about the way the metallic turned out. And Nicole's hair seemed too buttoned-up for her decidedly boho-glitter vibe. Didn't hate, but didn't love.
Penelope Cruz in Donna Karan. Okay, so it's different from the super structured fitted-bodice-big-skirt theme. Slightly. And it's not a pastel color (or black). So props to P for stepping a little outside of her comfort zone. But I hate the neckline— is it me or does it look like Summit Entertainment's twin peak logo? And the draping here feels lazy, or unfinished. Like she could twist the wrong way or take too big a step and it would all unravel, leaving her swimming in yards and yards of red taffeta.
Sandra Bullock in Marchesa. This dress is split down the center for me, between like and dislike. Like the top— really highlights her torso and her great arms and shoulders. It's sheer, or gives the illusion of sheer, and sheer is big right now. Dislike the bottom half of the dress. Feels cheap. Like bad lamé. Or that heavy-metallic Vegas fabric that leaves little shreds of metallic foil behind. But Sandra is still gorgeous and her speech made me cry… Kudos for that.
Mariah Carey in Valentino. I half expected Mariah to walk the carpet wearing some Herve Leger that was two sizes too small, looking like a stuffed summer sausage with big boobs and big hair and big heels. This was better than what I expected, but still off. I don't like the way the sleeves can't decide whether they want to be straps or caps, and I hate that brooch at her waist. Is this JCPenney Homecoming? Wtf. The asymmetrical front doesn't wow me, either, although I would kill someone for her Loubs.
Amanda Seyfried in Armani Privé. What did Armani make their dress with this season? Mattress covering? A comforter from my Grandmother's guest bedroom? Bubble wrap? This is happening on Jennifer Lopez (below), also. HATE. The cut is good, very beautiful, very structured. But big. This dress was big; this picture doesn't quite convey the bigness. It almost swallowed Amanda. The pale mint is okay, actually quite lovely against her skin, but in comparison with the texture of the fabric, it felt Nebraska Furniture Mart to me.
The bad:
Charlize Theron in Dior. Two-tone, wrinkly, flower-boob mess. It looks like two wilted roses are cupping her breasts. Not flattering. And the two-tone Easter egg colors are bad enough, but made even worse with the clash against her red lip. No, no, wrong, wrong. I love Charlize, but this is a miss.
Elisabetta Canalis in Roberto Cavalli. What is this? What is happening here? This is why I don't typically endorse fitted sateen— do you see the lines and lumps I was talking about earlier? And in real life, in bikini life, Elisabetta is not a lumpy girl. But do you see what the Sateen Devil does? She now has a weird V-shaped pouch. She's a red kangaroo with an armband tattoo (why do women do this?) and George Clooney as her joey. And what is happening with her boobs? They're Madonna-cone boobs. Ugh. Sateen strikes again.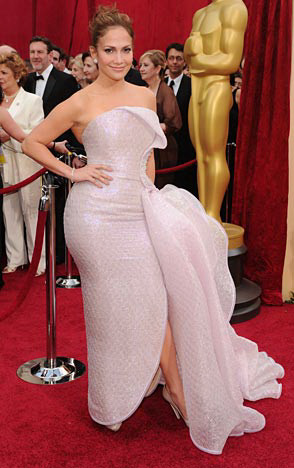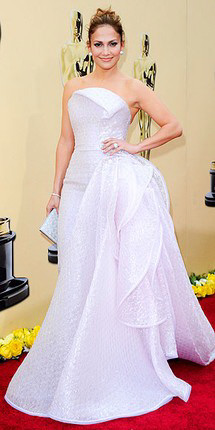 Jennifer Lopez in Armani Privé. This dress needed two pictures. Not only because it was huge (and indeed it was, just like Amanda's… What is Armani's issue with size this season?), but because it photographed differently depending on the angle. (Much like the earth looks different from space, depending on what side you're on… Just saying.) JLo is a curvy, fit, beautiful woman. Gorgeous. Like that skin doesn't quit, you know? She's 40-something (barely) and she still glows. But why? Why this dress? She has a draped growth jutting out from her left side like a barnacle. A mattress-covering, bubble wrap barnacle. Again with this heinous fabric. Why does it make her backside look so so so large in picture one? She's giving some hip, but she's not giving Jupiter-hip. This dress makes her give Jupiter-hip! Too much hip! I cannot accept this. Lainey described it as "too much try." I totally agree. JLo is trying to do this again. But she can't. She shouldn't. Bubble Wrap Madness.
Vera Famiga in Marchesa. You know when you go on a cruise and you go see one of the awful-but-somehow-entertaining nightly shows the boat puts on? And the women come out in these ruffled numbers with fruit on their heads, shaking maracas and rolling their tongues? Yes, this is what Vera should be doing. Where are her maracas? And she needs a banana and a few oranges tucked in that updo. Total Ruffle Fail.
Tish Cyrus in IDGAF. Her name is Tish. And she a) hasn't changed it and b) allows people to call her this. This is Problem #1. And she wants to be her daughter. This is Problem #2. And she has creepy doll eyes. Problem #3.  So I guess wearing a hideous dress doesn't rank too high on Tish's List of Stuff to Fix, but I'm still going to mention it.
Zoe Saldana in Givenchy. I saw Zoe from the waist up right before she hit the carpet. And I gasped (see Demi reaction above).  The bodice was gorgeous, all sparkly and amazing against that incredible skin of hers. And her face— that face is phenomenal. So beautiful. And then I saw the bottom of the dress. And I gasped, in a much different way. WHY?! WHY DID YOU DO THIS?! I instantly flashed to parades, when the bands march down the street with those pom thingys dangling from their boots. What in the saxophone-playing hell is happening at the bottom of this dress? The Fug Girls described it as a bunch of plastic leis. So true. Okay, so I get that she was taking a fashion risk (like she's done before this season and killed it), and I get that there's no better time to make a big splash than at the Oscars… But why this? Why did she do this to me? I'm such a Zoe-apologist, but I can't defend this. Not as a fashion-do. As art, as Gaga-esque, as something beautiful in a weird way, but not in a girl-at-the-Oscars way.
I hunted the web, hoping and praying she changed for the Oscar after parties. She did. Thank you, Jesus:
In Givenchy, again. Round 2 is so, so much better than Round 1. This is edgy, this is eye-catching, this is fun— but all of the above done right. I get this. I support this. The way the cream fades to firey orange-red is magnificent, ombré done quite well. It pops against her skin. Divine. I don't know what those arm bands are… Maybe after parties are very sweaty? Maybe they're actually bracelets and she has such tiny forearms that they got stuck up there? I don't know, I'm willing to forgive them because they aren't poms.
That's a wrap on the 2010 Oscars. Quite spent now. So it's your turn— what do you think? Agree? Disagree? Fashion is quite subjective— there are pros and cons to each outfit. I want to hear yours. ♥